10 Ways Not to Be Hangry on Your Wedding Day
Follow these tips to avoid becoming hangry (or worse) on your wedding day.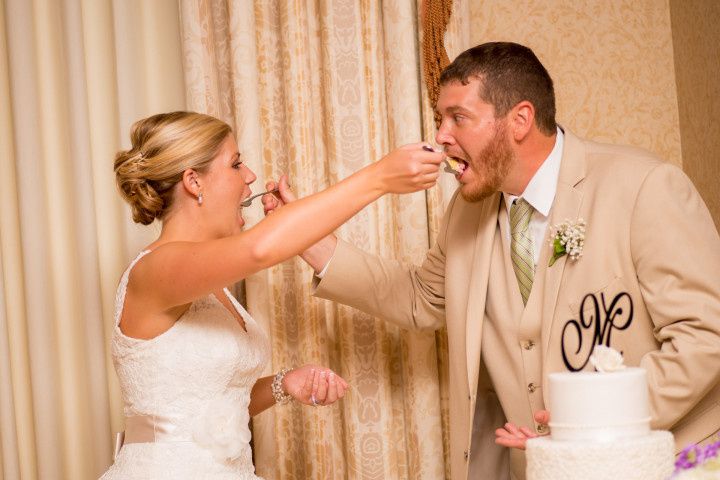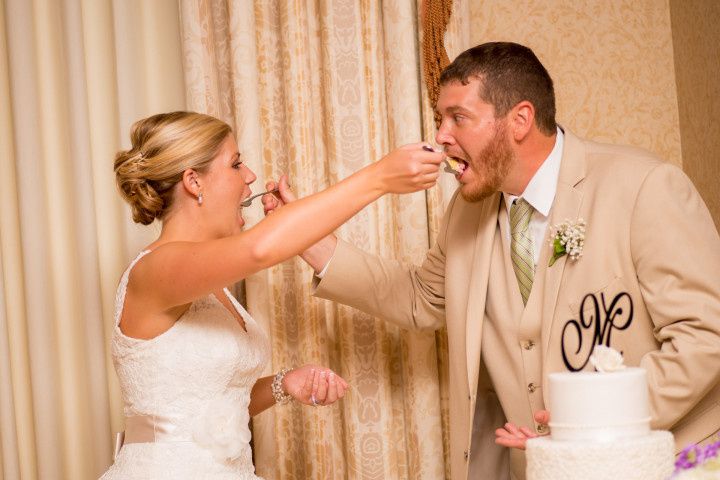 Photo: Kirsten Smith Photography
There's going to be a lot going on your wedding day. From greeting guests to dancing up a storm to, oh, you know, actually spending time with your new spouse, eating may end up pretty low on your priority list. Our advice: Don't let that happen. Not eating on your wedding day can cause you to become "hangry," or that cranky feeling you get when you're super-hungry.


Make Breakfast a Celebration
We all know that breakfast is important, and this is particularly true on your wedding day. We recommend making plans for a casual and fun breakfast or brunch with your wedding party or family members for the morning of your wedding. You may wake up with a jittery stomach and have no desire to eat anything. But, if you have set plans with others, you'll be more likely to eat something (even just a small amount).

Snack While Getting Ready
Make sure there are ample healthy snacks available while you're getting ready. Avoid anything too heavy or messy for obvious reasons, but make sure that if the mood strikes you're able to grab a quick snack—or have someone grab one for your while you're getting your hair done!

Drink Water
Have a bottle of water handy at all times, and try to keep hydrated throughout the day. Your bridesmaids can be helpful, making sure your water bottle is replenished as needed.

Have Lunch Delivered
Make sure someone is put on lunch duty, preferably arranging a pick-up or, better yet, delivery in advance. Again, keep the meal relatively light, but this may be your last chance to eat something before the wedding begins, so try to push the nerves aside and enjoy a bite to eat to keep those tummy rumbles away.

Assign a Bridesmaid "Snack Handler"
Ask one of your bridesmaids to keep a few snacks in her purse, just in case the mood strikes and you need a bite to eat, like, now. Whether it's in the limo on the way to the ceremony, or while you're taking portraits, there may be times when food isn't readily available, so let your bridesmaids help you by having some snacks on hand.

Set Aside Post-Ceremony Time to Eat
Take some quiet time immediately after the ceremony to reflect on the day thus far with your new spouse—and to eat! Ask your caterer to set aside some food in a private room for you and your spouse to enjoy. As much as you want to try all of the hors d'oeuvres during cocktail hour, the likelihood is that between greeting your guests and taking photos, you might not have time to eat anything, so make time.

Develop a Good Rapport with Your Caterer
Before your wedding day, chat with your caterer about the menu items you're particularly excited to try, and see if he or she can set some aside for you on the big day. Your caterer can also make sure that your dinner isn't swept away too quickly or prepare a plate for you from the buffet so that you have a little more time to eat.

Take a (Short) Break from Mingling and Dancing
Yes, it's important that you greet each table during your reception and hit the dance floor, but if you can, take a few moments for you and your new spouse to enjoy dinner. If you're sitting at a sweetheart table, it will give you a few moments of "private time" (well, except for the fact that all eyes will likely be on you!), and if you're sitting with family or wedding party members, it will allow you to reconnect with them.

Actually Eat the Cake
The whole tradition of the newlyweds feeding each other cake is certainly a cute one, but don't let that be both your first and last bite of the sweet treat! Take a few moments immediately after the cake cutting ceremony to enjoy your cake—there may not be any cake left after it's served to your guests! It's your wedding day, so feel free to indulge.

Take Home a Doggy Bag
Whether you're able to eat during your wedding or not, ask your caterer to provide you with a to-go bag so that you can your new spouse can enjoy a late-night snack if the mood strikes.