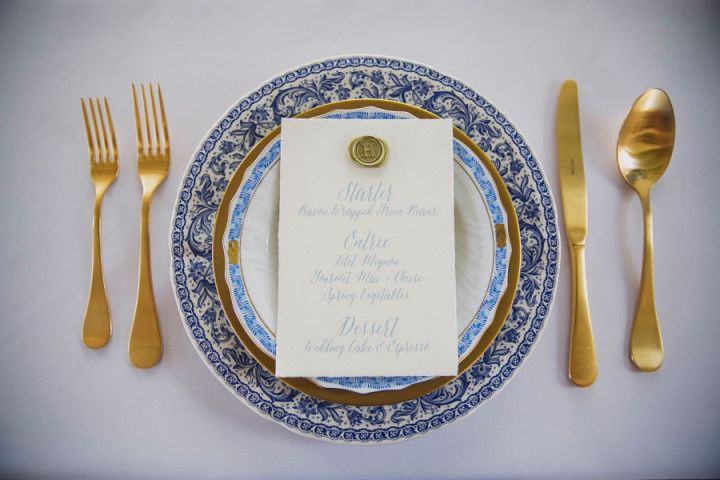 Photo: Jett Walker Photography
Believe it or not, the food at your wedding is often just as important as the dress you wear! You and your guests will remember this delicious part of your wedding for years to come.

Here is everything you need to know about planning a reception menu.

If the catering is provided by the venue, you should start talking specifics and having tastings about three months prior to your wedding date. On the other hand, if your venue does not provide catering in-house, you'll want to start interviewing as soon as you have the location booked.

Look for caterers who are familiar with and knowledgeable about your venue, or type of venue. The caterer will be able to provide invaluable advice on room set up and logistics, and may even provide the necessary and complementary rental items (linen, china, glassware, flatware, chiavari chairs, etc.) if your venue is unable to do so.

If you are on a tight budget, consider that dinner is, most often, the most expensive meal to cater, while brunch, cocktails and hors d'oeuvres should be less expensive. With that being said, dinner is also the most popular, and there are ways to cut costs without sacrificing the menu.

With a variety of guests and taste buds at the wedding, the menu needs to appeal to a wide range of people, so here are things to keep in mind:
Avoid overly spicy food
Consider allergies and dietary requests-such as selfish, dairy, and nuts
Consider Vegetarians - make sure the caterer can offer a vegetarian meal
If you're reception is outside, make sure the food you serve won't spoil quickly

Enjoy the tasting; this is a part of the planning process that you and your fiancé can truly enjoy together and have fun with. Make sure to sample everything from the hors d'oeuvres to the wine (if you're serving alcohol) when you interview caterers, and take notes!

Once you've finalized the menu, it has become a popular trend to print it out and place it on the table. This is a great décor addition, but is also a nice way of letting guests know what they will be eating.