A Vegan Wedding Menu Perfect for Your Meat-Free Guests
If you or your guests prefer not to eat animal products, try this vegan wedding menu for delicious plant-based bites.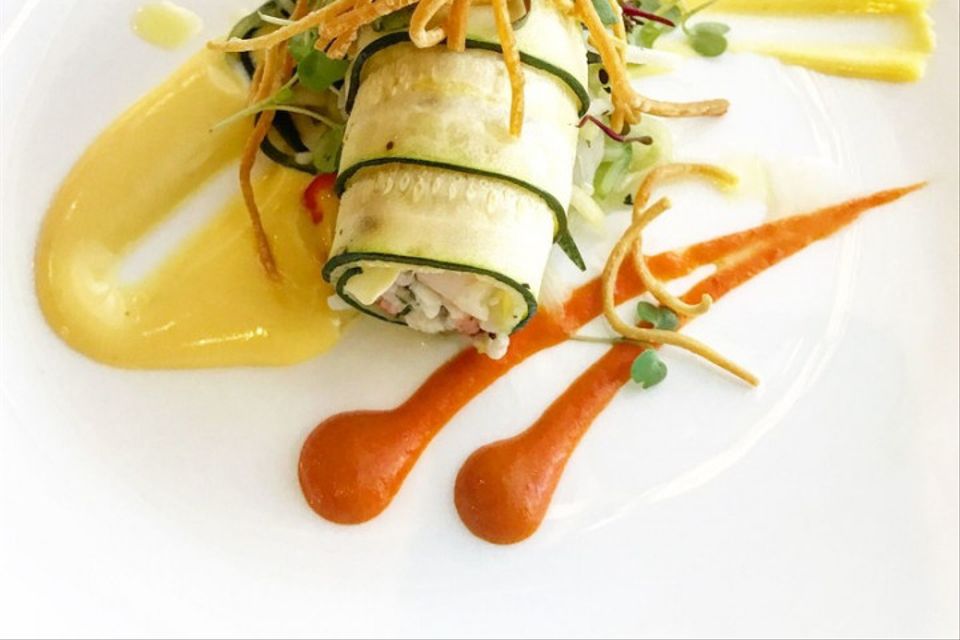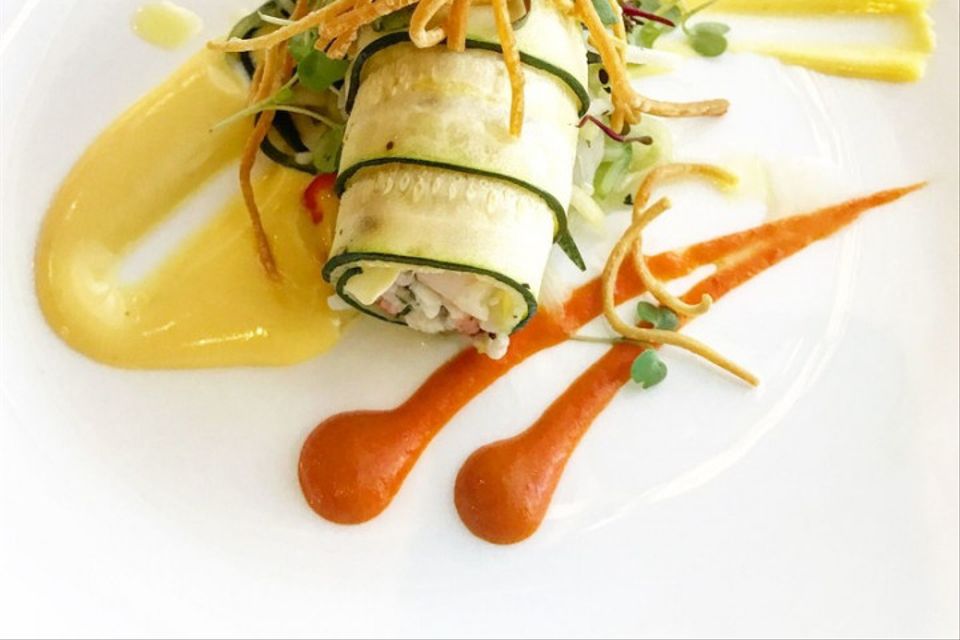 There's a wide variety of reasons some of your guests may be observing a vegan diet, which is the absence of animal meats, like fish or chicken, and foods produced by animals, like dairy. Even if you're happily living the omnivore life, there's a good chance you're looking into vegan wedding menu options because you want to respect the dietary restrictions of friends or relatives. According to WeddingWire data, about 22 percent of couples who wed last year intentionally included vegan dishes.
Food is the undeniable star of your wedding — sorry, unique and creative venue! Wedding guests care more about the bites you're serving than the décor, setting, music, and even the drinks. For this reason, taking care to accommodate the diets and allergies of your guests is the surefire path to making your big day a hit with your crew.
If you're unsure how your caterer will react to your vegan wedding menu requests, don't be; picky eaters are now the norm.
"Probably about 50 percent of our wedding clients make the request to have a vegan option," said Ashley Boucher, sales & social media manager of Ridgewells Catering in Bethesda, Maryland.
"Nearly all of our couples ask for at least a vegetarian option, in which case we usually recommend vegan instead so all bases are covered." Vegetarians consume dairy, but do not eat meat.
Another thing to remember: your catering costs probably won't go up by including vegan menu options, said Cara Hanson, vice-president of sales and operations for Elaine Bell Catering in Napa, California.
"Frequently it is just about refocusing," Hanson said. "And including items that everyone will enjoy, but that also satisfy the dietary preferences of vegans."
Prepare for your own needs or your meat-free guests with this flavorful sample vegan wedding menu.
Hors D'oeuvres
Expert caterers agree: when it comes to appetizers, stick with fresh and seasonal plant dishes that show off the variety a vegan diet offers.
Seasonal fruits and veggies, including summer tomatoes and melons, fall apples and figs, winter wild mushrooms and kabocha squash, and spring strawberries and fava.
Summer chilled "cream" of corn soup ("We roast and purée the corn kernels, but also make a stock using the cobbs. When combined you don't miss the cream at all and it's an explosion of corn flavor," Matthew Phelan, president of Simply Fresh Events in Gaithersburg, Maryland, explained.)
Skewers with grilled artichoke hearts, cherry tomatoes with hummus, and Buffalo cauliflower

Entrées
Meatless wedding menus are super on trend for good reason. "We love menu items that aren't pretending to be something else," said Phelan. "Let the vegan ingredients shine and that will be more delicious than a highly processed meat substitute."
Vegan "crab" cakes with hearts of palm instead of crab.
Cauliflower steak with vegan Tikka Masala sauce
Quinoa-stuffed pepper
Desserts
As Phelan pointed out, "thankfully chocolate is vegan!" Venture beyond the cacao plant with interesting takes on traditional dairy desserts like ice cream and Italian panna cotta.
Vegan ice cream
Vegan chocolate mousse cup
Coconut milk and mango panna cotta
This sample vegan wedding menu is comprised of dishes prepared by Simply Fresh Events, Elaine Bell Catering, and Ridgewells Catering.