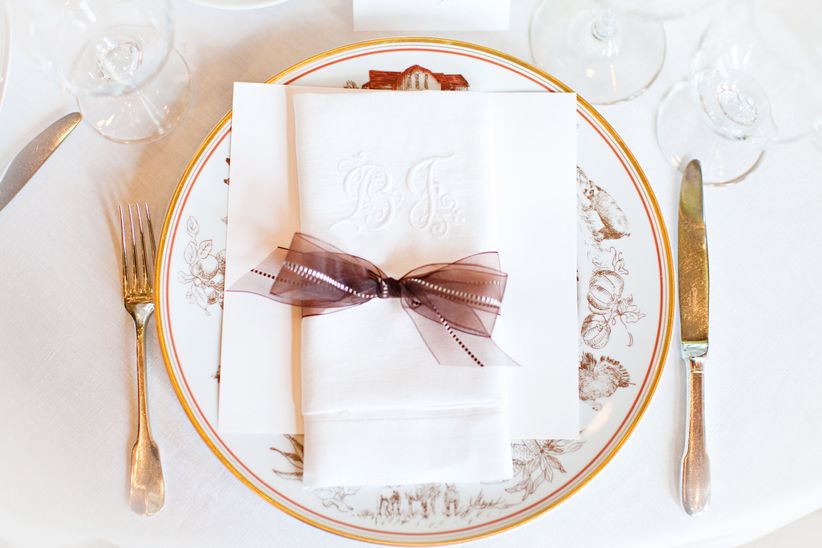 Photo: Watson Studios
A sit-down meal is the most traditional wedding serving style, but opting for a more formal menu doesn't mean that you can't include a few unexpected (and delicious) options that will have your guests raving about the food for years to come.


Consider the following options:
Hors D'oeuvres
Coriander and black pepper-cured Verlasso salmon bites served with horseradish cream, watercress purée and pickled wild onions on a baguette crisp
Angel hair pasta twist served on a bamboo fork with a mini meatball bite
Sweet potato squares topped with toasted marshmallow
Tuna ceviche with toasted red quinoa and wildflowers in tomato habanero water
Shredded short rib sandwich bites with Gruyère cheese, horseradish and buttery toasted brioche
Louis Roederer champagne gelée with American sturgeon caviar and Egyptian star flower
Champagne and caviar is "not always for the rich and famous," says Andrew Gerstel of
Windows Catering Company
in Alexandria, Virginia. "Using molecular gastronomy techniques, the champagne is transformed into a burst of gelatin accompanied by the sweet and saltiness of fine caviar topped with a colorful, edible flower—a wow factor visually and on your taste buds."
First Course
Cedar plank seafood charcuterie with cedar-smoked salmon terrine, Gulf shrimp ballotine, Shenandoah trout salad, and brioche with dried seaweed and toasted sesame seeds
"This first course offers a beautiful presentation with flavorful seafood that is slightly sweet, salty and crunchy. A full gastronomic experience for seafood lovers," Gerstel says.
"Ecosystem" course served in an aquarium jar: Newfoundland cold water lobster and Atlantic blue crab with sea beans, ocean seaweed, spinach and tomato sponges, Enoki mushrooms, mizuna tatsoi, pea blossoms, Bull's Blood beet tops, Ibérico ham, olive oil caviar, and citrus essence
"Talk about a conversation starter," says Gerstel. "Presented in a round glass jar, this colorful first course is an explosion of flavors and textures in every bite. The sweetness of the lobster and blue crab hold their own against the salty sea beans, seaweed, ham and earthy mushrooms. The texture of the crunchy 'sponges' are juxtaposed by the smooth beet tops and citrus essence. Every bite is something different."
Main Course
Blue crab and spinach-encrusted filet of beef with asparagus Charlotte, foraged baby vegetables and a pinot noir sauce
"This dual entrée is full of flavor in every bite," says Gerstel. "The medium-rare filet of beef with pinot noir sauce is mouthwateringly savory next to the sweet blue crab and slightly bitter asparagus. The al dente baby vegetables offer a nice crispness to the dish as well."
Free-range beef tenderloin and pan-roasted Patagonian sea bass with Oregon mushrooms, Périgord truffle sauce, lemon fondue, potato napoleon, and a bouquetière of heirloom vegetables
"The earthy tones of mushrooms combined with a medium-rare tenderloin set the tone for this dish," Gerstel says. "However, the buttery smooth sea bass with a lemony fondue will balance out your palate. The plate presentation is further enhanced by the colorful and beautifully
arranged heirloom vegetables."
Dessert
Chocolate and pear romance: steamed chocolate cake, lacy cocoa tuile, Williams pear sorbet, and Tahitian vanilla sauce
"You wouldn't always think about putting chocolate and pears together; however, this creation will surprise you with every bite," Gerstel says. "The soft chocolate cake is the perfect background flavor and texture for the crunch of the tuile and smooth pear sorbet. The silky Tahitian vanilla sauce lingers on your tongue that provides the right amount of sweetness. A truly romantic 'pairing'—pun intended."
Coconut kaleidoscope: coconut mousse presented on a chocolate disc and layered with coconut, pecans, a bittersweet chocolate sauce, grilled Hawaiian pineapple and fruit coulis
"A coconut lover's dream come true," Gerstel says. "The silky smooth coconut mousse is just the start of the burst of flavors with this dish. The coconut slices and pecan add a bit of crunch accompanied by the slight bitterness of the chocolate sauce and pineapple. The finish on your palate is just the right amount of sweetness with the fruit coulis."
A special thank you to Andrew Gerstel of Windows Catering Company in Alexandria, Virginia for providing this menu.