If you want a laid-back, casual vibe on your big day, then rustic wedding style may be for you. This style uses nature-inspired elements and outdoor spaces to create a relaxed atmosphere that encourages mixing, mingling, and having a good time (with a bit of country flair).
Before you start planning your rustic wedding, read all about the style here.

Venue
The most obvious venues for rustic weddings are barns, ranches and farms. These types of venues easily lend themselves to rustic wedding style because of their countryside locations and informal settings. Vineyards, mountain lodges, and recreational parks or campgrounds are also suitable for rustic style.

Season
Nature and the outdoors are huge components of rustic wedding style, which means that summer and fall are the most popular seasons for this style. We're not saying that you can't have a rustic wedding in the middle of winter, but if you live in a colder region, you'll need to consider several things first.
Some barn or farm venues may close for the winter and early spring, especially if your area is notorious for heavy snowfall. This means that you're more likely to be limited to traditional indoor venues during the winter, and as a result, you may need more decor to achieve a truly rustic effect. If you do find a barn or farm that's available during the winter, ask about the venue's inclement weather policy, and don't forget to create a "Plan B" in case Mother Nature has other ideas. Lastly, barns can be very drafty in the winter, so ask the venue if they provide space heaters if necessary. If not, you'll need to factor in the added cost to rent them so that everyone stays cozy and warm.

Color Palette
One thing we love about rustic wedding style is that it's super versatile. It works with many different color palettes, and each one can help you achieve a different look depending on the decor you choose.
Popular rustic color palettes include yellow and navy, burgundy and orange, or coral and turquoise. For a more "rustic chic" look, stick with a softer color palette comprised of pastel hues, such as blush, dusty blue, mint green, or even gold.

Stationery
For rustic save-the-dates and invitation suites, look for nature-inspired elements, such as wood grain patterns, greenery motifs, and floral designs. Watercolor invitations also work well for rustic themes (and they're very on trend!). Wood-burnt accents, burlap ribbons, and lace belly bands are some of the finishing touches you can add to your invites to complete the rustic vibe.

Decor
Rustic wedding style puts a big focus on handmade details, rugged accent pieces, and repurposed vintage items. Before you choose your wedding decor, you need to decide if you want your wedding to be traditionally rustic (more on that in a second) or something along the lines of a "rustic chic" look instead.
Traditional rustic decor goes heavy on the outdoorsy elements, like hay bales, twine, raw wood pieces, and antlers. Burlap table runners, mason jars, and baby's breath are also popular at traditional rustic weddings. You can even add seasonal details, such as sunflowers in the summer or acorns and pumpkins in the fall, to play up the pastoral theme.
Rustic chic style is all about creating a setting that's laid-back yet elegant. This twist on traditional rustic style keeps the fundamental elements but adds romantic and classic details — think loose greenery, whitewashed chairs, muted metallic accents, and essentially anything that you'd see on an episode of Fixer Upper.

Flowers
Rustic wedding style is all about creating a welcoming feel, so you'll want the bouquets, centerpieces (see our favorite ideas here), and other floral arrangements to have a loose, slightly undone look. In other words, nothing that feels too perfect or overly arranged.
Most types of flowers work well with rustic style, but we particularly love sunflowers, hydrangeas, daisies, roses, delphinium, dahlias, poppies, and lots of greenery (imagine wildflowers you might see growing in a country field). Baby's breath goes hand-in-hand with rustic style, but Queen Anne's lace, craspedia, goldenrod, and even cotton puffs are a few other floral accents that look just as lovely.

Attire
Generally, rustic weddings allow for more casual dress codes because of the informal atmosphere associated with rustic wedding venues. For example, if your ceremony is taking place in a 200-year-old barn or a field at the edge of a forest, asking your guests to wear tuxedos and floor-length gowns may not be the most practical route.
You'll also want to consider the venue when choosing your own attire. If you're wearing a wedding gown, slimmer silhouettes in lightweight, breathable fabrics are ideal for rustic settings. This will give you plenty of freedom to move around easily — a must if you're getting hitched outdoors. A more casual dress code also means that you should keep your accessories relatively understated, but don't be afraid to have a bit of fun with them! This is an opportunity to wear things that might seem out of place at more formal venues, like swapping your stilettos for a pair of sandals, flats or even cowboy boots!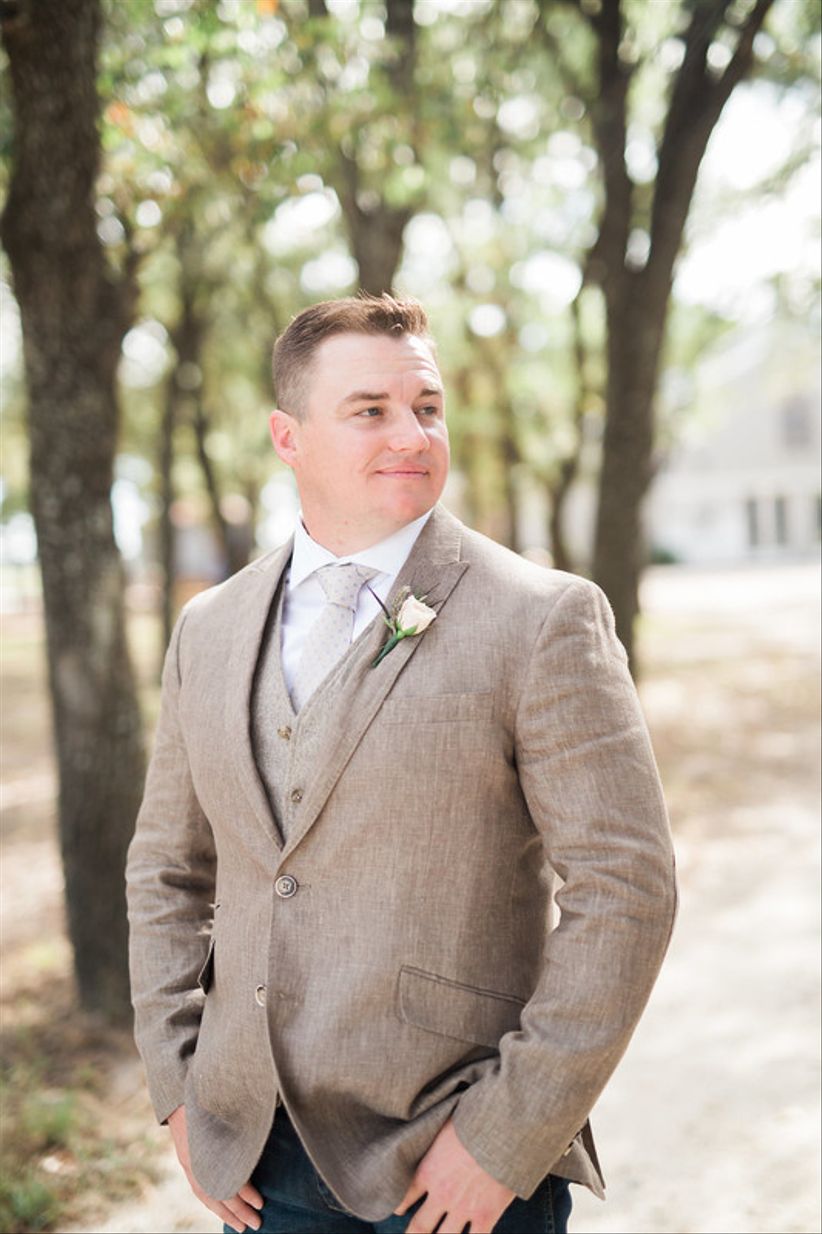 If you're wearing a suit, opt for a more informal style in a lightweight material, such as seersucker, cotton or linen. These options still look polished without being overdressed, and they're ideal for warmer temperatures. Wool suits are a great option for rustic weddings taking place in cooler weather. For the ultimate laid-back look, skip the suit altogether and sport a button-down with dress pants, a tie or suspenders.

Cake and Dessert
For rustic wedding cakes, we love the look of buttercream frosting, which will give your cake a slightly more relaxed look. Dress up each tier with fresh flowers or greenery, or skip the allover frosting and opt for a naked or semi-naked cake instead. Fondant gives a smoother finish to your wedding cake and can be decorated with a faux bois pattern or burlap ribbons for additional rustic flair.
Rustic weddings are a prime opportunity to try out some alternative dessert ideas — homemade pies, doughnuts, waffles, and even pie pops are just some of our faves. Pies are especially festive for fall weddings, since you can incorporate seasonal ingredients like pumpkins and apples. You can serve pies in addition to your traditional cake or send your guests home with pre-boxed slices or mini pies as favors. We also love cupcakes, candy apples, and flavored kettle corn as rustic wedding treats.