20 Scenic Winery and Vineyard Wedding Venues Across the Country
Napa Valley might be famous for its stunning wine country, but it's not the only place you'll find breathtaking vineyards. Here are 20 winery wedding venues throughout the U.S. that we love.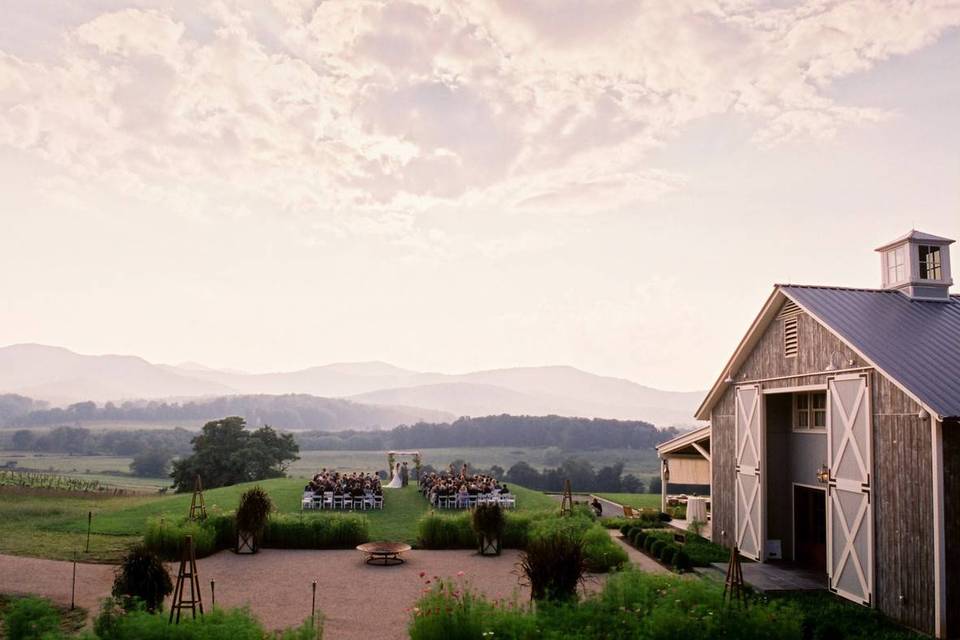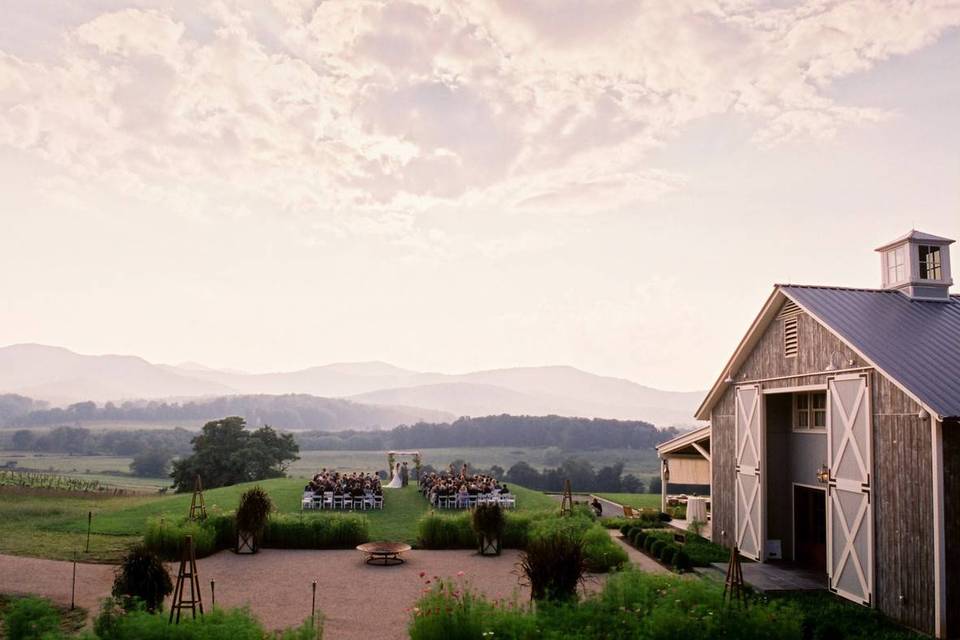 No matter where you're getting married, a vineyard will always be a gorgeous place to say 'I do'—but if you're looking for views that are second-to-none, we've got you covered. These winery wedding venues across the U.S. are known for their unbeatable scenery and locations, from the mountains in Virginia to the tops of canyons in California and beyond. We're sharing all of the must-know details about these beautiful vineyards and wineries to help you decide if any are right for your special day. Keep reading to find out which of these winery wedding venues is closest to you (or where you might want to consider hosting a destination wedding!).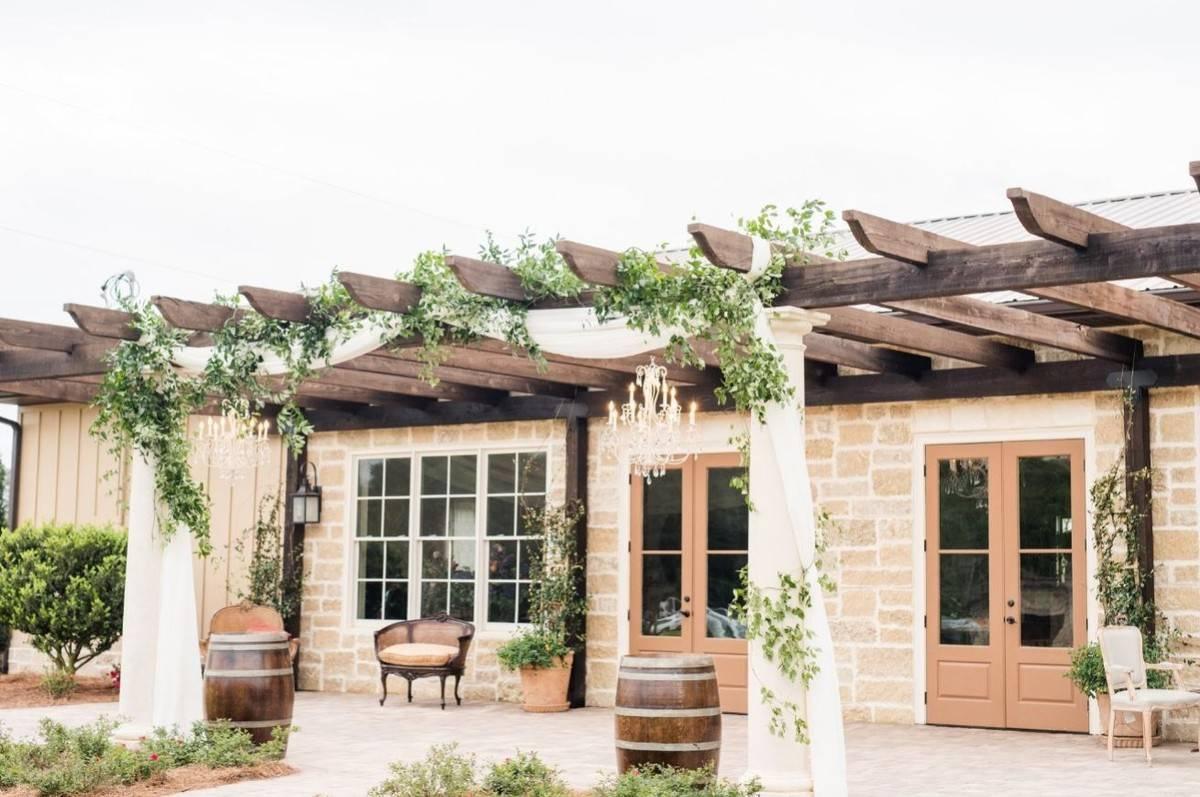 Tuscan Rose Vineyards
Callahan, Florida
After seeing this location, you'll wonder if you've suddenly been transported to the Tuscan countryside. No—it's just this Italian-inspired winery wedding venue in northern Florida! Complete with Old World-style fountains, European-esque courtyards, rose gardens, and cypress trees set on 25 acres of land, Tuscan Rose Vineyards sets the scene for a rustic yet elegant event. Indoors, the Vineyard Hall is lined with warm limestone walls and features beamed ceilings, iron chandeliers, and tall windows to fill the room with natural light.
Learn more about Tuscan Rose Vineyards »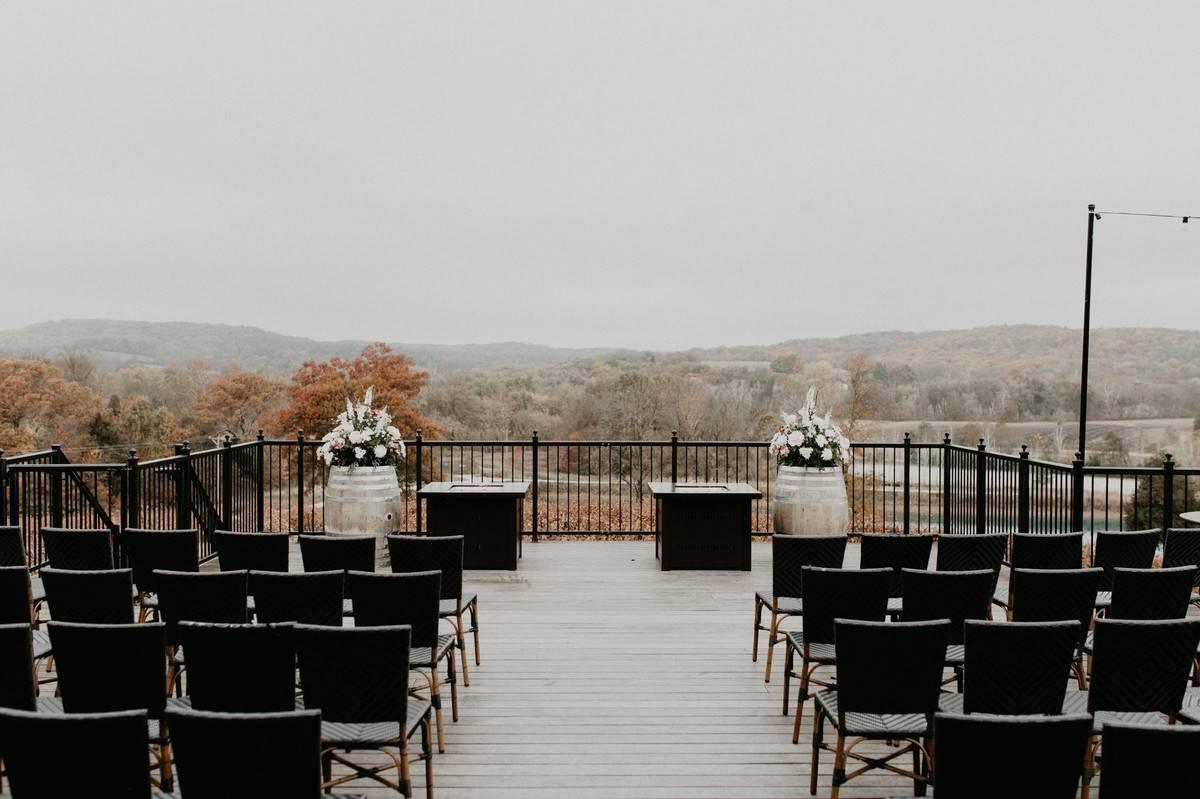 Chandler Hill Vineyards
Defiance, Missouri
If you've been sleeping on Missouri's wine country, you're in for a pleasant surprise, because it turns out that this region is home to some of the prettiest vineyards in the country. Located just outside of St. Louis, Chandler Hill Vineyards overlooks the Missouri River and the surrounding countryside, providing unbeatable views for an outdoor wedding ceremony from the venue's hilltop terrace. This winery wedding venue provides all of the basics for your big day, including in-house catering, event consultations and management, and decor items like tables, linens, and glassware.
Learn more about Chandler Hill Vineyards »
Gorge Crest Vineyards
Underwood, Washington
Get married with a prime view of Mt. Hood at this winery wedding venue, located only an hour from Portland. Gorge Crest Vineyards is the perfect place to take in the natural beauty of the Pacific Northwest—nestled in the Columbia River Gorge, it's surrounded by orchards, vineyards, and forests. In the summer, take advantage of the venue's stunning wildflowers as a backdrop for your wedding ceremony or portraits. There's also a charming barn, which doubles as the winery and barrel room, where you can host a private event. A bonus: The barn also has an apartment where you can get ready on the wedding day or reserve for overnight accommodations.
Learn more about Gorge Crest Vineyards »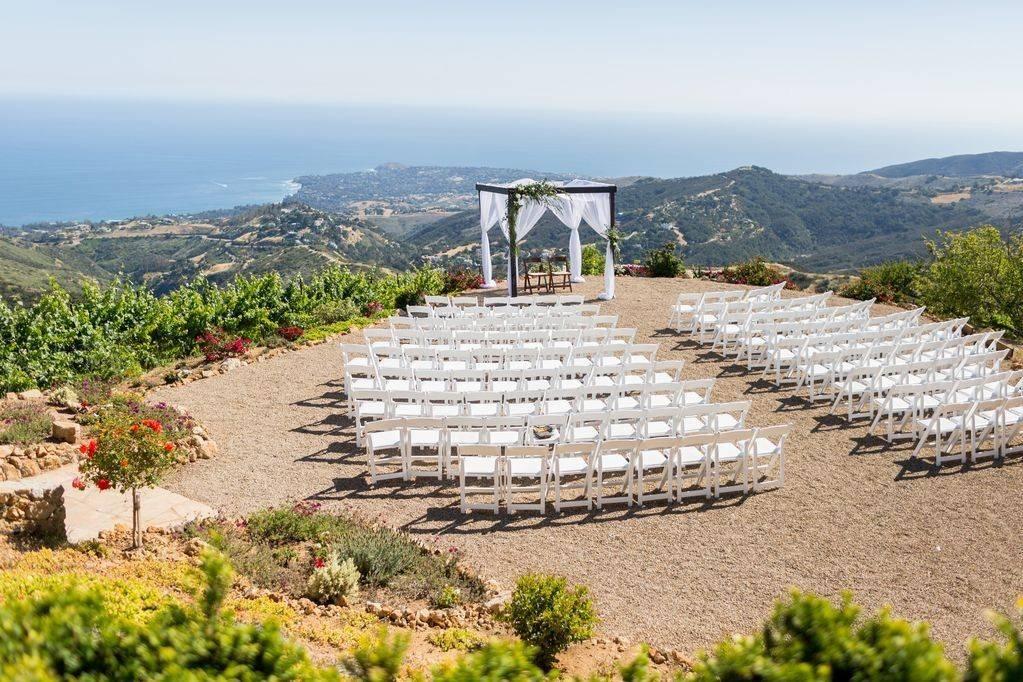 Malibu Solstice Vineyards
Malibu, California
Beach and vineyard views? Count us in immediately. This unique vineyard wedding venue is perched high in the canyons above Malibu, giving you a once-in-a-lifetime backdrop for your vows. With a main house on the property that sleeps up to 10 people, Malibu Solstice Vineyards is perfect for a small microwedding or elopement, although it can host up to 200 guests if you're planning a larger wedding.
Learn more about Malibu Solstice Vineyards »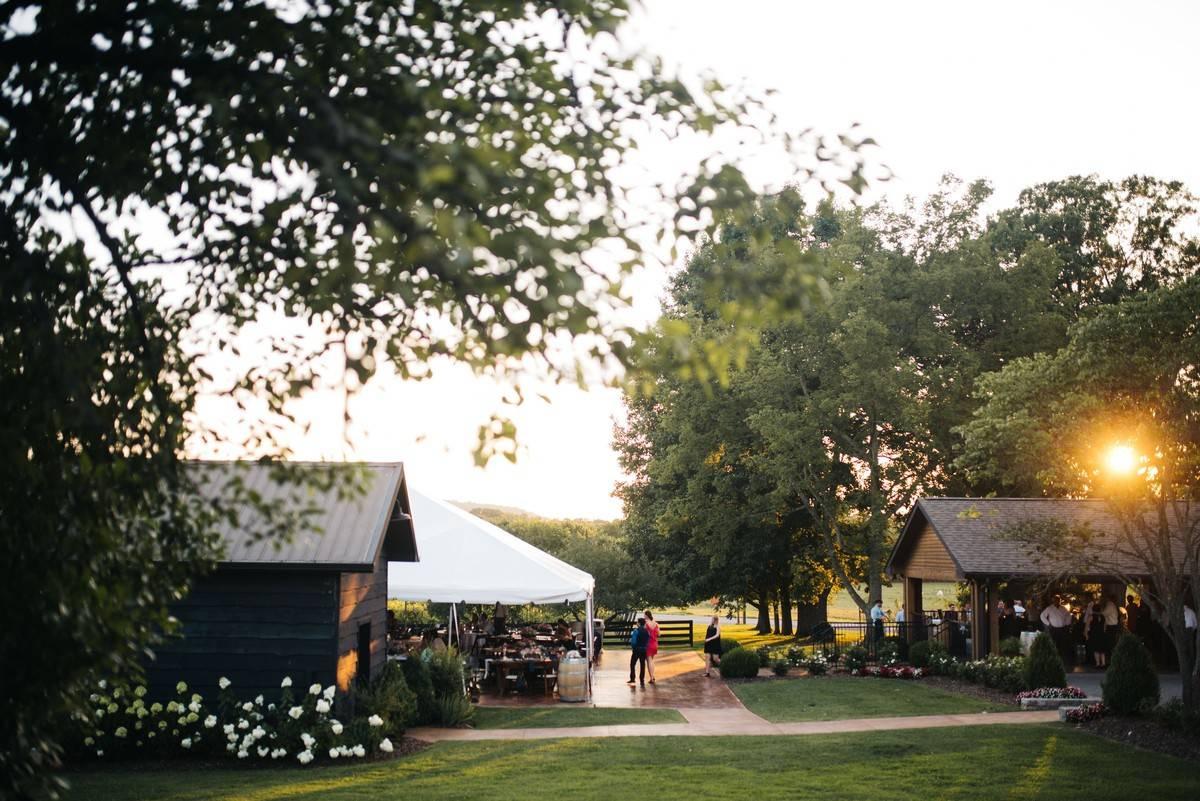 Arrington Vineyards
Arrington, Tennessee
If you're planning a winery wedding in the Nashville area, don't miss Arrington Vineyards, located about 25 miles south of downtown. This award-winning vineyard is a welcoming setting for hosting a rustic-themed or country wedding and has several event spaces throughout the property that you can choose from for your special day. Host your ceremony with the venue's grape vines as a picturesque backdrop, then bring the party over to the barn or pavilion, where you can take in amazing vineyard views. And here's a fun fact for country music fans: Kix Brooks of Brooks & Dunn is a co-owner of Arrington Vineyards!
Learn more about Arrington Vineyards »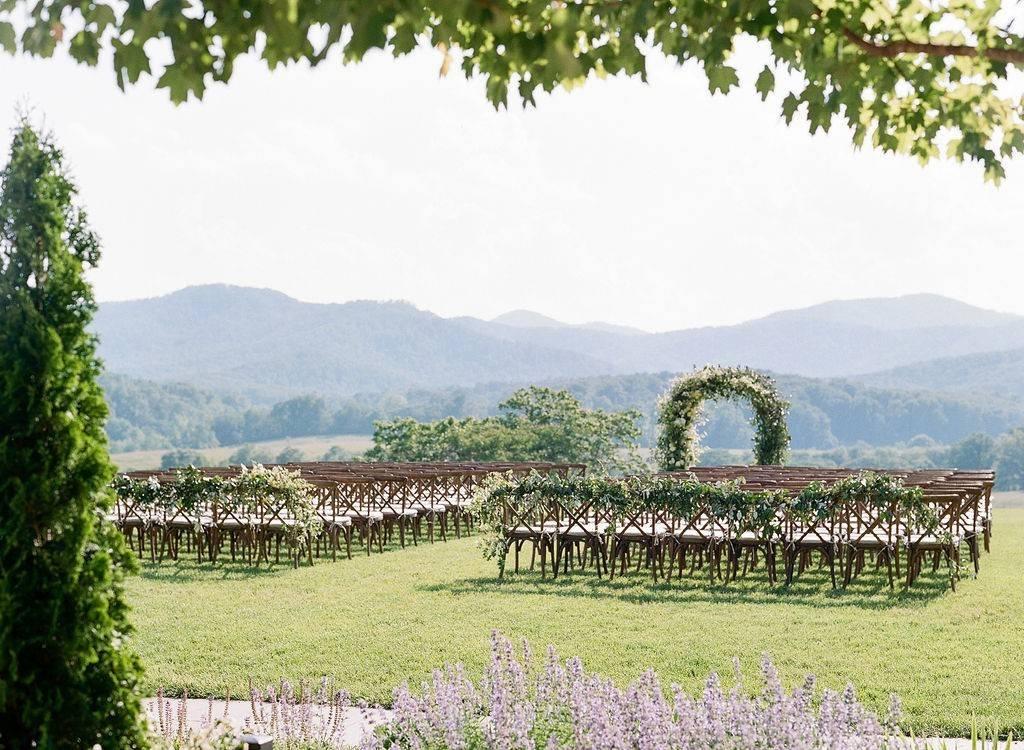 Pippin Hill Farm and Vineyard
North Garden, Virginia
Among locals, Pippin Hill is known as one of the most scenic wedding venues in the region, and it's not hard to see why. This top-rated winery wedding venue sits in the foothills of Virginia's Blue Ridge Mountains, giving you unforgettable views almost everywhere you turn. The venue's two-story barn (called the Granary) is a gorgeous example of rustic chic style, featuring whitewashed walls, dark hardwood floors, beamed ceilings, and large sliding doors that perfectly frame the surrounding scenery. For cocktail hour or smaller, intimate weddings, the venue's veranda is the perfect place for guests to take in a sunset or mingle on the nearby lawn.
Learn more about Pippin Hill Farm and Vineyard »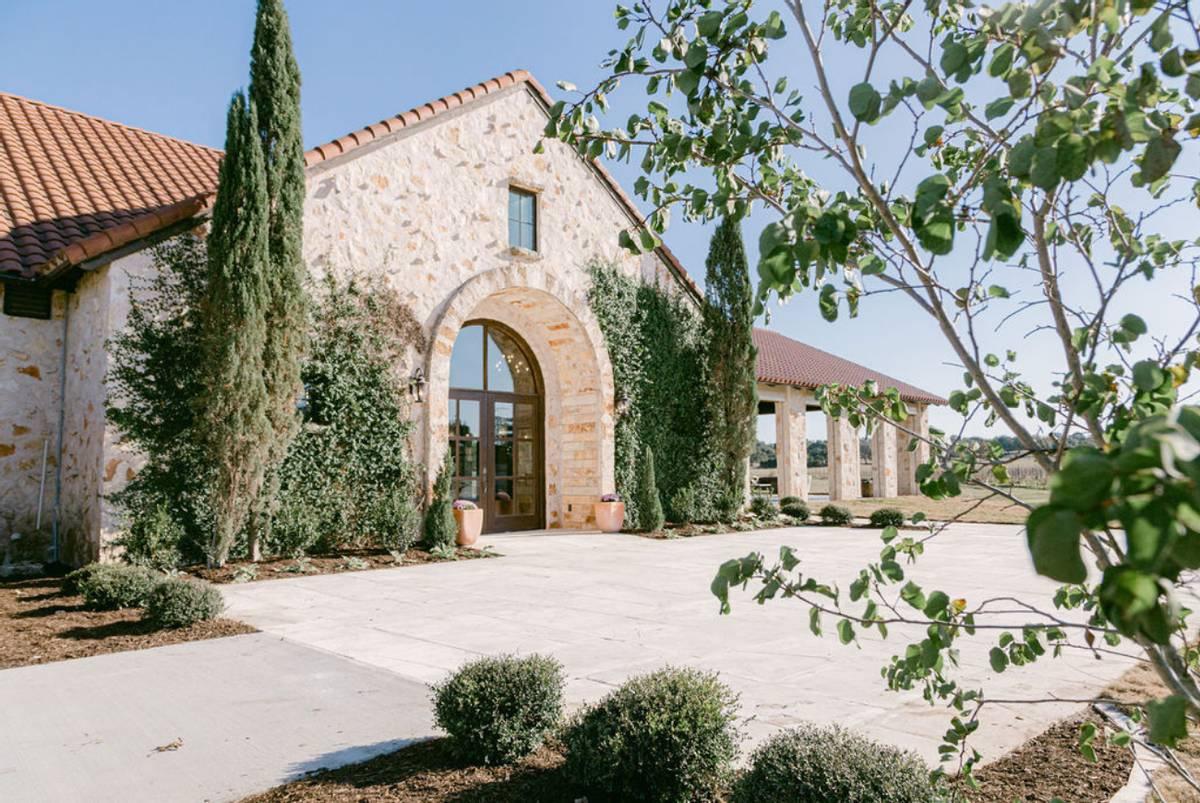 The Vineyard at Florence
Florence, Texas
Enjoy your very own slice of Tuscany at this incredible winery in the heart of Hill Country. The Vineyard at Florence is an all-in-one wedding venue—along with multiple event spaces to choose from for your big day, the venue also has a spa, tasting room and restaurant, swimming pool, fitness center, and luxury overnight accommodations (including private villas). For anyone looking to escape nearby Austin, The Vineyard at Florence is ideal for hosting a destination wedding or elopement getaway, but it's also a popular choice for bachelorette parties! Whatever your event, the venue provides in-house catering and day-of coordination to help ensure that everything runs smoothly.
Learn more about The Vineyard at Florence »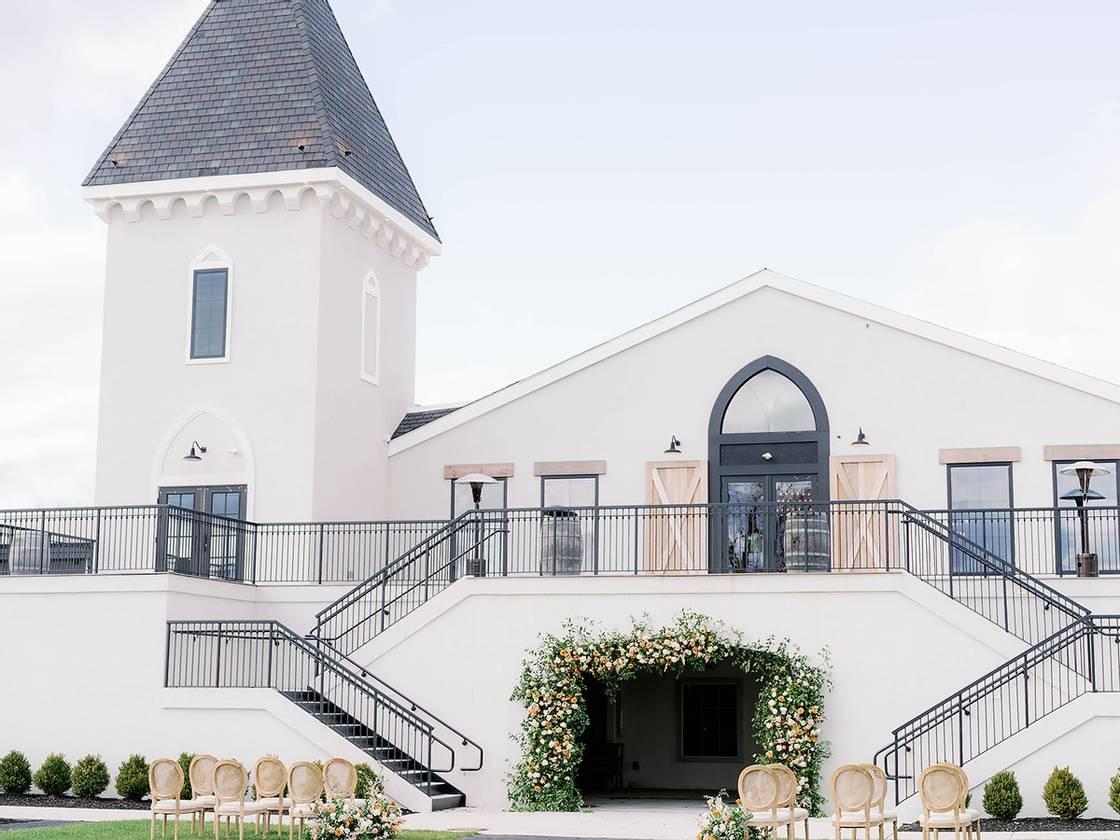 Renault Winery and Golf Resort
Egg Harbor City, New Jersey
If a French château is more your style, you'll love the Renault Winery and Golf Resort in southern New Jersey. Home to a castle-inspired banquet hall and lavish ballrooms, this 1,400-acre resort is a beautiful venue for a classic garden wedding theme. In-house catering, professional event coordinators, and the on-site hotel will all make your wedding planning process a little bit easier.
Learn more about Renault Winery and Golf Resort »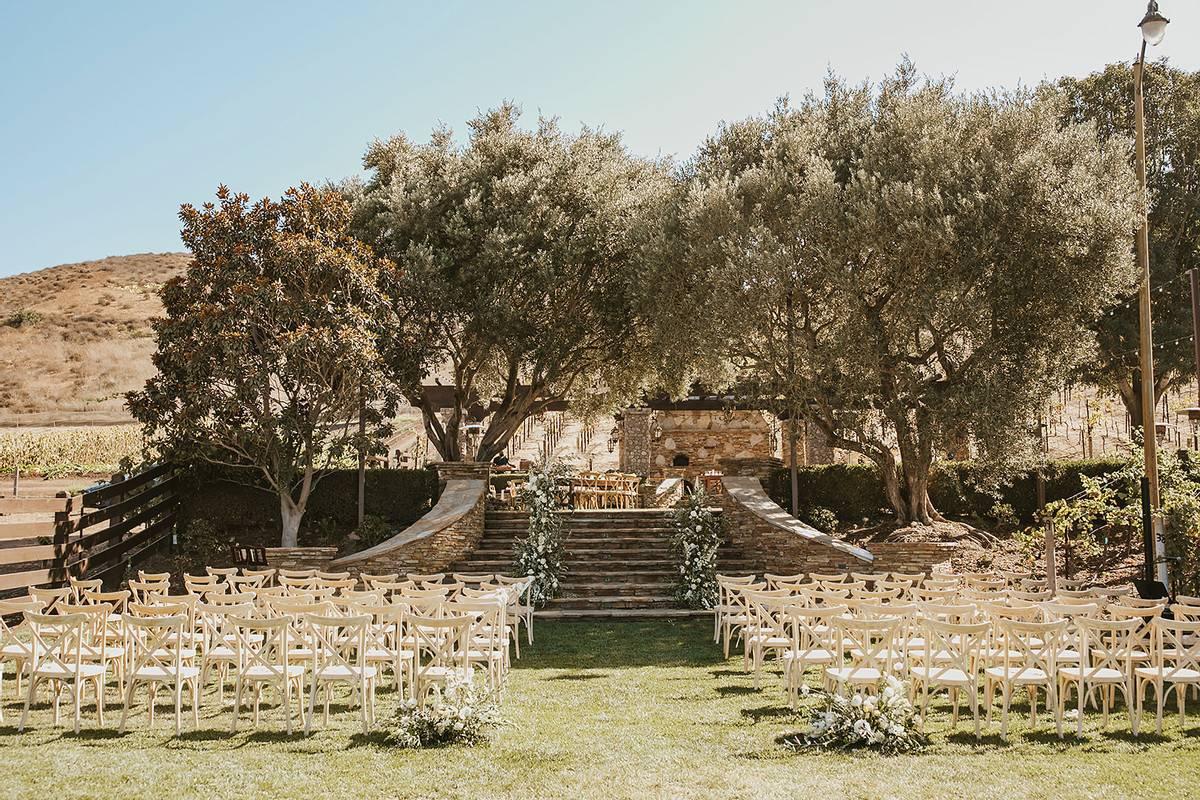 Casi Cielo Vineyards
Camarillo, California
We couldn't imagine a more scenic location to get married than Casi Cielo Vineyards if you're planning a wedding in Southern California—and if you needed even more proof, let us remind you that the venue's name means "almost heaven." On the ceremony lawn, a grand staircase and stone altar are bordered by shady oak trees to create a focal point for your vows, with vineyards and wildflower fields in the distance. Located in the foothills of the Santa Monica mountains, this winery wedding venue is about an hour from both Santa Barbara and Los Angeles.
Learn more about Casi Cielo Vineyards »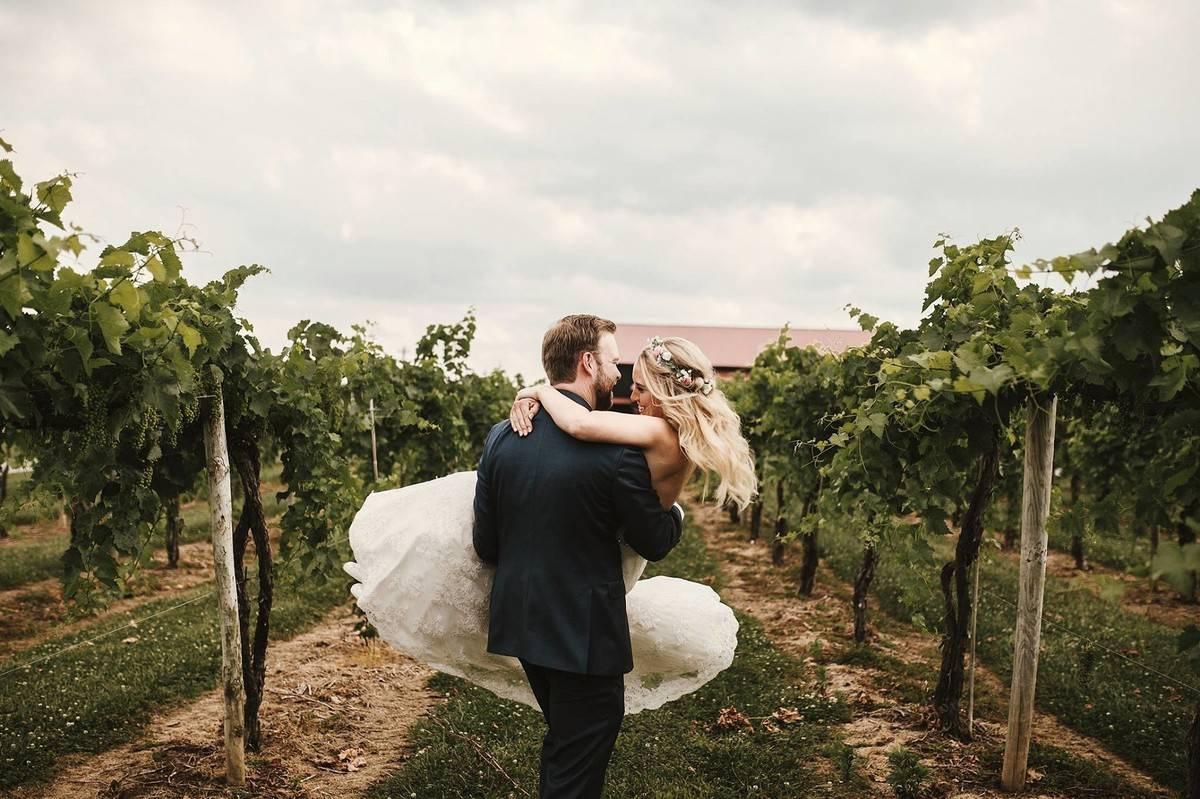 Talon Winery & Vineyards
Lexington, Kentucky
Surrounded by 300 acres of lush Kentucky countryside and horse farms, Talon Winery & Vineyards is a serene setting for your I dos. If you're dreaming of an outdoor wedding ceremony, a pavilion overlooking the grape vines is an idyllic backdrop, while the venue's barn features an adjoining patio and space for up to 250 guests.
Learn more about Talon Winery & Vineyards »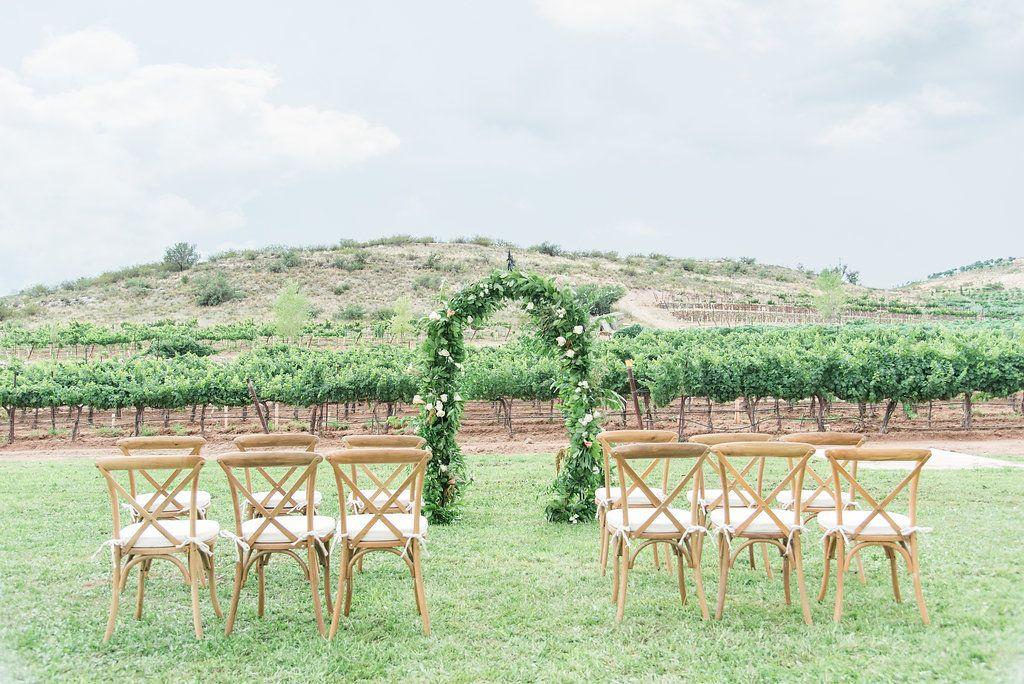 Alcantara Vineyards
Cottonwood, Arizona
Arizona may be best known for its desert scenery and Southwestern style, but it's also home to picturesque wineries and vineyards. Alcantara Vineyards, located about halfway between Phoenix and Flagstaff, features Tuscan-inspired architecture and all of the mountain views you could want for your special event. An open-air wedding chapel that overlooks the vineyards is perfect for sheltering guests in the summer heat without being completely indoors.
Learn more about Alcantara Vineyards »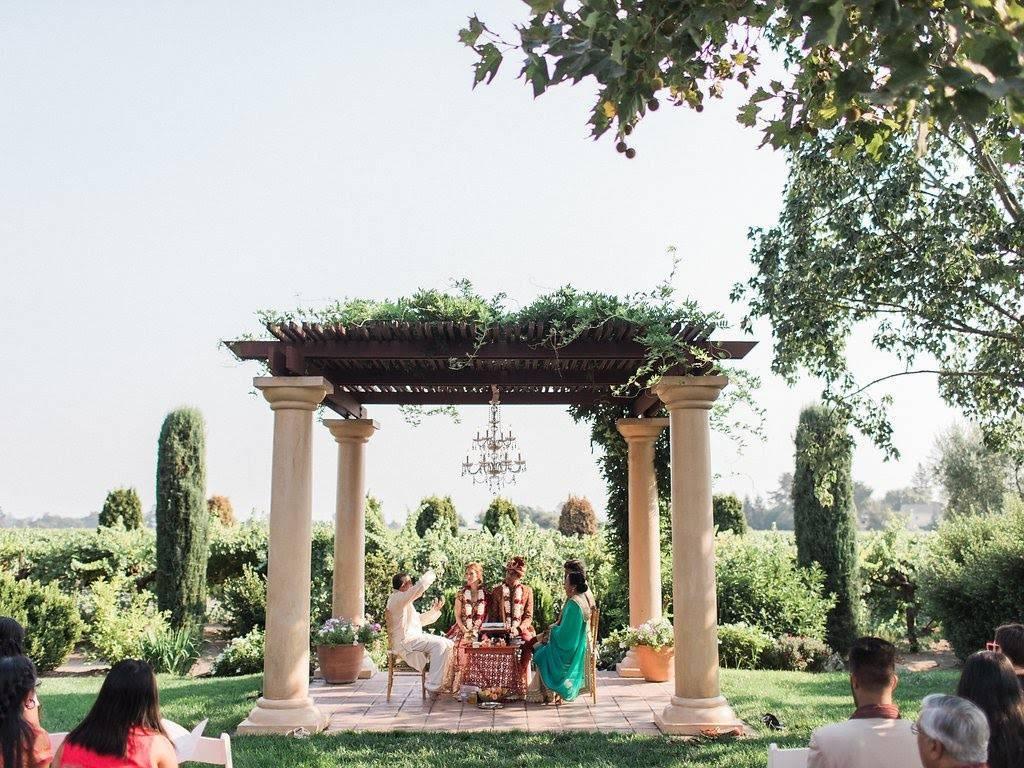 Vintners Resort
Santa Rosa, California
As one of Sonoma's most renowned winery wedding venues, Vintners Resort is no stranger to helping you plan the wedding of your dreams. This stunning property has a grand Mediterranean-style banquet hall, but the venue's outdoor views are just as impressive, including an elegant ceremony pergola and 90 acres of vineyard landscape.
Learn more about Vintners Resort »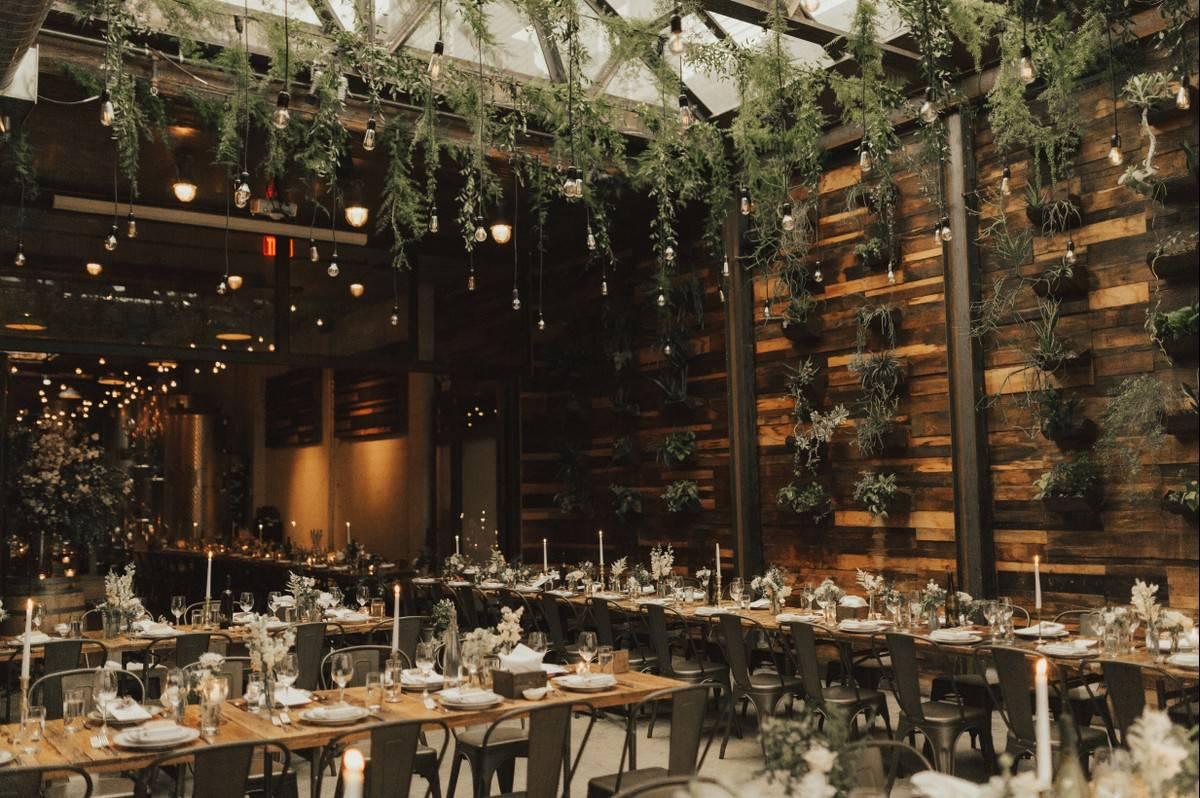 Brooklyn Winery
Brooklyn, New York
Getting hitched in the Big Apple? While there aren't any actual vineyards in New York City, Brooklyn Winery is the next best thing. This trendy Williamsburg wedding venue is filled with one-of-a-kind accents and finishes, including reclaimed barn wood walls, vintage wallpaper, and authentic Mid-century modern fixtures. In-house catering focuses on using market-fresh ingredients that are paired flawlessly with the venue's own wines and spirits.
Learn more about Brooklyn Winery »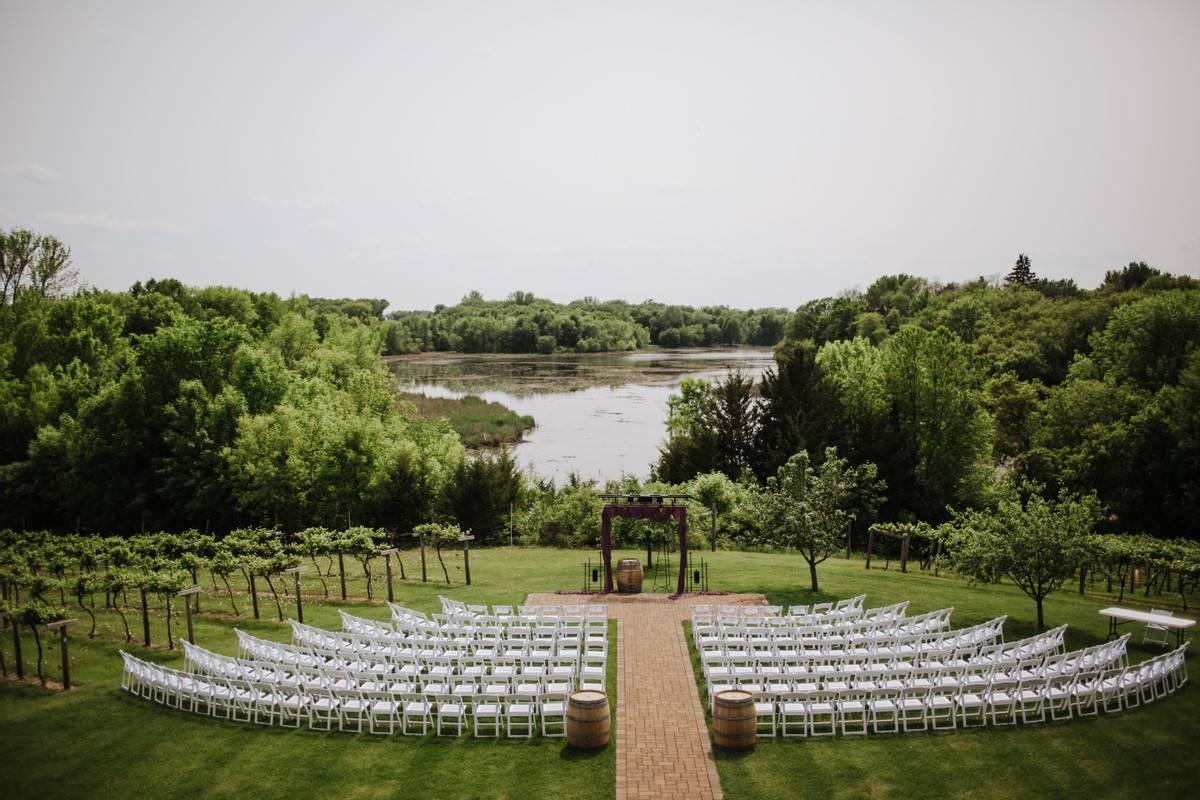 Winehaven Winery and Vineyard
Chisago City, Minnesota
At Winehaven Winery and Vineyard, you won't have to choose between a waterfront or vineyard view for your wedding ceremony—you can have both. This gorgeous vineyard wedding venue, which is located about 45 minutes north of Minneapolis, is rustic-chic with a hint of Tuscan flair. The main event center is elegant and cozy, with large wraparound windows that provide panoramic vineyard views and plenty of natural light. Outside, you can hold your wedding ceremony among the grape vines just steps from the venue's pond.
Learn more about Winehaven Winery and Vineyard »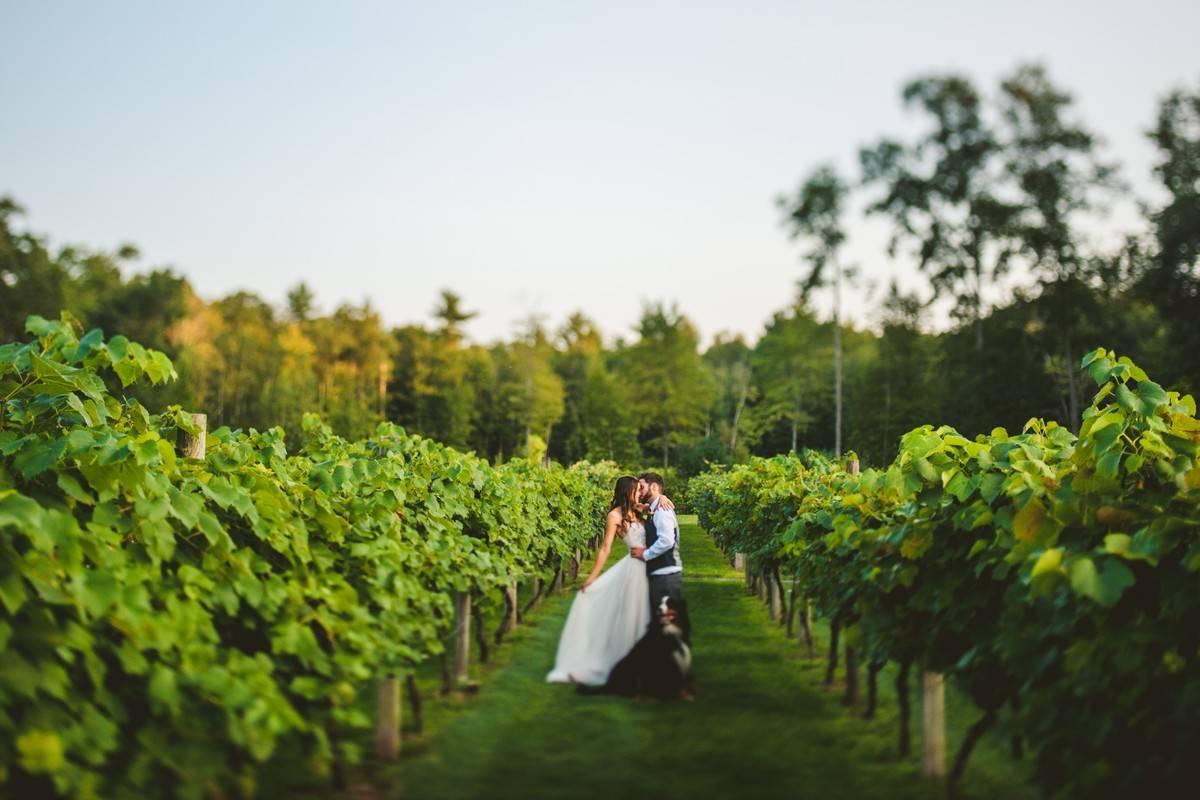 Zorvino Vineyards
Sandown, New Hampshire
If you're looking for a wedding venue with romantic ambiance and classic New England charm, you'll love Zorvino Vineyards in southern New Hampshire. This all-inclusive wedding venue is beautiful year-round (yes, even during the winter!) with landscaped gardens, a koi pond, fountains, and a hilltop gazebo overlooking the vineyard. The main red barn houses an indoor event space, which has a two-story brick fireplace, beamed ceilings, and a wraparound balcony.
Learn more about Zorvino Vineyards »
The Vineyards at Betty's Creek
Sylva, North Carolina
With its five outdoor spaces, breathtaking views of North Carolina's Blue Ridge Parkway, and competitive wedding packages, it's no surprise that this winery wedding venue is a repeat WeddingWire Couple's Choice Award winner. The Vineyards at Betty's Creek offers plenty of perks for your perfect day, including exclusive use of the property for your wedding weekend, a bridal suite where you can get ready, complimentary honeymoon cottage, and decor items like handmade farm tables and chairs.
Learn more about The Vineyards at Betty's Creek »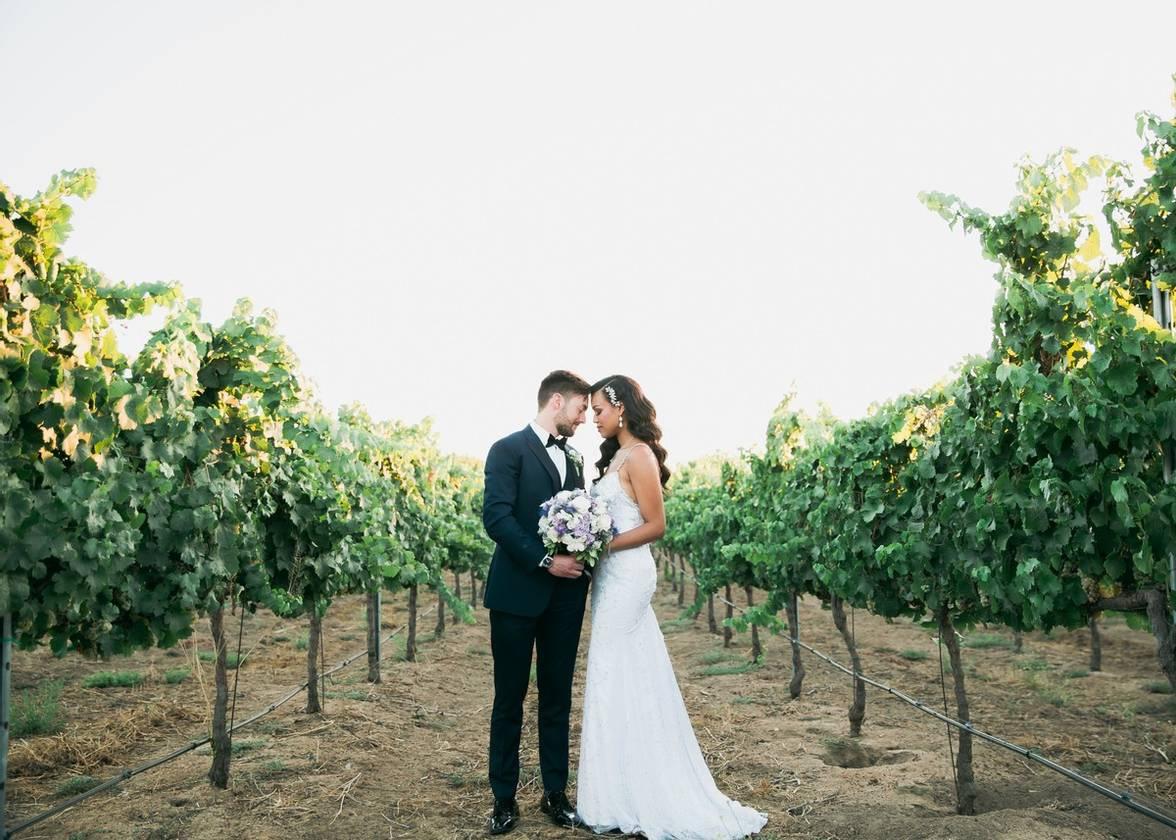 Mount Palomar Winery
Temecula, California
Tucked away in the rolling hills of Temecula Valley, Mount Palomar Winery is an unbeatable event venue if you want to get married at a vineyard in Southern California. This elegant venue is the perfect backdrop for a romantic celebration—from tall cypress trees and European-style fountains, to vine-covered arches and the magical barrel room, everything at Mount Palomar Winery is like something out of a storybook. And if the Old World ambiance wasn't enough to convince you, couples who get married at Mount Palomar Winery receive a complimentary six-month membership to the venue's wine club.
Learn more about Mount Palomar Winery »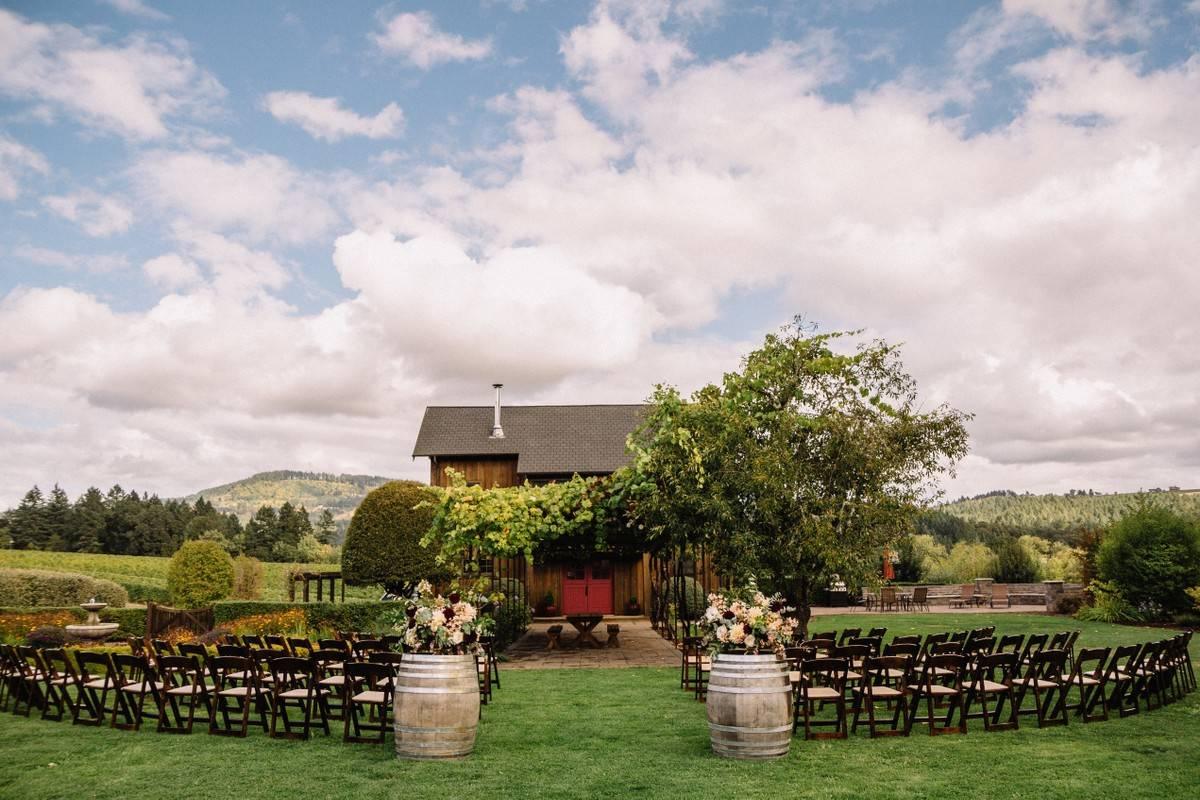 Beacon Hill Winery & Vineyard
Gaston, Oregon
If you're in the PNW, you probably already know that Oregon's Willamette Valley is home to some of the most spectacular vineyards and wineries. Beacon Hill Winery & Vineyard, located in Gaston about 30 miles west of Portland, is no exception. This dreamy outdoor venue sits on 40 acres of Pinot Noir and Chardonnay vineyards, giving you plenty of privacy—and scenery—for your special day. The estate garden (shown here) is the venue's most picturesque ceremony backdrop, but there are a handful of indoor spaces at the venue that are equally as photo-worthy.
Learn more about Beacon Hill Winery & Vineyard »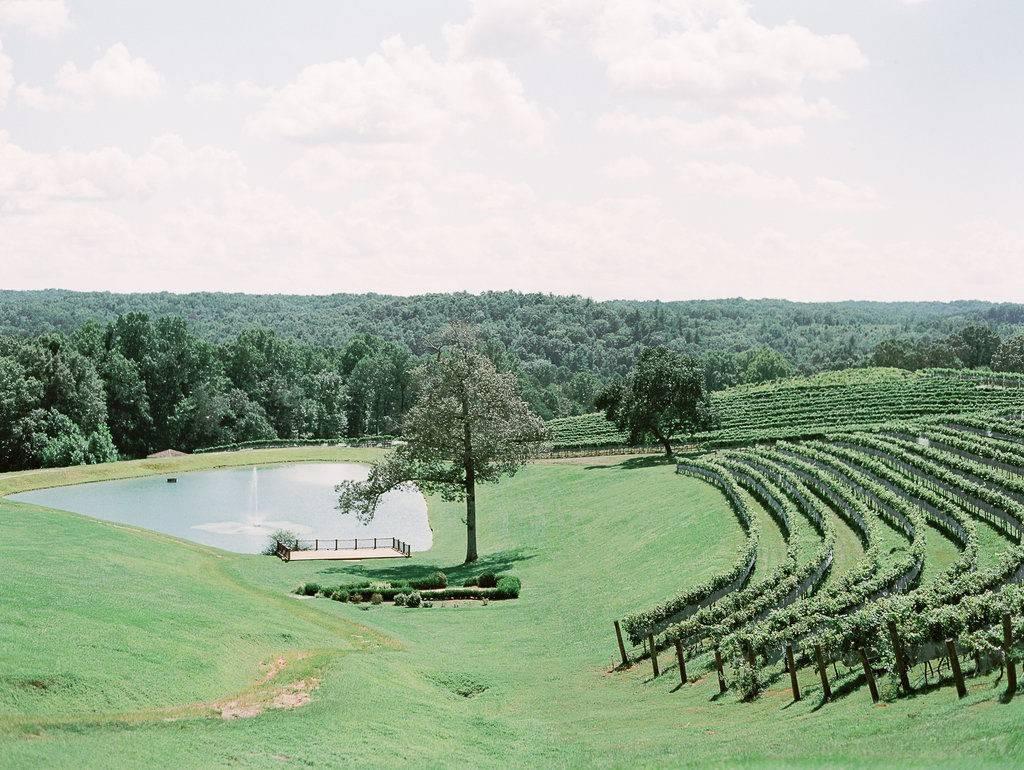 Monteluce Winery
Dahlonega, Georgia
Perched high on a hill, the views from Monteluce Winery are hard to beat. The venue's grand hall features a covered patio that overlooks the vineyards below, providing wraparound scenery as far as you can see. For something more intimate and informal, consider exchanging your vows on the pond deck, which is ideal for elopements or small groups. Gourmet caterers and bar service are provided by the venue, making your wedding to-do list that much shorter.
Learn more about Monteluce Winery »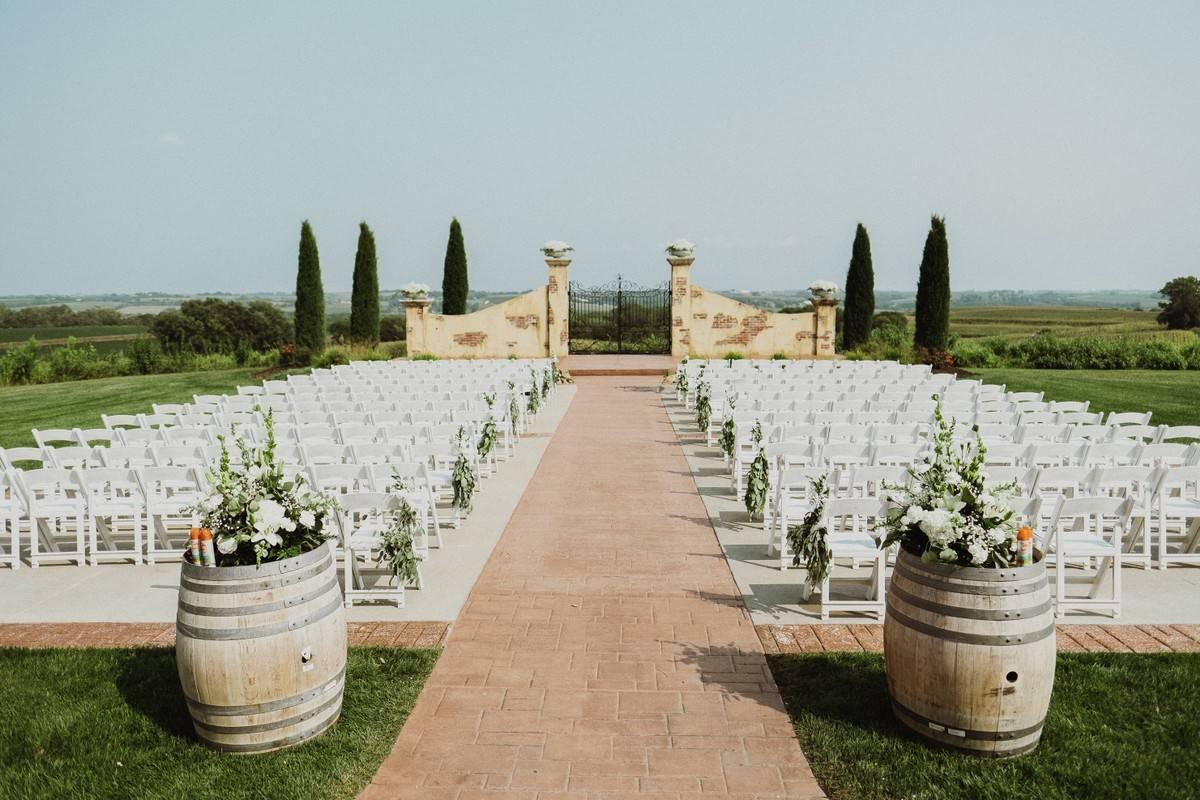 Bella Terre Reception Hall & Vineyard
Glenwood, Iowa
Despite its location just 15 minutes from Omaha, Belle Terre Reception Hall & Vineyard feels like it's a world away. This winery wedding venue captures the beauty and opulence of Italian style, with a pair of iron gates serving as the dramatic backdrop for your wedding ceremony. You'll have exclusive use of the property on your wedding day, along with professional event coordination and optional decor rentals.