The 18 Absolute Best Wedding Venues in Washington, DC
Don't start planning your big day in the district without checking this list of the best DC wedding venues first.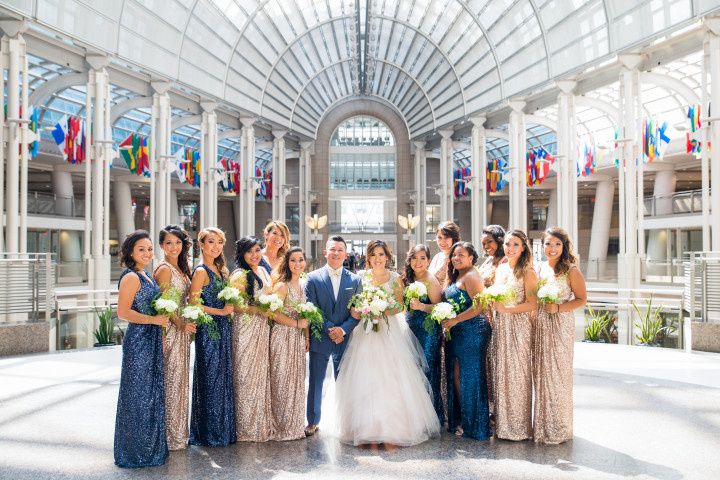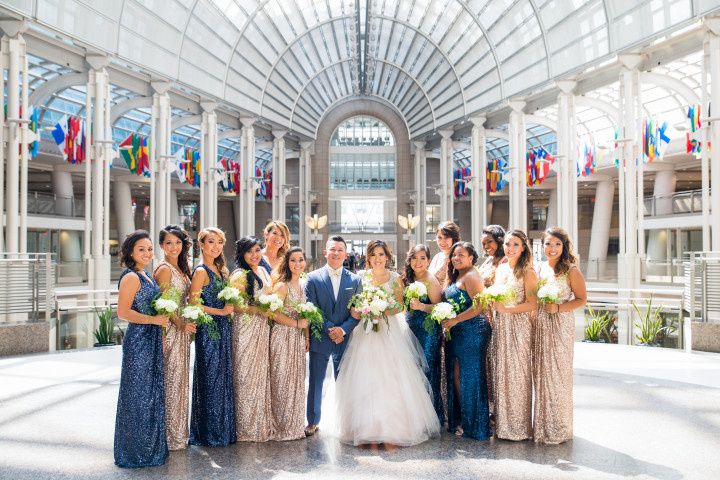 Outsiders may know the nation's capital city as purely monuments and legislation, but locals know that Washington, DC is a party town in its own right—from U Street and Adams Morgan, to Chinatown, Navy Yard, and Southeast DC. The best wedding venues in DC reflect this city's softer, fun-filled side, whether you're into the charming cobbled streets of Georgetown, grand hotels and ballrooms near the White House, or gorgeous waterfront views. These Washington, DC wedding venues run the gamut in terms of style, history, and aesthetic, and they're all great places to let loose for your nuptials.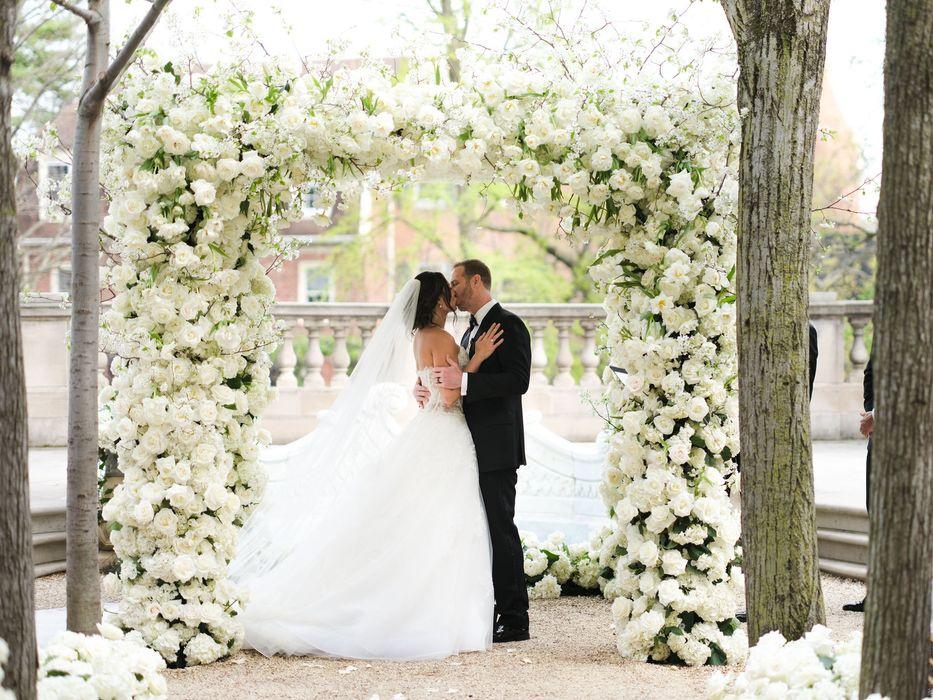 Meridian House
Reminiscent of a French château, Meridian House is an exquisite DC wedding venue for an ultra-formal event. This 1920s mansion is located just off 16th Street across from Meridian Hill Park (Malcom X Park) and features a walled garden, private courtyard, and gorgeous indoor architecture, including a grand library. Meridian House accommodates up to 200 people for a cocktail-style reception or up to 150 guests for a seated reception.
Learn more about Meridian House »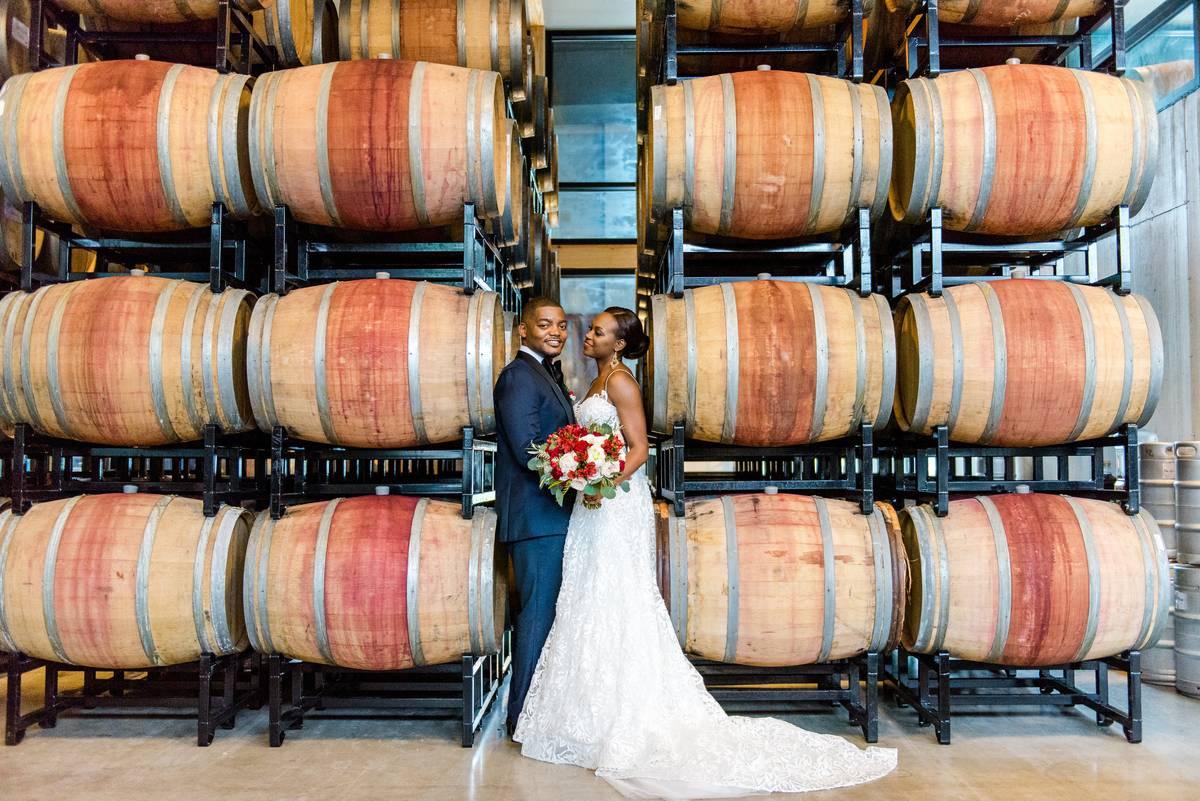 District Winery
While you'll have to head to northern Virginia and the greater DC area to find actual vineyards, you can still enjoy delicious locally made wines by getting married at District Winery in Navy Yard. The waterfront view of the Anacostia River is just one of the perks at this all-inclusive venue—the indoor event spaces are just as impressive, whether you choose the barrel room or main banquet hall, with wraparound floor-to-ceiling windows overlooking the terrace. In addition to gourmet in-house catering (and wine, of course), District Winery provides tables, chairs, table linens, printed menus, and other rental items to complete the day.
Learn more about District Winery »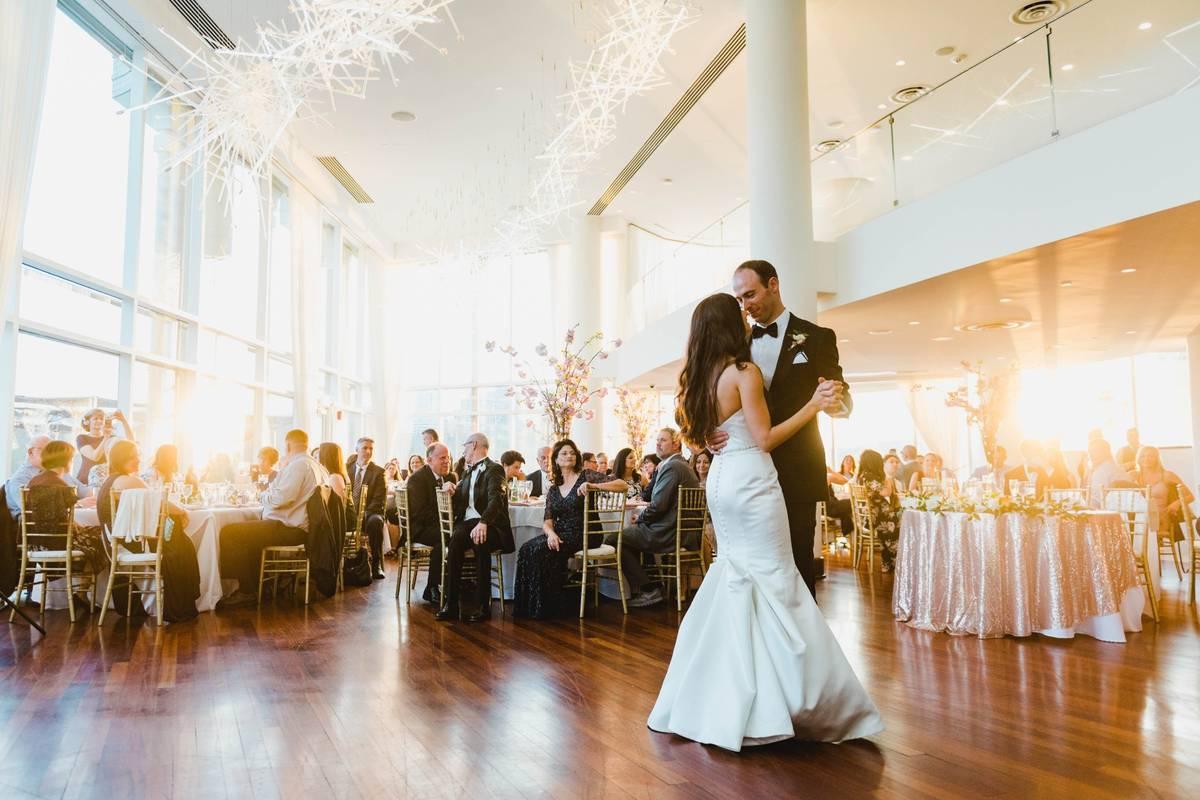 Sequoia Restaurant
Known for its unique decor and contemporary flair—including the one-of-a-kind lighting installation throughout the space—Sequoia is the perfect DC wedding venue to make a statement and wow your guests. Cathedral ceilings give the space a grand, airy vibe, and large wraparound windows overlook the Kennedy Center, Potomac River, and Arlington skyline in the distance. The restaurant accommodates 250 guests and provides catering and basic event rentals.
Learn more about Sequoia Restaurant »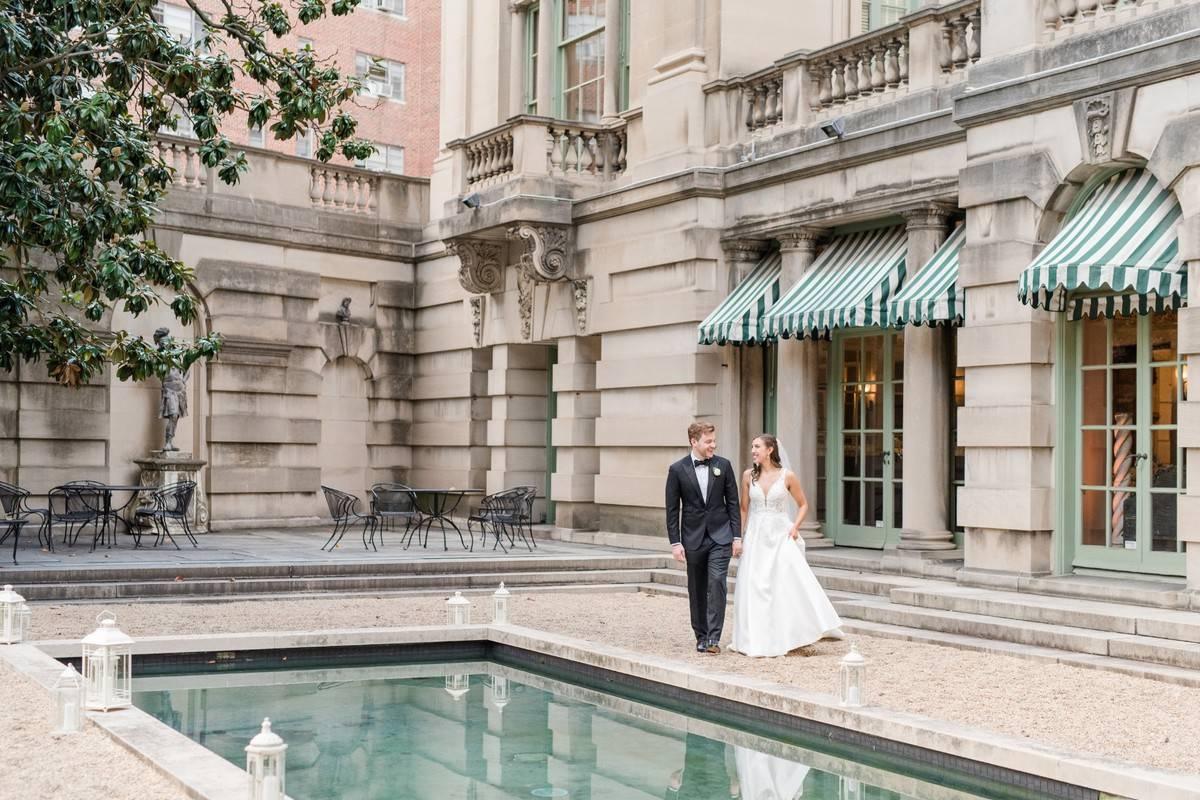 Anderson House
Complete with marble floors, grand staircases, ornate ballrooms, and a landscaped garden featuring stately magnolia trees and a gorgeous reflecting pool, this DC wedding venue looks like something out of a fairytale. The historic house, which is more than 120 years old, is one of the most exclusive spots in the district. It's located along Massachusetts Avenue in the heart of Embassy Row, within walking distance to Dupont Circle, Kalorama, and West End—giving your out-of-town guests plenty of options when it comes to dining and accommodations.
Learn more about Anderson House »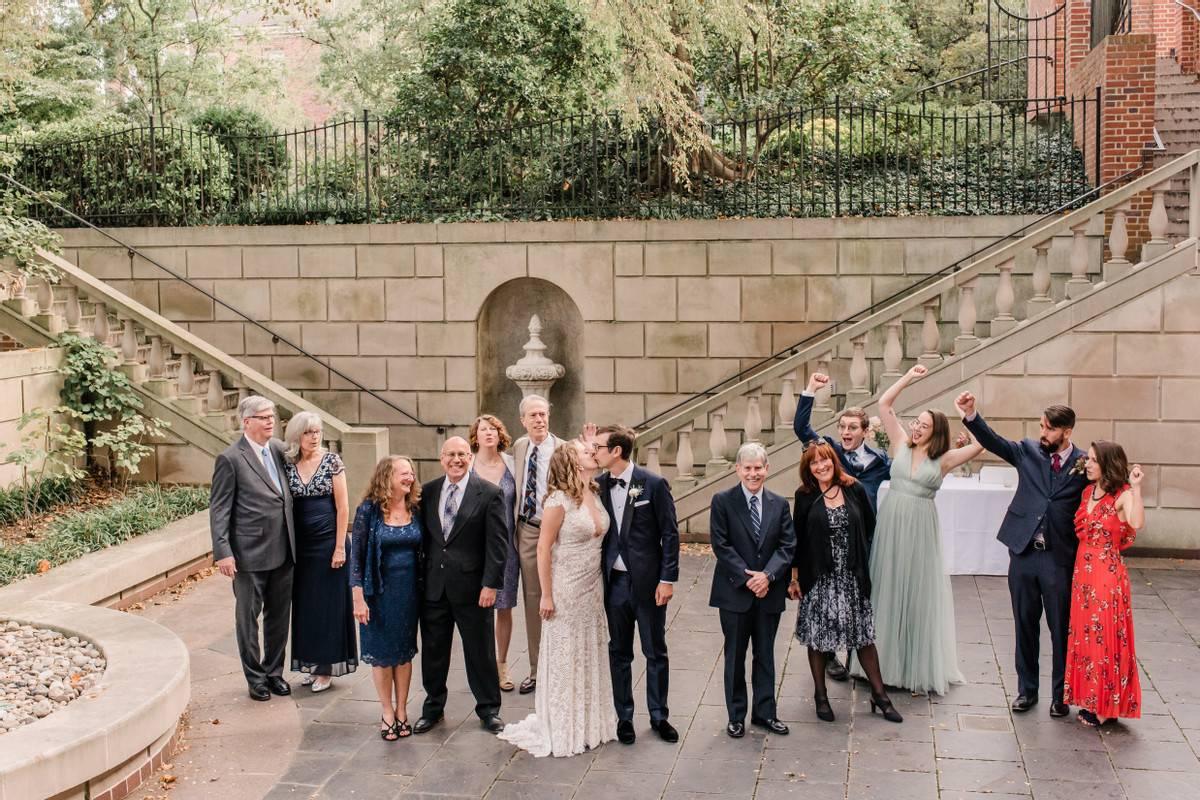 Dumbarton House
Nestled in the heart of Georgetown, this elegant DC wedding venue is a beautiful choice if you're dreaming of an outdoor wedding. The main house connects to a serene garden, terrace, and walled courtyard, giving you several outdoor spaces to choose from. With event rental costs starting at $5,600 during peak season (April–November), it's also one of the more affordable wedding venues in the district.
Learn more about Dumbarton House »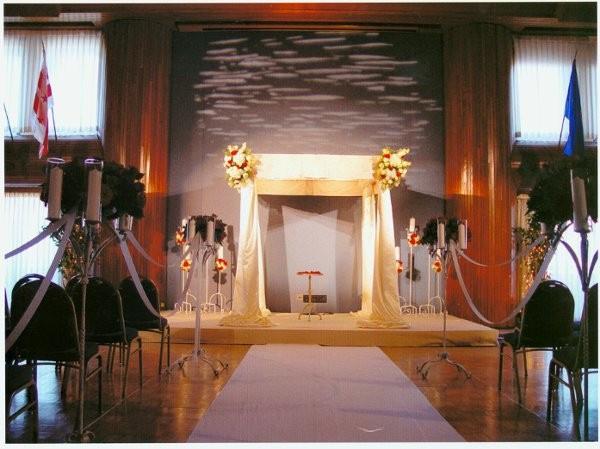 National Press Club
Couples searching for the best wedding venues in DC who land on the National Press Club will find themselves in excellent company. This 100-year-old gem within sight of the White House, Washington Monument, and the Capitol has hosted many United States presidents, foreign kings, queens, and countless luminaries over the decades. What began as a place for newspapermen to smoke and play cards is now one of the most sought-after DC wedding venues thanks to its eight event spaces and museum venue atmosphere. Perfect for couples expecting between 50 and 250 wedding guests, the National Press Club is an elegant space for both a wedding ceremony and wedding reception. High ceilings, wood floors, floor-to-ceiling windows for lots of natural light and a very adaptable event space for couples to customize all add to the allure of this wedding venue. Host your entire wedding, from pre-wedding photos to the after party, at National Press Club like Jennifer and Souri's playful summer wedding.

Learn more about National Press Club »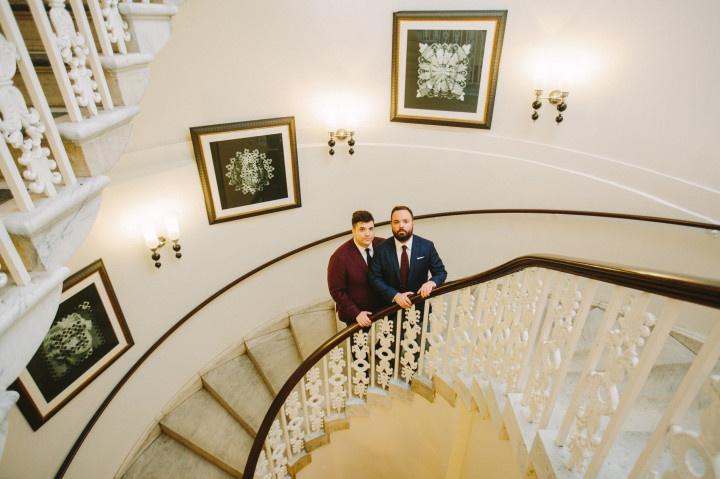 The Loft at 600 F
One of the best DC wedding venues is also a fairly new addition to Washington, DC. Constructed with modern celebrations in mind, The Loft at 600 F is a collection of event spaces perfect for weddings with up to 120 guests. Located in Chinatown amid some of DC's most notable cultural buildings (National Portrait Gallery, National Building Museum and Sixth & I Historic Synagogue, to name a few), you can't beat the convenient location of this wedding venue to all points in DC and the wider metropolitan area. Make your unique wedding vision come to life, whether it be ultra chic, super rustic or somewhere in between with The Loft's design elements that include bar areas, LED uplighting, wood floors and exposed brick walls.

Learn more about the Loft at 600 F »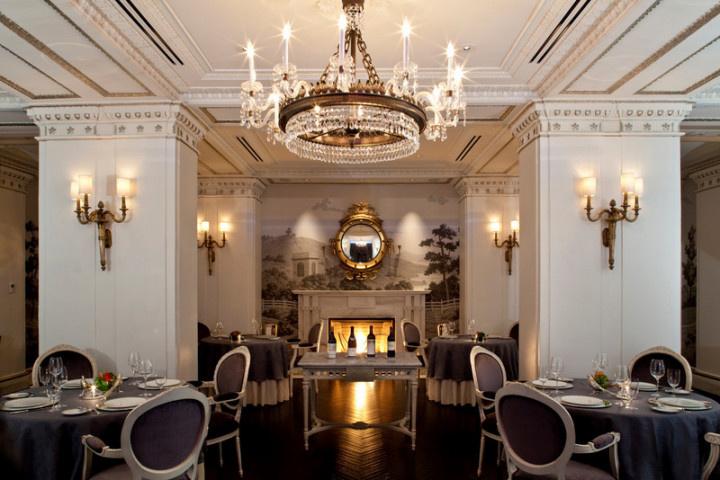 The Jefferson
Both historic Dupont Circle wedding venue and boutique hotel, The Jefferson is as steeped in history as it is rooted in contemporary cool. Settled on 16th street in DC's northwest quadrant, The Jefferson is located in the heart of the city with quick access to downtown, Logan Circle, and Dupont Circle. As a Beaux-Arts style building that's more than 100 years old, The Jefferson's facade and interior reflect many of the trends of the day: a domed rotunda, paneled walls, glittering chandeliers, mounted lanterns, and plush carpet. Ideal for intimate ceremonies and elopements, event spaces at this venue accommodate up to 60 guests.

Learn more about The Jefferson »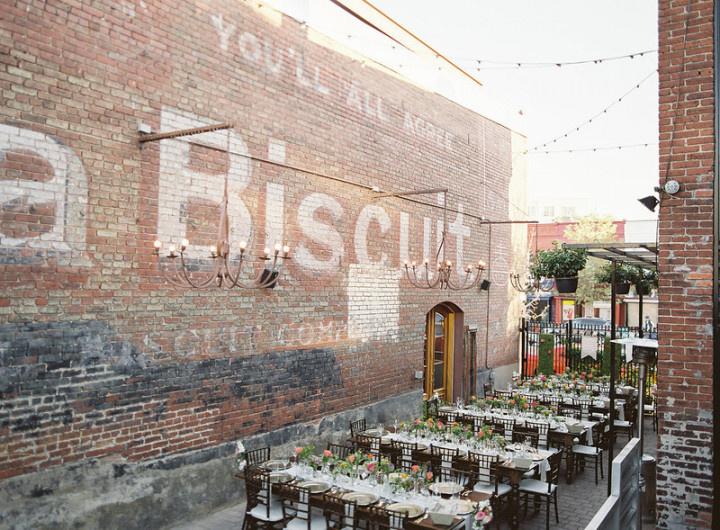 Gallery O on H
Many of the best wedding venues in DC are big on history and tradition, but this town is as on-trend as it is full of symbolism. Take Gallery O on H, a fairly new addition to DC's hip H Street Corridor in Northeast. An artfully restored industrial building, this wedding venue is perfect for modern couples looking for an event space they can transform to fit their desired motif. Exposed brick walls, a faded Uneeda Biscuit logo and an interior, urban courtyard all help stylish couples pull off the ultimate industrial chic wedding. Invite up to 85 guests and wedding party attendants to join you on your wedding day in this smartly designed 3,000 square foot space. The venue's sleek but sparse decor also makes it the perfect backdrop for creative greenery wedding ideas.
Learn more about Gallery O on H »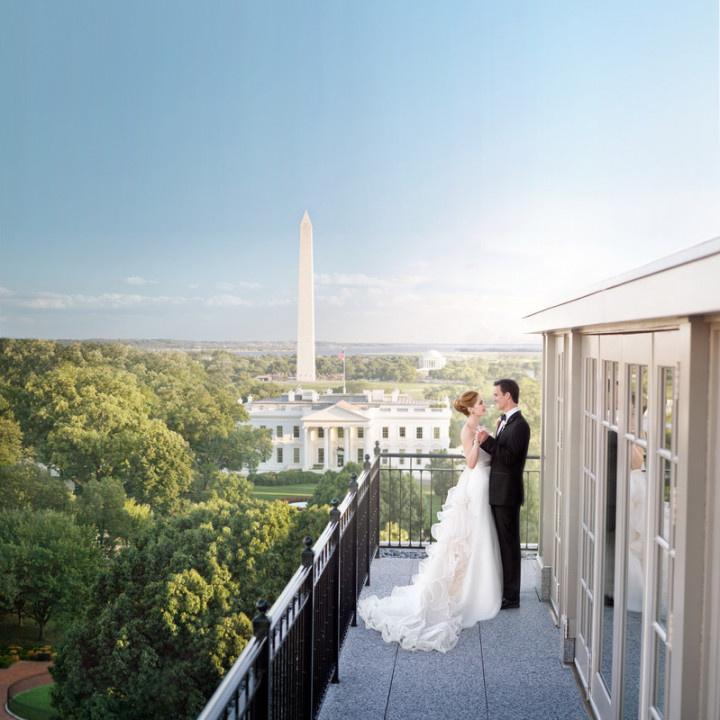 The Hay-Adams
When you think "best wedding venues in DC," you're going to think about The Hay-Adams, a stalwart among DC wedding venues since it arrived on the scene in 1926. Named for the site's former residents (John Hay and Henry Adams), the Hay-Adams is peak DC with its city's best view of the White House, outstanding Lafayette Square location, classical decor and romantic architectural features. Couples choose from four event spaces at this historic hotel including their host of rooftop covered terraces that directly overlook 1600 Pennsylvania. With the square footage to accommodate up to 200 wedding guests, this wedding venue is ready for weddings of various sizes.

Learn more about The Hay Adams »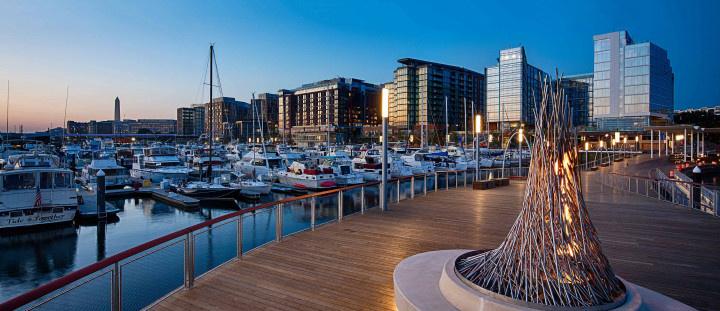 District Wharf
Nautical couples rejoice! District Wharf offers a bevy of DC wedding venues along the Southwest Waterfront, just off the Washington Channel. From intimate pier ceremonies to expansive wedding receptions at the development's entertainment arena, there are options upon options for DC couples checking out this trendy area. Piers, parks, restaurants and The Anthem, a 24,000 square foot venue, offer thousands of combined event space that's conveniently located near Yards Park and several Metro stations. What's more, some of the event spaces at District Wharf are perfect for a rooftop view of the National Mall and Capitol dome.

Learn more about District Wharf »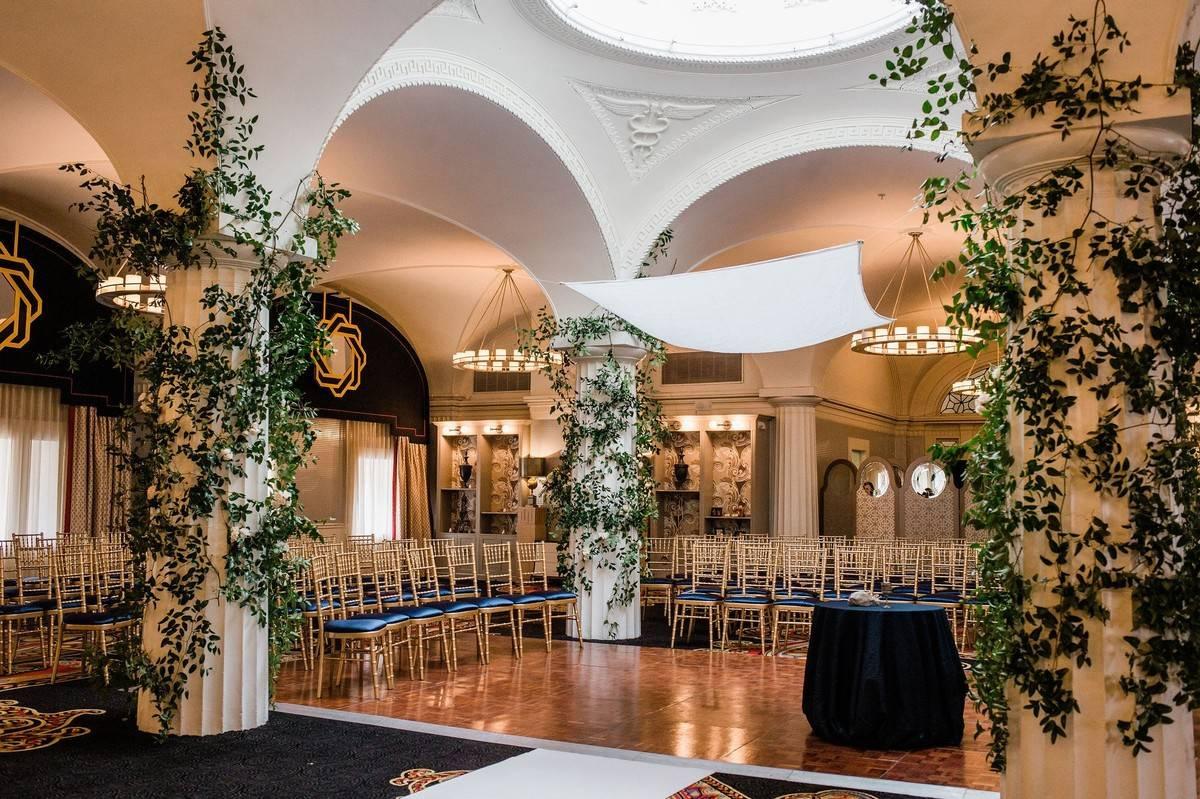 Hotel Monaco
When you say 'I do' to the love of your life, you start writing a new shared history, together. When you decide to have your celebration at Kimpton Hotel Monaco, one of the best wedding venues in DC, you'll exchange vows in a building that's seen many lives. Starting with roots as a hotel in the 19th century before it was turned into a United States General Post Office. Then, it was an apartment building again, before Kimpton took over and created this absolute gem. It has the wow factor couples want upon entrance with a large facade set off by classic columns. Guests can easily flow into the Paris Ballroom, styled both classically and contemporary. What makes it wonderful though, are the 20-foot ceilings, the dramatic skylight and all of the small details. Marble staircases lead your loved ones to their rooms, and you and your partner can stay in their dreamy presidential suite—complete with matching robes and champagne. The hotel also only hosts one wedding a day, so you will feel as special as you deserve.
Learn more about the Hotel Monaco »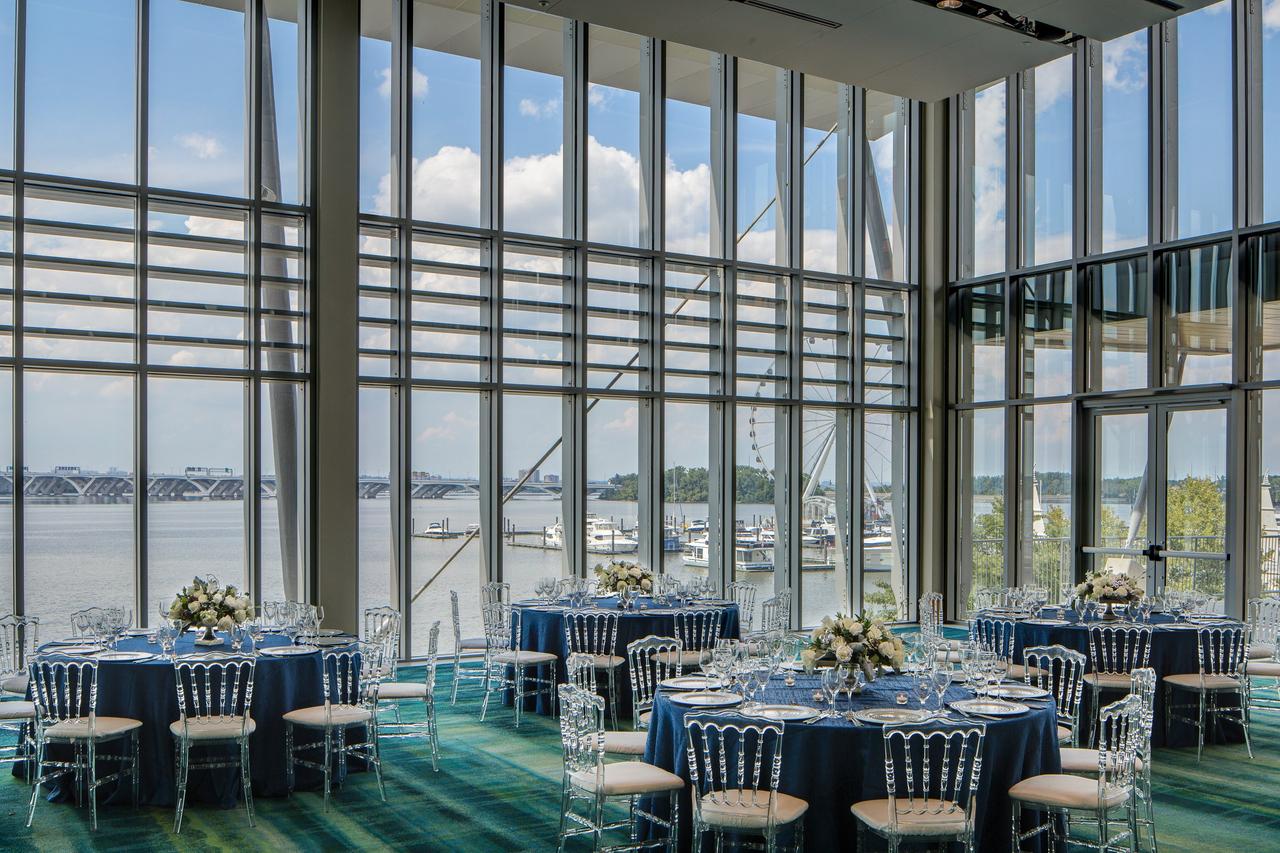 Gaylord National Resort
This 2,000-square-foot room resort is ideally located in the National Harbor, a short drive from the district in southern Maryland. You won't mind being a little removed from the political hustle-and-bustle, especially when you catch a glimpse of their one-of-a-kind view of the Potomac River (and 180-foot-tall observation wheel). Couples can choose from three different ballroom options, all accommodating different styles, budgets and sizes. Riverview can host mega parties of 800, while the Cherry Blossom offers access to an outdoor gazebo for spring, summer and fall weddings. The Eastern Shore features a more rustic-chic style, complete with floor-to-ceiling windows and exposed brick. For those couples who would prefer to be under the stars or the sun, the hotel can also transform their yard into a picture-perfect ceremony and reception venue, too.
Learn more about the Gaylord National Resort »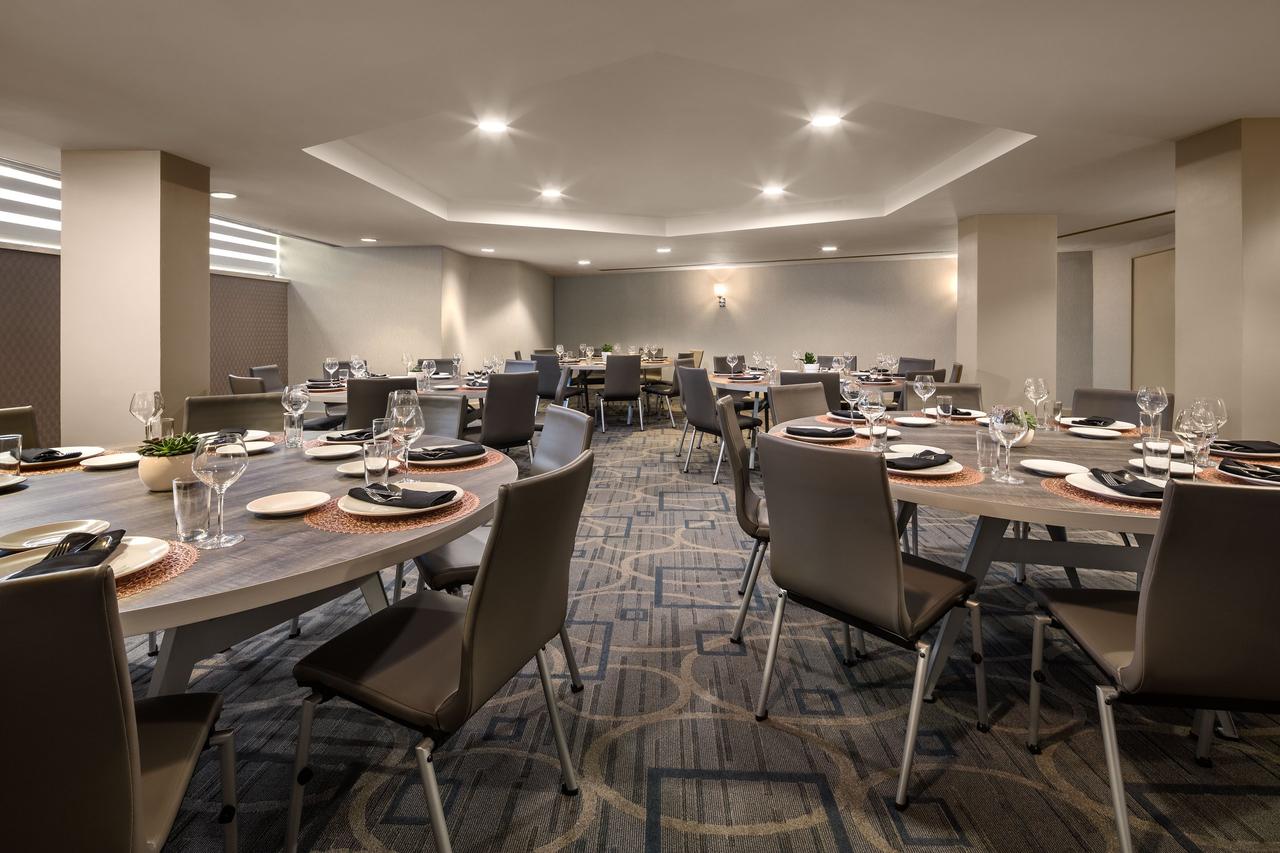 One Washington Circle Hotel
Part of the excitement of getting married isn't just the night before and the day of—but rather, the opportunity to spend as much time with loved ones as you can. And, if you happen to choose a location like DC that has plenty to see and experience, your guests may just make a vacation out of it. The awesome location of One Washington Circle is within walking distance of many must-see sights of the city, including The John F. Kennedy Center of Performing Arts, The National Museum for Women in the Arts, and more. The all-suite property also makes every moment of your big day feel special, with surprises in-room and during the main event. Though it can only serve up to 150 guests, for smaller weddings, it's definitely worth considering.
Learn more about One Washington Circle Hotel »
The Conrad
Hopefully, everyone goes into their wedding day, knowing it will be the only one they'll ever have. And if so, they should have exactly what they want, including a five-star luxury experience. For a pristine weekend of great foods, beautiful spaces and high-end touches, consider the Conrad. Every size party is welcome, including an 'elope' size of 10 to 50 in the second-floor gallery space, complete with a customer chandelier installation. The third floor is home to a north-facing terrace, also ideal for smaller wedding celebrations, where guests flow into an urban garden. For a grand affair up to 140 people, the Summit event terrace provides a panoramic view of downtown DC and an uninterrupted view of the U.S. Capitol. Whatever you plan, your tastebuds will be happy too, since their on-site property is led by Top Chef brothers Bryan and Michael Voltaggio.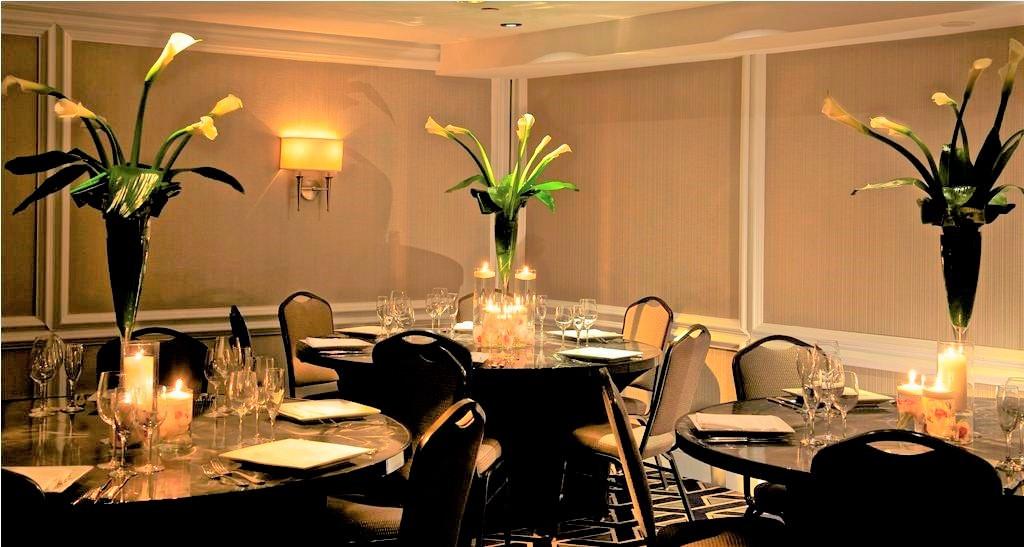 Melrose Georgetown Hotel
While some couples crave being in the middle of the DC action, others prefer the quieter, colorful streets of Georgetown. If you're part of the latter crowd, consider this gorgeous option, featuring plenty of space for your special day. Here, you can host your cocktail hour in the William Penn Room, with French doors that open onto a sidewalk patio, right on the revered Pennsylvania Avenue. For your reception, the Potomac Ballroom has 2,458 square feet to play with, and on-site organizers will help dot every I and cross each T. Their executive chef can also plan inspired and flavorful menus for the wedding, rehearsal dinner, day-after brunch, and beyond.
Learn more about the Melrose Georgetown Hotel »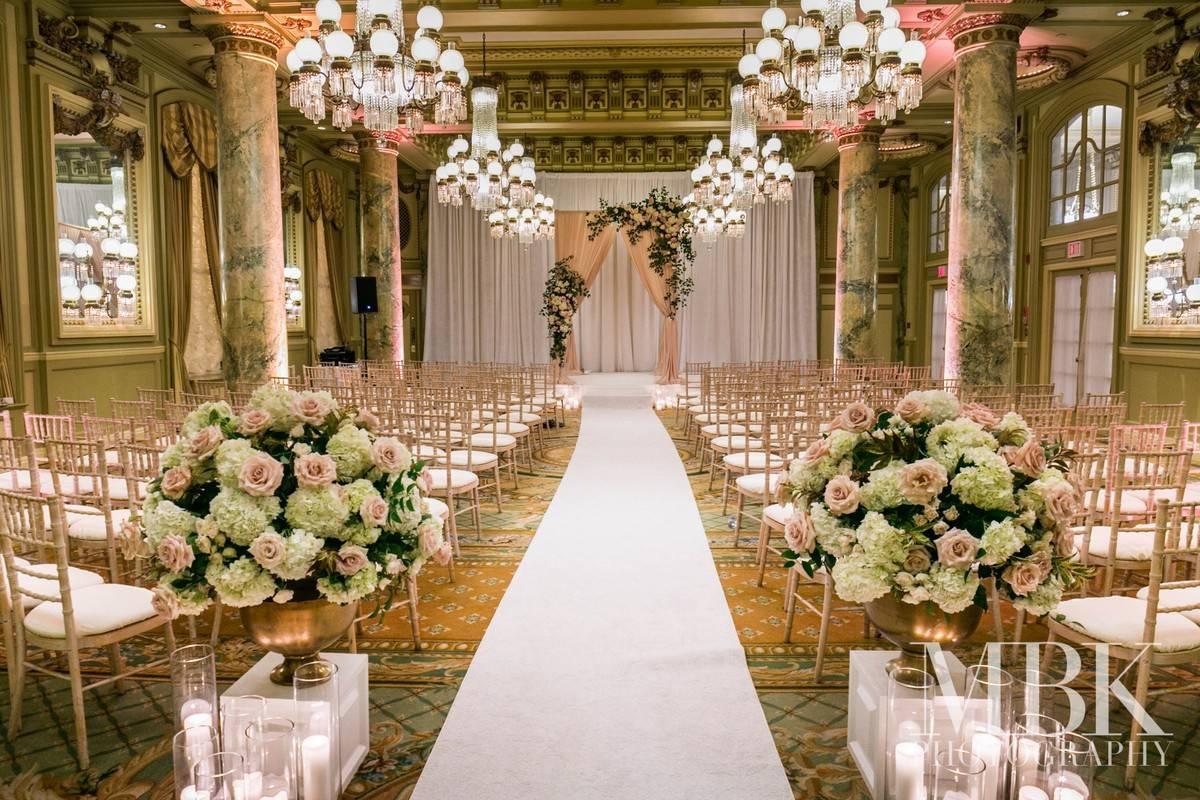 Willard InterContinental
Named one of the 'very best wedding vendors' by Washingtonian Bride & Groom, locals love this five-star hotel for life's most celebrated moments. They can accommodate every-size wedding, including intimate ceremonies, as well as 150-guests strong affairs. What sets them apart is their onsite team that assists through every part of planning, as well as day-of execution. With grandiose style that's classic, clean and gorgeous, you and your partner's love will add the colorful style and charm to your wedding. Get ready for mega-romance and incredible photos at this location.