6 Rooftop Wedding Venues in DC
Whether you want views of the city or the river, these gorgeous rooftop wedding venues offer an unbeatable experience.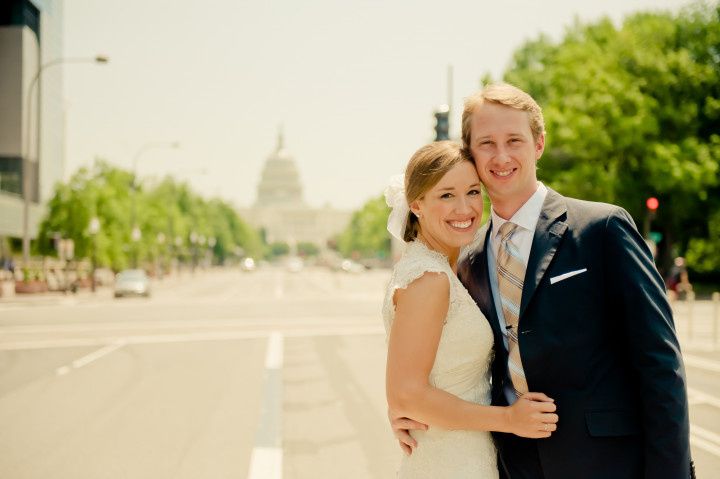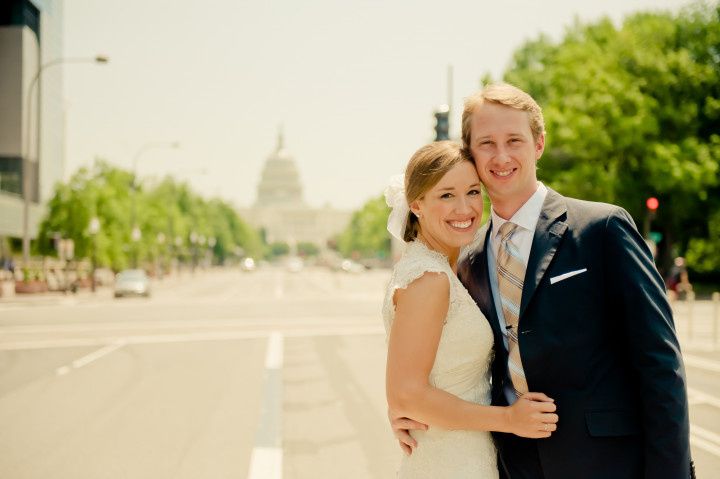 Photo: Danny K Photography
An incredibly leafy and colorful urban jungle, Washington, DC is the kind of city that begs to be gazed upon from on high. Maybe that's why rooftop wedding venues in DC are sought-after locations to be wed. From famous markers like the White House, Capitol building and the Washington Monument to serene views of the Potomac, there's much to see while perched on one of the city's rooftops. Luckily, DC wedding venues with a view are plentiful and include some of the most unique DC wedding venues.


Check out these rooftop wedding venues in DC with amazing views.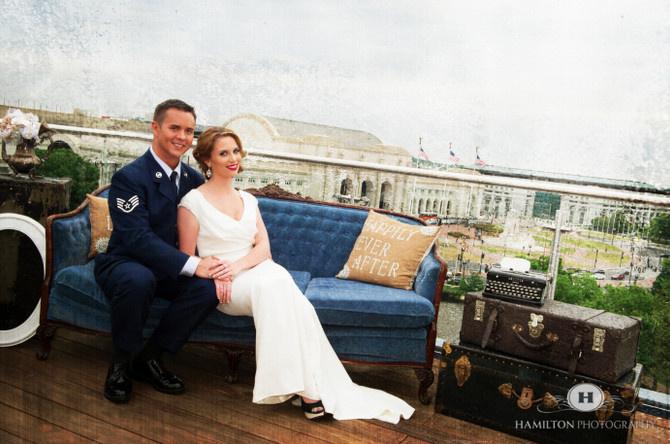 Photo: The Capitol View Rooftop
The Capitol View Rooftop

Perfectly situated on North Capitol Street, this wedding venue's rooftop offers unmatched views of the Capitol Dome, the Washington Monument and Union Station. Your guests will enjoy a 300-degree field of view from atop this nautical-themed rooftop. Stainless steel and glass railings ensure they don't detract from the view while a 2,100-square foot retractable awning with clear side panels provides cover in case of inclement weather. (Heating and AC also turn this venue into a year-round option for DC couples.) Built for large events, The Capitol View Rooftop accommodates 470 while the enclosed space under the awning accommodates up to 300 for a cocktail-style reception and 200 for a seated dinner. A lower terrace that seats up to 300 guests is also available at this location.

Learn more about The Capitol View Rooftop »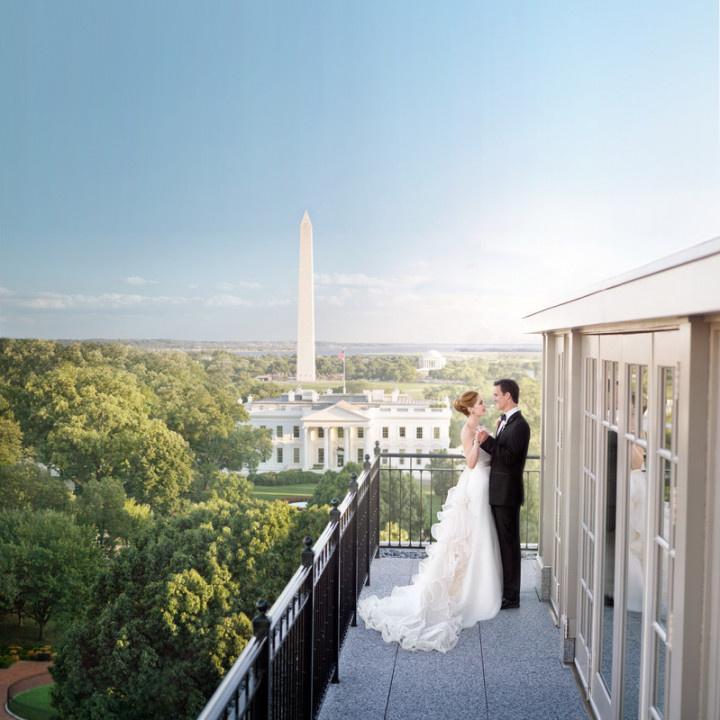 Photo: The Hay-Adams
The Hay-Adams

Located in the heart of the District, The Hay-Adams' Top of the Hay overlooks the White House in one of the best views the city has to offer. When it comes to DC wedding venues with a view, this downtown institution cannot be bested. Several of The Hay-Adams' event spaces open to rooftop terraces that face either east or south with White House views, including the Abraham Lincoln, George Washington, John Adams, Thomas Jefferson and James Madison Rooms. Outstanding views aside, this is one of the premiere venues for DC weddings because of its romantic decor, central location and classic touches like French doors and vaulted skylights. The Hay-Adams offers four event spaces with a max capacity of 200 guests.

Learn more about The Hay Adams »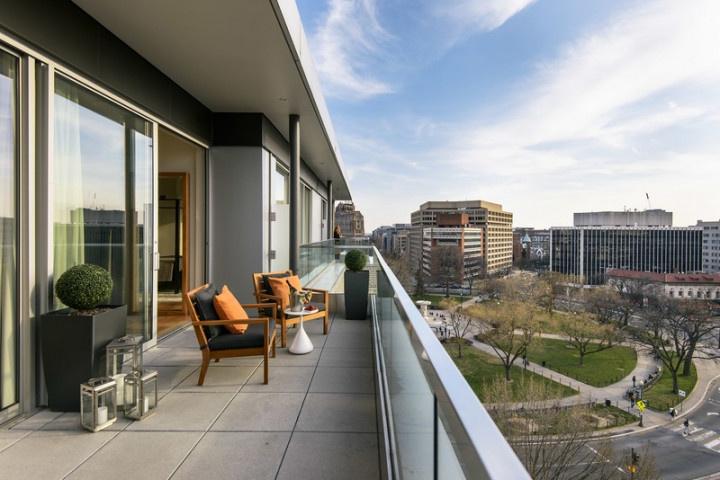 Photo: The Dupont Circle
The Dupont Circle

Everyday hustle and bustle in Washington, DC is just as captivating as the city's historical monuments, which is why The Dupont Circle's views of Northwest make it one of the coolest rooftop wedding venues in DC. Overlook one of the District's most well-known and exciting neighborhoods from this famous hotel venue's open-air rooftop lounge. Lush and romantic wedding decor makes The Dupont Circle's six event spaces and more than 10,000 square feet attractive to couples with a variety of wedding aesthetics. Additionally, this wedding venue can accommodate up to 185 wedding guests while its plush hotel rooms and suites are perfect for pre-ceremony activities with your wedding party.

Learn more about The Dupont Circle »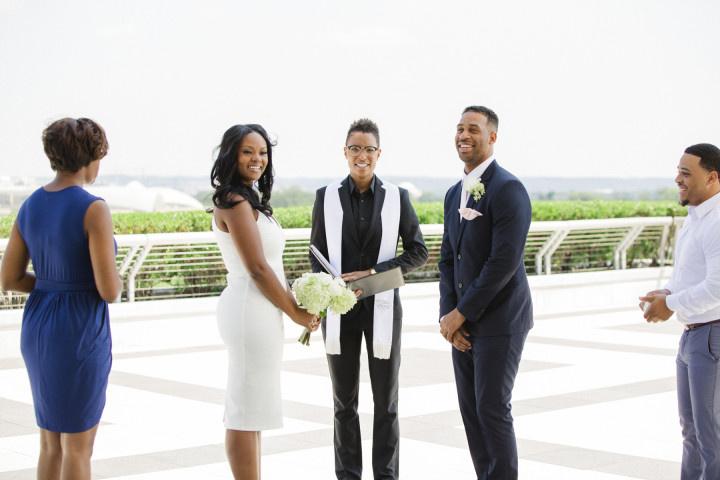 Photo: Vness Photography
The Kennedy Center for Performing Arts

Situated in a prime location just a stone's throw from Rock Creek Parkway, the Potomac River, the Lincoln Memorial, the Tidal Basin and the White House, the Kennedy Center for Performing Arts is one of the most conveniently located rooftop wedding venues in DC. Much more than just a world-famous live entertainment hub, local couples love The Kennedy Center's majestic columns, classical architecture and rooftop terrace with breathtaking views of the Potomac River. With more than a dozen galleries, lounges and foyers for couples to choose from, event spaces range from accommodating up to 1,500 guests to just about 40 people. Five of these spaces are on the rooftop terrace and face the river: the Roof Terrace Restaurant, Nations Gallery, Theater Lab, States Gallery and Terrace Theater.

Learn more about The Kennedy Center for Performing Arts »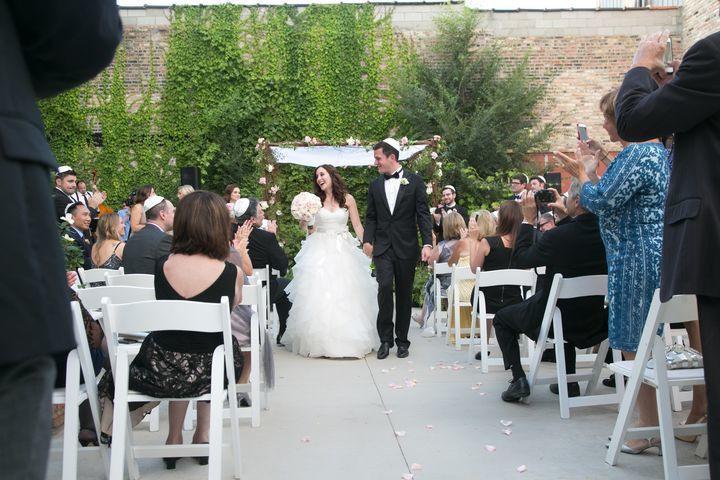 Photo: City Winery
City Winery

Wine lovers, rejoice! City Winery in the Ivy City neighborhood is the perfect alternative to far-flung vineyards. Beyond a clutch selection of locally crafted varietals, a rooftop terrace overlooking Northeast makes this one of the most distinct rooftop wedding venues in DC. Exposed pipe ceilings, bare cement floors, stainless steel fermenting tanks and loads of wooden wine barrels expertly mix the industrial past of the building with wine-making decor. The five event spaces, of which the rooftop terrace is one, at City Winery offer a max capacity of 1,000 guests.

Learn more about City Winery »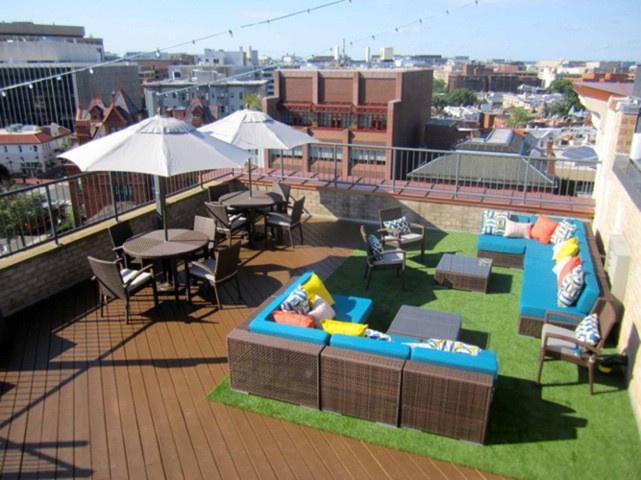 Photo: The Embassy Row Hotel
The Embassy Row Hotel

Eponymously located on "Embassy Row" — aka the Washington, DC street where many international embassies are based — in the Dupont Circle neighborhood, there's much to survey from the rooftop of The Embassy Row Hotel. This boutique hotel wedding venue offers a variety of event spaces for wedding ceremonies and wedding receptions, but The Rooftop is one of the standouts. With more than 4,000 square feet of space, artful cabanas and a bar grill, Embassy Row's Rooftop venue is as impressive in its style as its famous views of the District. In addition to the Rooftop, couples can choose to host in the 2,200-square foot Admiral's Ballroom, The Garage Room, Station Kitchen & Cocktails (the hotel's restaurant) or The Underground Playground. It's an added bonus that this favorably located wedding venue is steps away from many notable attractions in Dupont Circle and nearby West End.

Learn more about The Embassy Row Hotel »