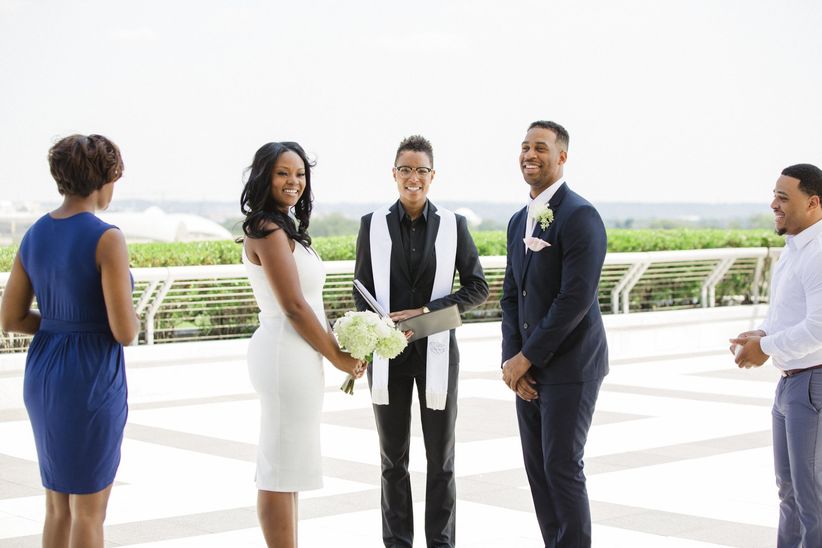 Photo: Vness Photography
Washington, DC, by definition, is a pretty unique place. It's not technically a state, but it's a lot more than just a city. (It's a federal district, for you geography wonks.) Not technically represented by the United States Congress, the entire House and Senate do their business in DC. So, is there any surprise that unique wedding venues DC couples adore abound in this one-of-a-kind place? If you're in the market for special DC wedding venues for your big day in the Capital, we've got you all the way covered.


Check out these unique wedding venues DC couples love!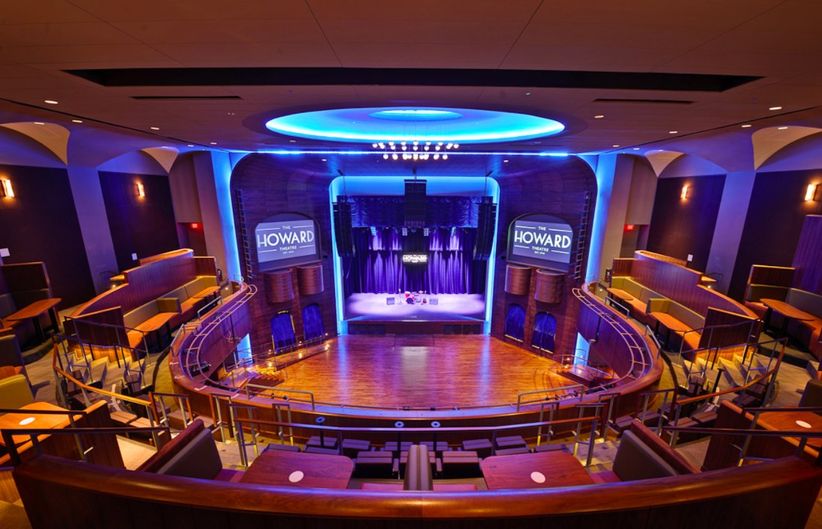 Photo: Howard Theatre
Howard Theatre
This restored historic concert venue in the District's Shaw neighborhood is a certified stunner for a wedding ceremony or wedding reception. Couples choose from two distinct event venues with a combined capacity of 1,000 wedding guests. First opened in the early 20th century, The Howard, named for nearby Howard University, was one of the few world-class venues for Black performers during the age of segregated entertainment and its stage saw everyone from Booker T. Washington to Duke Ellington. Added to the National Register of Historic Places in the 1970s and closed in the 1980s, it reopened in 2012 with an updated interior that features wood flooring, amphitheater-style seating and high ceilings. New age and high-tech on the inside, the classic exterior facade was restored to its original 1910 design.
Learn more about Howard Theatre »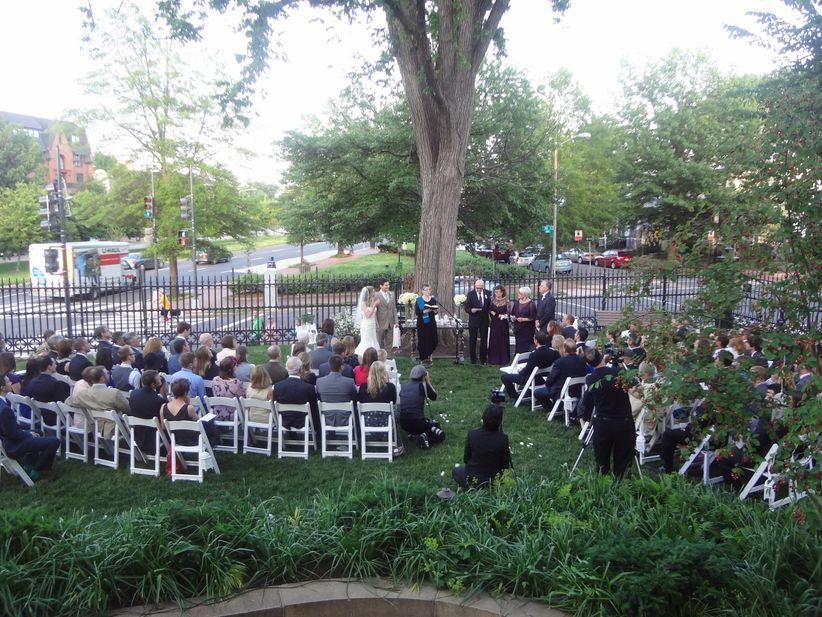 Photo: Hill Center at Old Naval Hospital
Hill Center at Old Naval Hospital
Choose your event space from Hill Center's five different venues with a seated dinner capacity of 150 people and a
cocktail-style wedding reception
capacity of 250. Located in the Capitol Hill neighborhood, The Hill Center is one of the most charming and unique wedding venues DC couples go gaga over. As beautiful indoors as it is outdoors, this historic site began humbly as a hospital for Navy servicemen in 1866. The building has many past lives and closed for over 10 years, but reopened after an expansive renovation in 2009 to become one of the most recognizable buildings in Capitol Hill. DC weddings at this venue take advantage of artfully preserved indoor event spaces dappled with natural light thanks to plentiful windows, or the beautifully manicured lawns, which overlook the neighborhood's cobblestoned streets.
Learn more about Hill Center at Old Naval Hospital »
Photo: Vicki Grafton Photography
Gallery O on H
Exposed brick walls, an indoor,
industrial chic aesthetic
in an outdoor space and
modern greenery decor
, Gallery O on H is every trendy couple's dream wedding venue. Located on the hip H Street Corridor, this restored industrial building is adjacent to a former Uneeda Biscuit factory, whose faded signage provides the backdrop to Gallery O's concrete outdoor dance floor. Thanks to this venue's dexterous owners, the art gallery's 3,000-square feet are expertly repurposed for weddings with up to 85 guests. Half indoor, half outdoor, Gallery O is one of the unique wedding venues DC couples choose when they want a sparse, but stylish space to infuse with their decor ideas.
Learn more about Gallery O on H »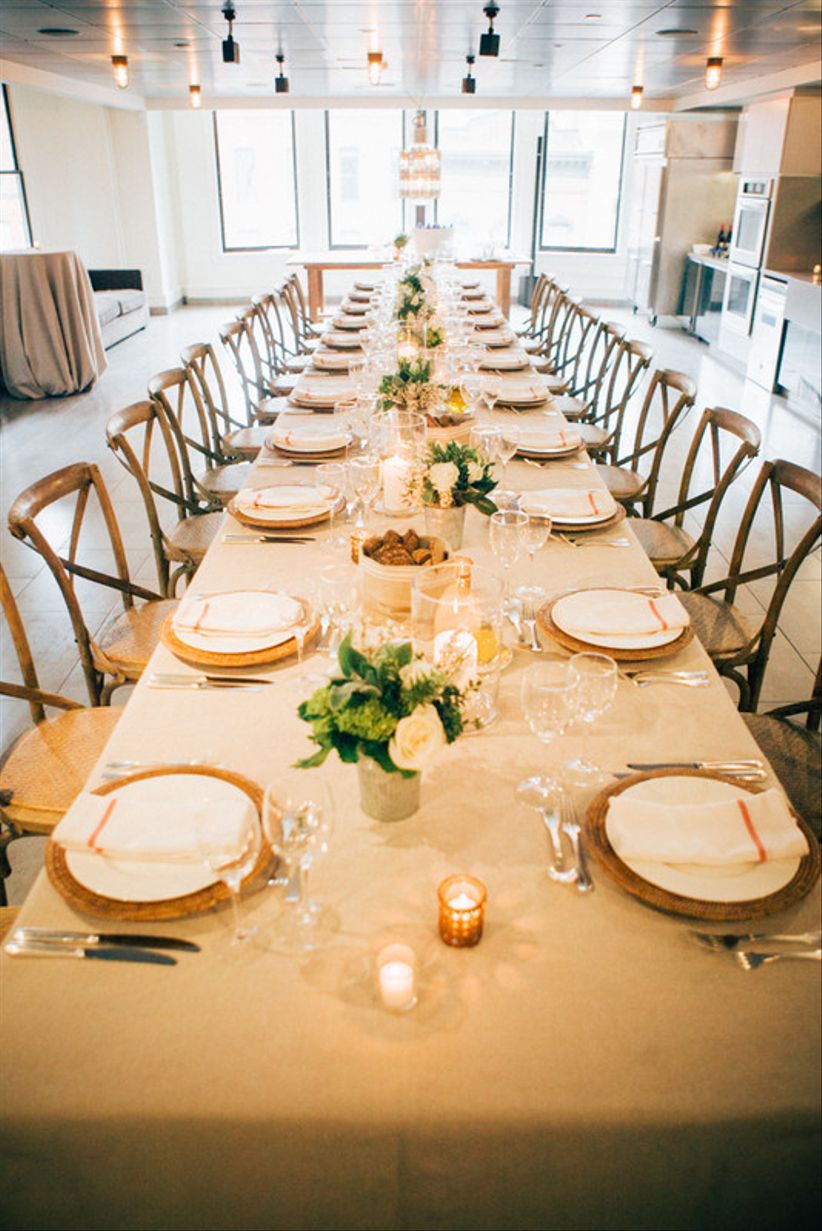 Photo: National Union Building
National Union Building
A mere four blocks from the White House in Washington, DC's Penn Quarter neighborhood, the National Union Building is a real chameleon. Passerby might mistake the 120-something-year-old Romanesque facade for one of the many corporate plazas in the area, but this elegant gem is actually six floors and more than 28,000 square feet of unique event space. Beautifully maintained historic features make National Union Building's exposed brick walls, open concept rooms and back-of-the-house dining hall
right on trend
. Transform one of the National Union Building's floors into just about any aesthetic for your wedding day, from clean and modern to lush and romantic and everything in between.
Learn more about National Union Building »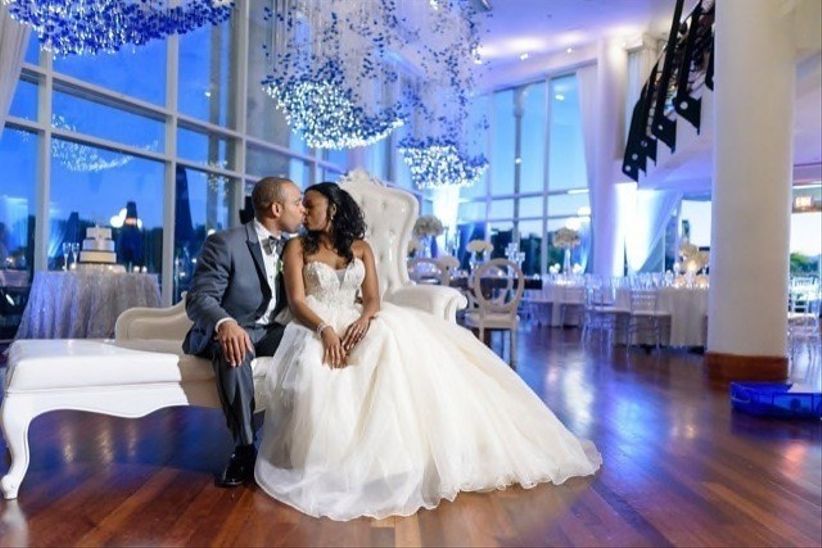 Photo: Sequoia Restaurant
Sequoia Restaurant
If you're looking for truly wow-worthy unique wedding venues DC couples love, look no further than Sequoia Restaurant in historic Georgetown. One of the stunning waterfront restaurant venues in Washington DC, treat your guests to a beautiful view of the Potomac River, the Kennedy Center and Arlington, Virginia's skyline. Equally accessible to many parts of Virginia, Maryland and DC via Rock Creek Parkway, Sequoia is as convenient for in-town guests as it is impressive for out-of-towners. Beyond its stellar location, this
restaurant wedding venue
offers many distinct event spaces or renting the entire restaurant, which seats up to 180 guests. Host your ceremony outdoors and overlook the beauty of the DMV region or head inside for spacious rooms with plenty of natural light thanks to floor-to-ceiling windows. Receptions are taken to the next level at Sequoia with elegant, hanging art installations, wood dance floors and regal wedding rentals.
Learn more about Sequoia Restaurant »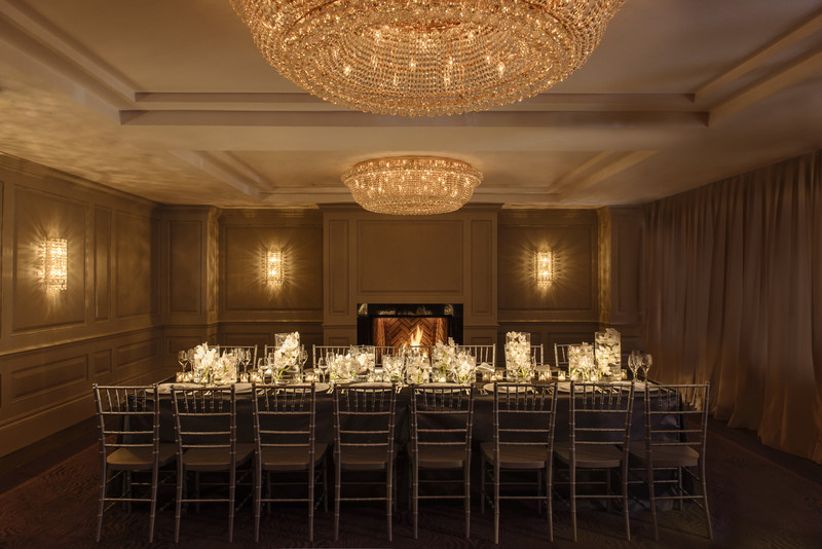 Photo: The Dupont Circle
The Dupont Circle
Set high up in Washington, DC's Dupont Circle neighborhood, The Dupont Circle is one of the coolest DC wedding venues. Modern open air terraces overlook Northwest DC for couples who want the District's character to be an integral part of their wedding while classic stylings indoors pair well with
romantic wedding decor
. Six spaces cover more than 10,000 square feet of event space at this hotel venue that accommodates up to 185 wedding guests. An added plus: The hotel's luxurious rooms and suites are great for getting ready with your wedding party or stealing away after the wedding.
Learn more about The Dupont Circle »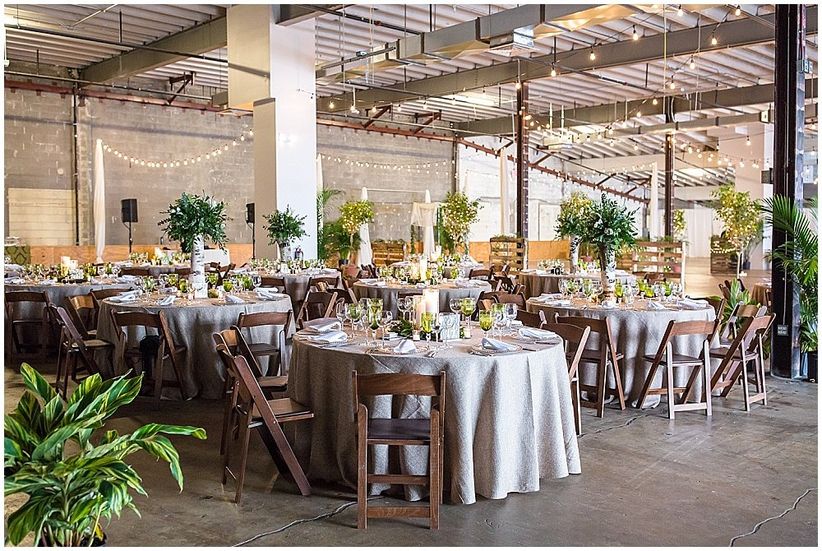 Photo: Olivia Jacob Photography
Dock 5 at Union Market
Housed inside one of DC's coolest retail spaces, Dock 5 is one of the DC wedding venues that is as inventive and fun as it gets. Located just above Union Market in the trendy Ivy City neighborhood, Dock 5 is 13,000 square feet of highly adaptable event space. This funky wedding venue leans into its industrial past with bare concrete floors, exposed beam ceilings and glass garage doors that open up to reveal fish, meat and produce supplier buildings. Couples shouldn't mistake Dock 5 for a grungy spot, though. The most
elegant tablescapes
and artisinal menus fit right in with this venue's cascading chandeliers and modern stage.
Learn more about Dock 5 at Union Market »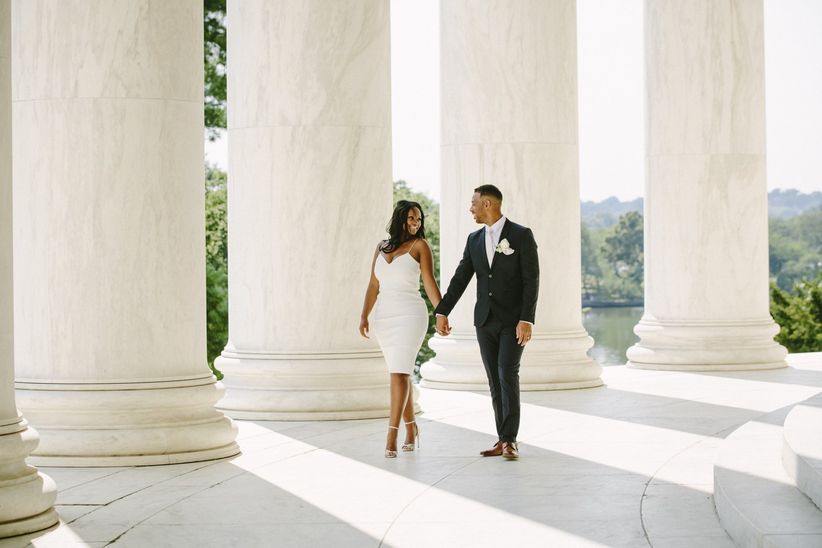 Photo: Vness Photography
The Kennedy Center for Performing Arts
Chances are you've come to see The Kennedy Center as DC's go-to venue for classical music, but there's more to this multi-use event space than just live entertainment. Located on the Potomac River, adjacent to the famed Watergate Complex, The Kennedy Center offers more than a dozen foyers, galleries and lounges for weddings. The largest event space seats up to 1,500 while the most intimate hosts just 40. While all of this venue's spaces are romantic and gorgeous, it's the stunning rooftop terrace and its unbeatable view of the river that many couples choose for their nuptials. Five of The Kennedy Center's event spaces face the Potomac: the Roof Terrace Restaurant, Nations Gallery, Theater Lab, States Gallery and Terrace Theater.
Learn more about The Kennedy Center for Performing Arts »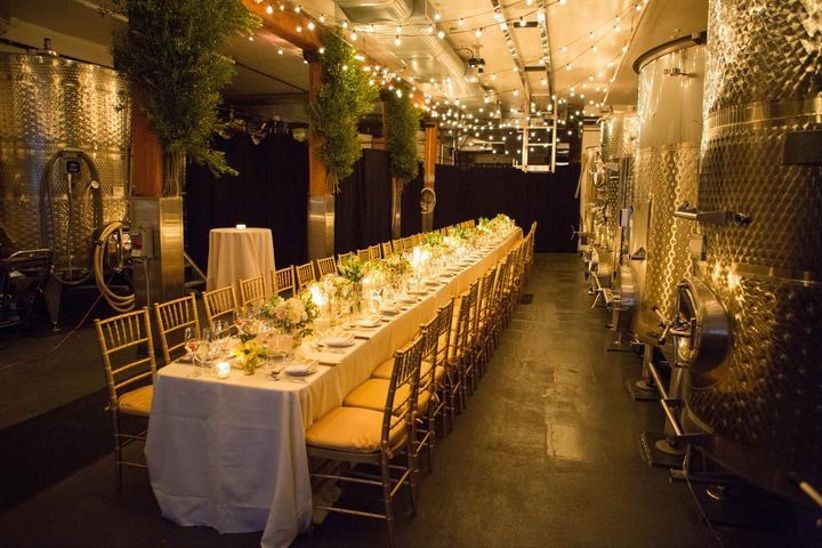 Photo: City Winery
City Winery
While tons of wine lovers in DC head to the Virginia vineyards, City Winery offers a relatively new location for
wine-themed weddings
. Located in the Ivy City neighborhood, DC's City Winery is the sixth venture from Knitting Factory founder Michael Dorf that combines live music and wine. Retaining the industrial touches that are common in this neighborhood, City Winery marries exposed pipe ceilings with wine barrels for a unique decor approach. Couples choose from five of the venue's spaces, which include a rooftop terrace overlooking Northeast DC. Maximum capacity for the entire event space is 1,000 guests.
Learn more about City Winery »