Looking for a great alternative or supplement for your floral displays? Go with gorgeous greenery like boxwood, olive leaves, eucalyptus, or ivy. This look works especially well for weddings with a rustic style or garden setting, but it can truly be incorporated into any type of aesthetic.
Here are a dozen fabulous ideas for using greenery in your wedding decor.
Signage Embellishments
Welcome your guests with signs framed in simple green garlands.
Altar Adornments
Drape leafy greens around your altar, chuppah or ceremony backdrop for a lovely, natural look.
Aisle Markers
Accent the aisle with this fresh alternative to flowers!
Festive Railings
Spruce up your staircases with swags of lush leaves. For winter weddings, seasonal evergreens are especially beautiful!
Garlands
A halo of greens ensures that the entryway to your venue is a grand one!
Wreaths
Use romantic wreaths to dress up the doors of a major entryway, suspend them from trees at your outdoor ceremony, or display them on a prominent wall in your reception space.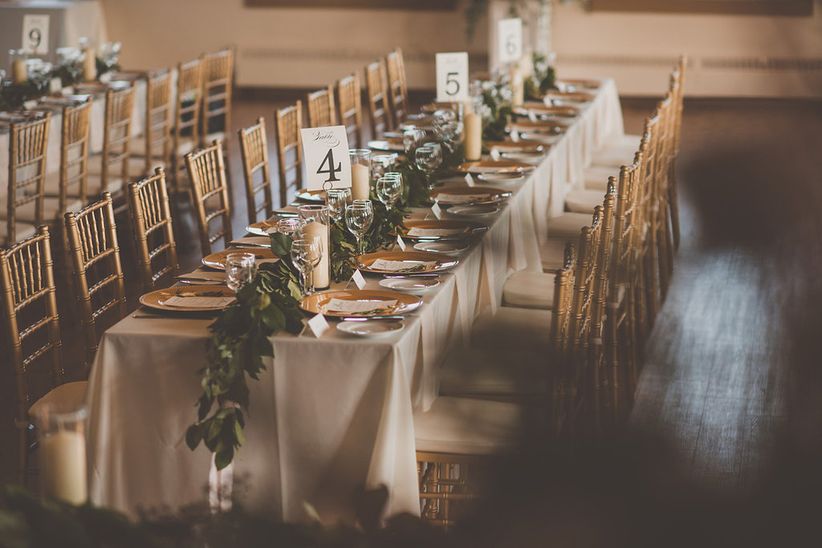 Table Runners
Long rows of leafy greens make a statement that's elegant and timeless.
Chair Decor
Festoon the happy couple's dining chairs with fresh foliage. Gorgeous!
Lush Chandeliers
Create an enchanting, whimsical atmosphere with cascading greens overhead.
Cake Garnish
Touches of greenery turn a simple buttercream cake into a boho chic dream.
Place Settings
Use sprigs of fragrant greenery, such as rosemary, eucalyptus or bay leaves, to create an inviting tablescape for guests.
Centerpieces
Mixed greens bring texture and dimension to leafy centerpieces.