The Color Palette Shaking Up Garden Weddings in 2019
Love is blooming! See how we brought one of the Pantone Color Institute's hottest palettes to life with this garden-themed wedding inspiration.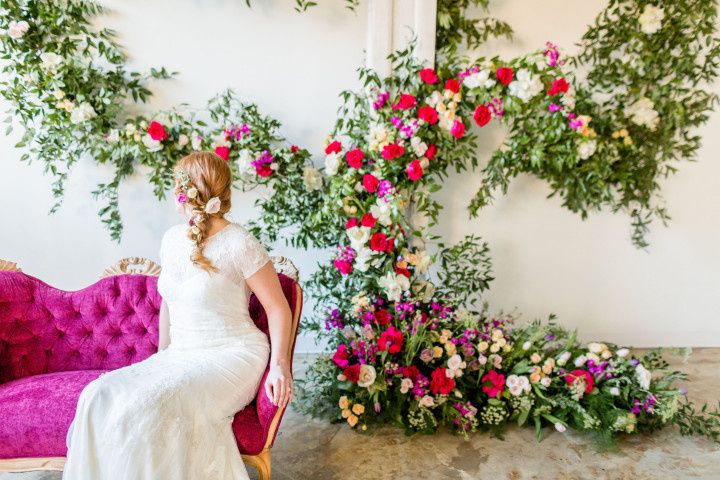 No matter the season in which you're marrying, opting for a garden-themed wedding is always a romantic and timeless choice. For 2019, the Pantone Color Institute has created a floral-inspired color palette — aptly named 'Love in Bloom' — that's perfect for anyone dreaming of a romantic big day (see the rest of the wedding color palettes here!). We love this color palette for a garden-themed wedding, but the contrast of soft neutrals and greens with bold magenta and purple accents could actually work for a variety of styles, whether you're feeling bohemian, modern, or glamorous.
To bring this color palette to life, we created a styled shoot inspired by garden wedding style. This wedding aesthetic emphasizes the use of lush floral arrangements, sophisticated (but understated) attire, and classic-with-a-twist details. All of these elements play a big role in creating a day that's airy and elegant, with a hint of enchantment. These garden wedding ideas show you how to incorporate the 'Love in Bloom' palette into a botanically-inspired celebration, but our take on this color scheme is just one of many possibilities. In the end, we hope you'll be inspired to make this gorgeous color palette your own, however you envision it!
See the color palette and our favorite garden-themed wedding ideas below.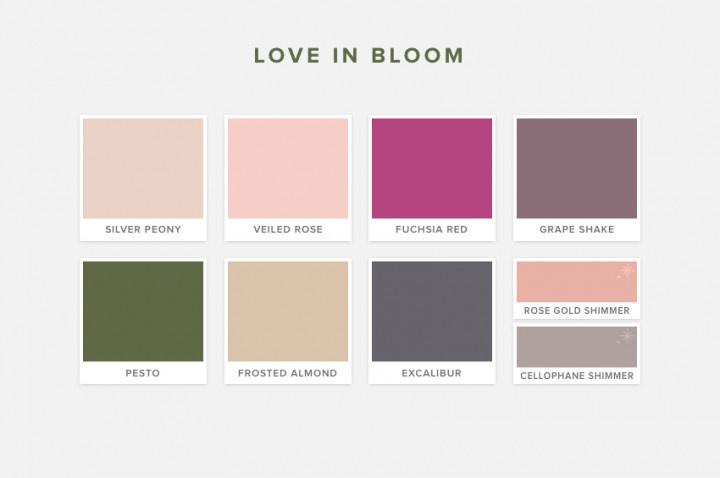 'Love in Bloom'
One of our favorite things about the Pantone Color Institute is their inventive color names. The names for 'Love in Bloom' reflect the inspiration behind each color, and they might even help spark your imagination as you're deciding how to incorporate these hues into your wedding decor!
Behold, the colors for 'Love in Bloom': Silver Peony and Veiled Rose, two soft pinks; Fuchsia Red, a bright magenta; Grape Shake, a muted purple; Pesto, an herb-inspired green; Frosted Almond, a versatile beige, Excalibur, a smokey gray; and two metallic neutrals, Rose Gold Shimmer and Cellophane Shimmer. As a whole, this wedding color palette is ideal for conveying elegance, love, and warmth.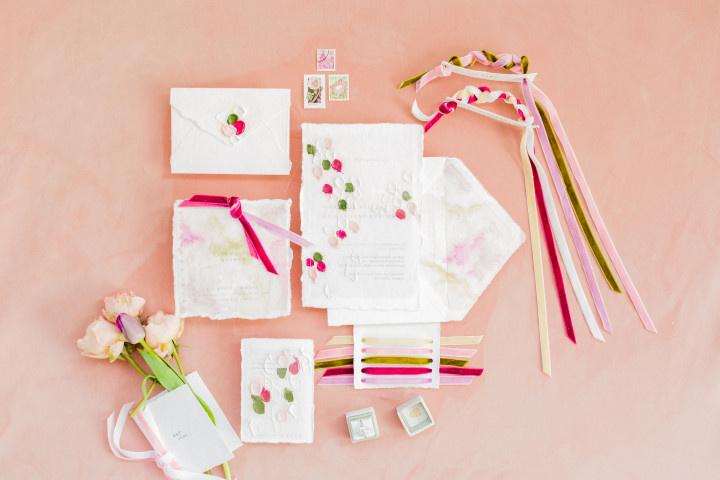 Stationery
Whether it's on the invitations, reply cards, envelope liners, or gracing some other paper element, watercolor wedding details make us go weak in the knees. On this suite, splashes of bright Fuchsia Red make the barely-there colors "pop" even more.
Painterly accents
Watercolor invitations are one of the most popular ideas for a garden-themed wedding, but you can make this trend entirely your own with a few simple changes. One of our favorite options is to add painterly details, like these three-dimensional brushstrokes.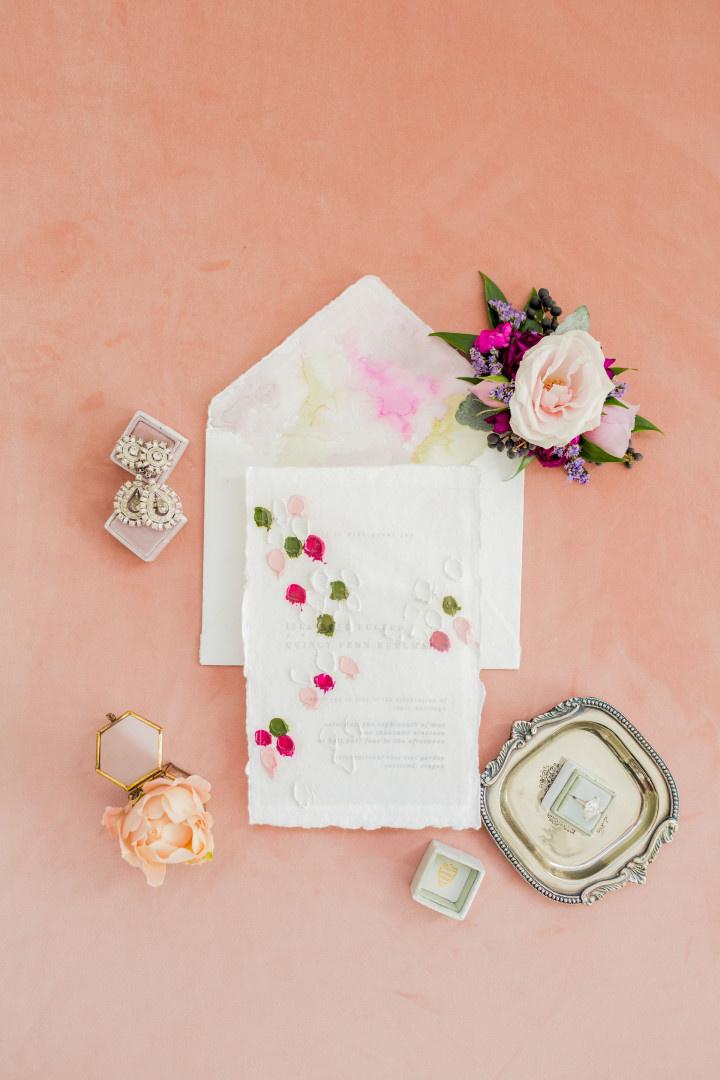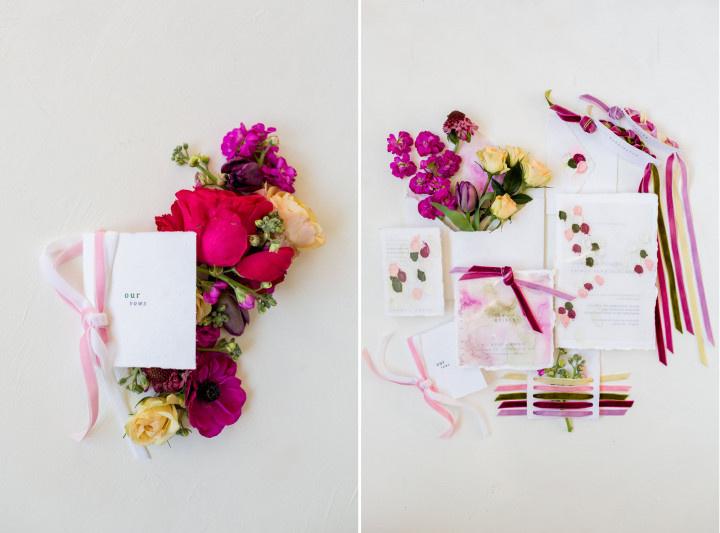 Velvet ribbons
Velvet is one of the biggest 2019 wedding trends, and we're loving the subtle use of it in this stationery suite. Utilize velvet ribbons or bows to maximize visual interest and texture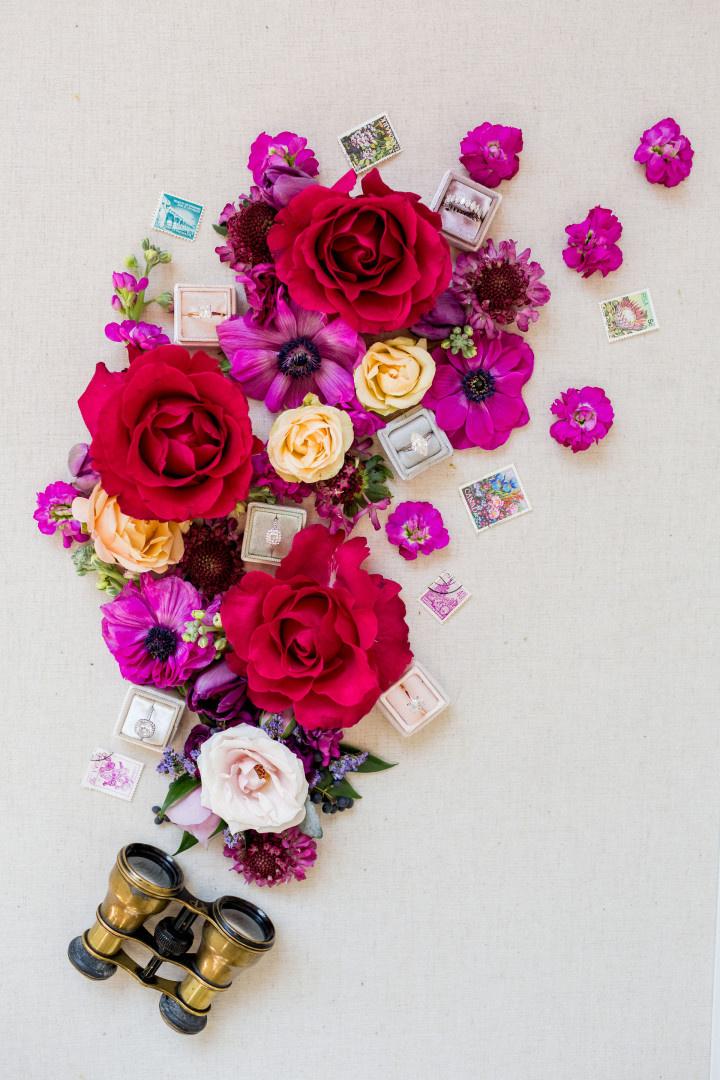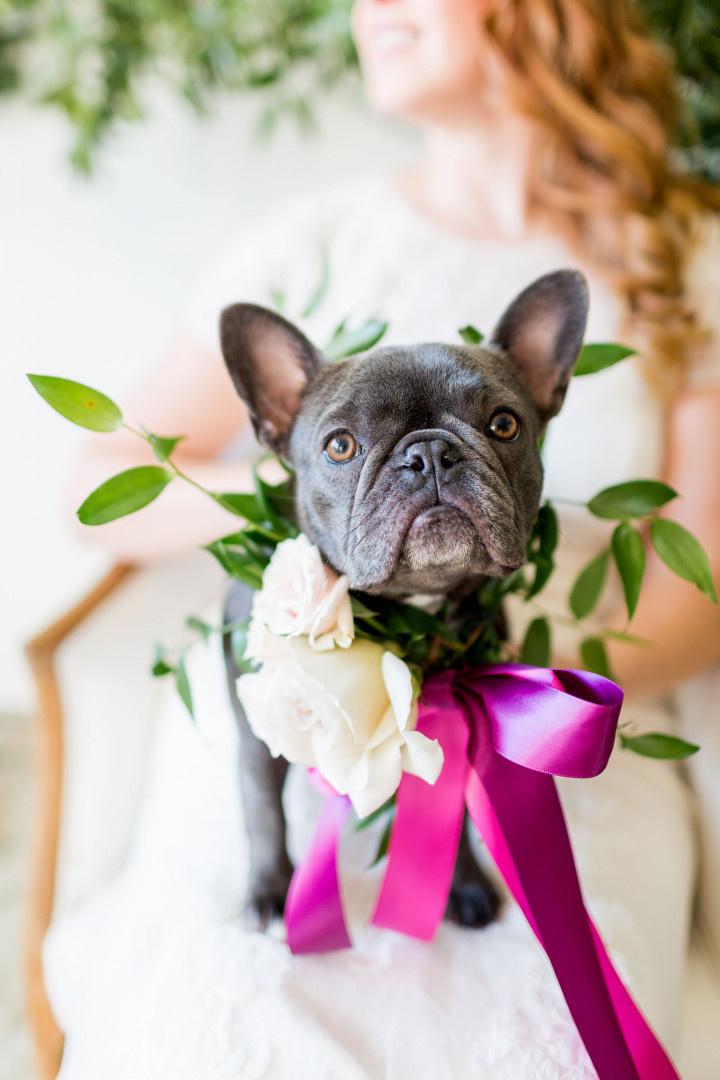 Pup of honor
If you're a pet parent, why not consider making your furbaby a part of your big day? Fancy attire isn't just for humans — pets can get in on the fun too with the help of floral collars or leashes that complement your wedding color palette. Meet Eleanor, who dressed up in a collar made from greenery and adorned with roses and a Fuchsia Red bow. Heart melted!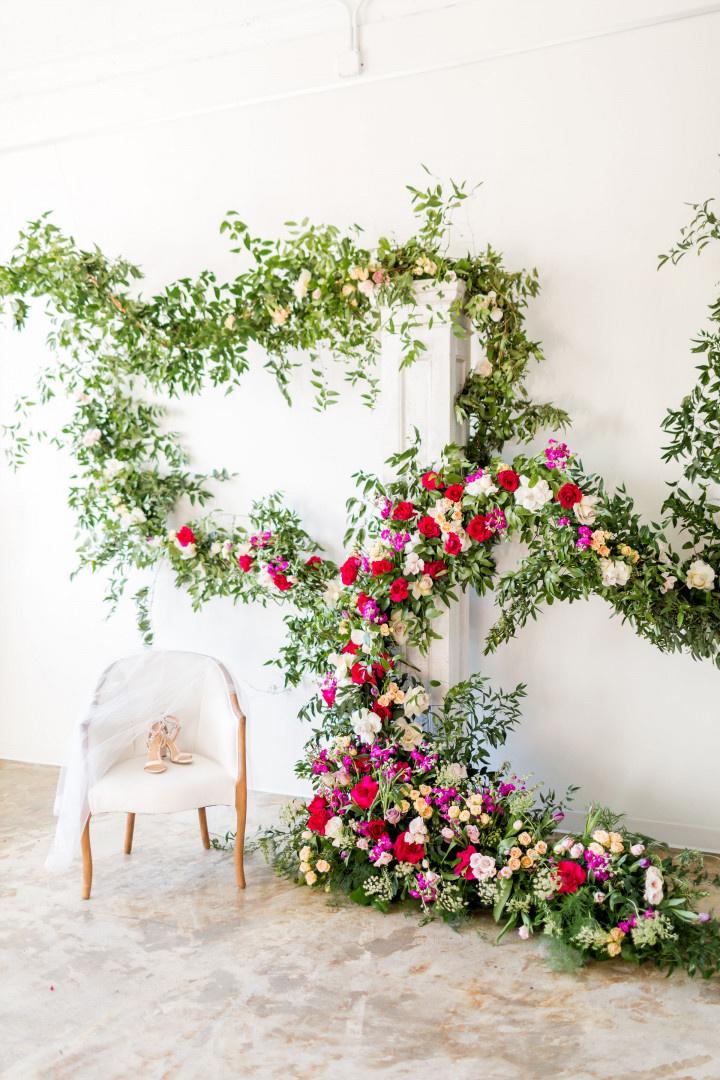 Floral backdrop
Florals are, unsurprisingly, a huge component when it comes to pulling off a garden-themed wedding. There's no better way to impress your guests than with a larger-than-life floral backdrop. This abstract design, which reminds us of vines growing up a wall, creates a secret garden vibe that's utterly dreamy. Depending on your wedding venue, you can use a backdrop like this at your ceremony, reception (like your sweetheart table, for example), or around an entryway.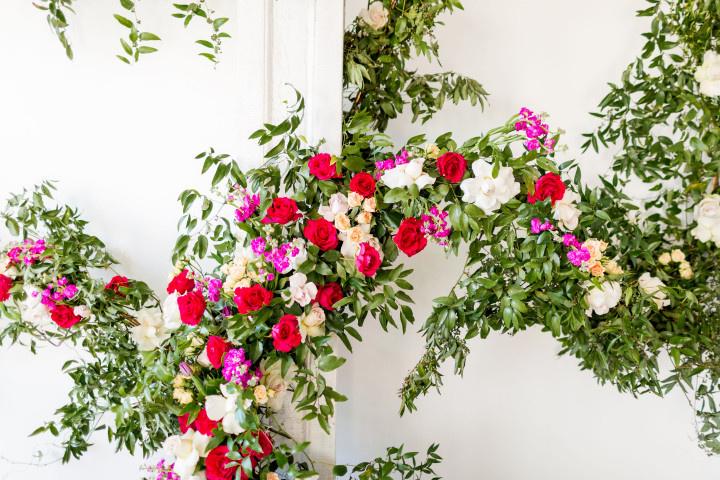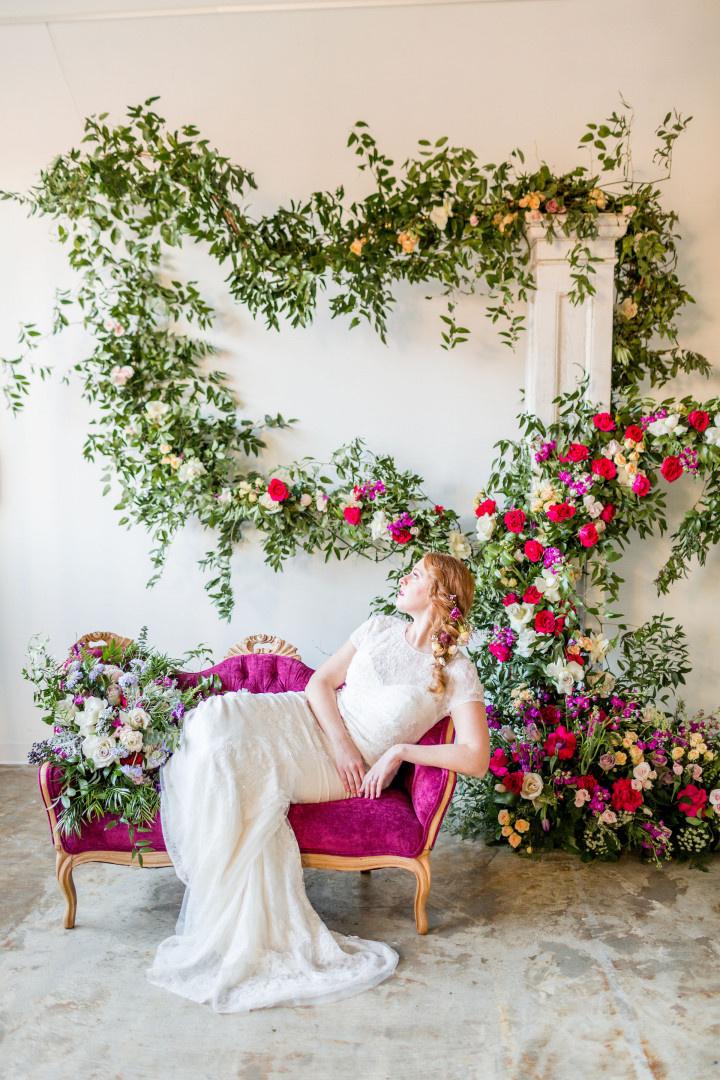 Sheath wedding dress
A princess-inspired ball gown is a go-to choice for any bride having a garden-themed wedding, but fitted dresses can be just as lovely. Take this sheath wedding dress from David's Bridal as proof. A slim silhouette like this is ideal for brides who want a dress that's figure-flattering but also lightweight and easy to move around in. This dress is adorned with organza flowers and lace, which give it an ethereal, modern romantic feel.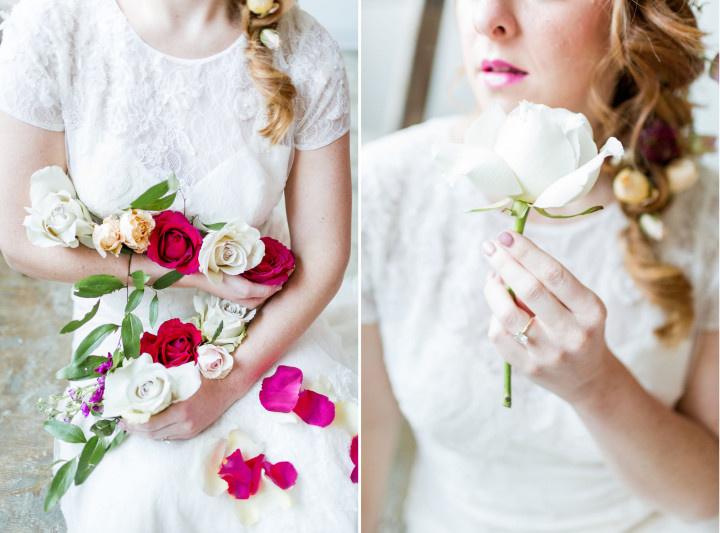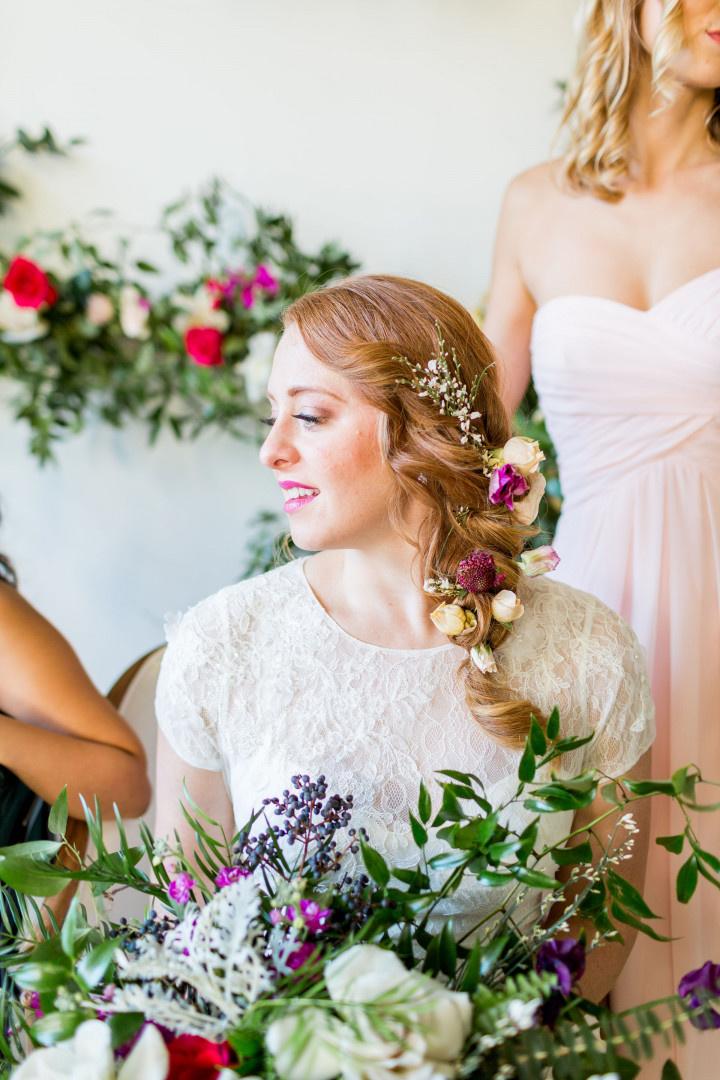 Soft, glowy makeup
A simple makeup look is the perfect bridal accent to a garden-themed wedding — plus, it'll keep you fresh-faced throughout your wedding day. Dewy skin, rosy cheeks, and a bright pink lip are great for creating a youthful, feminine glow. Subtle eyeshadow (think neutral colors with a hint of shimmer) and temporary lash extensions enhance the eyes beautifully. For your hair, a loose, side-swept braid is one of our all-time favorite garden wedding ideas. Tuck a few flowers into the braid for a hairstyle that's irresistibly pretty.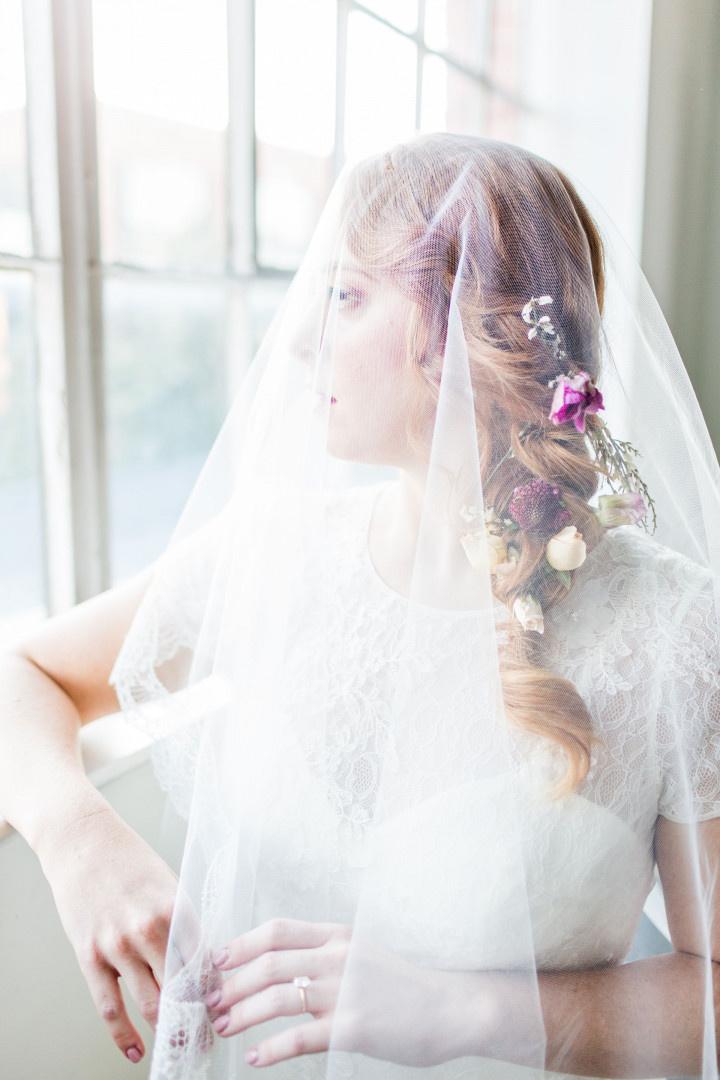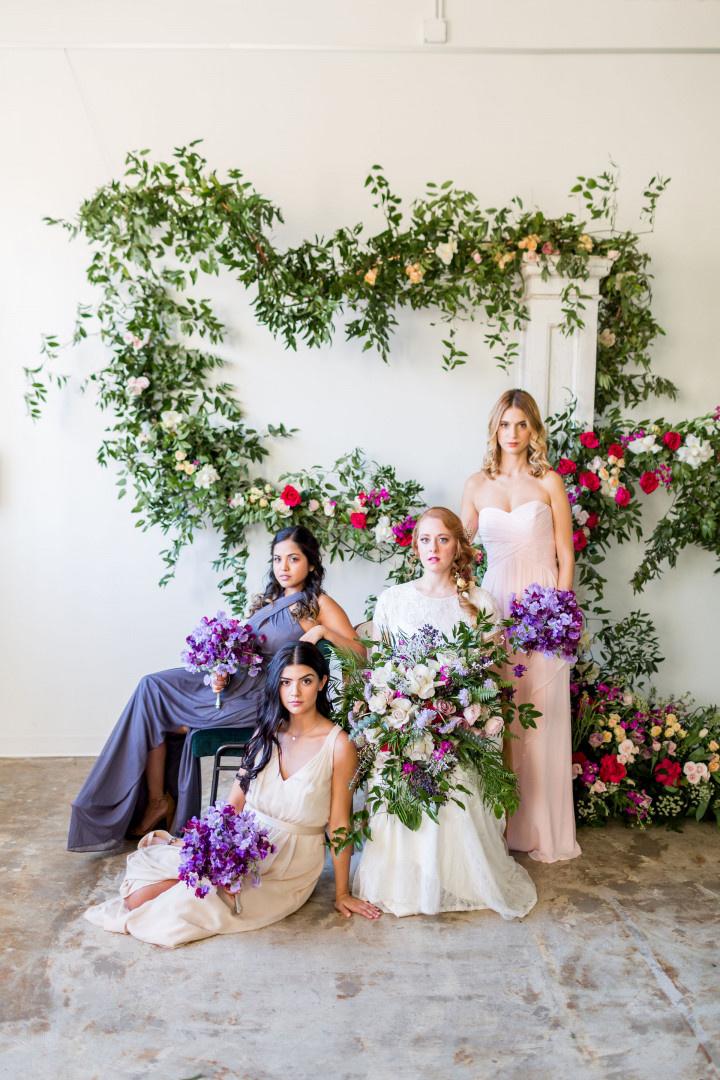 Mix-and-match bridesmaid dresses
Bridesmaid dresses are one of the best ways to showcase your wedding colors. Gone are the days of bridesmaids wearing identical gowns — the latest trend is all about combining different styles and colors. Not only does this allow your 'maids to wear dresses that truly complement their figures and personalities, but having mix-and-match bridesmaid dresses creates a one-of-a-kind look for your big day.
If you have more than three bridesmaids, we recommend choosing dresses in two or three shades for the best visual balance. For these dresses, we chose to combine pale blush, champagne, and gray to keep the focus on the brightly colored flowers.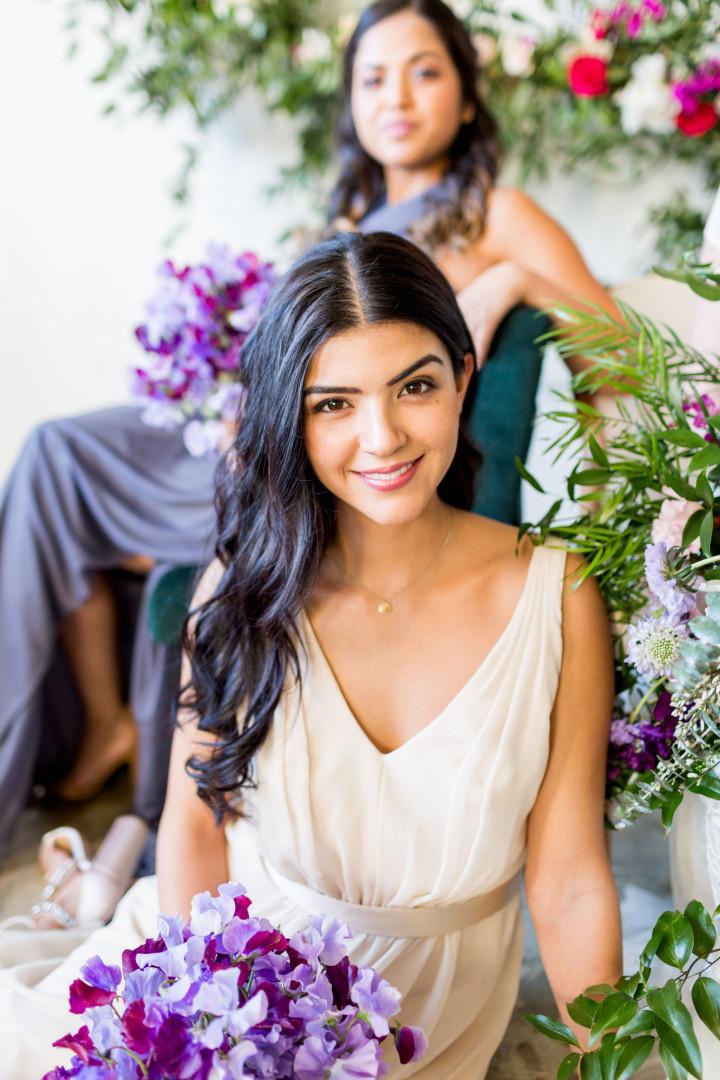 Long, loose waves
This effortless hairstyle can do no wrong in our book. Whether you're a bride who's looking for something low-maintenance and polished, or you need bridesmaid hairstyles that are universally flattering, we love loose waves for a garden-themed wedding. The tousled look is more informal (and much more comfortable) compared to an intricate updo, making it appropriate for a relaxed garden soirée. Have your wedding hairstylist brush out the curls to achieve a touchable, slightly undone style.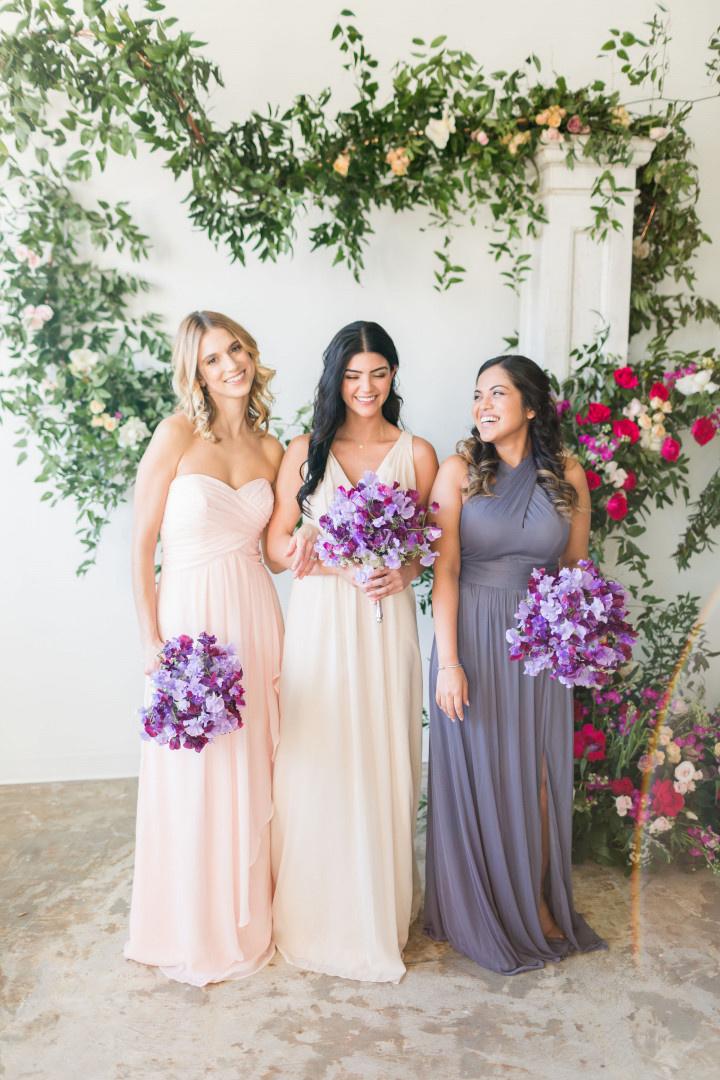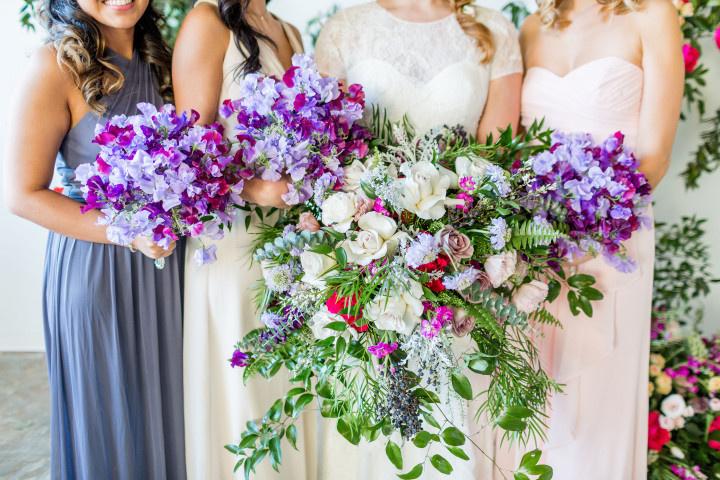 Bountiful bouquets
Hello, gorgeous! This oversized bridal bouquet is one of our must-see garden wedding ideas. When paired with smaller bridesmaid bouquets, like these delicate sweet pea arrangements, the bouquet makes even more of a statement.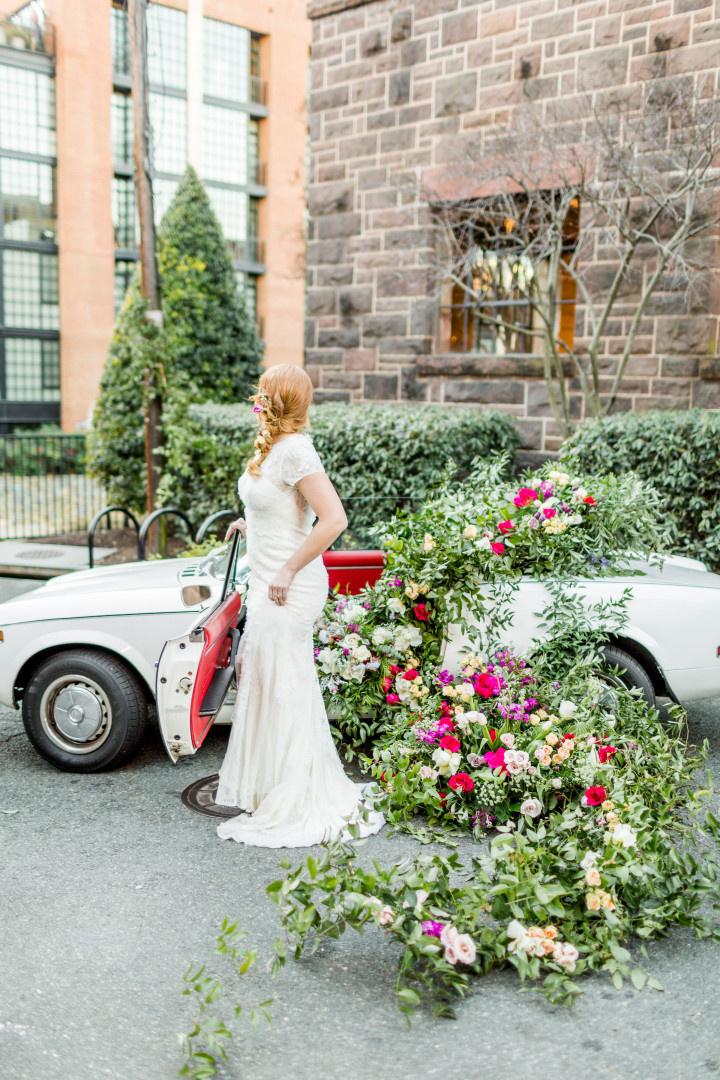 Getaway car
End your best day ever in the most stylish way by driving off in a getaway car adorned with florals. Whether you opt for a simple greenery garland or go all out with an oversized floral installation, your getaway car is one final opportunity to tap into your creative side on the big day. Naturally, this vintage Fiat convertible made for a fabulous photo op!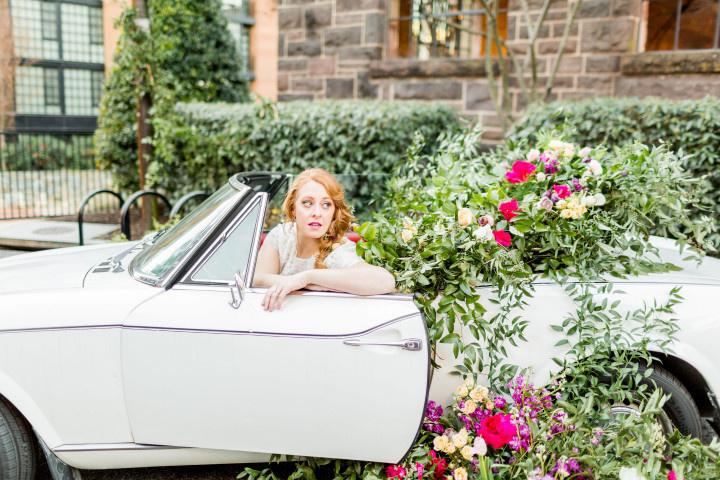 Photography: Kir2Ben | Venue: Fostr Collaborative | Styling: Sincerely Pete Events | Stationery: Alchemy Calligraphy and Design | Floral Design: The Rosy Posy | Rentals: Something Vintage Rentals | Wedding Dress: David's Bridal | Bridesmaid Dresses: David's Bridal Bridesmaids