Being a bridesmaid is a pretty big honor, and sometimes comes with the perk of getting your hair and makeup professionally done. Bridesmaid hairstyles can range from various different looks, such as clean and classic updos to textured or undone styles, and should definitely be approved by the bride well before the big day. So, if you've been looking for bridesmaid hairstyles to wear as you stand beside your bestie at the altar, we're here to help. Whether the bride-to-be has asked for her 'maids to wear an updo or prefers everyone to wear their hair down, we've rounded up 30 bridesmaid hairstyles that are perfect for every type of occasion.
Here are some bridesmaid hairstyles that are sure to wow the crowd.
Half-up bridesmaid hairstyles are a popular pick for 'maids because the look works on a range of different hair lengths and textures.
If your dress has an open back, opt for this braided updo bridesmaid hairstyle.
If you're searching for a romantic bridesmaid hairstyle, just ask your stylist to incorporate a braid into your look. Braids can be woven into various updos, half-back looks, and more to create a gorgeous hairstyle.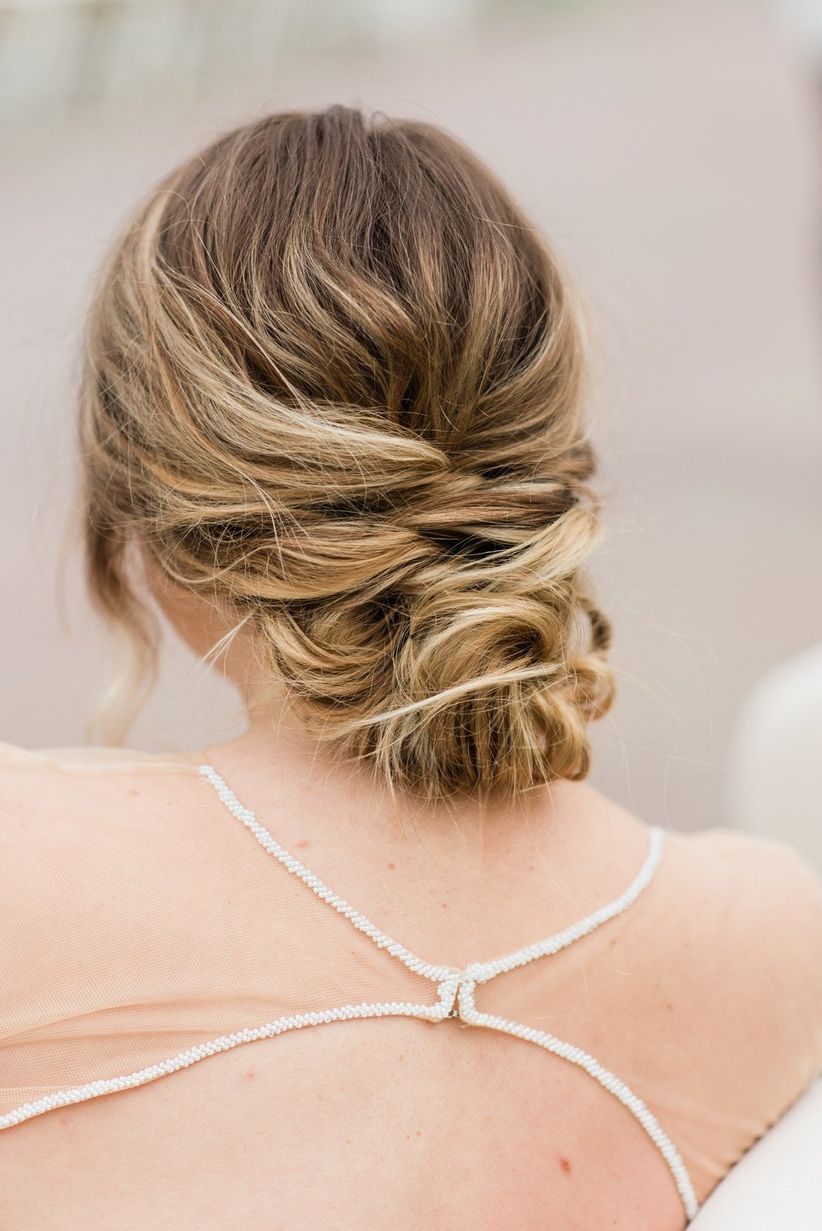 This updo features a subtle braid to create a whimsical and unique bridesmaid hairstyle.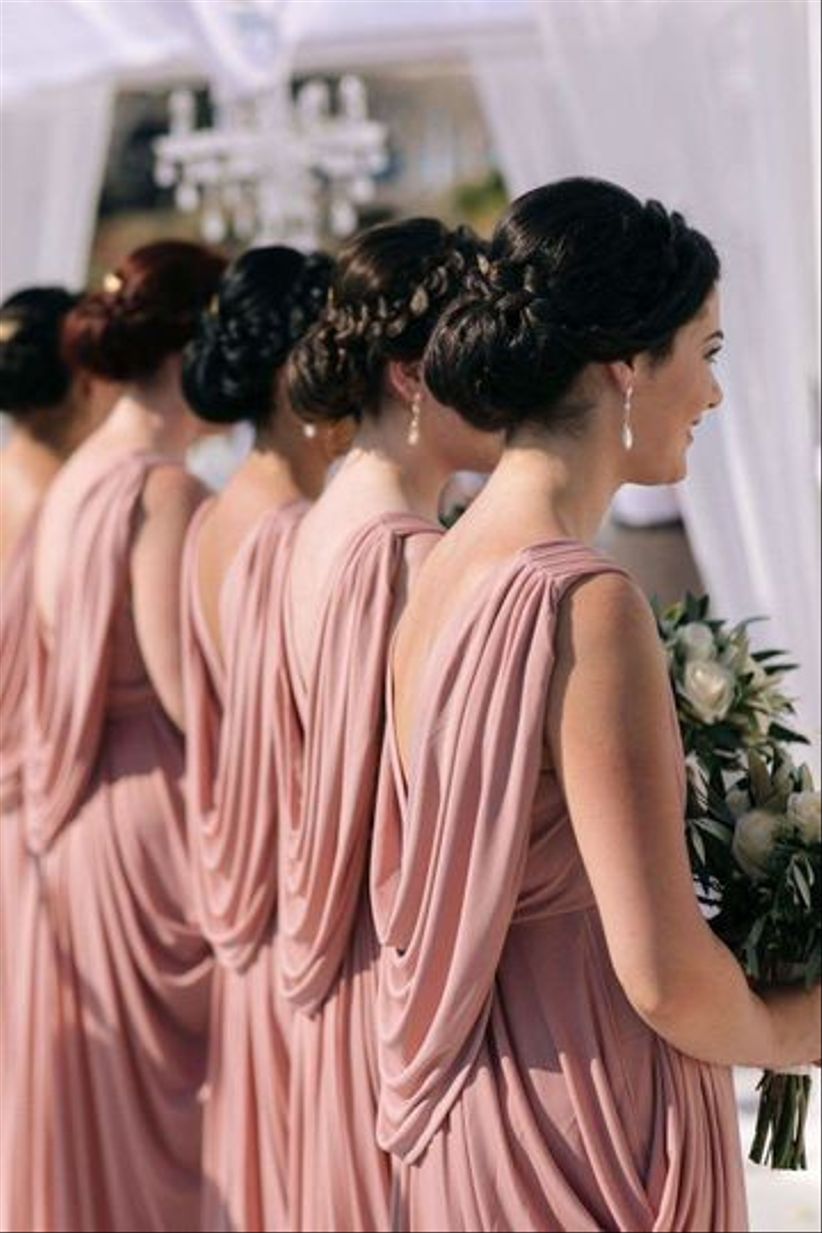 These chic braided updos are perfect for a romantic outdoor ceremony, like on the beach or in a garden.
If you've been searching for trendy bridesmaid hairstyles, then definitely opt for this romantic updo. Topped with an eucalyptus floral crown, this look it absolutely gorgeous.
For 'maids with bangs or layers, we think this messy updo is perfect for any type of outdoor wedding.
Loose curls create a natural bridesmaid hairstyle that totally suits a laid-back bash.
If you want to show off your locks while keeping your hair out of your face, consider a side ponytail as your bridesmaid hairstyle.
You can even curl the ponytail for some extra drama.
The topknot bun is a rising trend for bridesmaid hairstyles that also keeps hair pulled back.
Jeweled hair accessories are a great way to add a glam feel to bridesmaid hairstyles.
With a flapper-inspired hair accessory, this bridesmaid hairstyle is perfect for a Gatsby-inspired wedding.
These tousled and textured beach waves are serious #bridesmaidgoals.
Relaxed waves are a great bridesmaid hairstyle choice for spring and summer weddings.
A formal updo is a fool-proof bridesmaid hairstyle option if you're attending an upscale wedding.
Going for a boho bridesmaid hairstyle? Add a floral crown to your look.
If you do decide to wear flowers in your hair, make sure the crown matches the bride-to-be's color palette.
For a more natural look, a crown of greenery is a pretty option.
Another classic (and chic!) bridesmaid hairstyle updo is a side bun.
It's not every day a professional styles your hair, so go all out and opt for a twisted updo that is a step above your everyday style.
A curly updo will keep the hair in place and also pairs well with other bridesmaid hairstyles.
On the hunt for a bridesmaid hairstyle updo that's not a bun? Try an all-over braided look.
This edgy braided bridesmaid hairstyle is perfect to keep hair pulled back in a chic but natural way.
We're obsessed with the braided crown that's paired with this fishtail.
There's something about a wavy half-up bridesmaid hairstyle that's super romantic and elegant, especially when you add a crystal-adorned hair accessory.
This side braid is perfection.
Looking to wear your hair down for an outdoor wedding? Opt for curls with a braided headband. It's a stylish way to keep your mane out of your face.
If you like certain aspects of two or three different looks, feel free to mix and match bridesmaid hairstyles. Like the idea of having a braid, but want your hair pulled to the side? Just pull photos of what you'd like to replicate replicate so that the stylist can do their best in achieving your desired look.
Baby's breath floral crowns are perfect for your 'maids to wear if you're having an outdoor ceremony or celebration.