Photo: Tim Waters Photography
While many brides-to-be are busy growing their luscious locks in hopes of having princess-like hair on their big day, some are busy figuring out the best wedding hairstyles for short hair. With less hair to work with, you may feel stuck in your styling options, especially if you're looking for something special and different than your normal look, but trust us — there are so many ways to spice up a short hairstyle! Whether it's an added touch, such as a flower crown, headpiece, or barrette, or a new way of styling, such as a half-down look or an updo (yes, they are possible with your lob!), the options are plentiful.
Just look at how these brides rocked wedding hairstyles for short hair.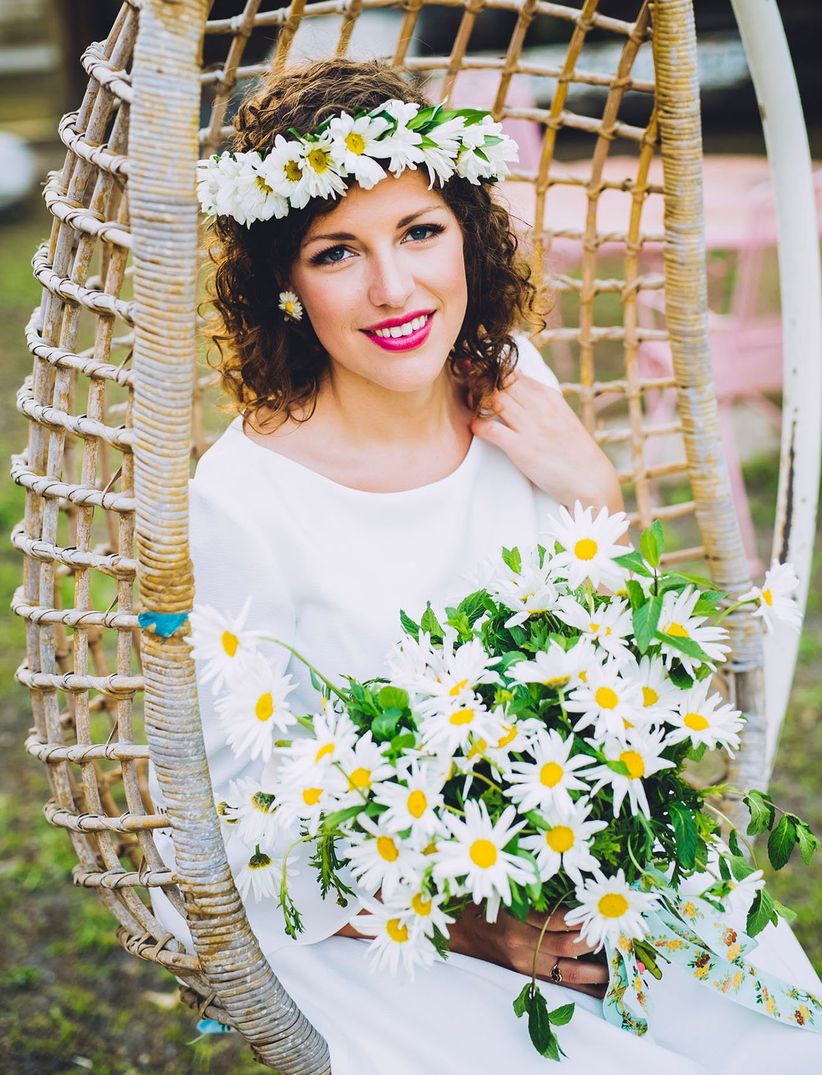 Photo: Sonia Savio Photography
Flower Crowns
Curly hair and a wreath of daisies create pure sunshine for a summer wedding.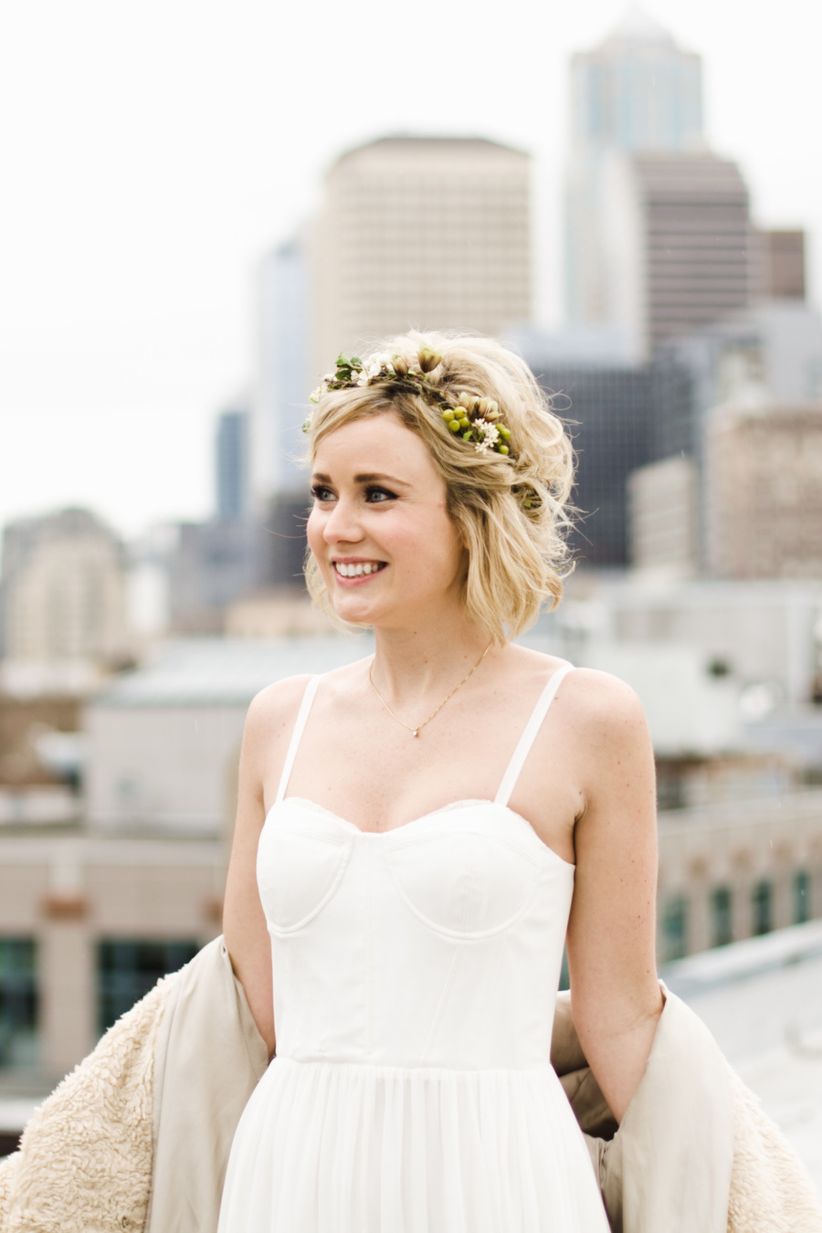 Photo: Angela & Evan Photography
A subtle crown of buds and berries in a green palette adds a natural touch to this sassy wedding hairstyle for short hair.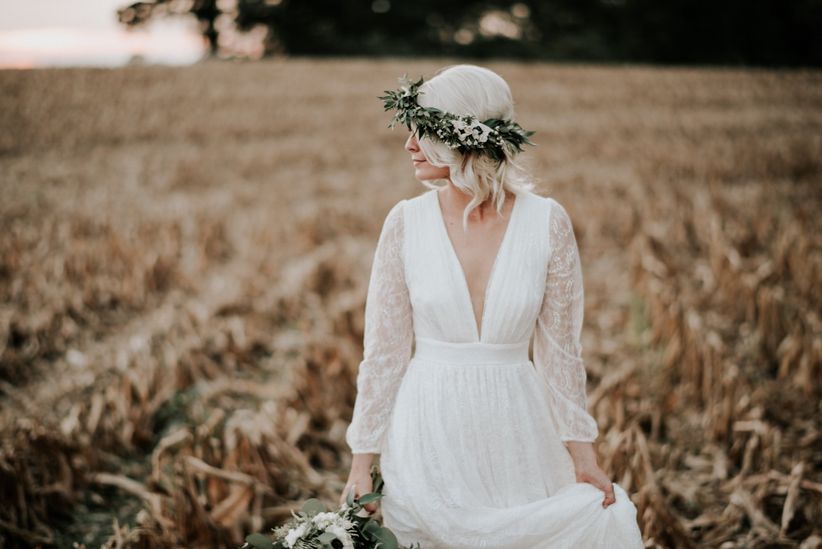 Photo: Kristen Kaiser
A lush crown of greenery makes a statement atop a side-swept platinum lob — we can't get enough of this indie style!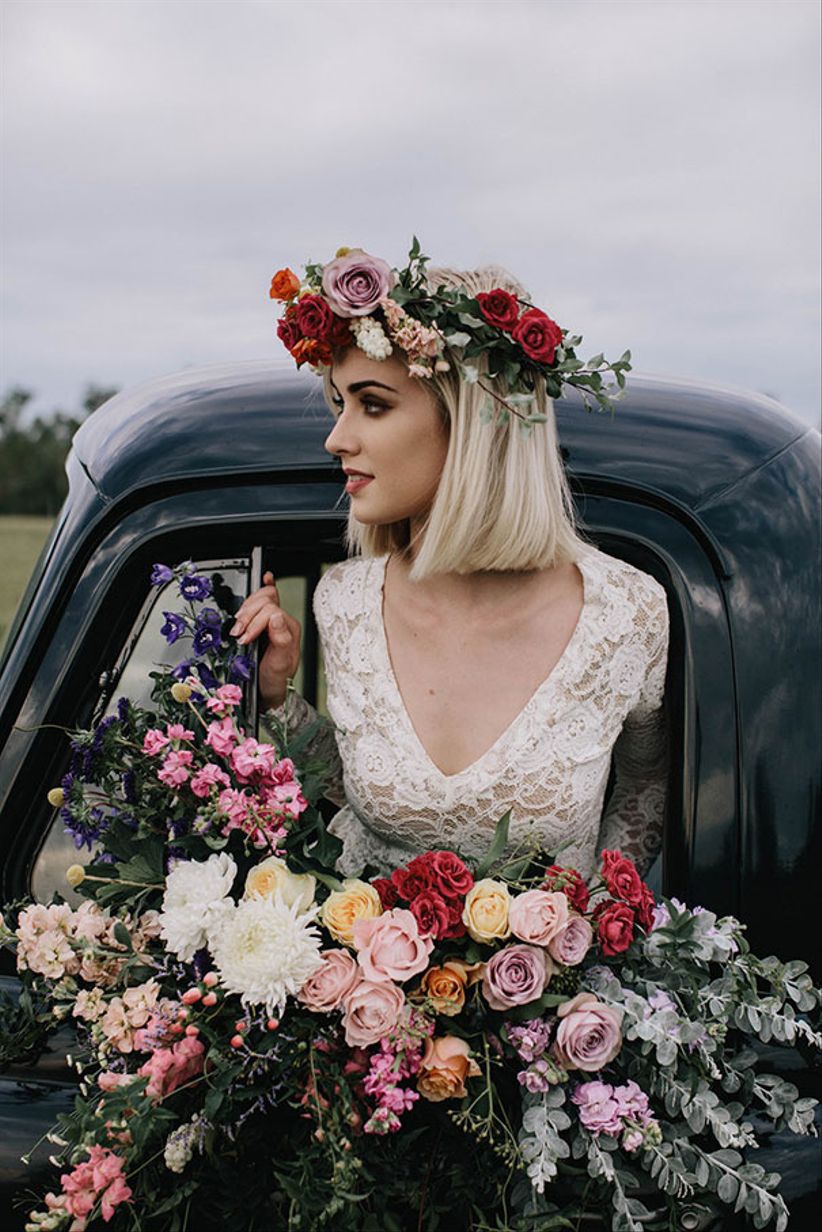 Photo: Ode Studios
A minimalist blunt bob gets a maximalist touch with a bodacious wreath of blooms.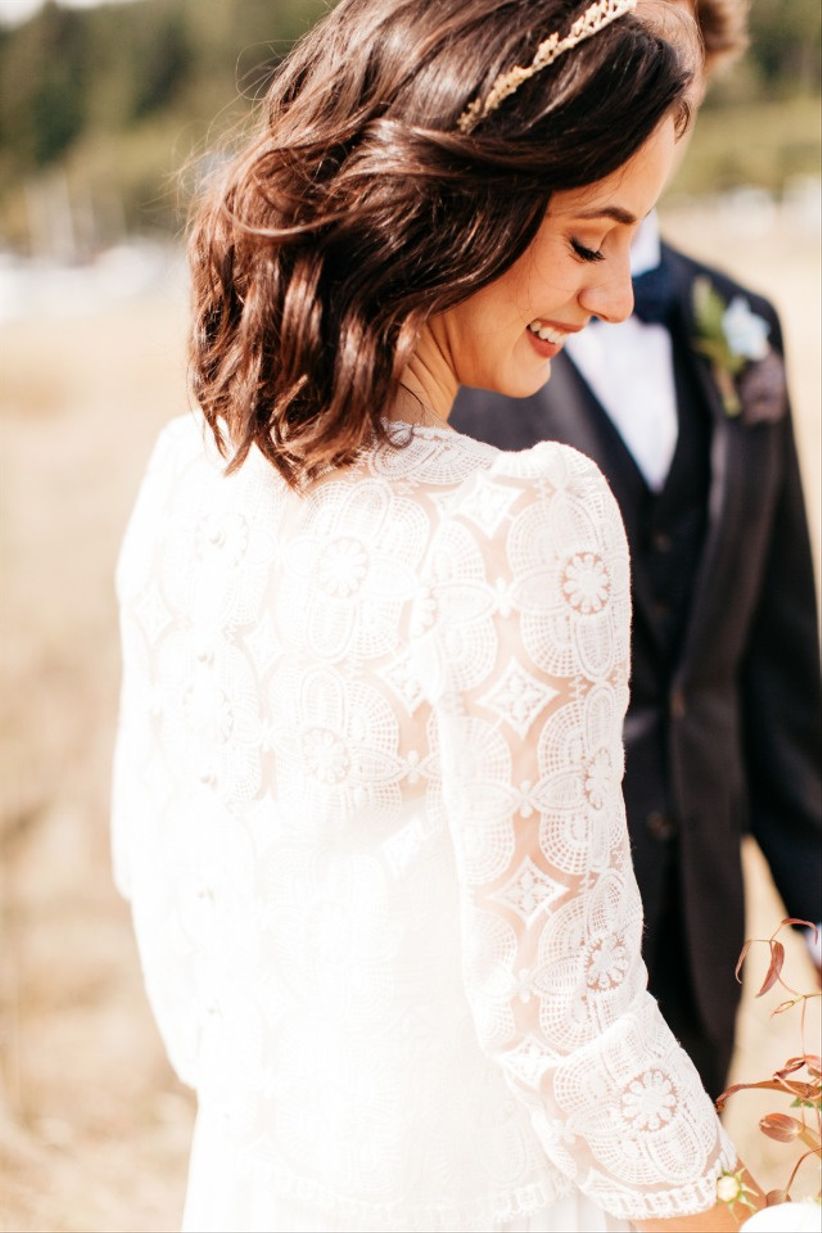 Photo: Catie Coyle Photography
Headbands
Choppy, wavy locks get accented with a gilded headband for a decadent bohemian look.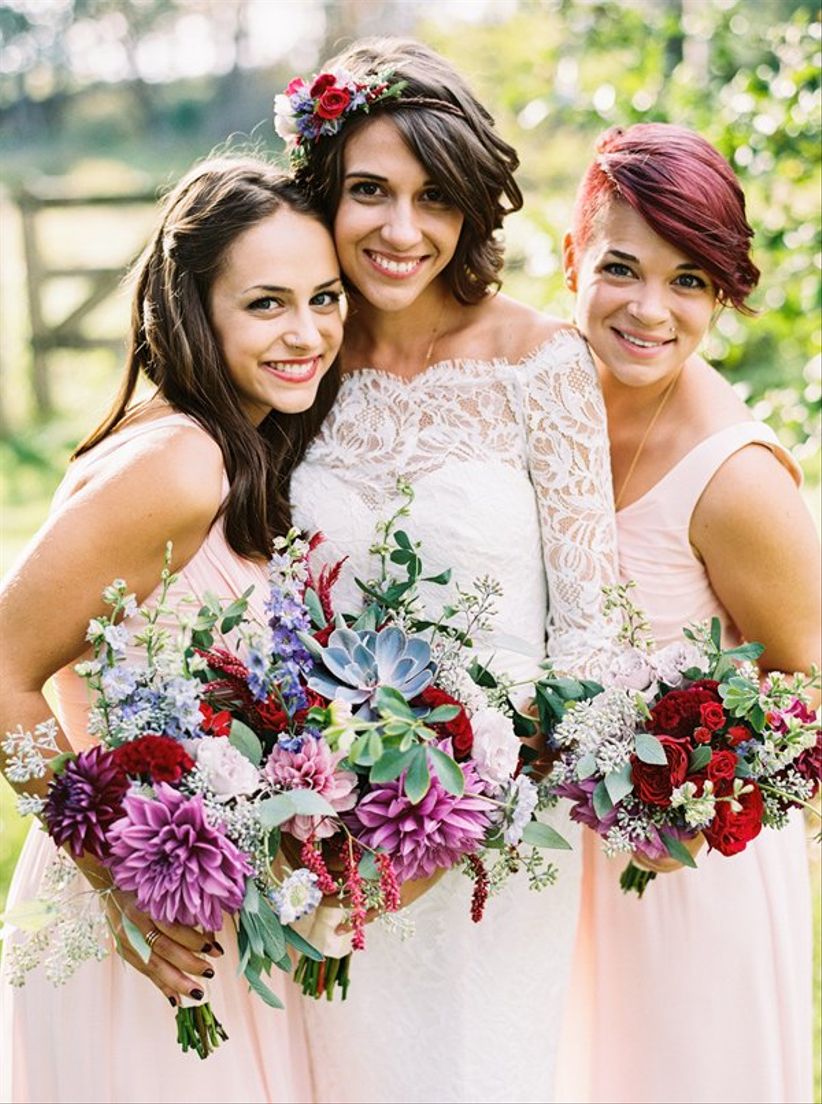 Photo: Justin Tearney
A headband adorned with bold blooms pops against tousled layers while echoing the bride's gorgeous bouquet.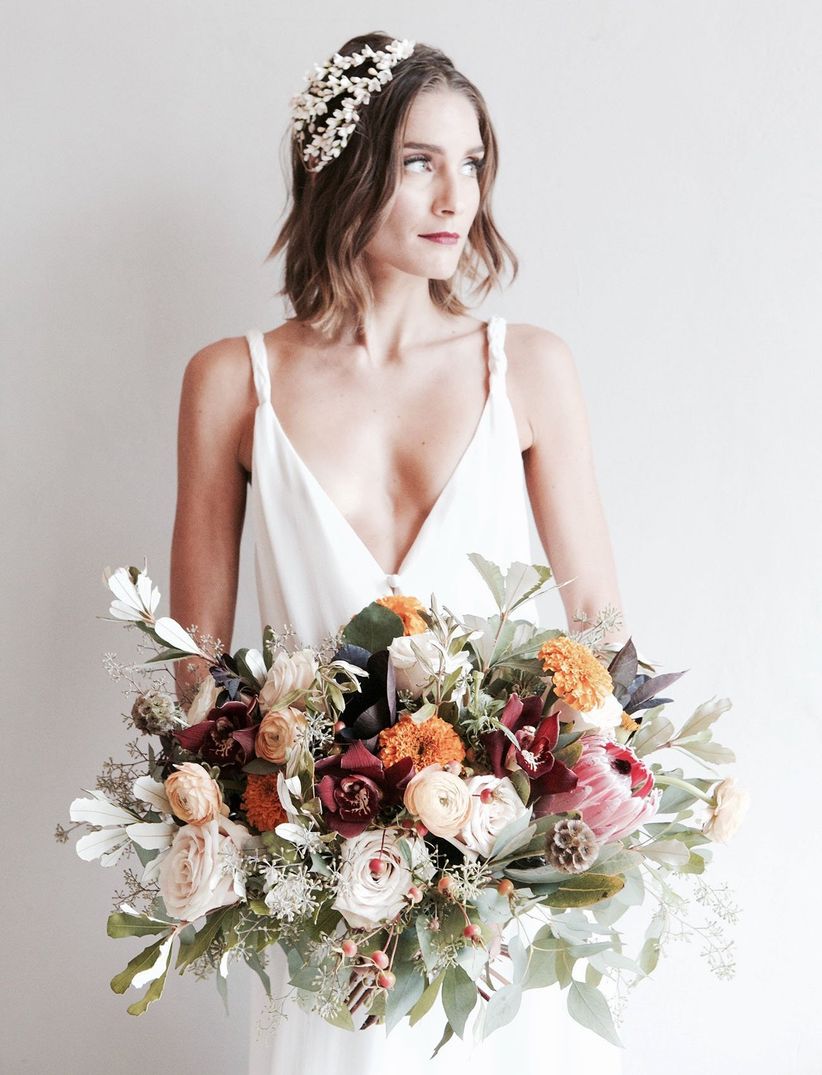 Photo: The Creative's Loft
Situate your headpiece further back on your head to create a bolder look — we love how this one brings a smattering of garden whimsy with trails of flower buds.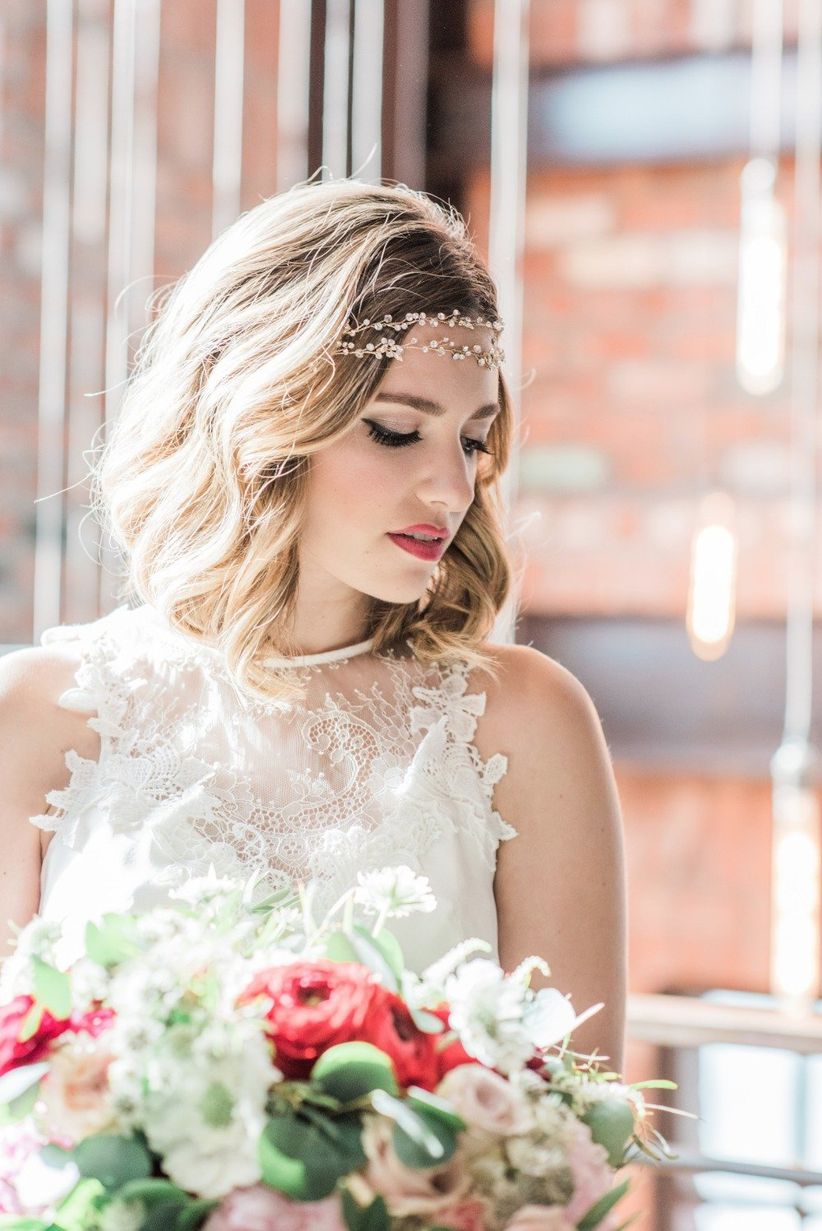 Photo: Elina Rose Photography
A bouncy bob of waves gets some 1920's flair with a gilded headpiece that dazzles across the forehead.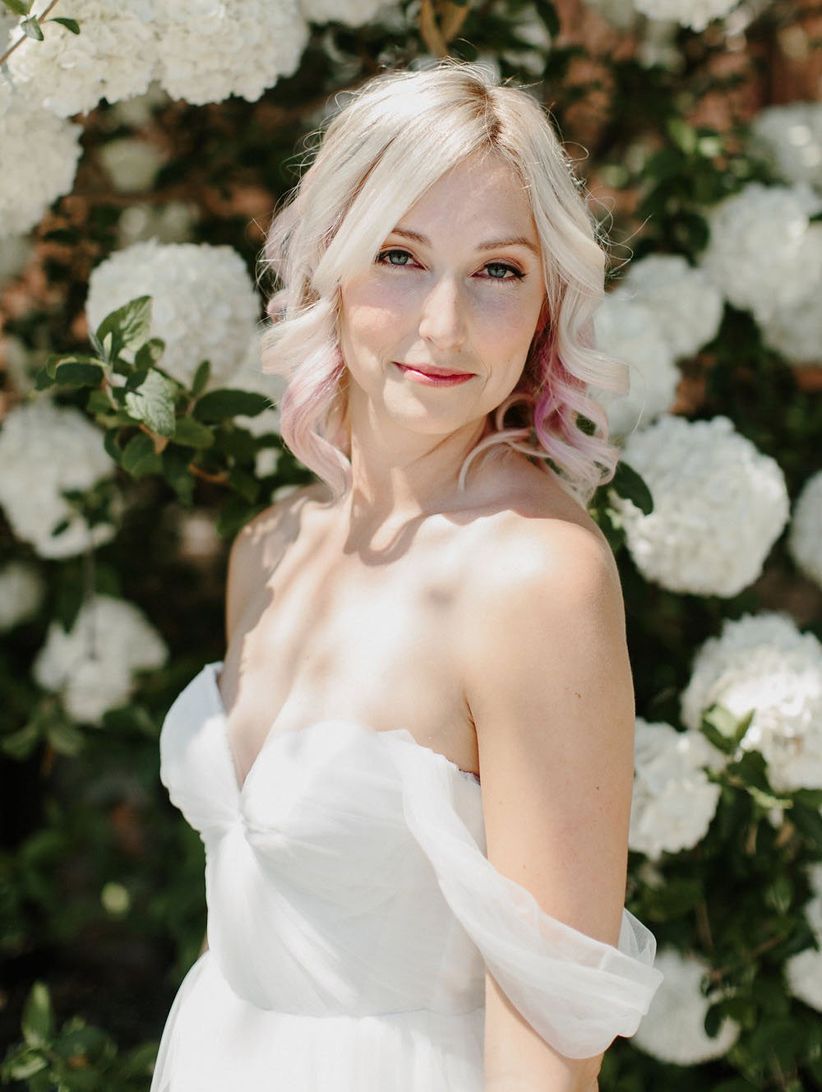 Photo: Someplace Wild Photography
Down and Loose
We love how loose curls emphasize the fun pink highlights in this platinum wedding hairstyle for short hair.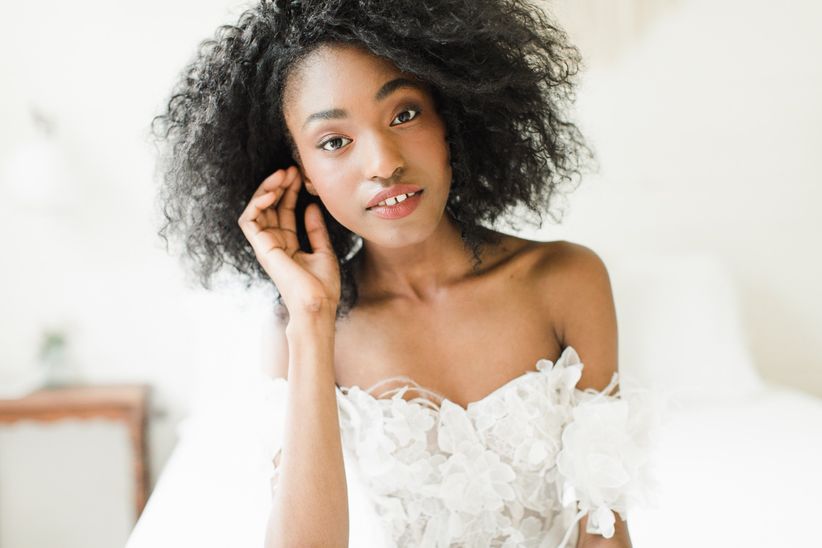 Photo: Ashley Caroline Photography
Sometimes, your hair is best left untouched. This bride's natural hairstyle is completely her — you want to stay true to yourself on your wedding day, after all.
Photo: Birds of a Feather Photography
Tousled pieces create a fresh, edgy vibe, perfectly accented by bold statement earrings and hot pink eyeliner.
Photo: Rebecca Yale Photography
Beachy waves lend volume and texture to this playful bob, while a side part adds dimension.
Photo: Tim Waters Photography
Updos
How stunning is this bride? Curled tendrils frame her face in an elegant updo, complemented by sparkling drop earrings.
Photo: Charla Storey Photography
A pulled back French braid is a perfect way to style a lob out of one's face. Accent it with a colorful accessory for a surprising twist.
Photo: Tec Petaja Photography
A chic chignon is still doable (pun intended) with short hair! Keep the short pieces together with a jeweled clip, both functional and stylish, while letting a few tousled front pieces accent the face.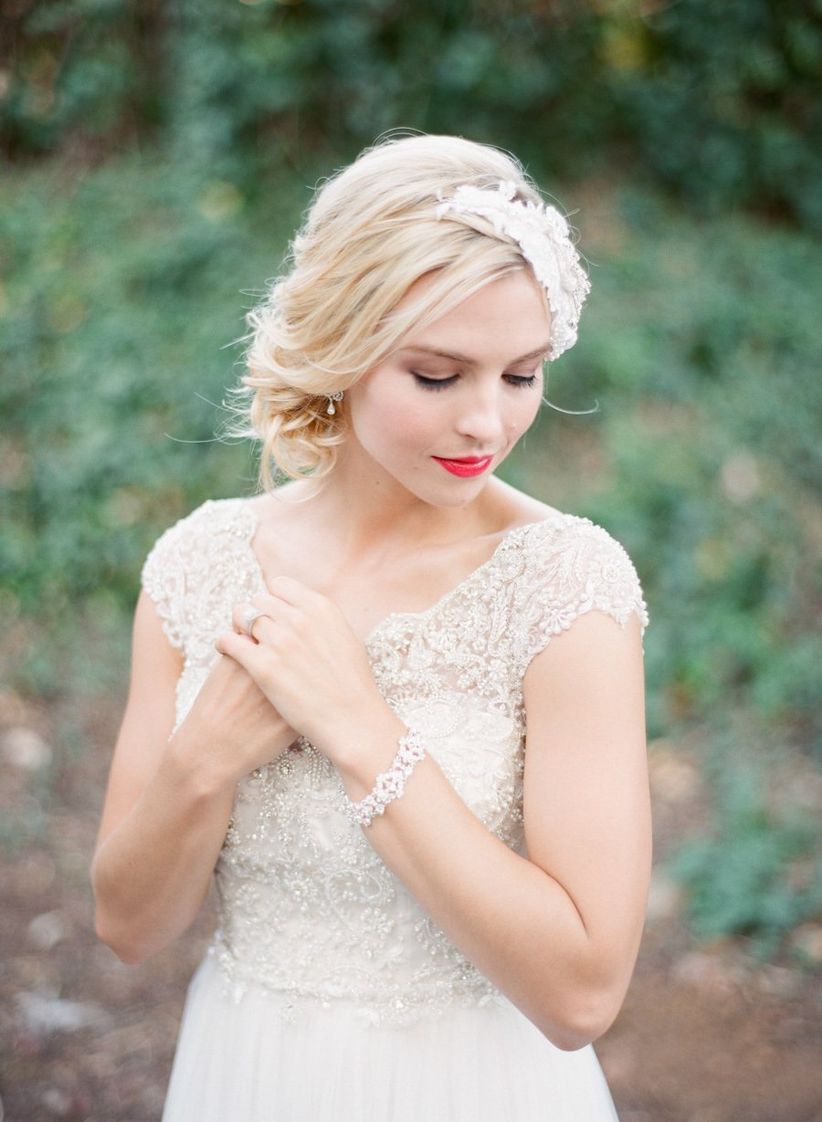 Photo: Koman Photography
This tousled side bun is dreamy and romantic, especially when paired with red lips and a vintage headpiece.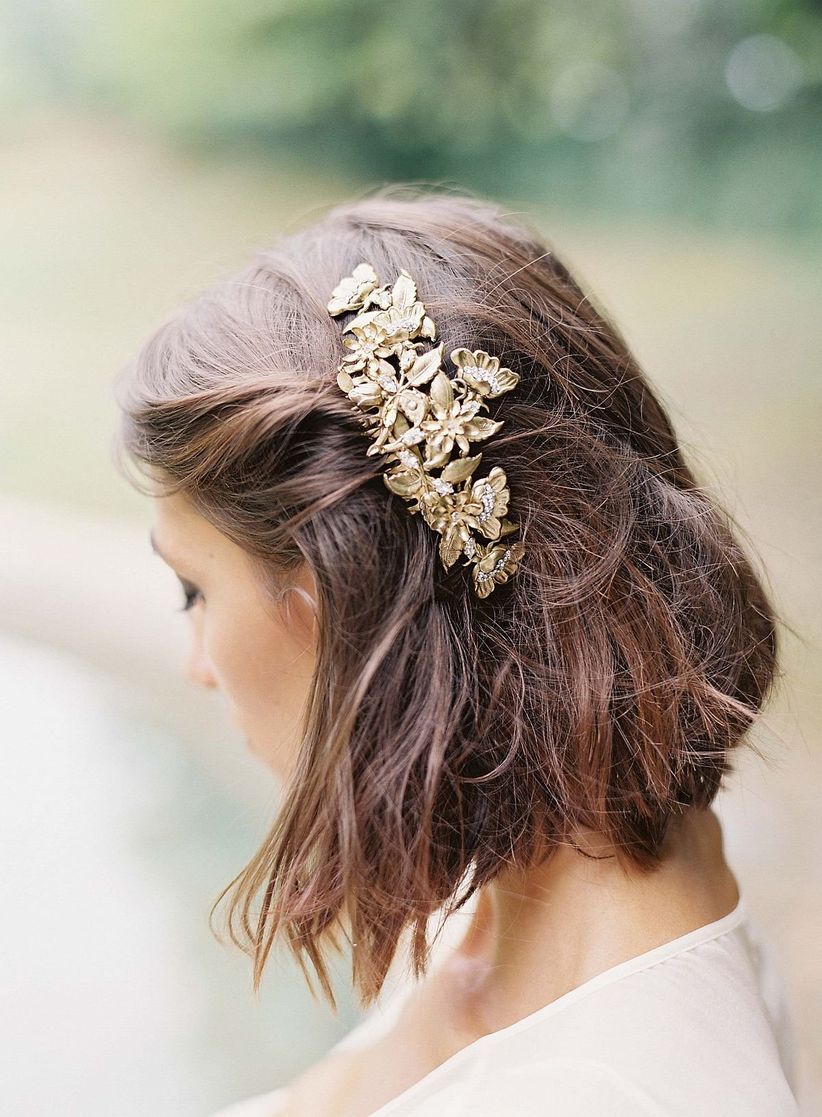 Photo: Michael & Carina
Half-Up
Pull back front pieces with an ornate gold barrette to add some Old World romance to a whimsical wedding hairstyle for short hair.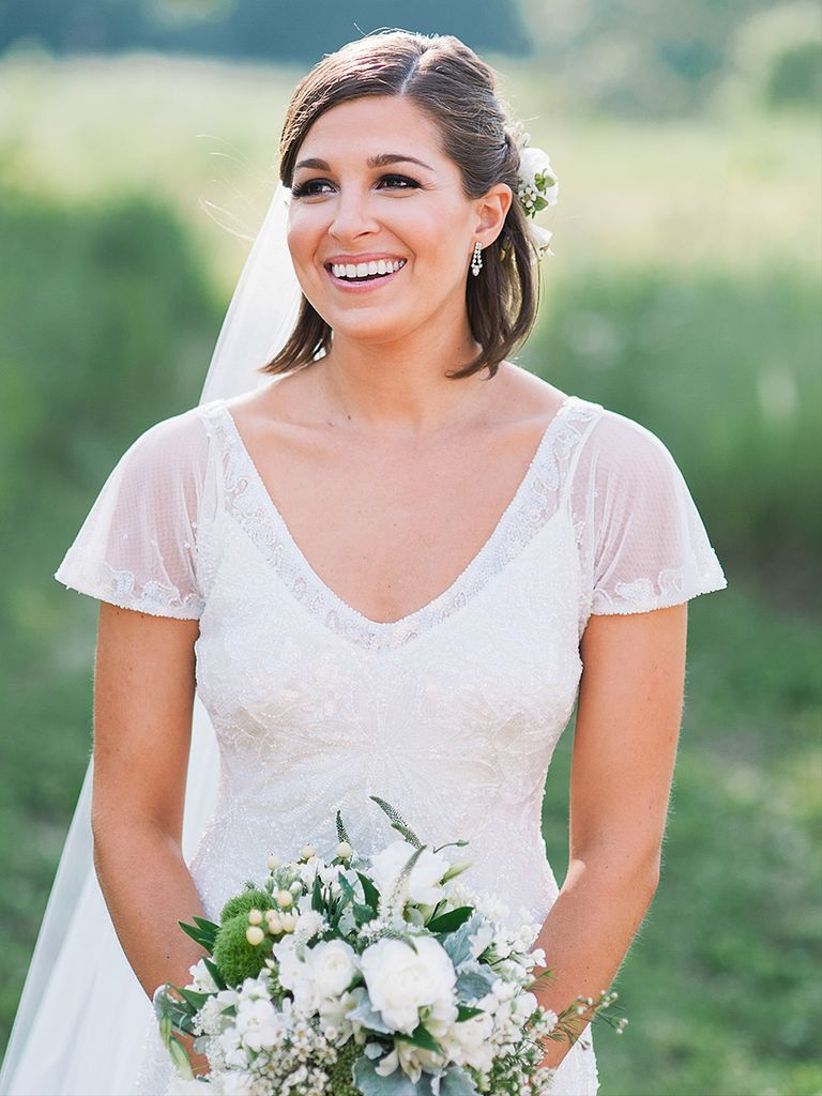 Photo: T & S Photography
A sleek half-up style paired with a white rose and long veil is perfect for the classic bride.
Photo: Maddie Mae Photography
We love how this bride's elegantly tousled waves are pulled back in a twist that mirrors a crown, creating subtle volume on top.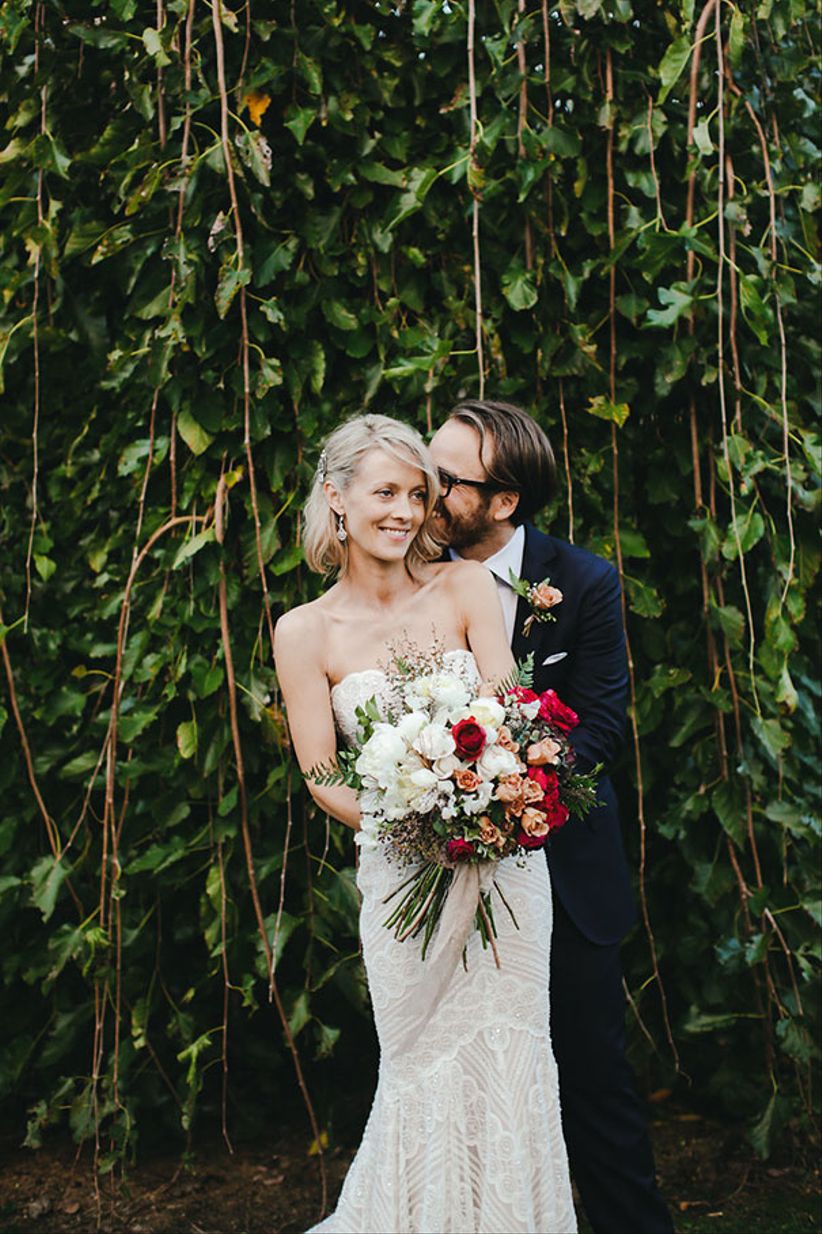 Photo: Lara Hotz Photography
Sleek meets volume in this bride's hairstyle. Get the half-up, half-side look by elegantly pulling back one side only to make a statement.