40 Wedding Hairstyles That Look Amazing on Brides With Long Hair
Braids, waves, buns, and more—channel your inner Rapunzel on the big day by choosing one of these gorgeous bridal hairstyles for long hair.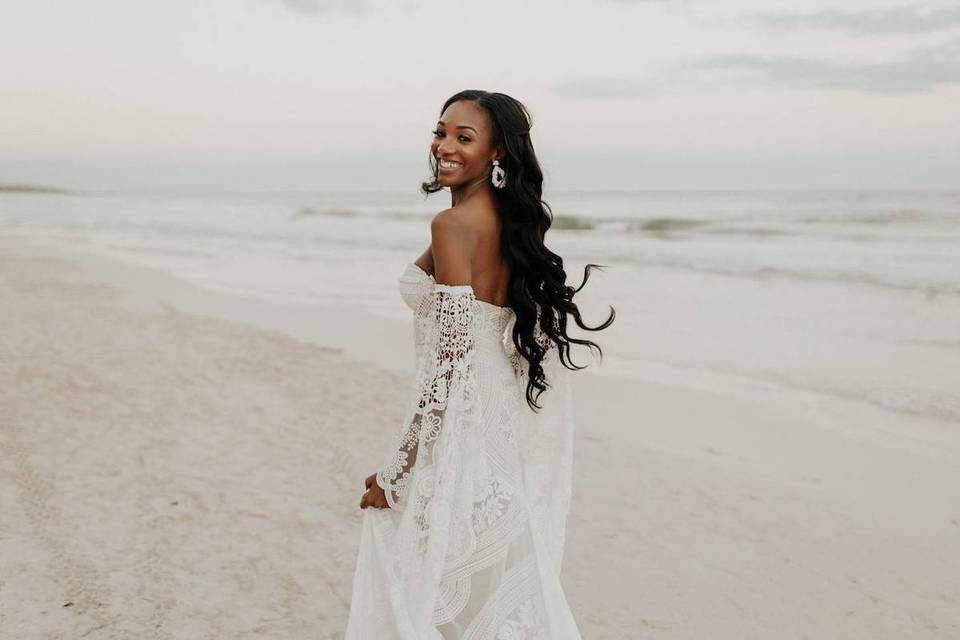 Combing through all the different wedding hairstyles for long hair to find the perfect style for your own big day can seem like a totally endless process. We get it. When you've got long hair that seems to have a mind of its own, finding that ideal wedding hairstyle is no easy feat. There are so many wedding hairstyles for long hair to choose from—should you put it up in an elegant chignon, wear it down and flowing around your shoulders, or go for boho-chic braids? The list of wedding hairstyles for long hair seems, for lack of a better word, long. Plus, there are seemingly countless factors to consider: veil or no veil, gown style, wind speed—not to mention staying on trend. It's enough to make a bride tear her hair out. So, if you're working with your wedding hairstylist to find *the* look for your big day, we've got you covered.
Keep your locks under control (and looking fabulous) on the big day with these wedding hairstyles for long hair.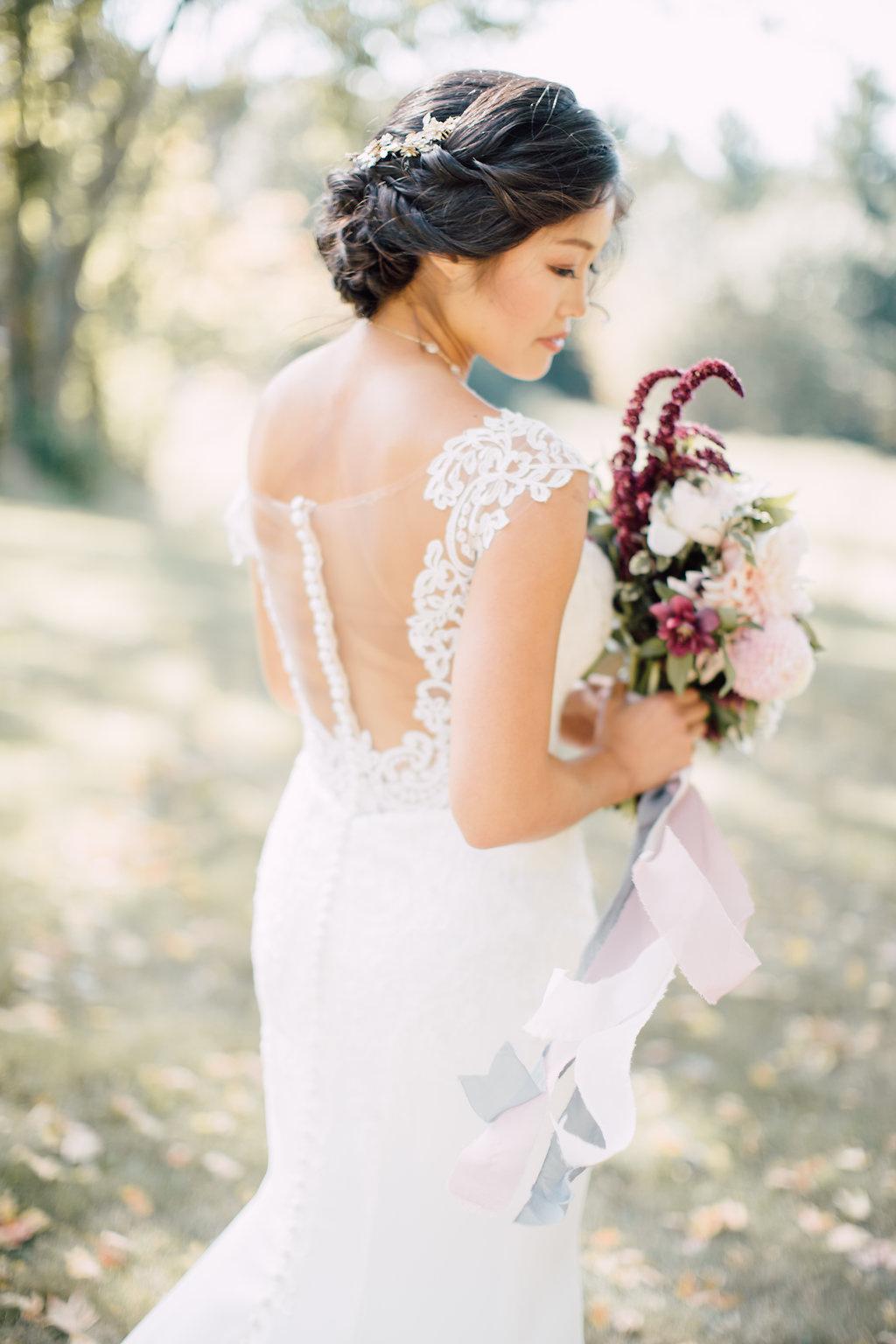 Twisted low-do hairstyle
This classic hairstyle is a great choice if you want to show off the neckline or the back of your wedding gown. Hair is pulled back into a low bun, then curled and twisted in different sections to create texture.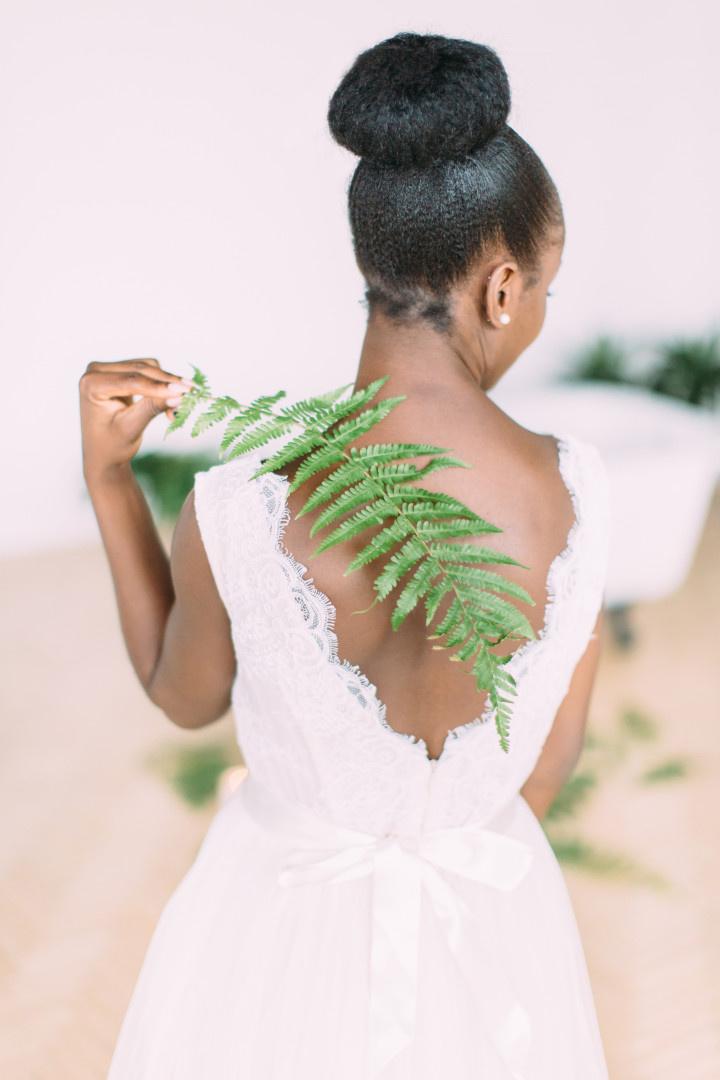 Ballerina bun
A ballerina or donut bun (also called a sock bun when there's, you know, a sock used to style it) is an ideal go-to wedding hairstyle for the no-fuss bride. This 'do allows you to dance the night away without worrying about your hair coming out or getting in your face. Longer hair is preferable to achieve the perfect bun — it can be done with a circular foam bun shaper, but your wedding hairstylist probably has their own bag of tricks to make it last! An added bonus of this glamorous 'do? It'll make you look a few inches taller, so feel free to ditch the heels.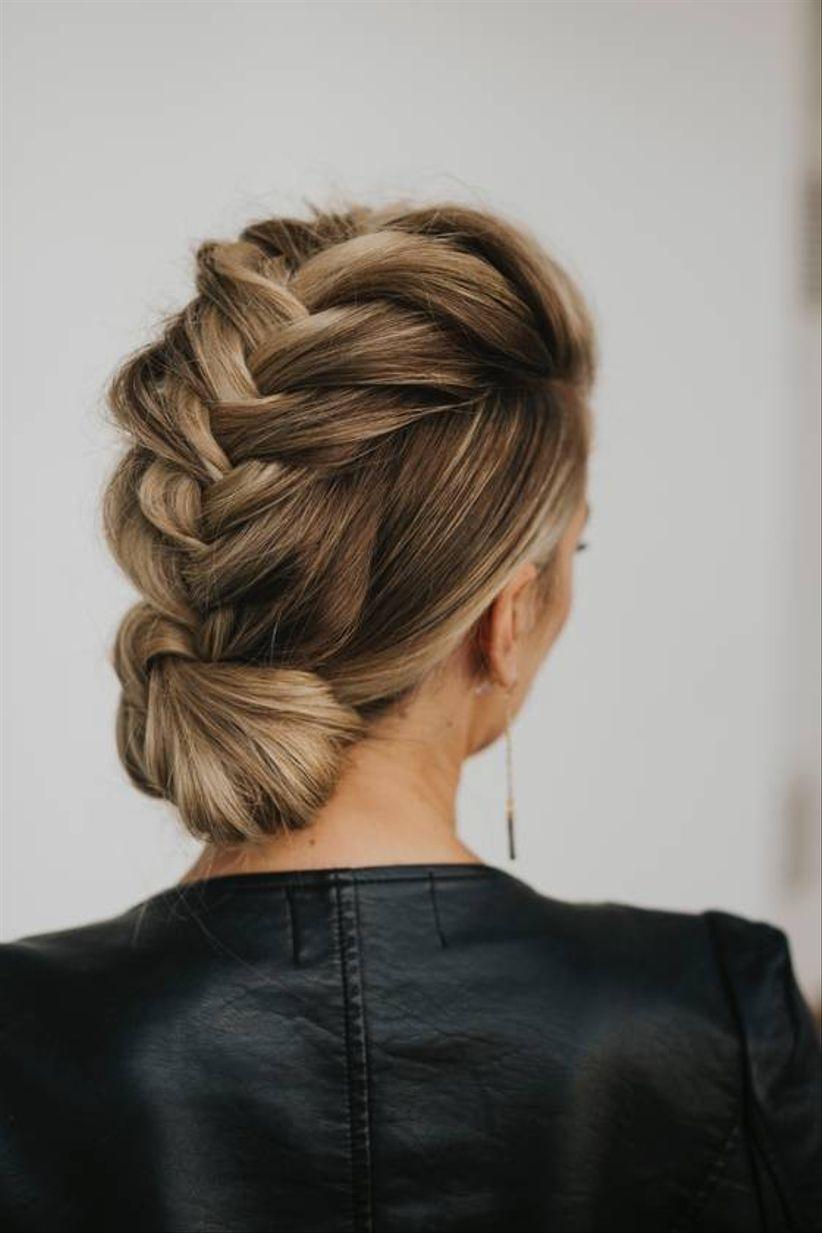 Tucked-under braid
A fluffed-up french braid is a très chic hairstyle for long hair. Tuck the end of the braid underneath to create an easy wedding hairstyle that stays off your shoulders and neck.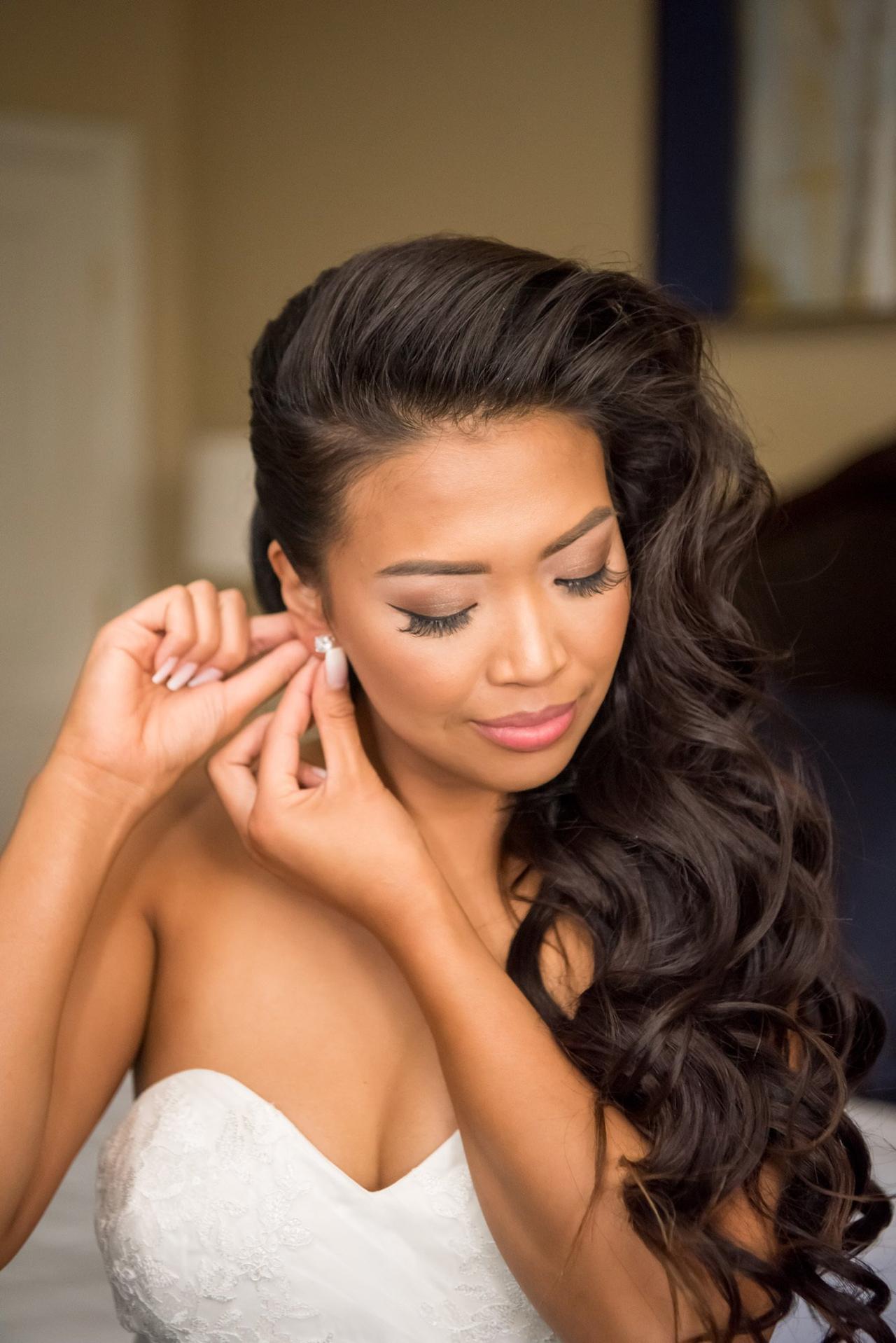 Swooped to one side
Go big on volume by curling your hair and swooping it to one side of your head. This glamorous wedding hairstyle for long hair will require some teasing and hold products to keep the front slicked back, but your wedding hairstylist will be able to work their magic to ensure that it lasts all day long.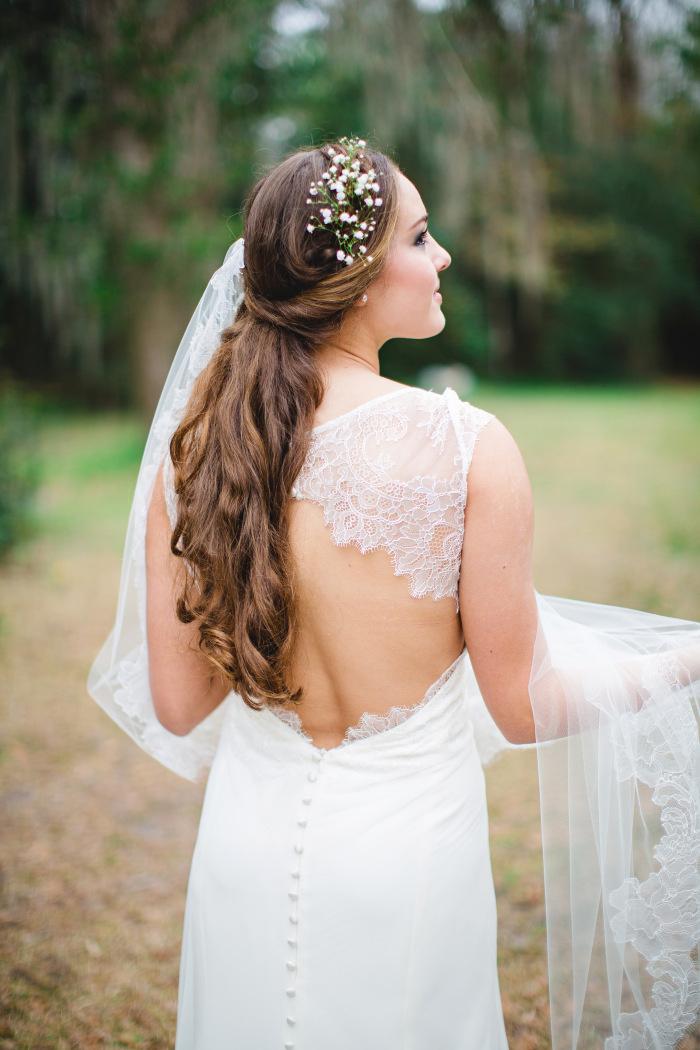 Half-up wedding hairstyle with flowers
Perfect for a rustic or laid-back bash, this wedding hairstyle for long hair is versatile and effortless. All it takes is a curling iron, a few bobby pins, and some sprigs of baby's breath. Don't worry about this style being hair-sprayed to perfection — it's okay if it's a little messy or the curls fall throughout the night!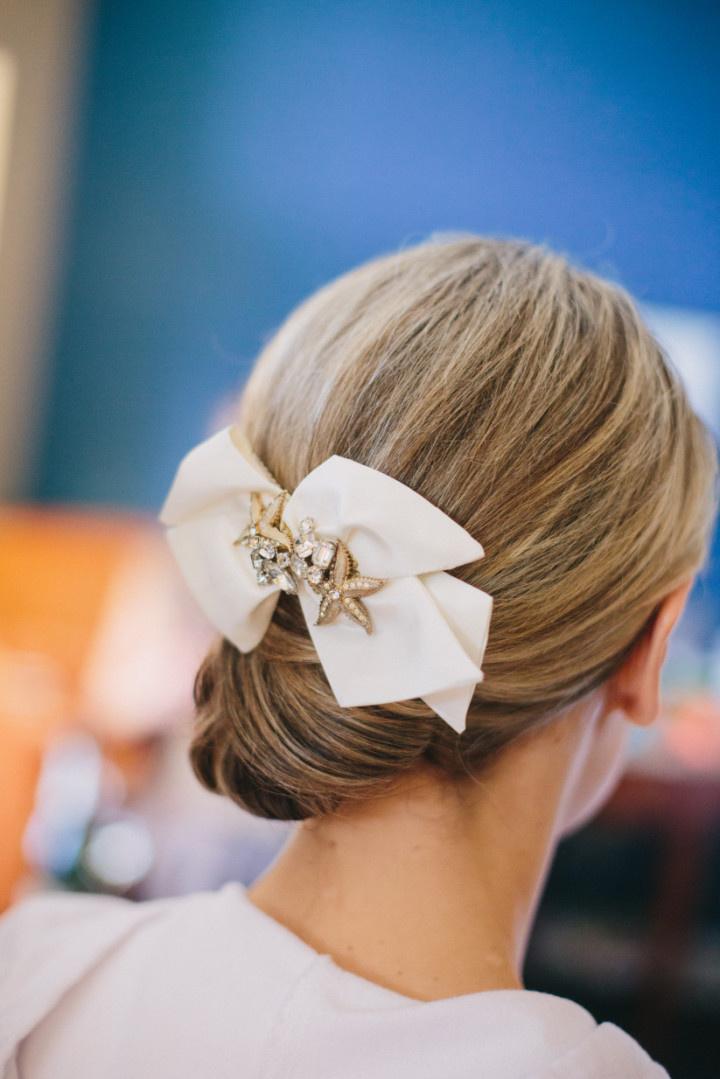 Chignon hairstyle with embellished bow
Bows are just one of the bridal hair accessories we're loving right now. This sweet accent gets a grown-up twist when you pair it with a flawless chignon bun — choose a style in white for ultimate bridal vibes, or opt for a black velvet bow for a hint of edgy romance.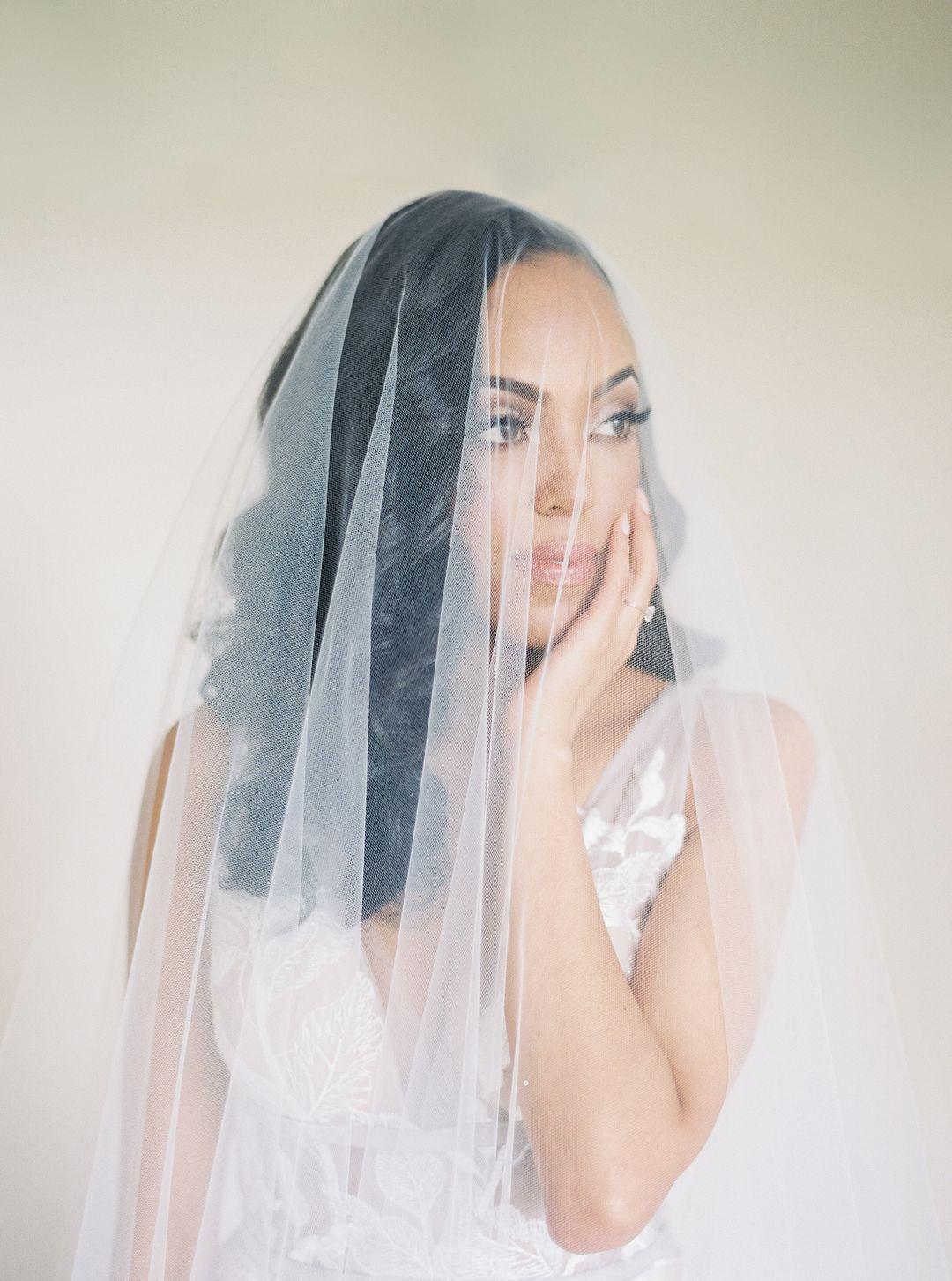 Long, down hairstyle with a veil
Sometimes, all you need is a simple veil to really transform your bridal look. A plain tulle veil is a chic and elegant accessory to complete a set of curly locks.
Floral clip
Highlight your face (and show off that bridal makeup) by pulling loose waves to one side with a statement floral clip. A gold and white barrette pops against darker tresses.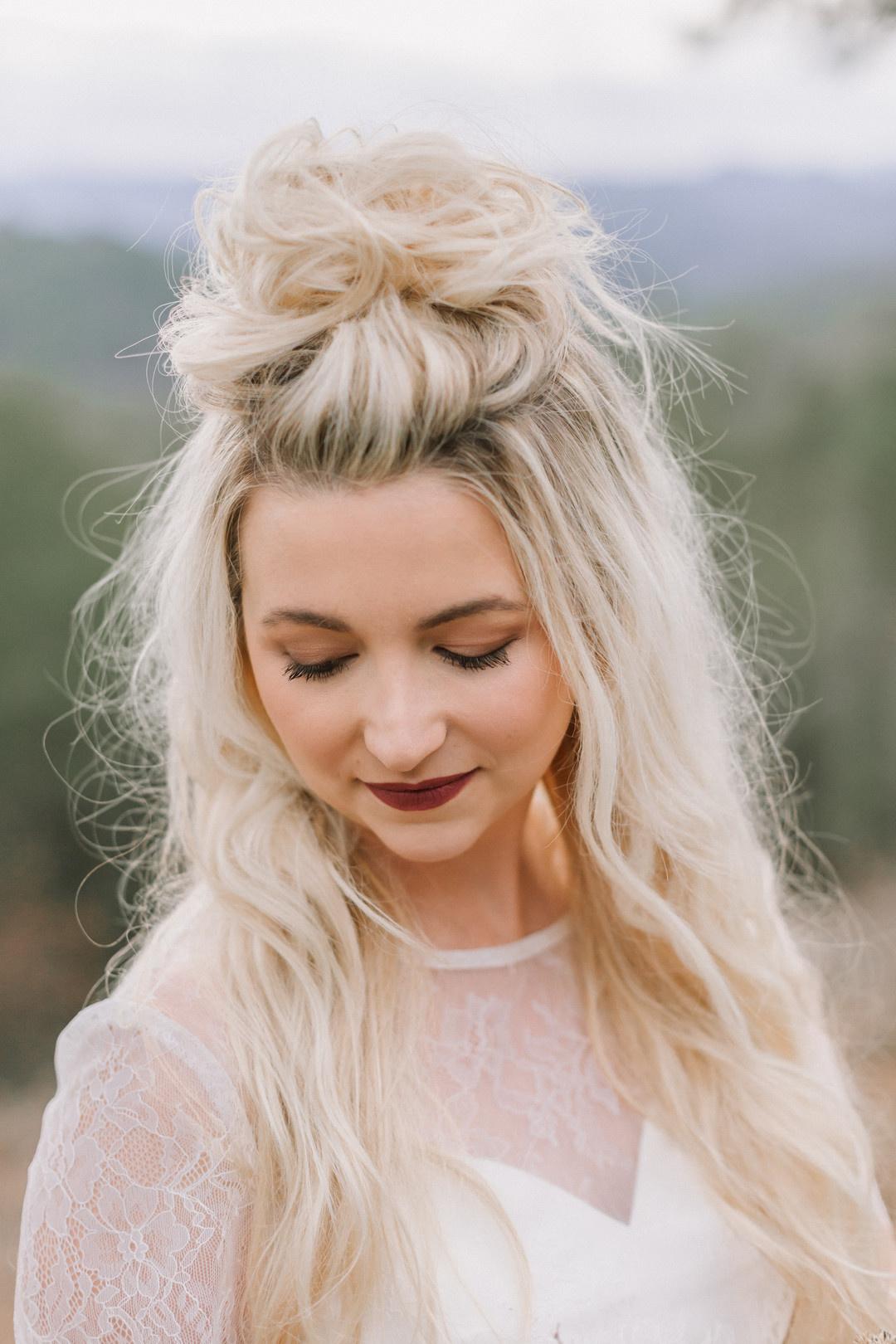 Hair by Bangs and Blush
Half-up topknot hairstyle
Looking for a totally unique wedding hairstyle for long hair? Here's your answer. We're obsessed with this cute and spunky half-up topknot—it's perfect for keeping hair out of your face while showing off your long tresses.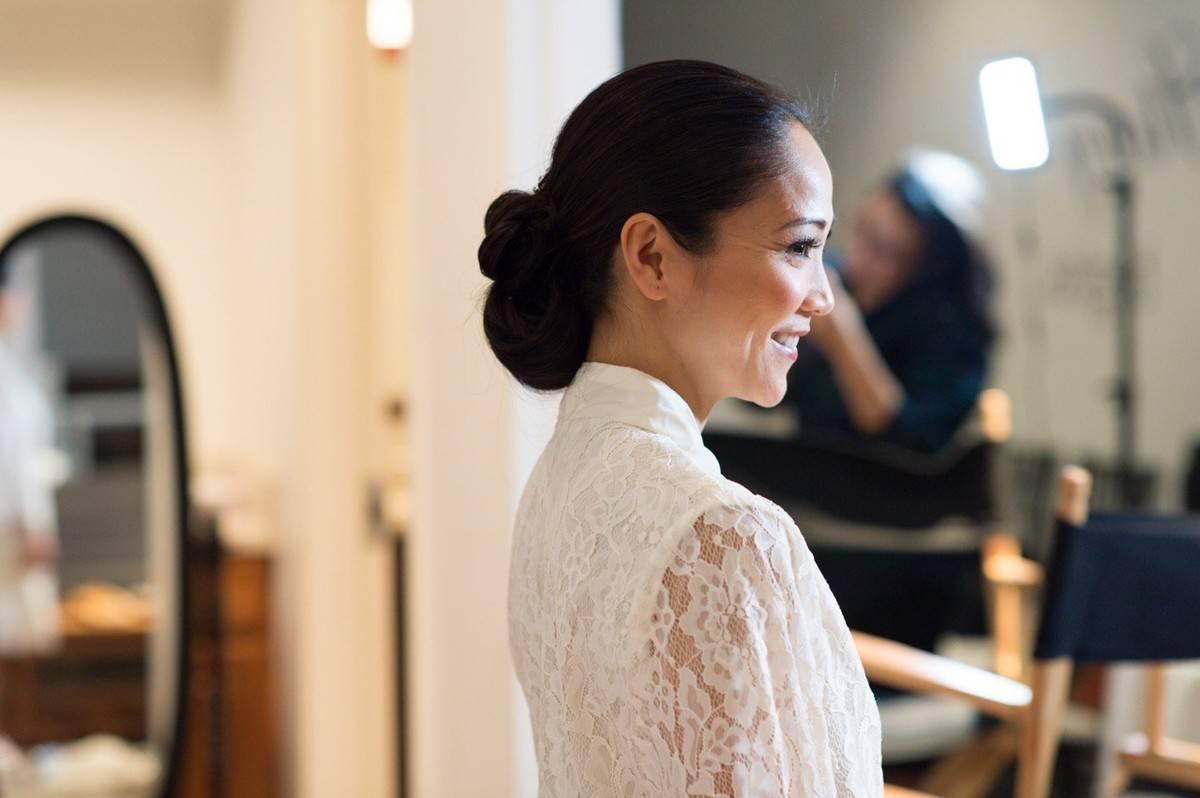 Formal chignon hairstyle
Straightened or relaxed hair is perfect for creating an elegant chignon. This wedding hairstyle for long hair is timeless and sophisticated, making it an ideal choice for a formal venue, such as a country club, ballroom, or historic estate. All you'll need is a pair of pearl wedding earrings to complete the look.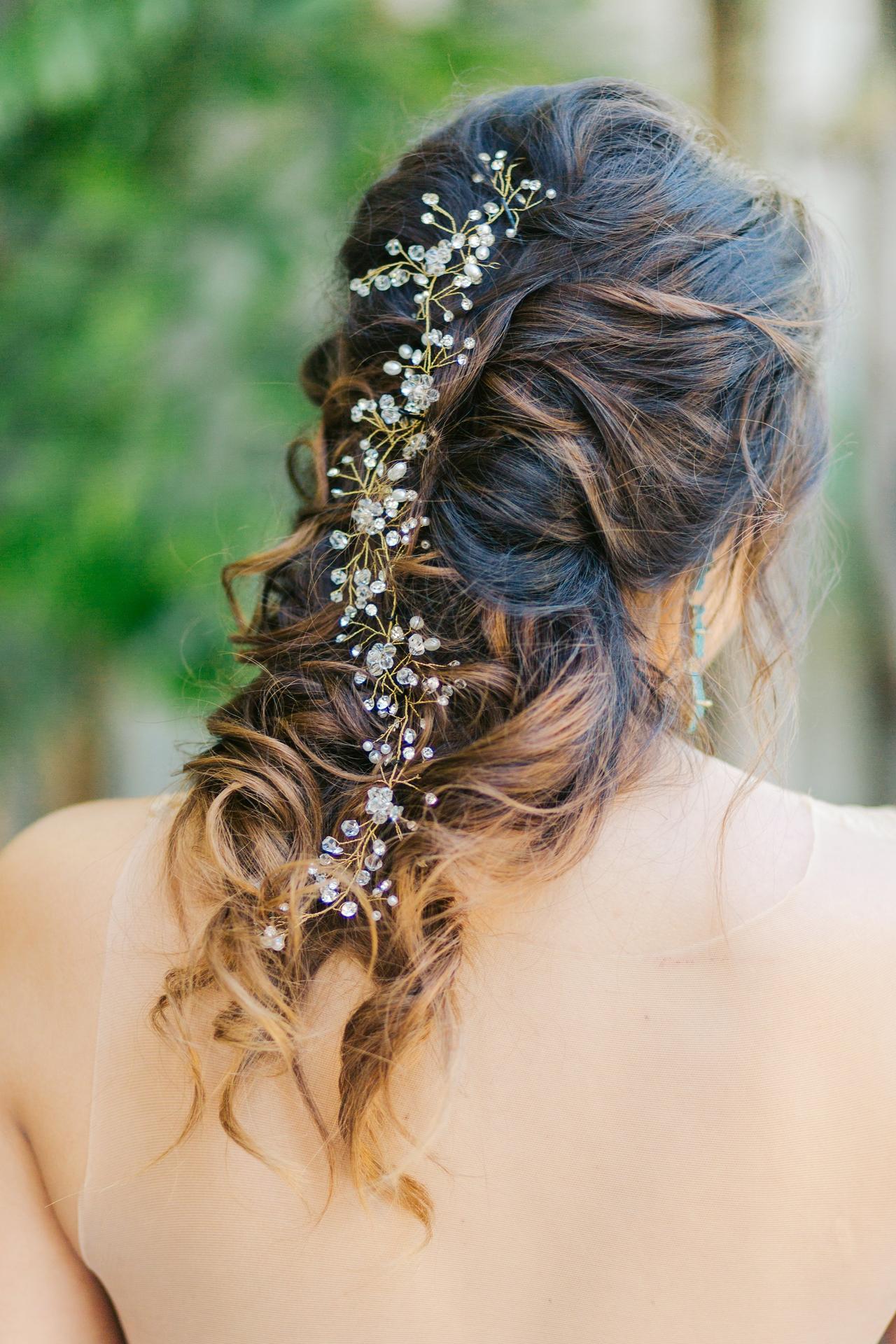 Long wedding hairstyle with hair vine
Accent a loose braid or half-up hairstyle with a decorative hair vine, which can be fastened in place using clips or bobby pins. The end result is boho-chic beautiful.
Brushed-out waves
For a 'do that's classically feminine, opt for soft, retro-inspired waves. The best part about this wedding hairstyle is that it instantly pulls your look together and the curls can be done with hot rollers—leave them in to set for a few hours while you eat and get your makeup done. Your hairstylist can use a curling iron for any last-minute touchups.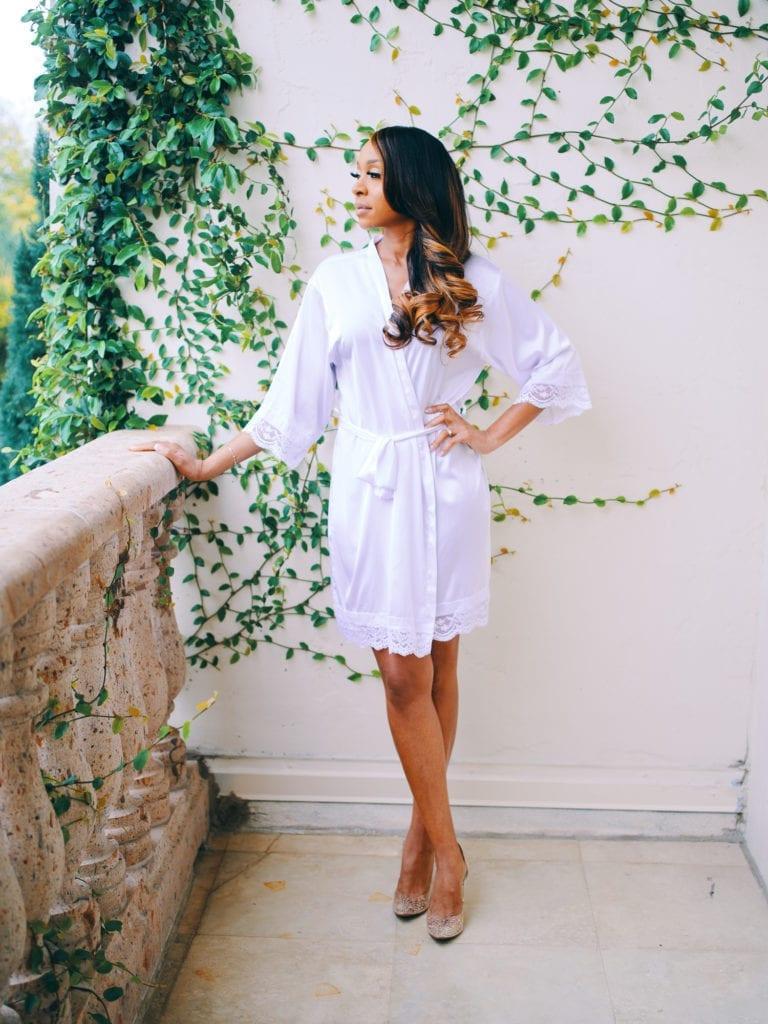 Highlighted ends
Ensure that all eyes are on your gorgeous long hair by adding color to the ends (just be sure to avoid these pre-wedding hair color mistakes). A honey-golden hue looks stunning on darker hair.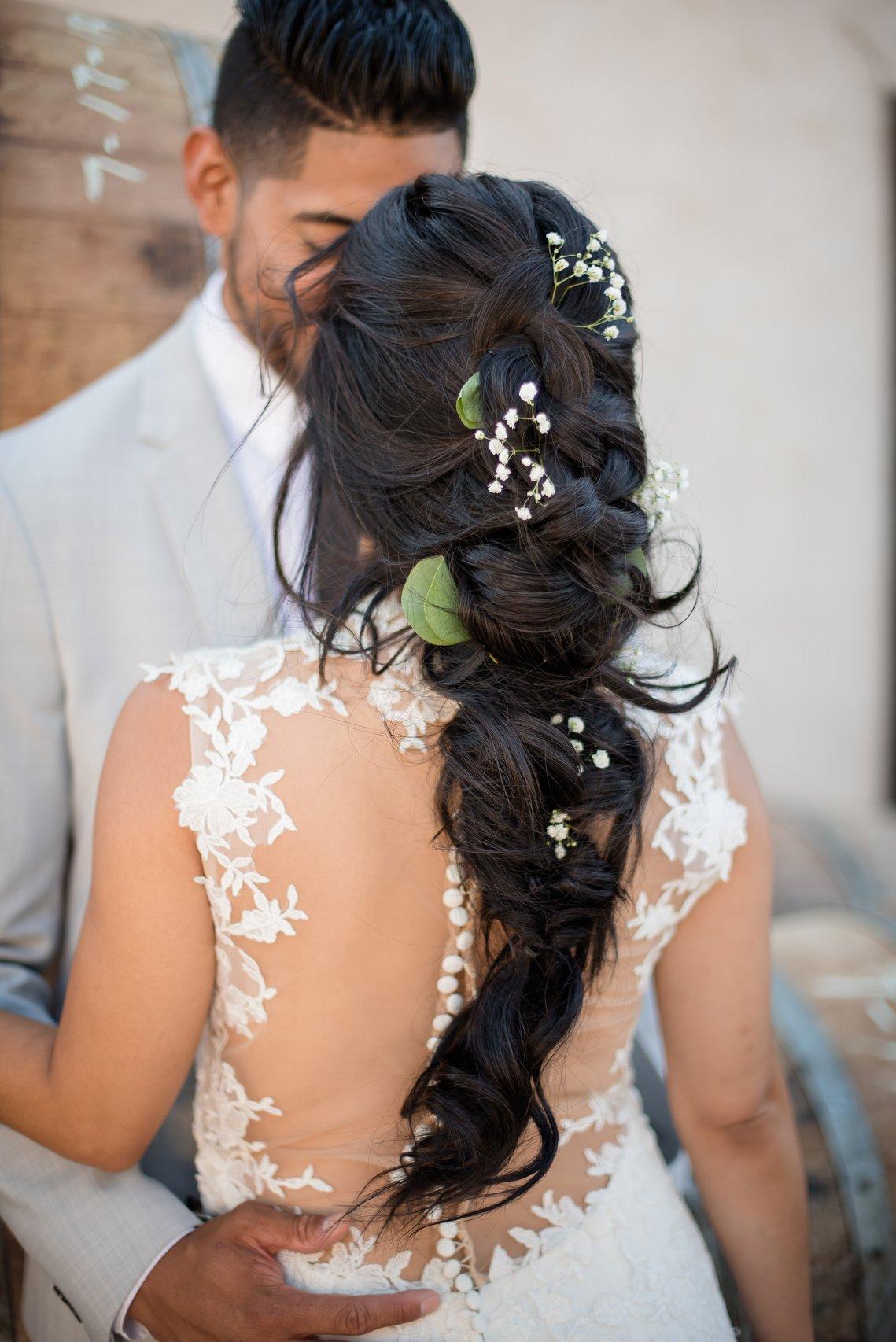 Loose, braided wedding hairstyle with flowers
Go boho-chic by wearing your hair in a messy, undone braid. Add a bit of greenery and sprigs of baby's breath for an ethereal element that looks gorgeous in photos.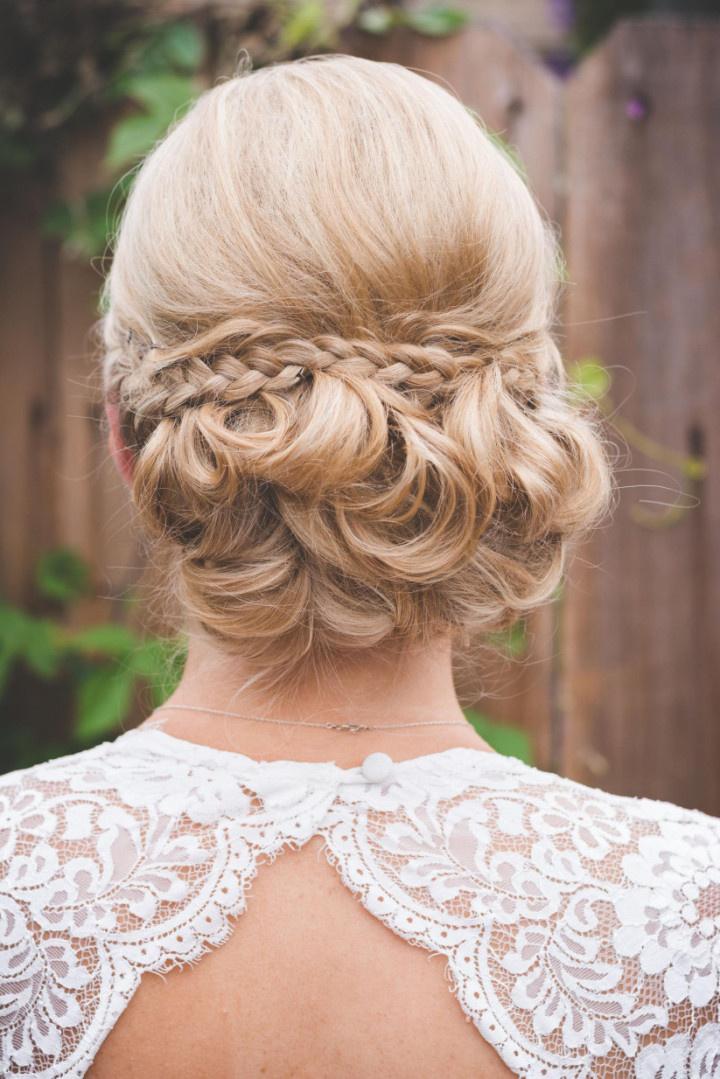 Braided updo hairstyle
Talk about an elaborate updo! This intricate wedding hairstyle is perfect for brides with long locks. A style that involves curls, twists, and a whole lot of bobby pins (if we're keeping it real) is sure to turn heads on the big day. If you're getting married during the summer (BTW, here are our must-know summer wedding hair tips), this is a great way to keep long hair off your back and out of your face on an especially hot day.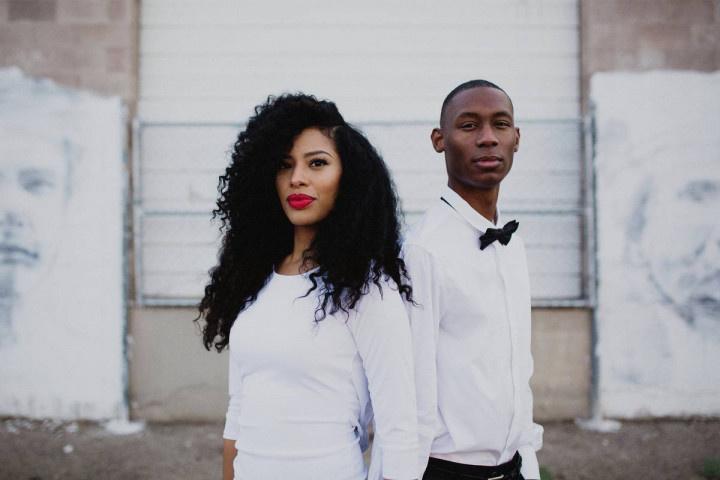 Natural textured hairstyle
If you've got it, flaunt it! Embrace your natural hair texture on your wedding day and let your strands do their thing — a side part shows off your curls or ringlets while framing your face.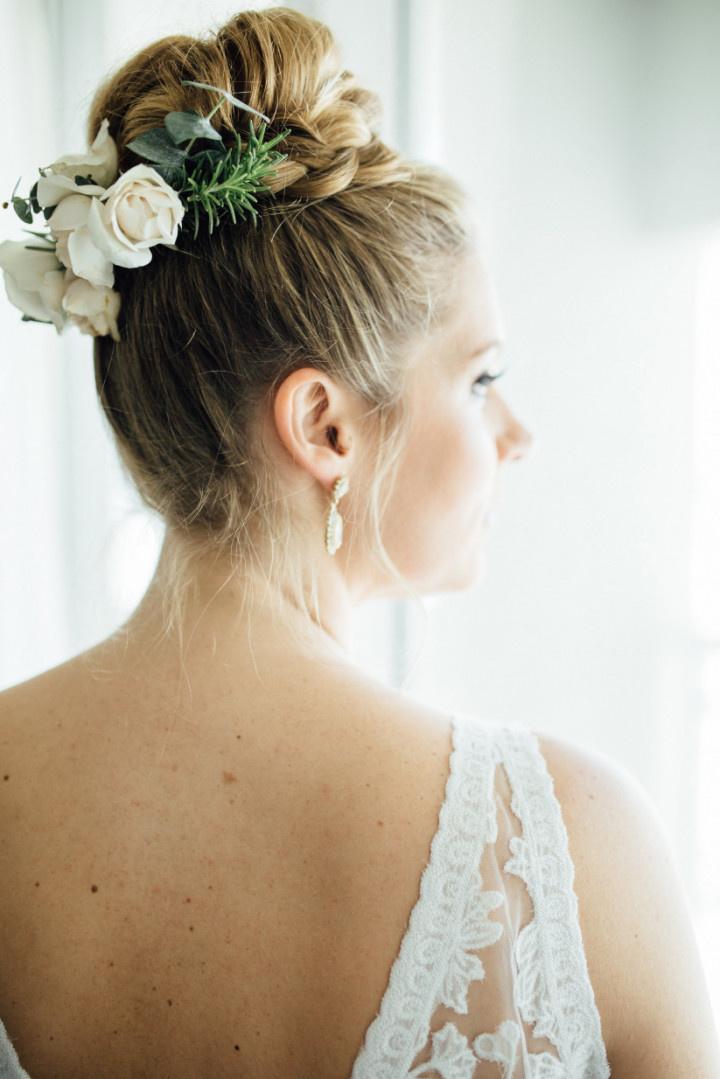 Braided topknot
For a romantic spin on the traditional wedding updo, opt for a high bun embellished with a braided crown and a headpiece of fresh flowers and greenery. This wedding hairstyle is ideal for brides who are worried about wind, the dance floor, or other elements damaging their look — an updo like this has major staying power.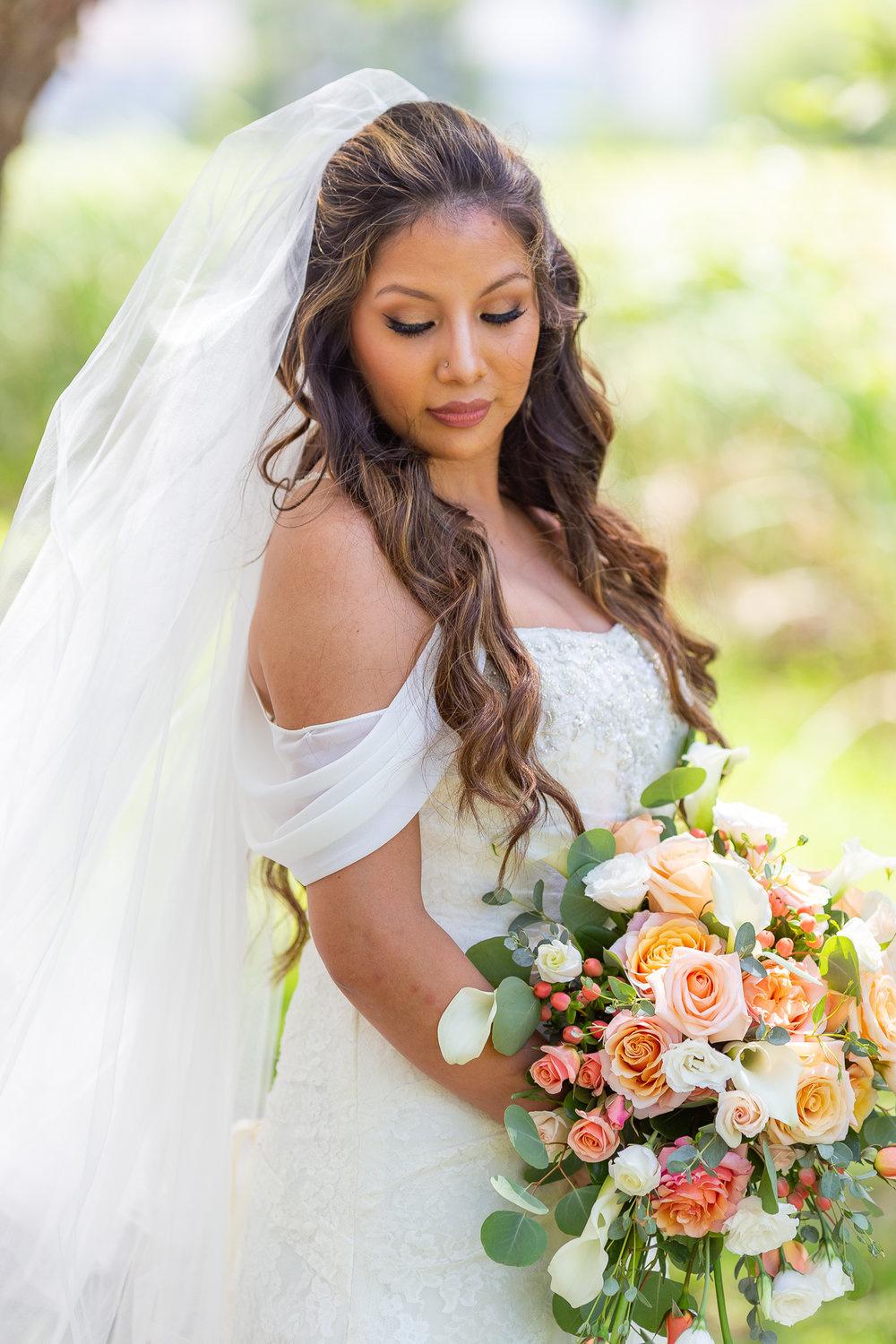 Half-up wedding hairstyle with veil
If you're planning to wear a veil, the accessory will need something to clip onto, which is where this half-up hairstyle comes in handy. The comb of the veil can easily be tucked into the top half of your hairstyle and should stay secure until you take it off.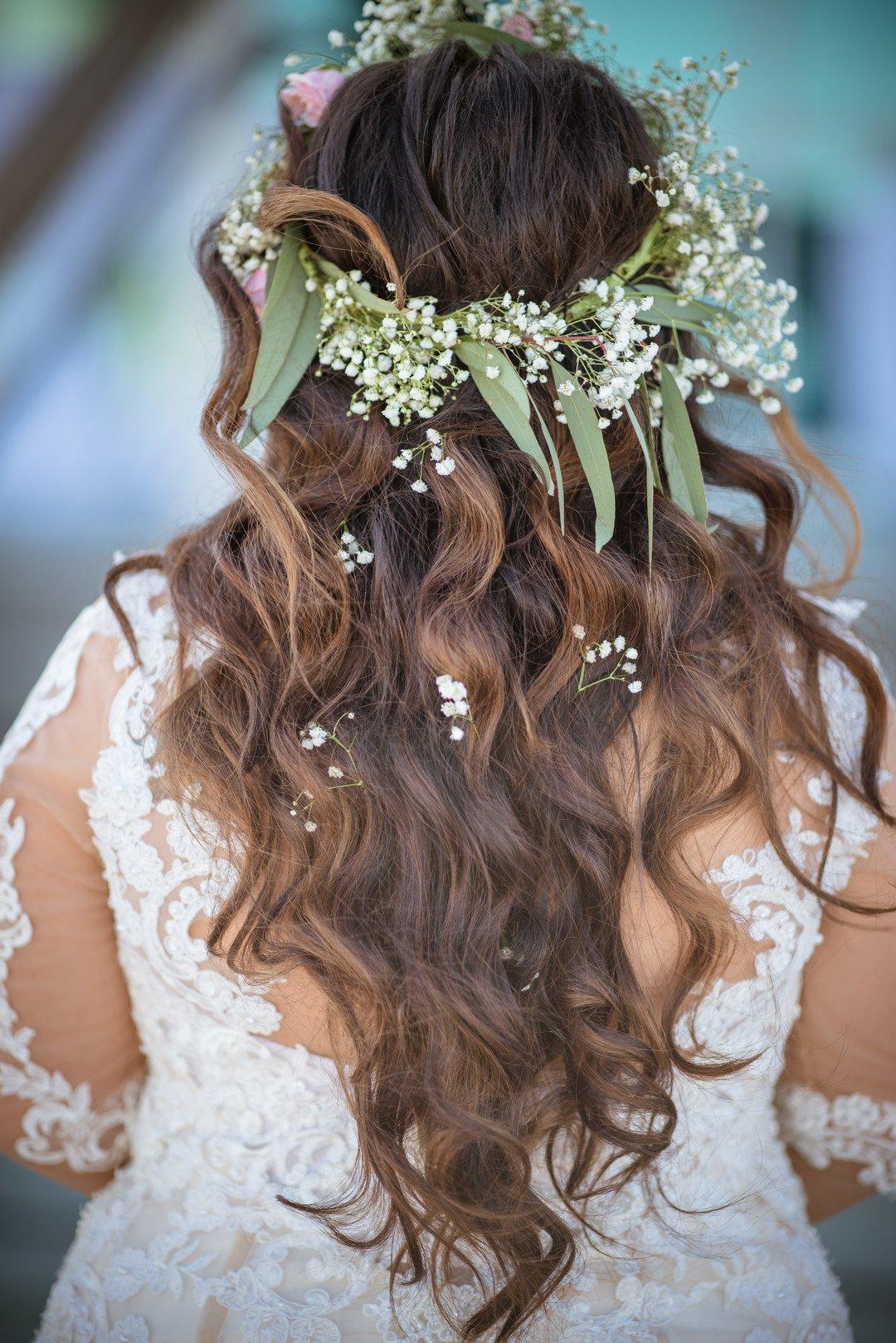 Hair by S Salon by Salvatore
Baby's breath and greenery crown
This wedding hairstyle for long hair would fit right in at a rustic wedding or outdoor bash. Work with your florist to decide the type of greenery you like best and what's available within your budget.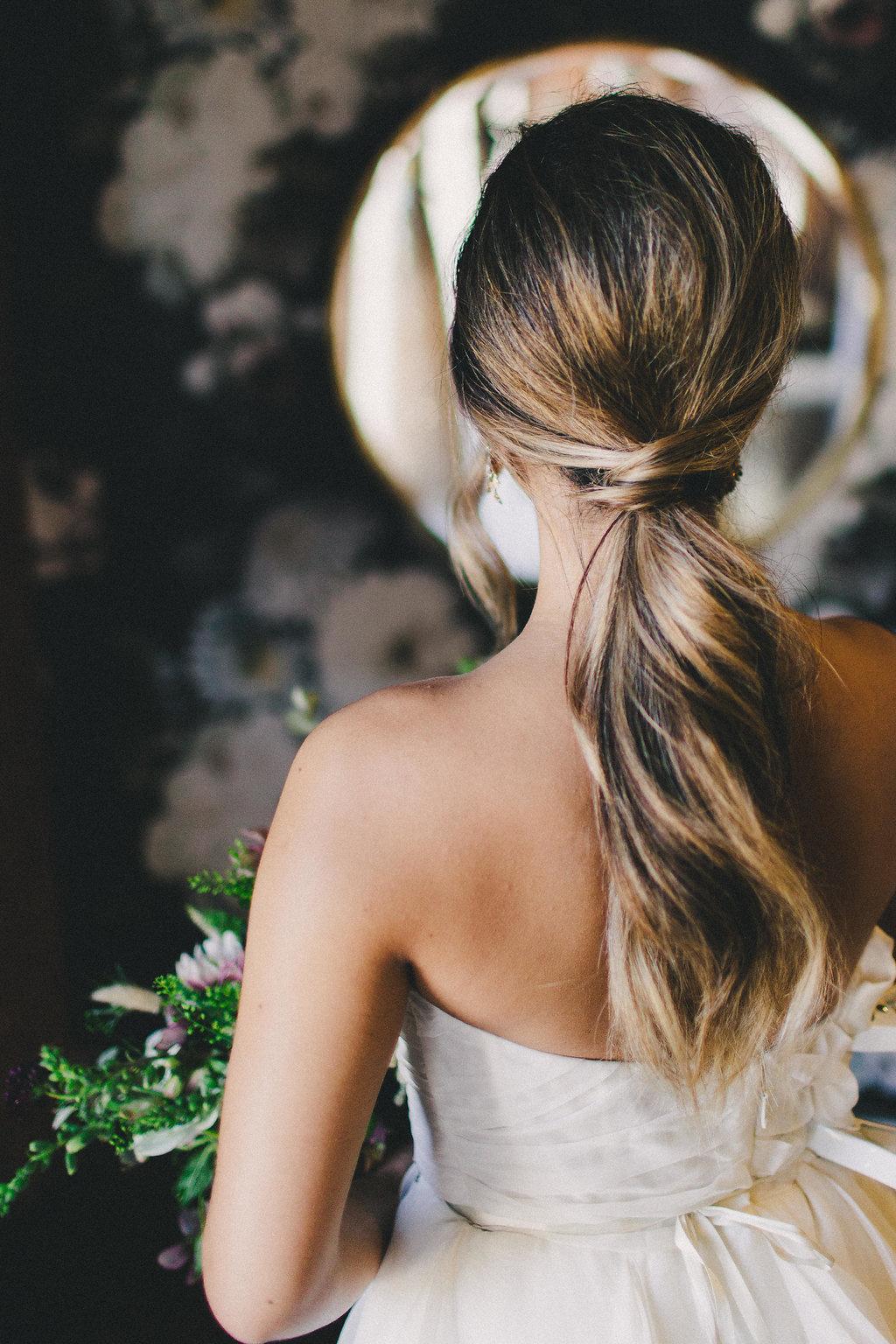 Low ponytail
A basic ponytail becomes a stylish wedding hairstyle when worn low and tousled. Cover the hair tie and leave a few strands loose around your face for an effortless, practical result.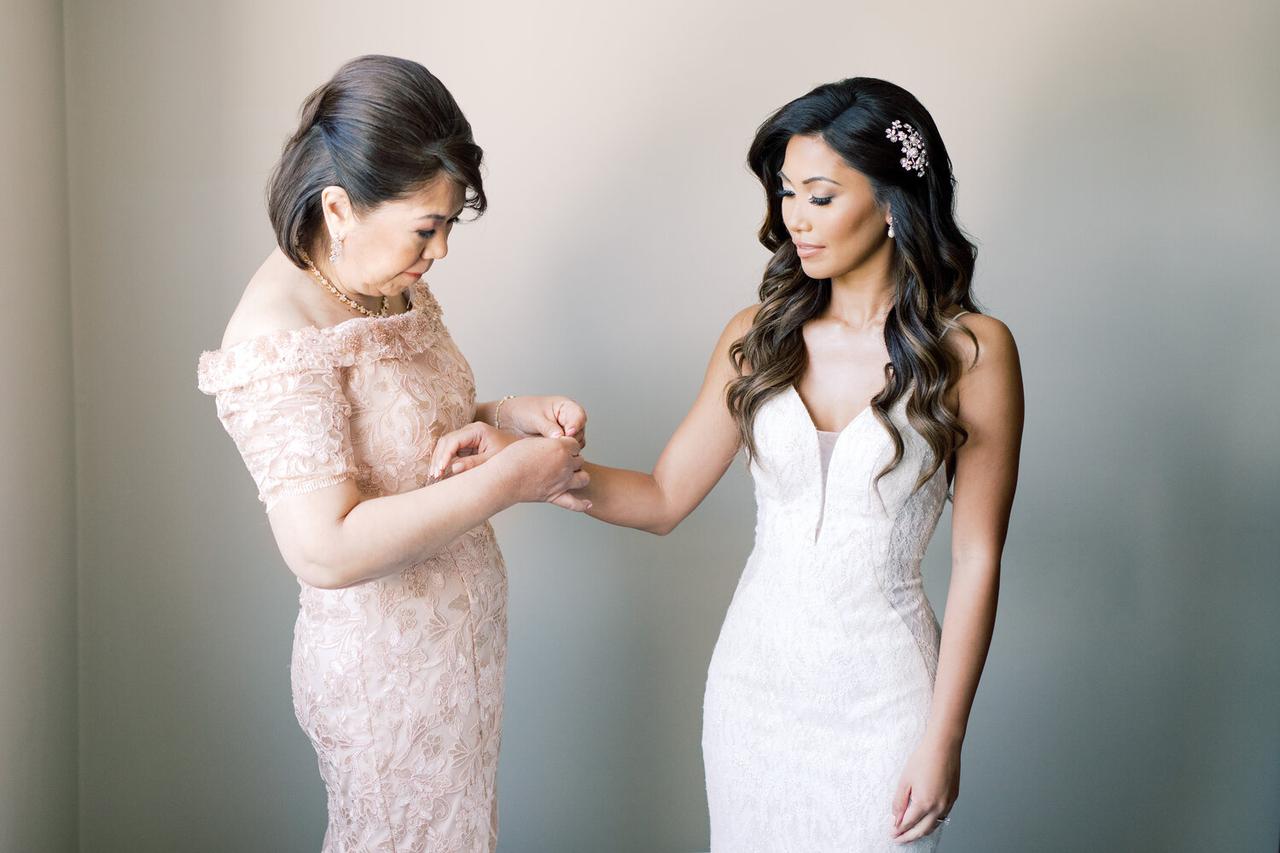 Uniform waves
If you have hair that responds well to a curler, we recommend a romantic wavy 'do like this one. You can't go wrong with perfectly symmetrical waves—this is one of the best wedding hairstyles for long hair if you're getting married indoors, where weather will be less of a factor and won't run the risk of ruining the curl pattern.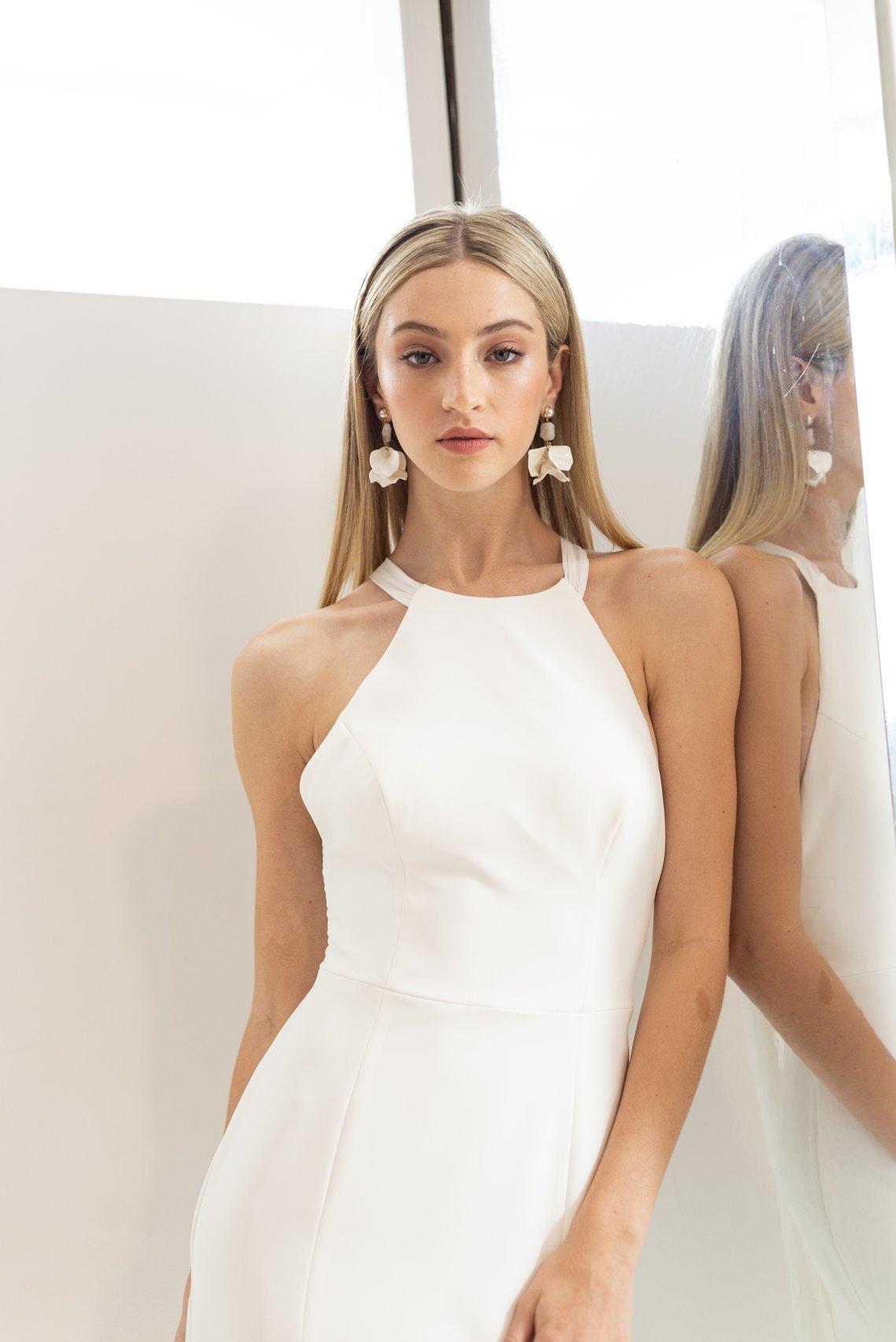 Sleek & straight
Here's proof that not all wedding hairstyles for long hair have to involve curls. For the bride who wants to keep her look simple and modern, smoothed-out strands are a polished option. A center part accessorized with a pair of statement earrings is fashion-forward and undeniably cool.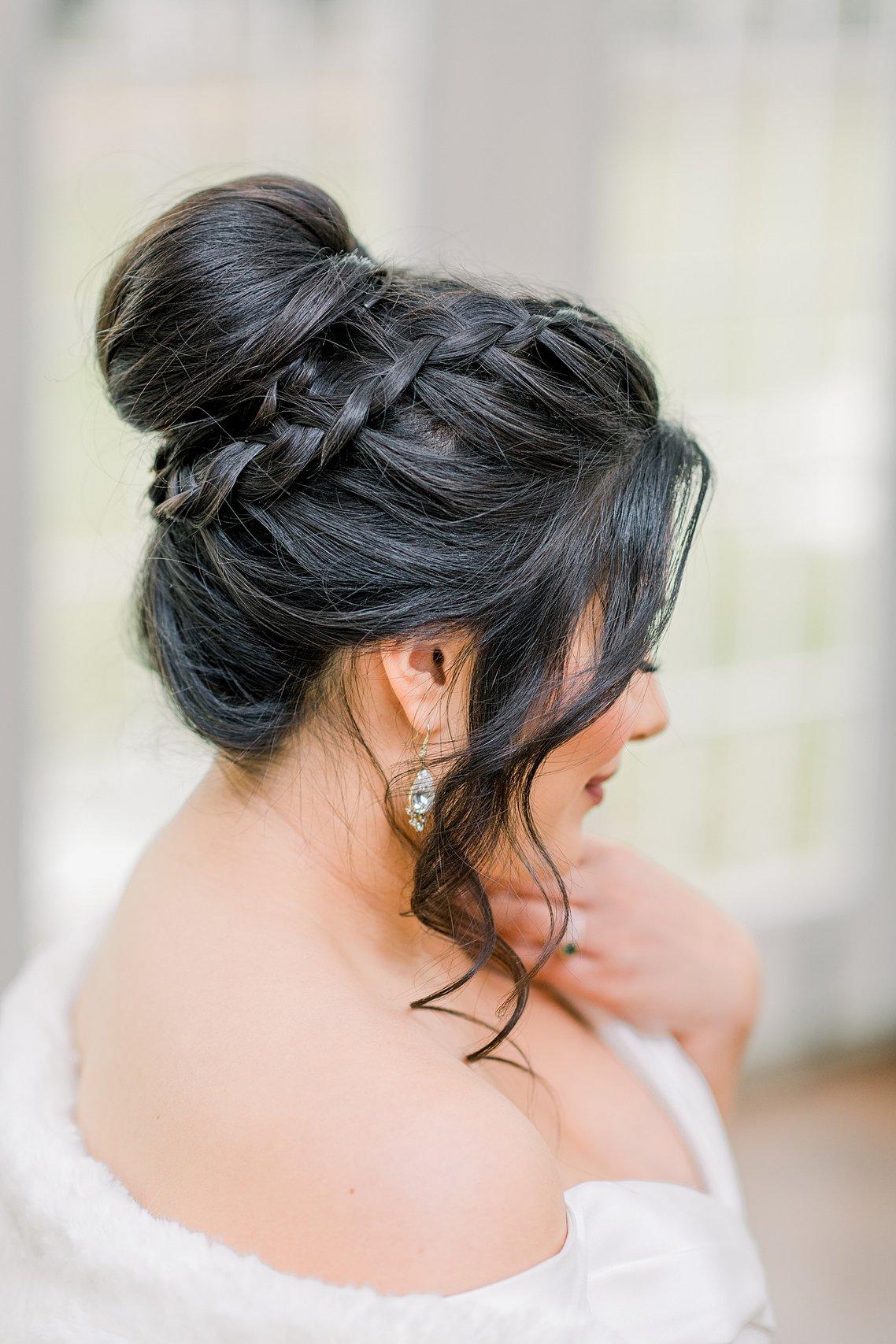 Hair by Black Swan Beauty
French braid bun
Personalize your bridal updo by adding a French braid to the front section of your hair. This wedding hairstyle for long hair would be ideal for a beach wedding or if you want to show off your shoulders!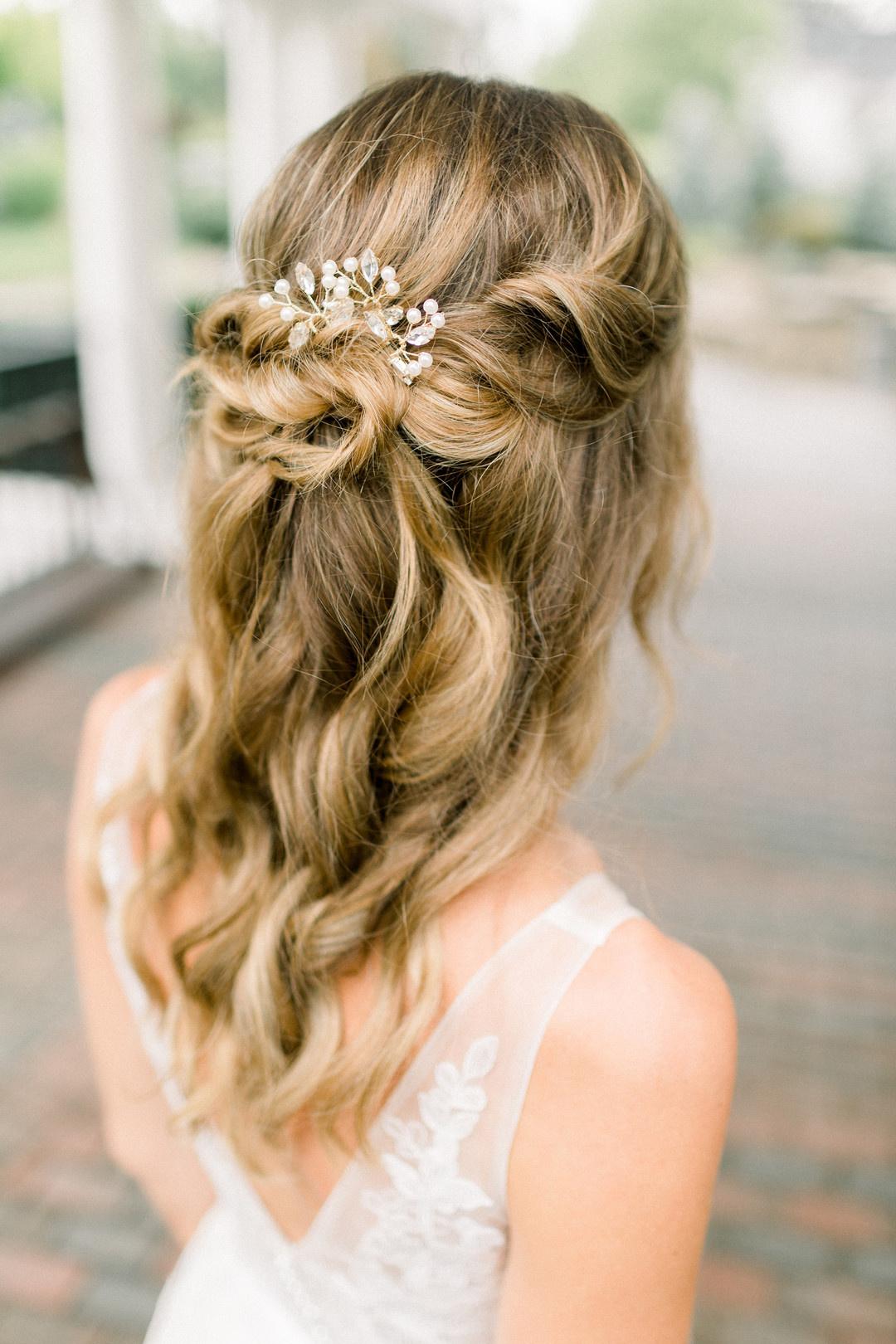 Half-up, half-down hairstyle
Curly locks styled into a partial updo are the perfect look for an outdoor celebration. With just enough hair pulled back, you won't have to worry about hair blowing into your face in wedding photos, and you can still show off a stunning back design on your gown. The braid is great for attaching a veil or decorative comb.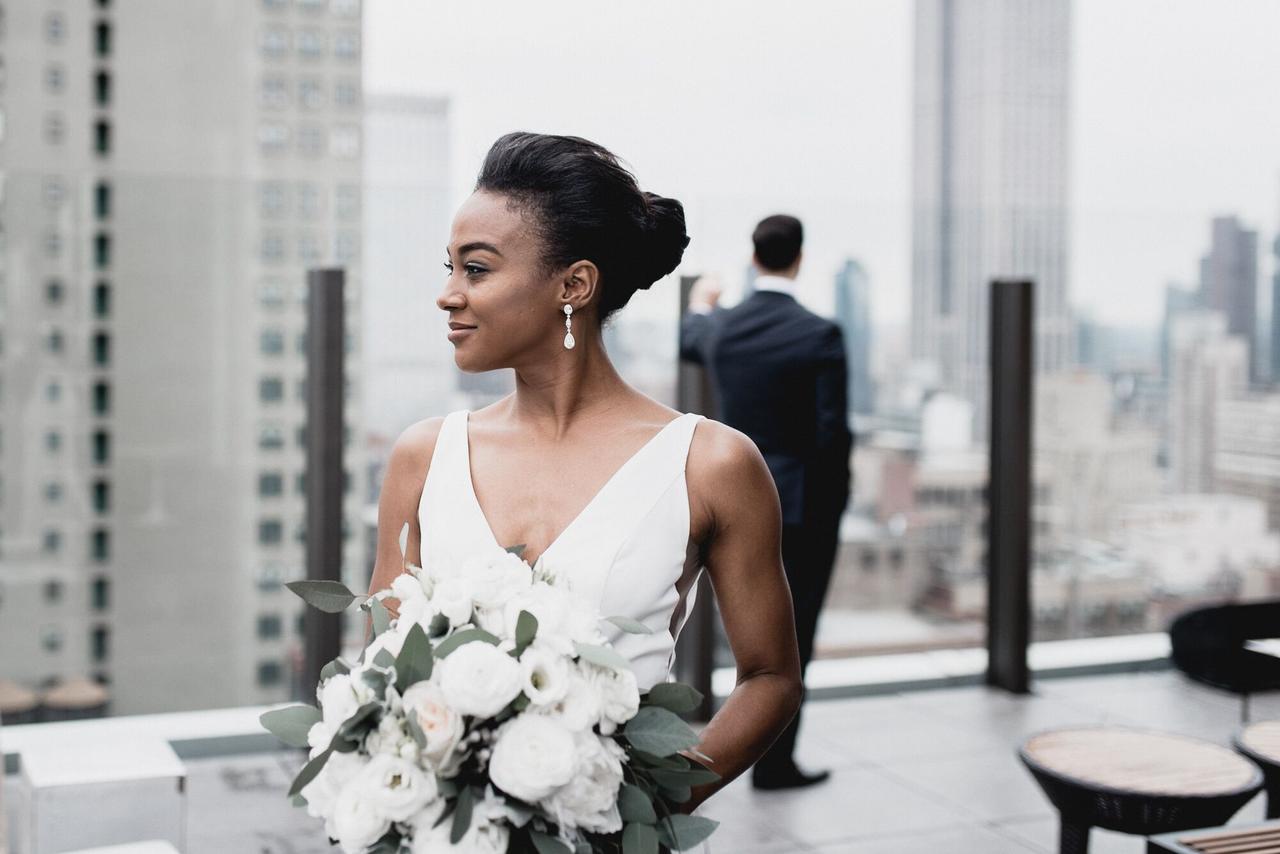 Easy updo
Keep your hair up and away from your face by teasing strands at the root and pulling them into a bun at the center of your head. Add a pair of statement earrings and you're ready to go.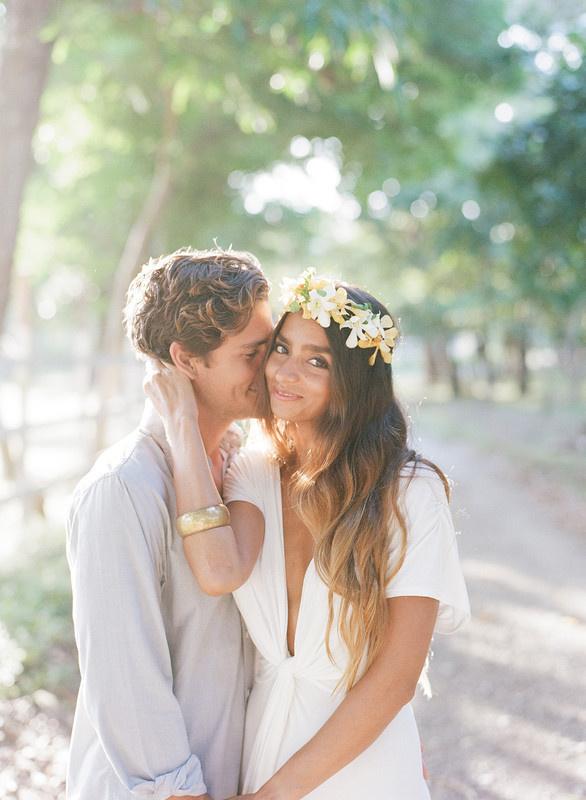 Flower crown
Flower crowns were made for long wedding hair, especially when it comes to beach weddings. Replicate this island-inspired style by pairing loose waves with a crown of orchids and a sun-kissed glow.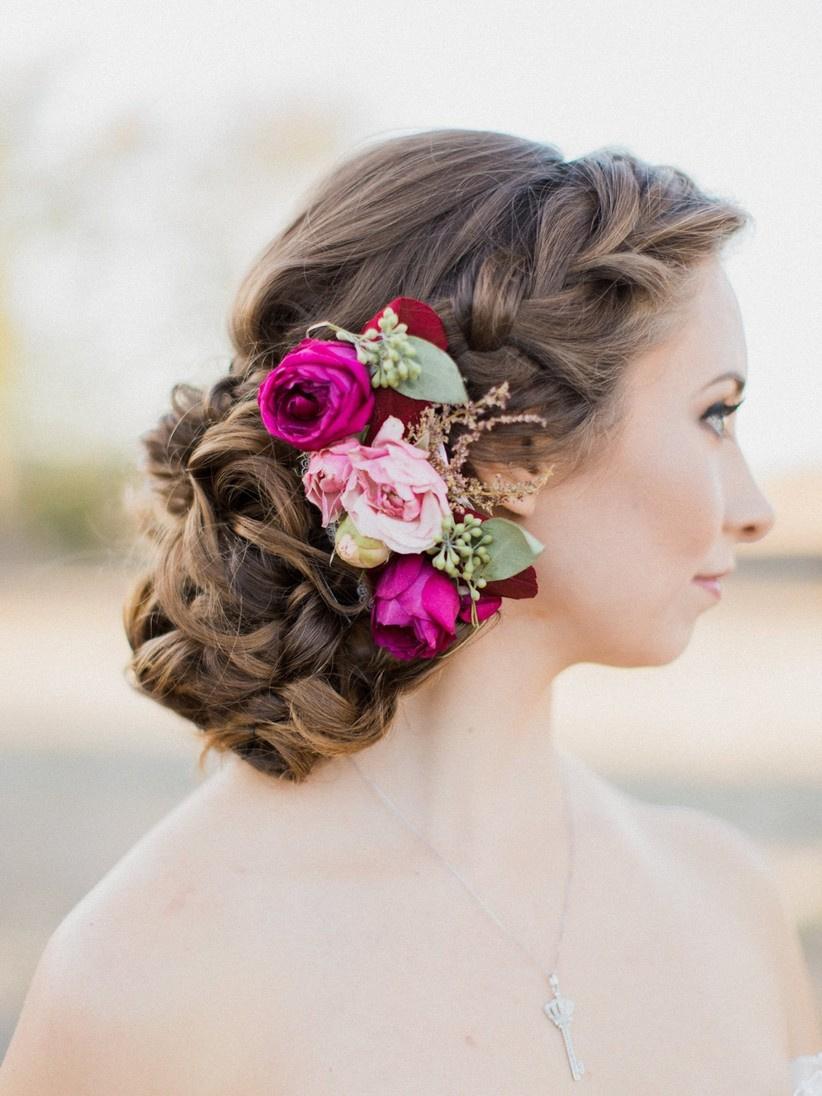 Side-swept braided bun
Pink and red blooms are the finishing touch for a braided side updo. Paired with rose gold earrings, it would be a stunning choice if you're wearing a tulle ball gown or planning a romantic garden wedding.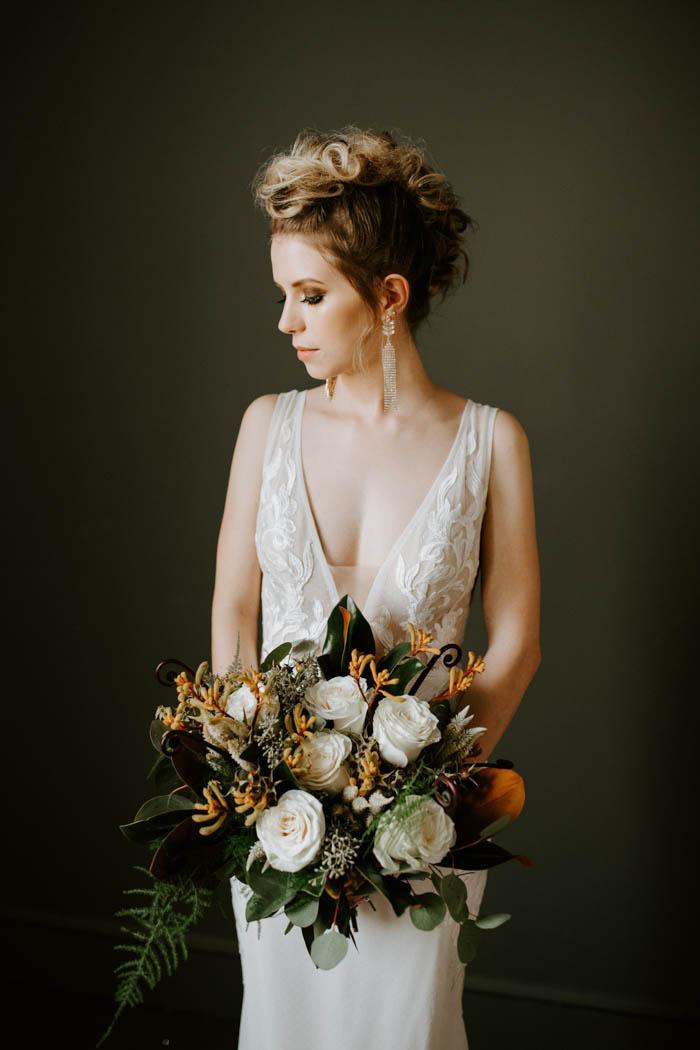 Faux-hawk
Where are our daring brides? Pile your curls on top of your head in a mohawk-inspired updo for a totally unexpected, non-traditional long wedding hairstyle. Add statement jewelry and a fabulous smokey eye, and you'll be ready to steal the show!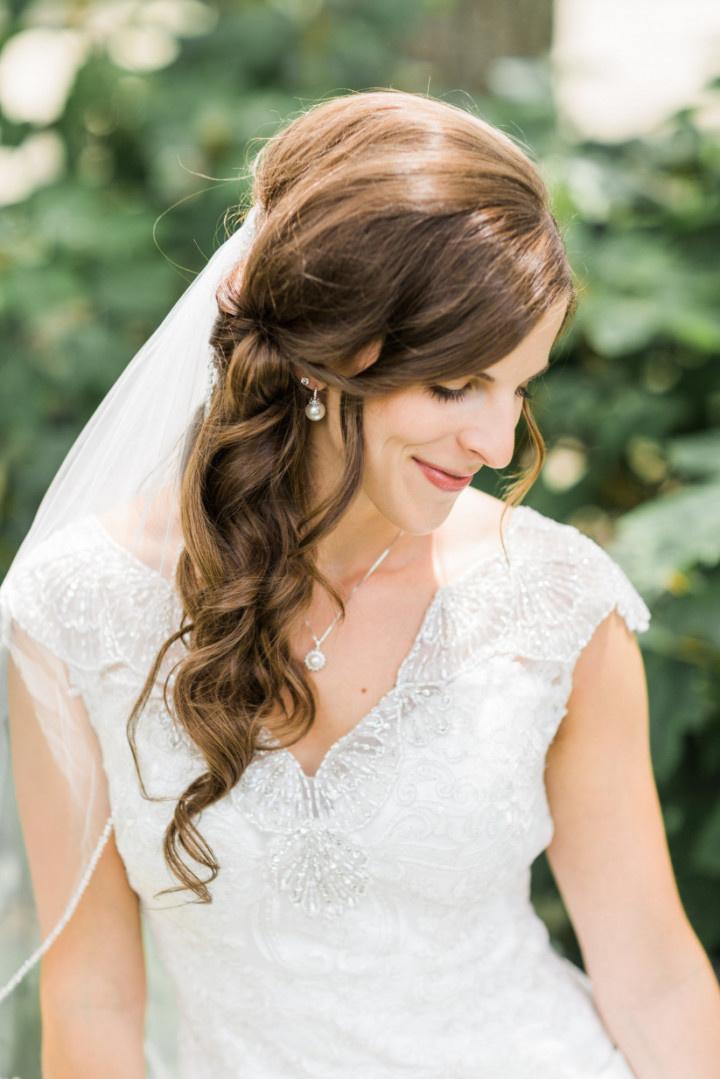 Side ponytail
This couldn't be a more perfect wedding hairstyle for brides with long hair. A curly, side-swept style like this is versatile and oh-so-romantic. We recommend pairing it with a fitted lace gown and beaded hair brooch to really play up the vintage vibe.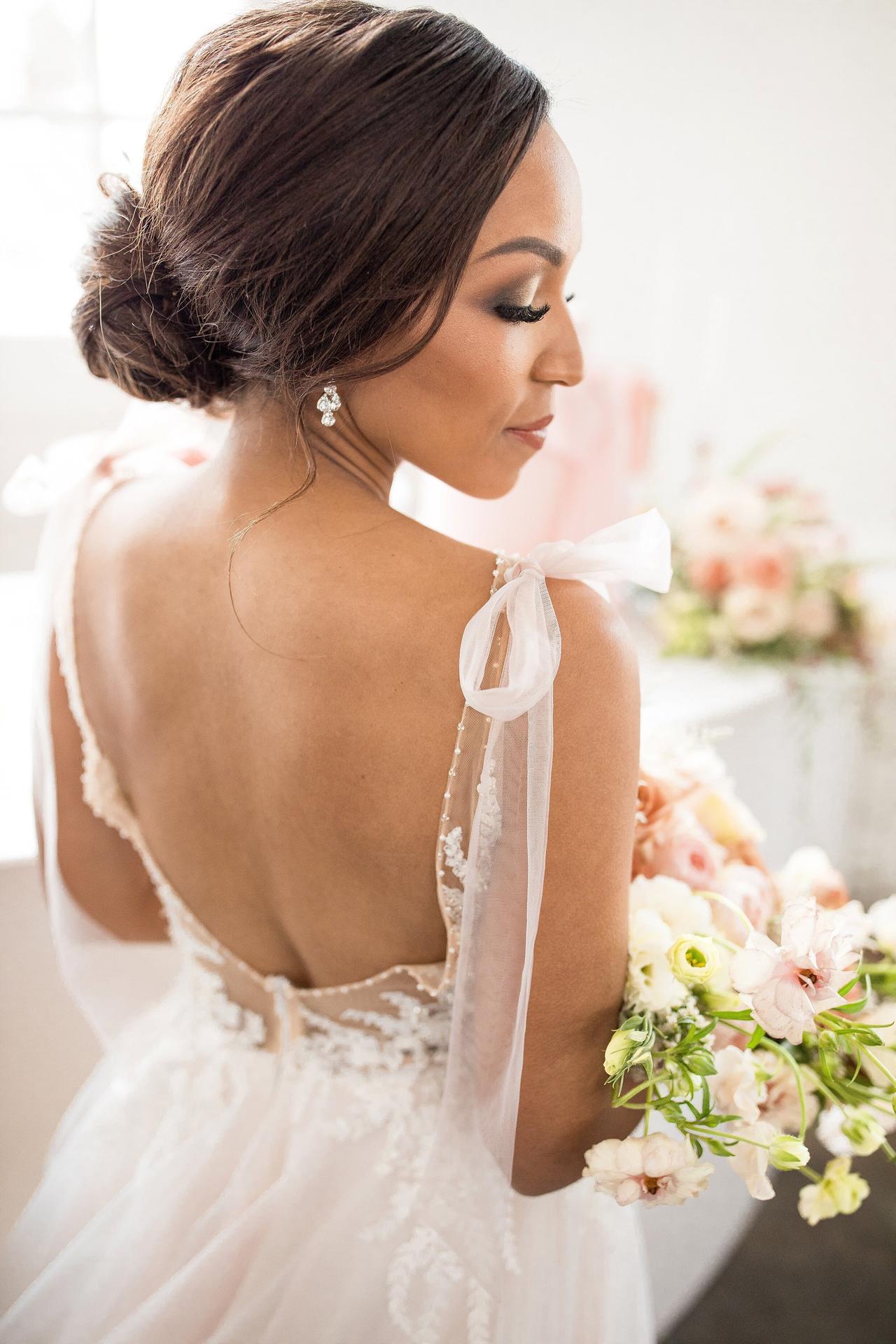 Loose low-do
This feminine style is timeless and simple. Keep the front of your hair smooth and secure it in a bun at the nape of your neck, then gently loosen a few pieces to frame your face.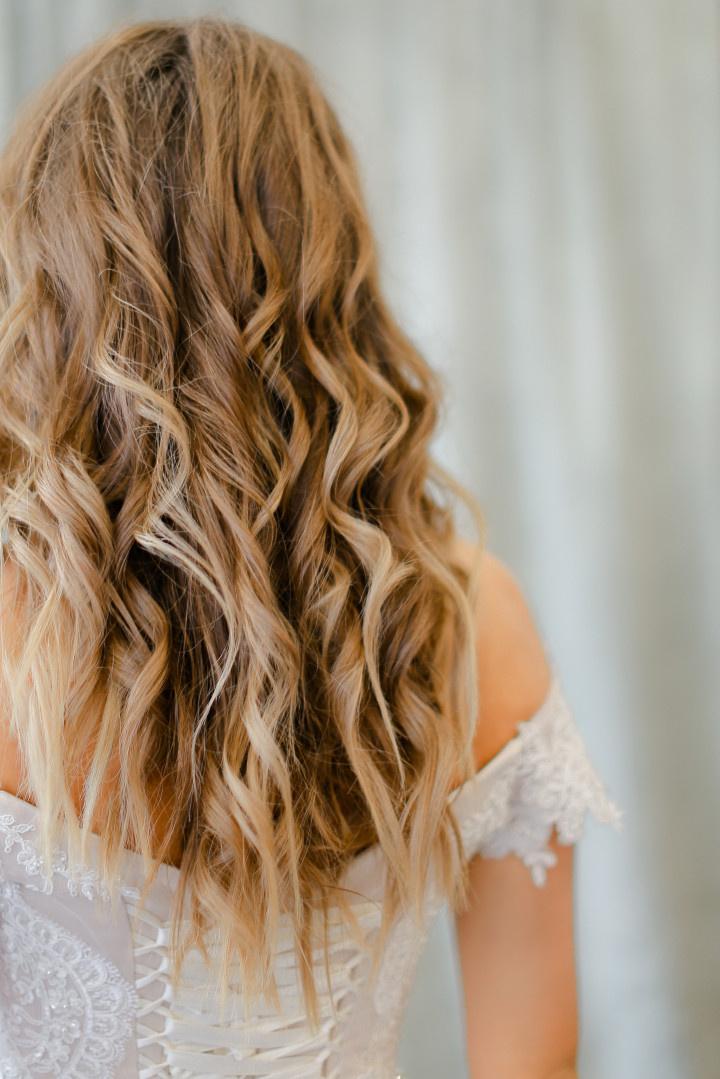 Beachy waves
Take a chilled-out approach to your bridal 'do by rocking beachy, surfer-inspired waves created using a straightener or curling wand. The more uneven the waves, the better—this wedding hairstyle for long hair is all about achieving an "I woke up like this" effect, so leave the ends of your hair straight and piece-y.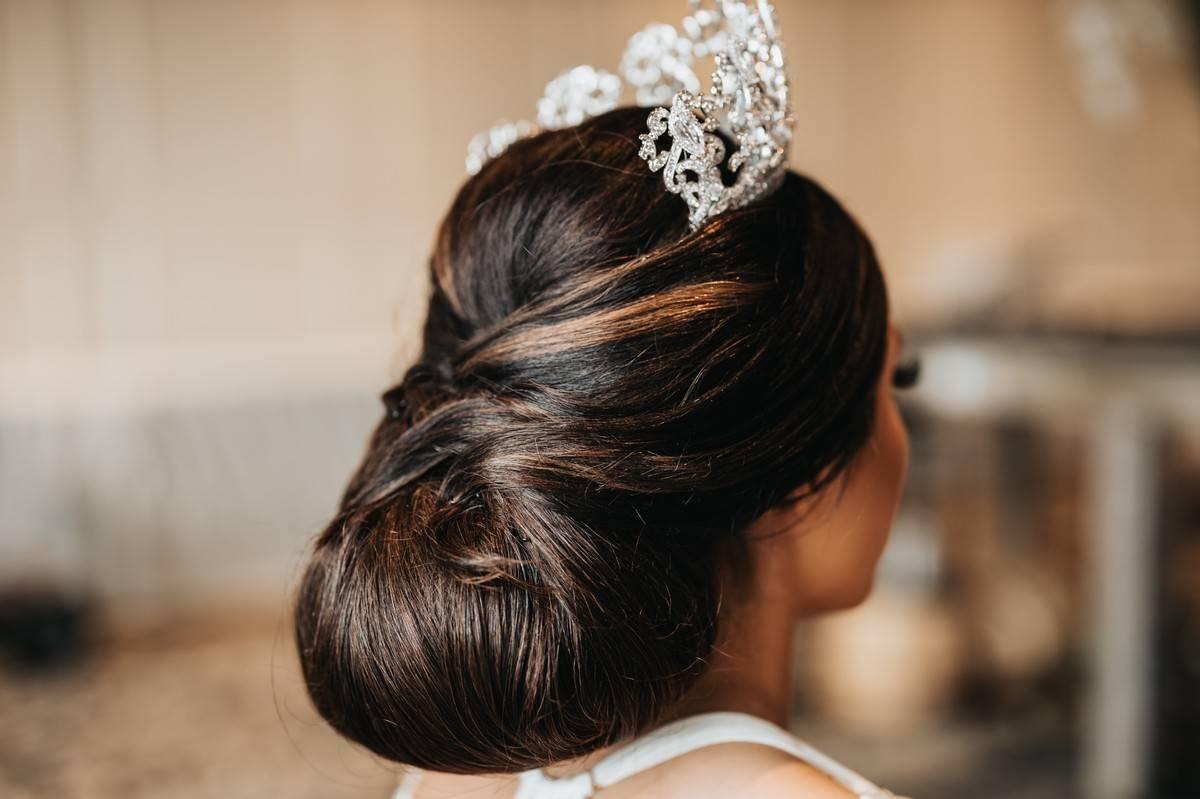 Oversized low bun
For anyone having a glam wedding theme, consider this your must-have hairstyle (tiara optional). This voluminous chignon works great if you have long, thick hair—but you can also add temporary extensions to boost your natural strands.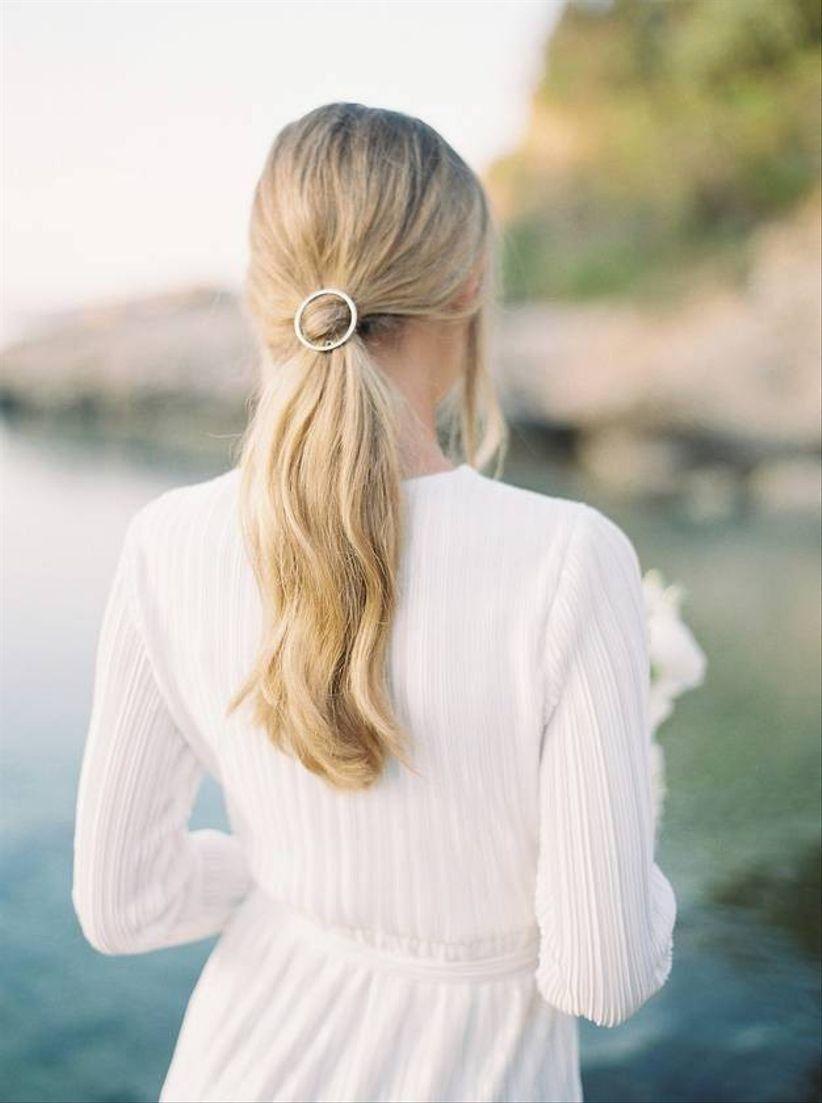 Barrette
Pull your hair into a low ponytail to keep it off your face and shoulders. A minimalistic circle barrette adds understated flair.
Half-up bouffant
Hello, bombshell. A voluminous half-up bouffant style is both playful and sexy. For retro vibes, complete your bridal look with a cat eye and red lipstick, or wear barely-there makeup for something more demure. Take this wedding hairstyle to the next level by adding clip-in extensions for even more length and bounce.
Bubble ponytail
Separate a classic ponytail into three different sections for a unique, whimsical updo for long hair. If you don't want to rock this style for your bridal look, it would make a fun bridesmaid hairstyle option.
French twist
The timeless French twist is a stunning but simple updo. It's one of our favorite wedding hairstyles for long hair if you're getting married at a traditional venue or having a classic wedding theme.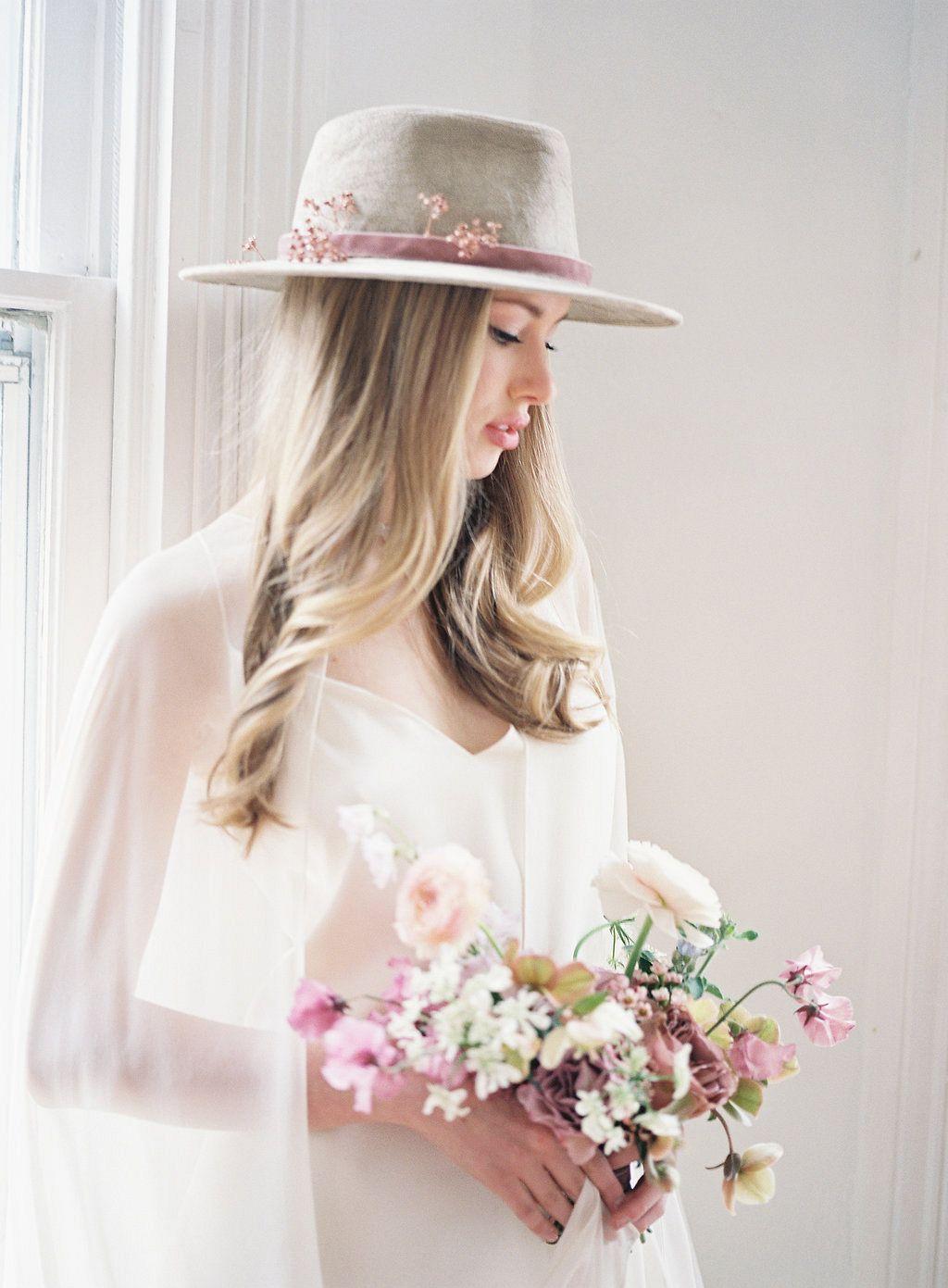 Bridal hat
A bridal hat should be at the top of your list if you're looking for unique wedding hairstyles for long hair. This old school wedding accessory is coming back into style, and it's a super easy way to change up your look throughout the day. Pick a hat that feels appropriate for your wedding venue and aesthetic: a floppy straw hat is great for a vineyard wedding, while a structured suede fedora is a trendy option for industrial spaces.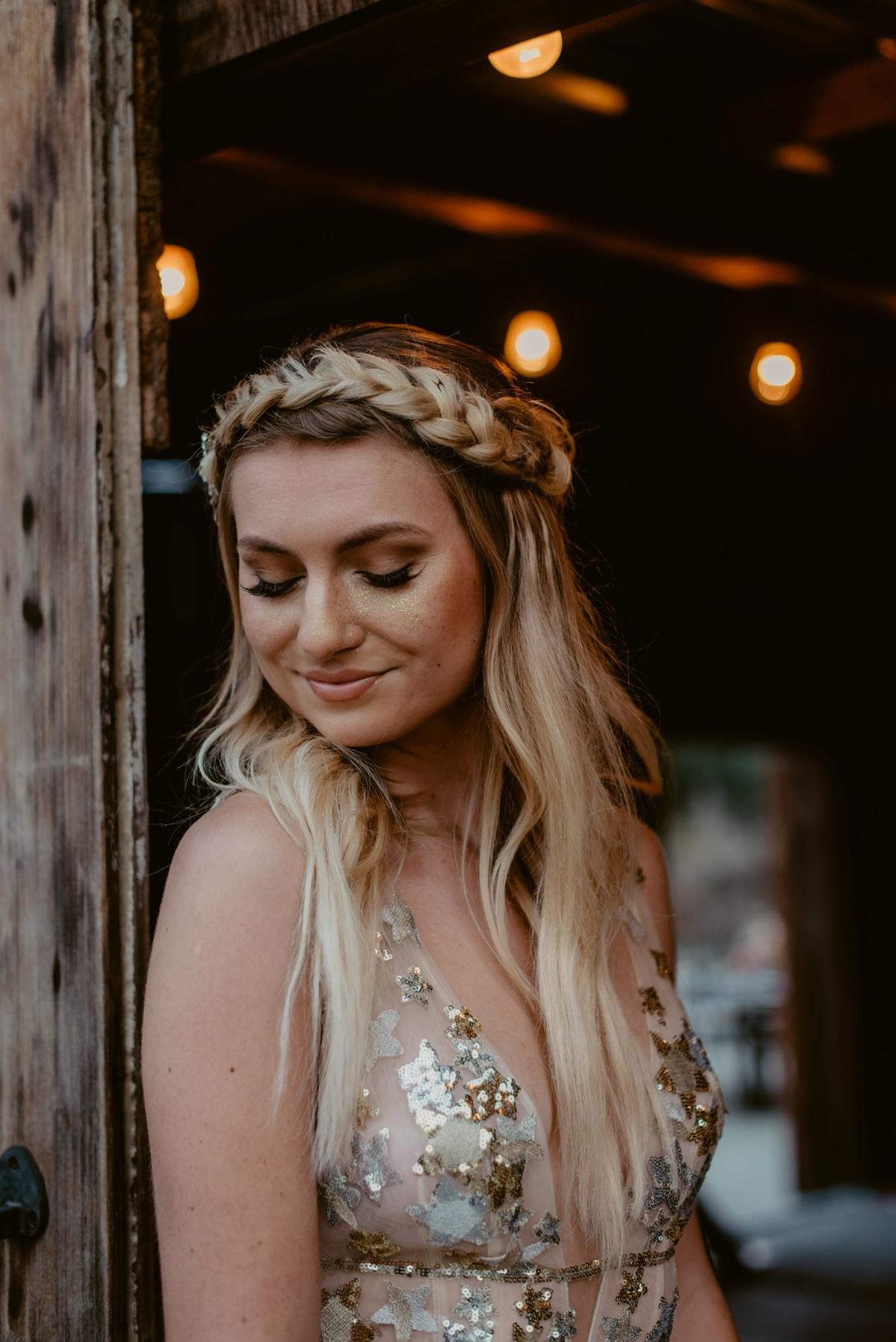 Braid crown
A braid crown is a go-to wedding hairstyle for extra-long tresses and is especially great for a summertime wedding.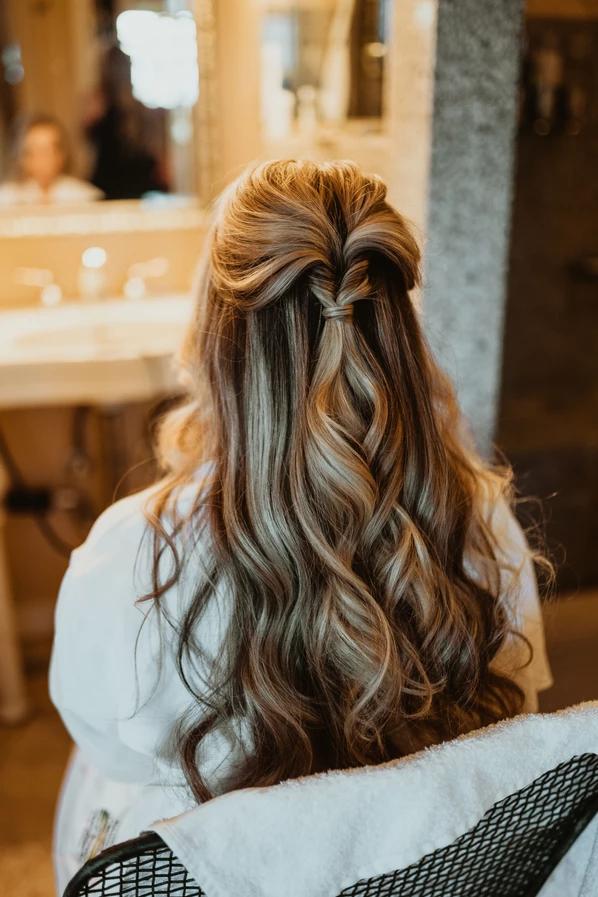 Half-up twist
Since they're universally flattering and give you the best of both worlds (showing off your hair while also keeping it out of the way), half-up styles are some of the most popular wedding hairstyles for long hair. This style is actually not as complicated as it looks: all your wedding hairstylist has to do is create a half-up ponytail and flip it inside out. Loose curls will give your locks some added texture and volume.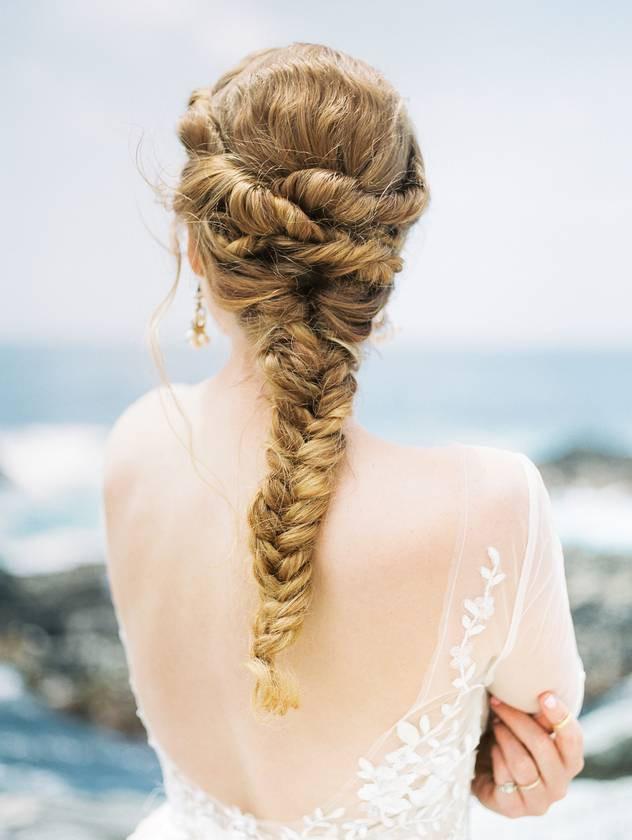 Fishtail braid
A fishtail braid is a stunning choice for all types of venues and seasons, whether you're having a rustic summer barn wedding or hosting a winter wonderland-themed celebration.