21 Natural Wedding Hairstyles for Every Length
Natural wedding hairstyles are perfect for women rocking gorgeous locks of any length. Check out this gallery for inspiration on inspiration for your wedding day.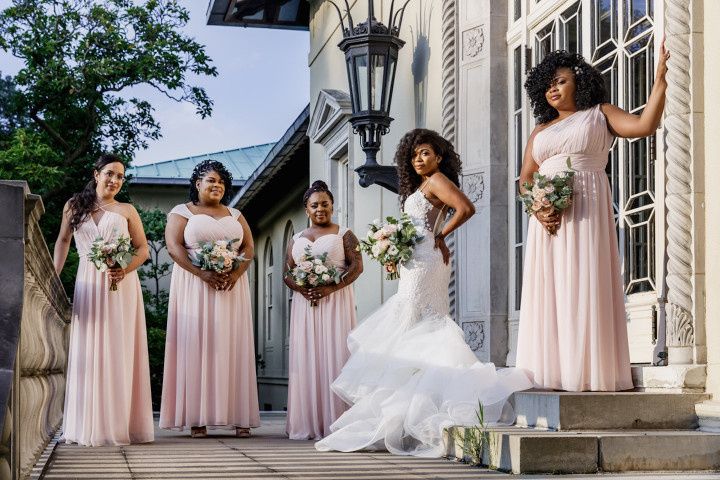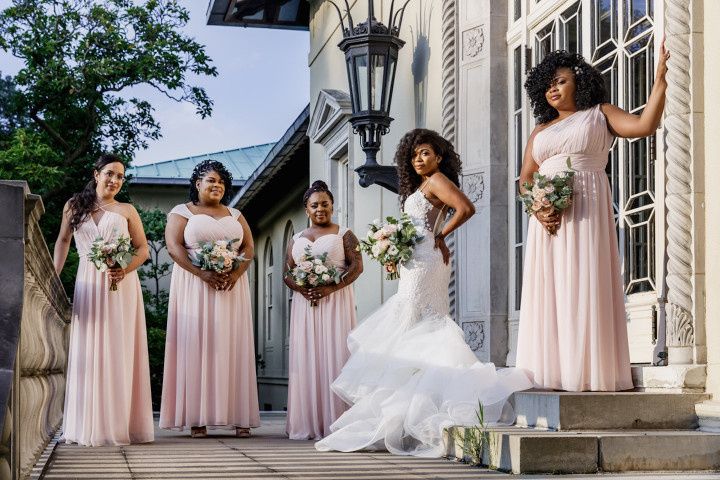 Waves, curls, coils, kinks or locs — flaunting natural hair texture is all the rage. Natural wedding hairstyles run the gamut from sleek, tucked-in updos to free-flowing, bohemian locks. Whatever your wedding style or hair texture, there's a gorgeous natural bridal hair look for you.

If you know you'll be natural for your wedding, make sure you get to work finding a hairstylist and scheduling a trial ASAP.

"Try different things quite early before your big day to make sure you are getting what you want," said Winnie Chanel of Unlimited Looks LC. "Natural hair is very unique and you want your experience to be as stress-free as possible."

Finding what you want can be a challenge, though, so here's a little inspiration.
See these beautiful natural wedding hairstyles for every hair length!
Free-Flowing Texture
Let your hair and your bohemian spirit steal the show with this natural bridal hair 'do. A simple twist-out or braid-out will achieve this look on longer lengths while extensions may be the way to go for shorter hair.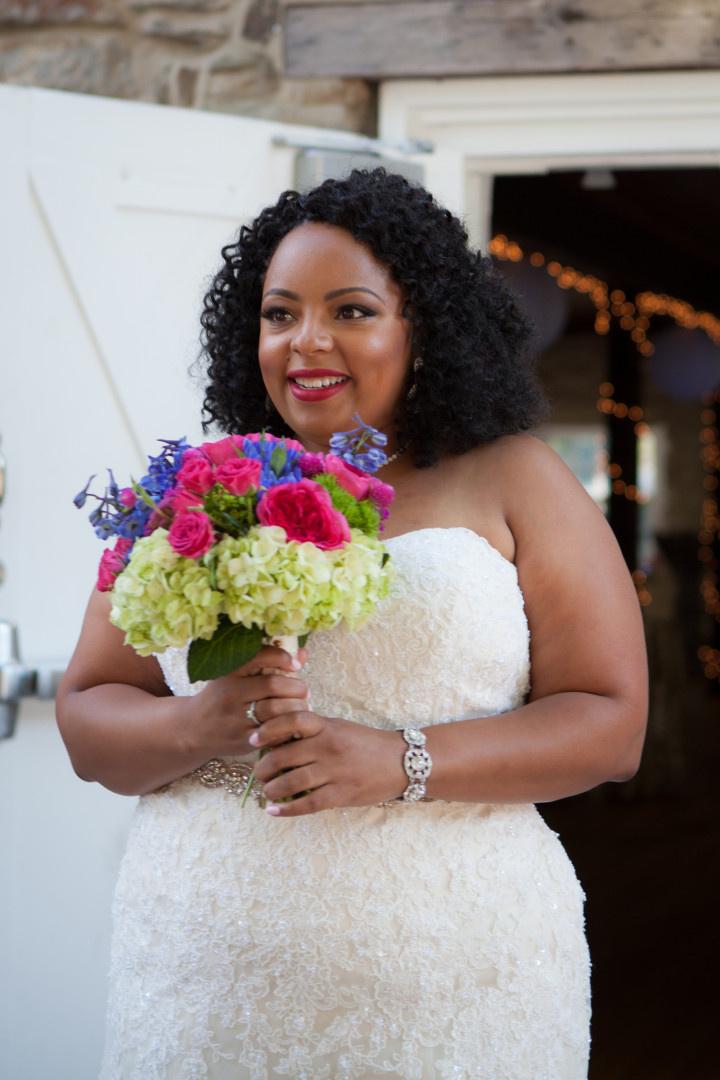 Shoulder-Length Curls
This is one of those natural wedding hairstyles that will complement just about any wedding aesthetic. Even better, these gorgeous curls can easily be pulled away from your face or tucked to the side later in the day.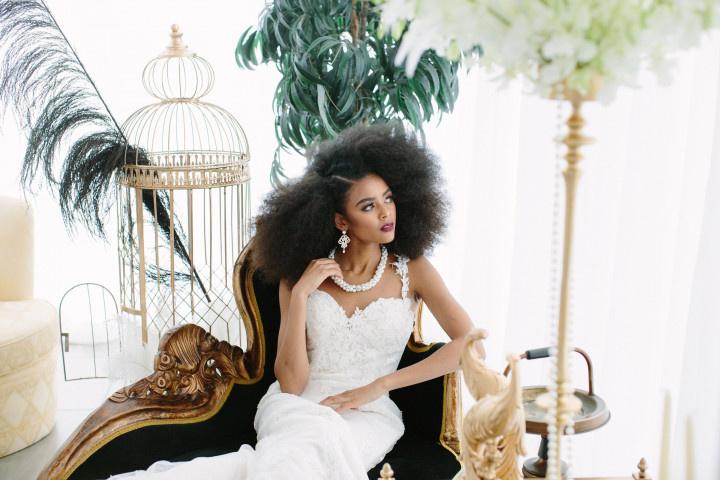 Blown-out 'Fro
This striking natural wedding hairstyle is easy to achieve if you don't mind a little heat. Natural tresses are blown out with a blow dryer to stretch and set them, or, if your hair isn't this long, a wig or hair extensions can give you the same look.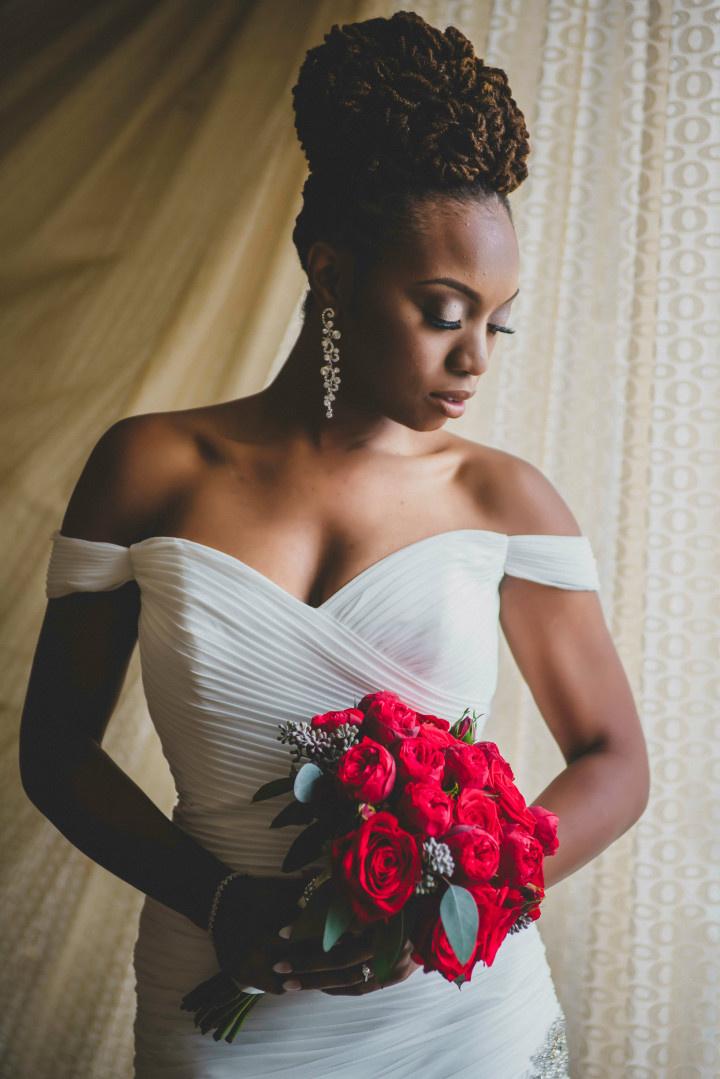 High Bun with Locs
Natural wedding hairstyles are perfect for achieving a regal, goddess look. If you don't have locs, but love this look, ask your stylist for faux locs to rock something similar.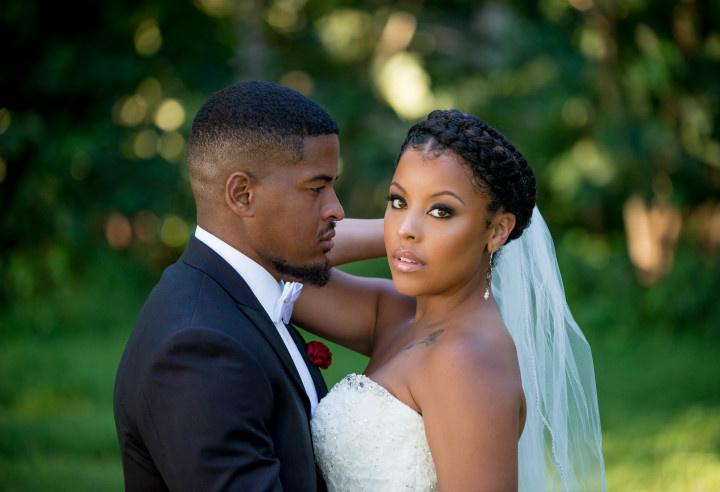 Goddess Crown Braid
This regal natural bride hair look sweeps all of your hair off your face and neck — perfect for a long day with no touch ups!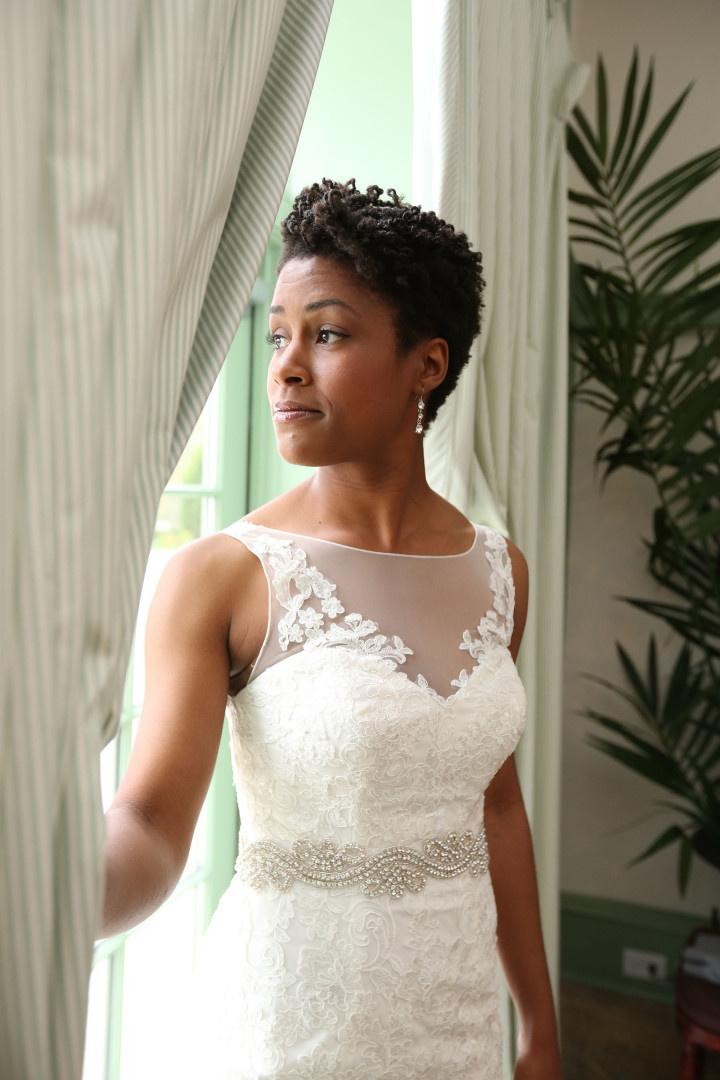 Tapered Natural Cut
A shapely haircut that leaves a few more inches toward the crown is key for this elegant, short natural hairstyle.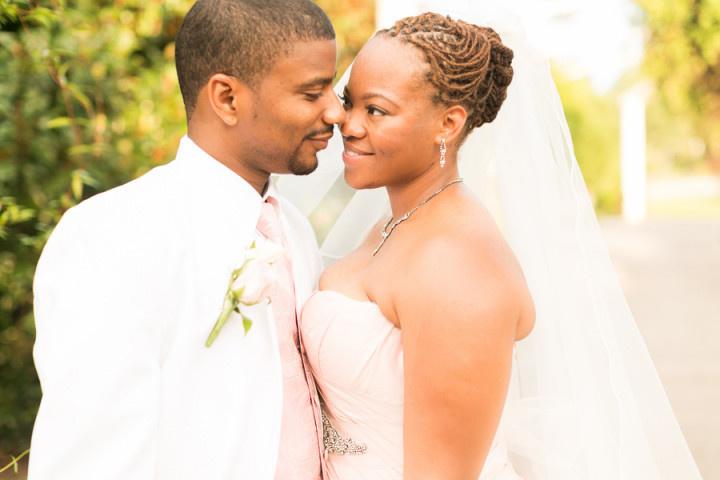 Loc'd Braided Updo
The best natural wedding hairstyles show off, rather than attempt to hide, all that your hair has going on. This simple updo does just that with the bride's strands being pulled into an updo that is then braided.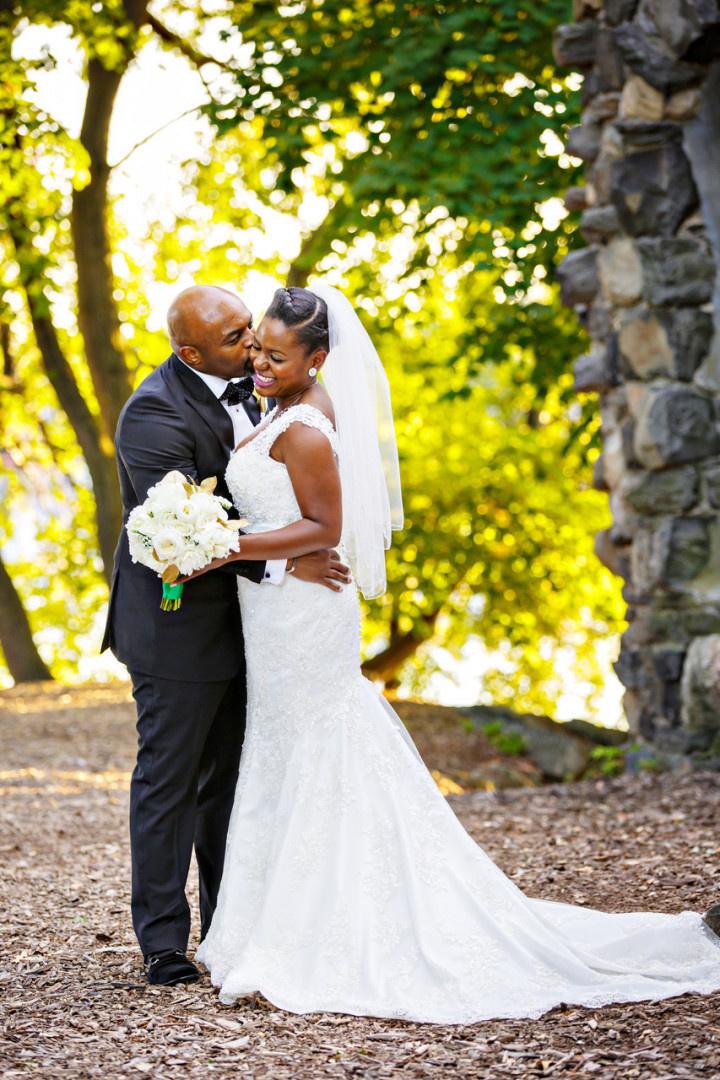 Sleek Twisted Crown
Want a natural bridal hair style that gets your tresses off your face, but isn't hidden by your veil? Try these two side twists.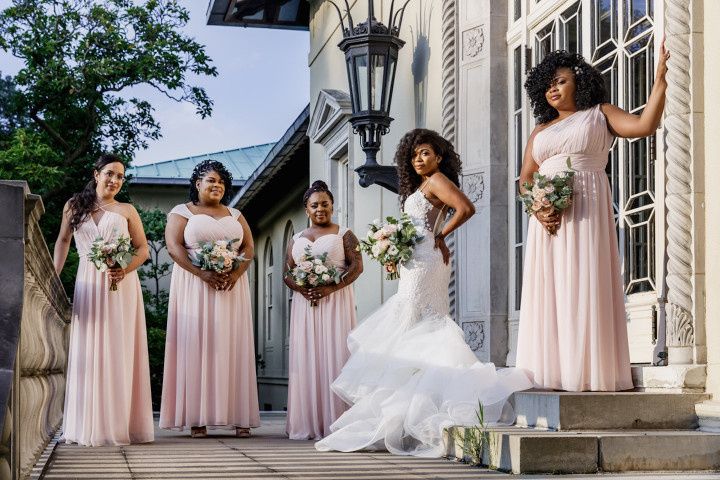 Loose Fluffy Curls
You don't have to first straighten your hair to achieve loose curls for your wedding. Take a page from this natural bride's book and work with your natural texture for a fluffy halo.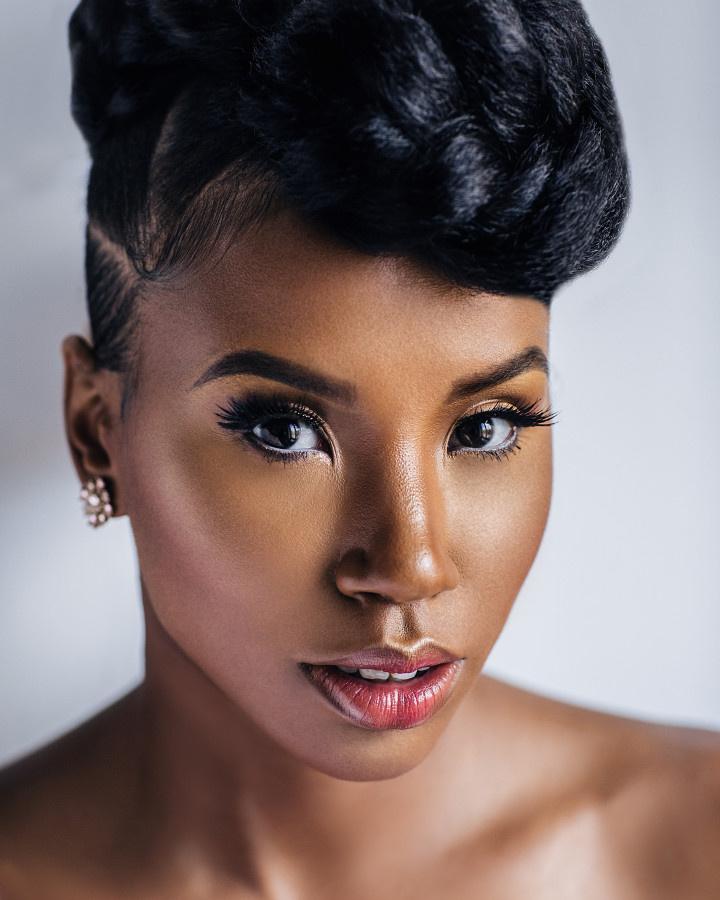 Braided Natural Mohawk
For the bride with sass to spare, check out this cool variation on a mohawk. A chic updo at first glance, ponytails feed into the braided bun at top to create this natural hair wedding hairstyle.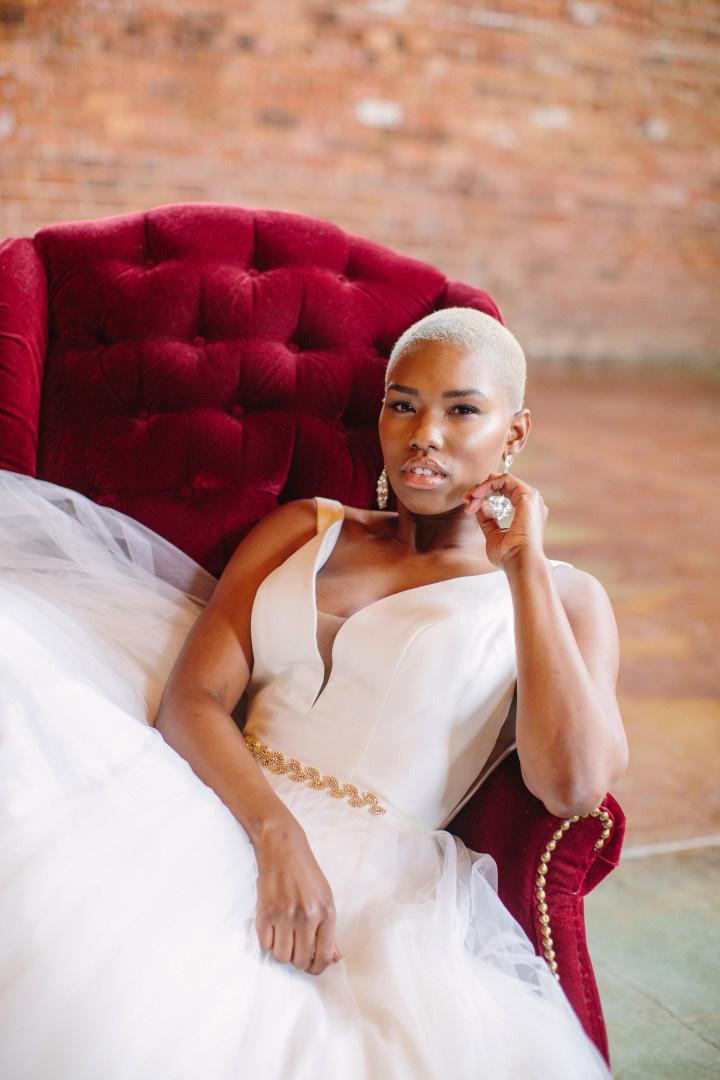 Platinum Blonde Buzz
If you're rocking a close cut already, add some fire with a bold shade. With super-short hair, your earrings and necklace will take center-stage, so choose your bridal jewelry wisely.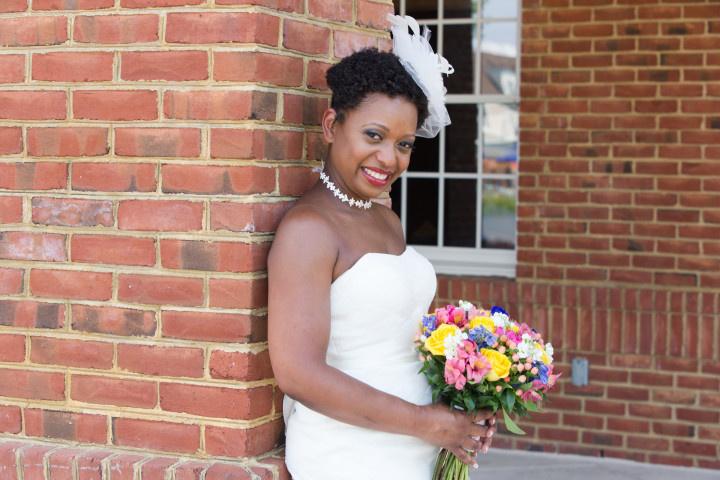 Short Defined Curls
Rock your TWA on your big day with short, defined curls. Add some cool wedding hair accessories, like this dainty white hat.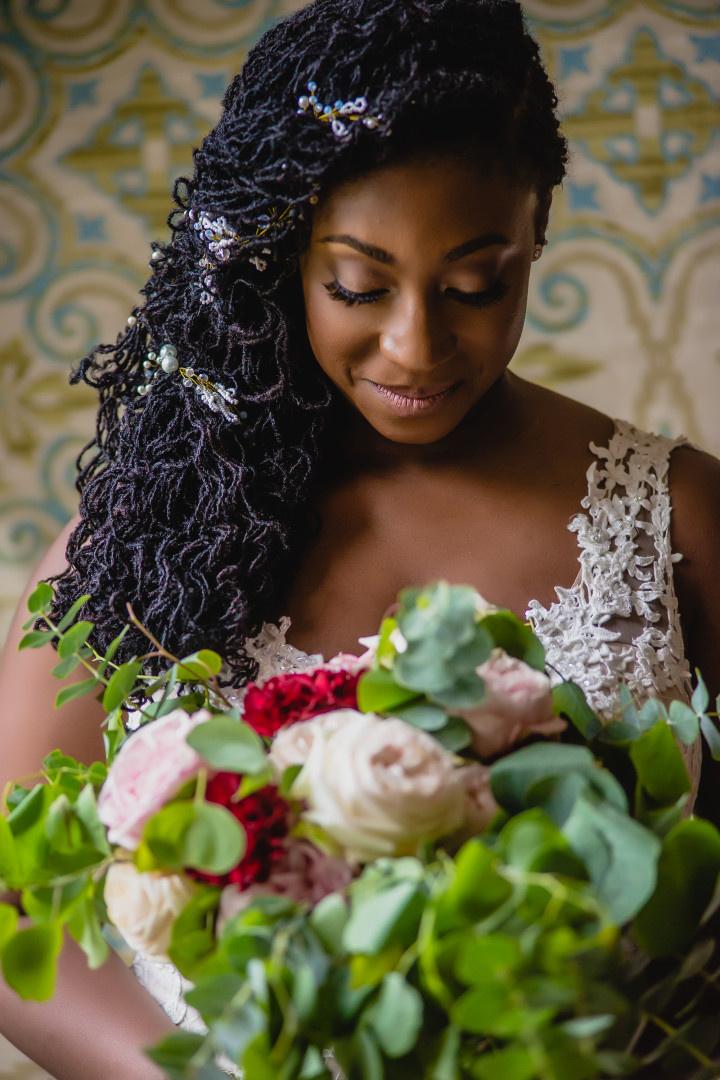 Side-Swept Sister Locs
If you're already growing out your sister locs, you'll want a natural wedding hairstyle that allows them to shine. Simply sweeping them to one side and adding barrettes that complement your dress is the way to go.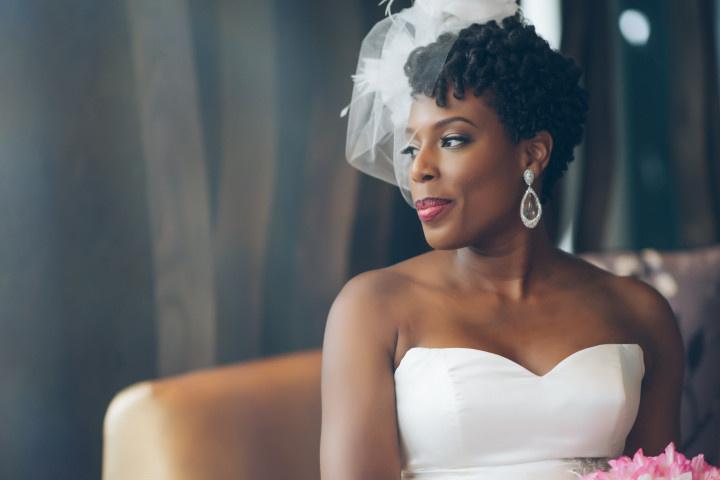 Rod Set on Tapered Cut
Your stylist will probably set your hair on tiny rod rollers to achieve this look. It's a little longer in the front than the back, making it one of the most perfect natural wedding hairstyles to accent a short veil.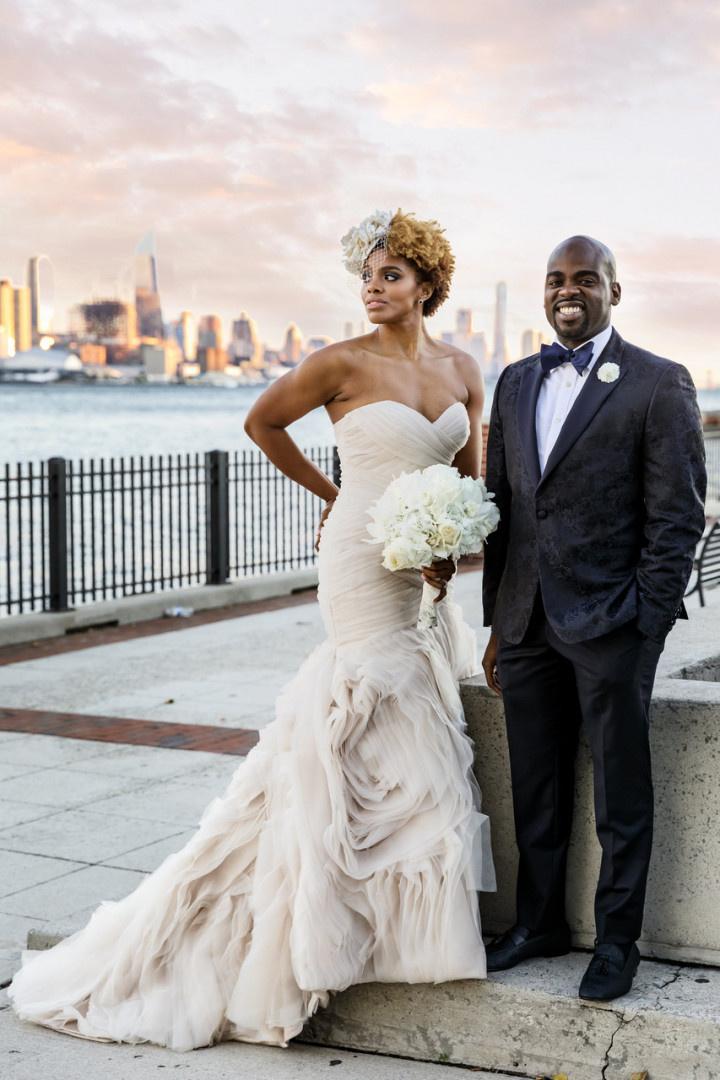 Golden Curly 'Fro
Let your wedding guests know you did not come to play with this striking honey-hued afro. Perfect for medium-length tresses, your stylist might deploy a wash-and-go strategy on this natural bridal hair look or install small twists.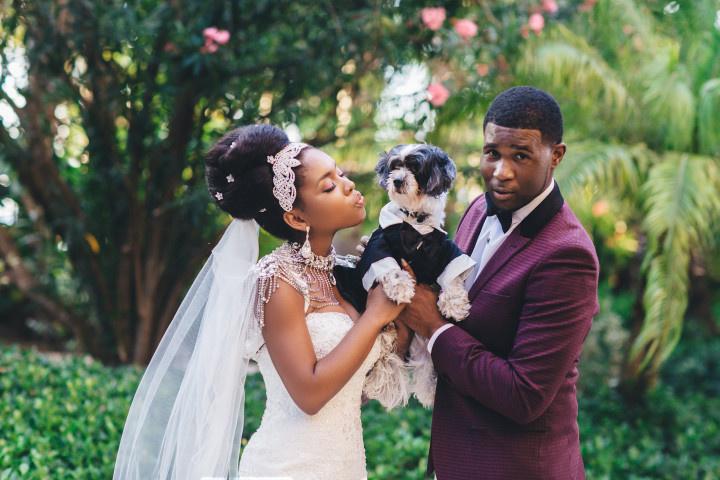 Regal Textured Bun
A classic bridal hairstyle that works for natural or straightened hair, a high bun works with just about every dress, veil and decor style.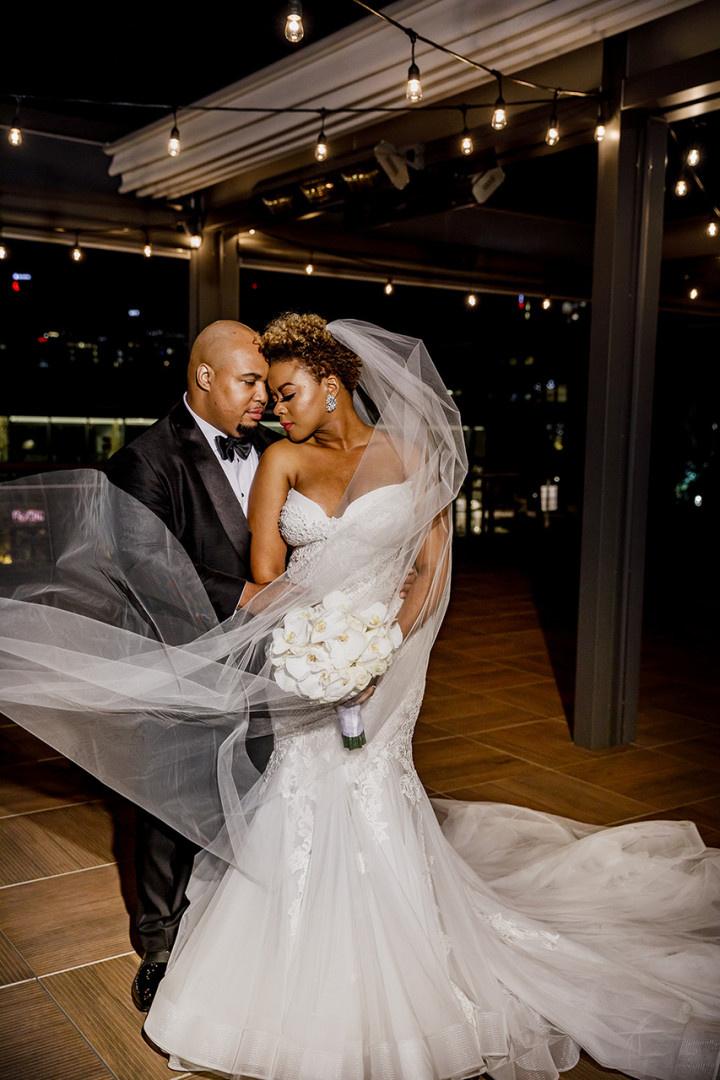 Tapered Blonde Curls
Show off a great tapered cut and ombre color with one of the chicest natural wedding hairstyles. This style also works just as well for brides who will wear a veil and those who won't.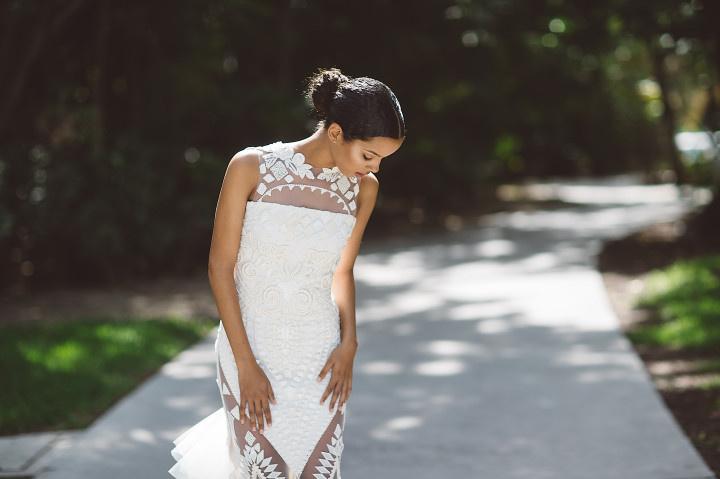 Low Textured Bun
Minimalist, but not lacking in style, a low bun that shows off your texture is a no-fuss route to gorgeous on your wedding day.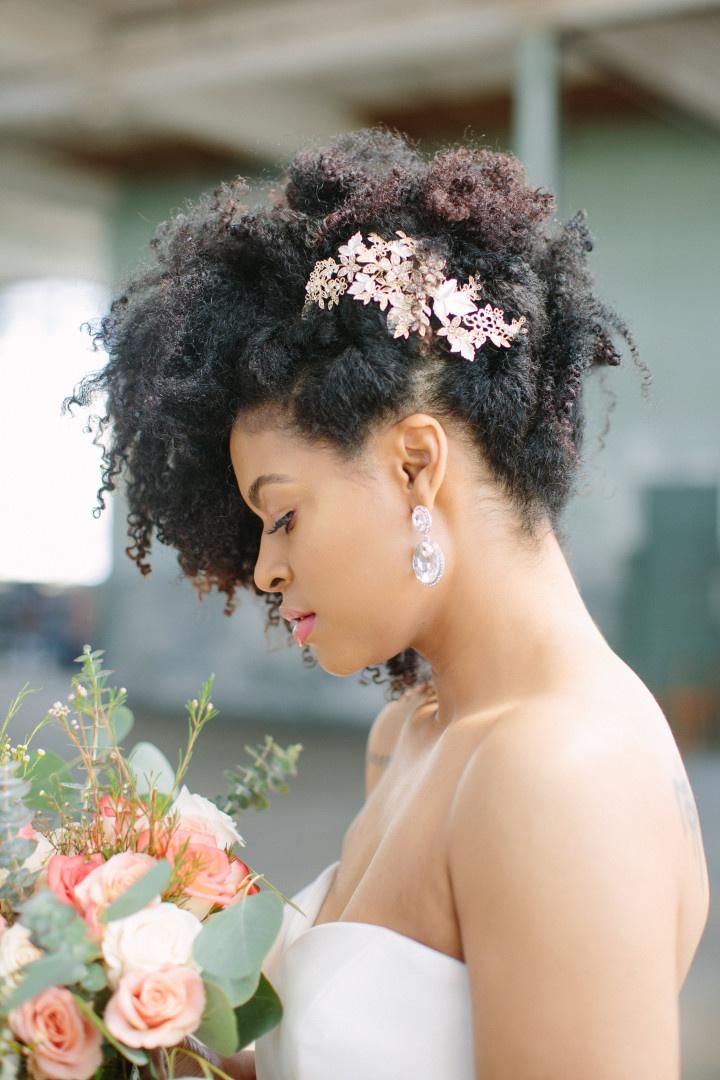 Gathered Updo with Clips
Whether you're rocking kinks, coils, curls, or waves, this is one of those natural wedding hairstyles that really shows off what you have. Easily add vintage, heirloom, or just really cute clips to the side.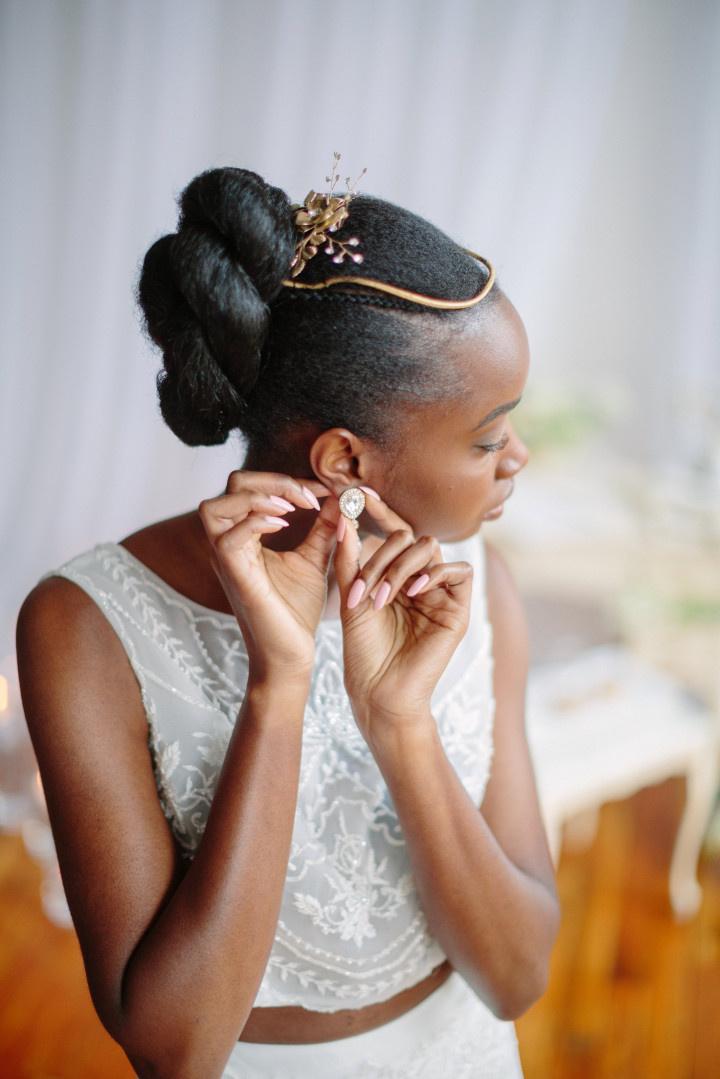 Sleek Textured Braid
Show your wedding hairstylist this gorgeous look if you want a detailed natural wedding hairstyle that doesn't require you to straighten your hair beforehand. A futuristic gold crown is he perfect accessory to set it off, too.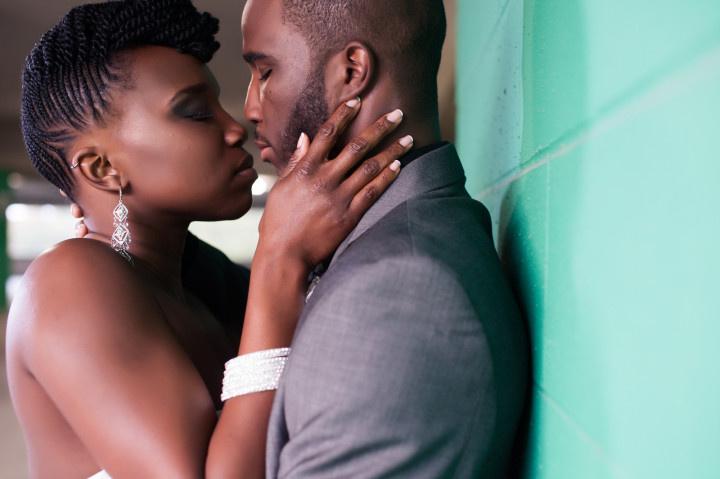 Twisted Mohawk with Cornrows
This regal braided style pulls double-duty: a perfect natural wedding hairstyle that will last well into a beachy honeymoon.