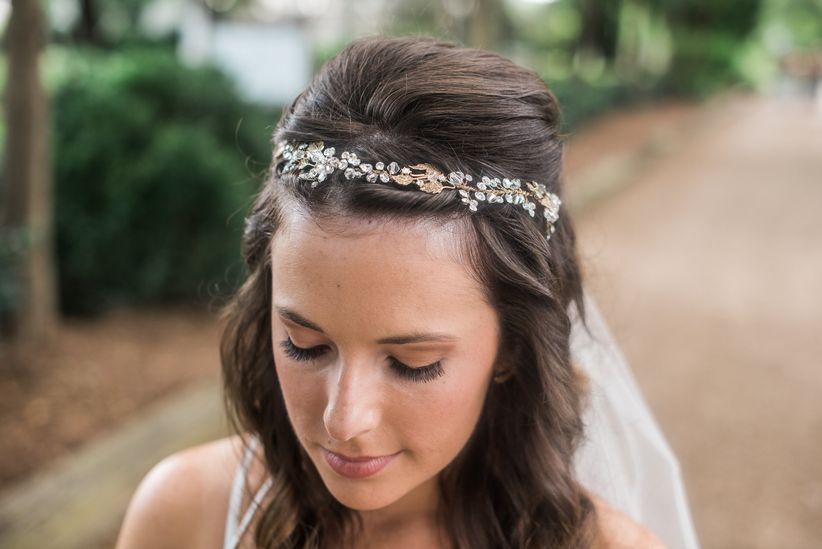 Photo: Andrea Hallgren Photography
You've checked something old, new, borrowed, and blue off your list, but have you found the perfect hair accessory yet? Whether you love bejeweled bobby pins, classic clips, or haute headbands, there's a wedding hair accessory for every beautiful bride out there. Hair accessories can add an extra bit of sparkle to make your hairstyle feel just a bit more special on the most glam day of your life. And finding the one to accent your hairstyle is a pretty fun process!
Before you set out to peruse all the sparkly options out there, arm yourself with this wedding hair accessories glossary.
Flower Crowns
Who needs an extravagant bouquet when you can wear flowers right in your hair? Flower crowns have been gaining popularity in the wedding circuit for years now, and it's not surprising considering they're so versatile. "Flower crowns look great with many different types of dresses. You can really get creative and go with big or colorful flowers if your dress is boho or keep it whimsical and ethereal with a simple baby's breath crown if your dress is more polished or classic," says Christy Doramus, founder of Crowns by Christy and author of Flower Crowns: 30 Enchanting DIY Floral Creations.

If you're planning on rocking a flower crown, placement is key, Doramus says: "I like to place it away from the face and behind the hairline. This allows the crown to be more of a hair accessory vs. overwhelming the face. You want to wear the flower crown, not let it wear you!"

And you should definitely consider whether or not you're wearing a veil with your crown. "A veil with a comb can either be attached to the crown or secured underneath the back of the flower crown. If your wedding day hairstyle or veil requires your hair to be full or covered at the crown, it may be best to save your flower crown for the reception or after party when it is not conflicting with any of your other accessories," Doramus explains.
Clips
You likely don't put much thought into what your daily hair clips look like, but for your wedding day, you should definitely pull out all the stops. Whether you're going for a more formal look or a boho vibe, consider your wedding's dress code and venue when shopping around for your hair clip so it matches the aesthetic of your wedding.

Lucky for your, hair clips are super versatile and play nicely with oodles of hairstyles, so you have plenty of options with this one. Wear your hair down in loose waves and pin one side back with the clip, or wear it in a cute updo and accent it with the clip. Either way, keep things simple because the design of your accessory should match the vibe of your 'do.
Hair comb
If you thought combs were solely reserved for combing your hair, think again! They're also très chic hair accessories. Their flexibility makes hair combs perfect for the bride who hasn't quite committed to a hairstyle, but happened to fall for the accessory at first sight.

The best part about this unconventional hair accessory? It holds hair back without making you feel like your head is being squeezed tight, like some accessories. So hair combs are definitely perfect for the laid back bride who wants a little sparkle but isn't quite up for a more complex accessory.
Headbands
If you're having visions of Blair Waldorf circa Gossip Girls when you think of headbands, it might be time to reevaluate your view of the chic accessory. When done properly, bridal headbands can be elegant, ethereal, and effortless. And the best part is, many women wear them on a regular basis, so you're already familiar with how they look on you and how they feel if you decide to wear one on your wedding day. That helps eliminate the uncertainty of how a new accessory might feel or look over the course of the day, and any extra stress you can eliminate is always good!

Wondering how you can dress up a headband for your wedding day? Well, look for one that has special detailand stands out from the crowd, first of all. Then figure out how you're going to wear your hair with it. The good thing about headbands is you can wear them just as easily with free flowing waves or a secure updo to add some extra flair.
Tiaras
You found your prince, so it's only fitting that you find the perfect tiara to wear when you marry him! After all, it's not every day that you get to wear a tiara (we wish). Of course, you probably don't want to drop cash on the real deal, so a more budget-friendly alternative is always a good idea.

Tiaras work with all kinds of hairstyles, but they look extra regal with elegant updos so they have something firm to grab hold to. We recommend wearing a classic style like a French twist with your new bling. The best part about tiaras is they make your jewelry game quite simple. With such a statement piece on your head, you really don't need to worry about wearing a whole lot of jewelry!
Barrettes
Barrettes come in many shapes, sizes, and colors and it's easy to say you can find one ideal for your individual style. Whichever type of barrette you choose, just make sure you keep your hairstyle sleek so your accessory takes the main spotlight. "I love the way this barrette looks with sleek hair. This piece would look amazing on a bride with a sleek pony or bun," Doramus says. Lesson learned? Sometimes simple is simply beautiful!
Bobby pins
Perhaps the most understated of all the wedding hair accessory options, bobby pins can still pack a powerful punch. They're typically used to anchor various hairstyles in your daily life, but bobby pins can also serve as a hair accessory in and of themselves when they're adorned with jeweled details.

Beautiful in their subtlety and delicate details, bobby pins are best executed when worn on the side of a chic chignon or other updo. But they'd also look pretty darn cute tucked underneath some powerhouse curls.
Hair chain or headpiece
For the super cool bride who wants something nobody else has, a draped headpiece or hair chain offers a vintage meets trendy vibe that totally works. Headpieces are different than your average headband, and definitely stand out from the crowd if you want to make a style statement! They're a bit like a headband, but incorporate more of a jewelry vibe, making them a touch more dramatic and decorative.

Although headpieces are fun and ultra modern, you should always make sure you're positive about your decision to wear one before you commit to it. Just because you think it looks cool in a bridal magazine, doesn't mean you'll love the look years down the line, after all! "This headpiece is incredible, but it is a bit trendy which is something you must consider as a bride because your photos are forever!" Doramus says. "I love this piece for a fun reception look with boho waves and a red lip."
Veil
Perhaps the most classic of all hair accessories, veils are pretty common among most brides. Length is a big decision for many brides when choosing their veil, and there are certainly a variety of veil lengths depending on your preference. If you're looking to make a statement, try a floor length cathedral veil with a sizeable train or a mid-length (fingertip and walking length are two types to look into) with a slightly shorter train. If you prefer a more subdued accessory, Short veils that hit at your back are your best option. Or, try an even shorter blusher or birdcage veil with lace, pearl, or simple detail for a more retro look. Last but not least, don't forget about fascinators if you're looking for something a bit like a veil but with a touch of unique flair.

Some brides wonder whether or not adding an additional hair accessory on top of a veil will be overkill, but it really depends on how decorative your veil is. If you have one that's totally embellished, it might be wise to skip any additional accessories to prevent them from competing for attention. But otherwise, many brides wear both a veil and an additional accessory and look great! And who cares if you have a lot of sparkle? On your wedding day, there's no such thing as too much bling!