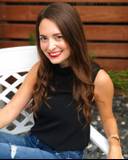 Hillary Hoffower is a New York City-based reporter with experience covering wedding and finance content. Hillary has worked for luxury event planner Colin Cowie, digital Superyacht brand Dockwalk, and is now a Correspondent for Business Insider. Throughout her career, Hillary has contributed to WeddingWire and Brides.com.
Experience
Hillary entered the wedding industry as a Web and Editorial Intern with Colin Cowie Lifestyle. Following her graduation from the University of Florida, Hillary worked as an Associate Editor of digital and print content for Dockwalk at Boat International Media. Hillary started contributing to WeddingWire and Brides.com during this time, mostly covering bridal fashion, wedding décor trends, and travel. She currently works for Business Insider, where she has assumed Reporter, Senior Reporter, and Correspondent positions for Millennial Wealth. Hillary reports on the intersection of youth culture and wealth.
Education
Hillary graduated from the University of Florida with a Bachelor of Science degree in Public Relations. She also minored in English and had a concentration in Psychology.
Articles published by Hillary Hoffower