Pull off a Boho-Chic Wedding with These Macramé Details
From cake toppers and chair accents to table runners and backdrops, we've rounded up some playful ways to incorporate it into your boho-chic wedding.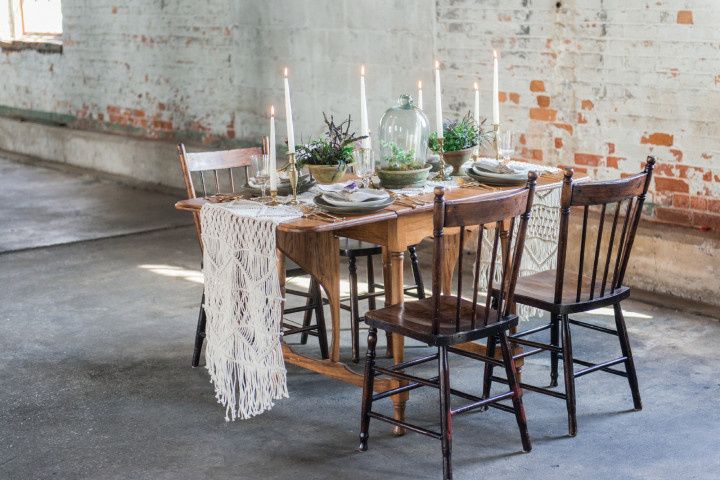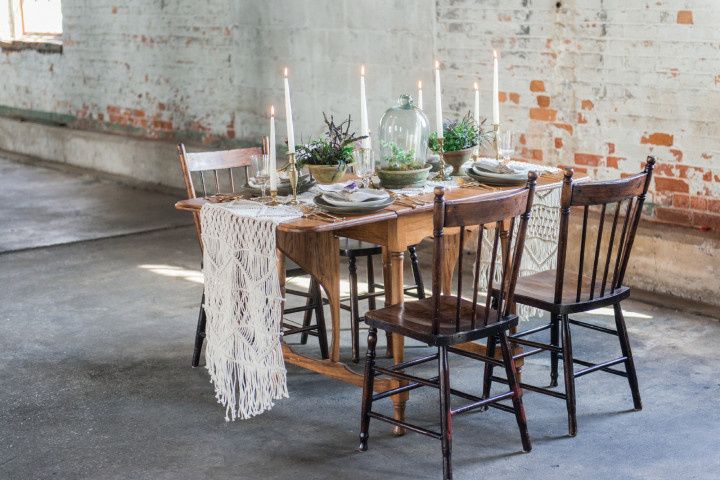 Photo: Laura Kelly Photography
Macramé may typically call to mind the 70's or children's arts and crafts, but there's nothing like the past for a little boho-chic wedding inspiration, are we right? Macramé has been coming in hot for weddings lately, perfectly drawing upon its hippie roots and myriad crafted designs and styles for a look that is utterly woodland princess or eclectic bohemian. Not only is it a fun, unexpected way to add texture, this woven beauty is also a chameleon, popping up throughout the day's décor in a variety of ways.


From cake toppers and chair accents to table runners and backdrops, we've rounded up some playful ways to incorporate it into your boho-chic wedding.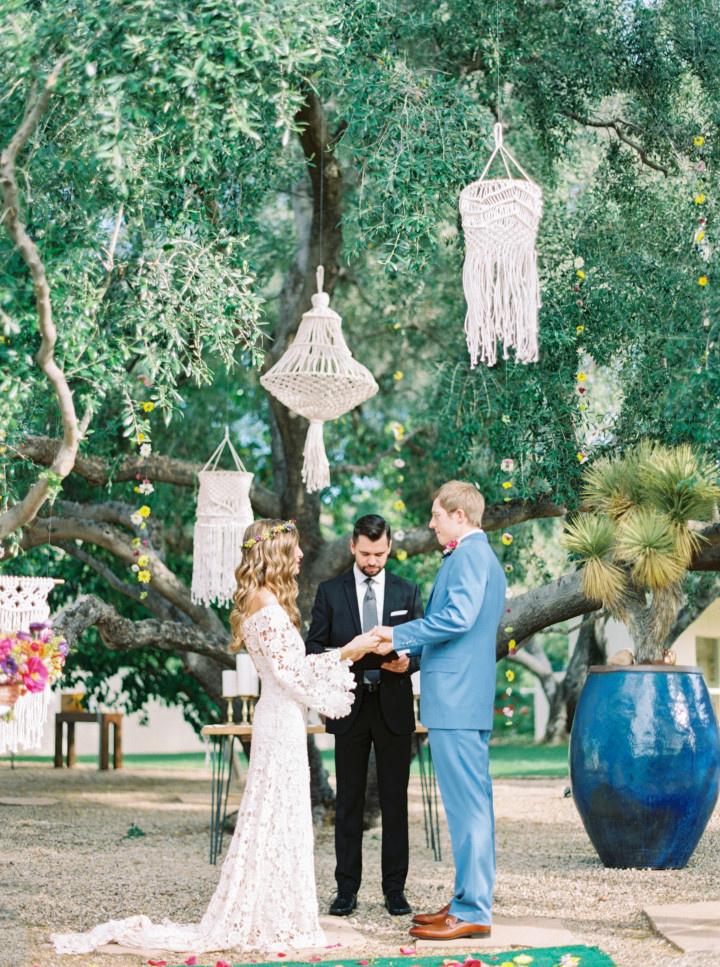 Photo: Melissa Jill Photography
Why have crystal chandeliers when you can have ones made from macramé? Styled into a different designs, these macramé chandeliers by Elbowgrease bring a whimsical touch overhead at this wedding coordinated by Imoni Events — no need for a statement ceremony backdrop, here.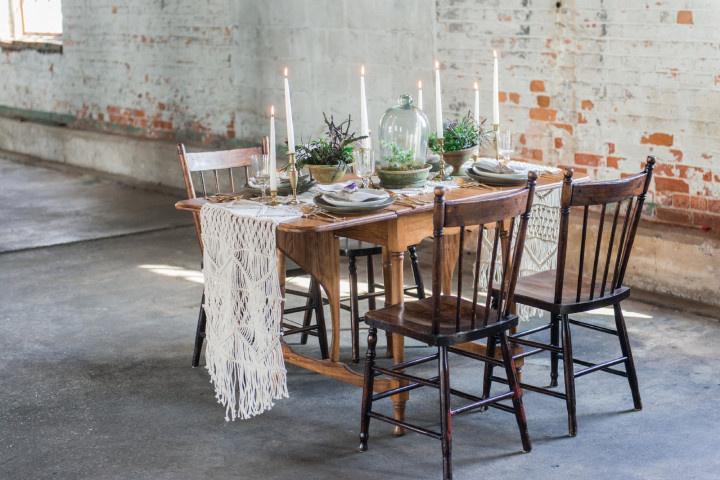 Photo: Laura Kelly Photography
A macramé runner lays the perfect accent on a bare wooden table rich in geodes, succulents, and warm tones for an earthy and eclectic vibe in a tablescape complemented by an industrial setting.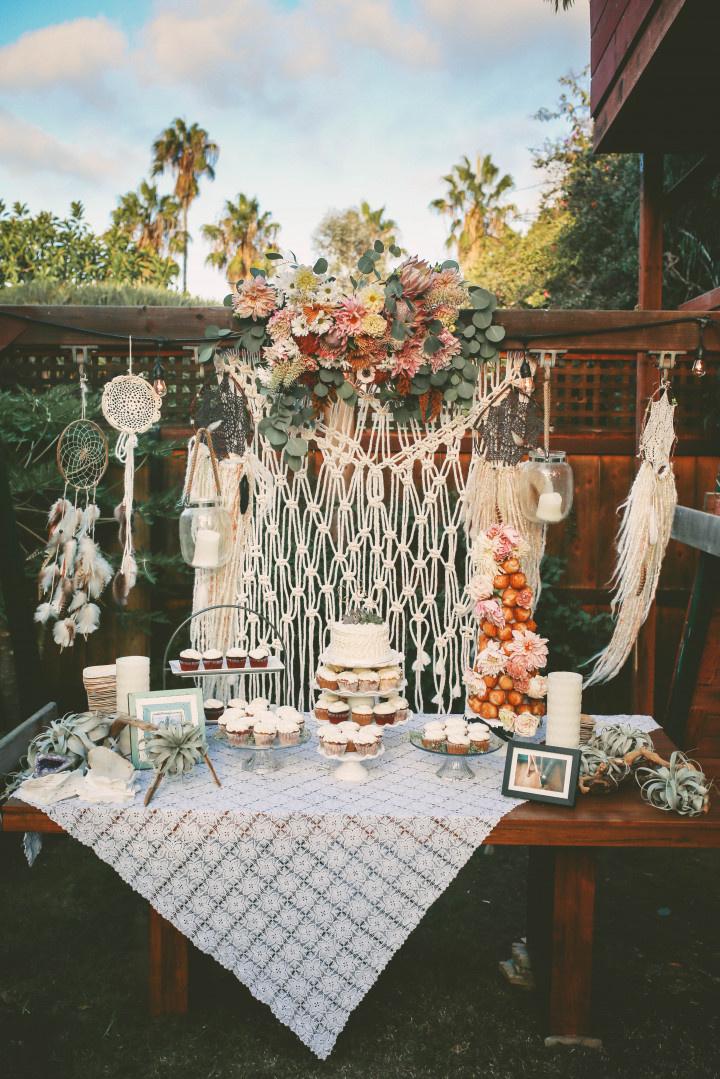 Photo: Chris Wojdak Photography
A macramé hanging sweetens up this bohemian dessert display, tying in dreamily with dancing dream catchers, lanterns, and rustic foliage.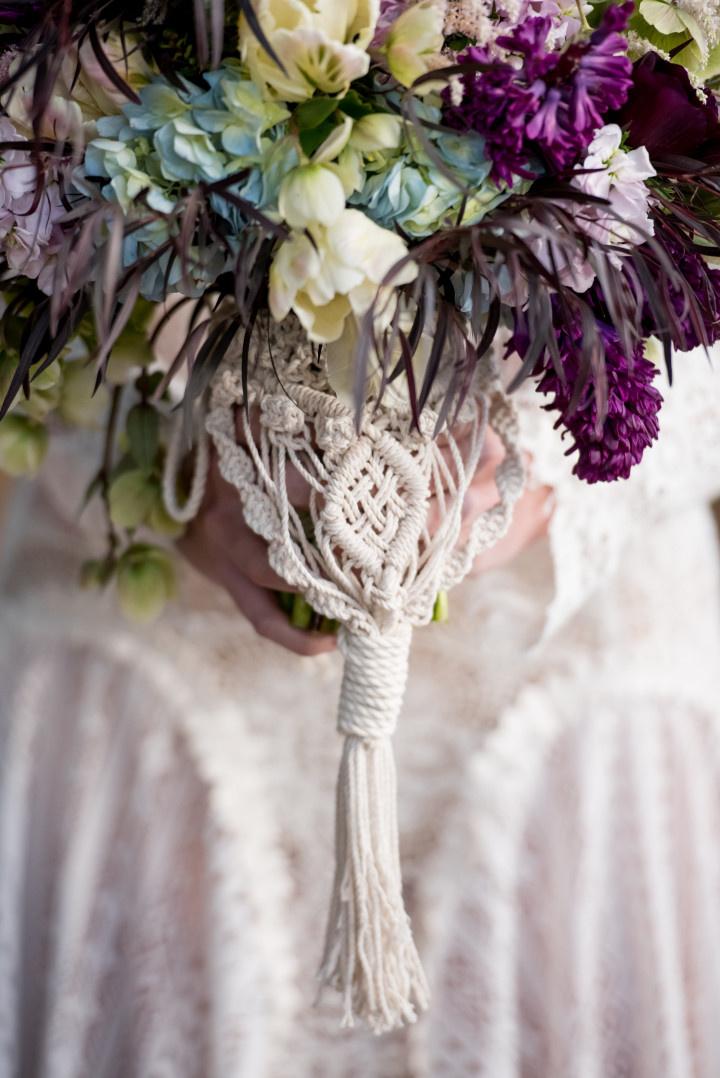 Photo: KMH Photography
Only a macramé wrap and tassel could do this gorgeous bouquet of light and dark wildflowers justice. We're loving the mix of amethyst, turquoise, and butter yellow hues.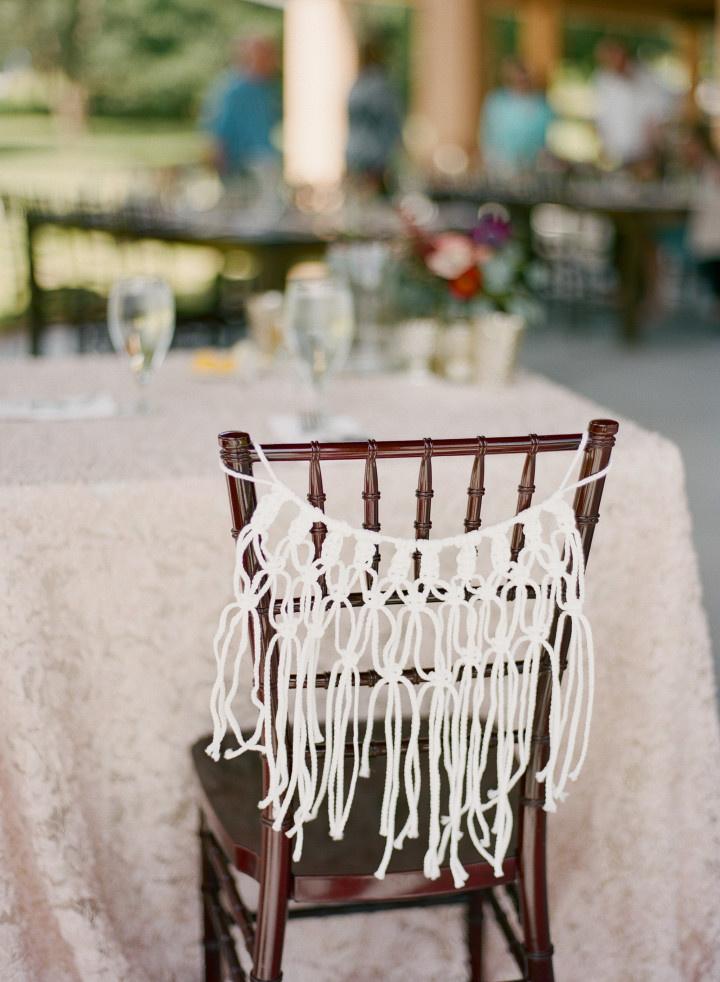 Photo: The Ganeys
Forget ribbon or cascading fabric — a swag of macramé is all a reception chair needs. Impossibly charming and subtly striking, it's a unique boho-chic wedding look your guests won't forget.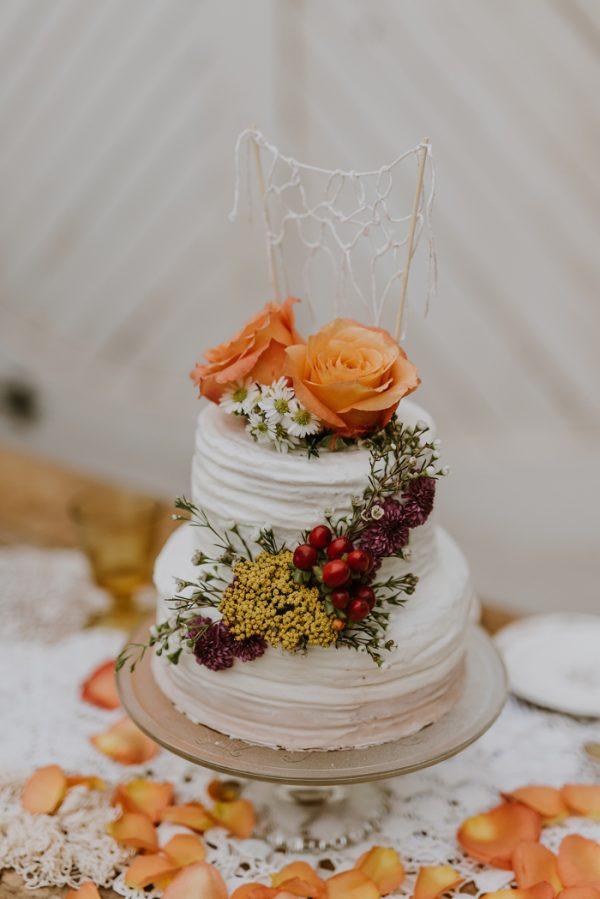 Photo: Swak Photography
With clusters of berries, orange roses, and flowers in jewel tones, this cake is all autumn decadence. But the real eye-catcher is its delicate macramé topper, putting a final feel on the dessert's earthy look.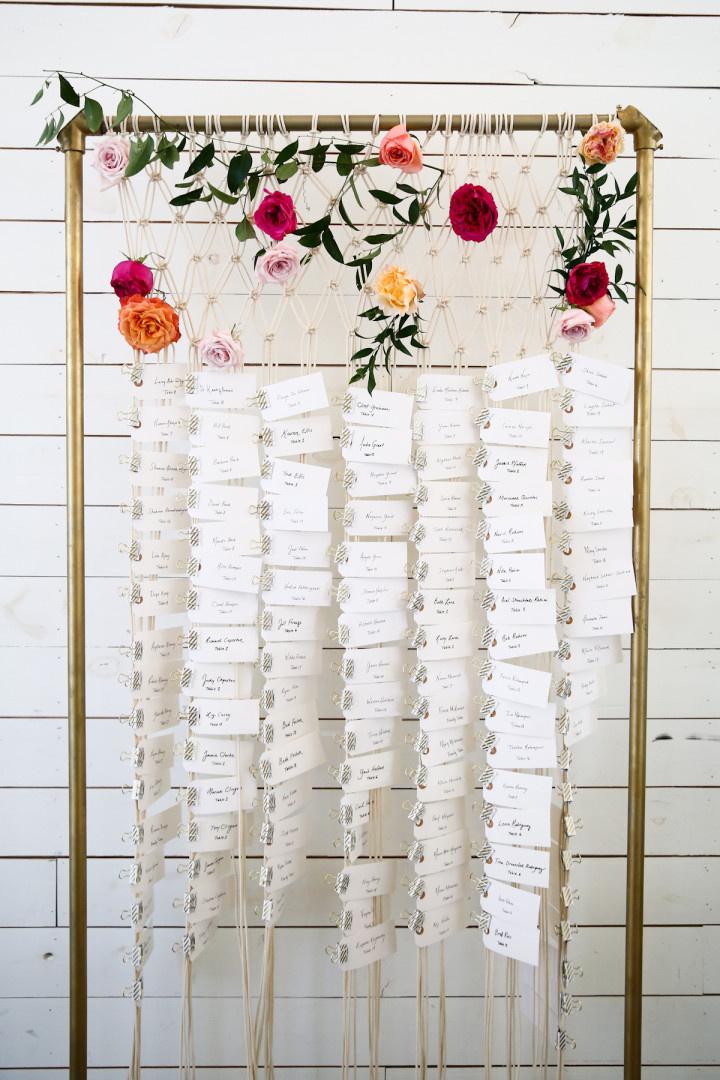 Photo: Hyde Park Photography
How's this for a creative escort card display? Colorful roses adorn a web of macramé, while name cards trail along its cascading strings. Framed with gold metal, the look is whimsy and romantic with a hint of modern industrial.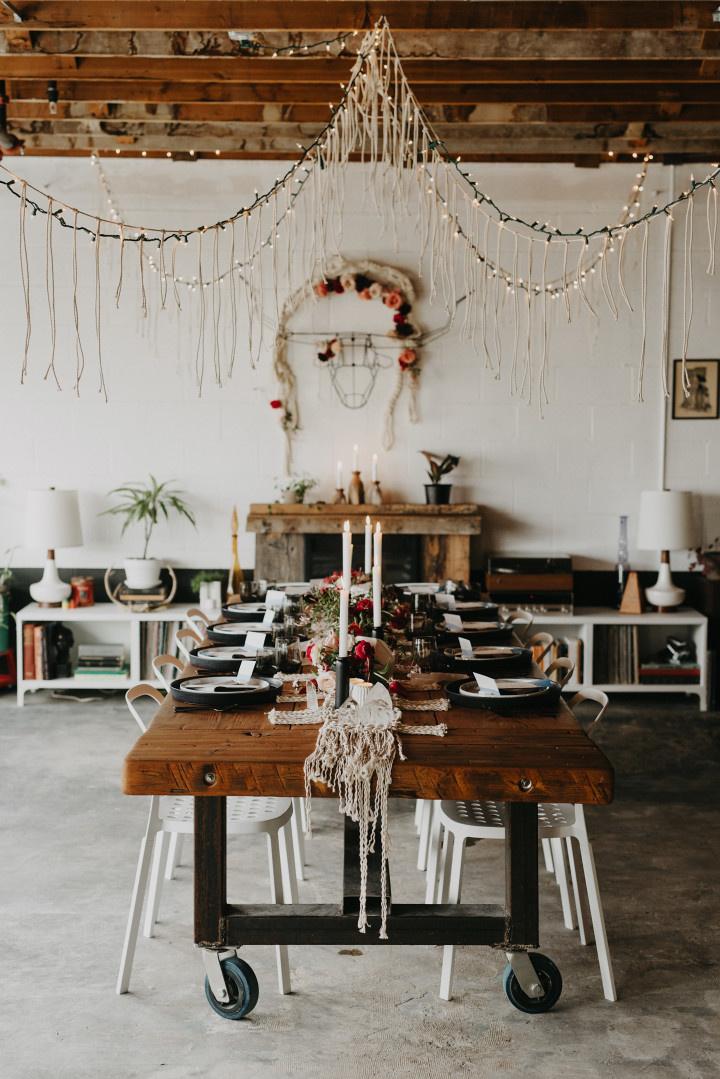 Photo: Phil Chester Photography
The boho-chic wedding gets a moody, contemporary twist in this reception setting that boasts a statement ceiling. Who would have thought draped fairy lights and macramé could look so good and so effortless?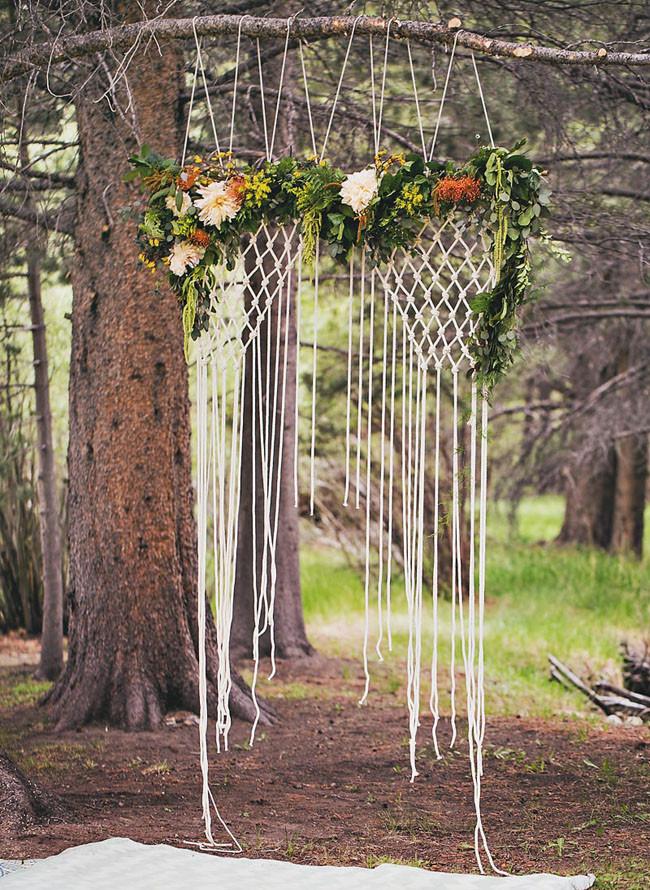 Photo: Amanda Patrice
Arguably one of the most popular ways to incorporate macramé into your boho-chic wedding day is with a ceremony backdrop. While they can take on many designs and styles, this stunning one in particular isn't without some woodland charm, suspended from a tree and festooned with lush greenery and blooms.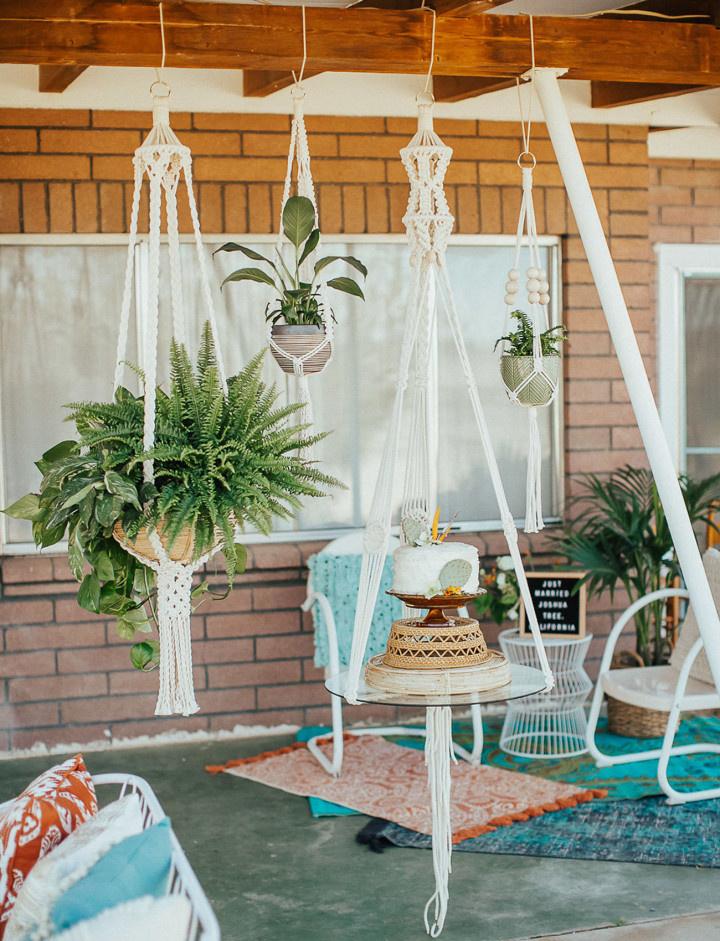 Photo: Chelsea Maras Photography
It doesn't get much more imaginative than using a plant hanger to display your cake in this tropical wedding style that we're seriously swooning over.