40 Stunning Wedding Arches & Altar Ideas for an Outdoor Ceremony
No matter the type of scenery or setting you choose, a show-stopping backdrop will be the finishing touch on your outdoor ceremony. Take these floral wedding arches, arbors, and altar ideas as proof.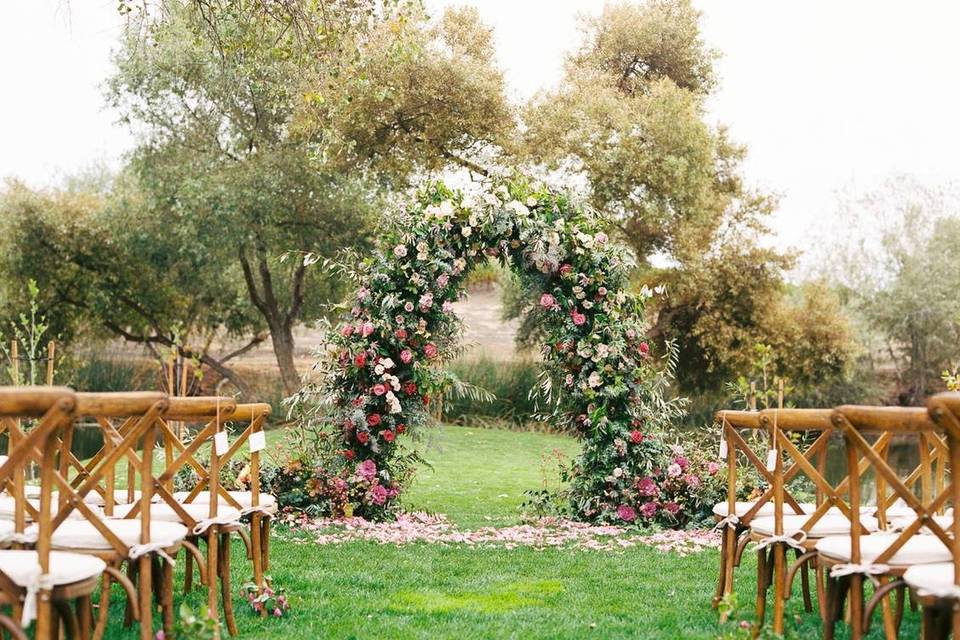 Vowing to love and support your spouse for the rest of your lives is a surreal and moving experience that will become etched into your memory. Set the stage for the unforgettable "I dos" to come with a beautiful backdrop that reflects your theme and venue. Choose from canopies, arches, floral walls, arbors, and more to help define your ceremony space and create a focal point for your outdoor wedding. Whether you're exchanging vows on a beach, garden, rooftop, or barn, we've got you covered. Browse these spectacular ceremony setups from real weddings and prepare to be inspired!
Wedding Arches
Wedding arches are some of the most popular types of wedding altar ideas, and there are endless ways to personalize yours based on color scheme, season, style, or even the types of flowers included. Whether you want a traditional wedding arch to create a romantic backdrop for your vows or you're looking for something super trendy, like a triangular or circular arch, we've got you covered with these ideas.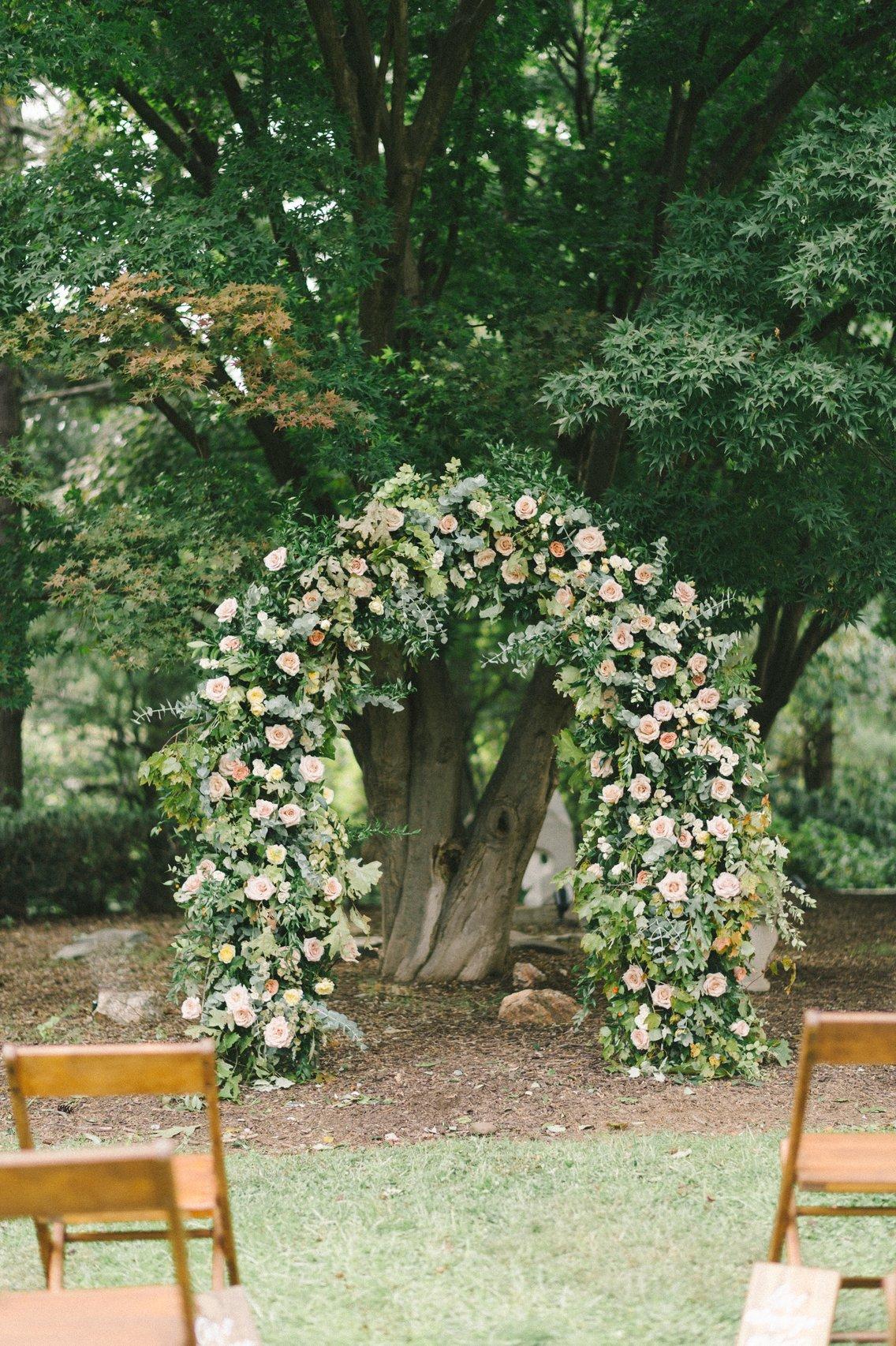 Greenery wedding arch with pastel flowers
This simple but stylish arch works for essentially any type of outdoor wedding. The pastel flowers are on-theme if you want a springtime garden vibe, but you could swap them out for any seasonal blooms, like blue hydrangeas in the summer or sunflowers in the fall.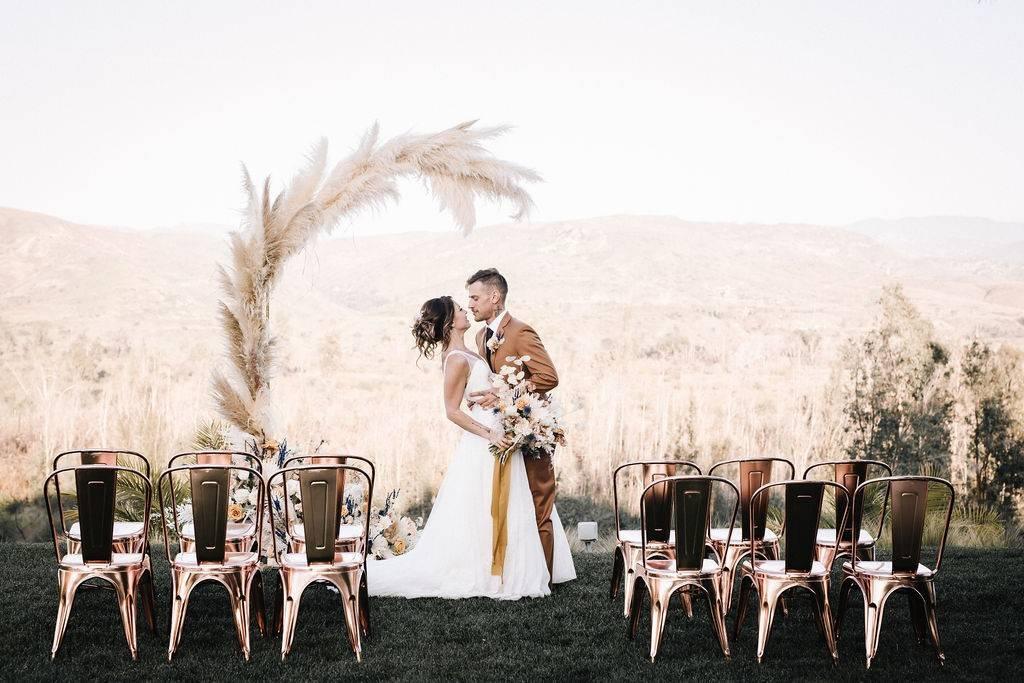 Event design by De La Planning
Half-arch with pampas grass
A trendy half-arch made from fluffy pampas grass instantly brings bohemian charm to your wedding altar. Complete the setup with metallic rose gold chairs—scenic view optional!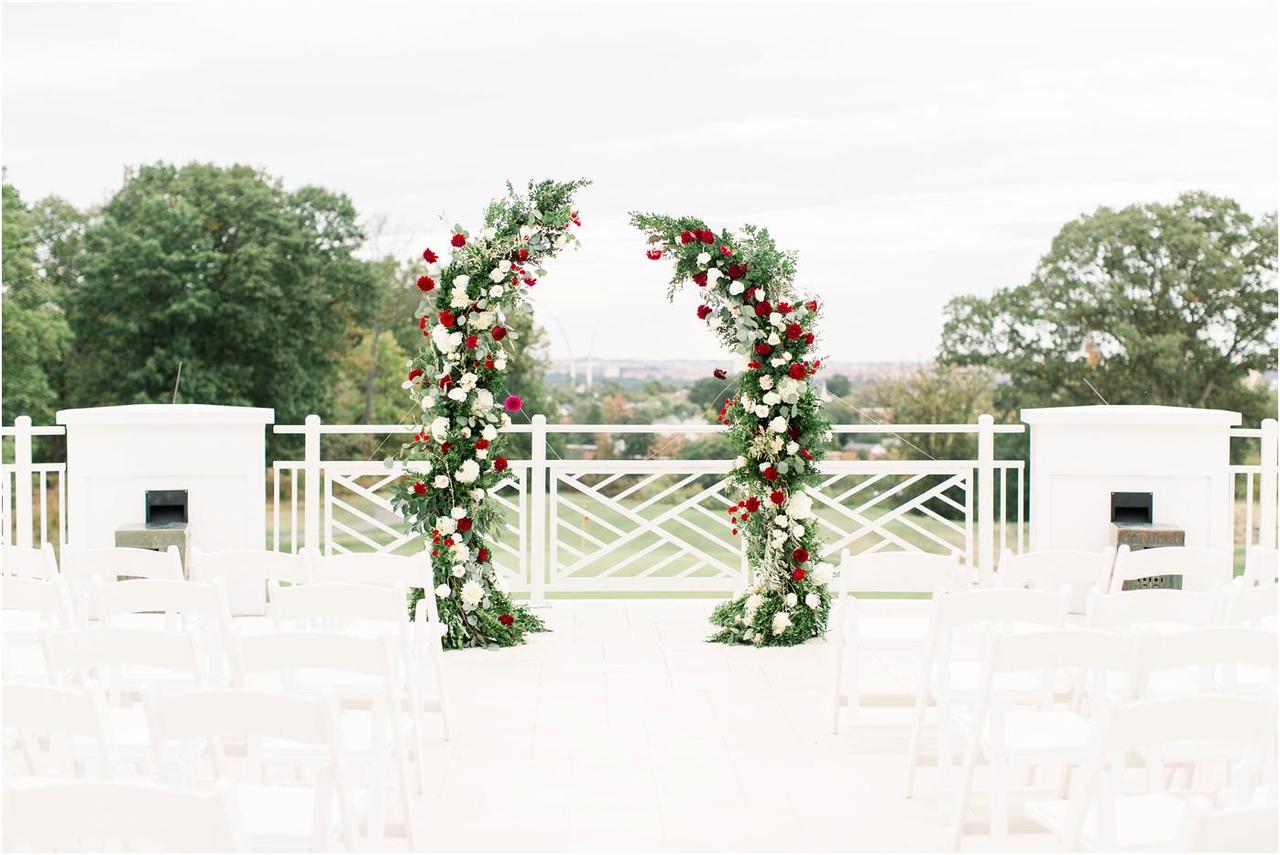 Floral design by Courtney Inghram Floral Design
Open arch with red roses
If you're having an outdoor winter ceremony, consider this pretty wedding arch with evergreens and red roses. The open top and slightly asymmetrical design give this backdrop a perfectly-imperfect look.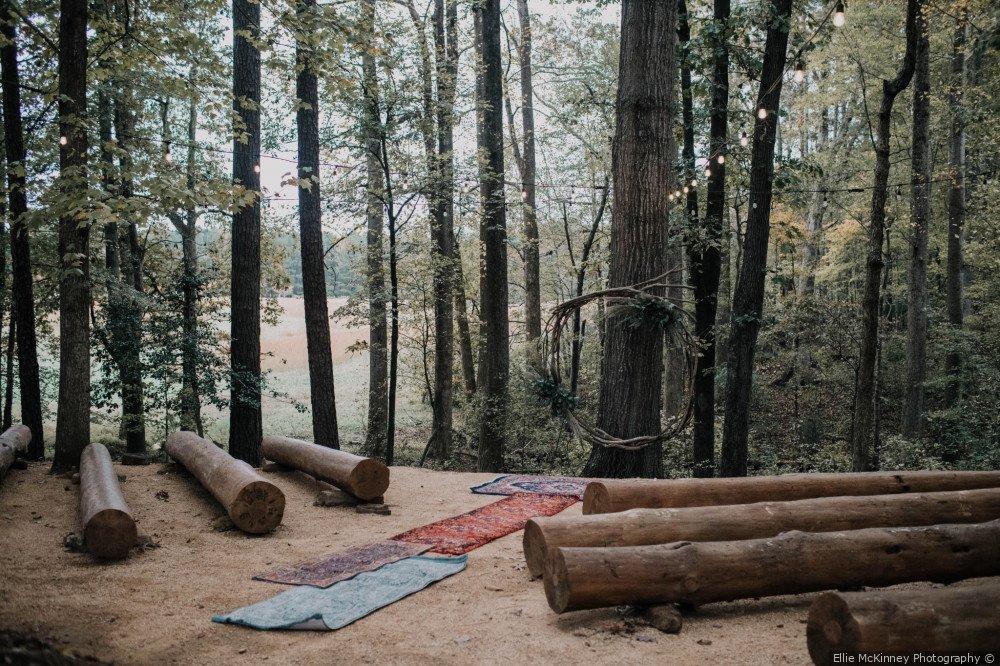 Rustic circular arch
Circular wedding arches (you can also call them oversized floral hoops) are an updated version of the classic arch. They add a whimsical look to your ceremony decor and you can personalize them with everything from fresh flowers and greenery to pampas grass, ribbons, and macrame. This one is made from vines and branches for a rustic, woodsy finish.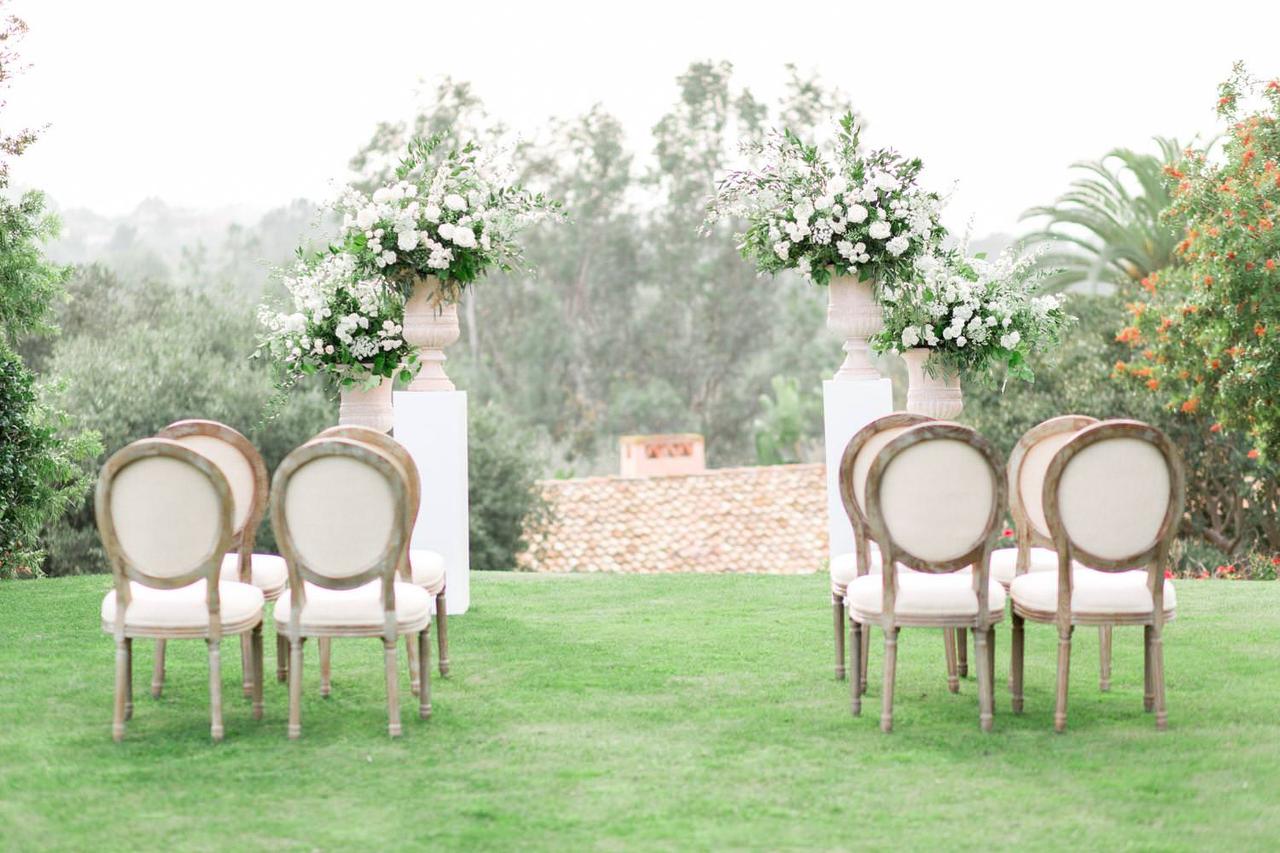 Floral design by Compass Floral
Wedding arch with pillars
Here's another alternative wedding arch idea: Use flower-filled vessels and pillars at different heights to create the illusion of an arch at your outdoor altar. Switch up the vessels to match your wedding style—for example, stone urns for a classic romance theme or tall glass vases for a modern look.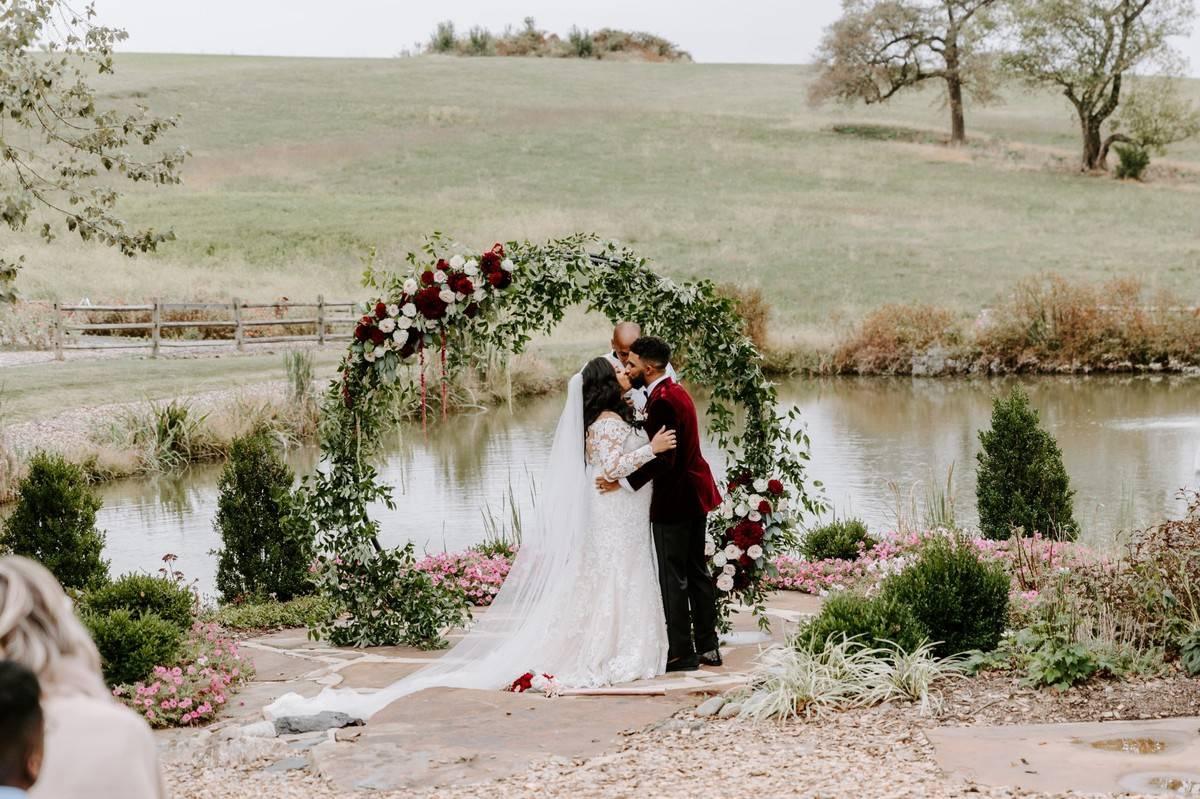 Oversized greenery hoop
Crimson and white flowers add a sultry, romantic element to this greenery hoop (we love how it perfectly frames the waterfront view!).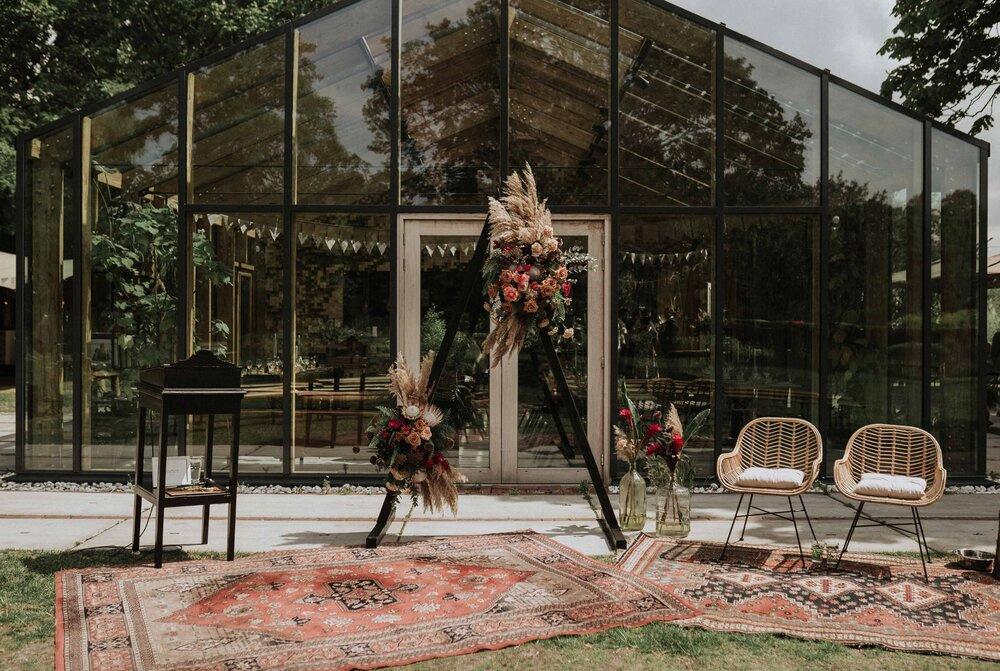 Triangular wedding arch
Give your wedding arch an artsy spin by choosing a triangular version instead. This geometric backdrop pairs nicely with other trendy details, like dried greenery, proteas, and rattan furniture accents.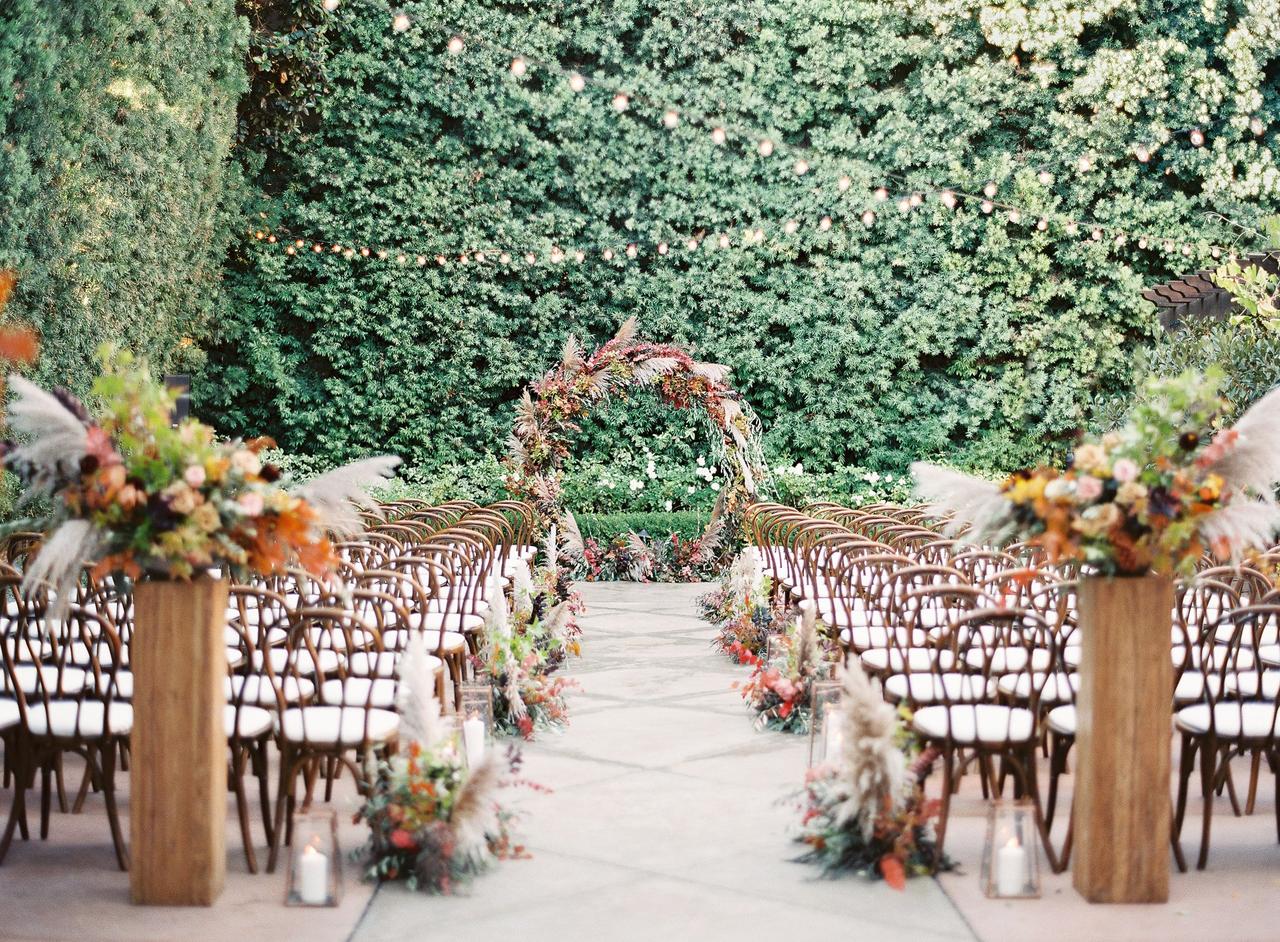 Fall wedding arch
We can't stop staring at this gorgeous outdoor wedding altar. The warm yellow and orange color scheme (plus the neutral pampas grass) makes this design spot-on for an autumnal ceremony.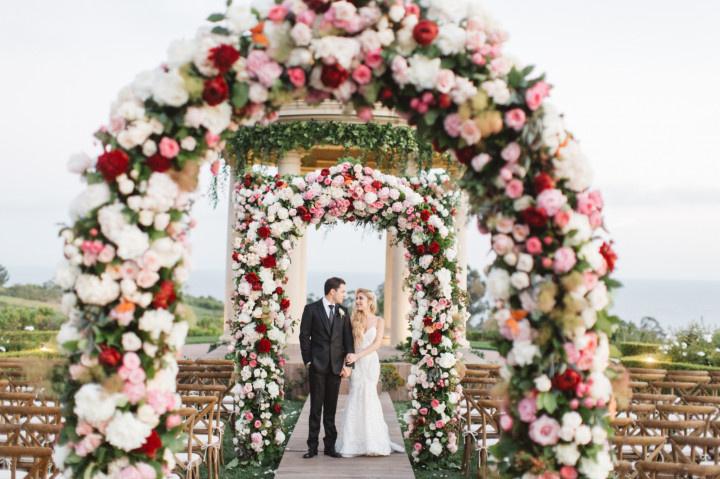 Event design by Details Details; Floral design by Bloom Box Designs
Pink and red wedding arches
Why settle for just one wedding arch when you can have triple the flower power? Construct multiple floral archways packed with pink, red, and white blooms for an opulent look that's fit for a fairy tale.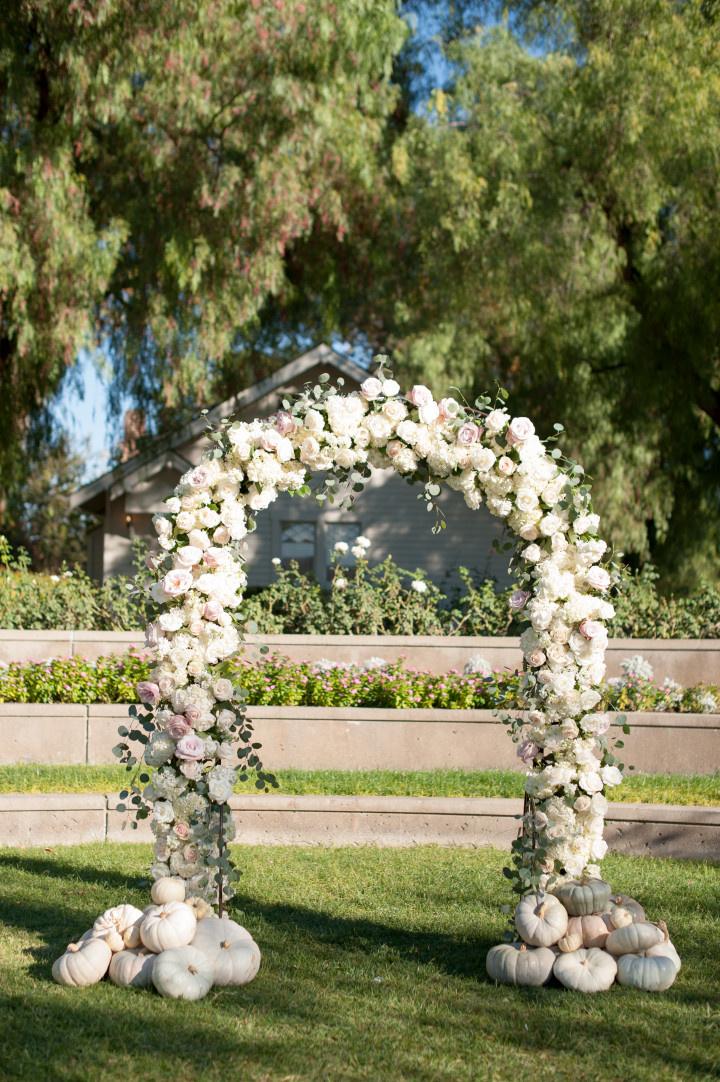 All-white wedding arch
If your big day will take place during the fall, then you'll want to add this next photo to your ceremony Pinterest board ASAP. A pile of white pumpkins and corresponding monochromatic floral arch are a match made in heaven.
Wedding Arbors
Some wedding arbors and canopies, such as chuppahs and mandaps, serve a cultural or religious purpose, while other types are purely decorative. Check out some of these dreamy wedding arbors with flowers, fabric, greenery, and more below.
Event design by A Good Affair Wedding and Event Production
Blue and white wedding chuppah
Light blue draping adds the prettiest pop of color to this traditional chuppah, which is finished with a tallit on top and coordinating blue hydrangeas.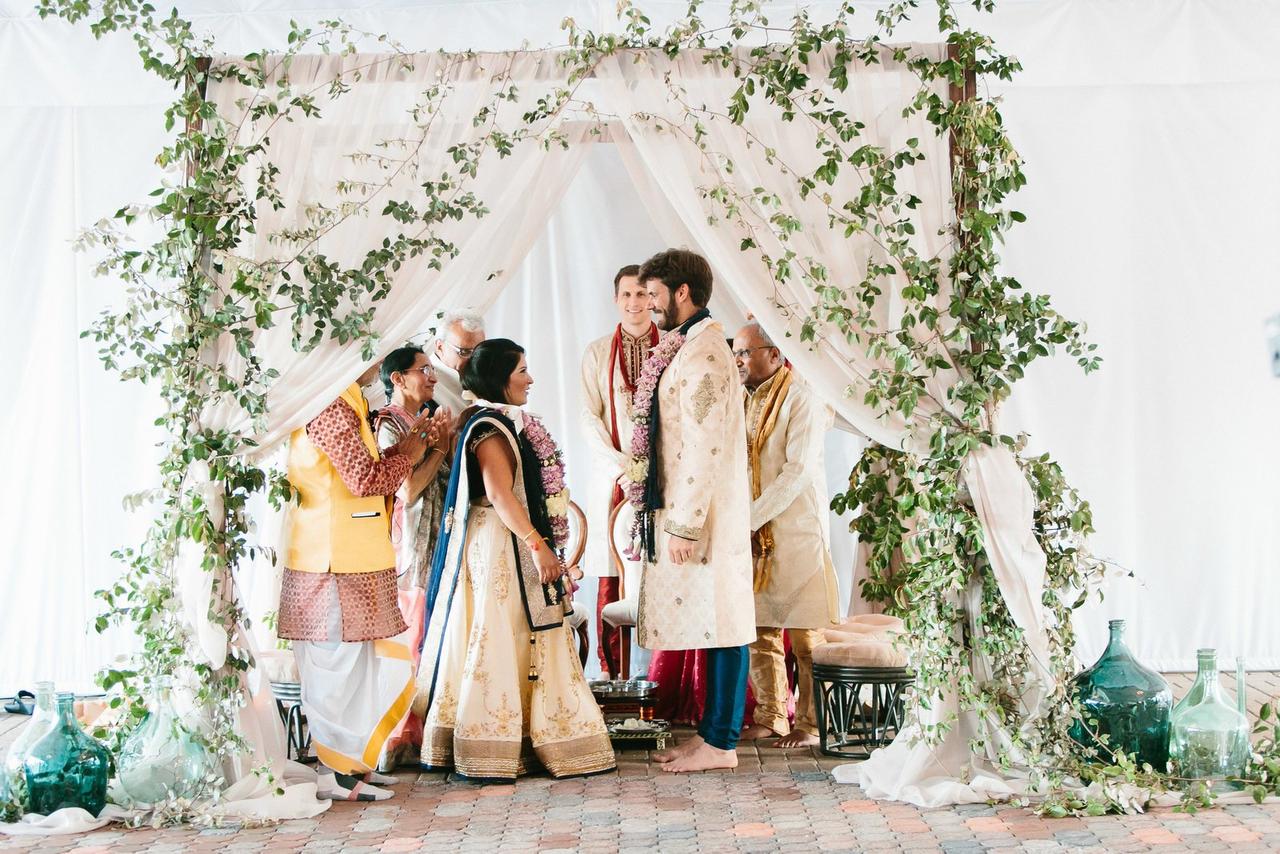 Wedding chuppah with greenery
Sometimes, all it takes is the simple addition of neutral fabric draping and greenery to complete your wedding arbor. The colored glass bottles add a bit of personality—you could also use candlelit lanterns or mercury glass vases.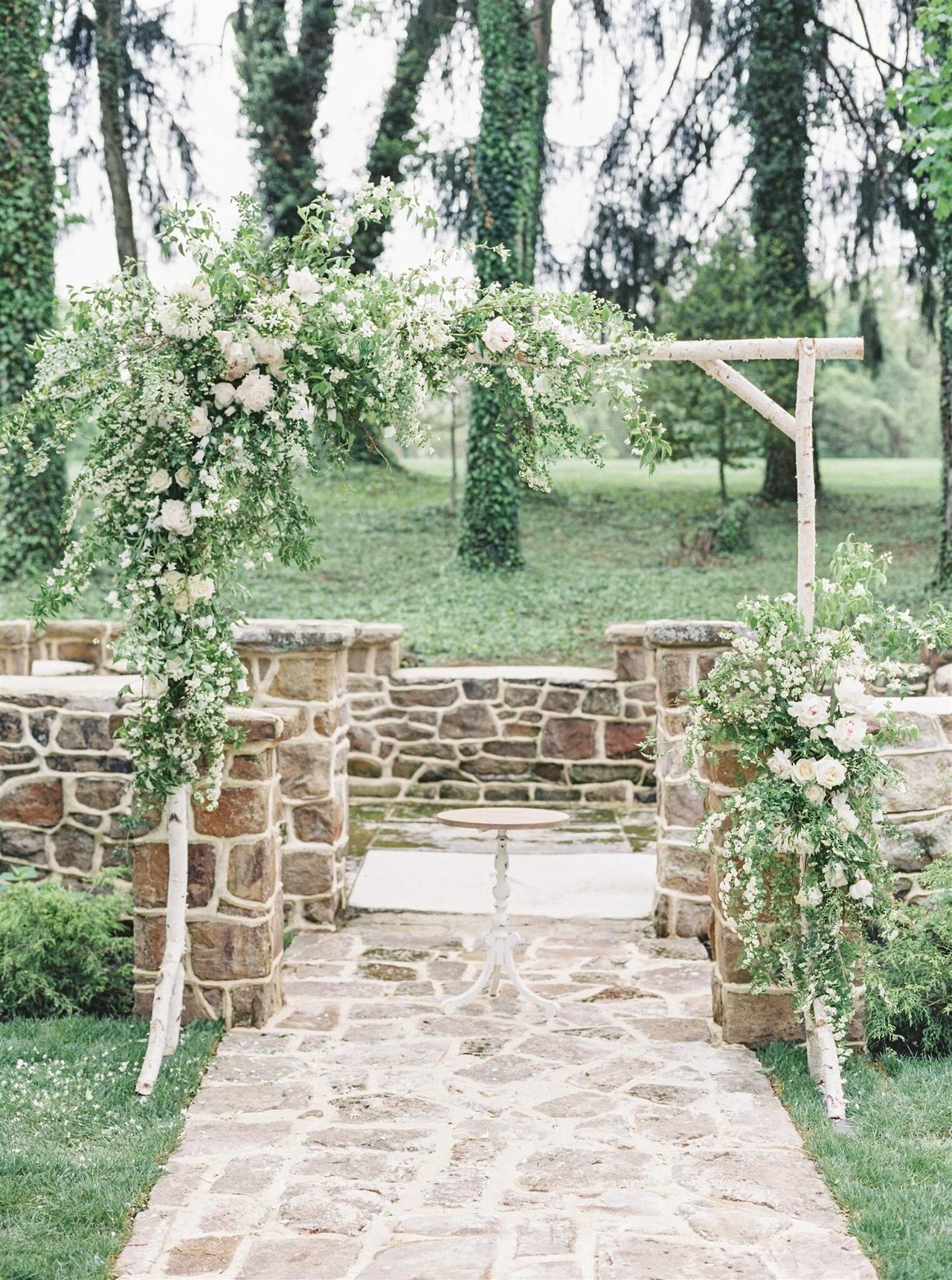 Rustic wedding arbor
Feeling crafty? If you can't rent your wedding arbor from your venue or a local vendor, you can construct your own using slim tree branches for a rustic effect. We like these white birch branches, which look especially beautiful against greenery and pale florals.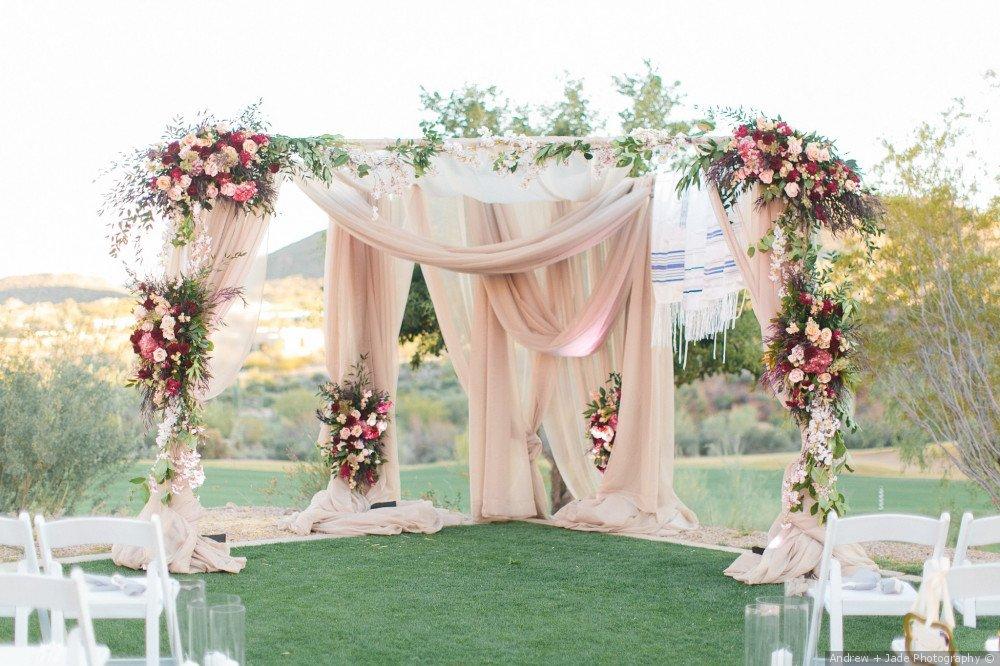 Pink wedding chuppah
Combine different shades of pink by using flowers and draped fabric for a chuppah that's incredibly romantic.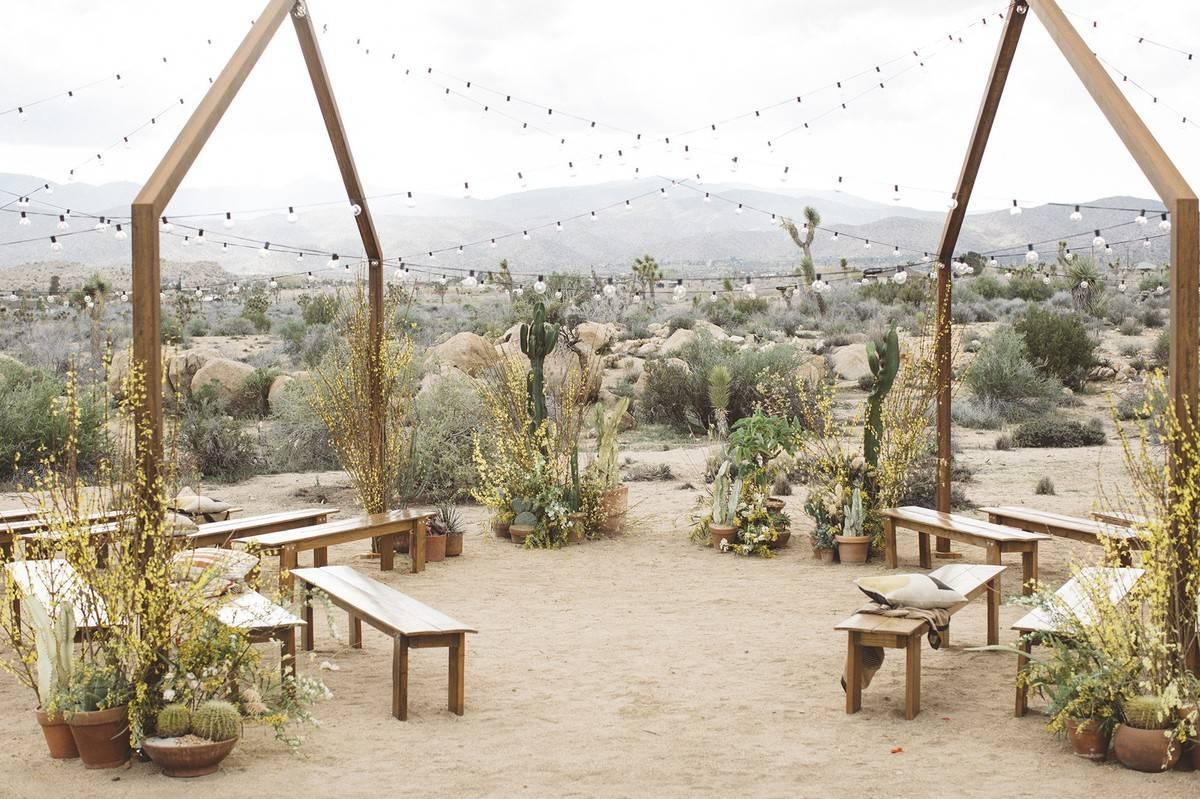 Wedding arbor with potted cacti
Whether you're actually getting married in the desert or just want to recreate a bohemian aesthetic, we love the idea of adding potted cacti and succulents to your wedding arbor. The oversized, open-air design of this wooden structure is especially cool.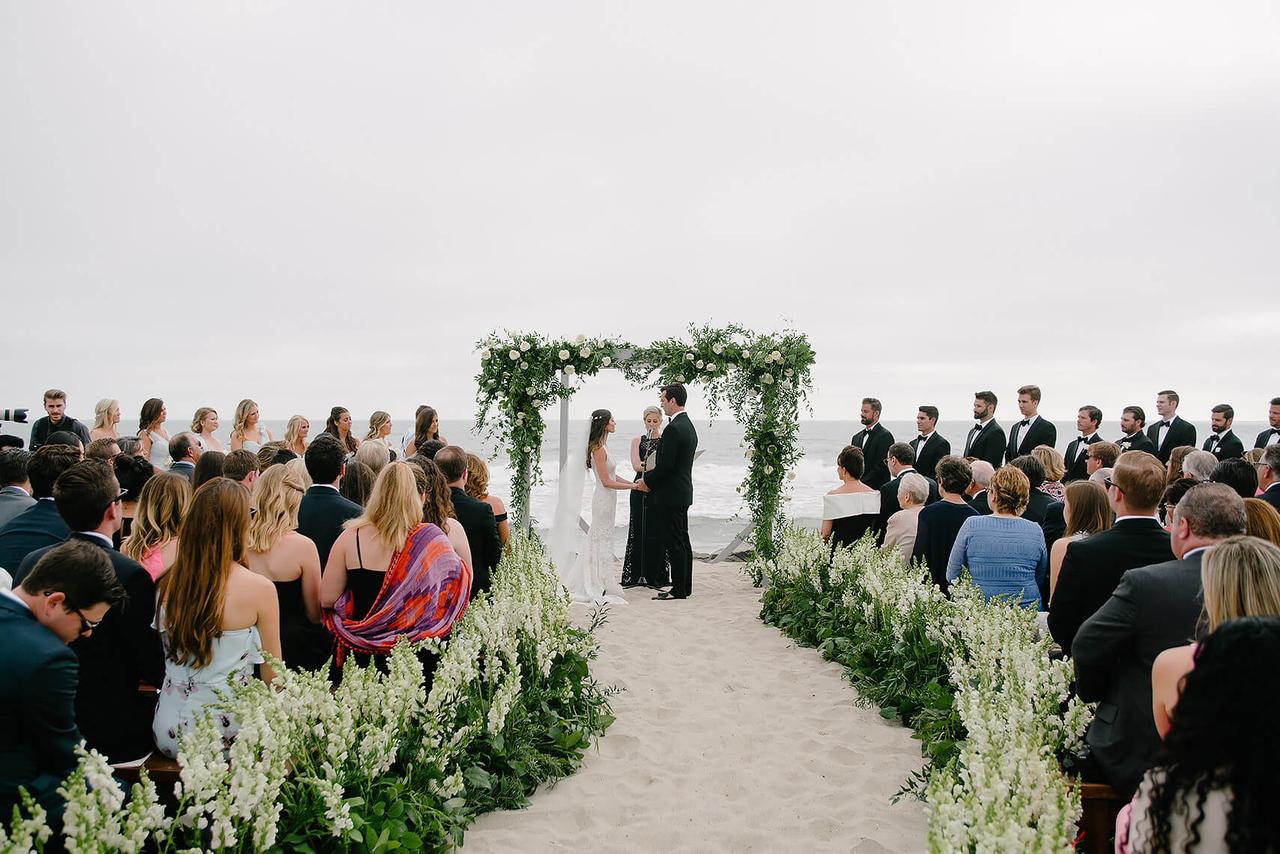 Beach wedding arbor with planted aisle
Your oceanfront view probably doesn't need much enhancing, but it's hard to argue with a wedding arbor as pretty as this one! Line your aisle with tall-stalk flowers, like delphinium, larkspur, or gladiolus, to create the illusion that you're walking through a wildflower field on the beach.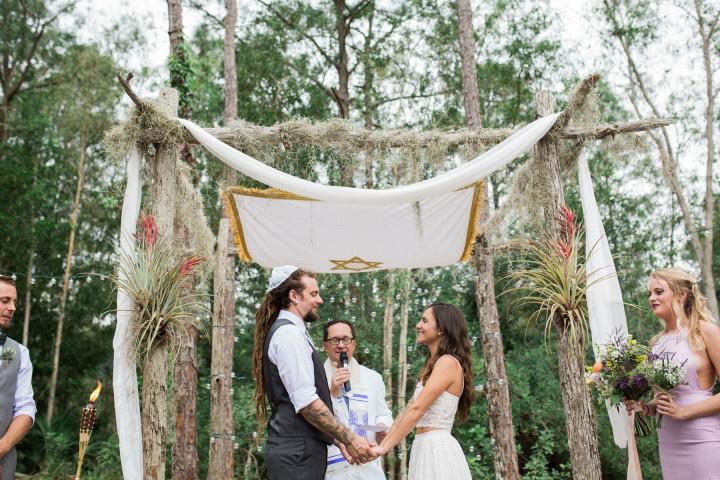 Chuppah with Spanish moss
We've never seen anything quite like this chuppah, which features trees, Spanish moss, and large air plants! It perfectly fit the bride and groom's woodland wedding theme.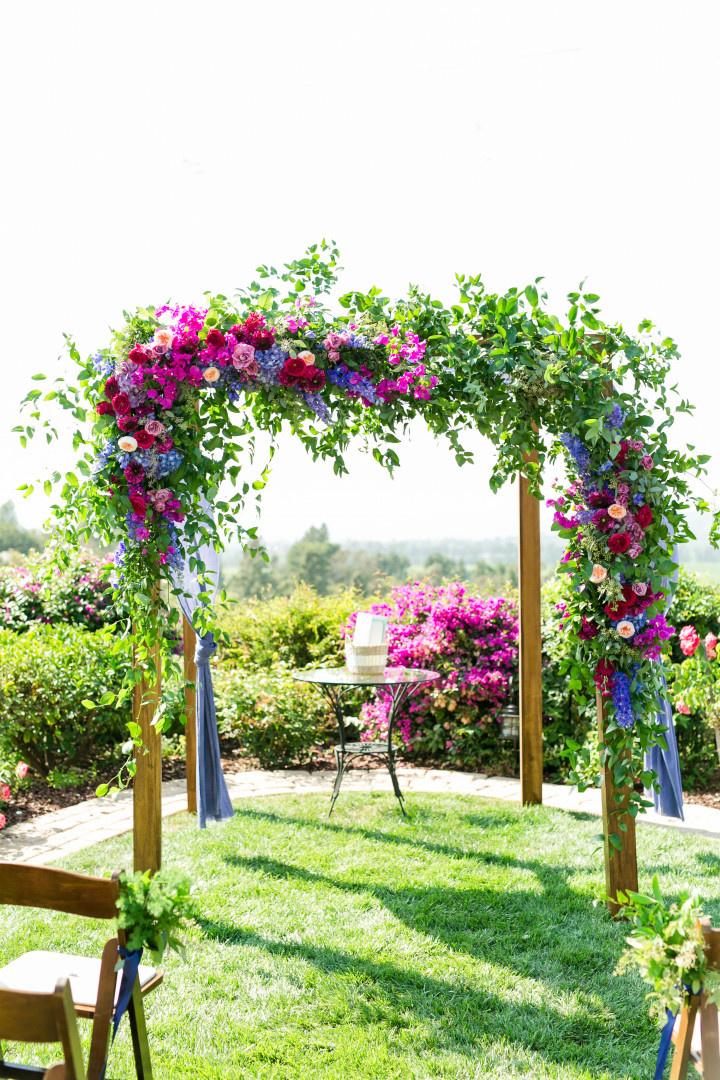 Pink and blue wedding canopy
Inject a bold pop of color into your wedding décor with a wooden chuppah showcasing vibrant, in-season flowers. As a bonus, this type of structure is easy to repurpose at the reception; your florist can break it down into different floral arrangements or keep it intact and use it to frame the sweetheart table or cake.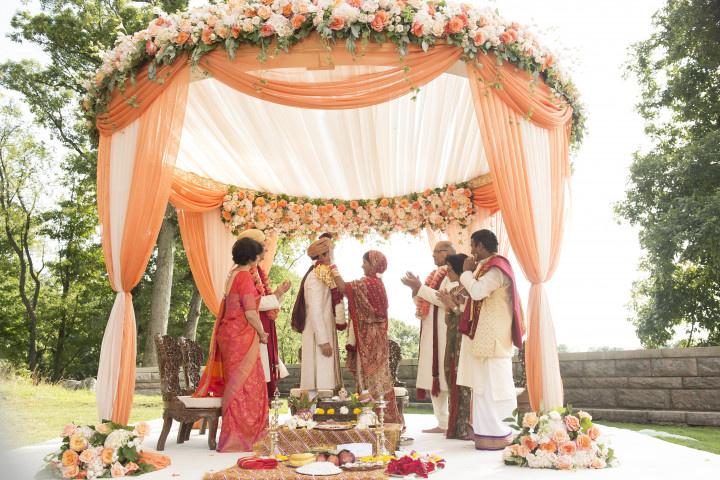 Event Design by Erganic Design
Orange mandap with flowers
In a traditional Indian wedding, the mandap is a covered canopy that symbolizes prosperity and the bond of the family (the four pillars represent the love and guidance of the newlyweds' parents). Erganic Design built a circular design with zesty citrus hues for this bride and groom's summer celebration.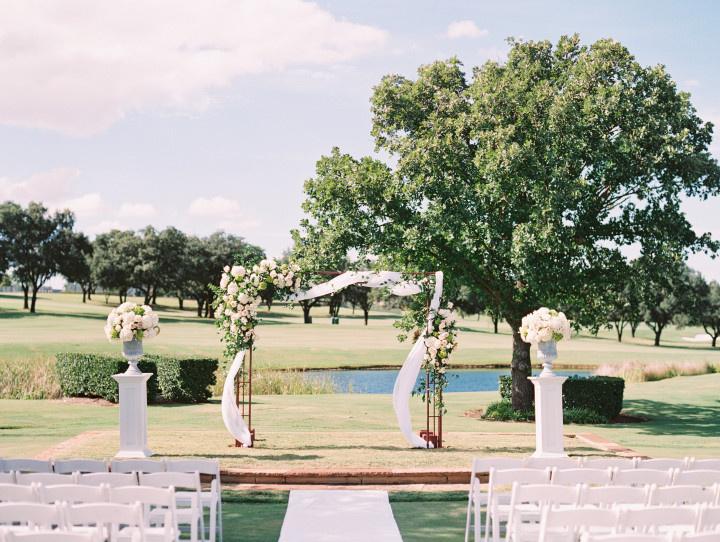 White wedding arbor with drapery
Dress up a basic wooden arbor with asymmetrical flower arrangements and draping for an ethereal backdrop that will complement almost any type of outdoor setting. Floral pedestals on either side add visual interest.
Modern wedding arbor
Make a bold impression with a giant, sleek square frame to highlight the moment that you become married. You can adorn the corners with a few choice blooms or keep it bare for minimalist wedding style at its finest.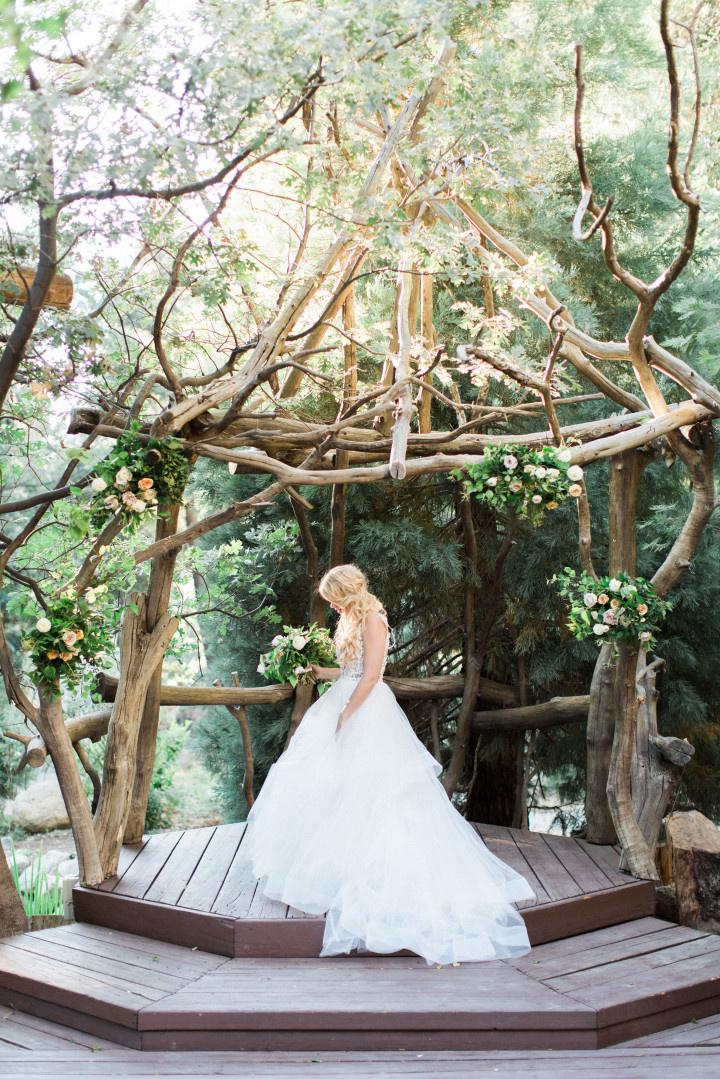 Venue: Arrowhead Pine Rose; Bride's gown from Mon Amie Bridal Salon
Tree branch wedding arbor
Search for a venue with built-in ceremony décor to cut costs. How incredible is this log and pine installation at Arrowhead Pine Rose in Southern California?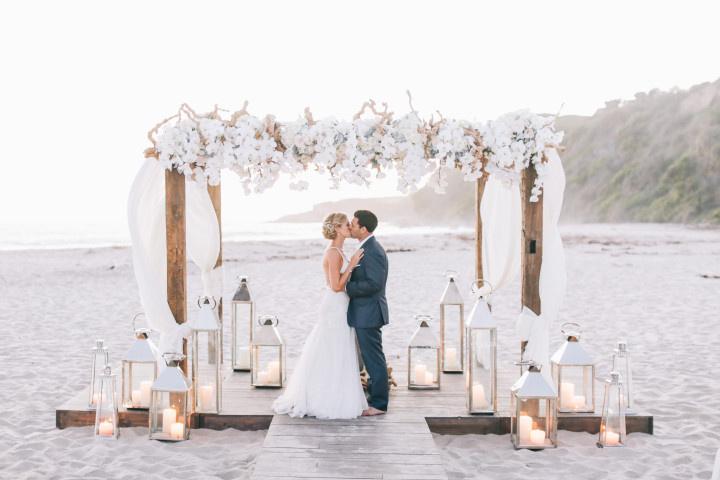 Event planning by Details Details; Floral design by Bloom Box Designs
Wedding canopy with lanterns
Bloom Box Designs blew us away with this beachside ceremony structure consisting of driftwood and cascading orchids. Lanterns and a custom wooden aisle round out the picture-perfect scene.
Wedding Altar Ideas
Arches and arbors aren't the only ways to decorate your wedding altar—garlands, rugs, neon signs, and even balloons will all give your ceremony setup a visual boost. Whatever your style, we're sharing plenty of options to inspire you below.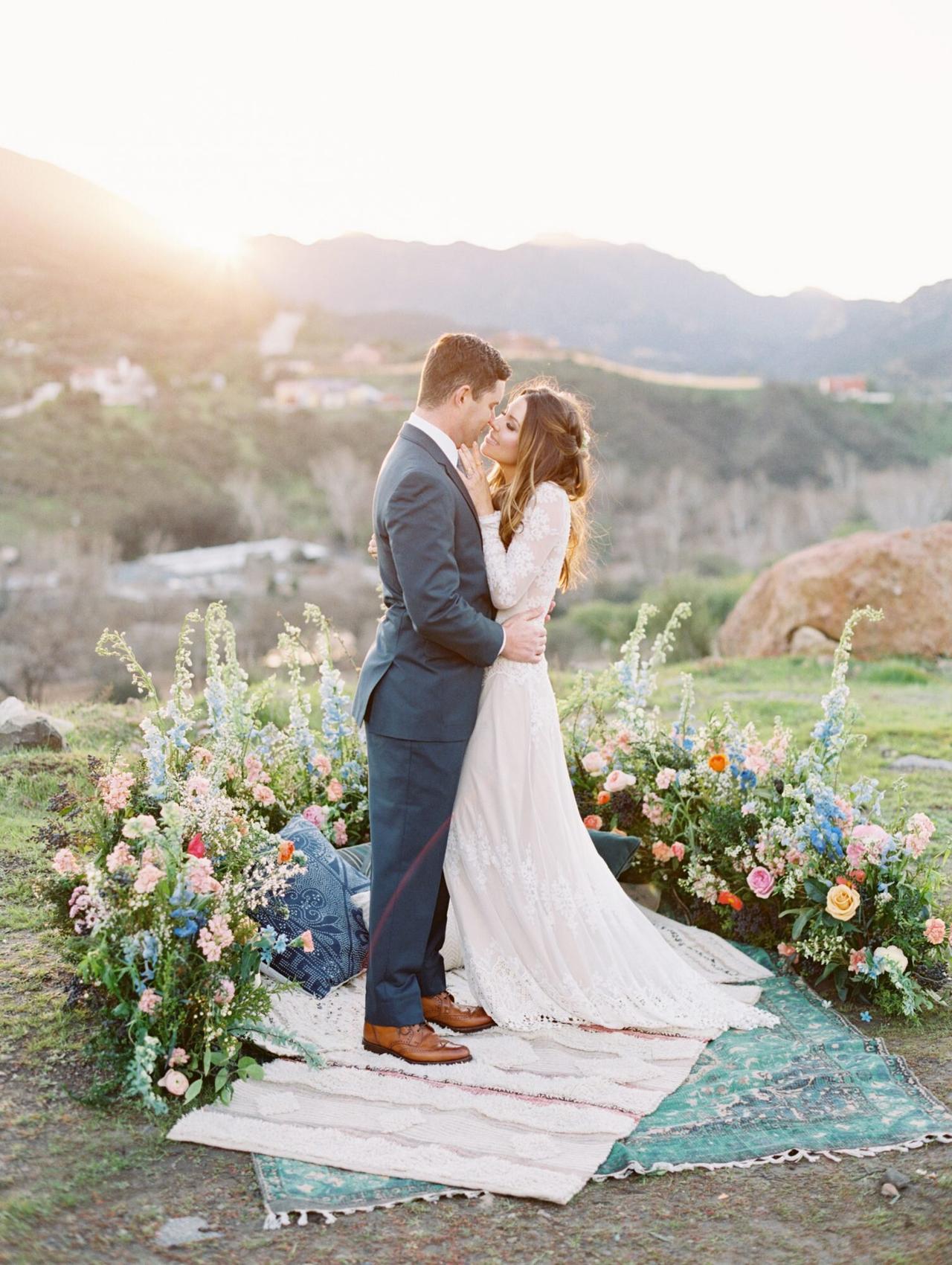 Semi-circle wedding backdrop
This sweet semi-circle of flowers is perfect for a minimony or microwedding. The point of this wedding altar idea is to make it look like the flowers are growing right out of the ground (and to leave them slightly undone for the most natural look). After the ceremony, add a vintage rug or two and some throw pillows for a cozy reception lounge spot.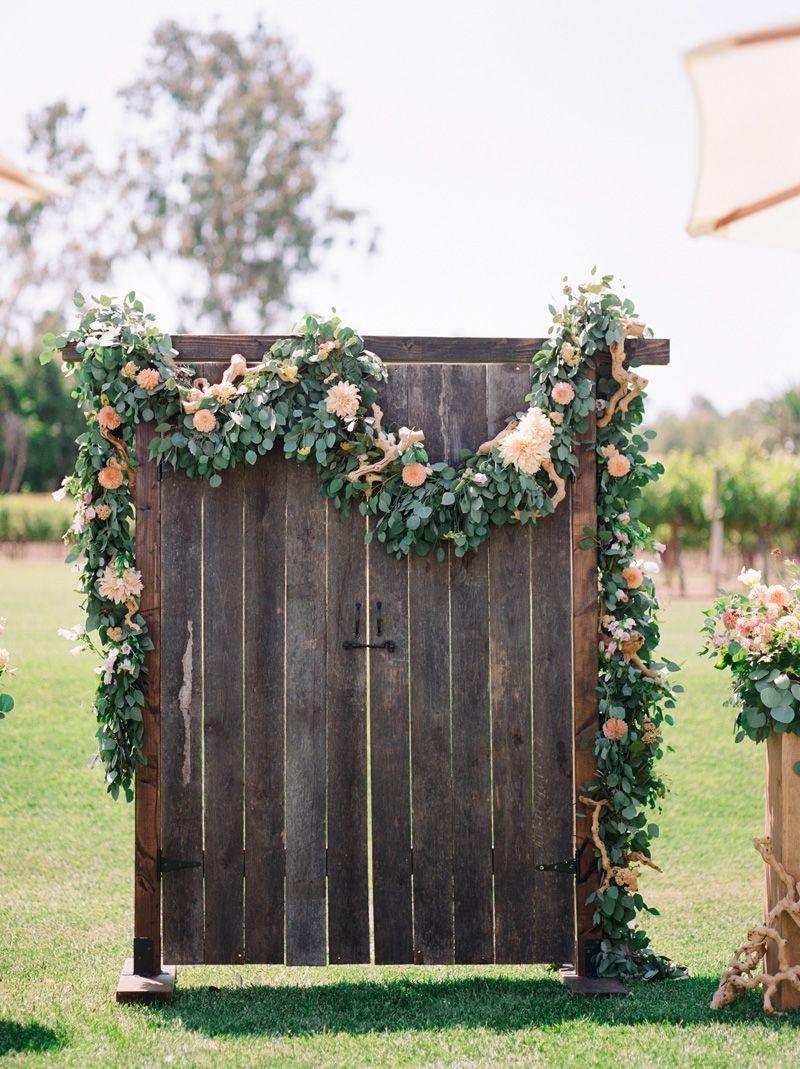 Eucalyptus garland backdrop
Reclaimed wooden doors get an instant upgrade and transform into an easy ceremony backdrop thanks to a fresh greenery garland.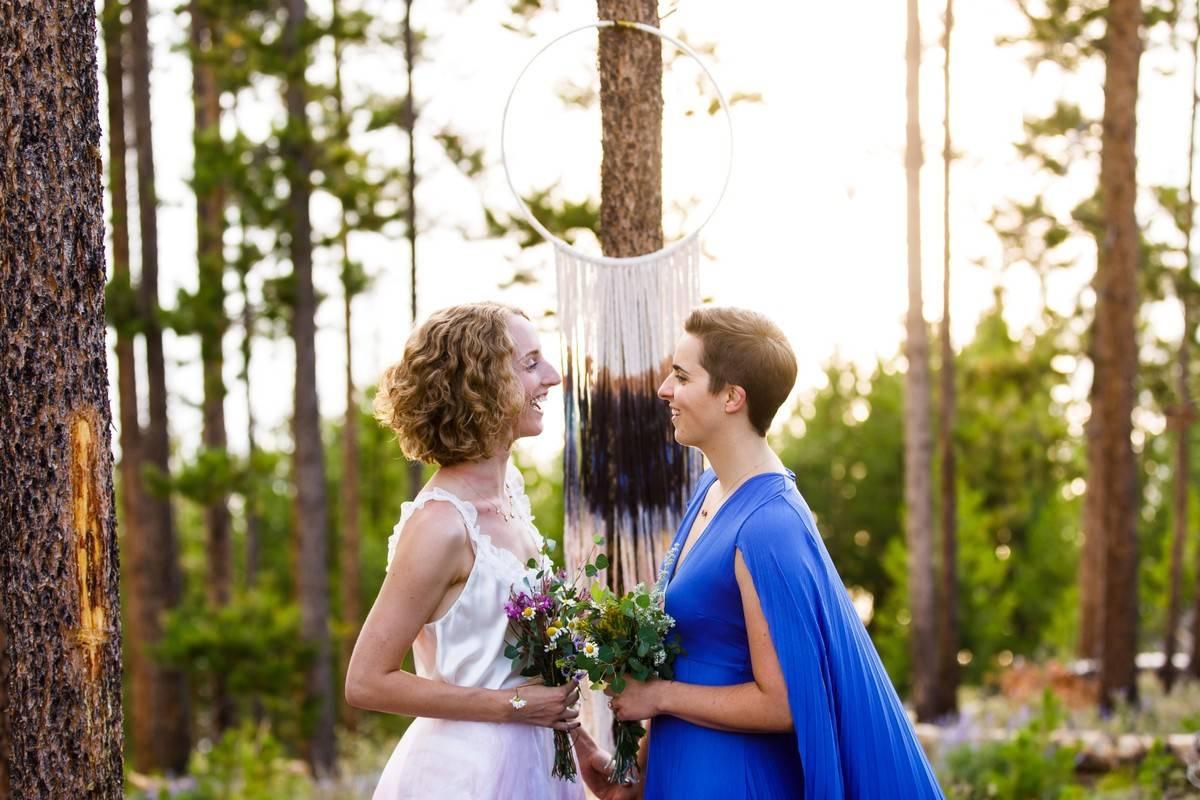 Tie-dye hoop backdrop
If you're limited on space and can't have a freestanding wedding arch, this hanging hoop is a stylish alternative. Add colored strings or ribbons to the bottom, or pair a few hoops in different sizes together to create a layered backdrop.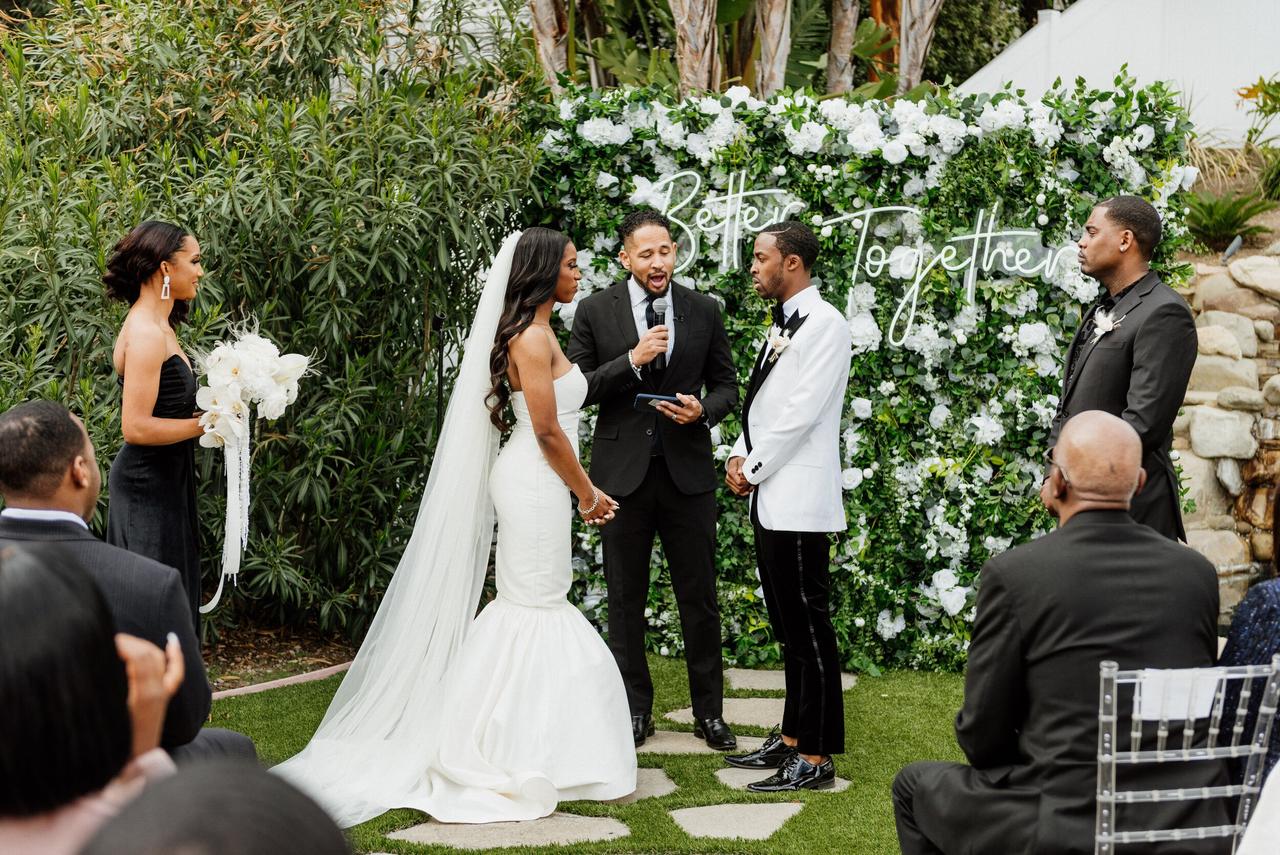 Ceremony backdrop with neon sign
Feeling fabulous? Complete your wedding altar with a custom neon sign that will really wow your guests. Personalize it with your last names or a cute phrase like "better together."
Vintage rugs as wedding aisle runners
Your wedding aisle has as much decorative potential as the wedding altar. Skip the flower petals and use colorful vintage kilim rugs instead for a truly eclectic setup.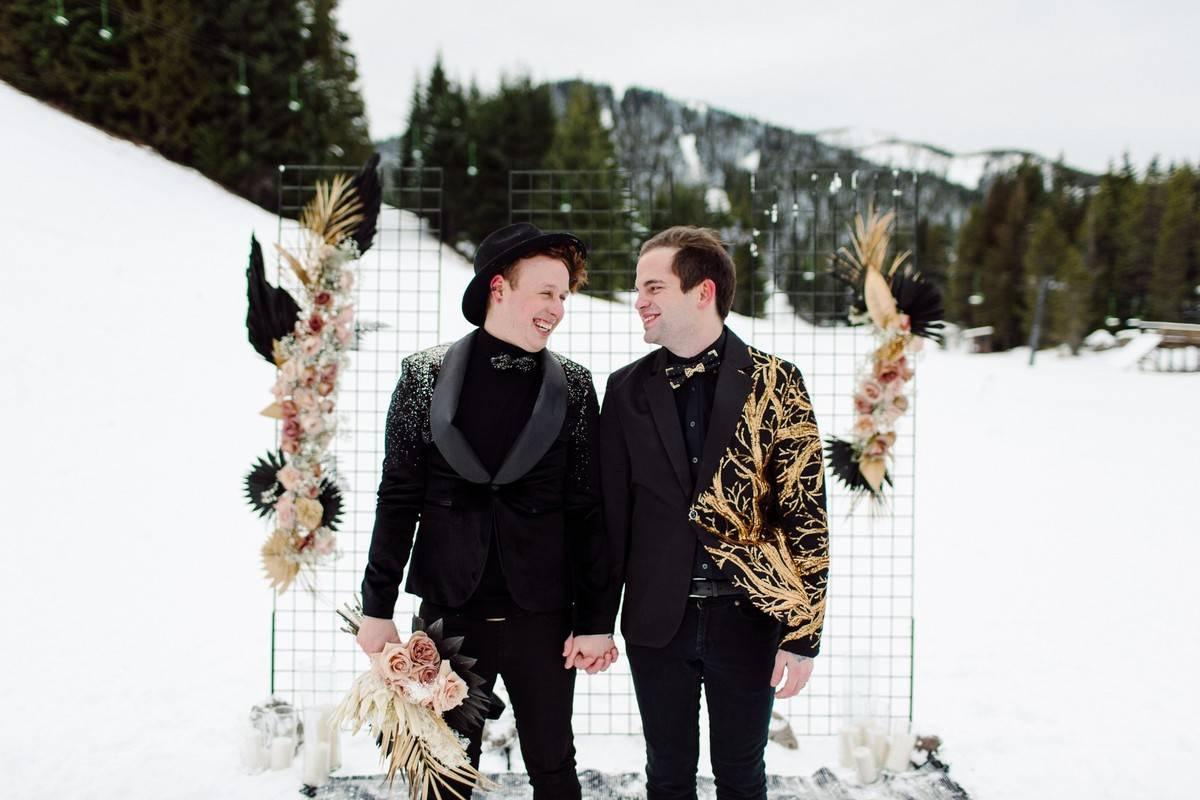 Metal grid backdrop with flowers
If you love the industrial wedding look but also want to get married outdoors, try customizable grid screens like the ones pictured here. Use flowers or greenery to turn yours into a trendy focal point at your wedding.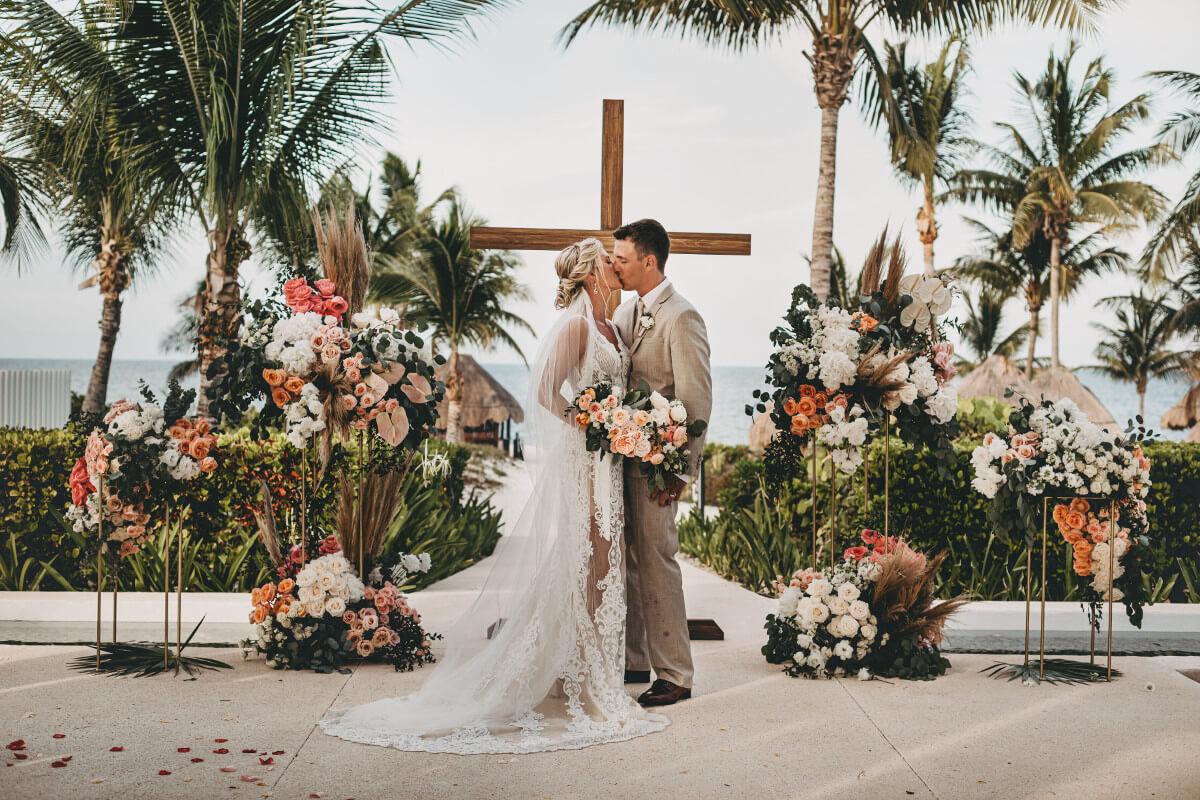 Wooden cross
You can still celebrate your faith even if you're not getting married in a house of worship. Surround a wooden cross (check local event rental companies to find one) with flower arrangements in varying heights to recreate this wedding altar idea.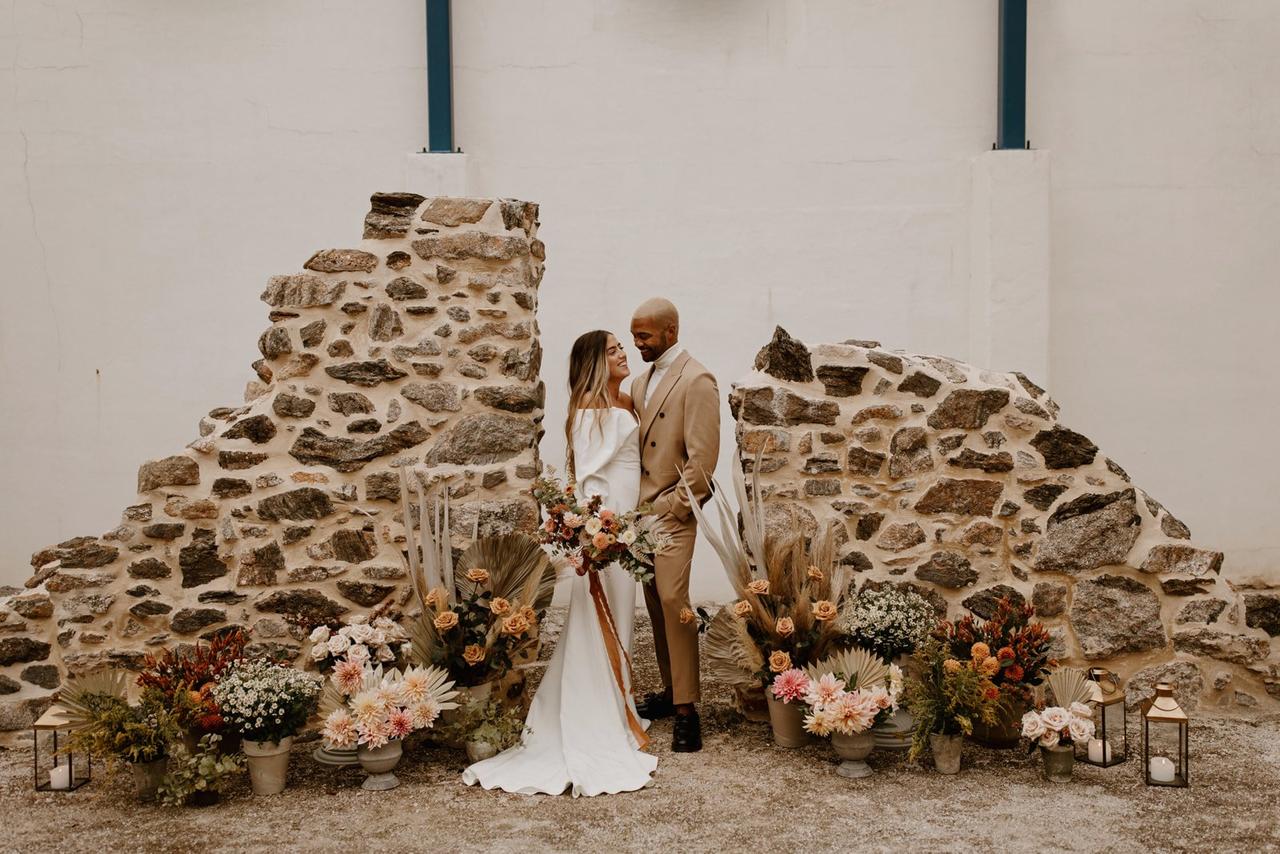 Potted floral arrangements
Clusters of centerpieces and potted flower arrangements may seem non-traditional for your ceremony decor, but it turns out that they're great for quickly customizing any space. And the best part? Once you've used them for the ceremony, they can be moved and repurposed for the reception.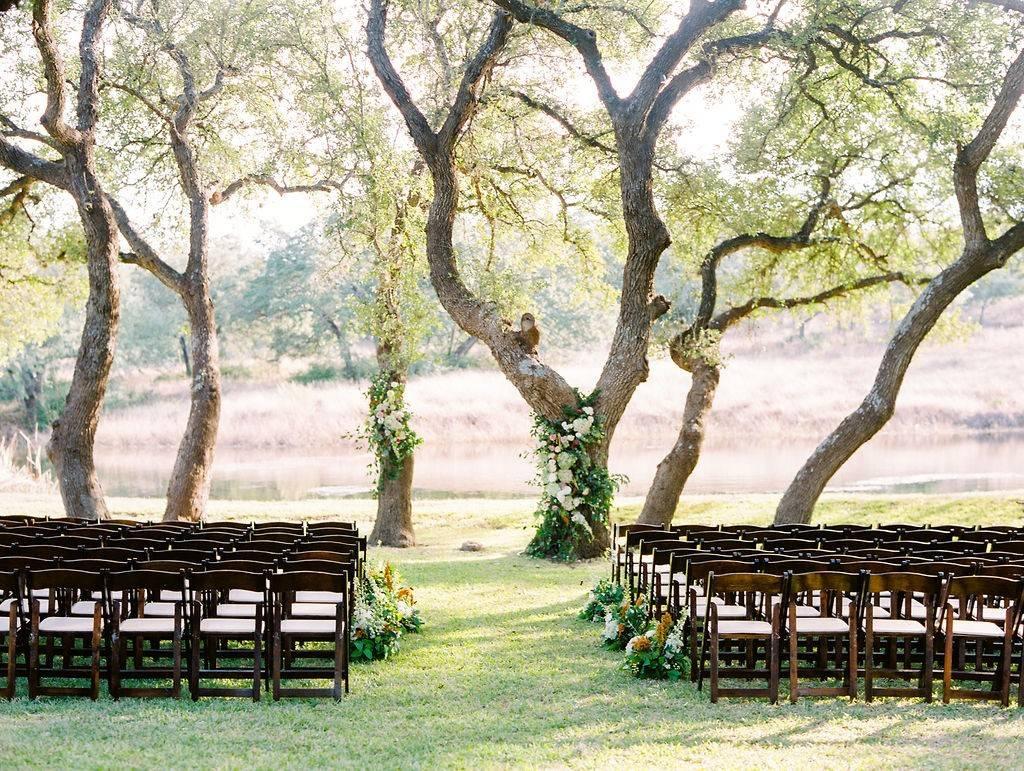 Flower-covered trees
If your venue is filled with mature trees, use them as the perfect opportunity to design your wedding altar. Some well-placed flowers and greenery can transform any plain tree trunk into a photo-worthy backdrop—confirm that it's okay with your venue first and ask your florist not to use materials that could damage the trees.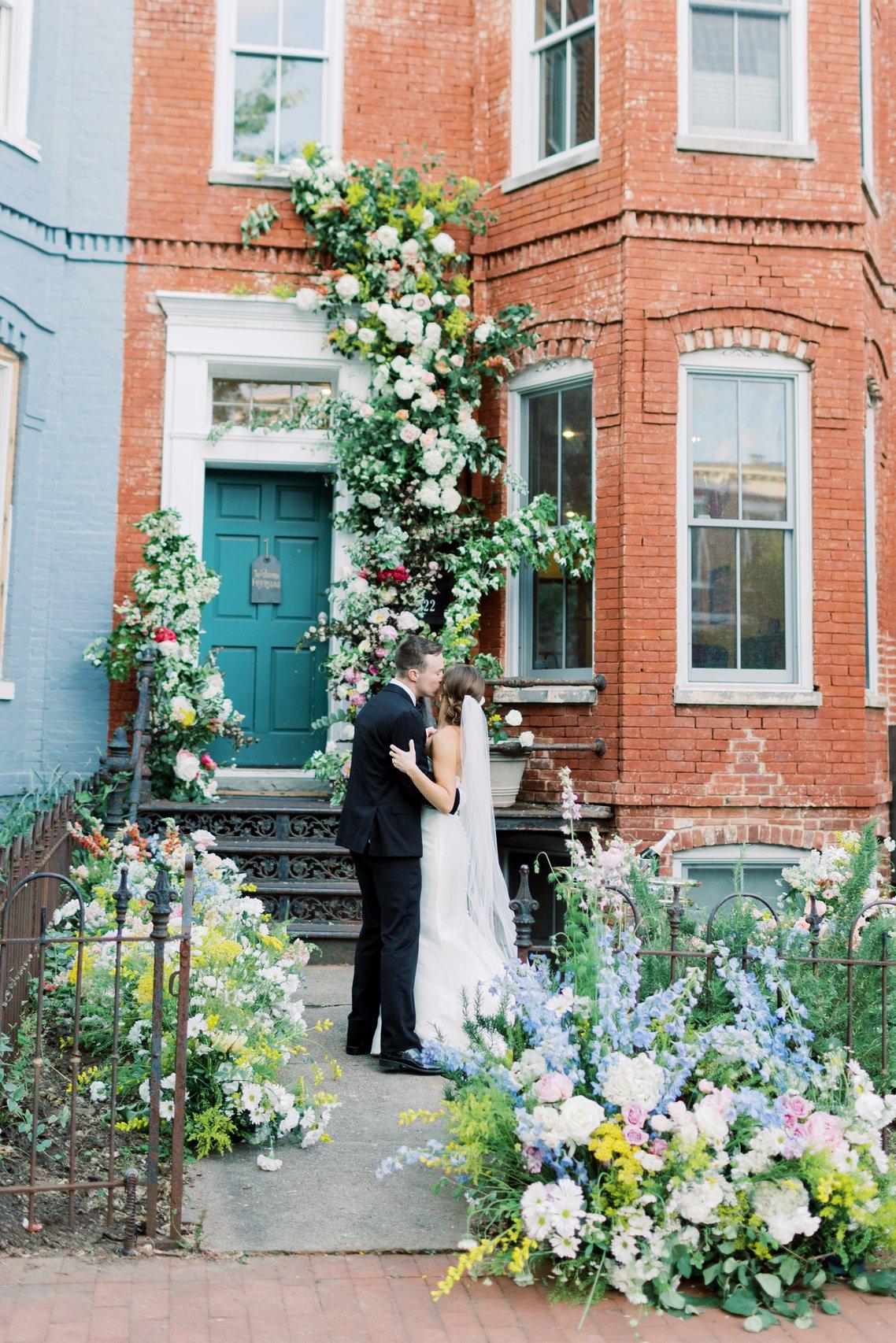 Abstract vines and flowers
Having a porch or stoop wedding? This trend has emerged out of necessity thanks to the pandemic, but we can't deny that it's a gorgeous opportunity to experiment with a floral wedding altar. Use colorful blooms and vines to create the illusion that they're "growing" up the front of the building.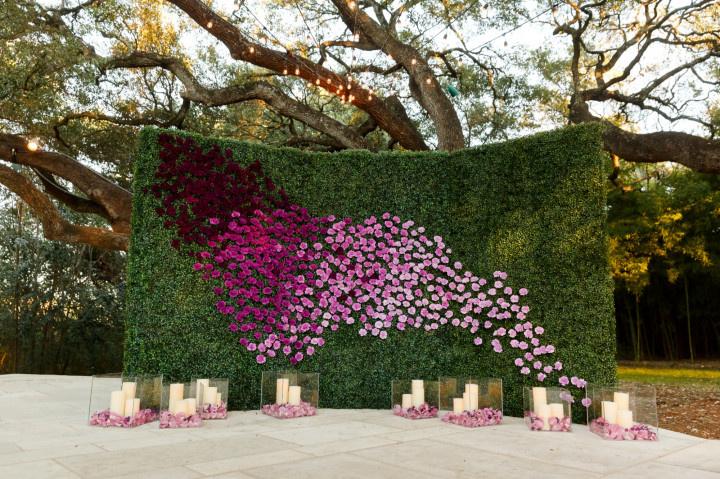 Ombré flower wall
A flower wall makes for spectacular photo ops—guests won't be able to resist sharing selfies in front of it post-ceremony! The striking ombré pattern of this design was created using budget-friendly carnations. Pillar candles in clear cubes complete the luxe look.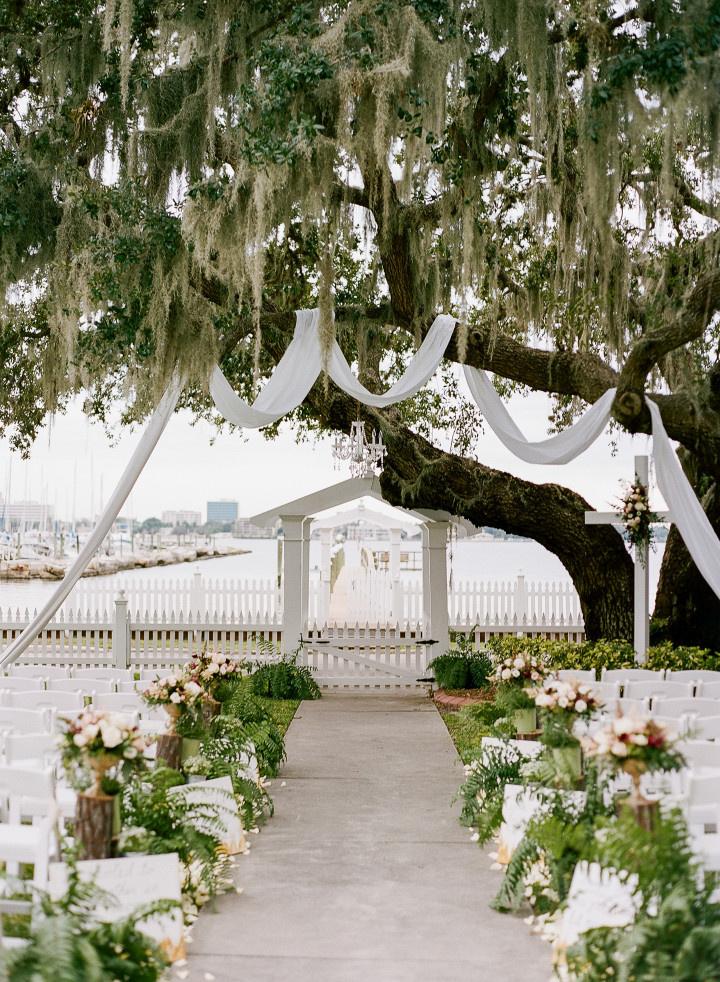 Venue: Palmetto Riverside Bed & Breakfast; Floral design by Oneca Flowers
Draped fabric
Create a multifaceted ceremony look with decor elements at different heights. This ceremony featured fabric suspended from the trees, a flower-bedecked cross at eye level, and floral arrangements and ferns down below.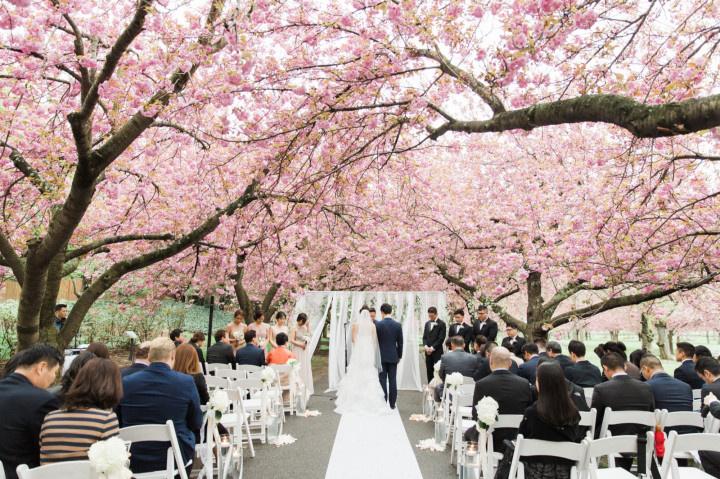 Canopy of trees in bloom
Sometimes, Mother Nature really does know best. Case in point: These newlyweds exchanged vows before a simple white curtain so as not to detract from the magnificent cherry blossoms up above.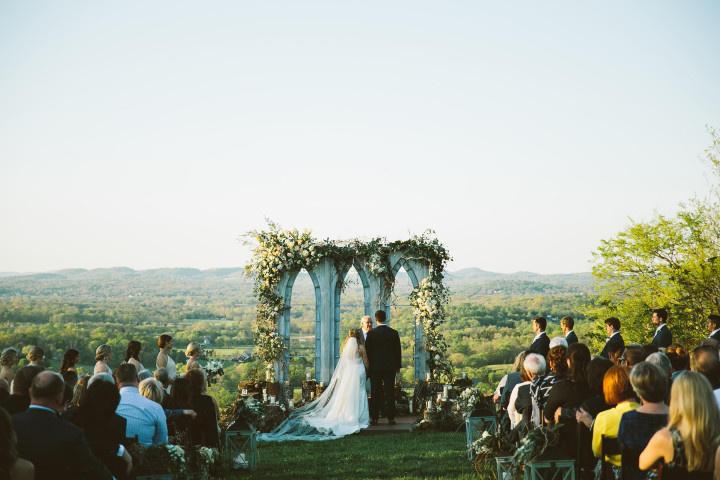 Event Design by Fête Nashville
Reclaimed stone archways
Just when we thought a hilltop ceremony couldn't get more picturesque, we spotted this dreamy view. Recreate the look by clustering wooden stumps and flowers en masse in front of a large antique arch or repurposed window frame.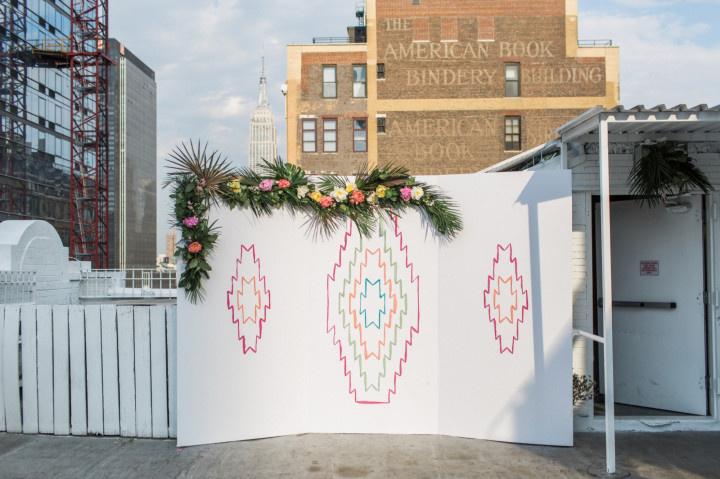 Colorful geometric ceremony backdrop
Play up a fun and free-spirited vibe with a funky patterned backdrop. Other unconventional materials that you can use for your ceremony décor include umbrellas, paper cranes, and pinwheels.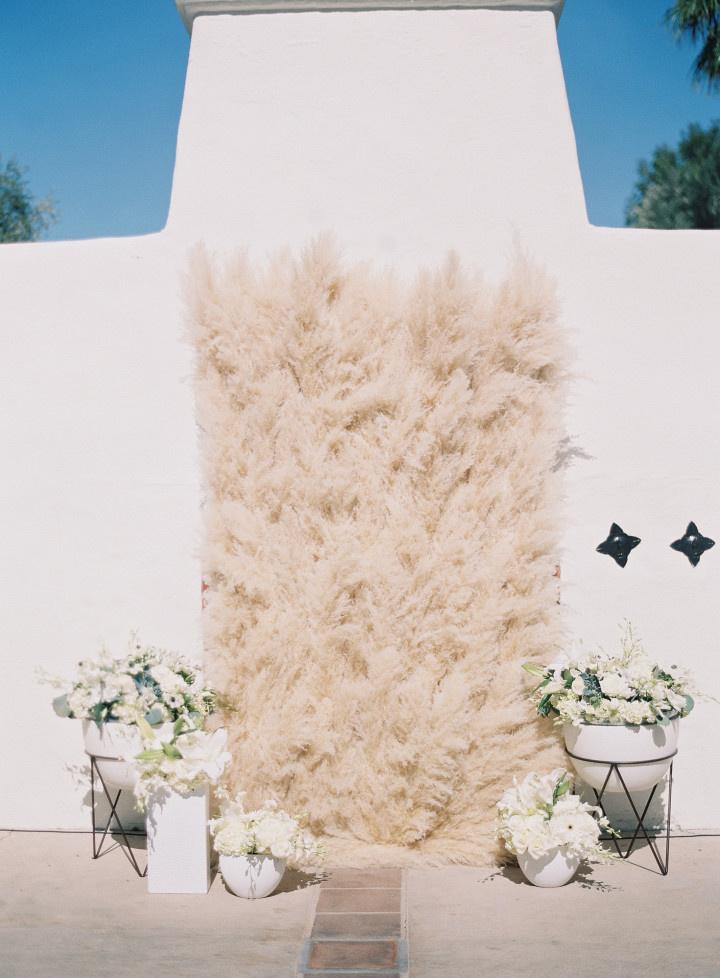 Event Design by Rock Paper Details
Pampas grass wall
Go off the beaten path with a textured wall made entirely from pampas grass! Rock Paper Details was the mastermind behind this boho-chic ceremony décor.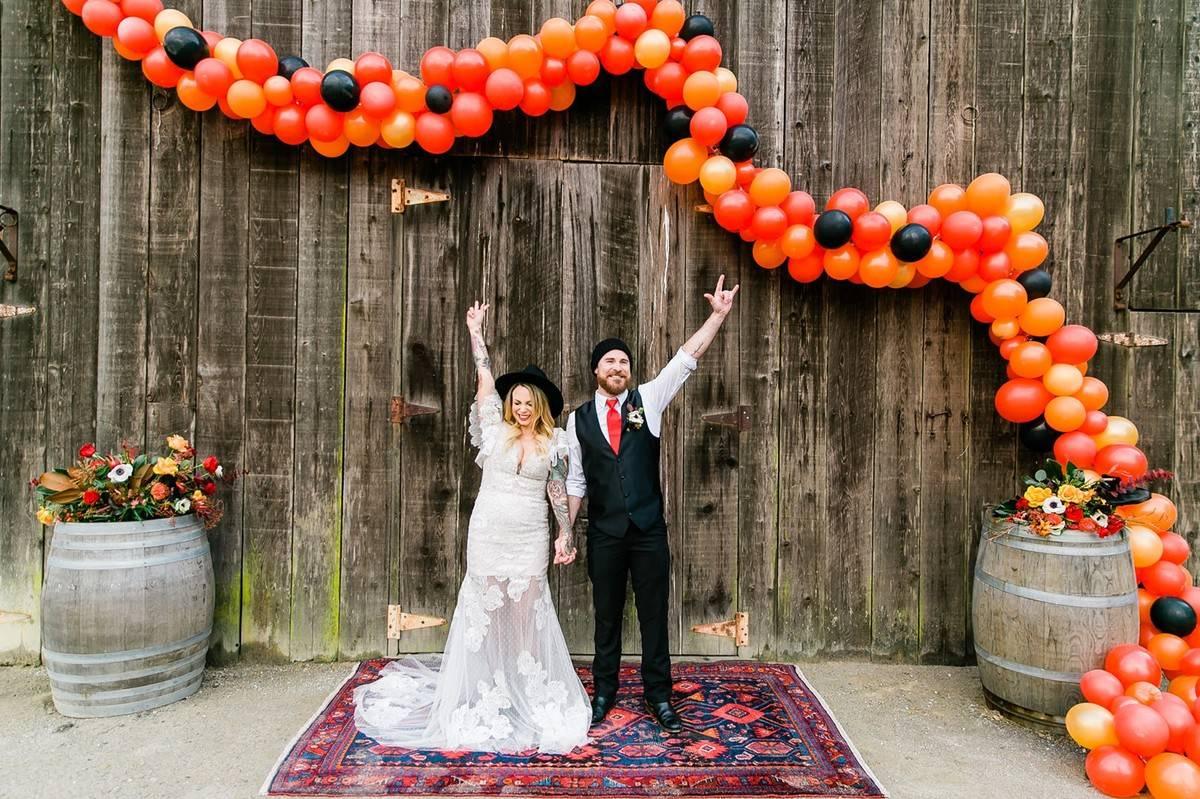 Balloon garland
Looking for wedding altar ideas that don't involve flowers? Try a bold balloon garland for a backdrop that genuinely pops (okay, we had to).