32 Winter Wedding Ideas That Are Seasonally Chic and Cozy
December, January, and February weddings are special in a way like no other. Turn your big day into a cozy, festive celebration with these winter-themed wedding ideas, tips, and decorations.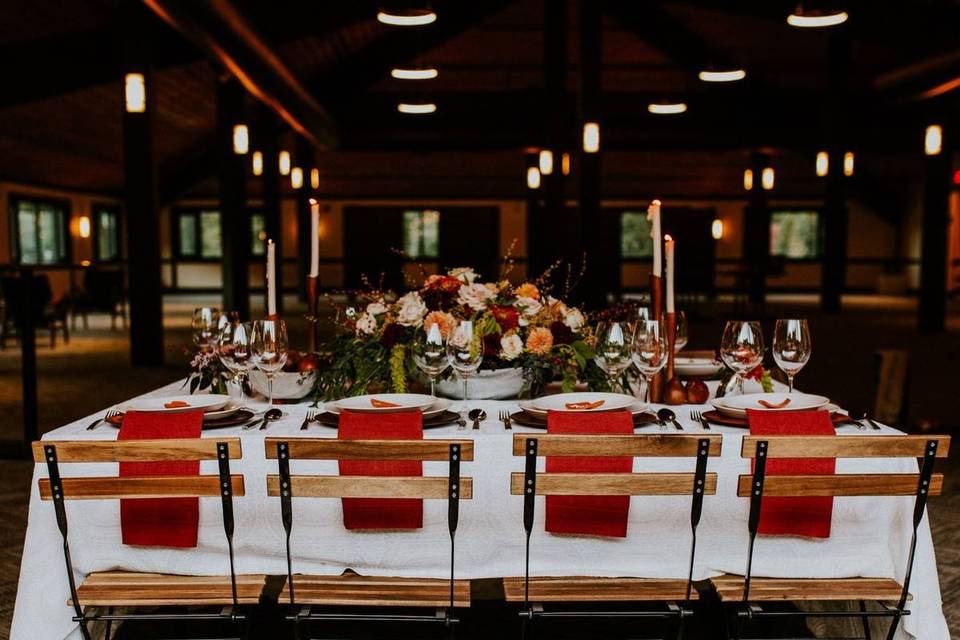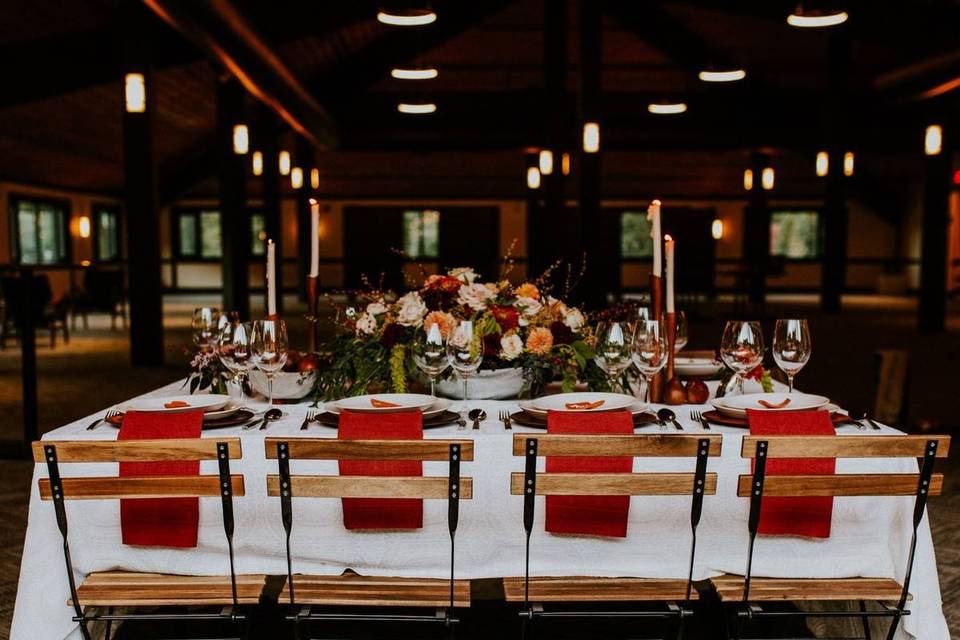 When it comes to choosing a wedding date, we consider the winter months to be kind of like a best-kept secret. If you aren't already convinced, we promise that these winter-themed wedding ideas will have you itching to check out the closest mountain wedding venue and plan your own snow-covered, winter wonderland wedding. From scenic forest overlooks to cozy candle-lit spaces and the cheer of the holiday season, winter weddings bring a whole new level of romance. Below, we cover everything you need to know about getting married during this season, followed by some of our favorite winter wedding inspiration to transform your nuptials into the dreamiest day.
Winter Wedding FAQs
From the best wedding venues to seasonal color schemes, menu ideas, and flowers, here are the basic elements you'll need to pull off a winter theme.
Why should you get married in the winter?
Winter weddings can take place anytime between mid-November and early March. Getting married during the winter has a few perks that you won't necessarily experience at other times of the year. While November through February is best known as engagement season, it's also a great time to get married—you may be able to benefit from lower prices, more availability, and less competition during this time.
What are the best winter wedding venues?
Unless you live in a region where temperatures are warm year-round, most winter weddings will require indoor venues to keep everyone out of the cold and the elements. For winter weddings, some of the most popular venues include: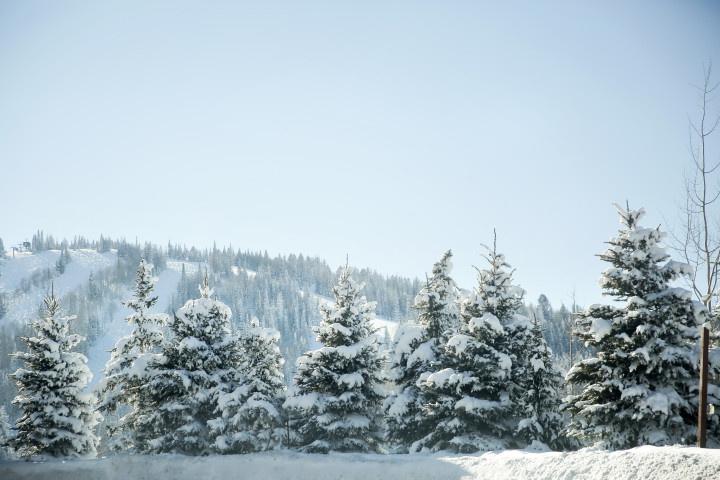 What are the best flowers for a winter wedding?
Choosing flowers that are available in seasonal colors (dark pink, burgundy, white, green, red) will add ambience to any winter themed wedding. And although winter isn't known for being a top season for flowers, that's actually not true—there are several gorgeous options that bloom during this time of year. Berries, pine cones, dusty miller, and eucalyptus are some of the most popular accents for winter wedding bouquets and centerpieces. Be sure to consult with your wedding florist to figure out exactly which flowers are in your budget and available for your date. Some of the most popular winter wedding flowers include:
Anemones
Amaryllis
Roses
Lilies
Ranunculus
Paperwhites (narcissus)
Poinsettias
Don't forget about the greenery wedding decor. Fresh evergreens and eucalyptus will bring a cozy (and fragrant) element to your venue. Depending on the type of greenery that your wedding florist uses, this is a budget-friendly option that can cost less than many flowers. Hang fresh evergreen wreaths and garlands throughout your venue, or use loose Christmas tree branches on your banquet tables as an alternative to table runners.
Finally, what would a winter wedding be without a touch of mistletoe? Place a sprig at your ceremony altar or hang it above your seats at the reception. It will give you and your brand new spouse an extra-sweet reason to share a kiss—as if you really needed one!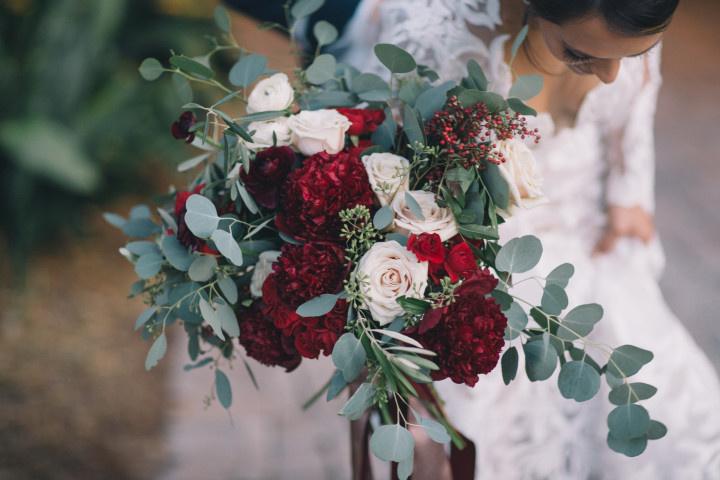 What are the best winter wedding colors?
Festive hues, such as red, green and gold, are popular winter wedding colors, especially for couples marrying around the holidays. This is the perfect palette if you and your partner are planning a Christmas wedding and want to showcase the spirit of the season on your big day.
If a holiday-themed palette isn't your style, there are plenty of other wintry options to choose from that are just as beautiful. Jewel tones (emerald green, plum, cobalt blue, and amber yellow) will bring a dramatic look to your big day. This type of palette is ideal for glamorous and modern styles. Pairing these tones with metallic details will really make them pop, and a bit of shimmer will add seasonal flair to the decor. If you're looking for something that's sophisticated and classic, you can't go wrong with a black and winter white wedding color palette. Accent this timeless duo with blush or powder blue for a winter wonderland look, or add gold, silver, or red for something more formal. Finally, we love a contemporary color combo of black, white, and gold if you're getting married on New Year's Eve or planning a Great Gatsby-themed wedding.
How do you decorate a winter-themed wedding?
Getting married during the winter doesn't mean that you have to follow a holiday wedding theme, but there are definitely ways to incorporate seasonal elements in a tasteful and sophisticated way if you choose to do so. The trick is to pick a cohesive look, choose the items wisely and remember that sometimes, less is more—try not to overdo it with holiday-themed details (we're talking about ornaments, reindeer, snowmen, snowflakes, faux icicles, etc.).
A winter-themed wedding also puts strong emphasis on nature-inspired elements and bringing the outdoors in. Pinecones, birch tree branches, and even faux fur accents will all bring a wintry, cozy twist to your big day.
Lastly, focus on using romantic lighting fixtures to create the perfect ambiance. String lights and clusters of candles will give your space a romantic glow, especially if you're having an evening wedding. Amplify the shimmer by using mercury glass vessels, metallic charger plates or strands of crystals that will catch and reflect the light.
Winter Wedding Ideas and Decorations
Ready to start planning your wedding? Use these ideas from real weddings to help inspire your winter wedding stationery, floral arrangements, attire, cake, and more.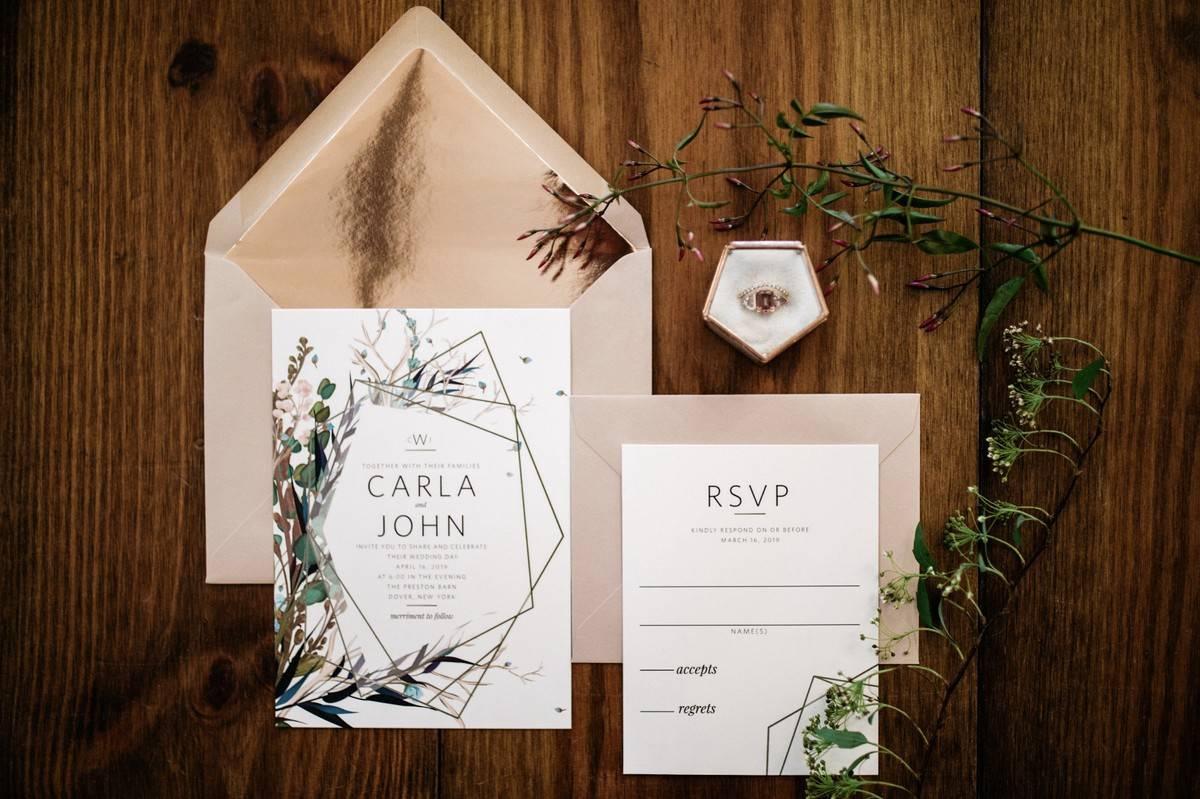 Rustic winter wedding invitations
Details like greenery, feathers, and antlers will give your invitations an outdoorsy theme, and they're spot-on for a rustic wedding. Include a metallic rose gold envelope liner or foil accents for a bit of seasonal shimmer.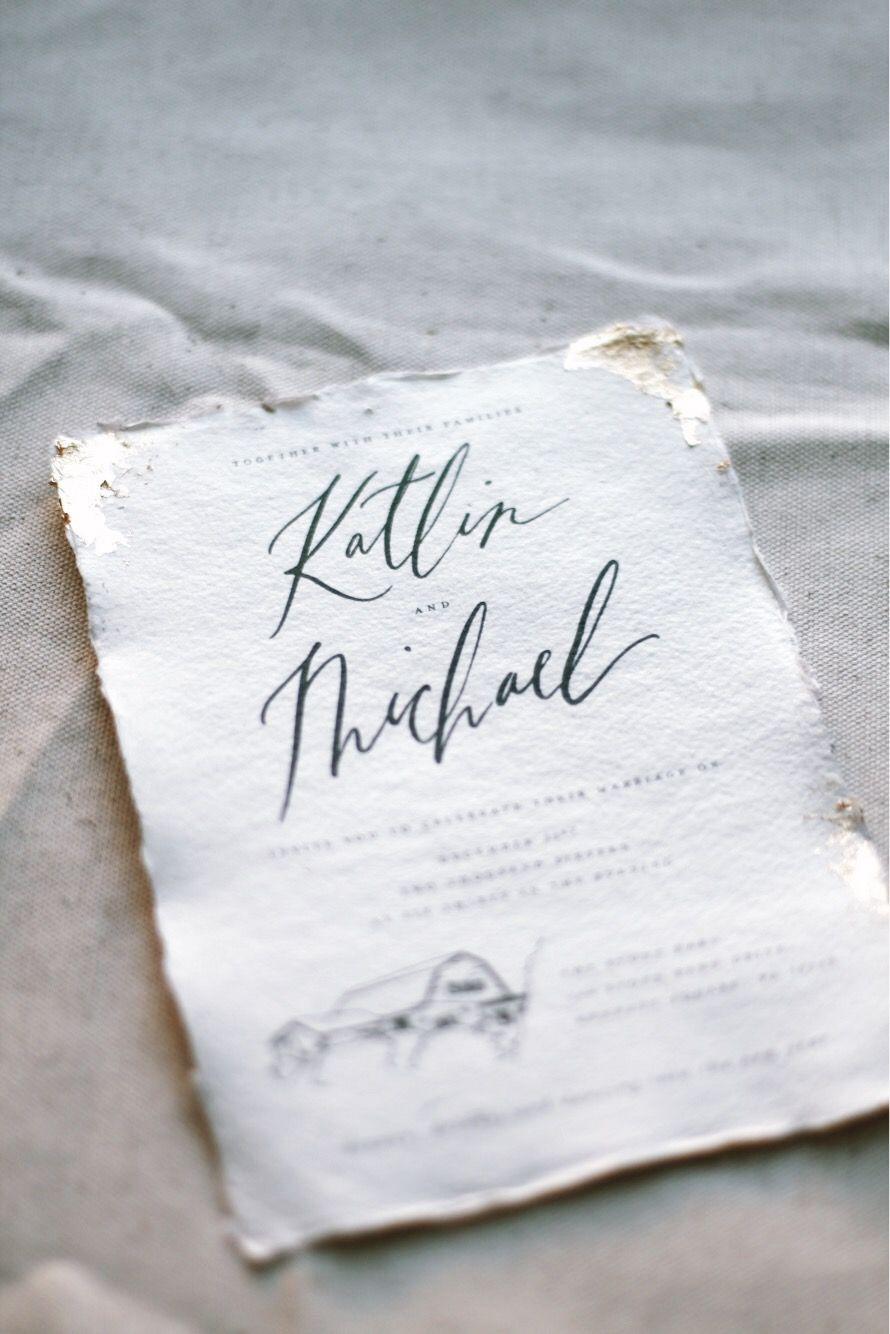 Calligraphy wedding invitations
If you're having a wedding on the more formal side, opt for beautiful calligraphy invitations. Raw-edge paper and gold foil will complete the overall ethereal vibe.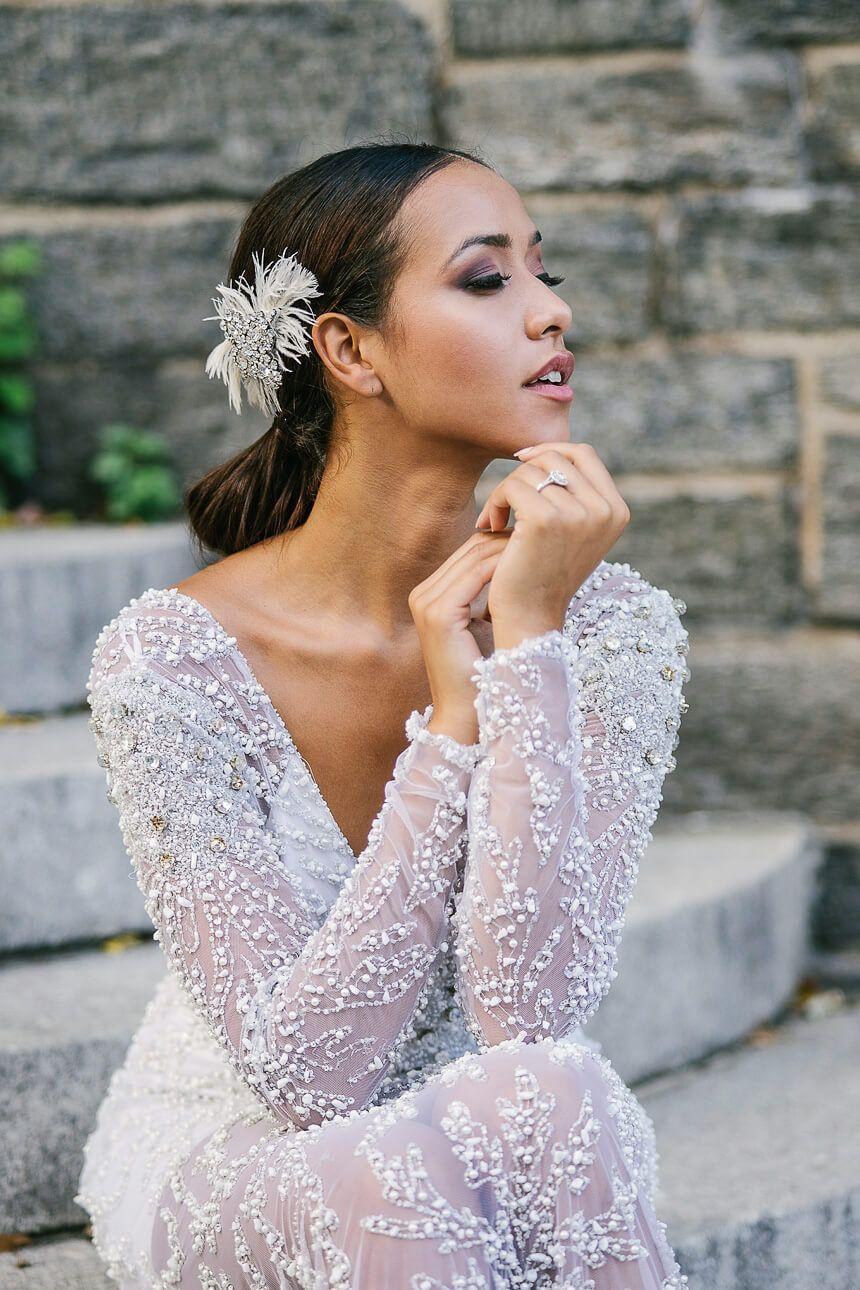 Beaded winter wedding dress
Wedding dresses made from beaded fabrics are often too hot and heavy for other seasons and summer weddings, but winter is their time to shine (literally). You'll be the belle of the ball while wearing a sparkly gown with beading or sequins—choose a ball gown silhouette for major princess vibes, or opt for a slim, sheath silhouette for a minimalist-meets-glam look.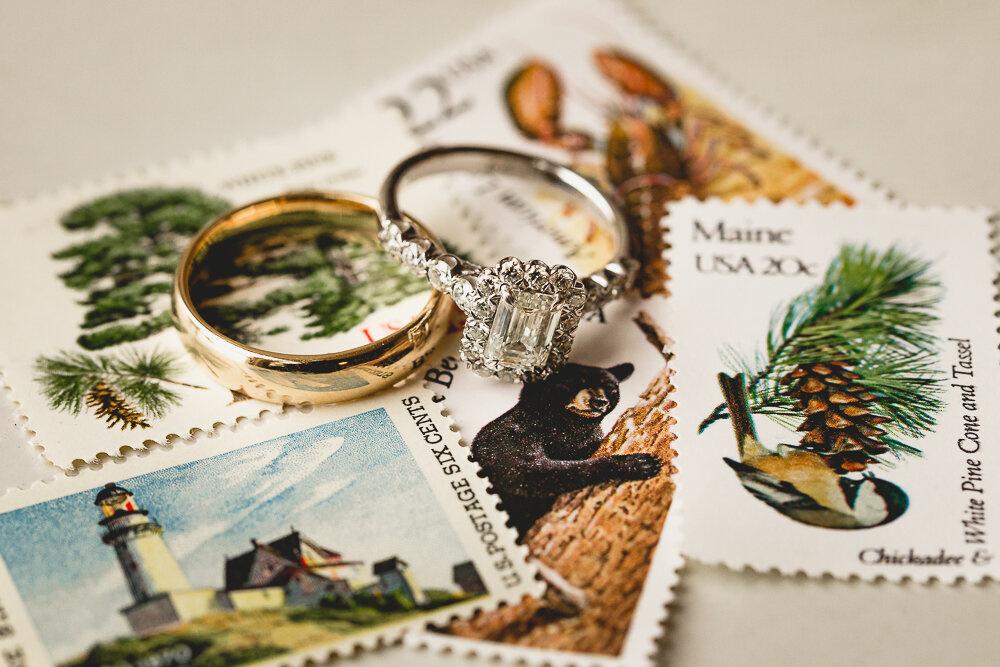 Woodland-themed stamps
Sometimes, it's the tiniest details that can have the most impact! Complete your wedding invitations by mailing them with woodland-inspired or winter-themed stamps. If you can't find the right designs online or at your local post office, there's always the option of using vintage stamps (you can often find themed bundles on Etsy), which will give your wedding stationery a certain charm.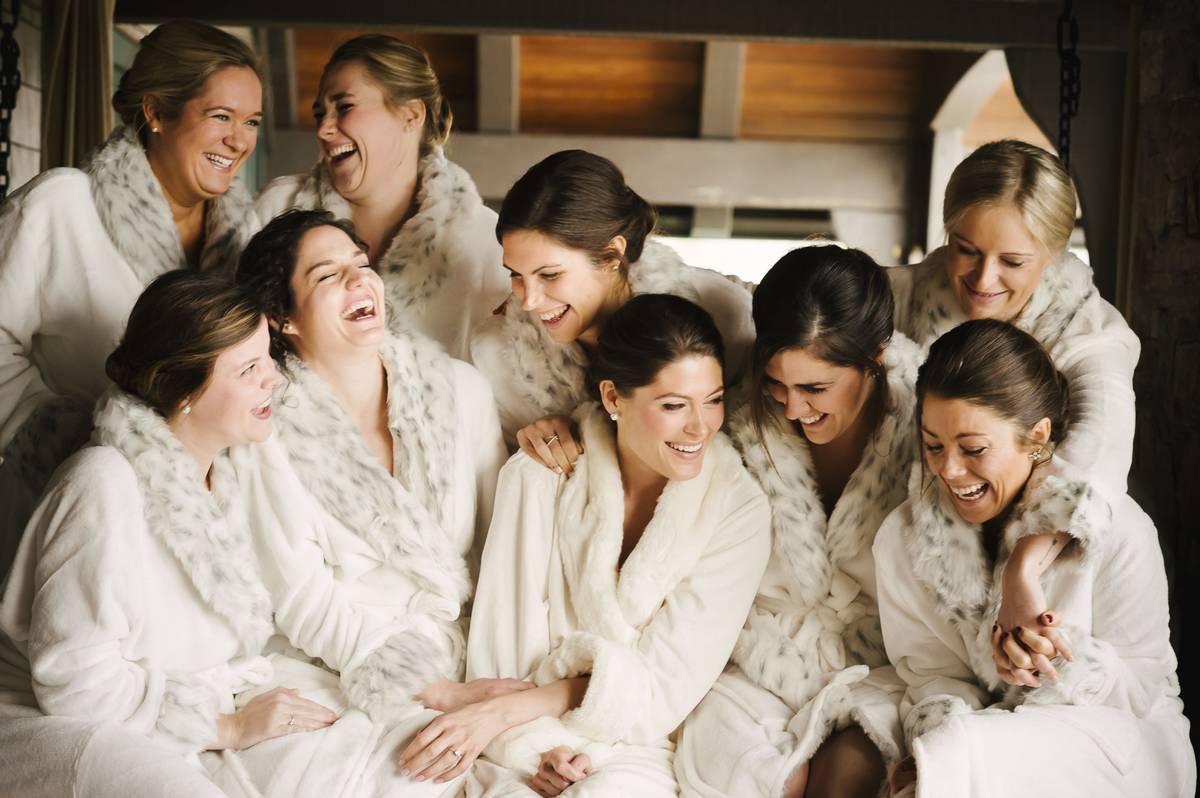 Faux fur bridesmaid robes
Matching bridesmaid rompers and pajama sets are cute, but depending on where you're getting married, they may not keep everyone warm enough if temperatures are extra frigid on the morning of your wedding. Surprise your squad with cozy fleece and fur-trimmed robes (something they'll totally want to use all the time at home) to make sure everyone is nice and toasty.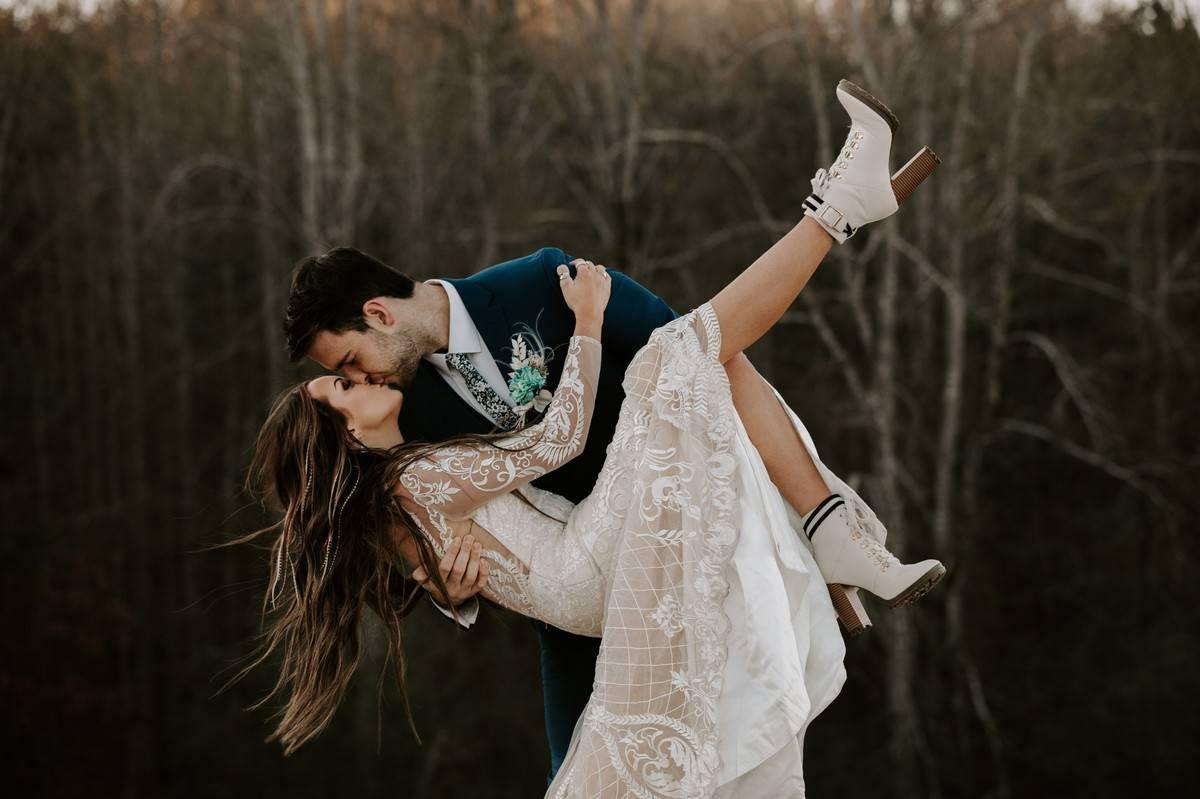 Heeled wedding boots
As much as we love a good pair of stilettos, they're not always practical for winter weather, especially if you'll be walking outside to get to your ceremony or wedding reception. Instead, embrace the season and rock a pair of lug-sole bridal boots that provide traction and style in icy or snowy conditions.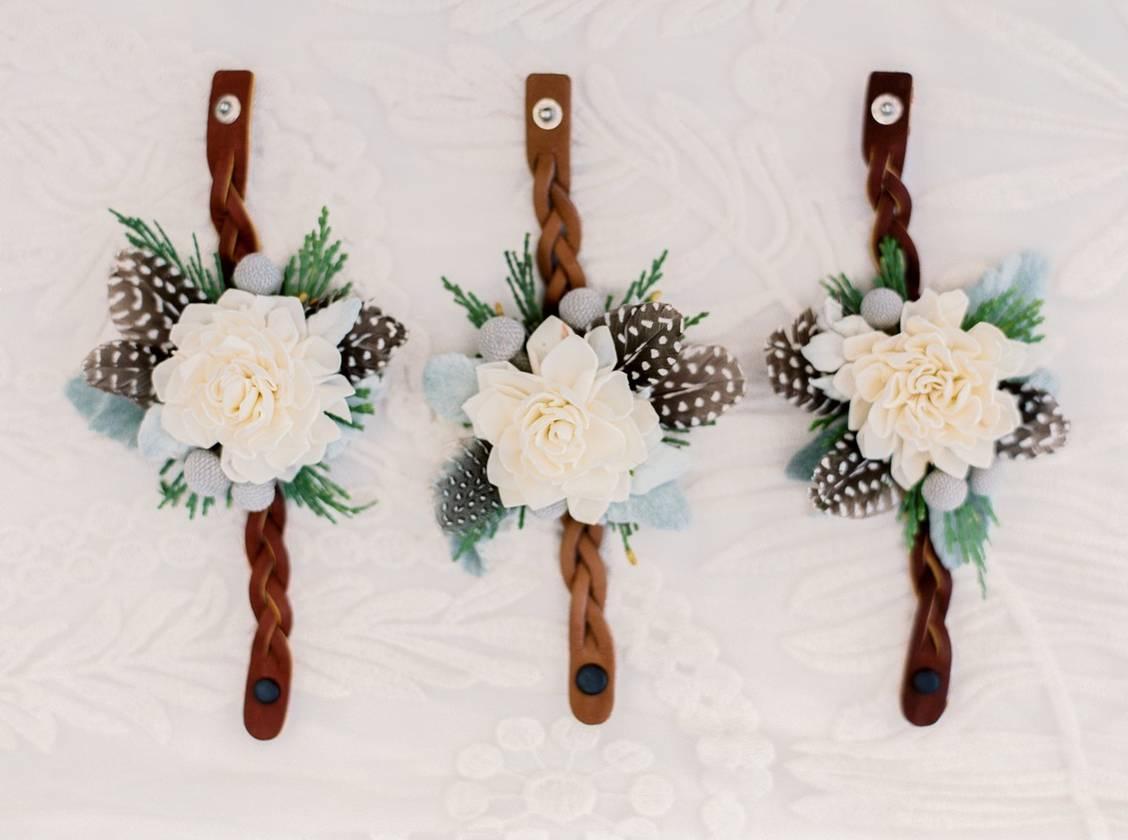 Bridesmaid wedding corsages
This winter wedding idea is an alternative to the traditional bridesmaid bouquet. A corsage will allow your 'maids to go hands-free if they're walking outside in the snow or throwing a shawl over their shoulders to keep warm. You can also provide corsages for the mother of the bride and/or groom, grandmothers, and junior bridesmaids.
Glitter wedding sneakers
Here's another winter wedding shoe option if you don't want to wear stilettos or heels. A pair of flat glitter sneakers will be so much easier to walk in, and the sparkles feel seasonal and festive.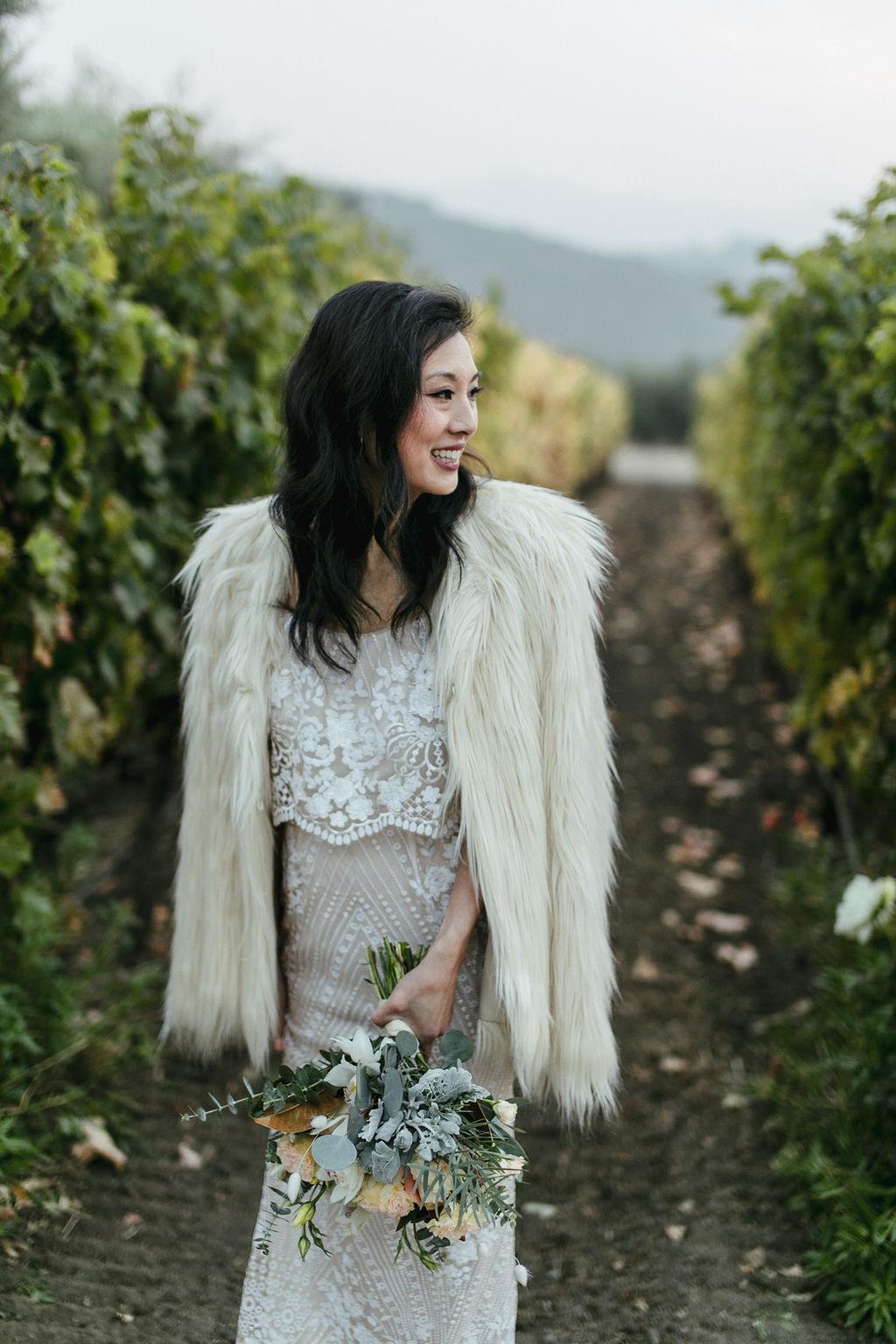 Faux fur bridal wrap
If you're not wearing long sleeves, you can cover your arms and shoulders in cold temperatures by adding a faux fur or vintage wrap to your bridal attire. A white or gray style is chic with a little bit of rocker edge.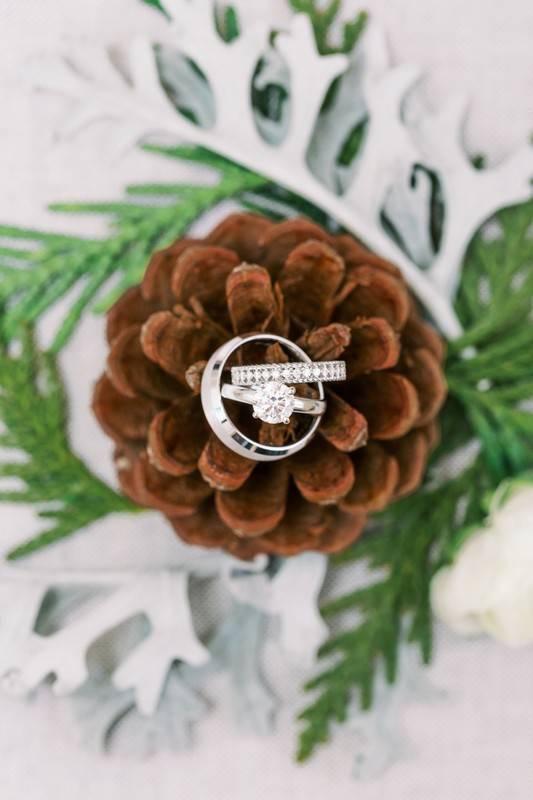 Pinecone engagement ring photo
Your photographer will likely want to snap a close-up or two of your rings on the big day, and pinecones serve as the perfect seasonal backdrop for your wedding photos and detail shots.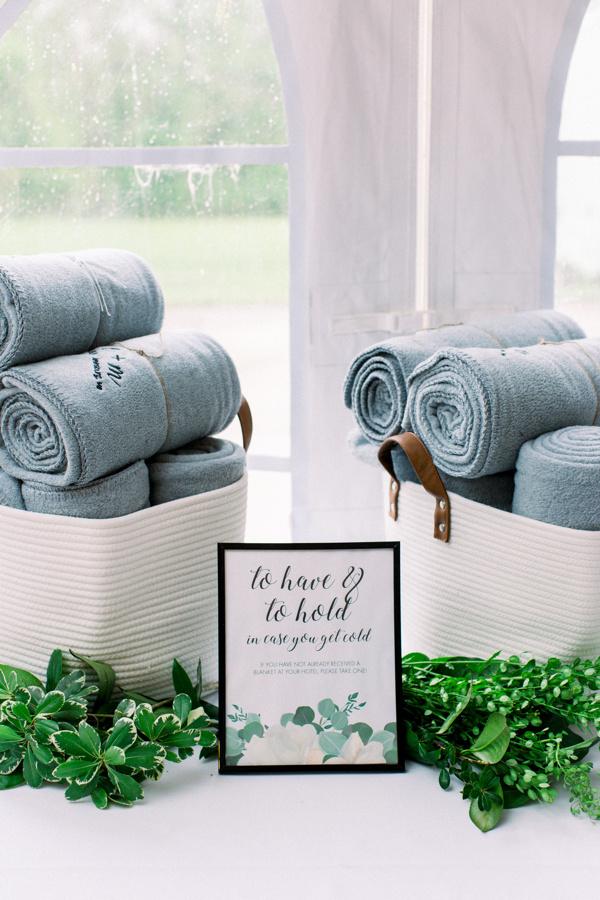 Fleece blanket wedding favors
If you're looking for a wedding favor that your guests won't leave behind after the party is over, fleece blankets are a great winter wedding idea. Display them in baskets or drape them over the backs of chairs at your reception tables, and add a personal element like your monogram or wedding date so guests will always be reminded of your special day.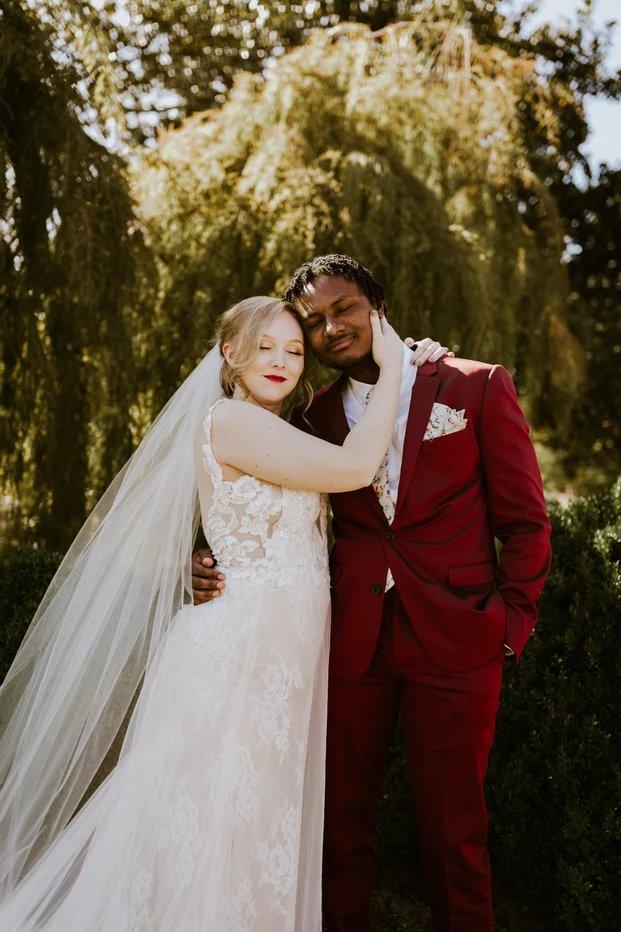 Burgundy groom suit
Fashion-savvy grooms will love the option of donning a burgundy or red suit for their winter wedding. This trendy alternative to black and navy blue suits is a popular choice for winter weddings.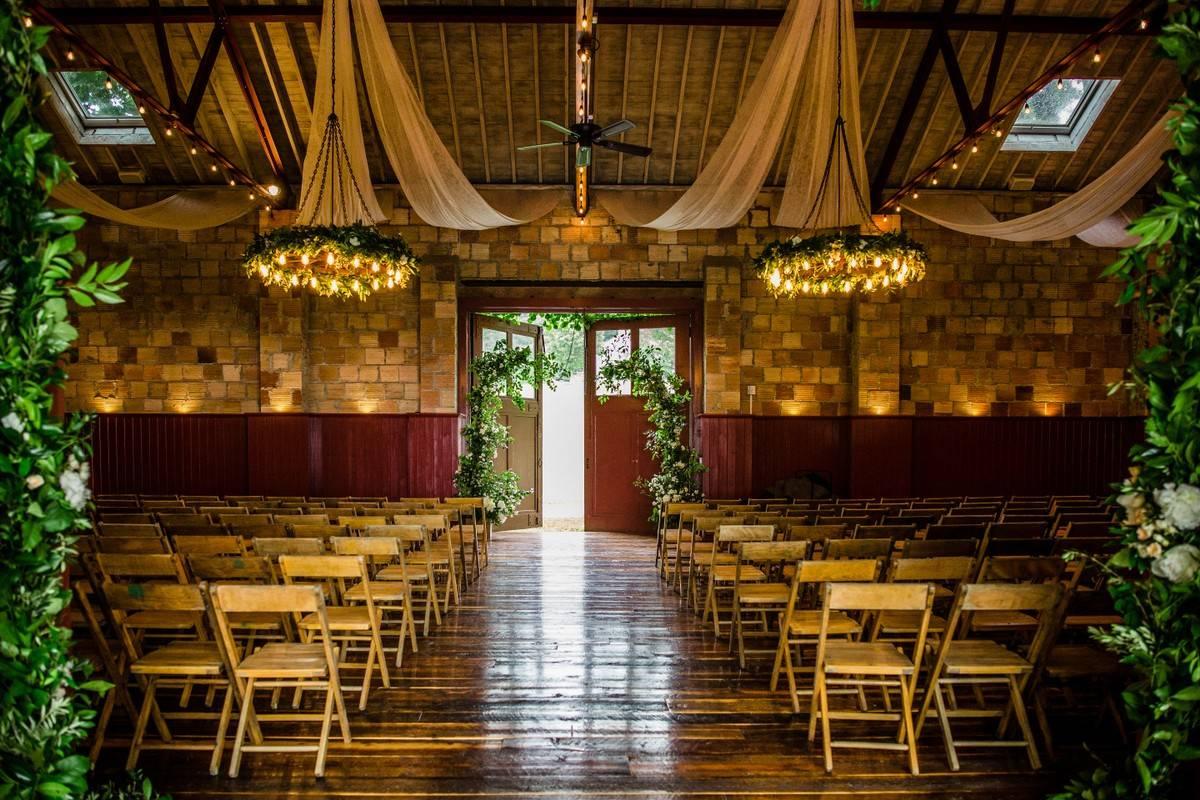 Greenery wedding ceremony decor
You can easily turn any space into a winter wedding backdrop by adding just a few greenery garlands, swags, and wreaths. If you can't suspend greenery wreaths from your venue's ceiling or chandeliers, tie them to chairs or line your ceremony aisle with lush runners.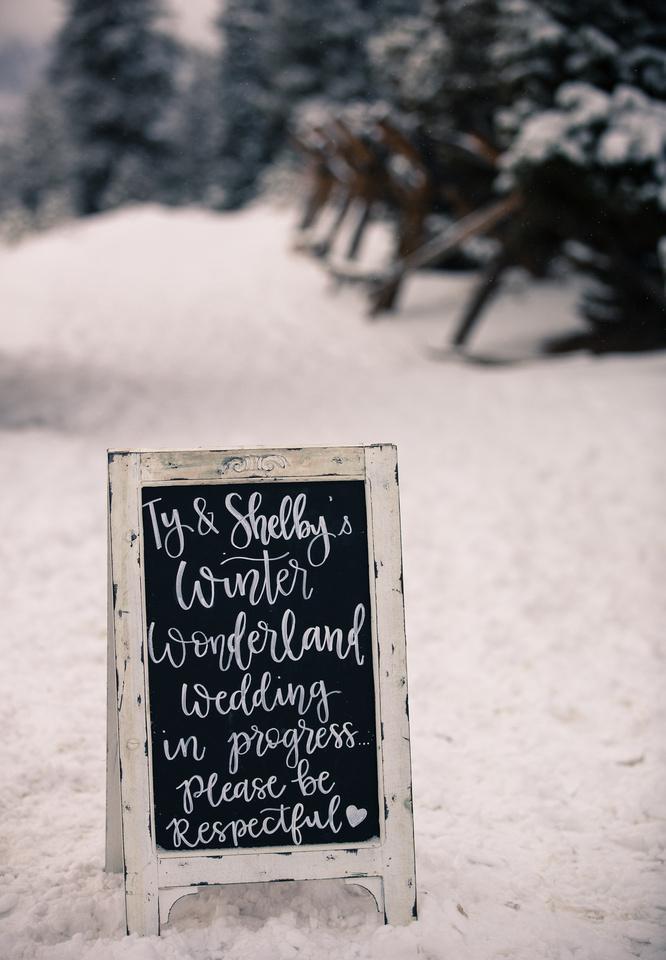 Chalkboard wedding sign
Give your winter wedding decor a vintage, rustic look by adding a few chalkboard signs here and there. Use signs to share important information with guests, such as unplugged ceremony guidelines, bar menu options, or social distancing reminders.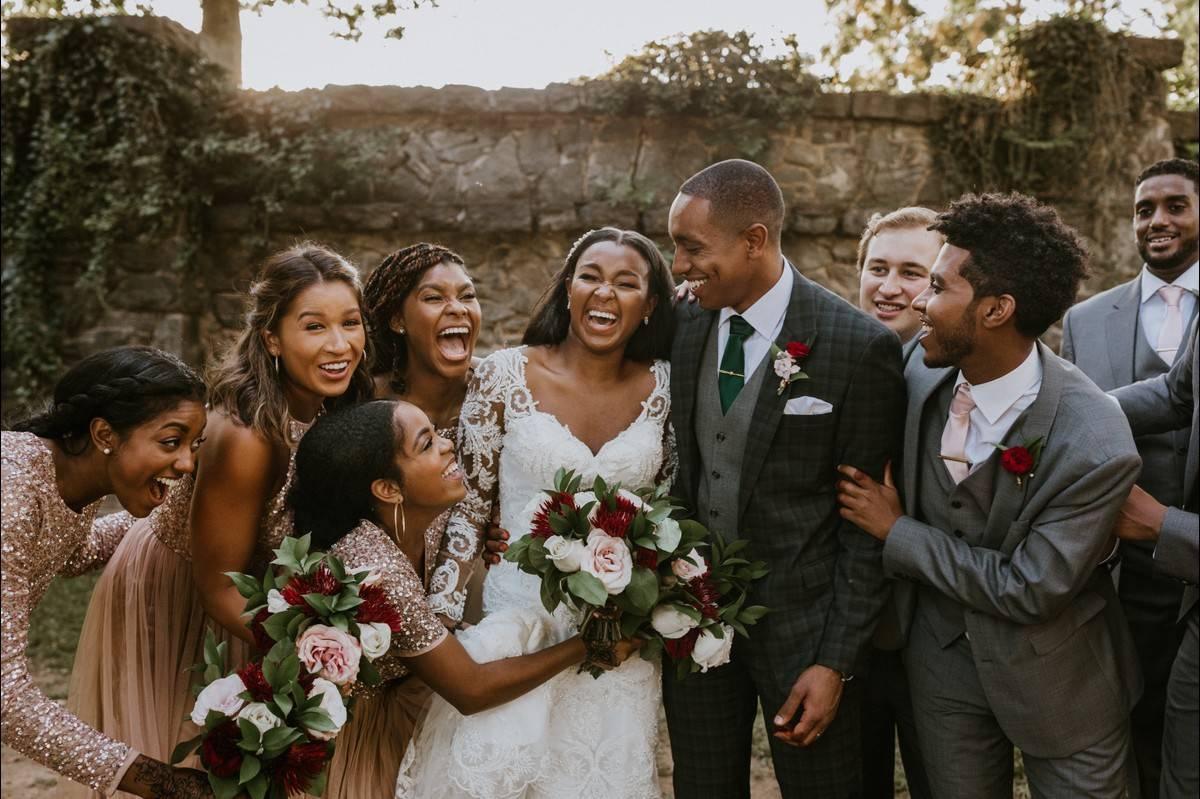 Plaid groom or groomsman suit
Plaid and tartan prints are winter attire staples, and you can wear them for your wedding, too. Try incorporating plaid, houndstooth, or checked prints into your ensemble with a jacket, tie, or pocket square.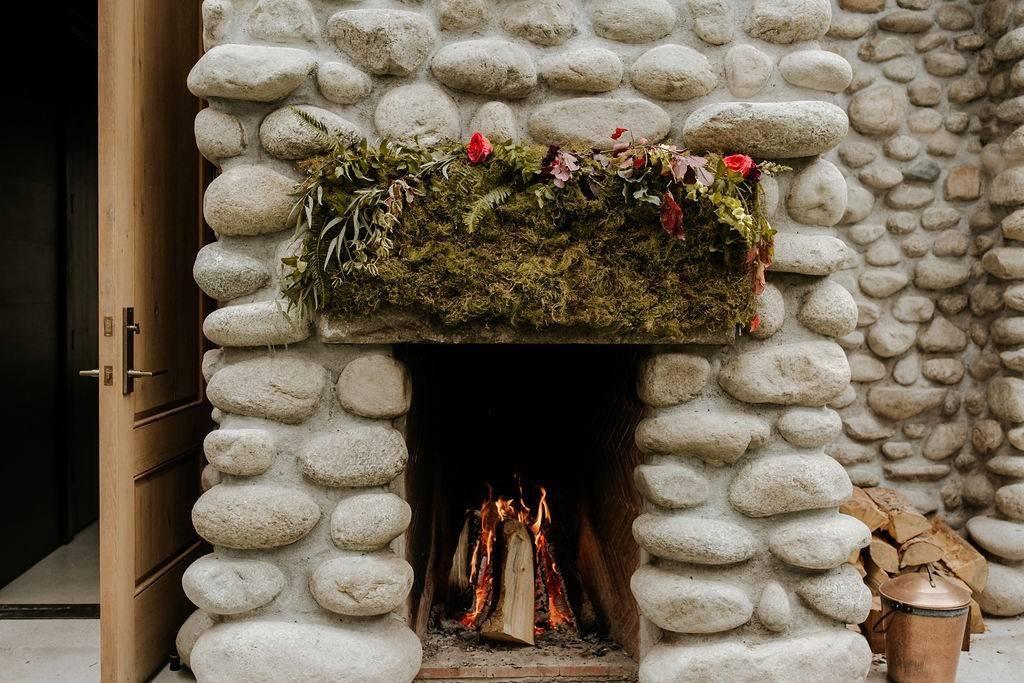 Fireplace mantle decor
If your wedding venue has a fireplace, you might be wondering how to decorate it (even if it's not functional). The good news is that there are plenty of wedding fireplace decor ideas to try, from simple clusters of candles to elaborate floral arrangements and seasonal greenery garlands.
Pink and purple wedding bouquet
This color combination is beautiful for a winter wedding, especially if you're getting married after the holidays or having a Valentine's Day ceremony. Bright fuchsia flowers, like proteas, roses, carnations, and wax flowers, will add a burst of color to your bridal look.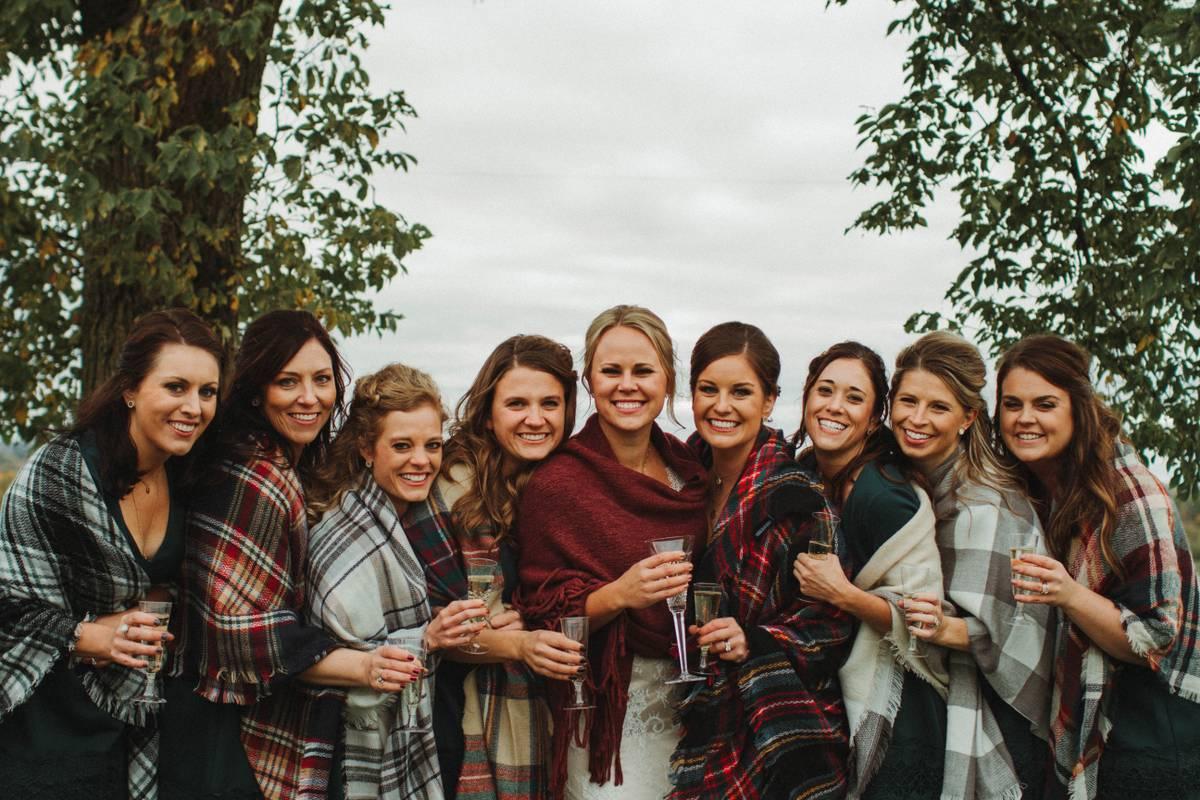 Flannel bridesmaid shawls
Wedding shawls are must-haves to keep your bridesmaids warm at any winter event, and you can put a festive twist on this accessory by choosing plaid flannel scarves. Choose an assortment of mix-and-match shawls that complement the bridesmaid dresses create the ultimate winter wedding party.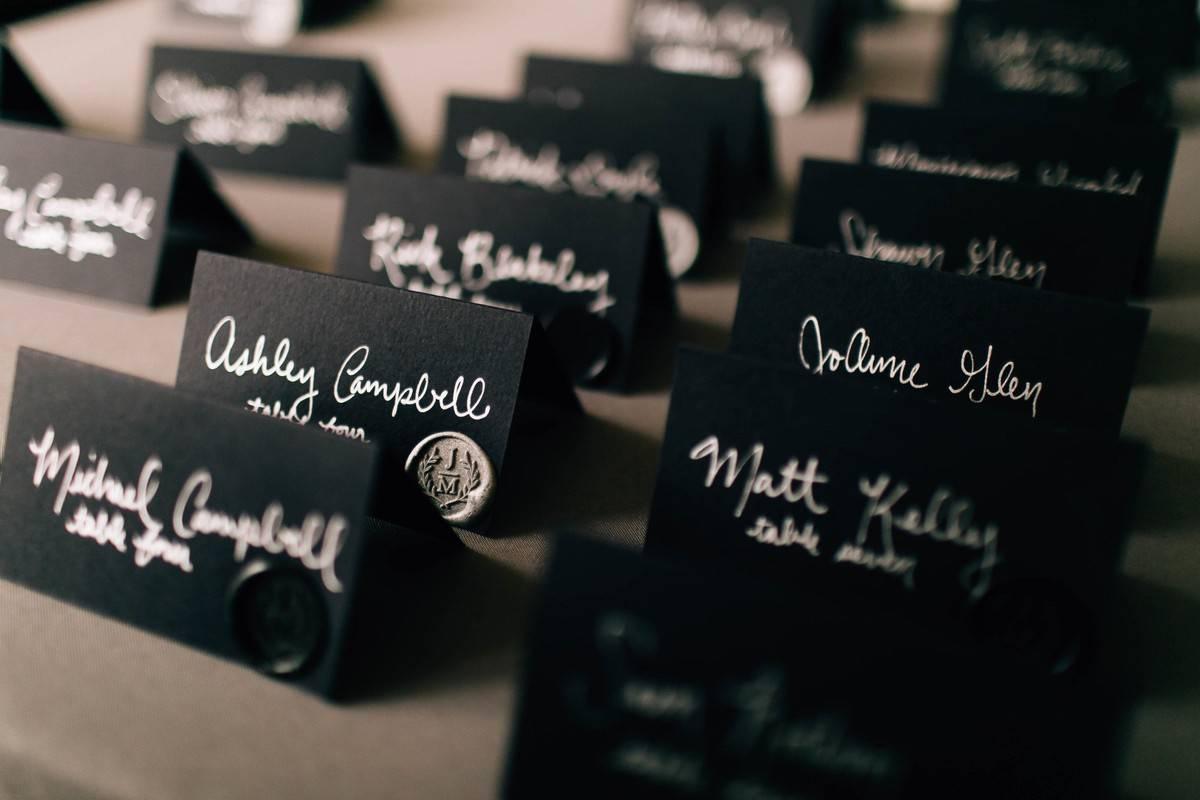 Wax seal escort cards
Adorn your wedding escort cards, menus, or other wedding stationery with wax seals for a subtle but luxurious detail.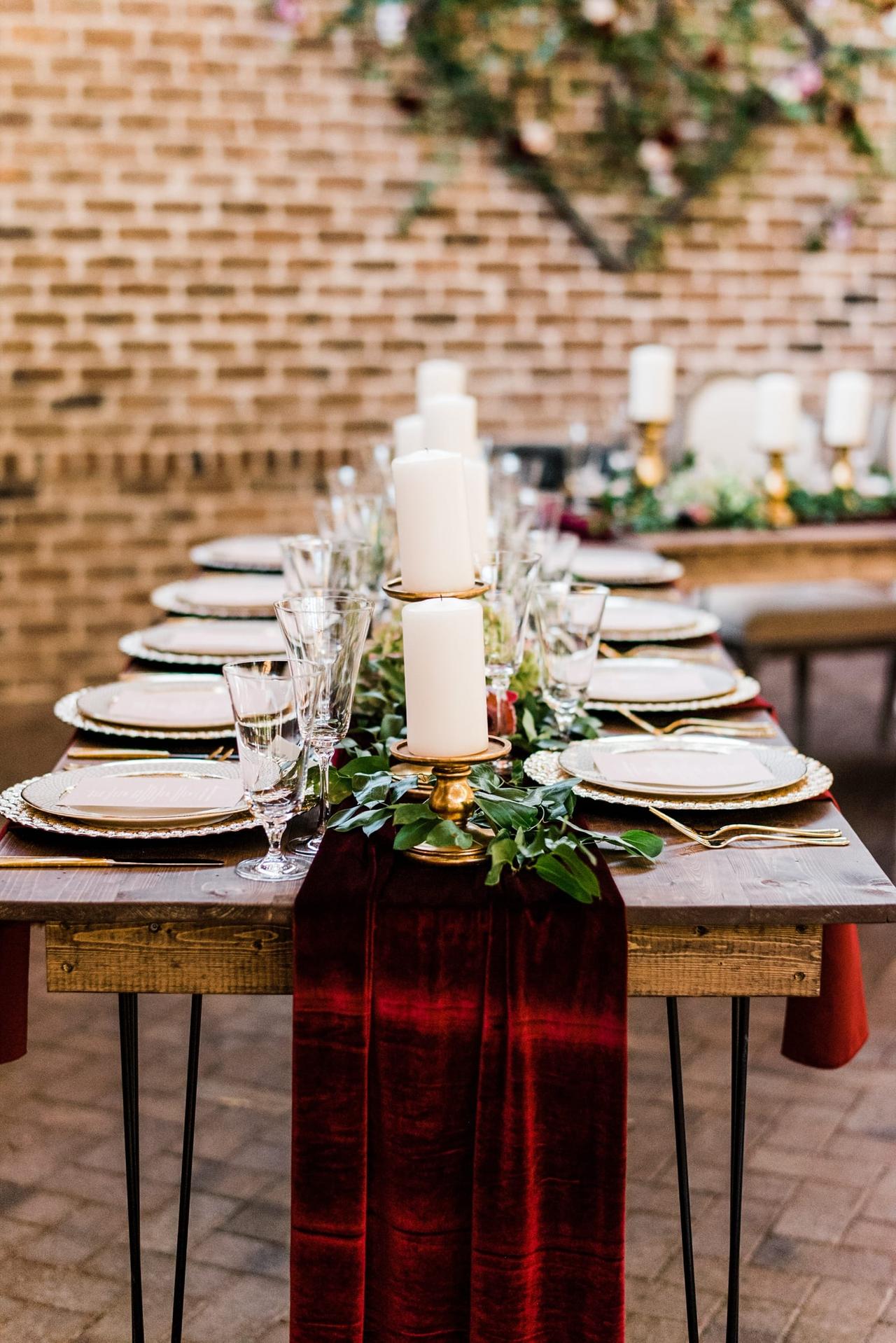 Velvet wedding table runner
Anything involving velvet is a good move when it comes to a winter themed wedding. Contact local event linen rental companies (or ask your wedding venue) to find velvet table runners or tablecloths that match your color palette. The end result will give your table decor an ultra-luxe look.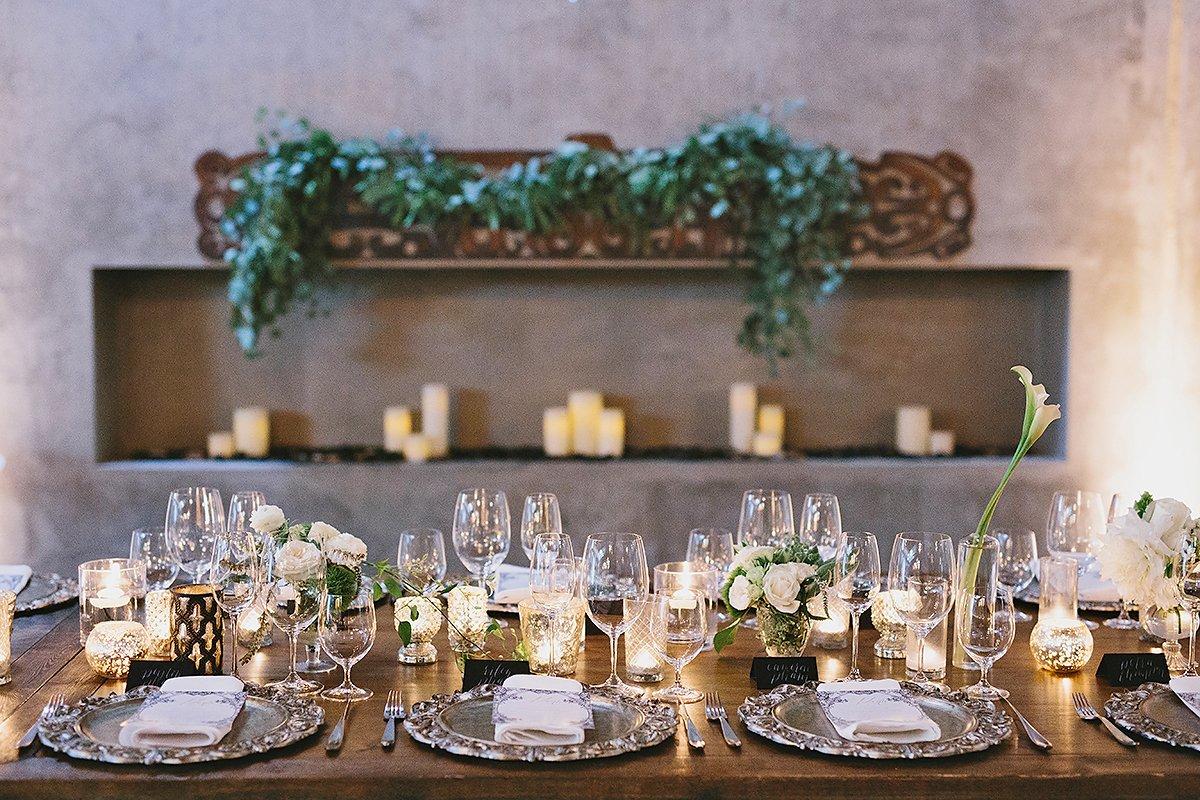 Votive candle wedding centerpieces
You can quickly transform any table into a winter wonderland-style setup by simply adding votive candles. For the prettiest look, combine candles in different heights and shimmering vases, such as mercury glass, milk glass, and frosted glass holders.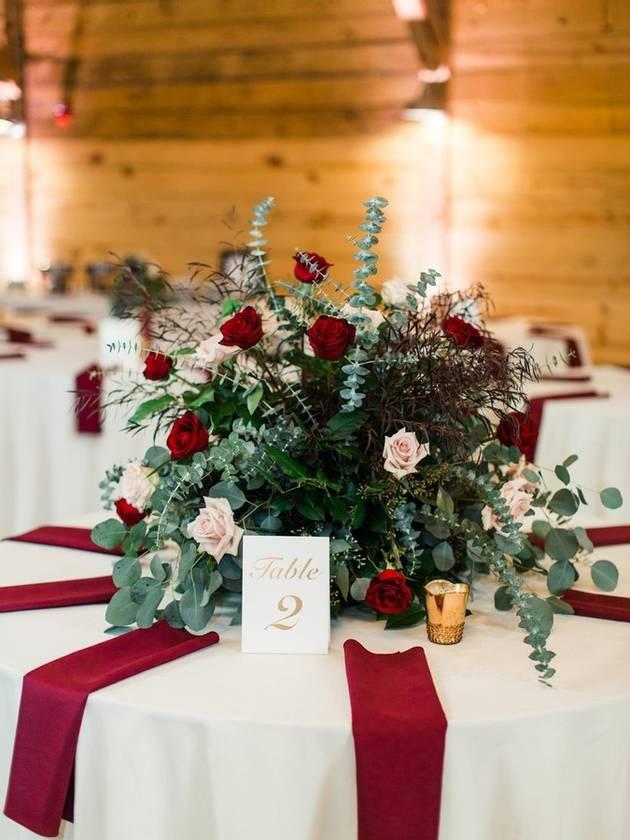 Roses and greenery floral arrangement
Holiday wedding or not, red roses and greenery are always beautiful for a winter wedding. Choose fragrant spiral eucalyptus to naturally fill your venue with a relaxing, earthy scent.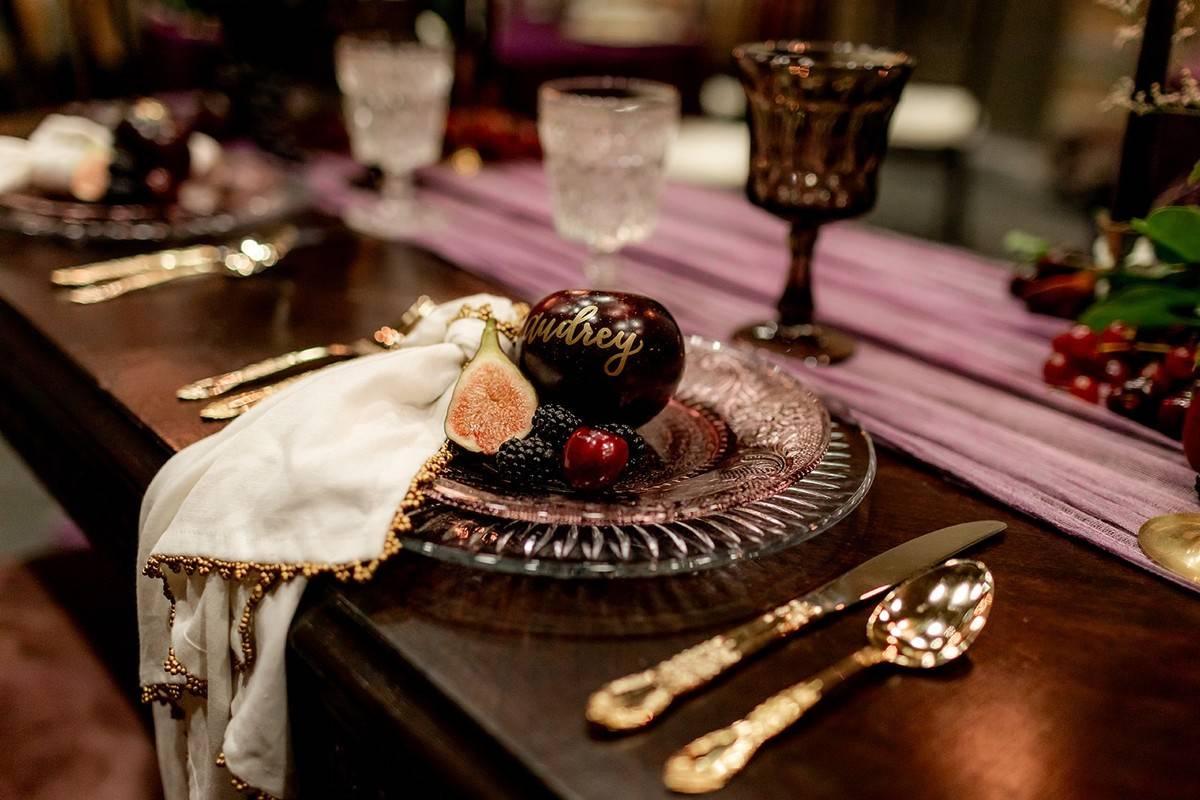 Pomegranate wedding place setting
Personalizing your place settings is an excellent way to amp up your wedding tablescape decor, especially if you're having a small or intimate wedding. We love this winter wedding idea: Write your guests' names on pomegranates and display them with fresh seasonal berries to create place settings that taste as good as they look.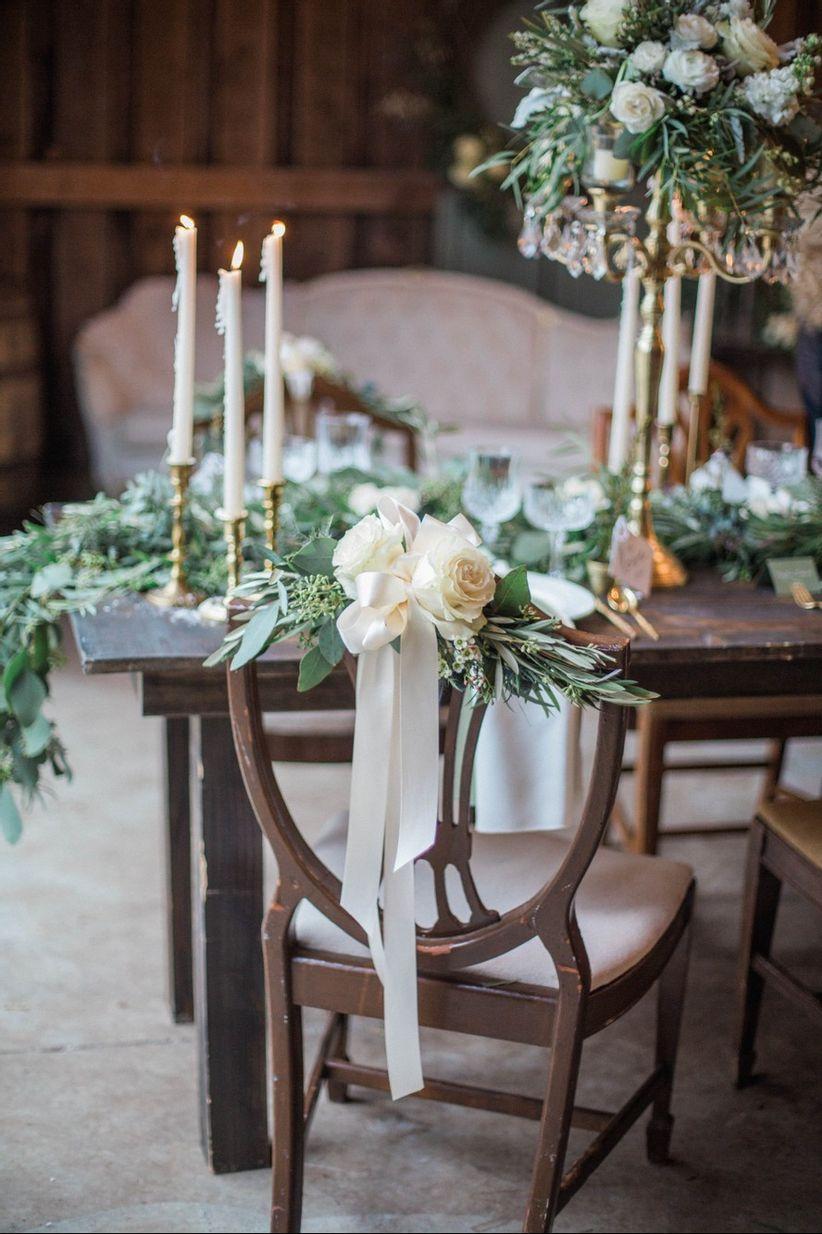 Winter wedding chair decorations
Whether you want to decorate every guest's chair or you're looking for ways to make the chairs at the head table stand out, you can easily transform a basic wooden or folding chair by tying a bouquet of fresh flowers and herbs to the back.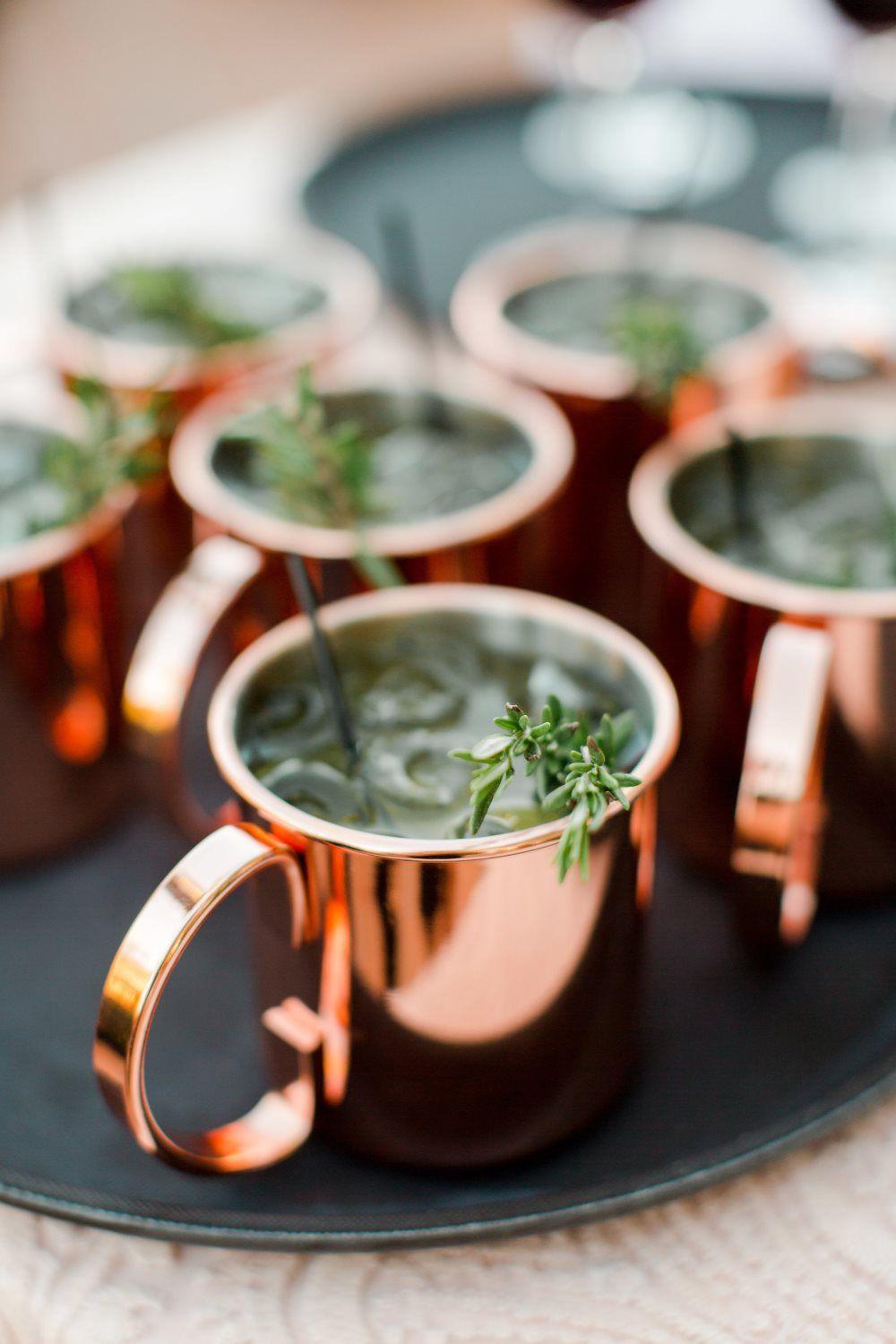 Copper mug cocktails
It doesn't matter if you're serving Moscow mules, mulled wine, eggnog, or hot apple cider—copper mugs will take your wedding cocktails to the next level. Since it can be pretty costly to buy copper mugs by the dozen, we recommend renting them from your bartending or catering vendor or a local event supply company.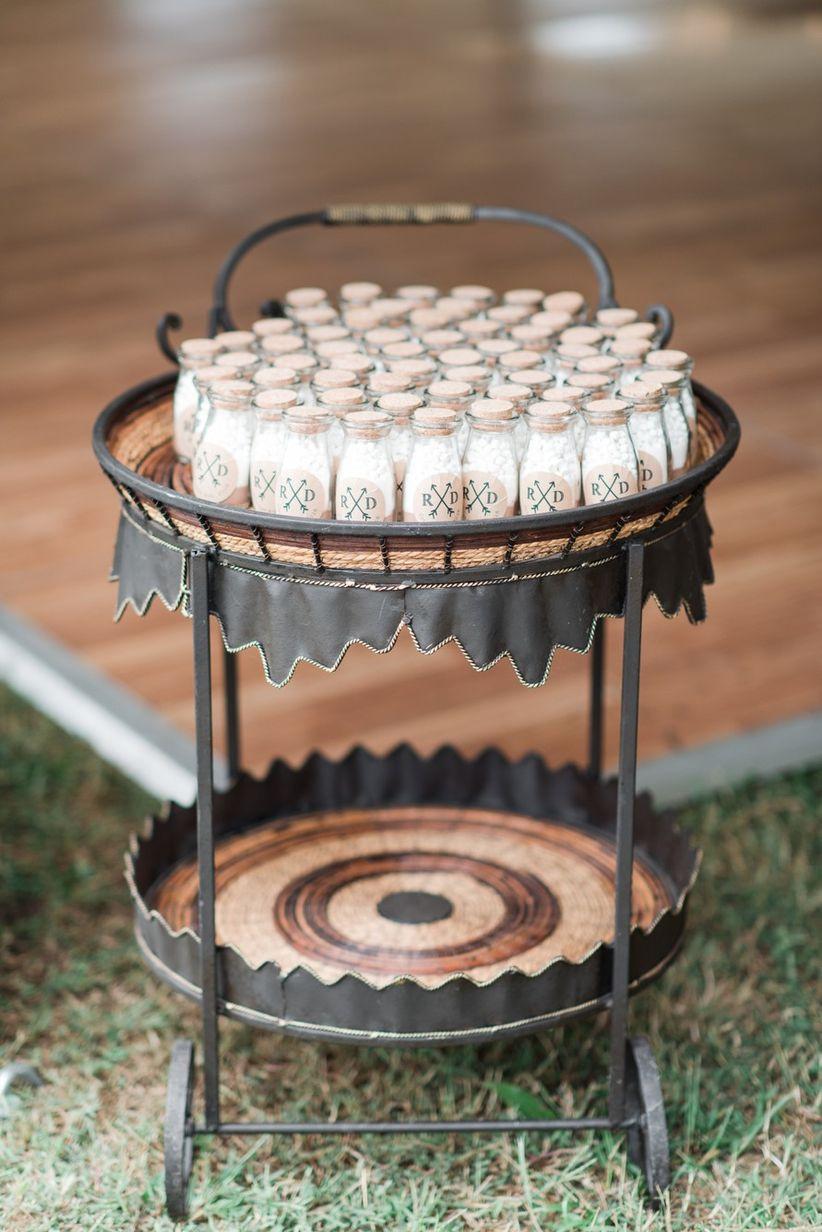 Hot chocolate wedding favors
Send guests home with a sweet reminder of your wedding day by giving them hot cocoa wedding favors. Package your favorite mix (and marshmallows, of course) into decorative bottles or jars to make the treat feel extra-special.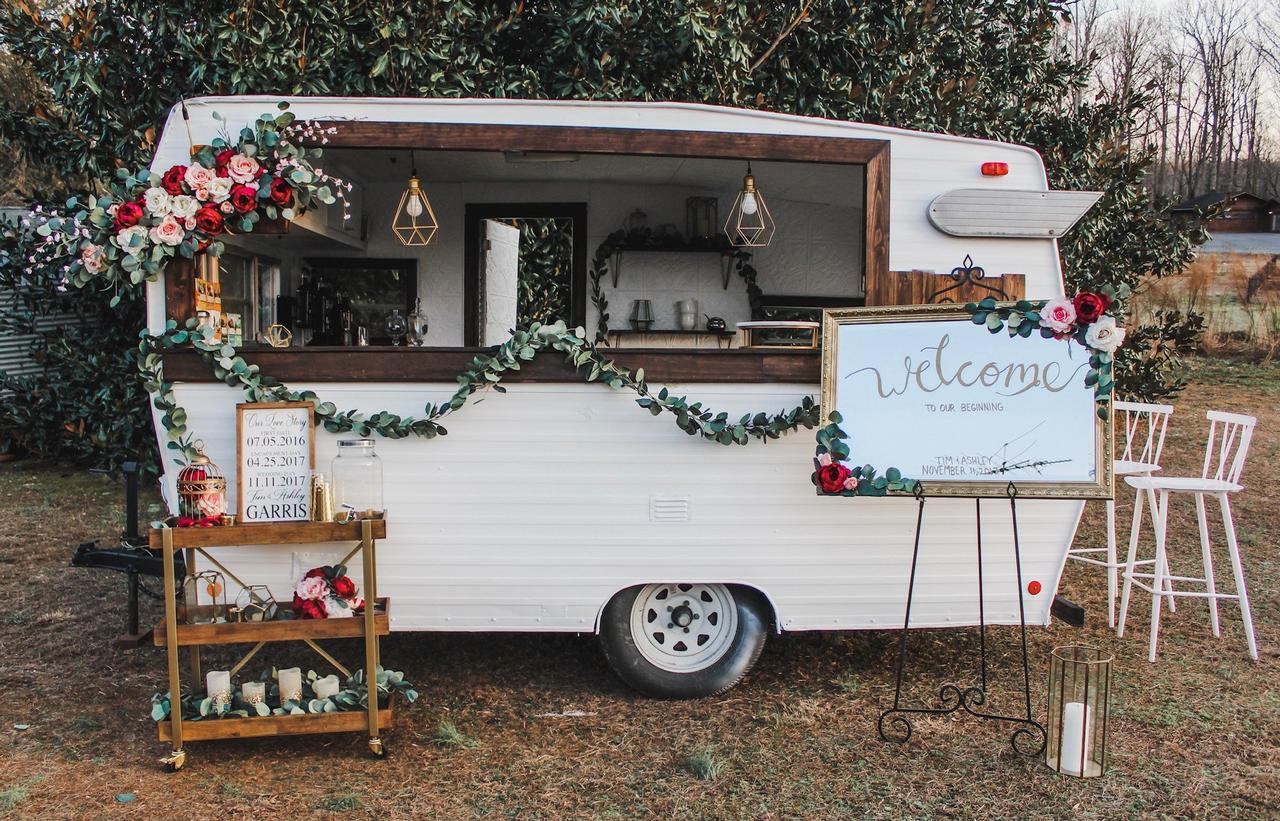 Coffee truck
You've heard of food trucks and champagne carts, but what about coffee bars on wheels? This winter wedding idea is a fun and unexpected way to surprise your guests, especially those who love a good cappuccino or latte. We recommend having the truck arrive during cocktail hour or toward the second half of your reception to facilitate mixing and mingling.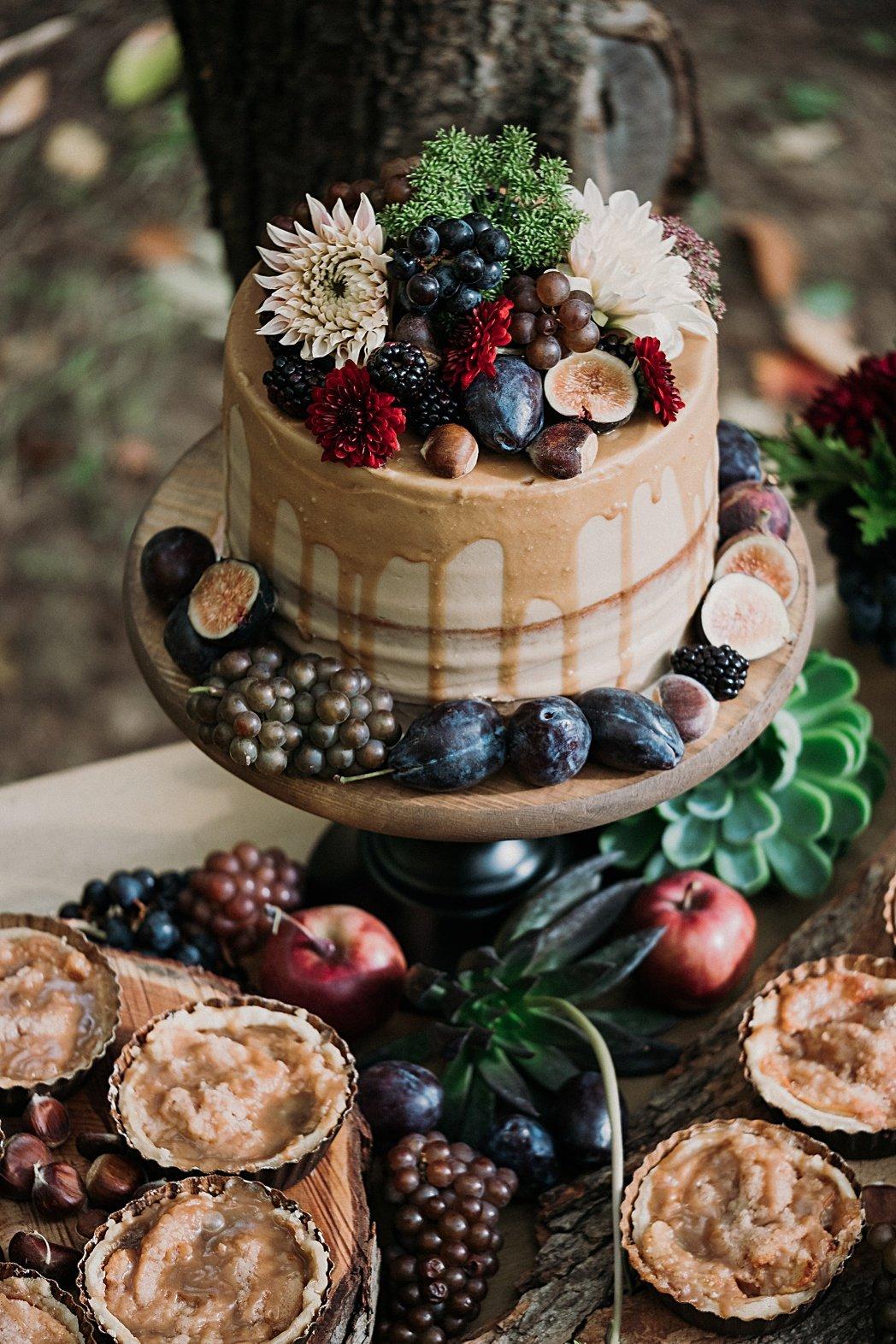 Winter wedding cake with berries
Of all the ways to decorate a winter wedding cake, this decadent cake with drip icing has to be one of our favorites. Choose a rich cake flavor, like salted caramel or spice cake, to match the wintry vibe.
Cinnamon rolls
Along with your cake, we love the idea of serving other seasonal desserts and late-night snacks, such as cinnamon rolls, apple cider donuts, homemade pies, or gingerbread cookies.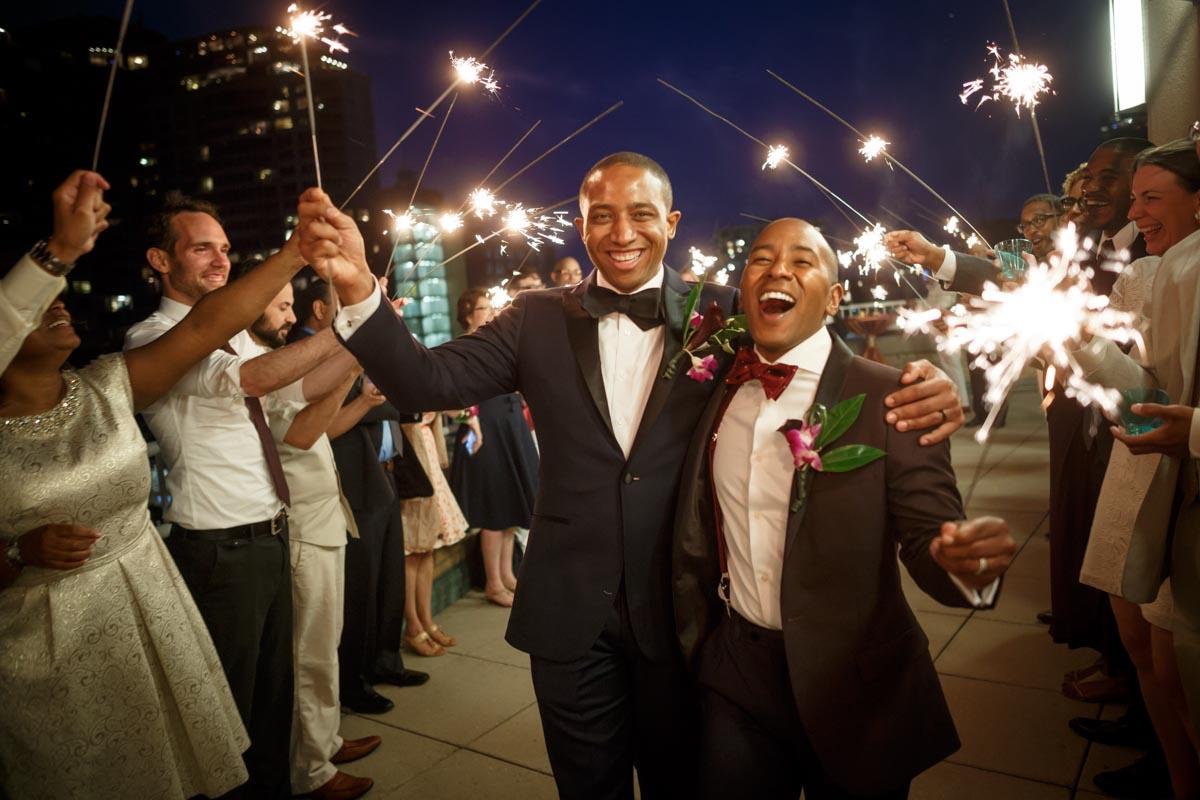 Sparkler wedding exit
Sparklers are one of the most popular ideas for a winter-themed wedding, and for good reason! They're a fun way to end the night on a high note, not to mention they make for an incredible photo op, especially if you're having a New Year's Eve wedding.