When it comes to choosing a wedding date, we consider the winter months to be kind of like a best-kept secret. If you aren't already convinced, we promise that these winter wedding ideas will have you itching to check out the closest mountain wedding venue and plan your own snow-covered wedding. From scenic forest overlooks to cozy candlelit spaces and the cheer of the holiday season, winter weddings bring a whole new level of romance.
Transform your big day with these beautiful winter wedding ideas.
Venue
Unless you live in a region where temperatures are warm year-round, most winter weddings will require indoor venues. If you're planning a formal wedding, hotel ballrooms, country clubs and banquet halls can be especially elegant when decorated with seasonal decor. Rustic venues, such as ski lodges and barns, are perfect for creating a winter wonderland feel if you're going for a woodland wedding theme. These venues typically have scenic lookouts that can double as stunning locations for outdoor winter ceremonies — just be sure to keep your vows short and sweet so guests don't get too cold!
Season
Winter weddings can range from mid November to early March. Getting married during the winter has a few perks that you won't necessarily experience at other times of the year. While November through February is best known as engagement season, it's also a great time to get married — you may be able to benefit from lower prices, more availabilty and less competition during this time.
Color Palette
Festive colors, such as red, green and gold, are popular for couples getting married during the winter, especially around the holidays. This is the perfect palette if you and your S.O. love all things Christmas (like this real couple from North Carolina) and want to showcase the spirit of the season on your big day. For a trendier take on the bright red and forest green combo, try burgundy and sage instead.
If a festive palette isn't your style, don't stress — there are plenty of other wintry options to choose from that are just as beautiful. Jewel tones (think emerald green, plum, cobalt blue, and amber yellow) will bring a moody, dramatic spin to your big day. This type of palette is ideal for glamorous and modern styles. Pairing these tones with metallic details will really make them pop, and a bit of shimmer will add seasonal flair to the decor. If you're looking for something that's sophisticated and classic, you can't go wrong with black and winter white. Accent this timeless duo with blush or powder blue for for a softer look, or add gold, silver, or red for a more formal take.
Decor
Getting married during the winter doesn't mean that you have to use holiday-themed decor, but there are definitely ways to incorporate seasonal elements in a tasteful and sophisticated way if you choose to do so (check out this stylish ceremony in Greece for some gorgeous winter wedding ideas). The trick is to pick a cohesive look, choose the items wisely and remember that sometimes, less is more — you definitely shouldn't overdo it with holiday-themed details (we're talking about ornaments, reindeer, snowmen, faux icicles, etc.).
Winter wedding style also puts a strong emphasis on nature-inspired elements and bringing the outdoors in. Pinecones, birch tree branches, and even faux fur accents will all bring a wintry, cozy twist to your big day.
Lastly, focus on using lighting to create the perfect ambiance. String lights and clusters of candles will give your space a romantic glow, especially if you're having an evening wedding. Amplify the shimmer by using mercury glass vessels, metallic charger plates or strands of crystals that will catch and reflect the light.
Stationery
When we think of winter wedding stationery, we think of sparkles, snowflakes and pine tree motifs. These options are all great if you're going for a traditional holiday wedding vibe. This bright red invitation suite featuring a gold hand-lettered envelope is giving us chic midcentury modern vibes.
If you want your stationery to be seasonal yet subtle, try incorporating laurel wreaths, foil details, antler motifs, polka dots, or your wedding monogram. Feeling indecisive? An all-white stationery suite with gold or silver details is always an elegant, festive option to set the tone for your winter wedding.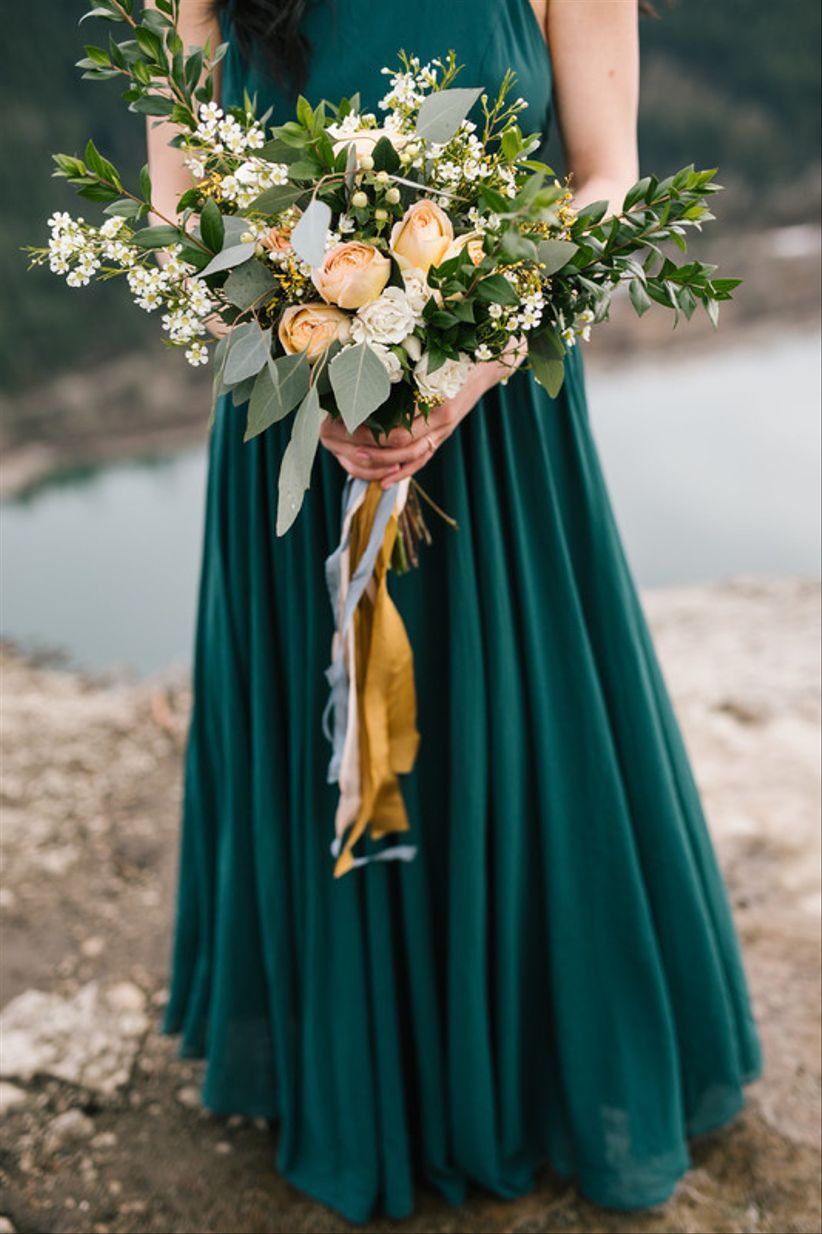 Flowers
Seasonal winter flowers include amaryllis, ranunculuses and anemones. You can pair these with flowers that bloom year-round, such as roses, calla lilies, hydrangeas, and carnations. Berries, pine cones, dusty miller, and eucalyptus are some of the most popular accents for winter wedding bouquets and centerpieces.
Greenery looks gorgeous at any time of the year (take these ideas as proof), but this floral trend takes center stage at winter weddings. Fresh evergreens and pine needles will bring a cozy element to your decor. Depending on the type of greenery that your wedding florist uses, this is a budget-friendly option that can cost less than many flowers. Hang fresh evergreen wreaths and garlands throughout your venue, or use loose branches on your banquet tables as an alternative to table runners. The fragrance alone will get you in the holiday spirit!
Finally, what would a winter wedding be without a touch of mistletoe? Place a sprig at your ceremony altar or hang it above your seats at the reception. It will give you and your brand new spouse an extra-sweet reason to share a kiss (as if you really needed one).
Attire
If you've ever dreamed of wearing a wedding dress with sleeves, winter is the perfect opportunity to give it a try. Gone are the days when wedding dresses with sleeves looked outdated — the current styles are chic, timeless and regal, à la Kate Middleton and Meghan Markle. For brides who want the look of sleeves without being too covered up, sheer details, illusion lace, or puff sleeves are the perfect compromise.
For suits and tuxedos, look for designs in heavier fabrics, such as wool, tweed, or even velvet if your personal style is more fashion-forward. Word on the street is that burgundy is the new blue when it comes to groom's attire.
Thanks to the cold weather, you'll also need to think about accessories to keep you warm. Stay cozy with a faux fur wrap, plaid scarf, dress coat, or sweater to complement your wedding attire. You should also plan ahead for snow on your wedding day and set aside a pair of weather-proof shoes to get you from point A to point B, just in case.
Favors
Hot cocoa favors are among our favorite winter wedding ideas. Is there anything cuter than these marshmallow-filled bottles?
Cake and Dessert
Semi-naked cakes are one of the most popular winter wedding ideas when it comes to dessert. This partially-frosted look is a more traditional take on the naked cake trend that's been around for a few years. If naked cakes aren't your style, have your baker finish each tier with fresh evergreens, festive ribbons, fresh flowers, or a rustic faux bois pattern if your cake is covered in fondant. Another option is to incorporate texture by using edible glitter, gold leaf, crushed nuts, or coconut shavings.
During dessert, treat your guests to warm beverages, such as mulled wine, hot toddies, cocoa, or coffee-flavored cocktails.