27 Winter Wedding Cakes That Aren't Red and Green
There are so many ways to decorate your wedding cake for the season without going overboard on holiday colors and details. These winter wedding cake ideas are festive yet stylish.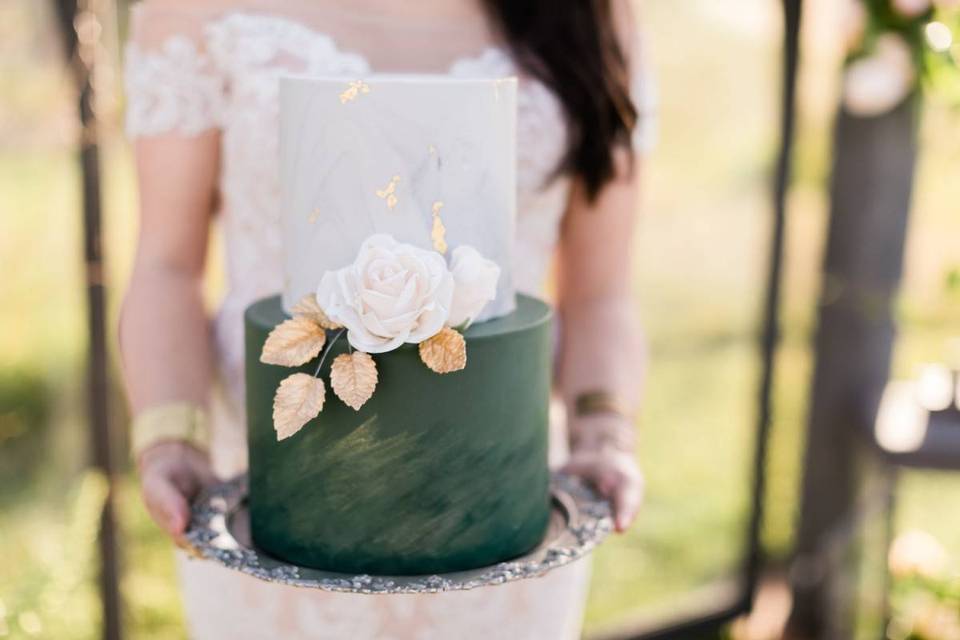 While there's no rule that says your wedding cake needs to match your wedding season, turning to the month in which you're marrying is actually a great way to get inspired when it comes to your cake design. If you're getting married between November and February, these winter wedding cakes will give you plenty of ideas for how to style your own cake (with the help of your cake baker, of course) in a way that feels appropriate for the season without looking full-on holiday. From metallic reindeer cake toppers to intricate cable-knit style piping, these cake ideas will fit right in at any winter wedding.
Here are our favorite winter wedding cakes and ideas of the moment.
Winter wedding cake colors
Dark and metallic colors are popular options for winter wedding cakes, since they embody the festive, cozy vibe of the season. Navy blue, purple, silver, copper, and gold are all gorgeous options, especially if you're having a formal or glamorous-themed wedding. There's also the obvious winter color palette: red and green, which will instantly give your wedding cake a Christmassy feel. If none of these quite match your style, there's always classic white, which serves as the perfect blank canvas for flowers, greenery, or almost any type of decoration you can think of!
Winter wedding cake flavors
For winter weddings, savory wedding cake flavors, like salted caramel, red velvet, chocolate, spiced apple, and hazelnut, are delicious, seasonally appropriate options. And if you can't choose just one, work with your wedding cake baker to figure out a tasty combination of two or three flavors.
Winter wedding cake decorations
There are so many different ways to decorate a winter wedding cake—it all depends on your wedding aesthetic and your personal preference. Traditional winter wedding cake ideas like snowflakes, ribbons, pinecones (faux or sugar), piped frosting trees, and holly berries will give your cake a classic, seasonal look. For a rustic winter wedding, decorate your cake with burlap ribbons, antlers, or a faux bois pattern. Fresh flowers, greenery, and cake toppers are even more ways to personalize your wedding cake.
Gold painted wedding cake
A plain white fondant cake is a perfect base for any type of wedding cake decoration, including edible gold paint. The abstract gold brushstrokes look stylish with pink flowers and winter fruits, like bright red pomegranates.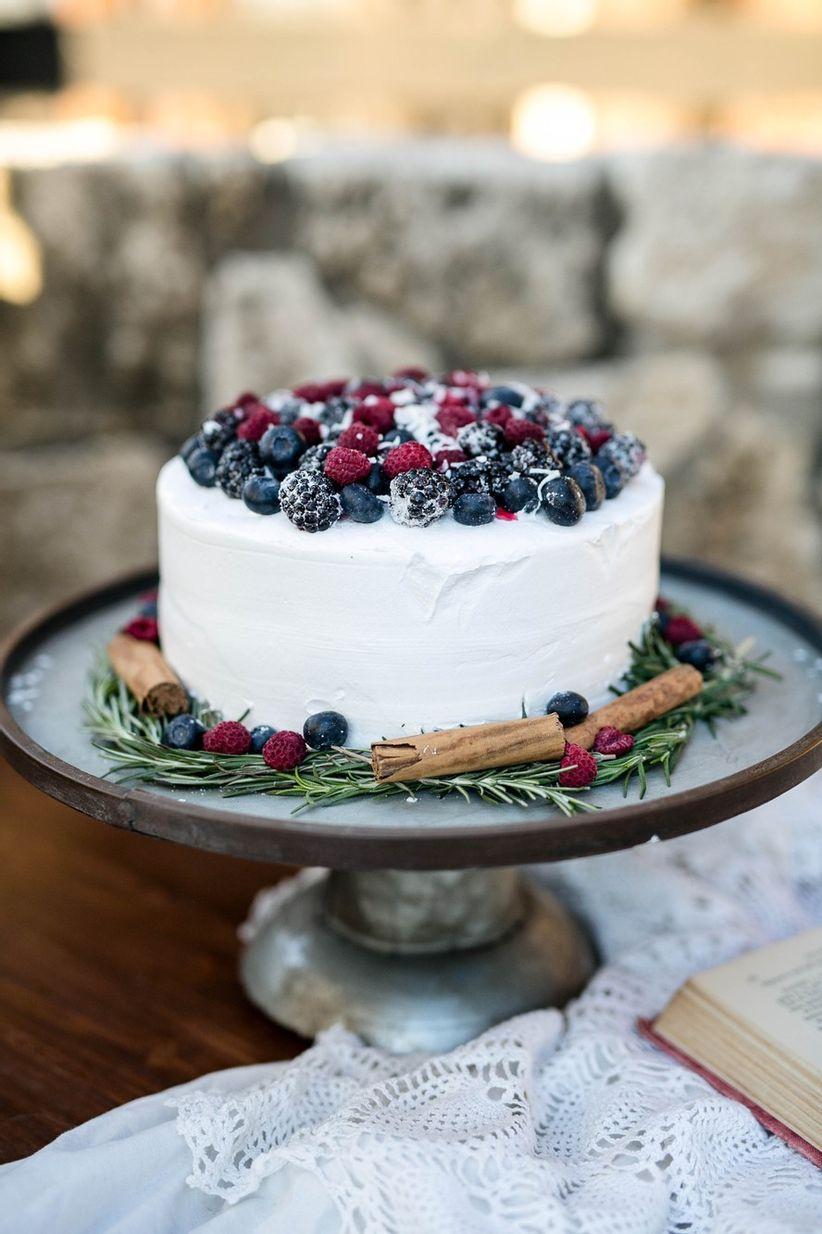 Wedding cake with fresh berries
Speaking of fruit, you can also decorate your winter wedding cake with a smattering of berries, such as blueberries, raspberries, blackberries, or diced strawberries. Finish with a dusting of powdered sugar, fragrant rosemary, and cinnamon sticks for decoration—we can smell this yummy cake from here!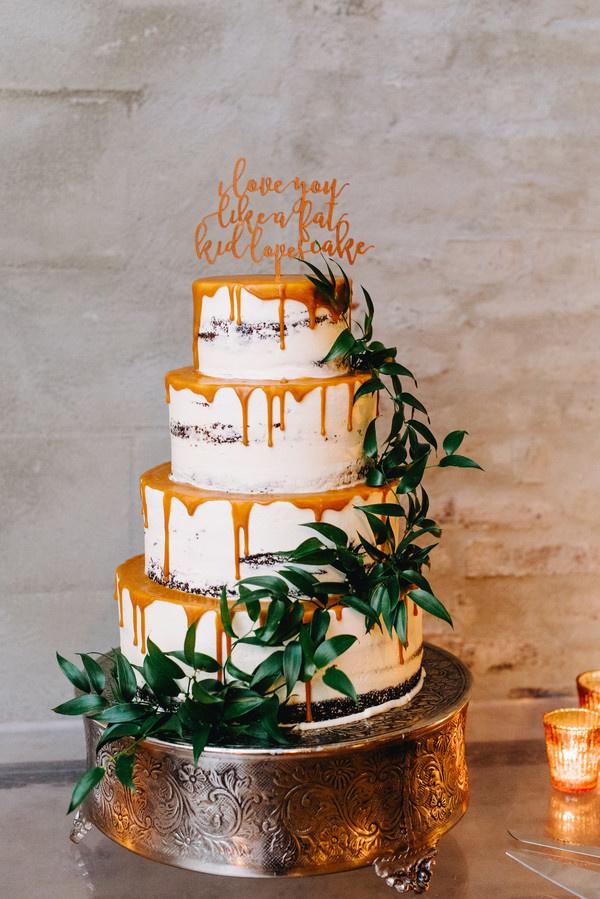 Caramel drip icing wedding cake
Drip icing is one way to grab your guests' attention when it comes to your wedding cake. This decadent look works with naked cakes, fondant cakes, and buttercream cakes, and you can use almost any type of glaze you want. Salted caramel drip icing is our pick for winter.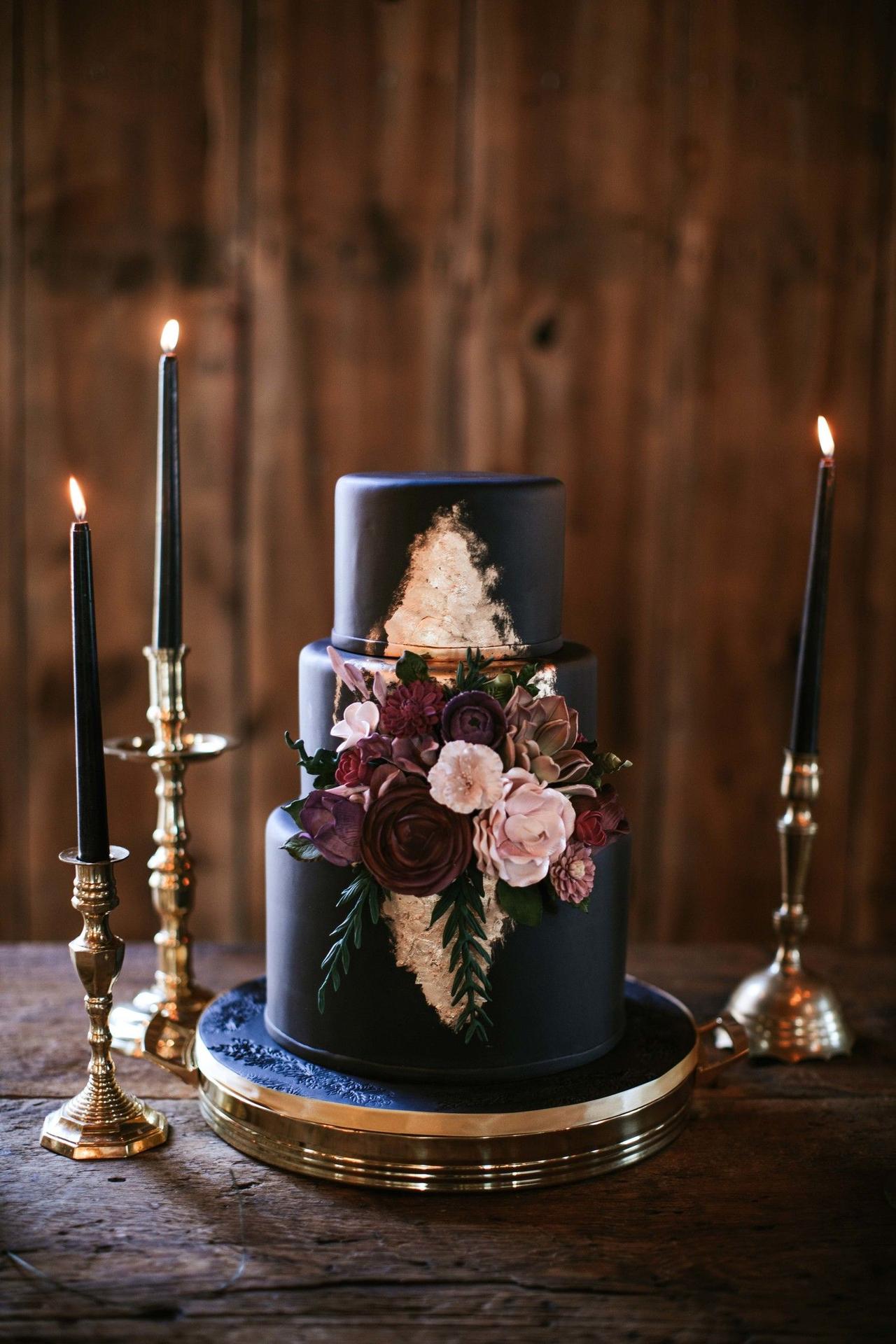 Dark floral wedding cake
A black wedding cake isn't for everyone, but we can't deny that it will make a major statement at your winter wedding. If you're going for a moody theme, cover your cake with black or dark blue fondant, then add sugar flowers (or real flowers) in burgundy, blush, and purple tones.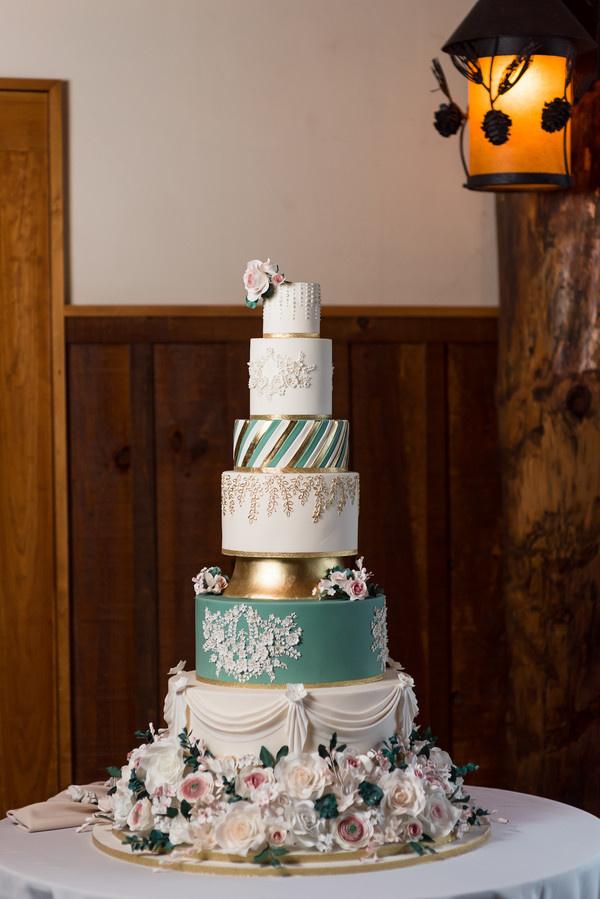 Seven-tier wedding cake
Whether you're having a very large wedding or simply want your wedding cake to look like something out of Buckingham Palace, a seven-tier cake gives you a huge canvas to get creative. Choose a base color palette, like blush, mint, and gold, then experiment with different textures and motifs on each tier.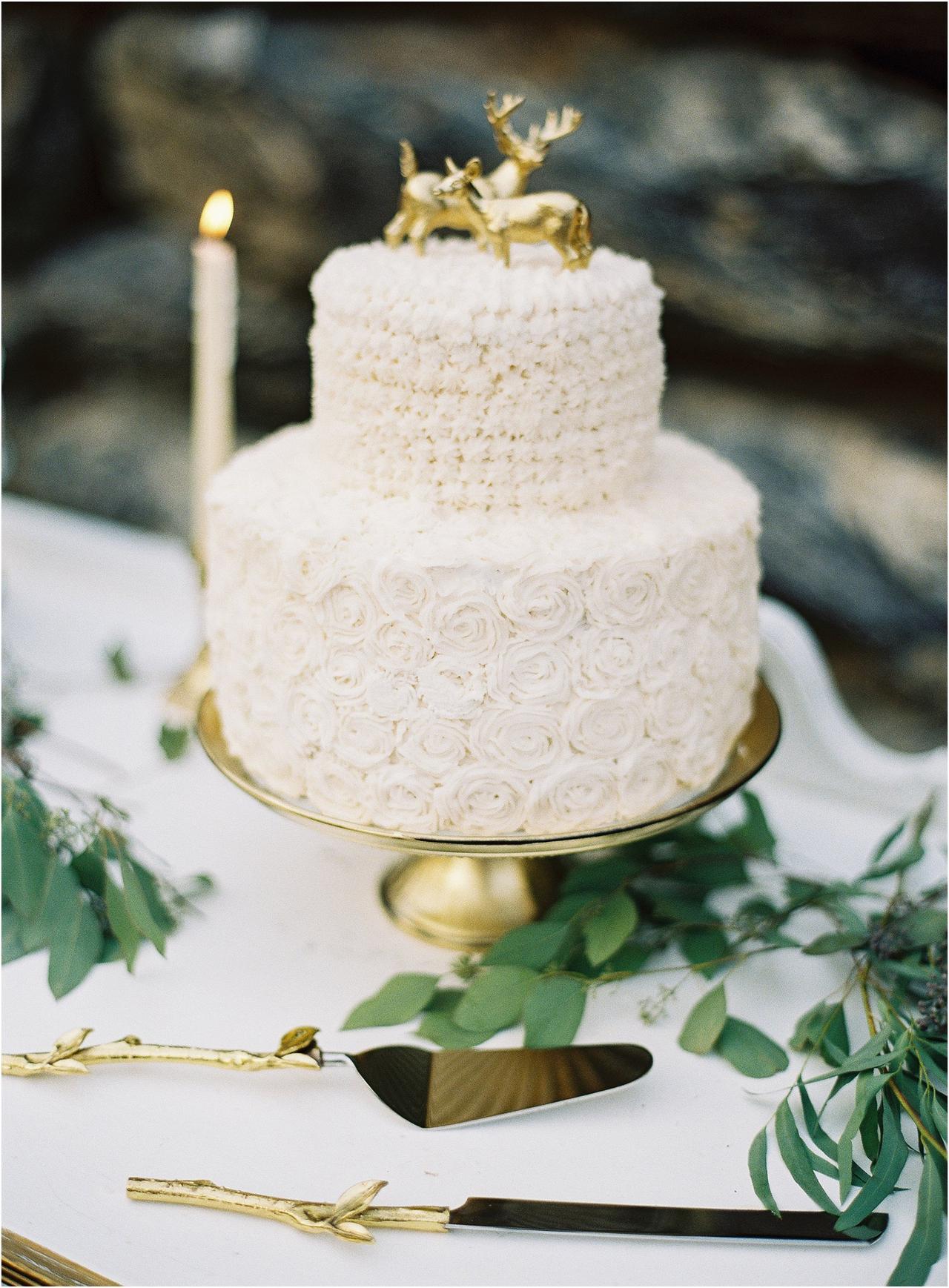 Deer wedding cake toppers
This simple but sweet winter wedding cake is perfect if you want a no-fuss dessert. Add some seasonal flair to an all-white wedding cake by topping it with gilded reindeer figurines (or any other woodland animal that reminds you of winter!).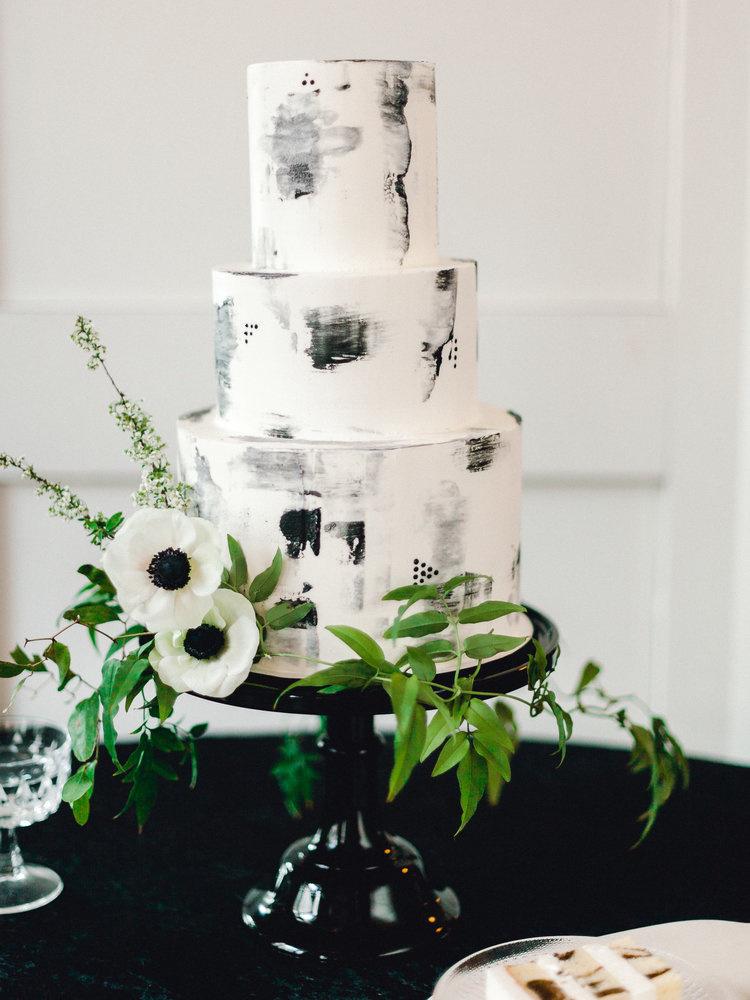 Modern black and white cake
This abstract black and white cake is edgy and cool, with greenery and white anemones to soften the look a bit.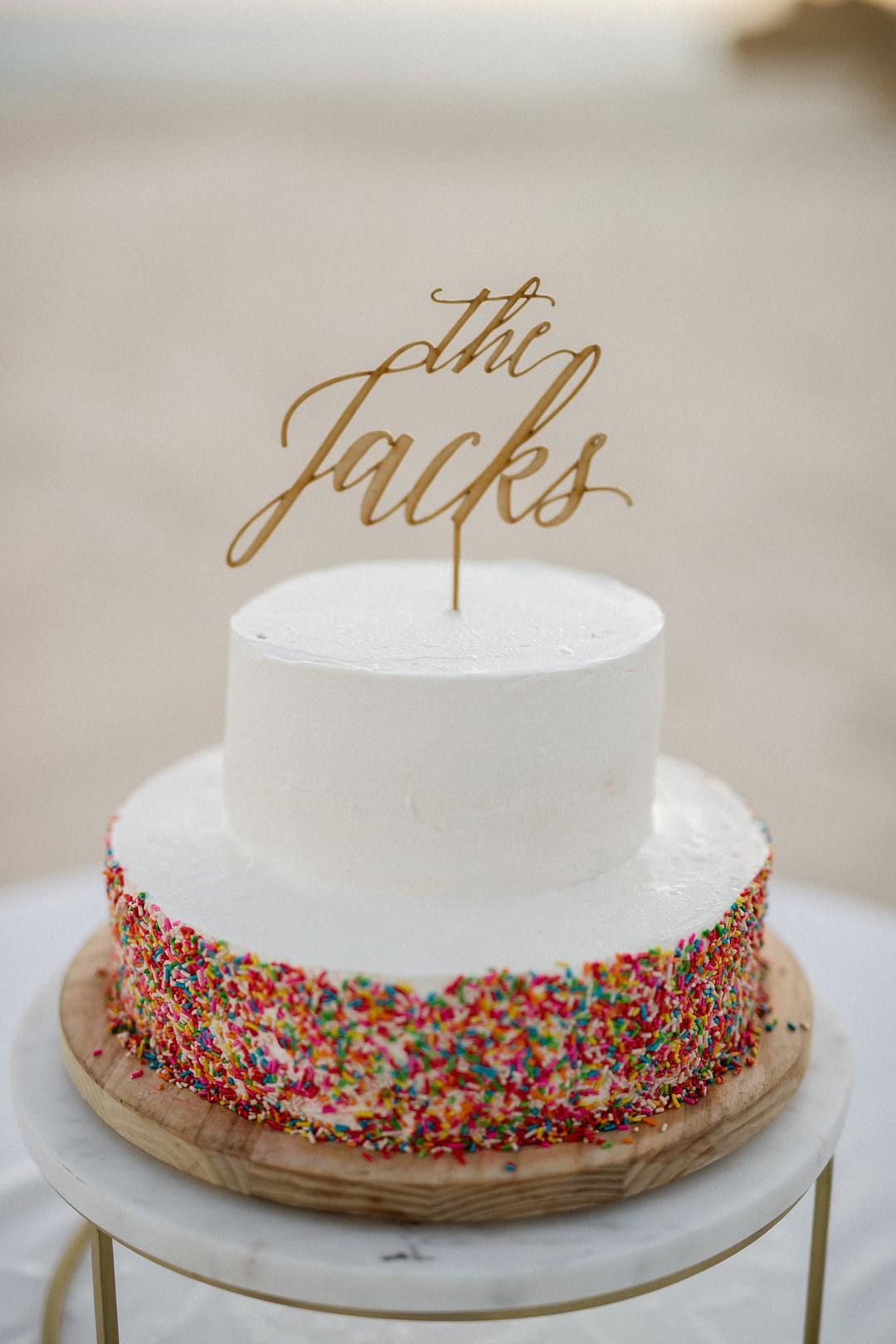 Sprinkle wedding cake
How's this for whimsical? Cover the bottom tier of a buttercream cake in rainbow sprinkles for a winter wedding cake that's unexpected and fun.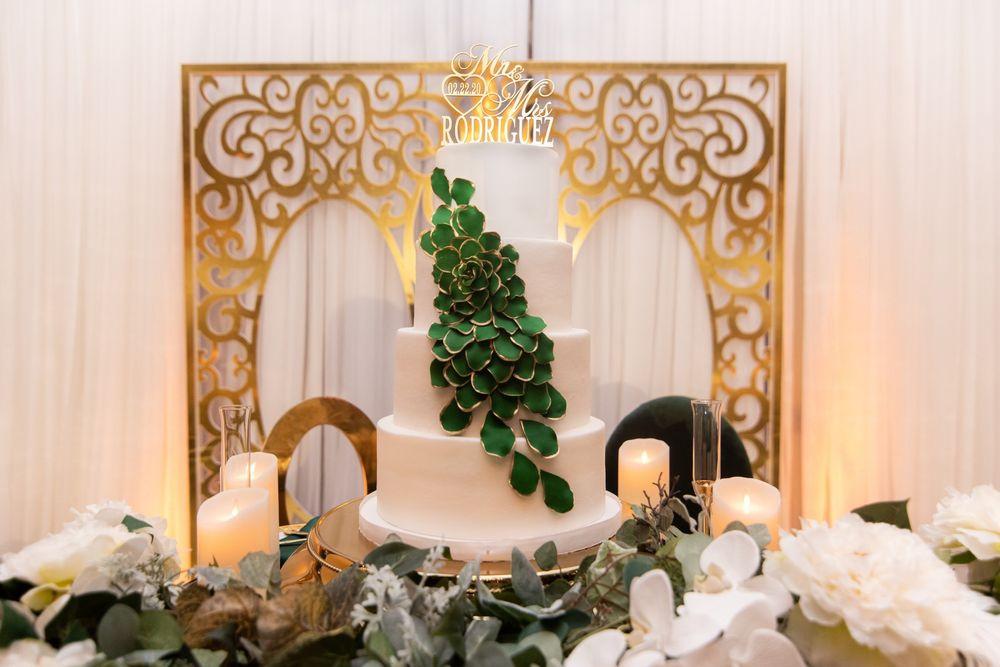 Green and gold wedding cake
Go glam by adorning a white fondant cake with emerald sugar flower petals that cascade down the front like a waterfall. This type of cake is ideal if you want your dessert display to grab everyone's attention.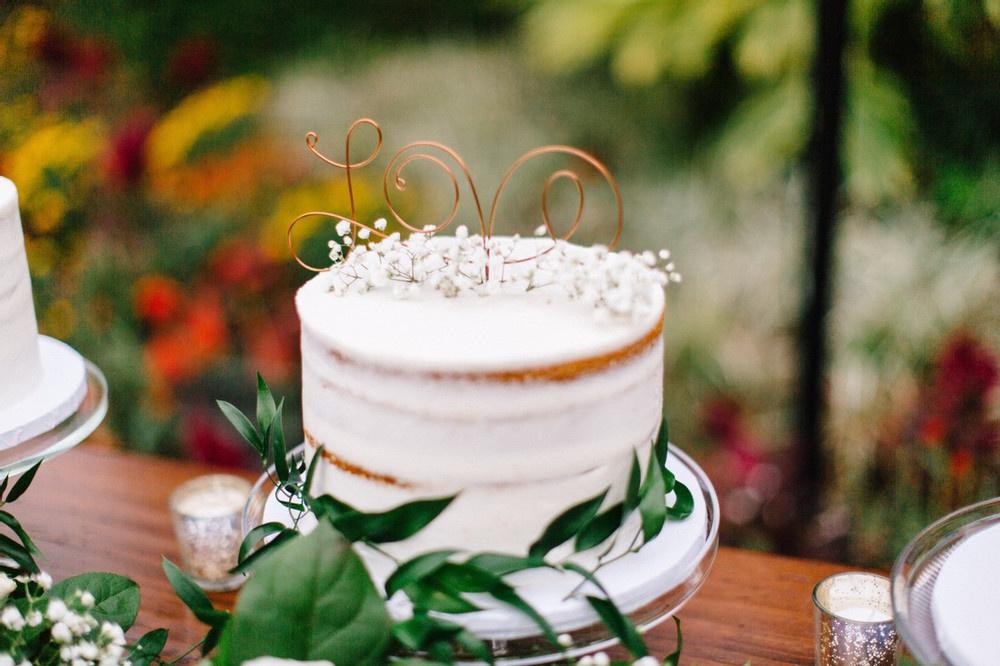 Semi-naked cake
We love this straightforward one-tier cake for a rustic-themed wedding or elopement. If you need to serve more guests, you can add two or three additional cakes along with candles and greenery to create a gorgeous tabletop display.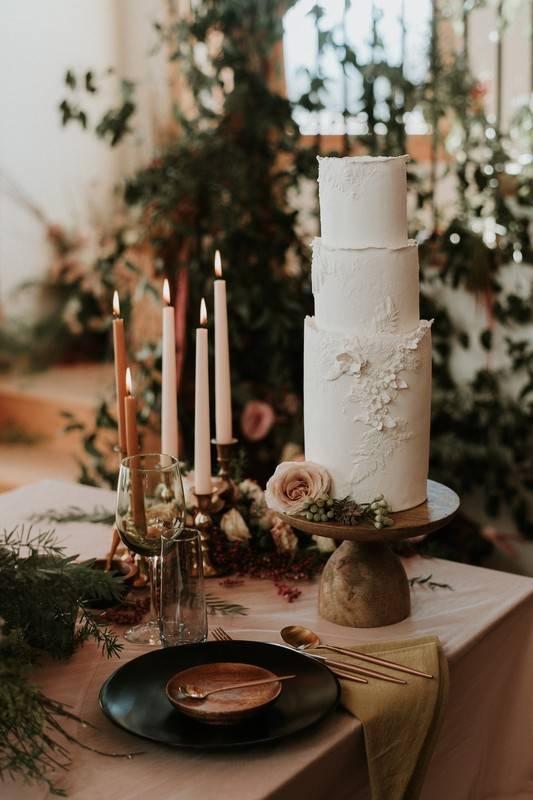 Wedding cake with elongated tiers
This winter wedding cake idea is excellent if you're looking for something slightly more unique. The elongated tiers (tiers that are taller than they are wide) create an artistic effect that reminds us of an elegant statue or sculpture. Accent the cake with a few taper candles for a modern romantic aesthetic.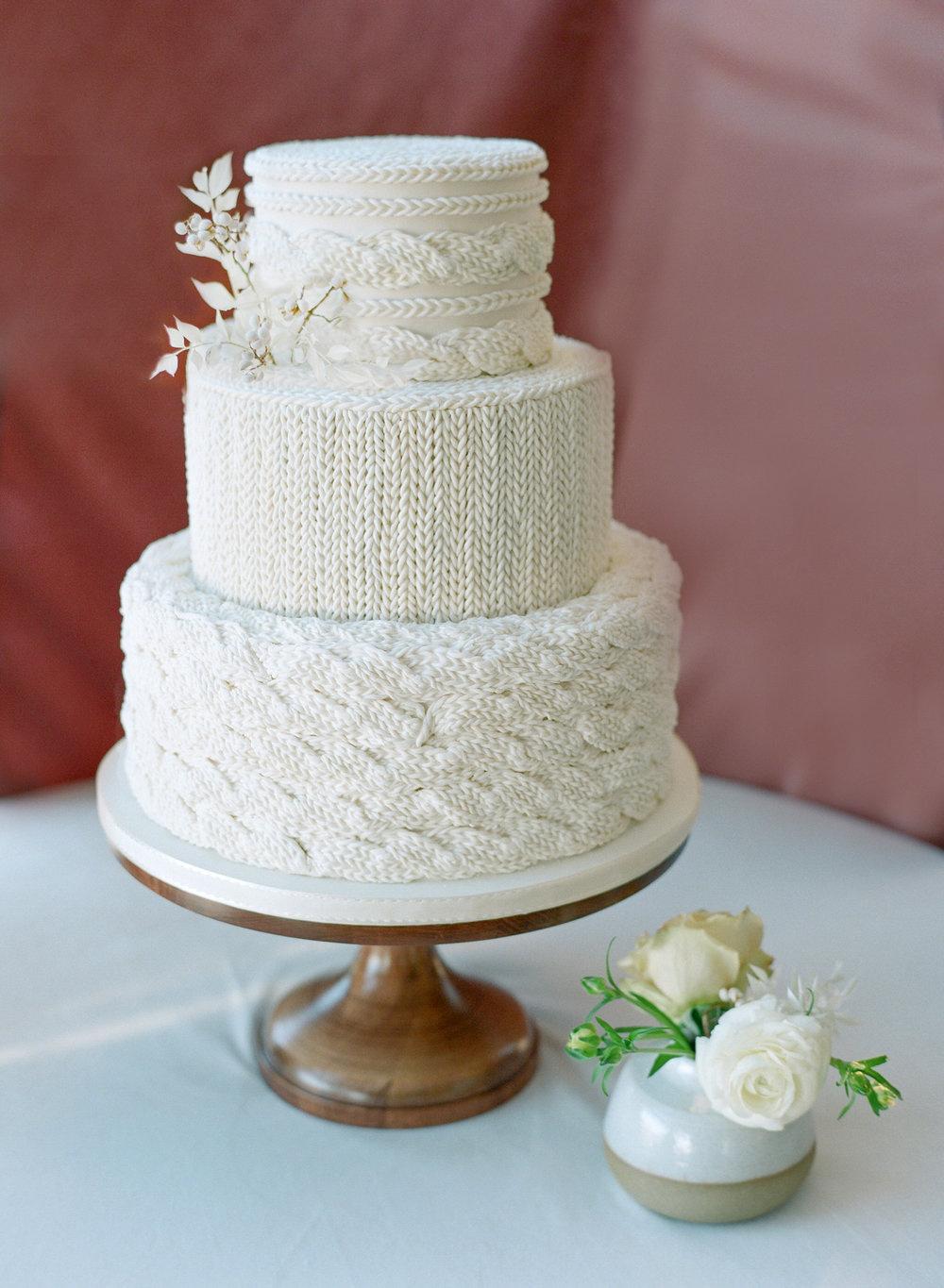 Cake by Wildflower Cakes
Cable-knit wedding cake
Cozy isn't a word that's typically used to describe wedding cakes, but that's exactly how this cable-knit design makes us feel. Draw inspiration from your favorite oversized sweater or blanket and decorate your winter wedding cake with a knit-inspired pattern.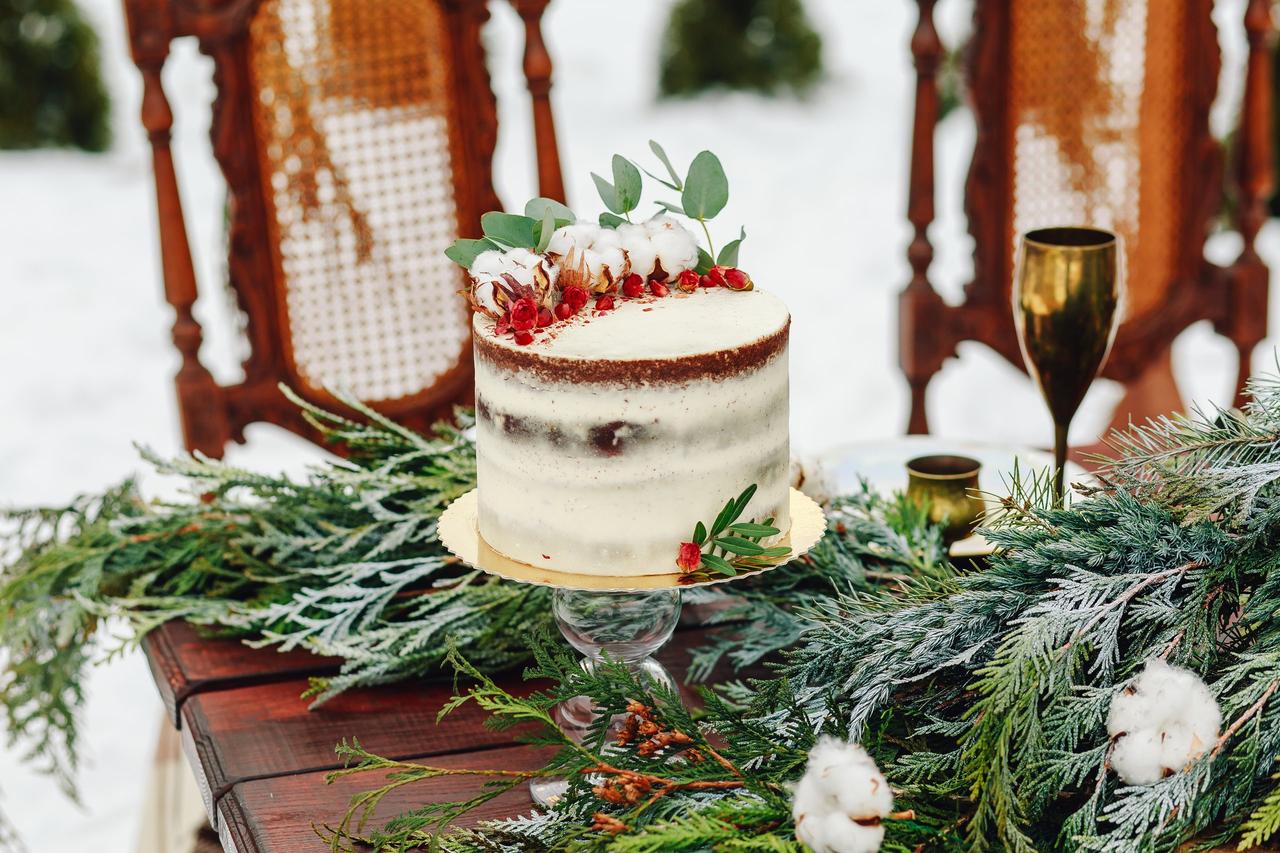 Rustic greenery wedding cake
Holly berries, greenery, and cotton puffs will instantly give your cake a rustic, woods-y effect.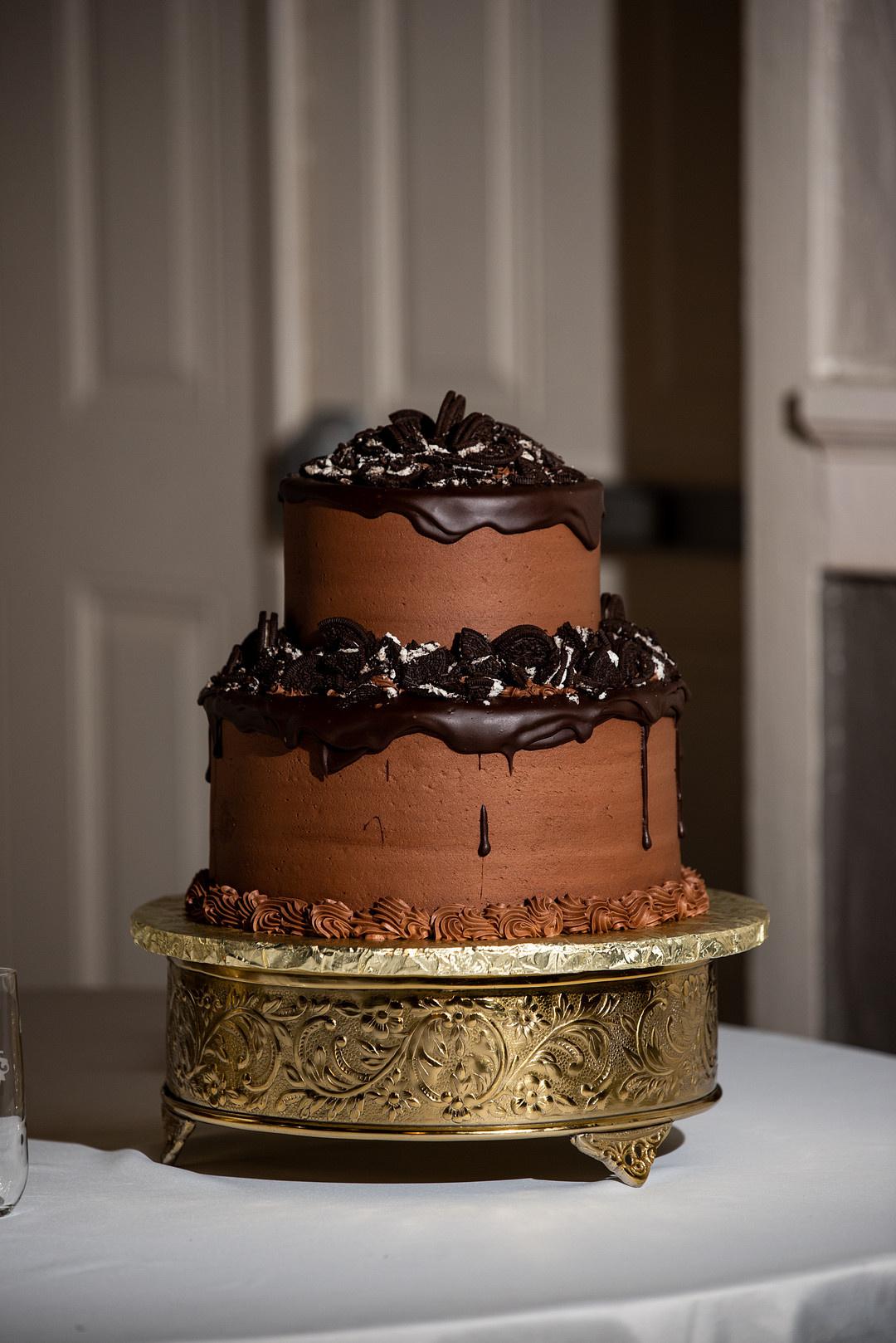 Cake by Bakers Pride Bakery, Planning by Jill Robertson Weddings
Chocolate Oreo wedding cake
Chocolate lovers, rejoice—you don't have to stick to plain vanilla or buttercream frosting when decorating your winter wedding cake. Chocolate ganache and chocolate-covered cakes are just as pleasing on the eyes as they are for the tastebuds.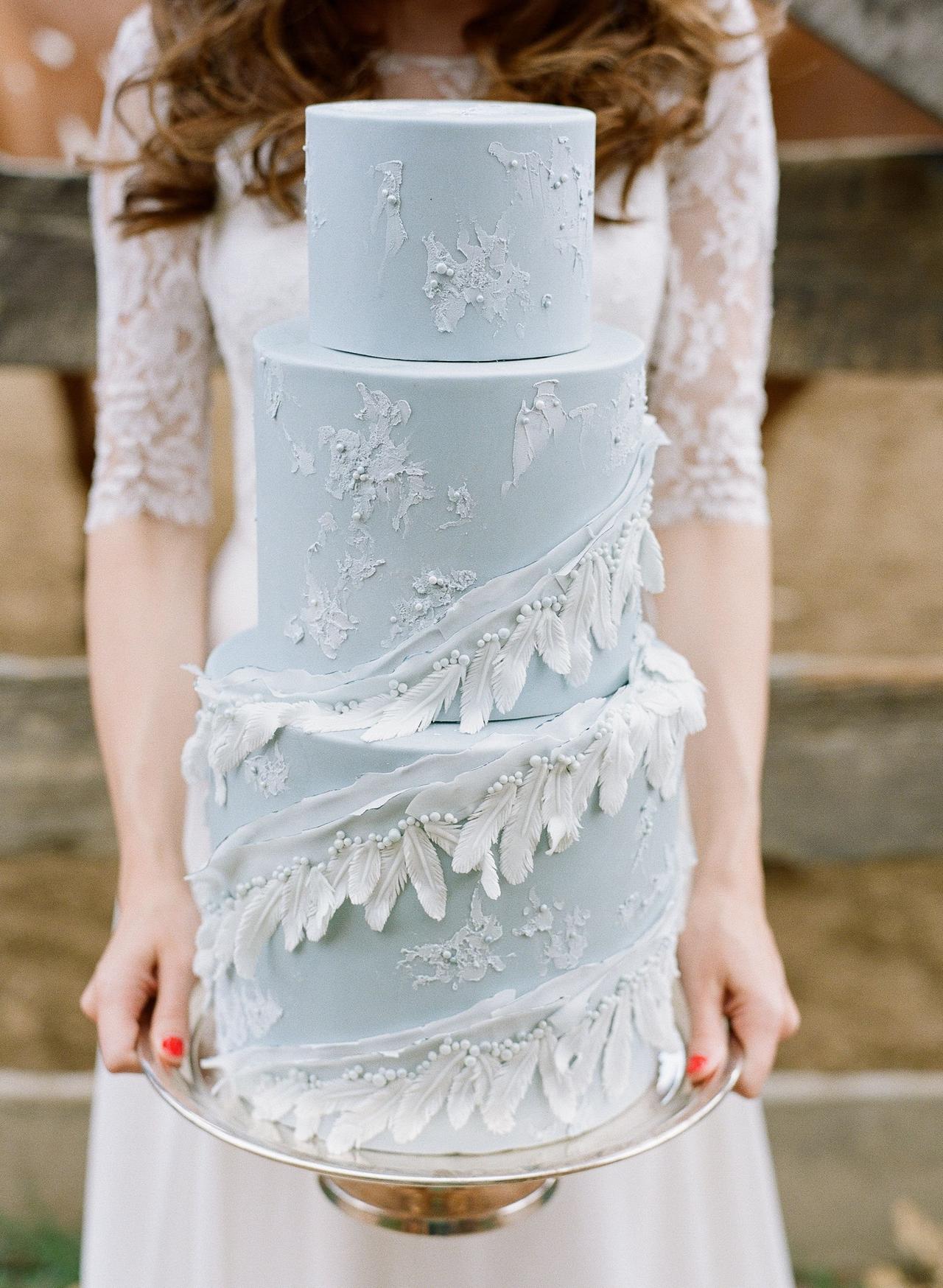 Cake by Megan Joy Cakes
Light blue wedding cake
If you're having a late winter or early spring wedding, a light blue wedding cake is a chic transition between the seasons. We love this sweet three-tier cake, which is decorated with delicate fondant feathers that give off an ethereal, boho vibe.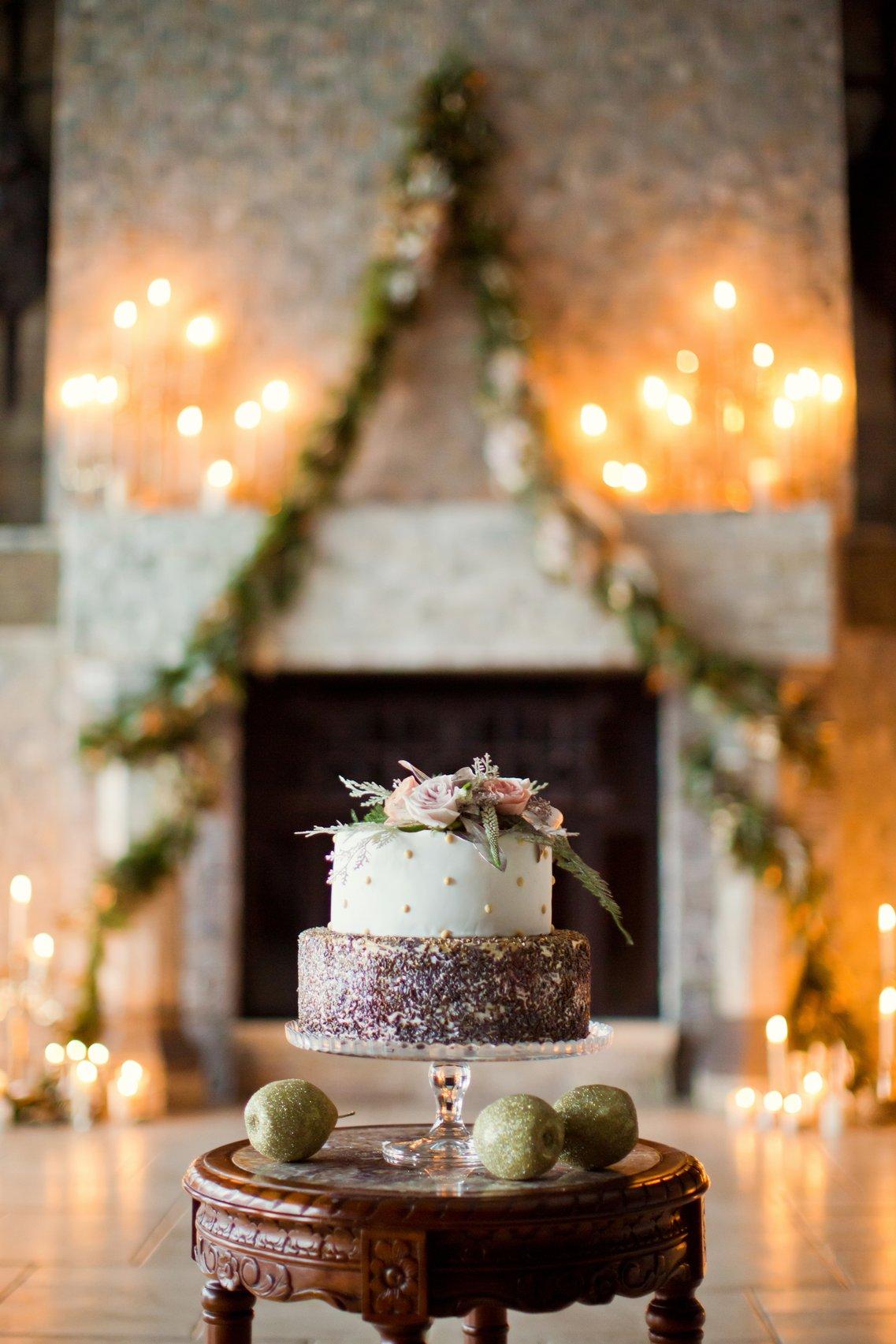 Pear and lavender wedding cake
For a cake that's highly unique, use dried lavender buds (they're edible!) to decorate the bottom tier of a white fondant confection. Candied pears, gold polka dots, and fresh roses complete this sweet look.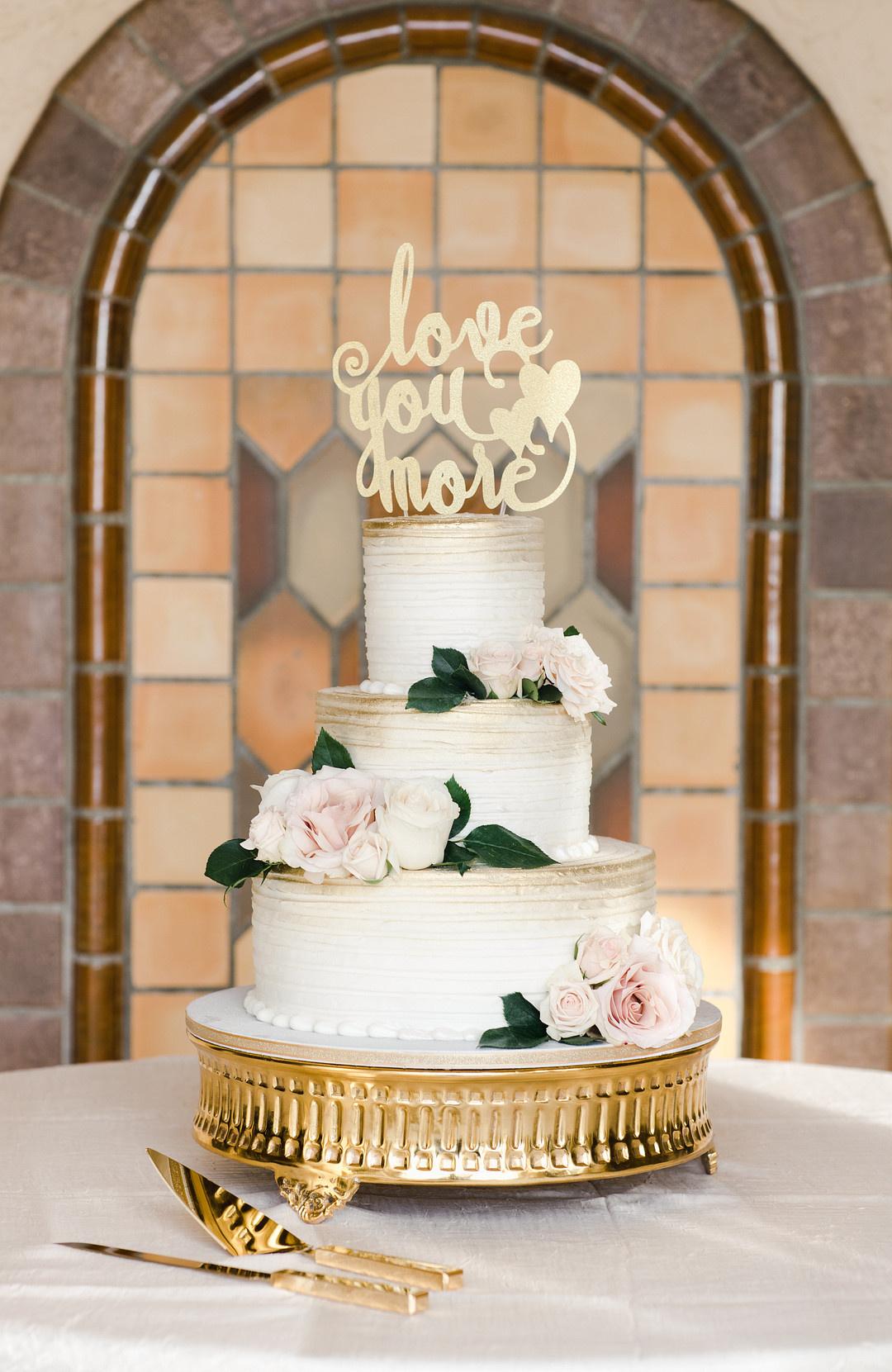 Cake by Cakes by Ron, Planning by NK Productions Wedding Planning
Buttercream wedding cake with roses
If your wedding theme is classic, a buttercream cake with blush and white roses is suitable for a traditional venue. Add a touch of edible gold paint on each tier for a hint of shimmer.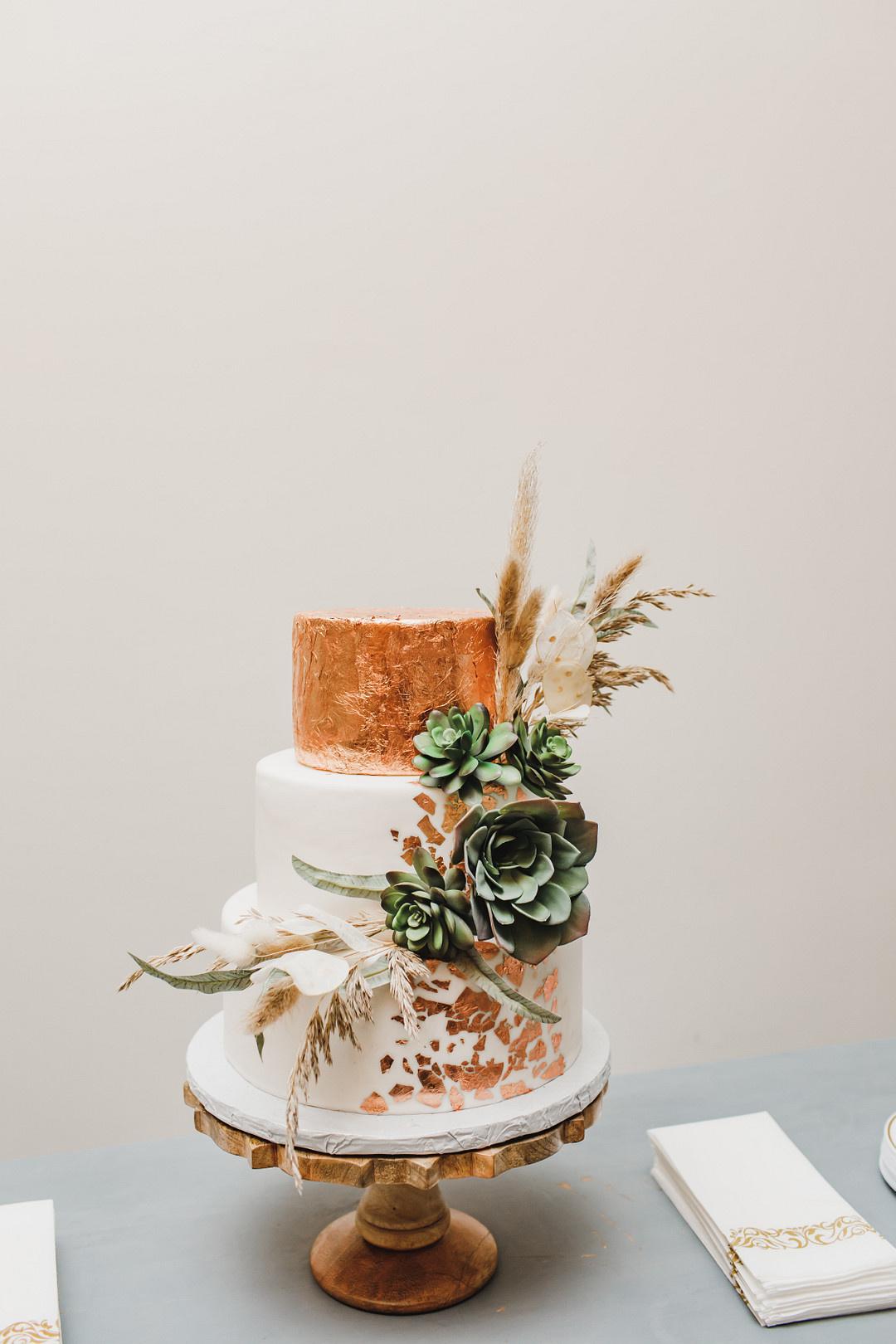 Copper and succulent wedding cake
This earthy, eclectic winter wedding cake would look right at home at an industrial venue or modern farmhouse. Copper is one of our favorite metallic hues for winter, and it looks even prettier against green succulents and dried grasses.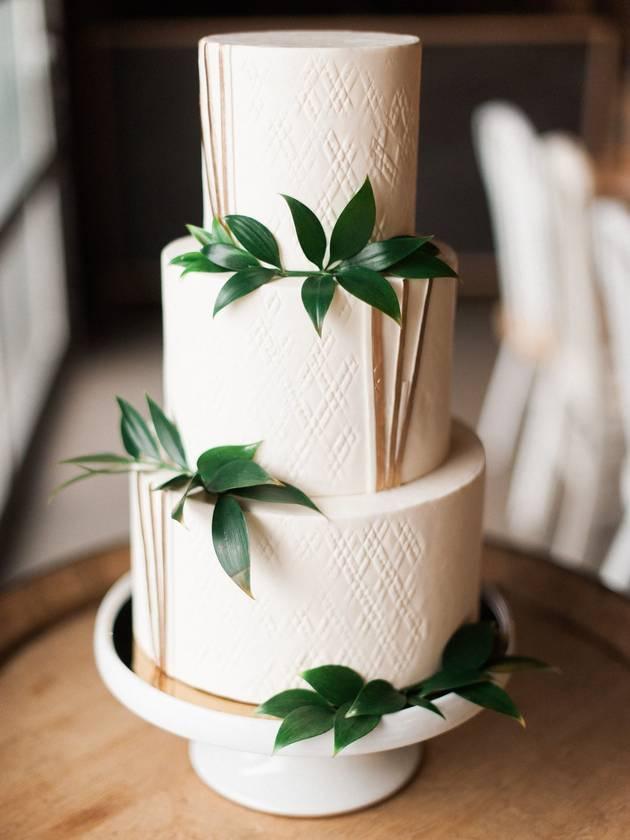 Floral design by Rust + Thistle Floral
Minimalist wedding cake
Going for a minimalistic theme? You can still decorate your cake with subtle details, like abstract crosshatching and greenery sprigs that won't overwhelm the design.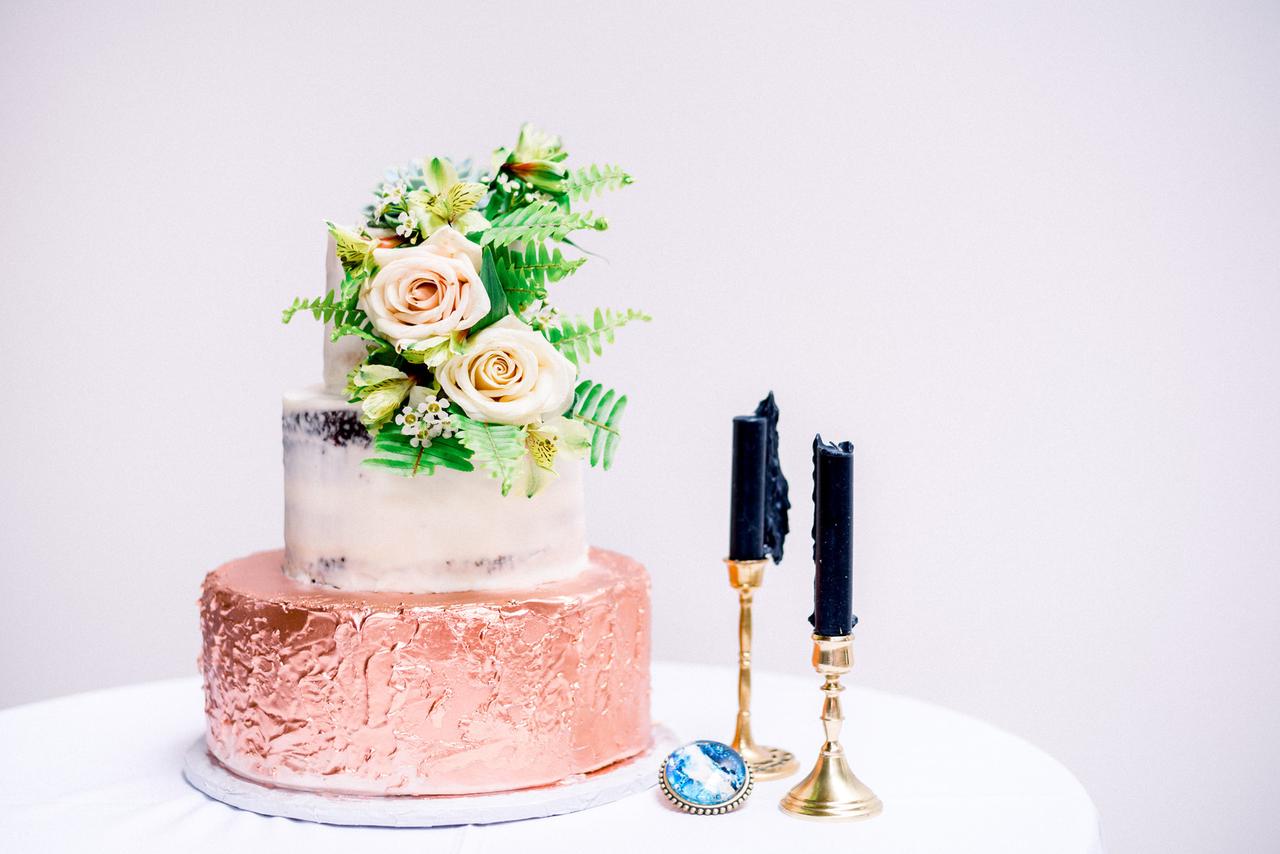 Planning by Mathews Weddings and Events
Rose gold wedding cake
Rose gold accents will give your winter wedding cake a romantic look, whether you cover the tiers entirely in rose gold fondant or frosting, or simply add a rose gold cake topper.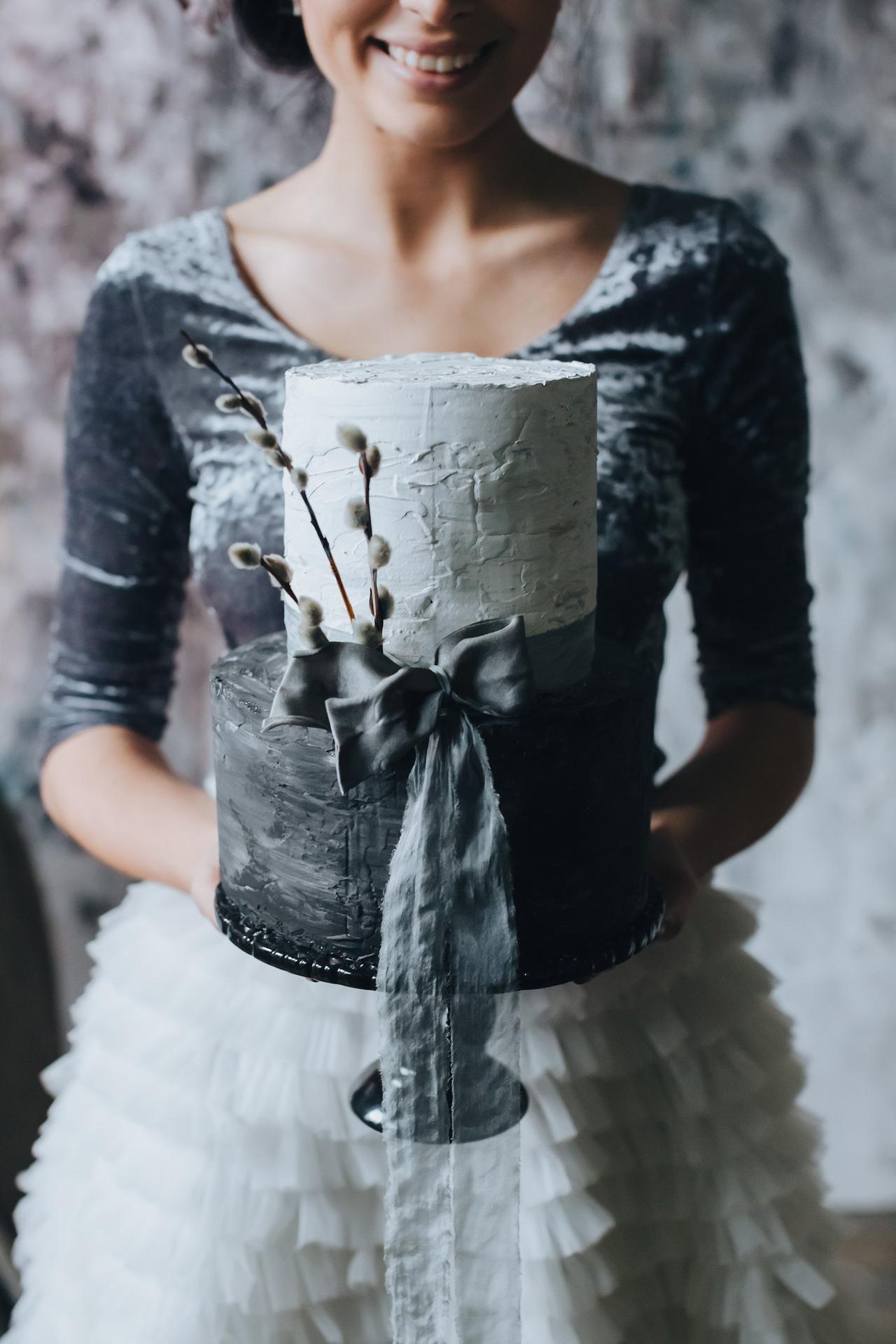 Modern gray wedding cake
We'd serve this gorgeous cake at a winter wonderland-themed wedding. The pussy willow branches (they bloom in late winter and early spring) and delicate silk ribbon balance out the edginess of the dark color palette.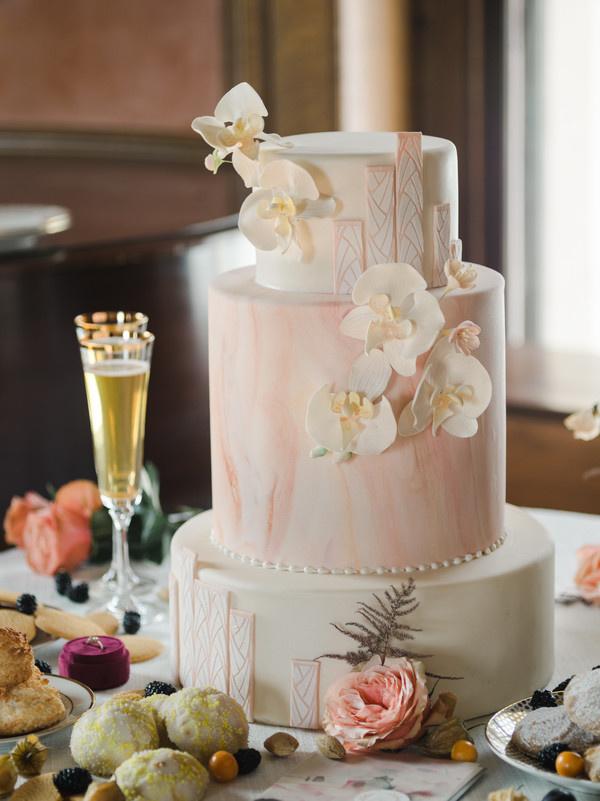 Cake by Oakleaf Cakes, Planning by Hummingbird Bridal and Events
Blush and white wedding cake
This blush and white wedding cake is classic meets contemporary, thanks to its elegant sugar orchids and trendy marbled fondant.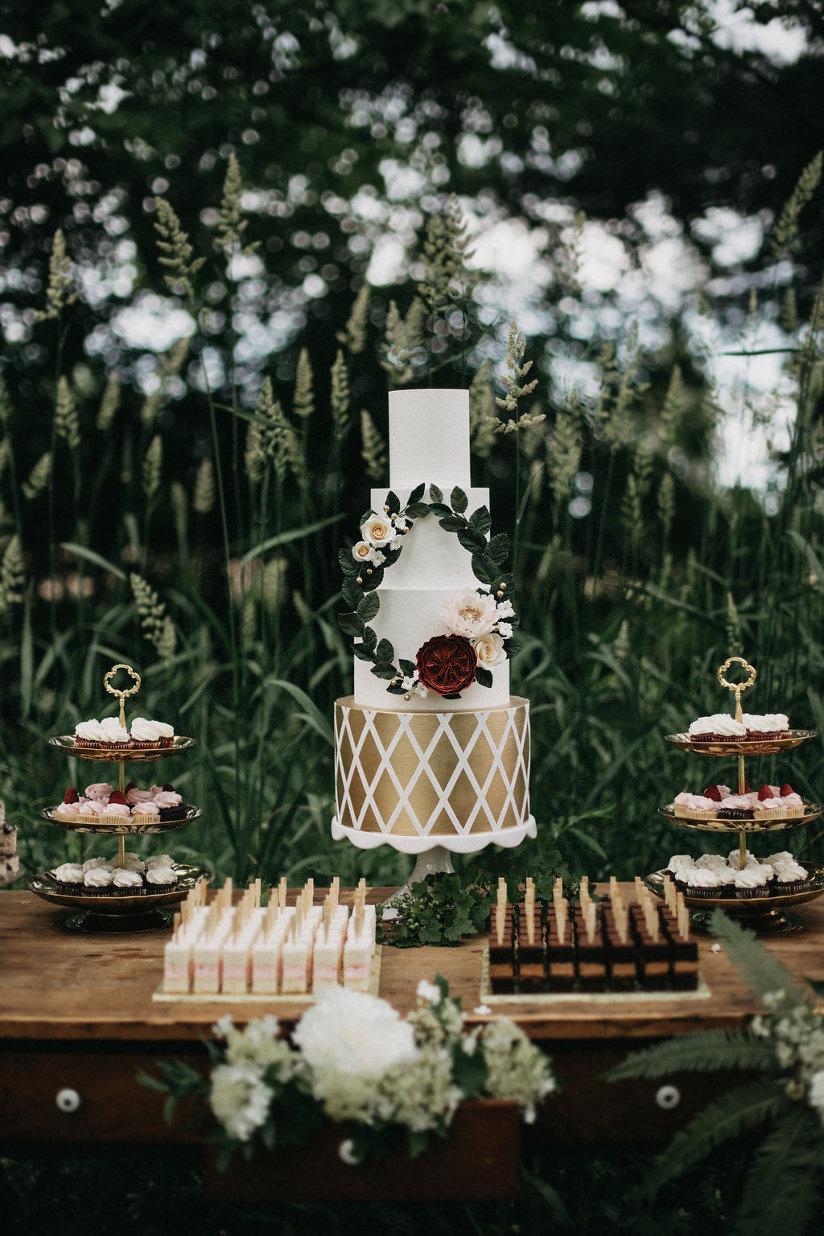 Geometric gold wedding cake
Here's proof that you can have a red and green cake without it looking like Christmas on overdrive. The geometric gold base of this cake gives the design an opulent look, and the sugar flower wreath feels festive yet chic.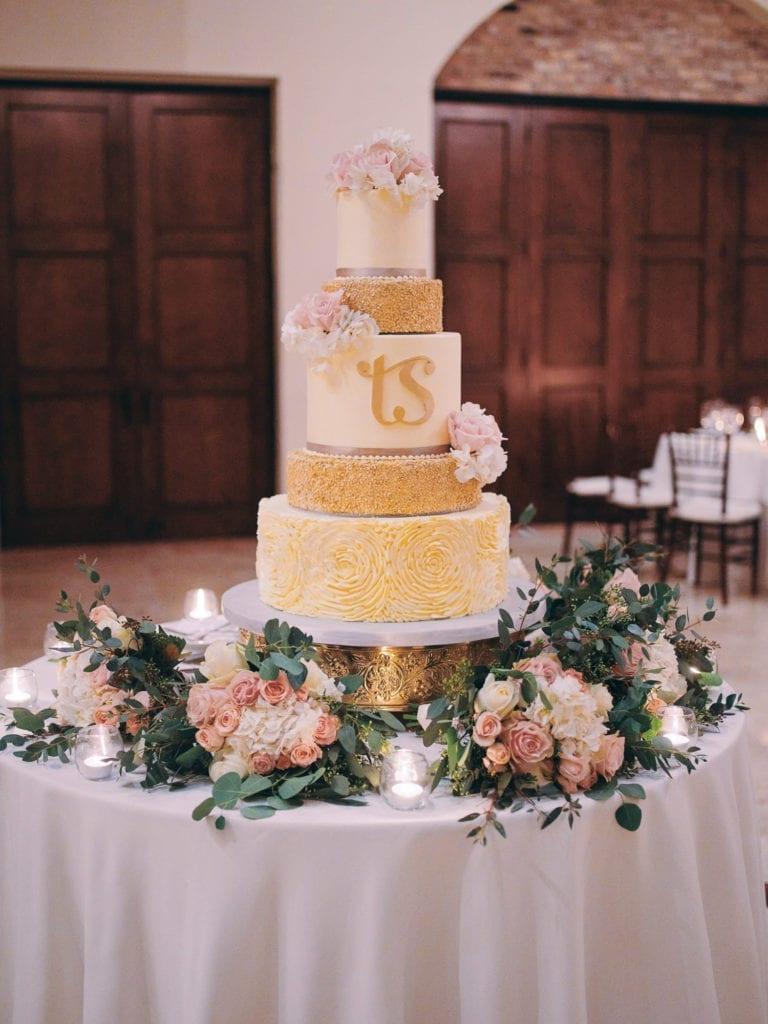 Cake by Cakes by Gina
Wedding cake with monogram
If you're having a formal wedding, we love the idea of adding a monogram to your winter wedding cake. It's the perfect way to show off your new initials!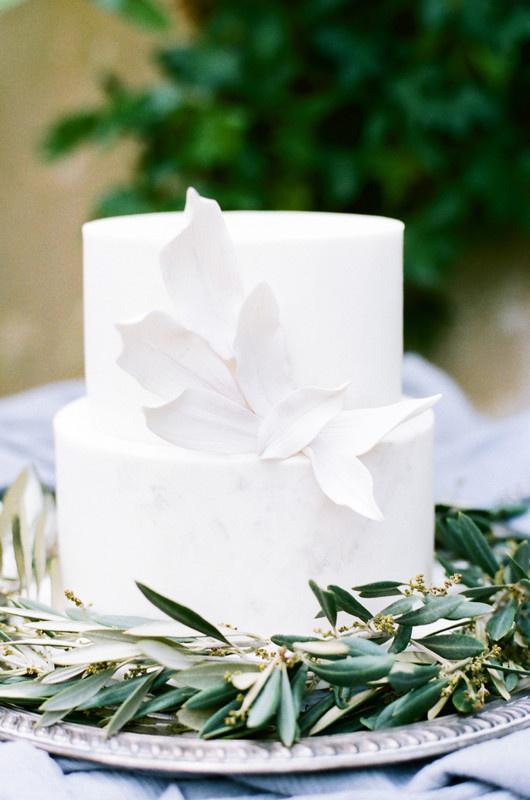 All-white wedding cake
An all-white wedding cake is sleek and sophisticated. Break up the monochromatic color palette by adding molded fondant leaves or petals.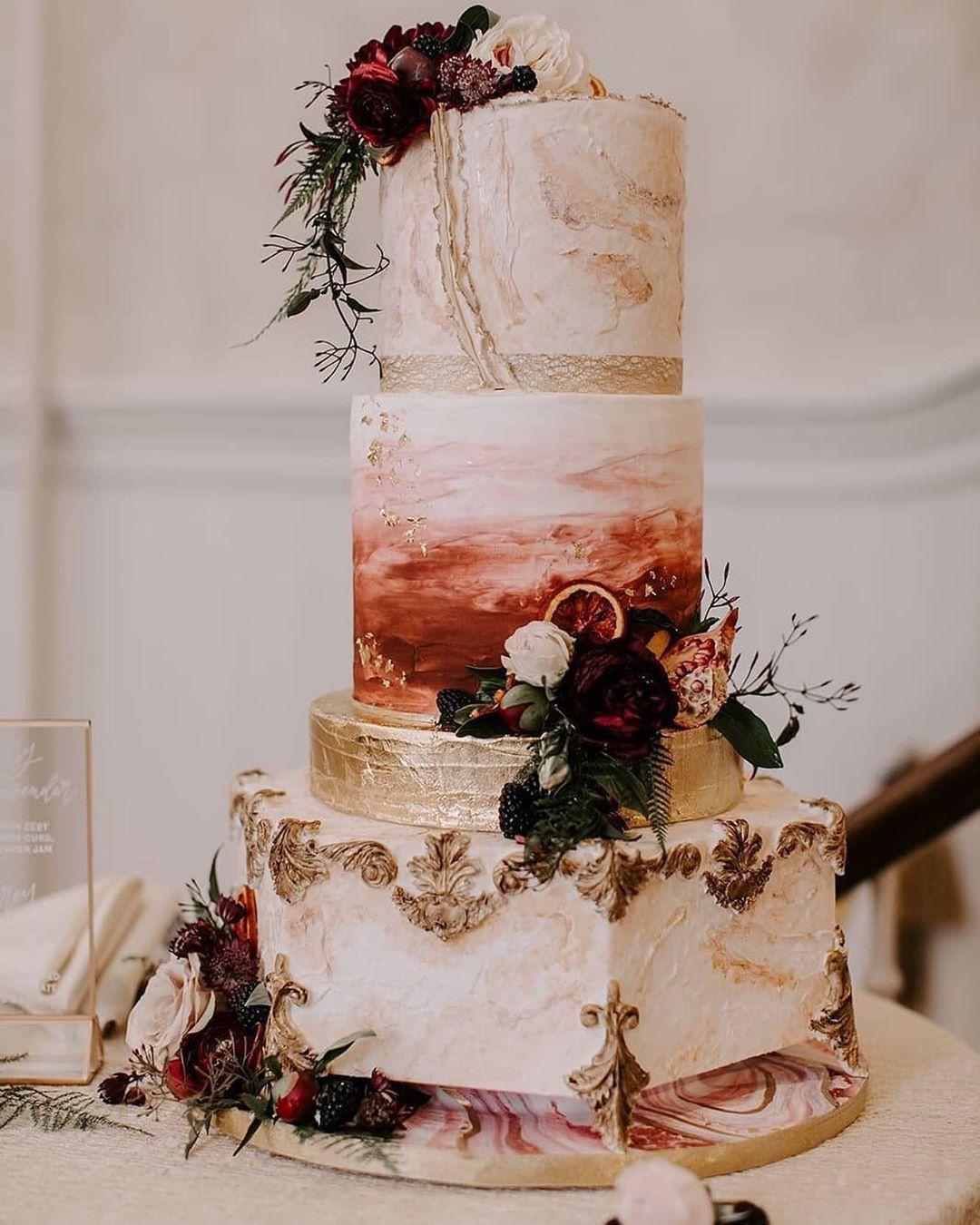 Gatsby-inspired wedding cake
This decadent cake is fit for a Gatsby-themed wedding or even a New Year's Eve celebration. The combination of fresh fruits, flowers, marbled fondant, and golden accents feels luxe and exquisite.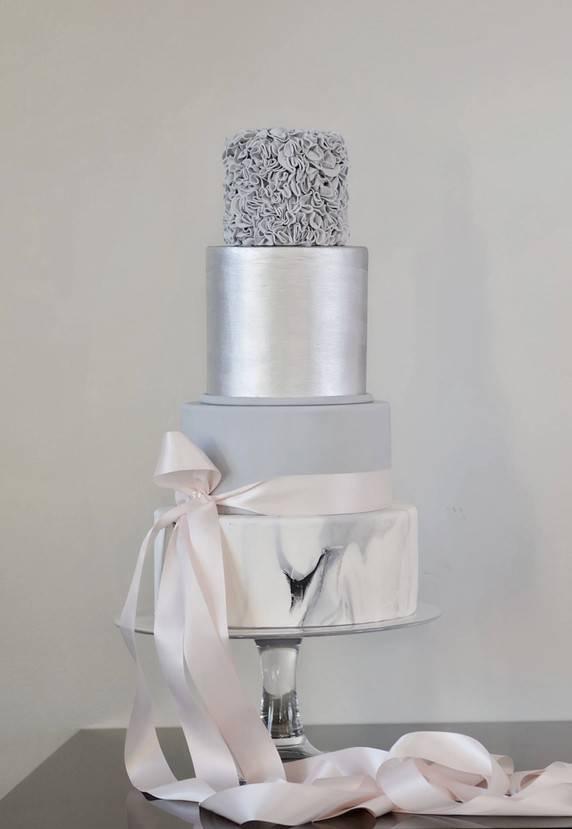 Silver marble wedding cake
Take a cue from the holiday season by decorating your cake to look like a giant gift box, complete with edible silver leaf and an elegant bow.