20 Naked Wedding Cakes That Are Better Without Frosting
This unique cake style isn't going away anytime soon. Check out these naked wedding cake ideas and tips to decide if the trend is right for you.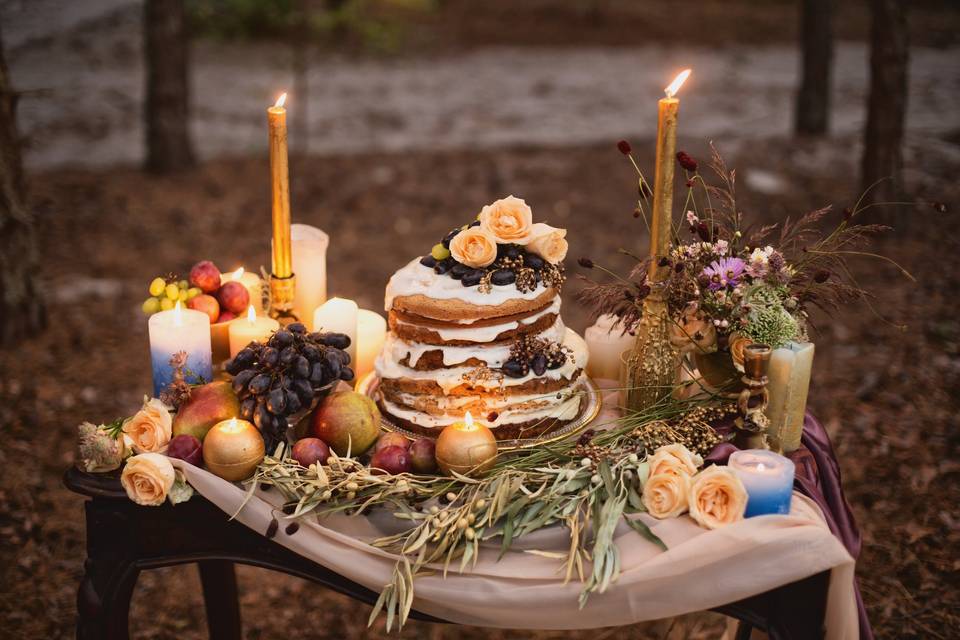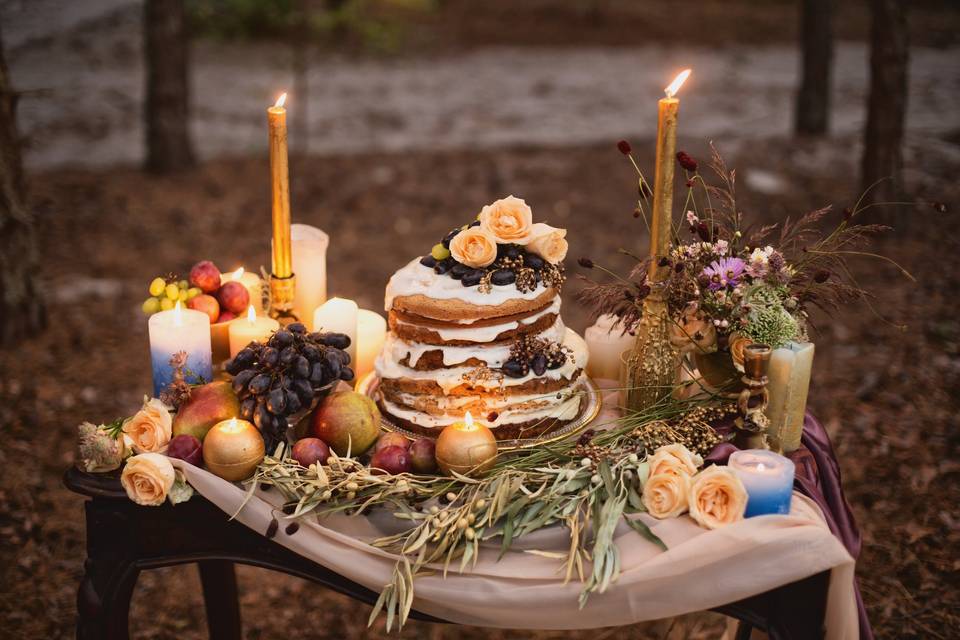 Whoever coined the phrase "less is more" probably wasn't talking about naked wedding cakes, but in this instance, we'll take it. These frosting-free desserts continue to be popular among couples in search of unique wedding cake ideas—and those who would simply scrape the frosting off their slice of cake anyway. But what exactly is a naked wedding cake or a semi-naked wedding cake, and how do you decorate them? We're explaining it all right here, along with sharing some real-life naked wedding cake ideas to help inspire your own.
Here's exactly what you need to know about naked wedding cakes, semi-naked wedding cakes, and how to decorate them.
What is a naked wedding cake?
A naked wedding cake (or bare wedding cake) is a cake without frosting—that means no buttercream, fondant, or anything else that would typically go on top of the layers and filling of the cake. This look first emerged as a trend several years ago, but naked wedding cakes have since become a mainstay in the wedding dessert realm. They're highly popular for informal and rustic themes, and for couples who aren't huge fans of frosting. Since there isn't any frosting to trap moisture in the cake, naked cakes tend to dry out very easily, so be sure to ask your wedding cake baker about their process and how they will keep the dessert fresh.
What is a semi-naked wedding cake?
A semi-naked wedding cake is in between a naked cake and a fully covered cake. The frosting is applied in a very thin layer to allow the cake underneath to peek through. Semi-naked wedding cakes are a great alternative if you like the look of bare wedding cakes but don't want to completely forego the frosting. A thin layer of buttercream or other type of frosting will also help keep the cake from completely drying out.
Our favorite naked wedding cake ideas
Skipping the frosting doesn't mean you have to skip out on the cake decorations. There are so many ways you can decorate your naked wedding cake, whether it's by adding fresh fruit, sprinkles, flowers, greenery, a cake topper, or other sweet treats, like mini macarons and meringues. Take a look at these ideas to see what we mean.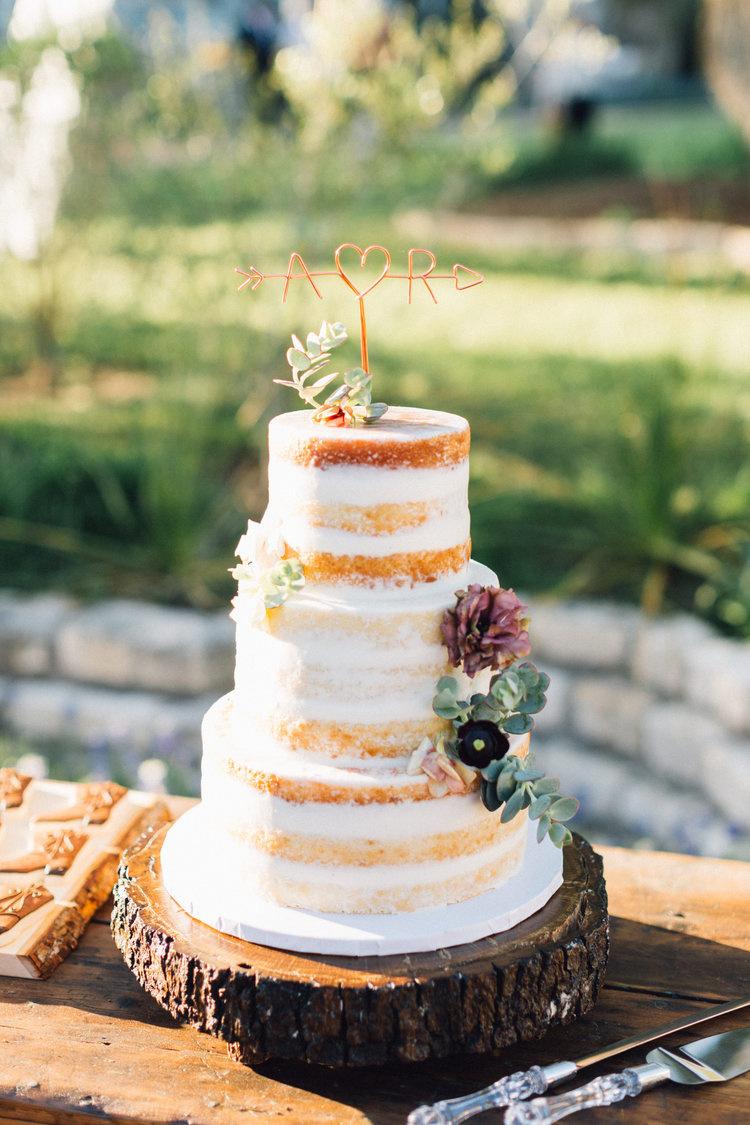 Semi-naked wedding cake with succulents
Rustic and earthy, succulents are a fitting choice if you're having an outdoor wedding or getting married at a barn or farm. Display your cake atop a wooden cake stand to complete the outdoorsy effect.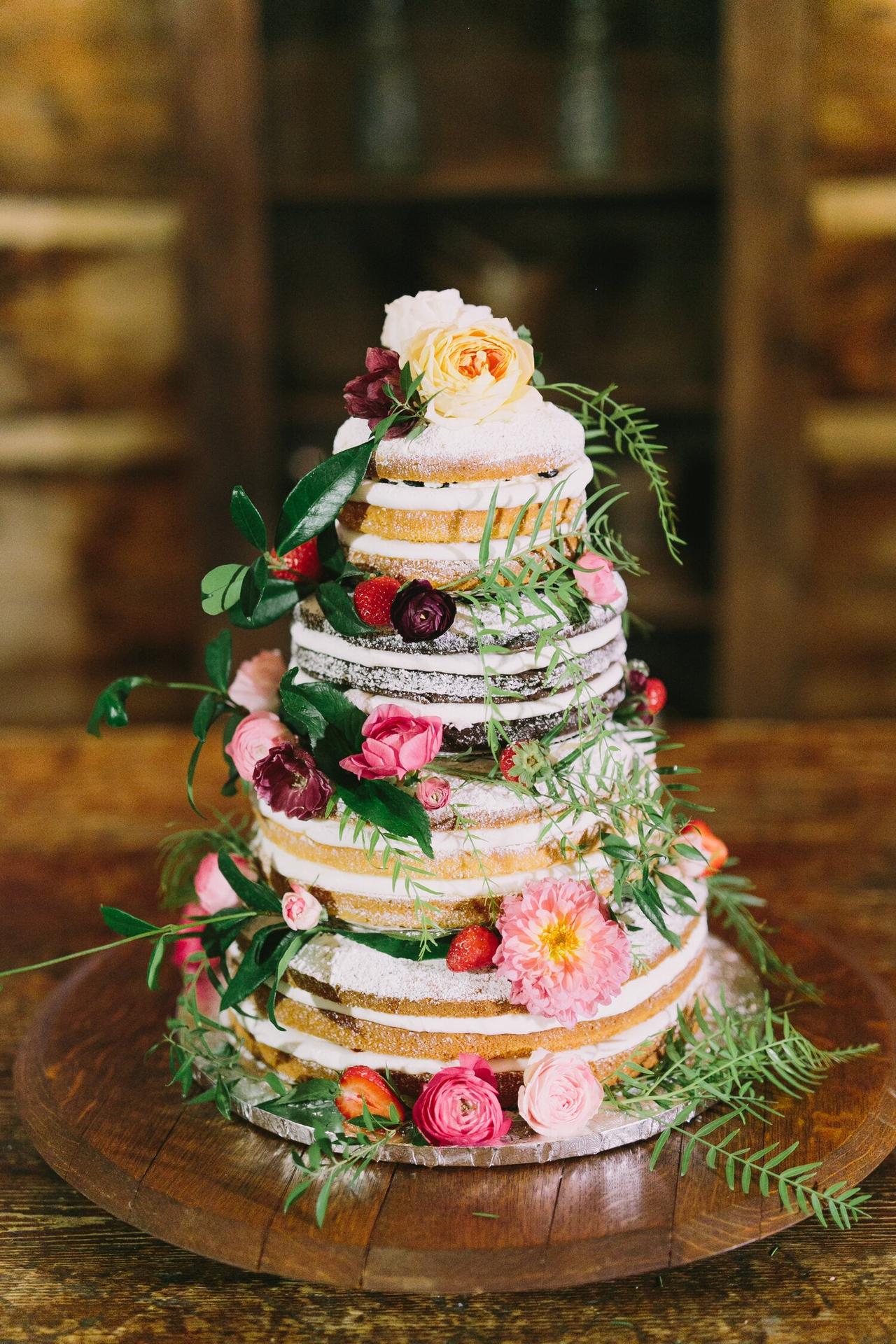 Greenery and flower wedding cake
Finish your bare wedding cake with a dusting of powdered sugar, greenery sprigs, and fresh flowers in bright colors, like pink, yellow, and purple. The end result is playful and cheerful.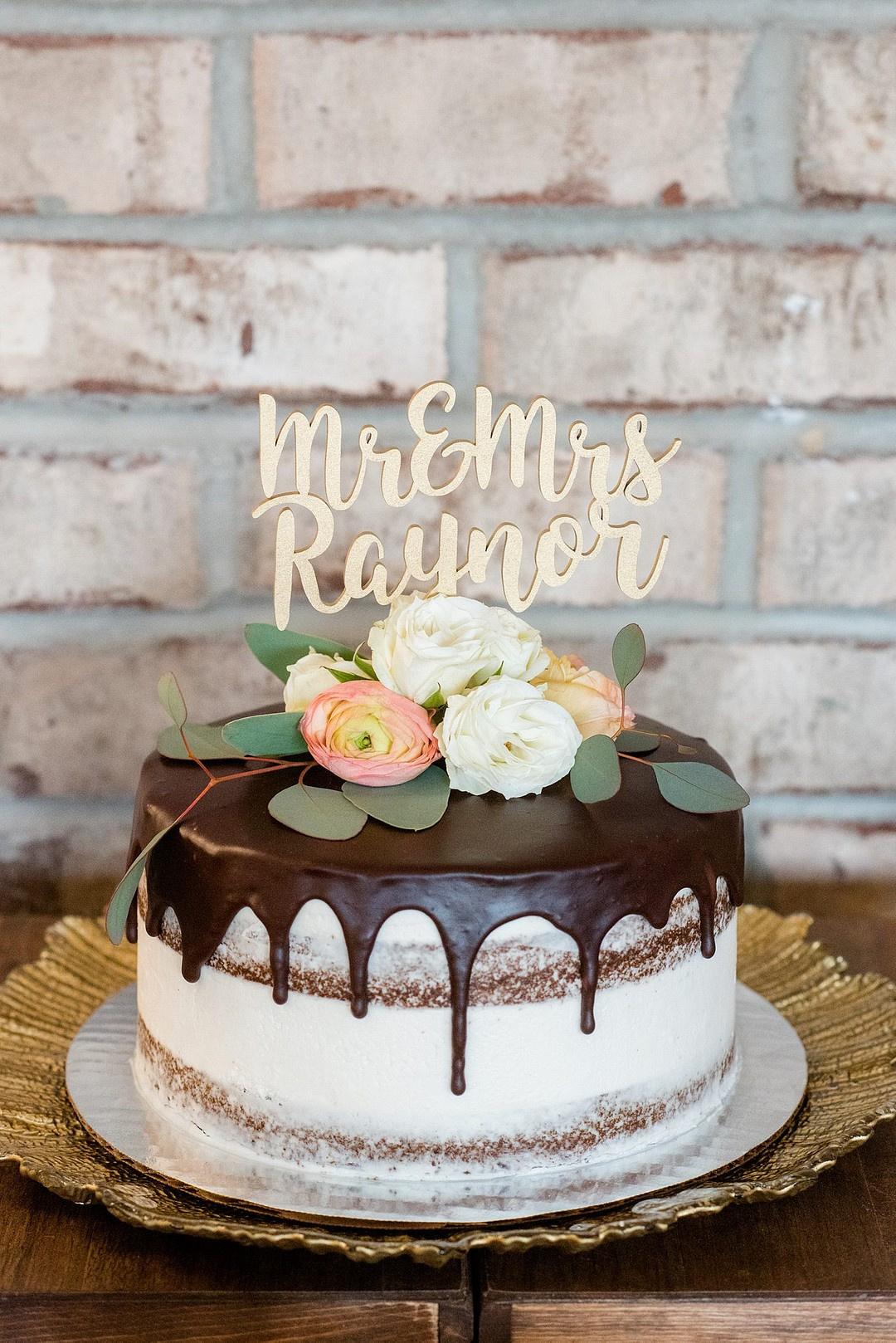 Planning by Sweet SaraBelle
Semi-naked wedding cake with drip icing
Combine two trends into one dessert by decorating your naked wedding cake or semi-naked cake with drip icing. This mouthwatering detail can be personalized with almost any type of flavor, like raspberry, caramel, or white chocolate.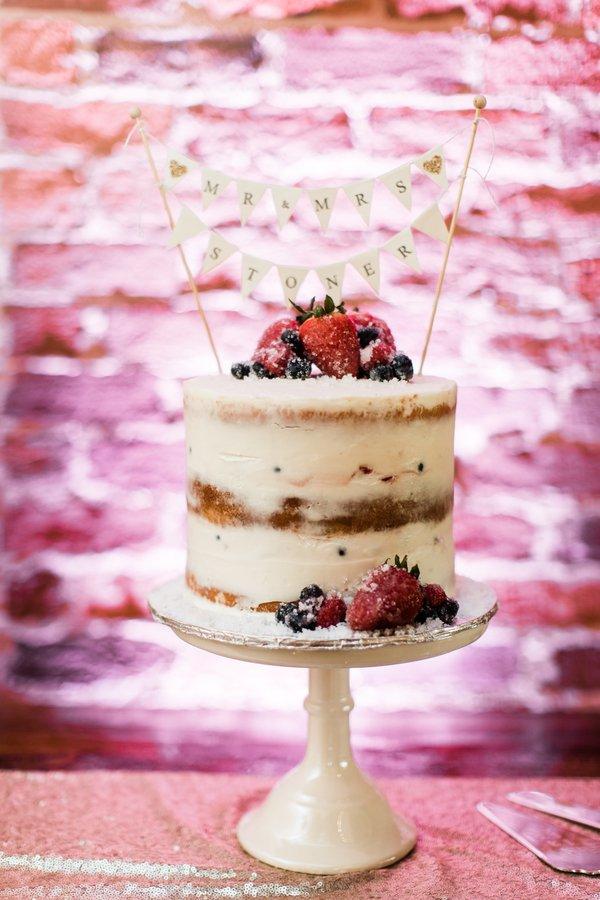 Cake by Art Eats Bakery
Mini bunting wedding cake topper
This cute wedding cake topper idea is ideal for a vintage-themed wedding, and it fits perfectly atop a one-tier naked cake.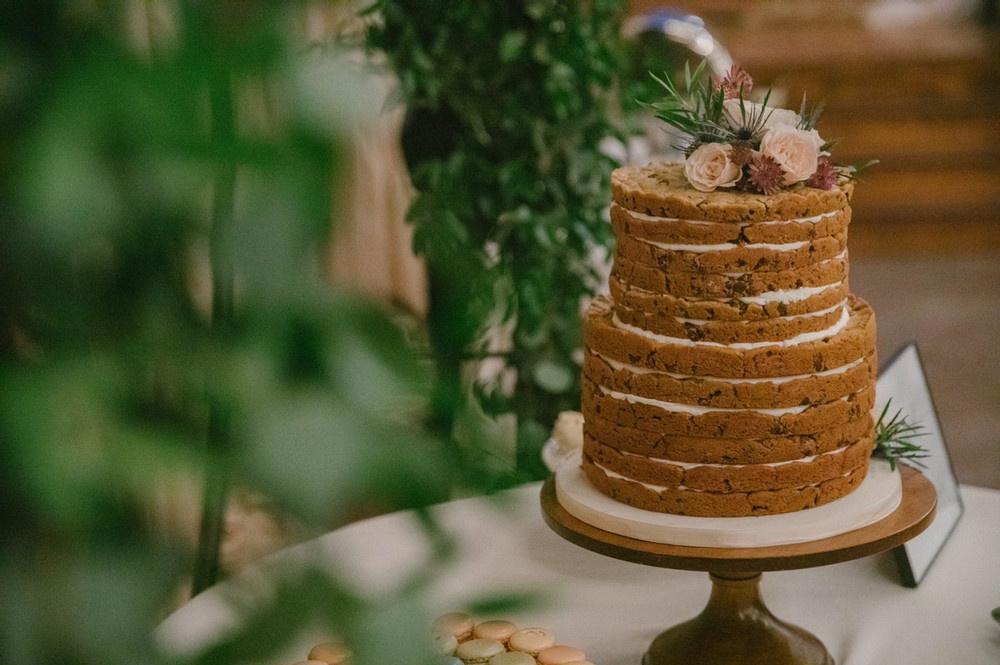 Cookie wedding cake
If you and your partner aren't big on cake, why not opt for cookies in the shape of a cake instead? Skip the frosting and decorate with a simple cluster of flowers on top.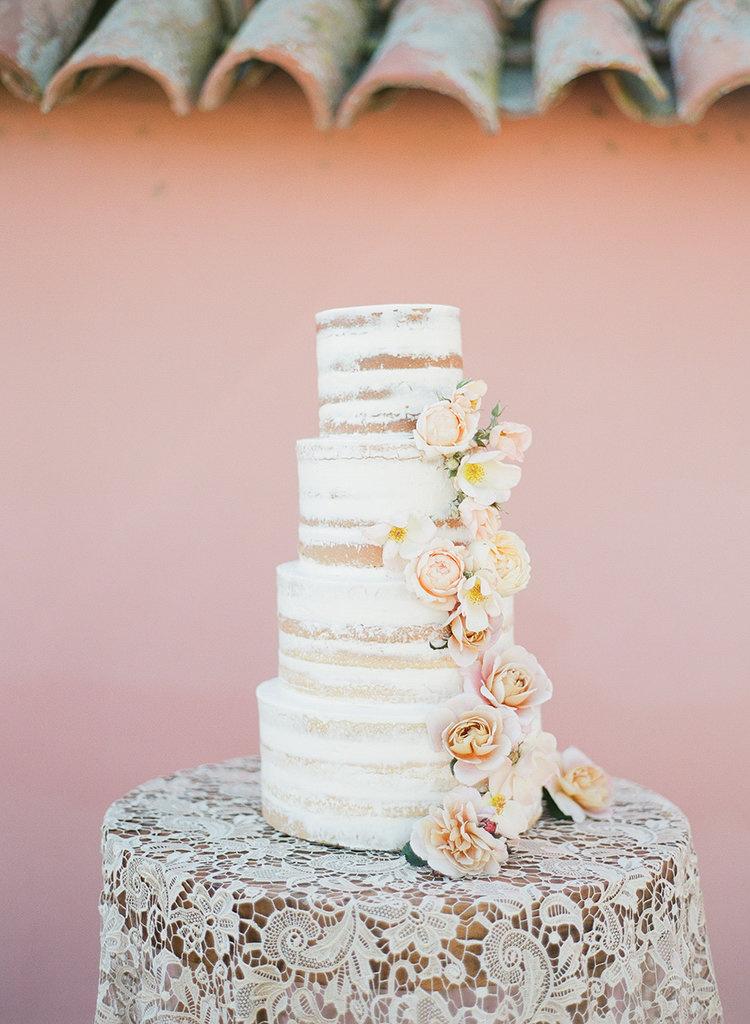 Semi-naked wedding cake with roses
This four-tier stunner would look gorgeous at a summer wedding. Use pale pink and cream garden roses to create a cascade of flowers down one side of your cake, then place a few at the bottom to complete the design.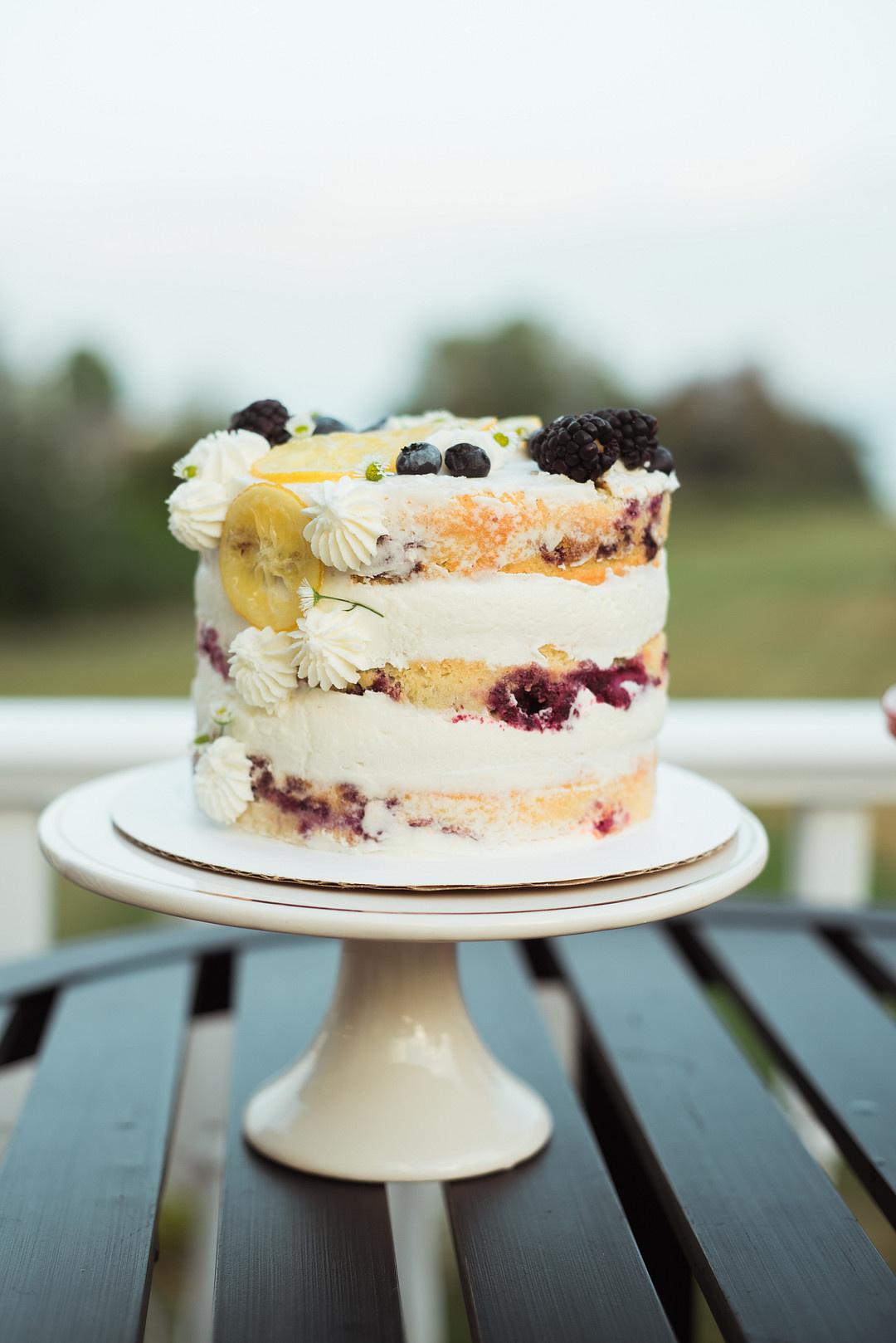 Cake by Mountain View Confections
Naked wedding cake with fruit filling
Since the layers and filling of your cake will be totally visible, you can use it as an opportunity to add even more detail to the design. Add berries and other fruits to the cake mix for a dessert that's naturally colorful and appetizing.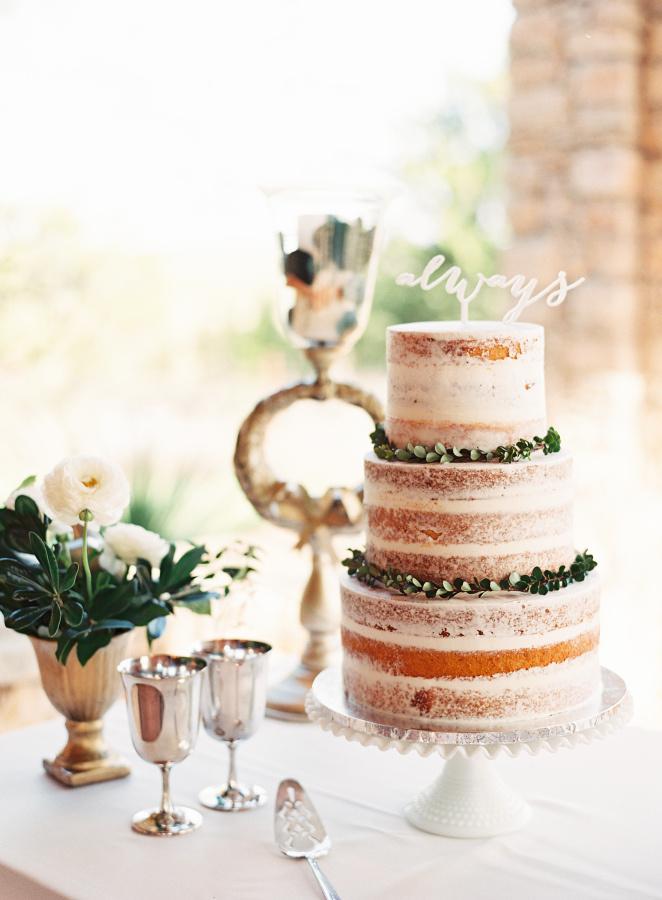 Three-tier wedding cake with boxwood
This simple bare wedding cake idea would work for any season and almost any wedding theme. If you want a more ethereal look, you can swap the boxwood branches out for leafy greenery instead.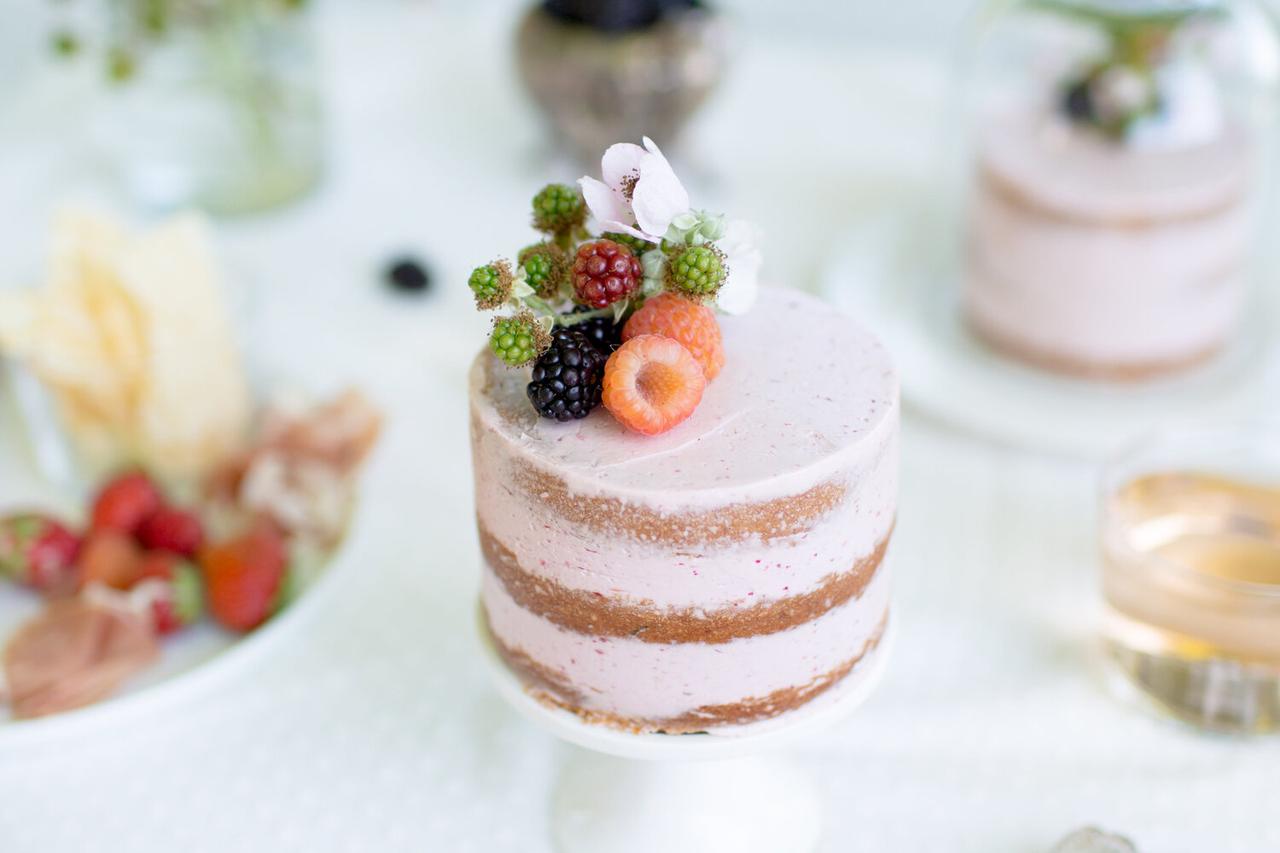 Mini wedding cakes
Treat your guests to their own individual cakes topped with berries and flowers. This idea is especially helpful if you're looking for ways to safely serve wedding food amid the pandemic and want to avoid communal dessert tables.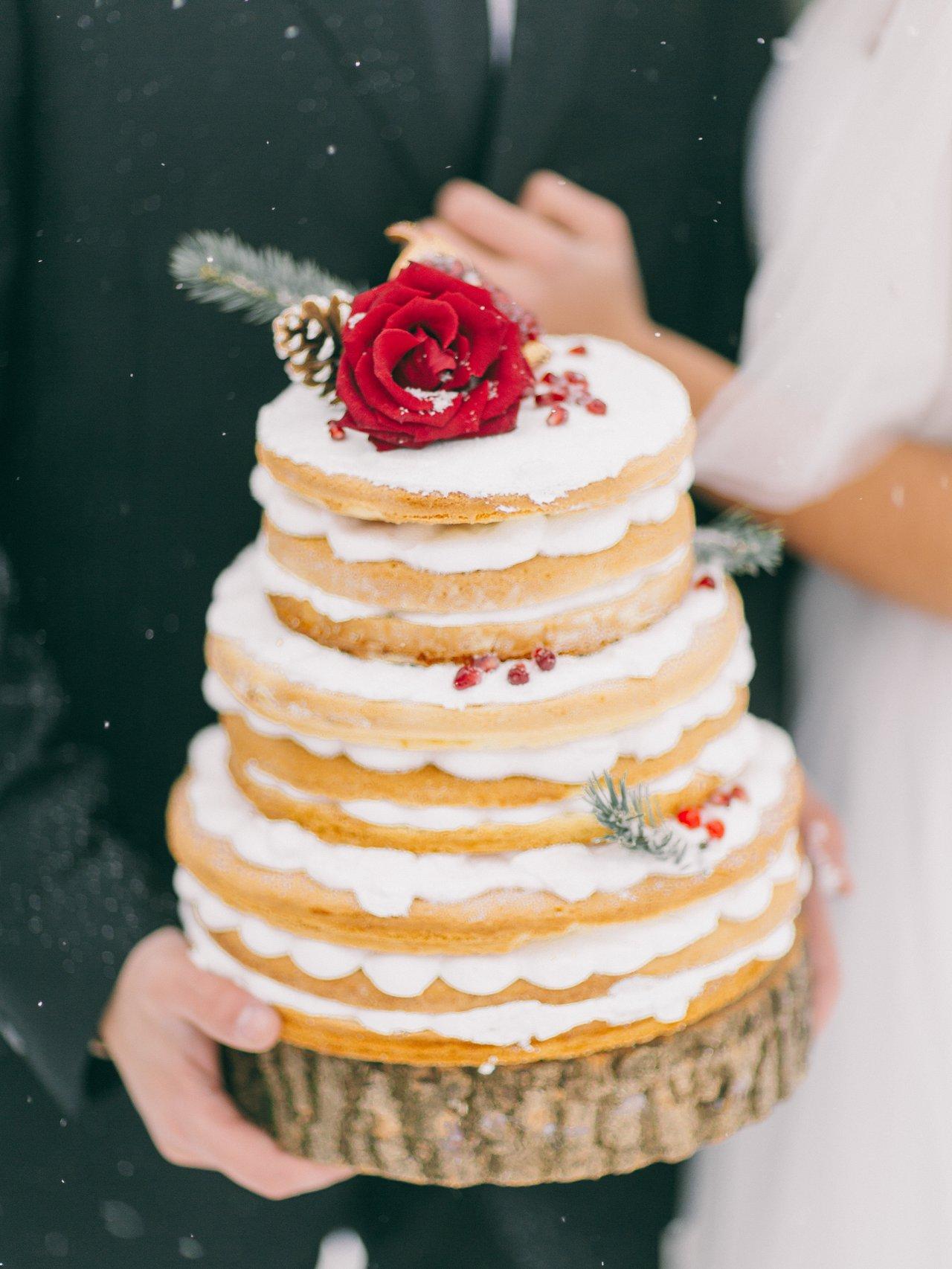 Winter wedding cake
Holly berries and evergreen branches are obvious choices when it comes to decorating a winter wedding cake. An unfrosted naked cake puts the seasonal details front and center.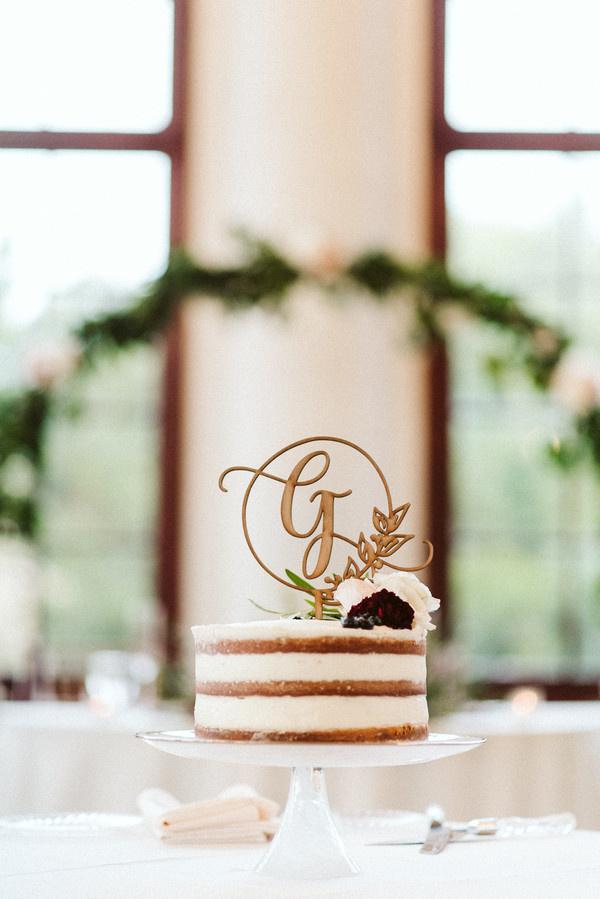 Cake by Pies + Petals, Planning by Iconic Events, LLC
Naked wedding cake with symmetrical layers
There is a way to make a bare wedding cake work for a formal theme, and that's by ensuring that all of the cake and filling layers are perfectly even. The precision is what will give this otherwise informal cake an elegant look.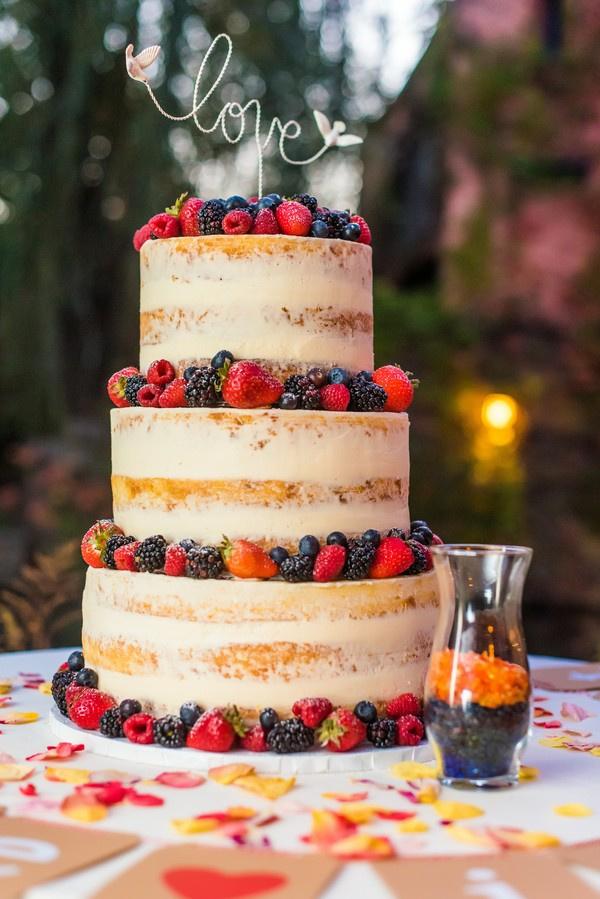 Cake by Nada Nut Bakery
Semi-naked wedding cake with berries
Use a mixture of fresh berries, like raspberries, blackberries, blueberries, and strawberries, to decorate a semi-naked wedding cake for your summer nuptials. This design would pair perfectly with airy, light cake flavors, such as lemon or strawberry shortcake.
Naked wedding cake with rainbow sprinkles
If you're leaning toward a wedding cake design that's fun and whimsical, look no further. This colorful confection is an instant mood-booster, especially with the mini tassel cake topper!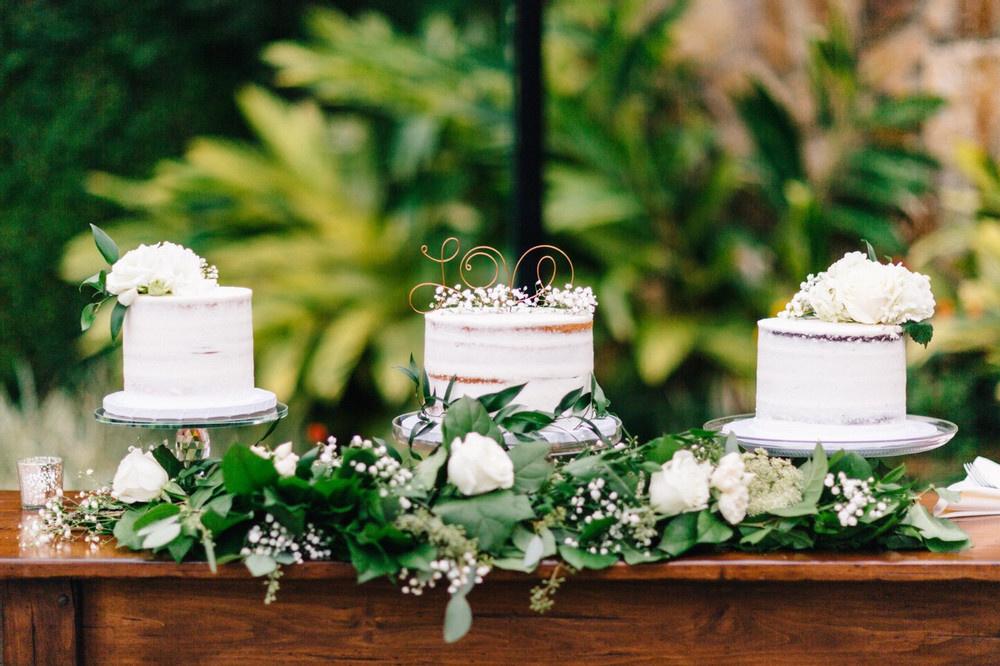 Rustic wedding cake trio
Instead of stacking multiple tiers on top of each other, keep your cake as individual tiers to create a decorative dessert display. This trio of semi-naked wedding cakes is rustic with a modern spin, thanks to the wire cake topper and lush greenery.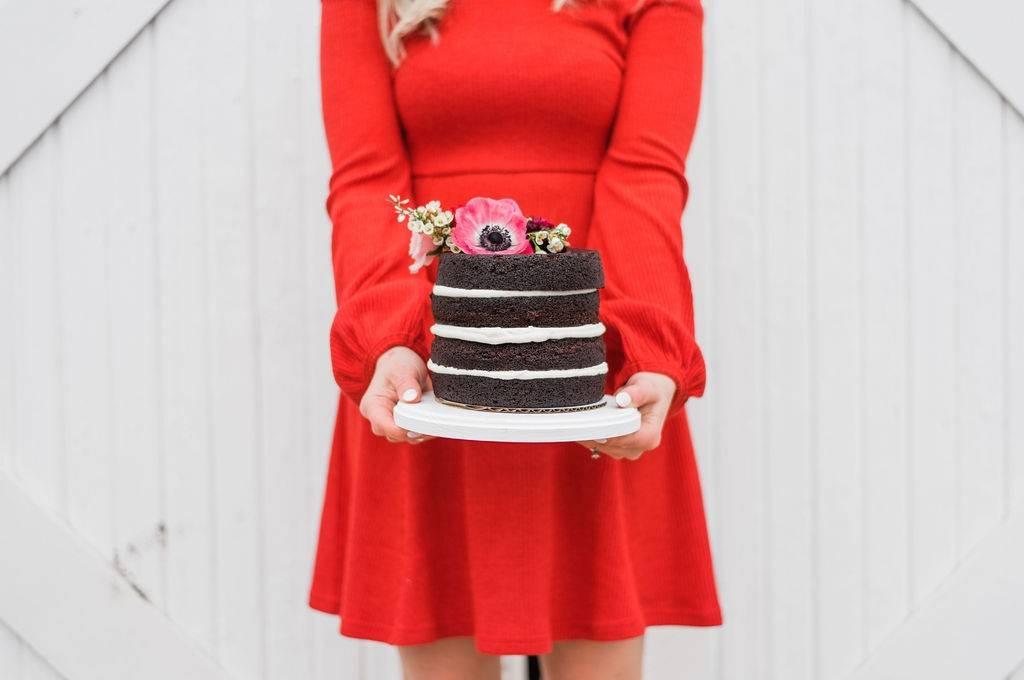 Dark chocolate wedding cake
Don't stop at vanilla—other cake flavors, such as dark chocolate and red velvet, are also popular options for naked wedding cakes. With something so dramatic, you won't need to add much else for decoration.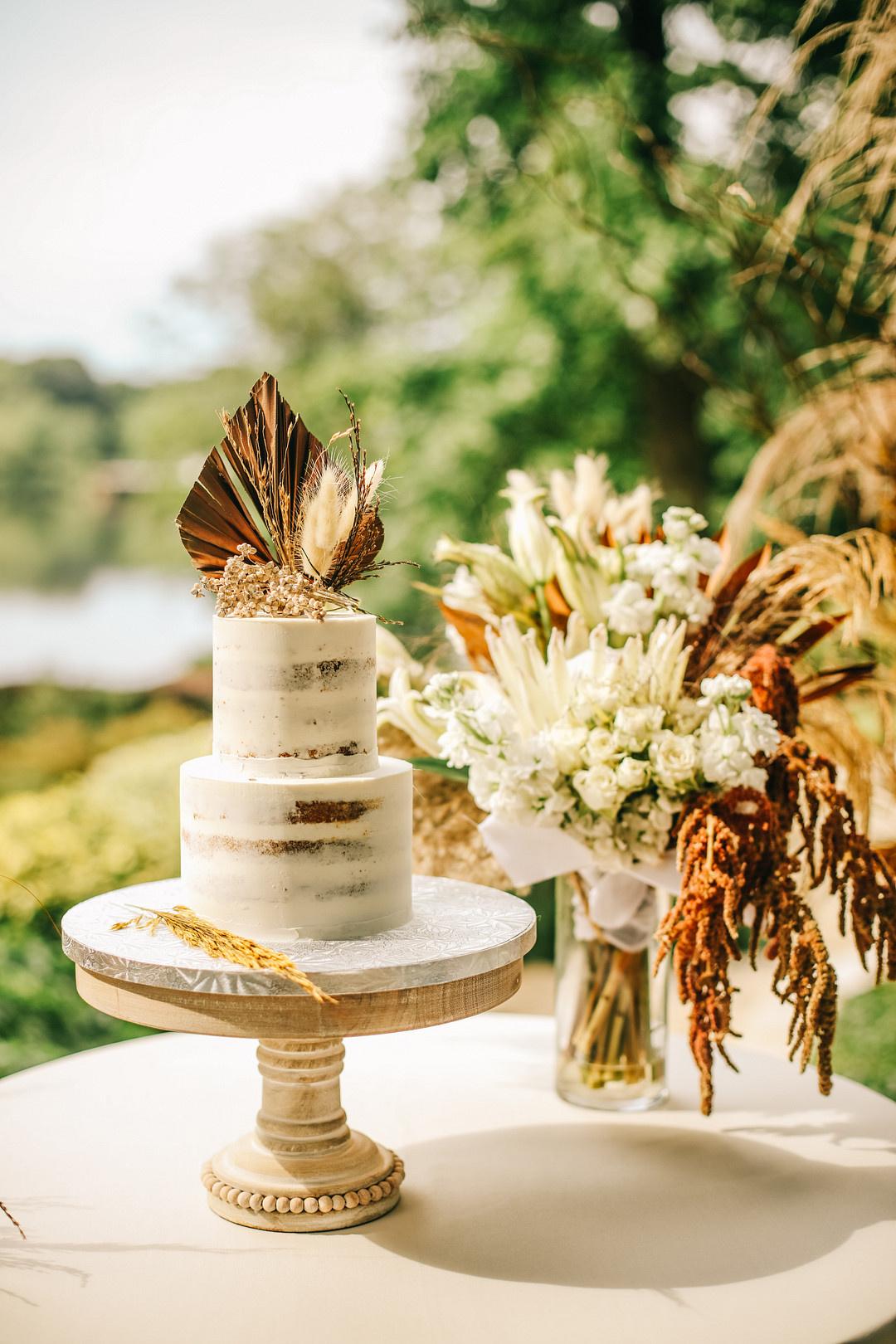 Cake by 2941 Restaurant, Planning and design by Exceptional Events by Elisa
Boho chic wedding cake
Stick to a neutral color palette and decorate your cake using gold-painted greenery, dried grasses, and wheat stalks. This eclectic design is perfect for a free-spirited couple or anyone having a boho-themed wedding.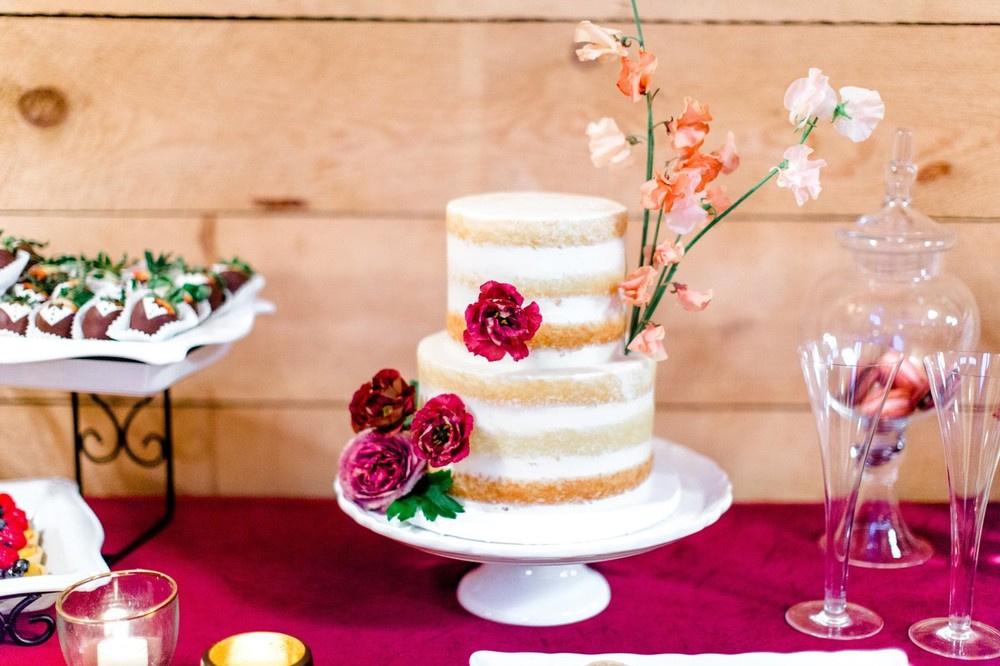 Naked wedding cake with abstract flowers
Flowers are one of the easiest and quickest ways to decorate a wedding cake, because there's no right or wrong way to use them. Choose statement flowers, like peonies, roses, sweet peas, dahlias, and ranunculus, that will stand out against the cake.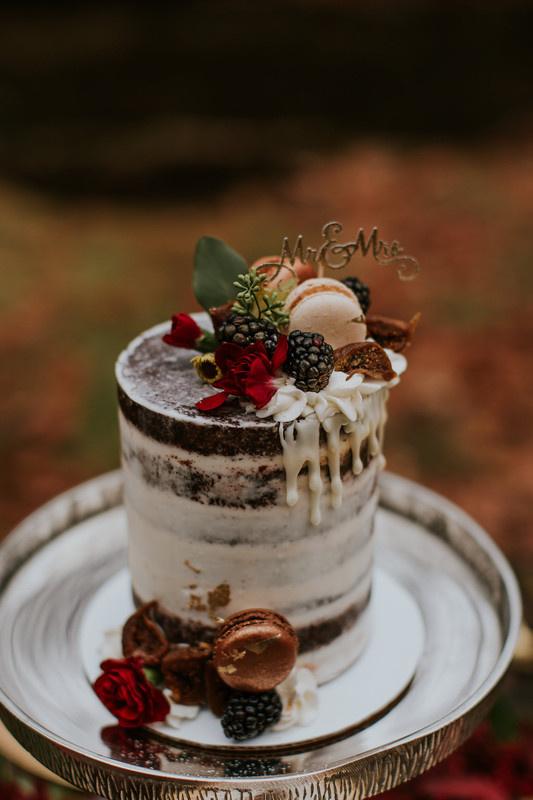 Mini winter wedding cake
Pile on the sweets by decorating a bare wedding cake with cookies, macarons, candied fruit, and gold-dipped berries.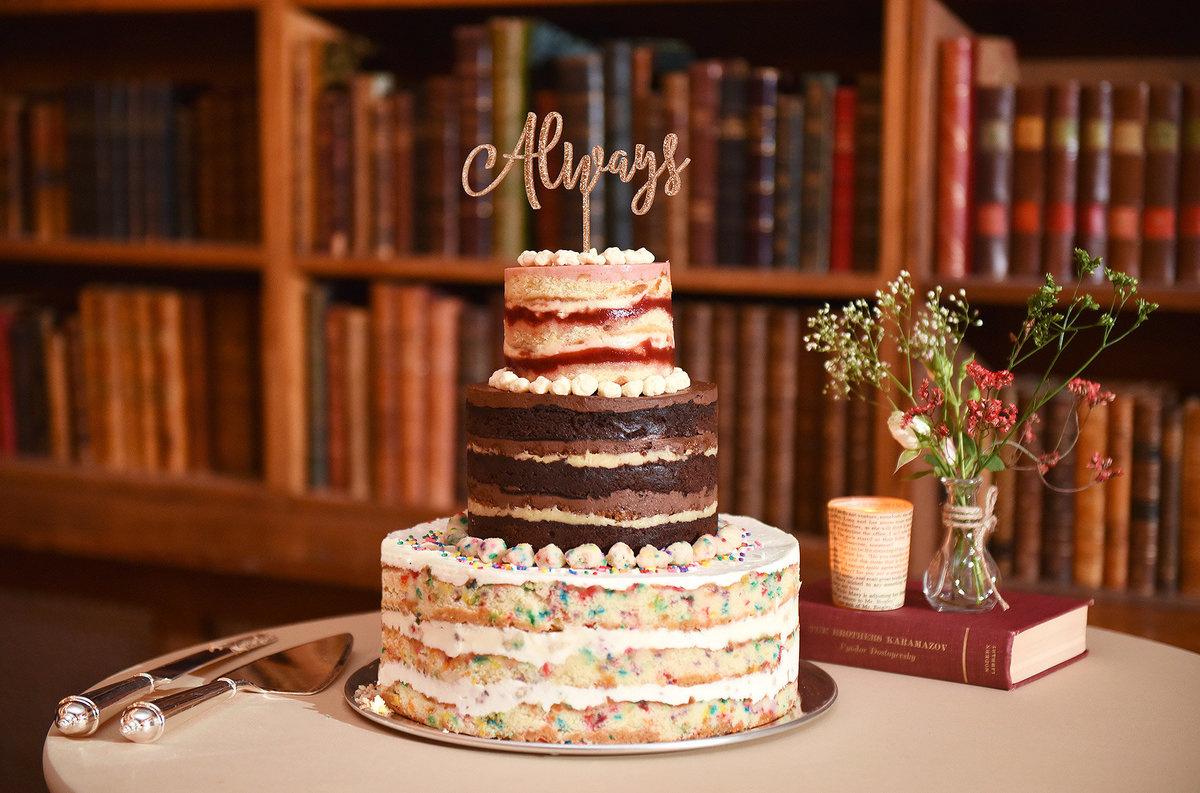 Milk Bar wedding cake
Say hello to the original naked wedding cake. If you have ever tried a slice of Milk Bar's famous birthday cake, then you know that sometimes the frosting just isn't necessary. While Milk Bar offers wedding cakes locally in New York City, they ship smaller cakes nationwide—a great option for mini-weddings and elopements.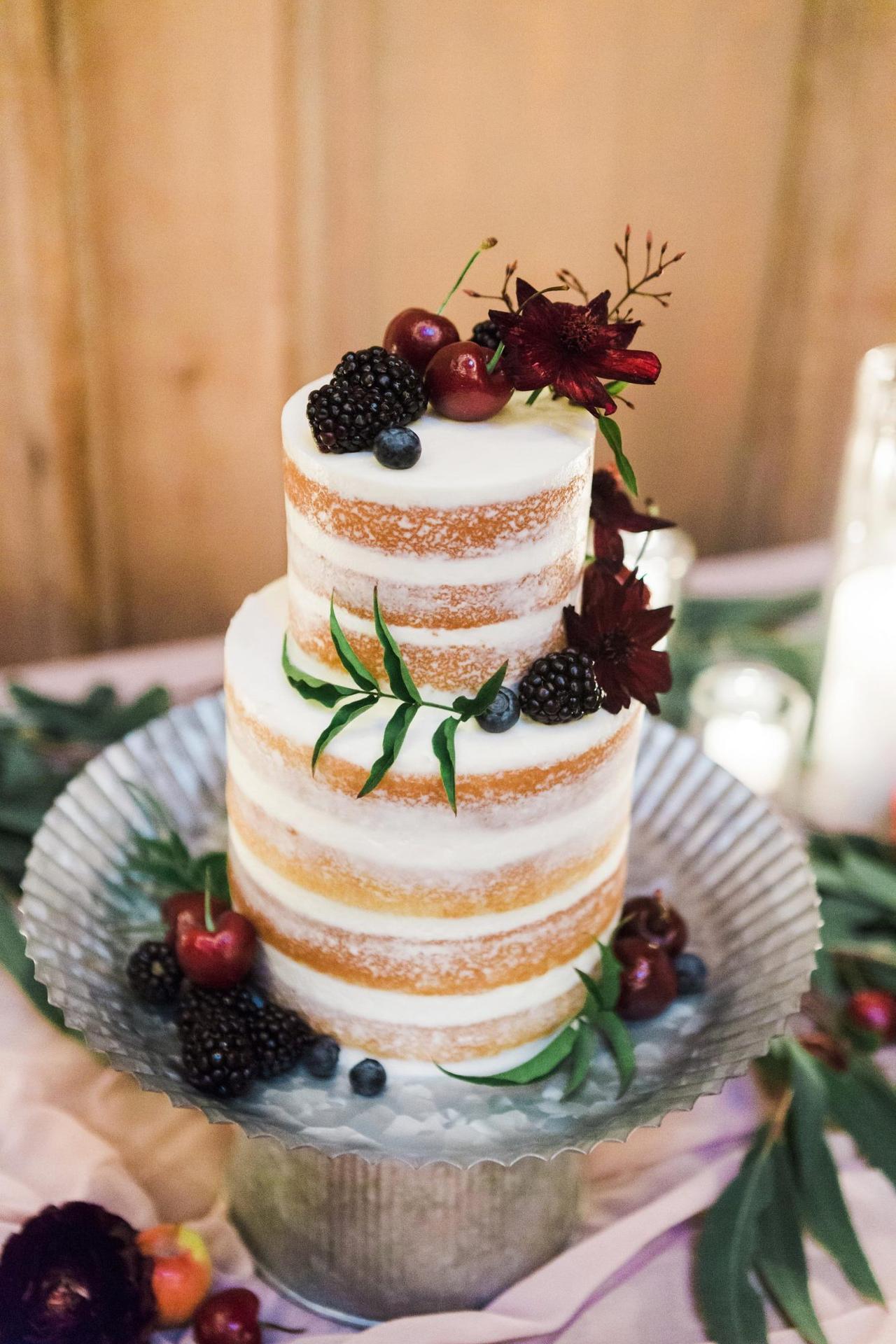 Naked cake with dark jewel tone colors
Burgundy and blue fruits will add decadence to your naked wedding cake, and they're perfect for complementing a moody-themed wedding.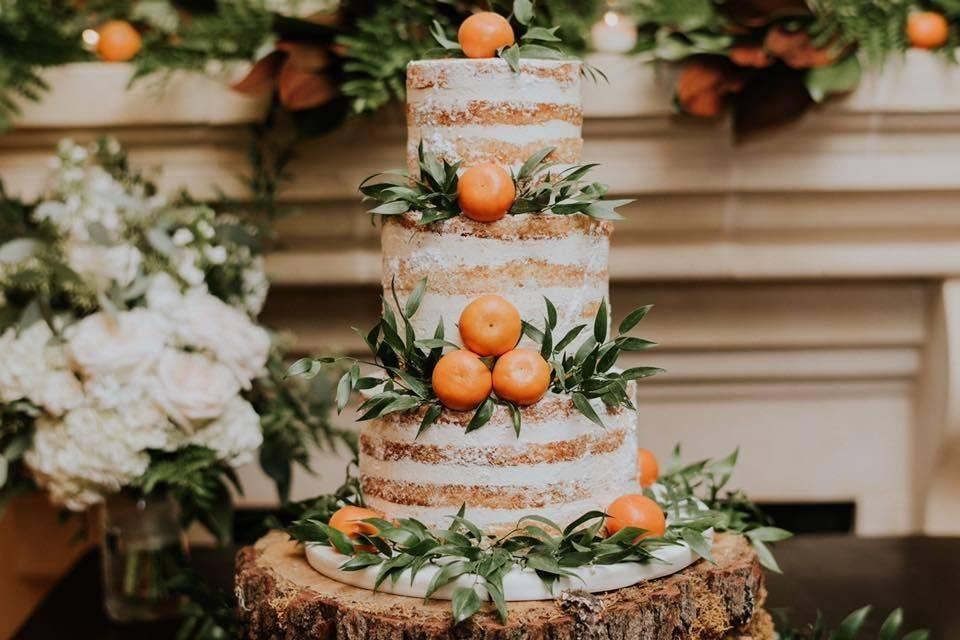 Citrus wedding cake
Speaking of fruit, you can also use zesty citrus fruits to give any bare wedding cake a pop of color.