20 Wedding Cakes With Flowers to Make Your Dessert Table Bloom
Love flowers? Us too, especially when cake is involved. These wedding cakes with flowers are only fueling our floral obsession.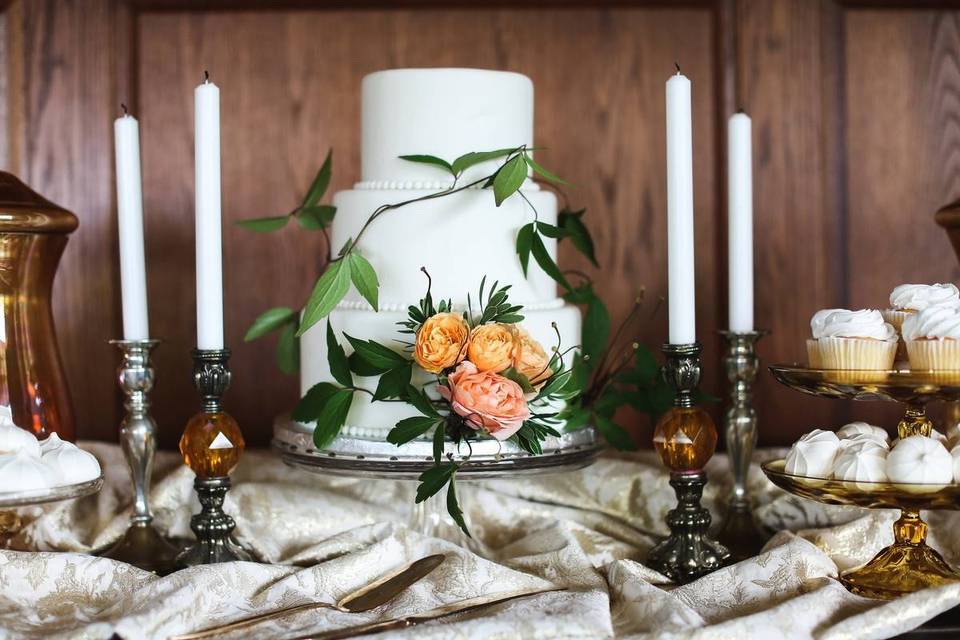 Decorating wedding cakes with flowers is something that has been done for decades—if not centuries—and this time-honored tradition continues to be popular for a few reasons. Using flowers is one of the fastest (and prettiest) ways to spruce up a cake, and with so many different types of flowers to choose from, you can easily create a design that speaks to your wedding style. If you're thinking about using fresh flowers to decorate your wedding cake, you can work with your cake baker and your wedding florist to choose the best types of flowers based on your budget and overall vision. Ultimately, your florist will be responsible for providing the flowers for the cake—you may need to pick them up and bring them to your cake baker a few days in advance. Until then, it's time for the fun part: bookmarking ideas to share with your vendors!
Here are 20 wedding cakes with flowers to inspire your own dessert table.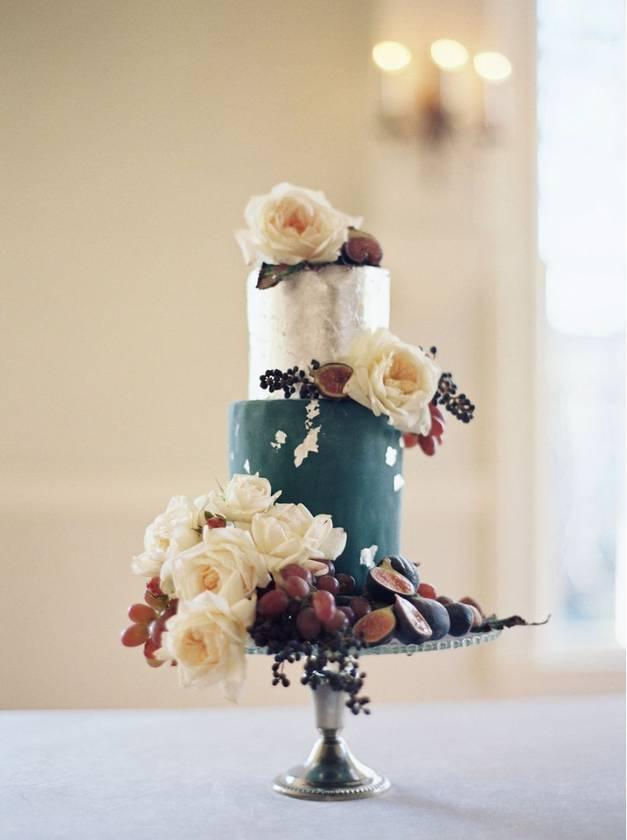 Moody hues
This sultry color palette of dark teal, plum, and metallic silver is especially dreamy if you're having a fall wedding. Decorate your moody-hued wedding cake with ivory garden roses, grape bundles, and viburnum berries for a decadent finish.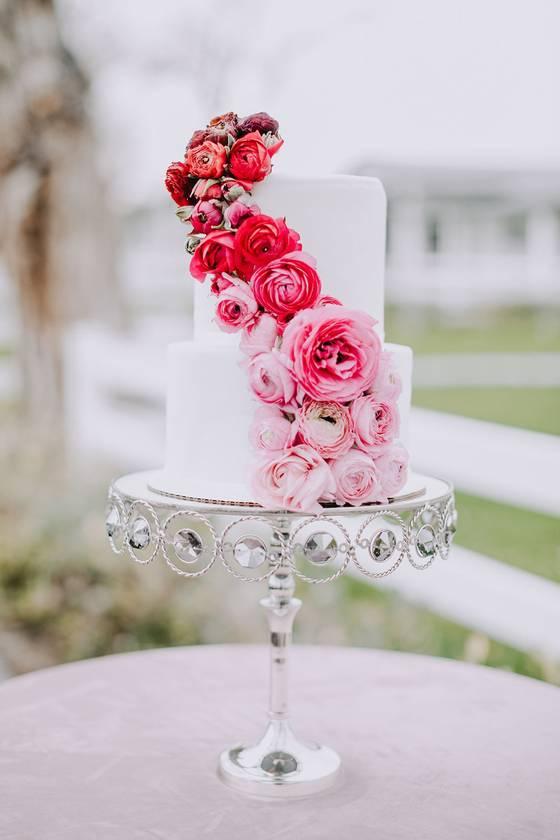 Dramatic cascade
A cascade of vibrant fuchsia and red ranunculus instantly pops against an otherwise white fondant cake. The best thing about this idea is that you can easily re-create the look using a different color flower that matches your theme or wedding aesthetic.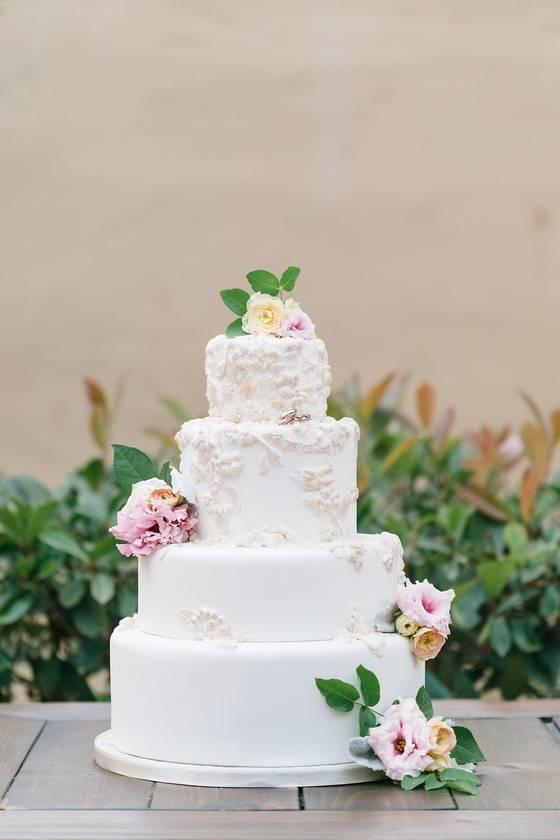 Three-dimensional details
Sculpture-inspired details are one of our favorite wedding cake trends of the moment, and they're a perfect match for fresh flowers. Your wedding cake baker can create an ultra-romantic design by paring three-dimensional accents (called bas relief) with delicate blooms, such as rosebuds or lisianthus.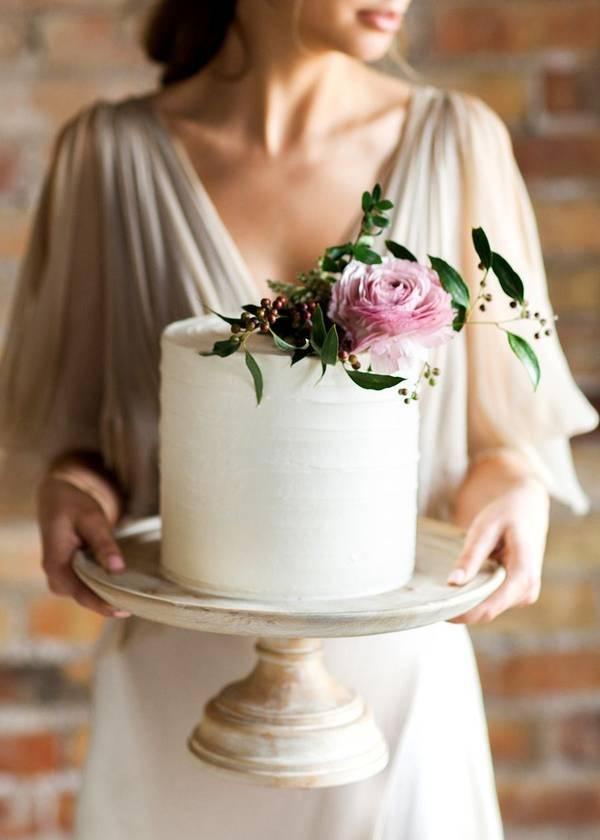 Simple buttercream
If you're looking for a simple wedding cake with flowers, start with a white buttercream cake and add one or two blooms plus a few pieces of greenery. Place the flowers slightly off-center for the most modern look.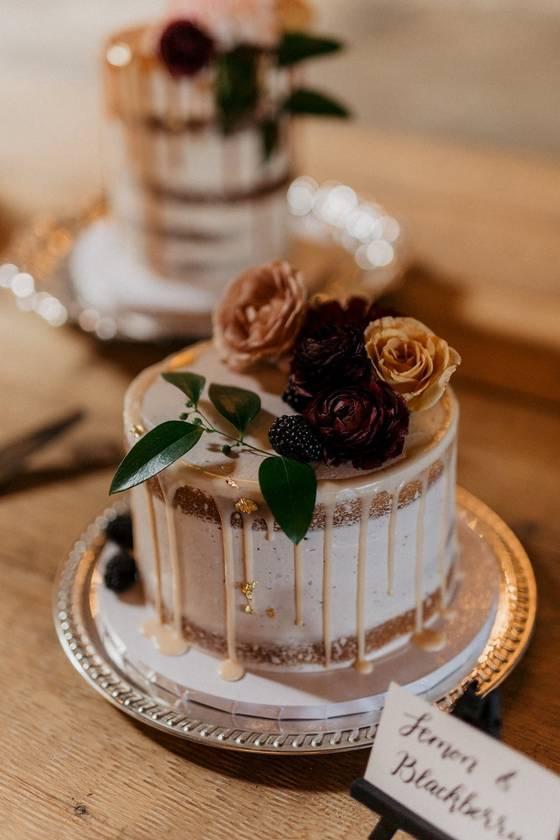 Trendy drip cake
A drip cake is already eye-catching as it is, but you can add a handful of flowers to include even more detail. This one-tier cake, which is topped with blackberries, spray roses, and ranunculus, is a mouthwatering pick for a rustic fall or winter wedding.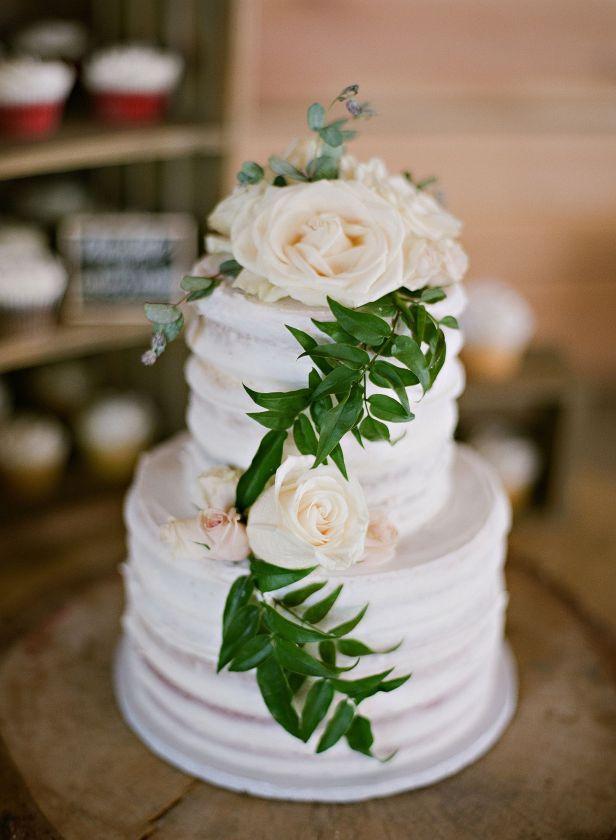 Classic with greenery
White roses and greenery will never go out of style—and you can quote us on that. This classic pairing is a go-to option if you can't decide how to decorate your wedding cake with flowers, because it works well for any style or season.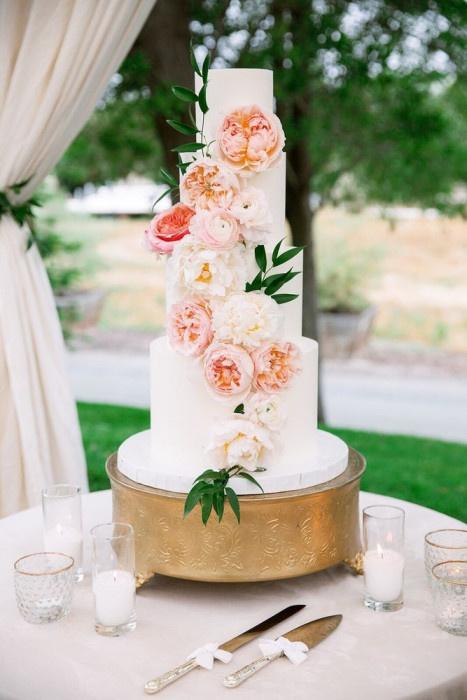 Romantic peonies
Peonies are one of the most popular wedding flowers for late spring and early summer weddings. As beautiful as they are, they're somehow even prettier when you add lush garden roses, especially when the blooms are trailing down the front of a four-tier cake.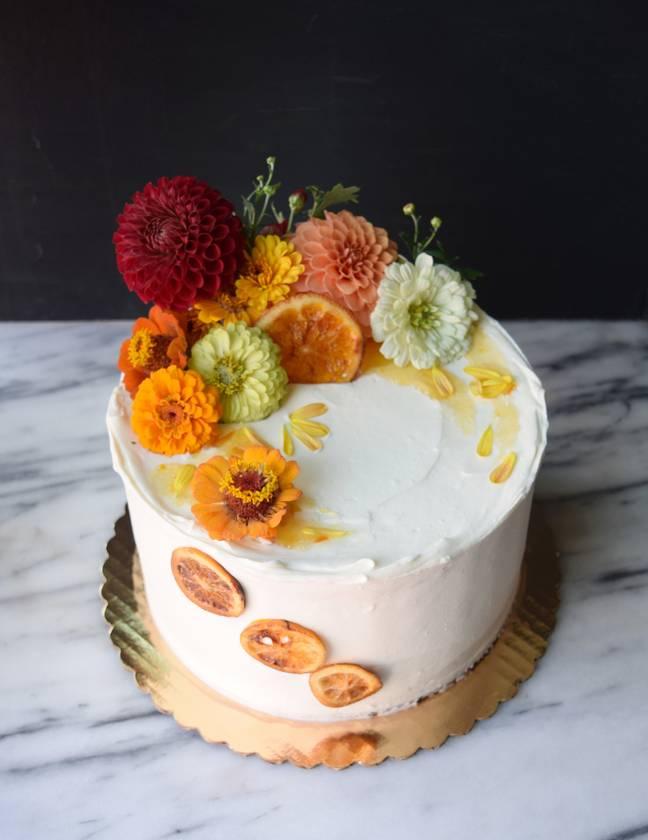 Citrus-inspired
We can't get enough of the citrus wedding trend, and dessert is no exception. Candied fruits and edible flowers (the dahlias and zinnias on this cake are totally edible, if you're into that!) are two eco-conscious ideas that also give your wedding cake a unique look.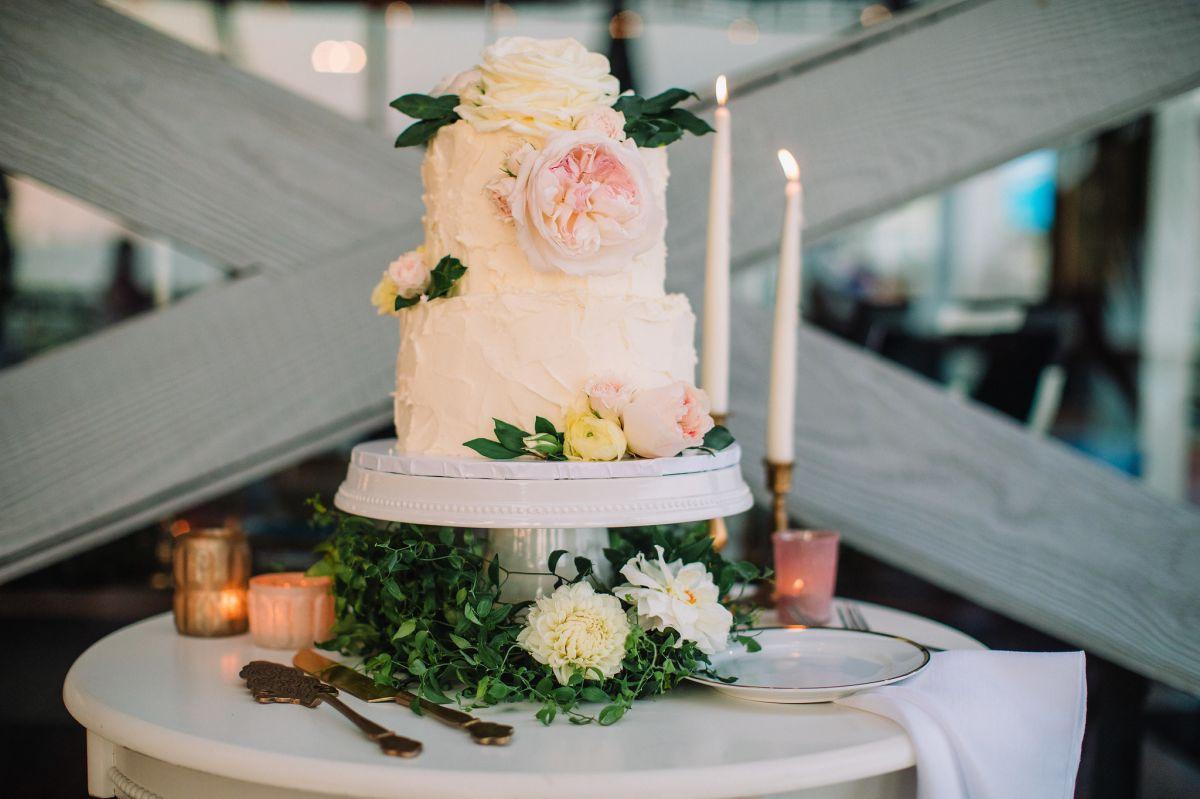 Garden roses
Turn your buttercream wedding cake into a dreamy masterpiece by adding pale pink garden roses, an antique serving set, and white taper candles.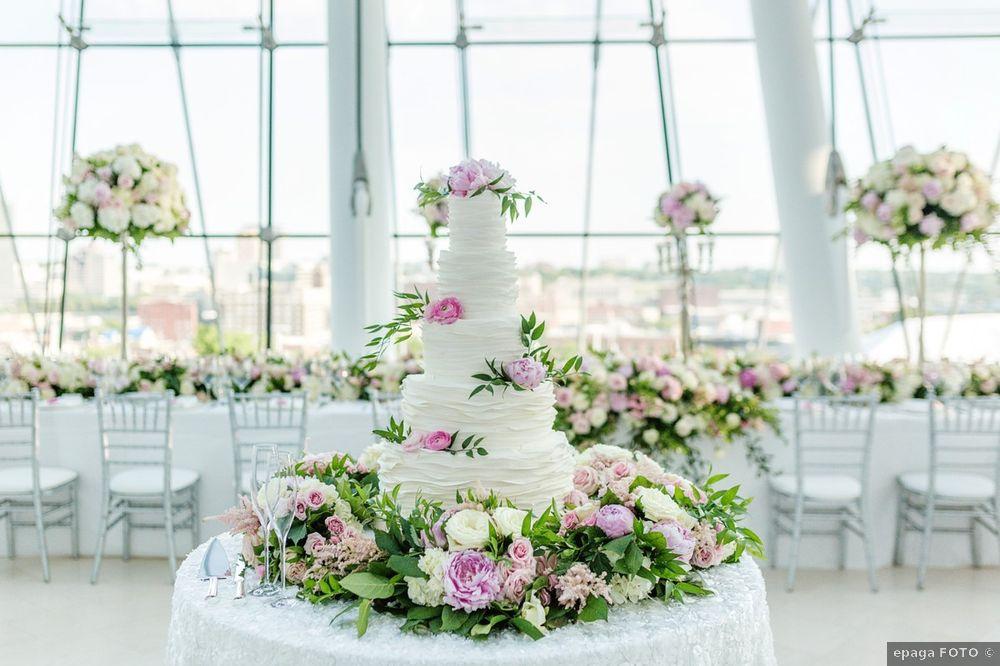 Statement table
Sometimes, it's not only about the wedding cake—it's about how you display it! Surround the bottom of multiple-tier cake with a lush halo of flowers and greenery to create a dramatic focal piece at your reception venue.
Delicate anemones
This dainty flower typically blooms during the winter, but it's a beautiful blossom at any point of the year. Use a few pale pink anemones to decorate a fondant wedding cake with flowers, then add dark purple foliage for visual contrast.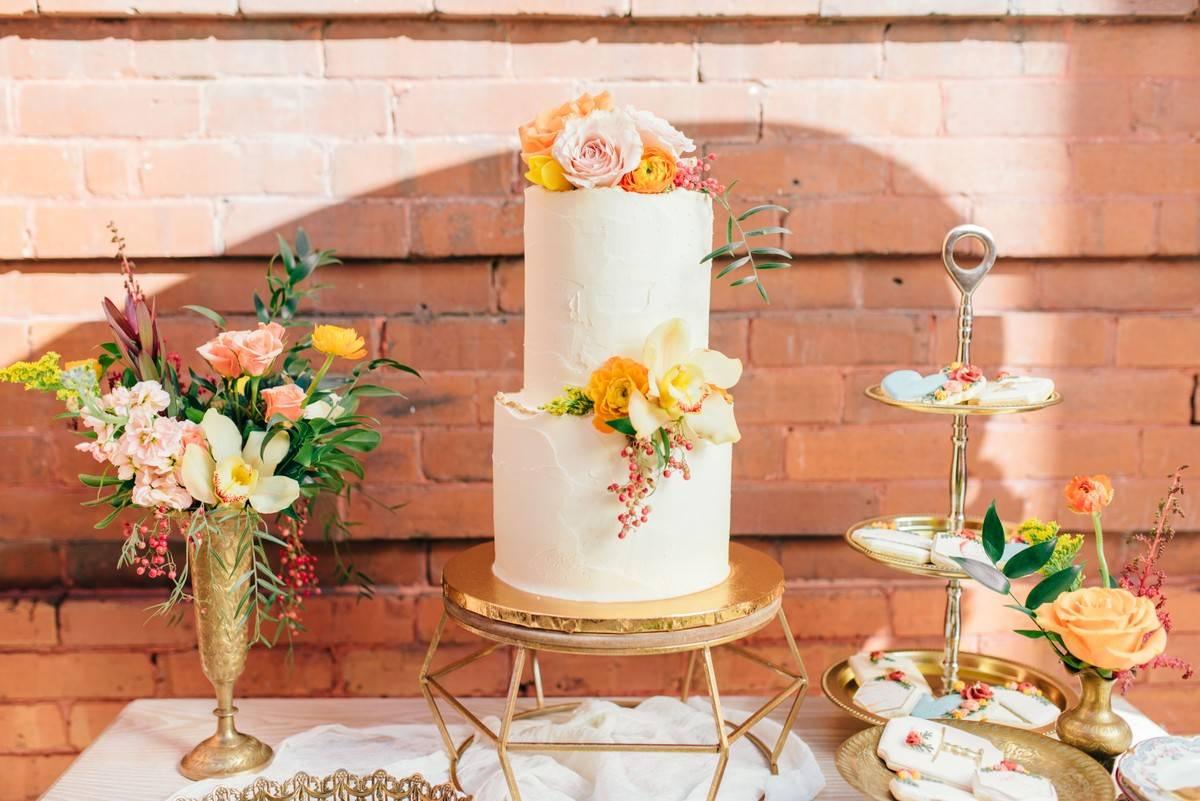 Pops of color
This cheerful two-tier confection embodies all sorts of trends we're loving right now: deckled (a.k.a intentionally uneven) edges, bright colors, and geometric cake stands. Flowers in punchy colors, such as orange ranunculus, yellow cymbidium orchids, and peach roses, look amazing at a summer wedding.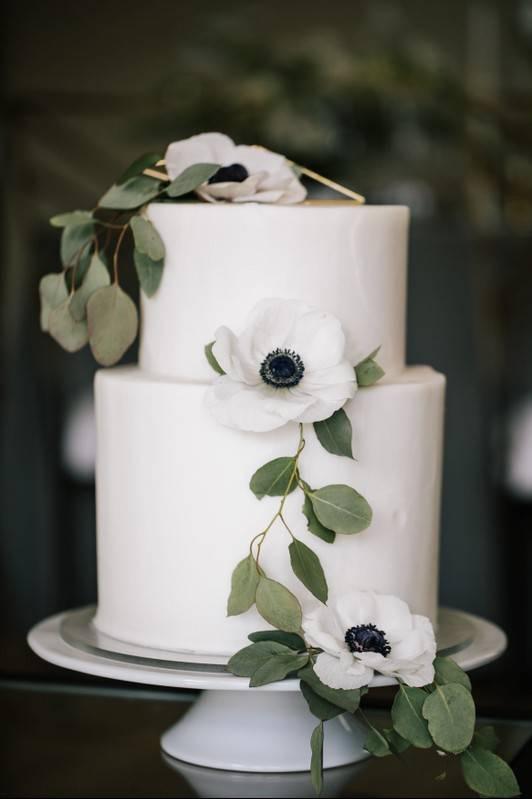 Modern and minimalist
When it comes to wedding cakes with fresh flowers, less can definitely be more. If you're having a minimalist wedding theme, all you need is a structured fondant cake decorated with a few well-placed blooms, such as these white anemones and eucalyptus.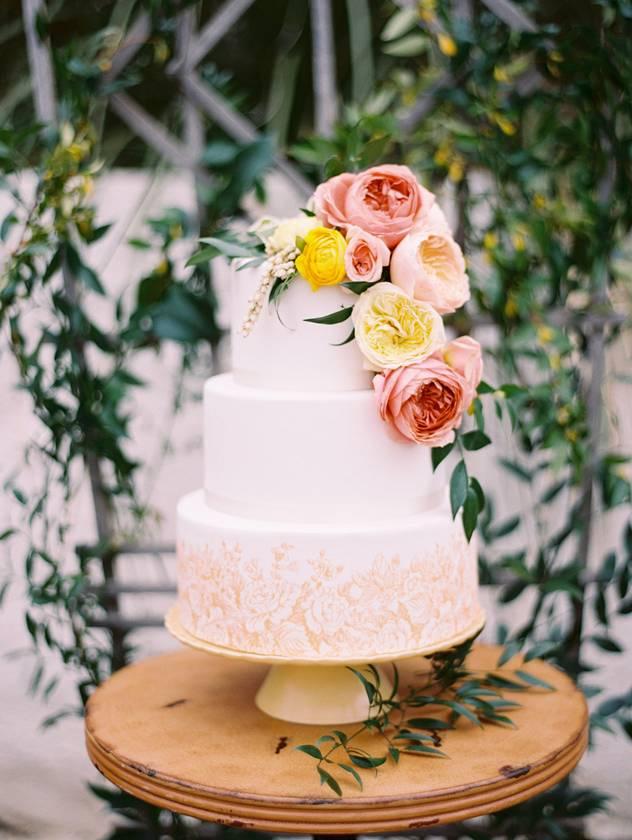 Floral prints
Double up on flowers by having your wedding cake baker decorate the bottom tier of your cake with a botanical pattern. We like this vintage-inspired floral motif, which is printed directly onto the fondant, but you can also opt for a hand-piped design or edible paint.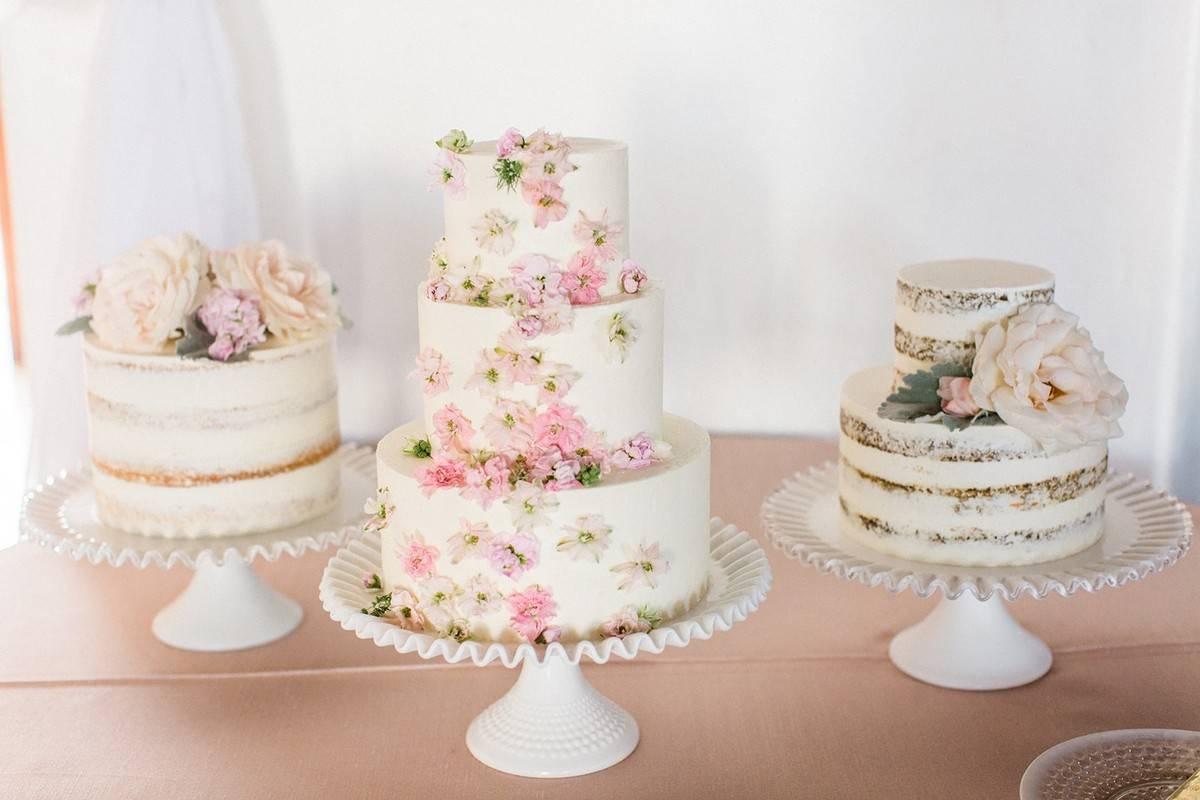 Scattered blossoms
Channel a straight-from-the-garden vibe by finishing your wedding cake with small flowers scattered down the front. Sweet peas, forget-me-nots, and aster are just some pint-sized flower options, or you could use individual petals from larger blooms.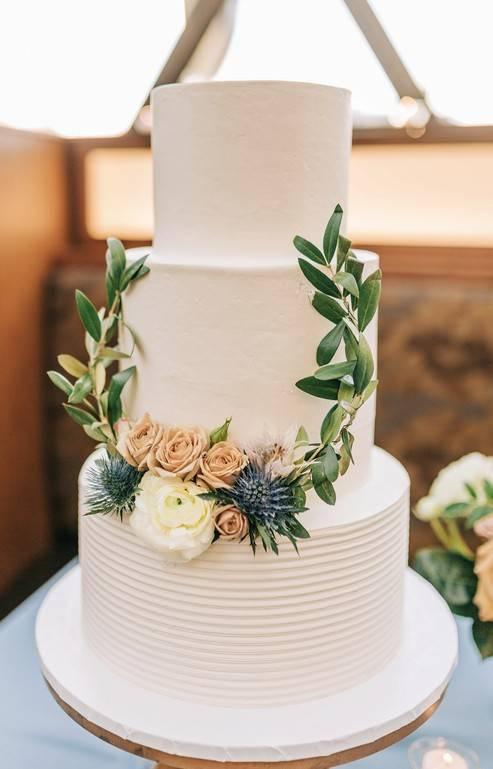 Greenery wreath
Adorn a white buttercream cake with a Grecian-style laurel wreath made of olive branches. Then, add spray roses, blue thistle, and ranunculus in muted colors to complete the ethereal vibe.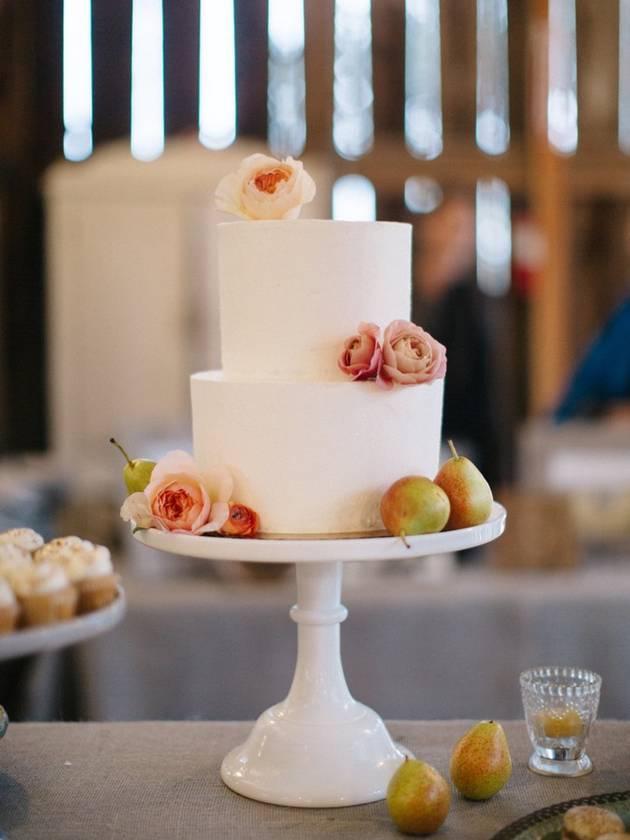 Sharp lines
Soften an angular wedding cake by adding pink roses and miniature pears—the green and blush color combination is oh-so pretty.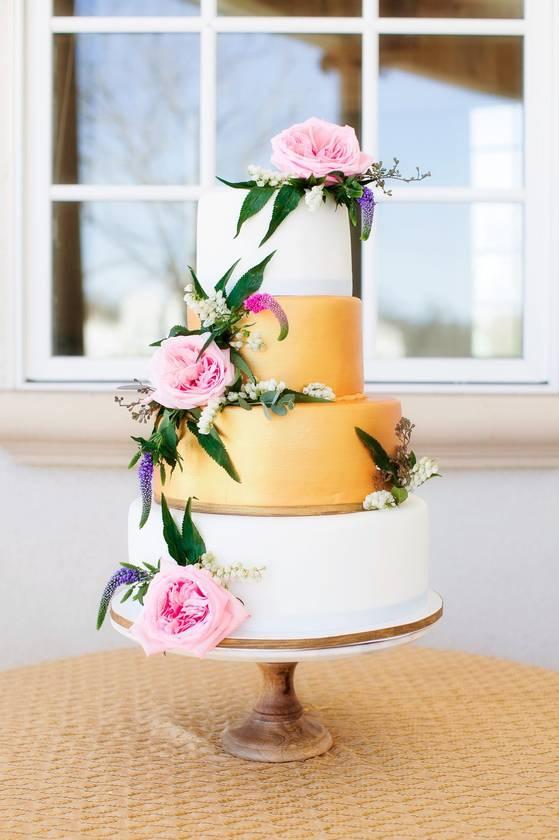 Contrasting tiers
Color-blocking is one of this year's wedding decor trends, and this four-tier cake is proof that the trend works for desserts, too. Alternate between different colored fondant tiers, or sandwich them in the middle of your cake for a bold effect. Finish with fresh flowers and greenery.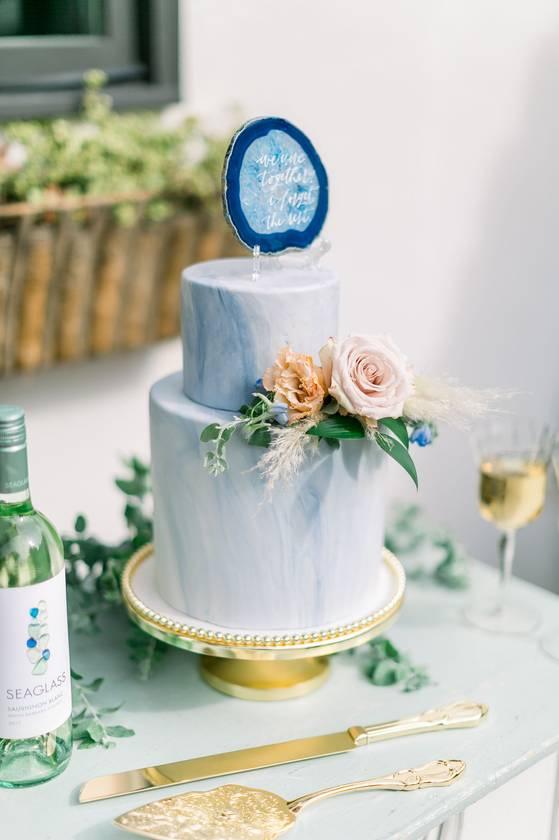 Marbled effect
Marbled fondant brings a trendy, contemporary vibe to your wedding cake with flowers. This sky blue cake (complete with geode topper) looks amazing with the blush and peach blooms, but your cake baker should be able to recreate the marbled pattern in nearly any color you want.