The 2020 Wedding Decor Trends You're About to See Everywhere
Creating a wedding that's truly personal has never been more in style. Use these 2020 wedding decor trends to get creative for your own big day!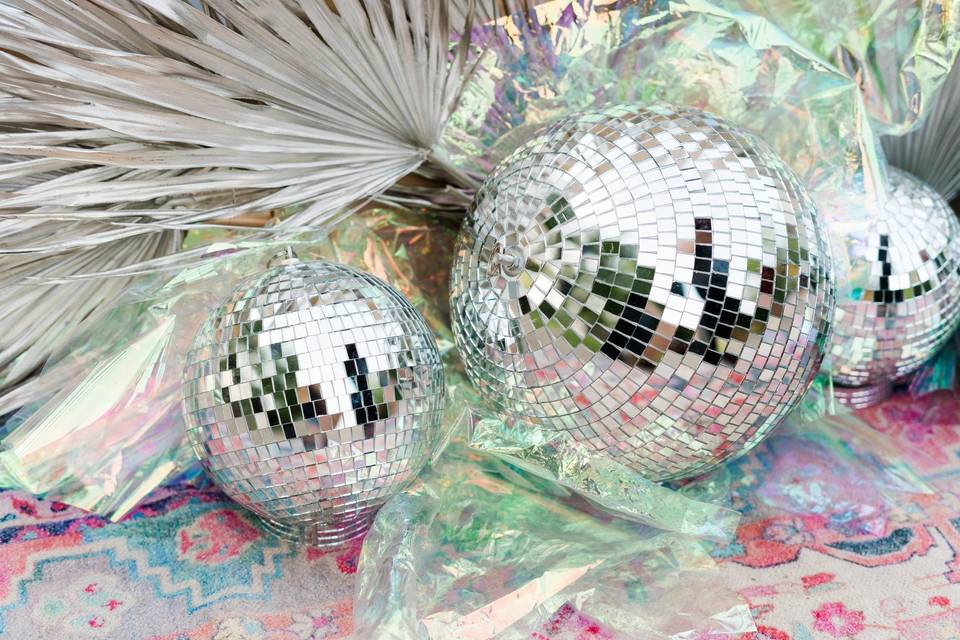 The 2020 wedding decor trends are all about individuality and having fun. As couples continue to make their own rules and shift away from distinct wedding themes (R.I.P. shabby chic), the latest wedding decor trends are following suit. As we make our way into a new decade, you can expect to see fewer cookie-cutter trends that are only suitable for one type of wedding, and more trending elements that are adaptable depending on your budget, venue, or desired aesthetic. We're dishing on the most coveted wedding decor trends for 2020, including signage ideas, color palettes, attention-grabbing backdrops, and more—all of which you use to can personalize your unique vision in whichever way makes the most sense to you!
Get inspired by our favorite 2020 wedding decor trends right here.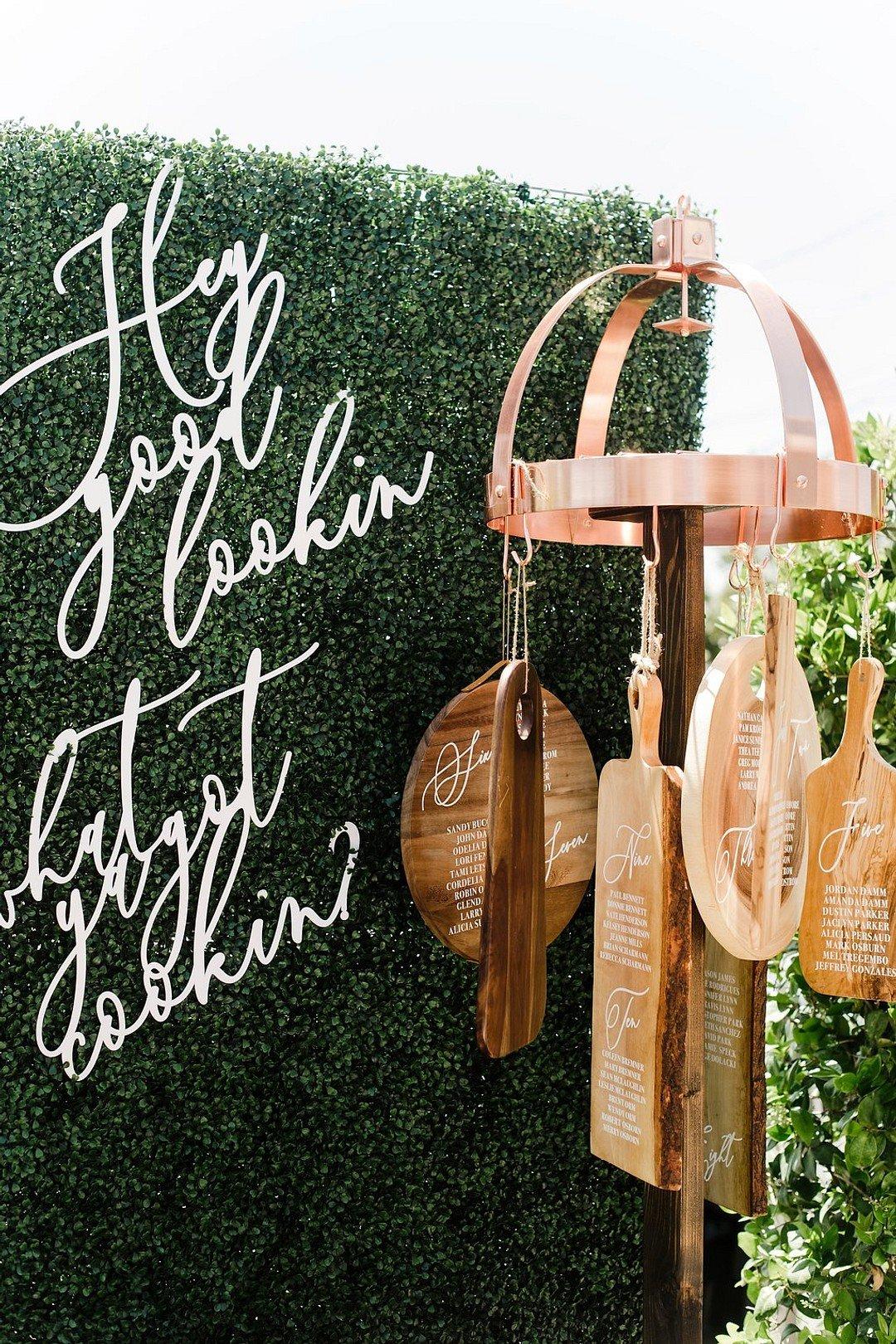 Catchy phrases
Lately, it seems like everywhere we look, there's a wedding with a playful, sassy phrase featured somewhere in the decor, whether it's printed onto cocktail napkins, added to the invitation suite, or hung as a laser-cut sign on an accent wall. This spunky trend is only going to continue to grow in 2020, but the trick to making your phrase feel catchy (not cheesy) is to pick a saying, song lyric, or quote that holds personal meaning to you and your spouse—for example, the sign in this photo says, "Hey good lookin', what ya got cookin'?" because the groom is a chef!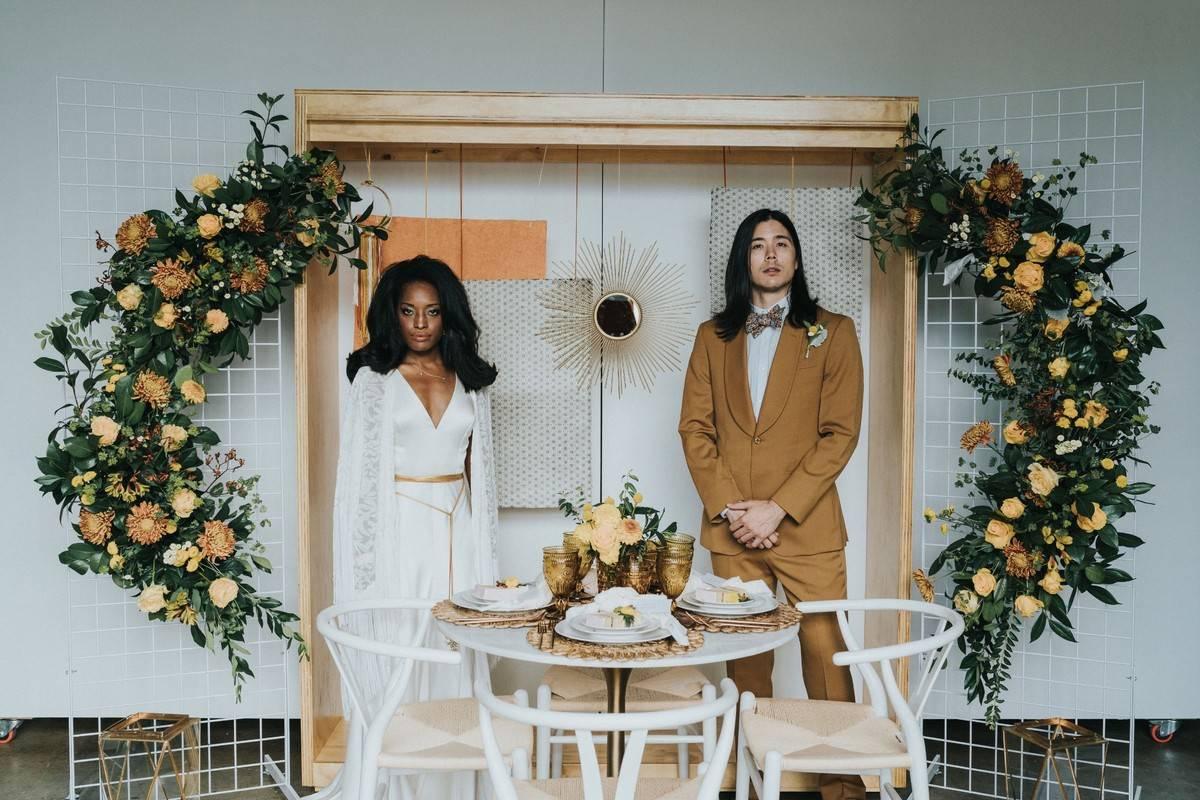 Warm color palettes
If you're so over pastel wedding color palettes, then this is definitely going to be your year, because bold colors are back. More specifically, warm tones (think golden yellow, toffee brown, and terracotta orange) will be the frontrunners for wedding color palettes in 2020. You'd be right for thinking that these sunshine-inspired hues will give your wedding day a retro '70s vibe, and we say roll with it! Bohemian accents like pampas grass, fringe, rattan, metallics, and sunburst details (like the mirror pictured above) are all stylish ways to play up a warm palette.
Wallpaper
Another way to go bold with your wedding decor is by using wallpaper to create a backdrop or accent wall. What we love most about this trend is that it's extremely versatile, since you can find wallpaper in nearly any color or pattern imaginable, and it's actually easy to recreate (especially if you use a peel and stick wallpaper). A few places to try this 2020 wedding decor trend: for your ceremony backdrop, for your escort card display, behind a sweetheart table, behind the bar at your reception, or at your dessert table.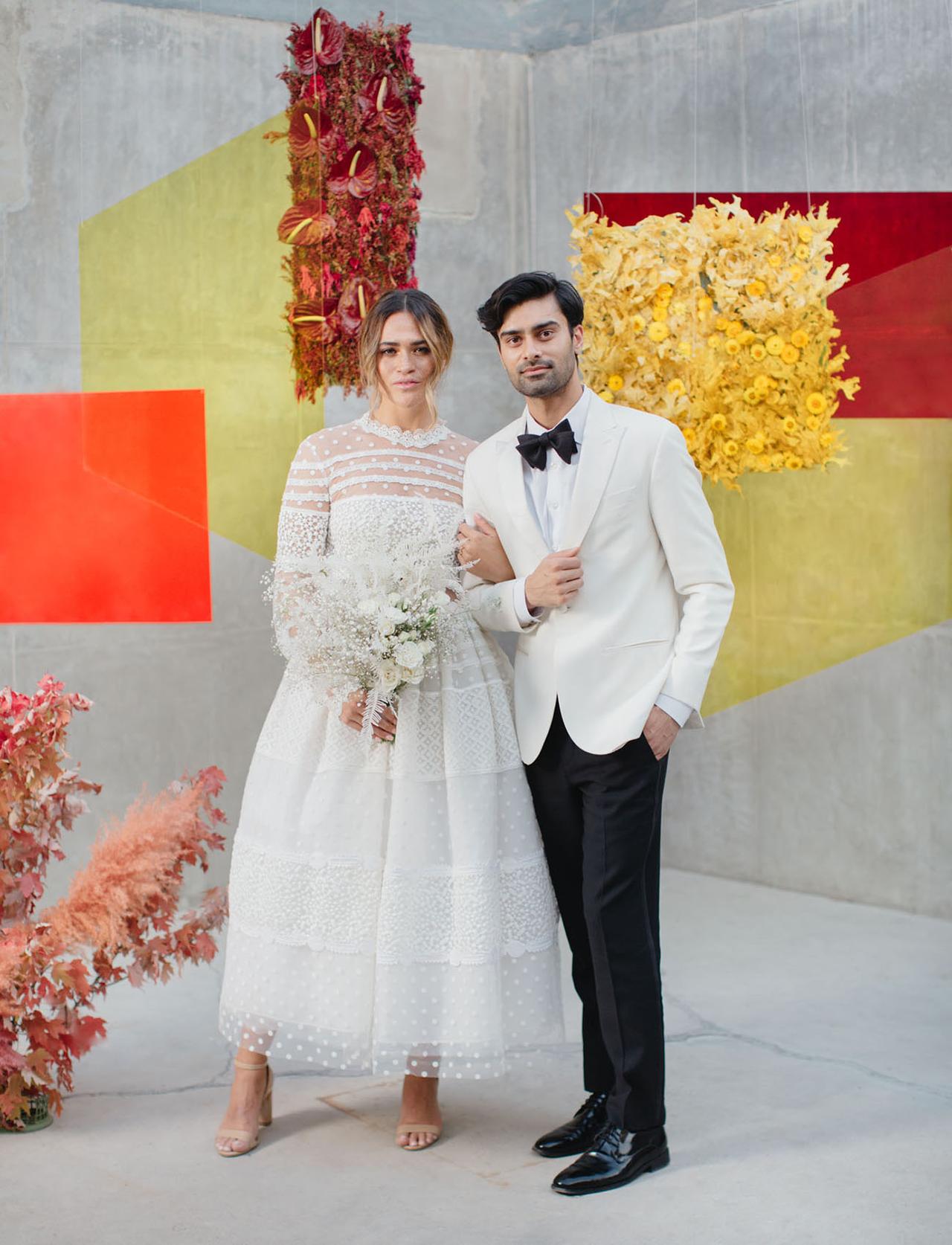 Color blocking
2020 couples aren't just choosing a couple bright colors or bold details, they are going all out when it comes to incorporating over-the-top design into their wedding day. Color blocking—using contrasting colors side by side to create an eye-catching pattern—is going to be a huge wedding decor trend as we head into the new decade. You can expect to see color blocking being incorporated in all different ways, from invitation suites and tabletop decor (think stacked plates and linens), to backdrop walls, and even wedding cakes.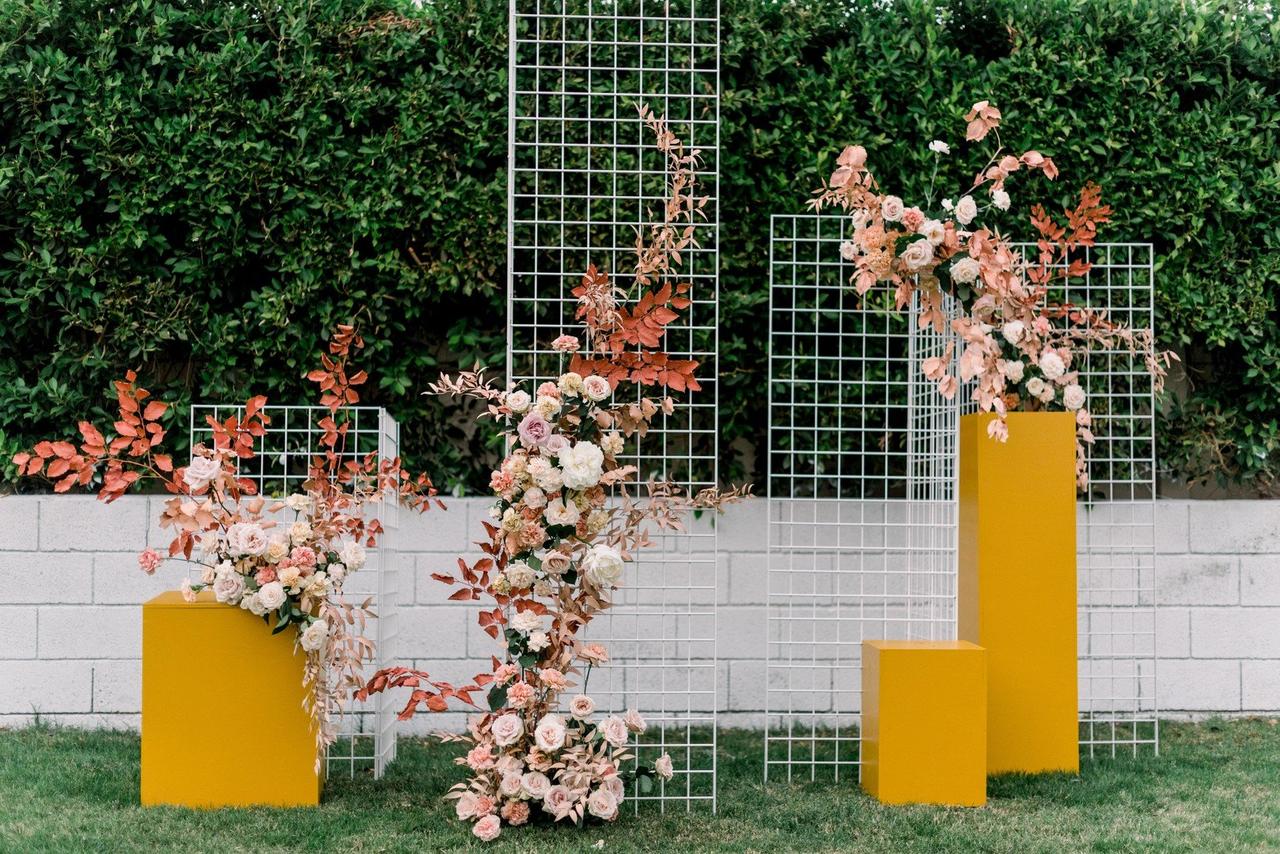 Grid screens
These utilitarian-esque screens are taking on an entirely new (and gorgeous) look for 2020, as couples and wedding planners are decorating them with flowers, escort cards, balloons, tinsel, and more. Use an oversized screen to create a focal point at your venue, or opt for smaller ones as unique table numbers or to display signage throughout your reception space.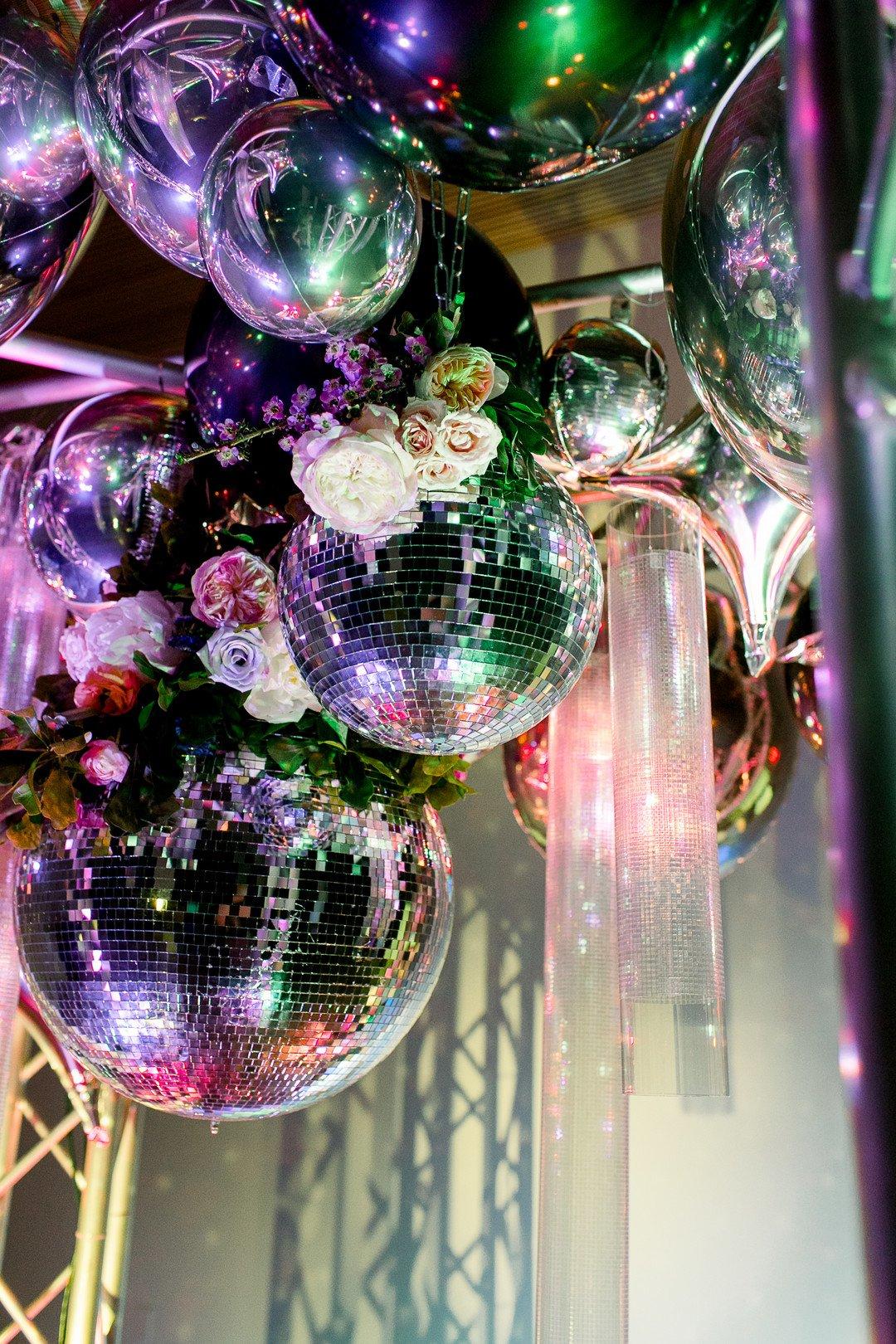 Disco balls
Tell your guests to wear their dancing shoes, because this throwback detail will inspire them to let loose and boogie. Disco balls are on track to be one of the biggest 2020 wedding decor trends, but not in the way that you'd first expect. Instead of having a lone disco ball hanging above the dance floor, try adding disco balls to a hanging floral arrangement, grouping miniature disco balls together for your centerpieces, or using them instead of paper escort or place cards.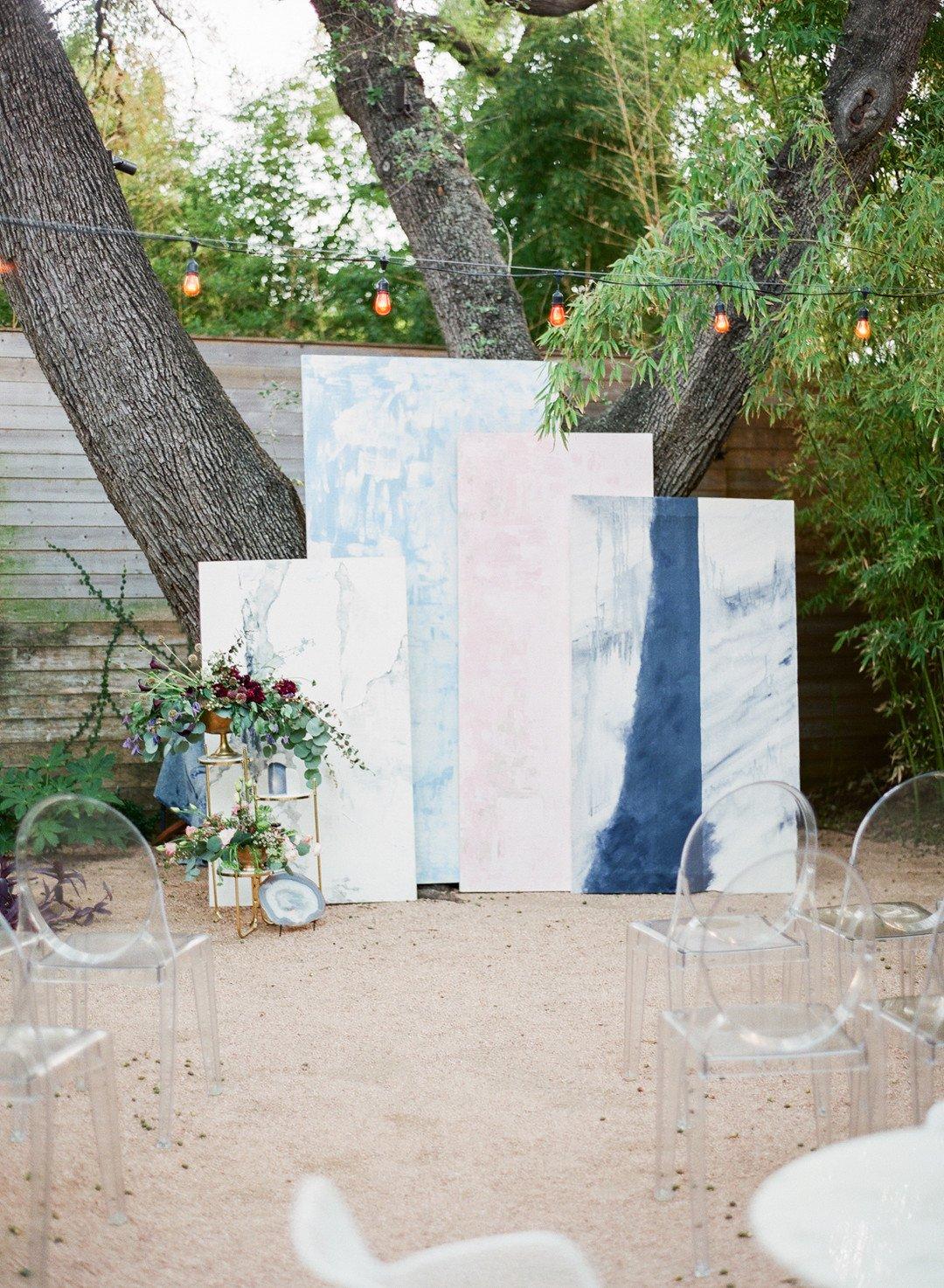 Abstract layered backdrops
From curtains of multi-colored fabrics to strips of paper and oversized, mis-matched rectangles, abstract layered backdrops are another 2020 wedding decor trend that is fairly easy to pull off, no matter your style. The purpose of this trend is to achieve a more fluid, abstract look that contrasts with the symmetrical floral arches, hoops, and triangular backdrops that have reigned supreme for the last couple of years.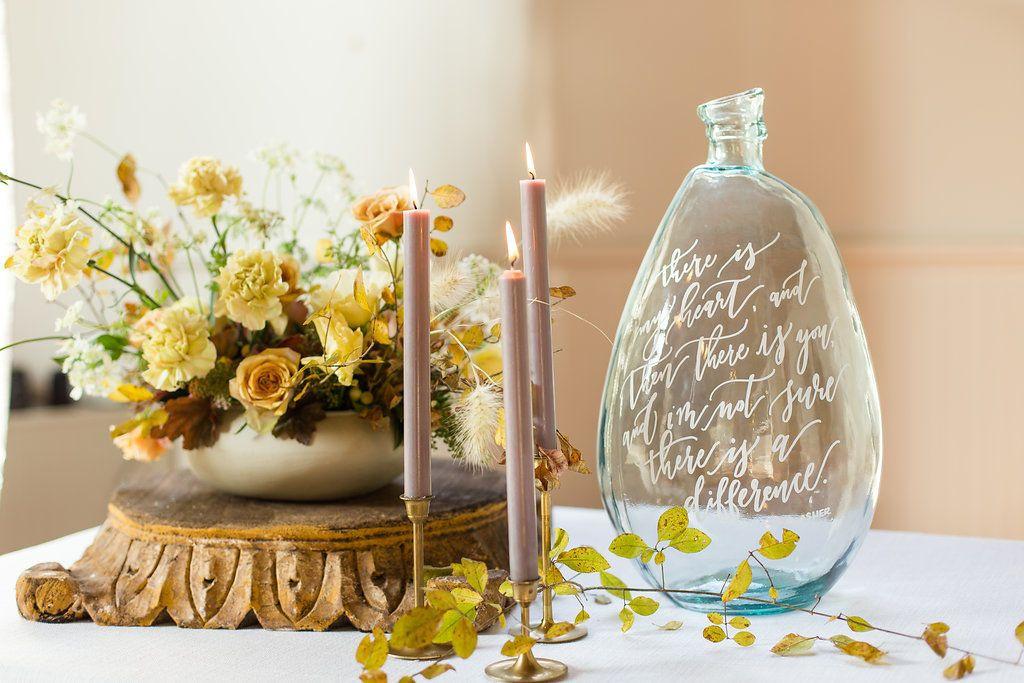 Vase & jar signage
The calligraphy sign trend has come a long way in recent memory—it started with chalkboards, then mirrors and acrylic signage, and now we're predicting that giant glass jars will be the "it" detail for 2020. Use one oversized jar to display your favorite romantic quote, or have your wedding calligrapher write guests' names on vessels in various sizes, shapes, and colors as an alternative seating chart. Clear glass vases are the most popular take on this trend so far, but you could also use terracotta pots or ceramic jugs.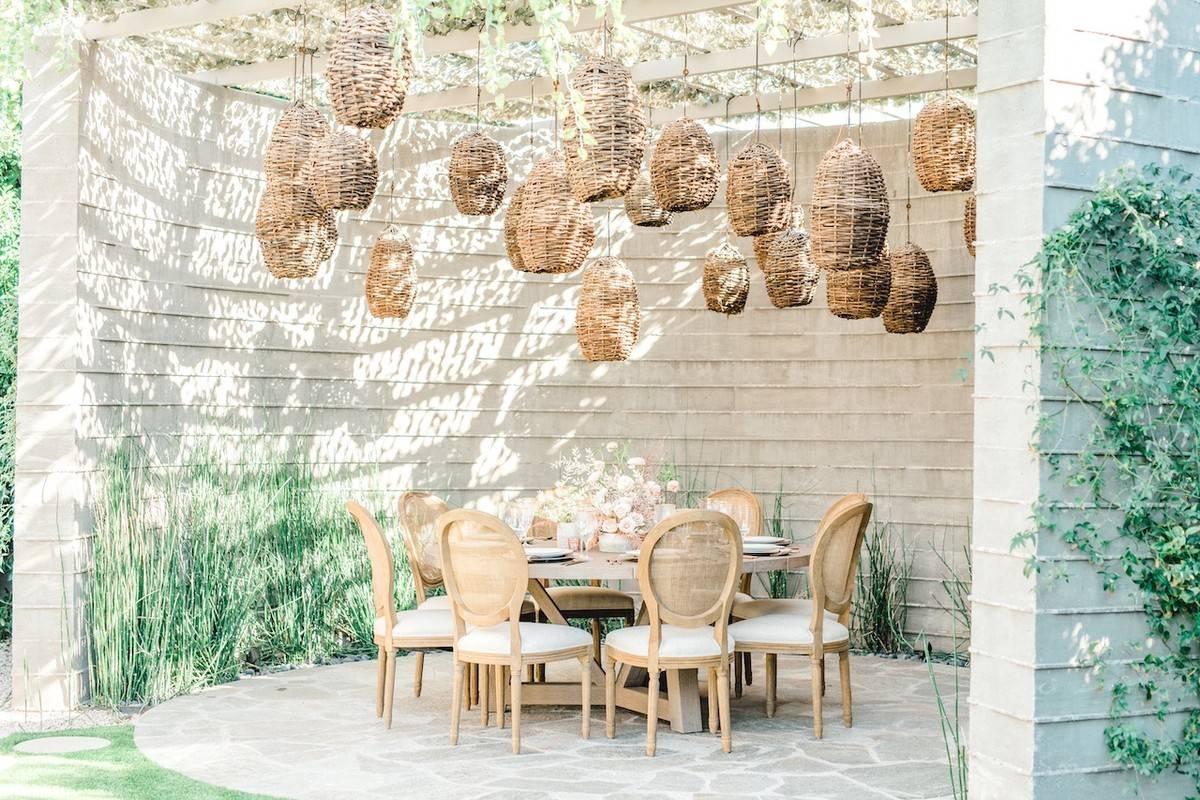 Rattan accents
Rattan and wicker wedding decor accents are still going full steam ahead for 2020 as couples are turning to these vintage-inspired statement pieces to bring a dose of hippie chic flair to their wedding venues. Whether it's with high-back peacock chairs, lanterns suspended from the ceiling, rattan lounge furniture, or assorted wicker baskets displaying floral arrangements, we can't wait to see more of these wooden details in 2020.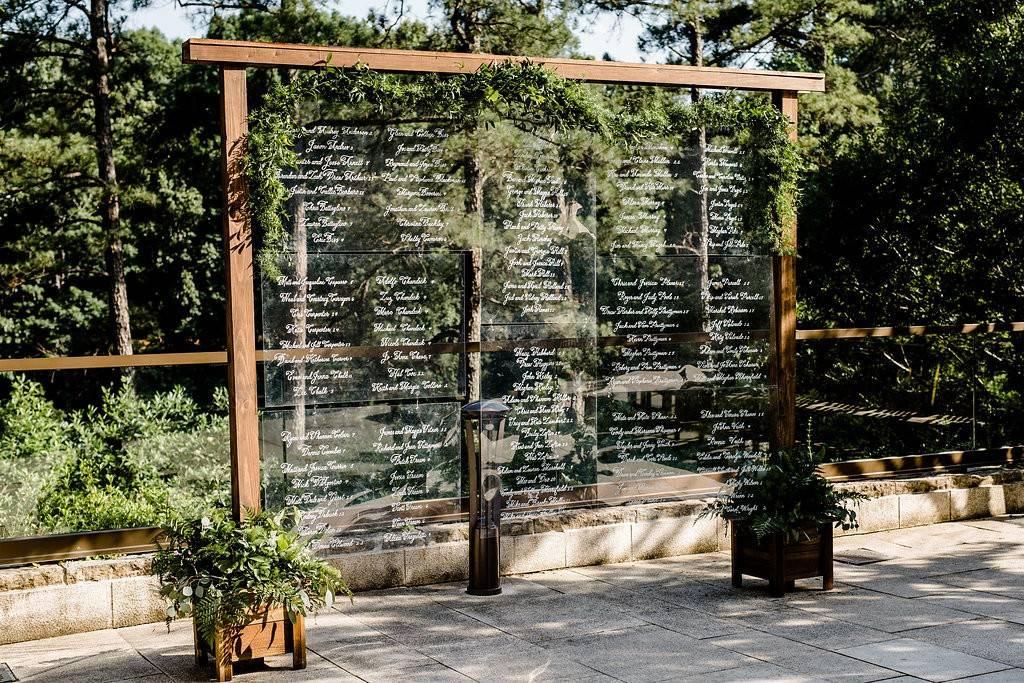 Translucent details
Acrylic is still going strong and will continue to be a major wedding decor trend throughout 2020. Expect to see this translucent material used for cake stands, centerpieces, invitations, signage, creative place cards, charger plates, and even rental furniture. The latest way to embrace this trend? Use acrylic boxes to showcase things like flowers, candles, or even fresh citrus fruits.