The 2018 wedding decor trends are shaking things up, big time. After years of rustic DIY-style weddings, airy spaces filled with greenery, and barely-there blush color palettes, we're experiencing a complete shift for the upcoming year. Brace yourselves for color — and lots of it — in the form of neon signs, geometric details, and more.
Here are the 2018 wedding decor trends you're about to see everywhere.
Neon Signs
As the 2018 wedding decor trends are shifting toward colorful and statement-making details, we're suddenly seeing one of the boldest ideas of all: neon signs. There are a million different ways to use these glowing creations in your wedding decor, from a catchy phrase, to your last name, to a simple shape. Whatever you choose, a custom neon sign is one of the coolest ways to personalize your big day, and we're betting that your guests have never seen one at a wedding before. Plus, you can repurpose it at home after your wedding is over.
Cosmic Inspiration
Couples will be turning to the starry skies and the universe for their wedding inspiration this year. From celestial wedding decor to healing crystals and even astrology, New Age details and spiritual elements will be major players when it comes to the 2018 wedding decor trends. Expect to see plenty of raw crystal and gemstone details, iridescent accents, and nods to outer space as this stellar style gains popularity.
Edgy and Moody Color Palettes
Burgundy and black sounds like a risky combination, but when done right, moody wedding colors are make-your-jaw-drop gorgeous. We can't get enough of this dramatic color palette, especially for fall and winter weddings. It's a far cry from pastel-filled weddings of trends past, but it's already becoming just as popular throughout the wedding scene. When combined with details like marbled invitations, faux fur accents and oversized floral arrangements, this moody palette feels bohemian and romantic.
Woodland Wedding Theme
If you combined rustic charm with fairytale romance, it might look a little something like this. The woodland wedding theme is one of the most romantic 2018 wedding decor trends, with enchanting nature-inspired elements like moss, fern leaves, and abundant flowers taking the lead. Hanging centerpieces are a huge component of this style — you can easily transform any space by suspending lush flowers and greenery from the ceiling for a "secret garden" vibe.
Ultra Violet Accents
When Pantone named Ultra Violet as the 2018 Color of the Year, we instantly knew that it was only a matter of time before couples began adding this purple hue to their wedding decor. Go all out with Ultra Violet table linens and glassware, or take the subtle approach by adding small hints of this punchy color into your wedding centerpieces. Gold, blush, and greenery are some of our favorite ways to complete the look.
Velvet Details
We're crushing on this oh-so-soft fabric for 2018. If you're a '90s kid, velvet might conjure up some memories of your (somewhat regrettable) childhood fashion sense, but the modern version is luxurious and rich. It's a beautiful choice for table runners or wedding lounge furniture, or as accents on things like your invitation suite and place settings. The great part is its versatility — velvet can work for nearly any wedding style, from classic and formal to bohemian and artsy.
Geometric Shapes
When it comes to going big and bold in 2018, geometric decor definitely makes a statement, whether it's a cluster of suspended floral spheres or an octagonal backdrop for your dessert display. One particular trend you can expect to see at every cool couple's wedding this year is a triangular altar. This eye-catching backdrop acts like a frame for you and your spouse during the ceremony and it works for both indoor and outdoor venues. Complete the look with trendy additions like pampas grass, macramé hoops, and lanterns.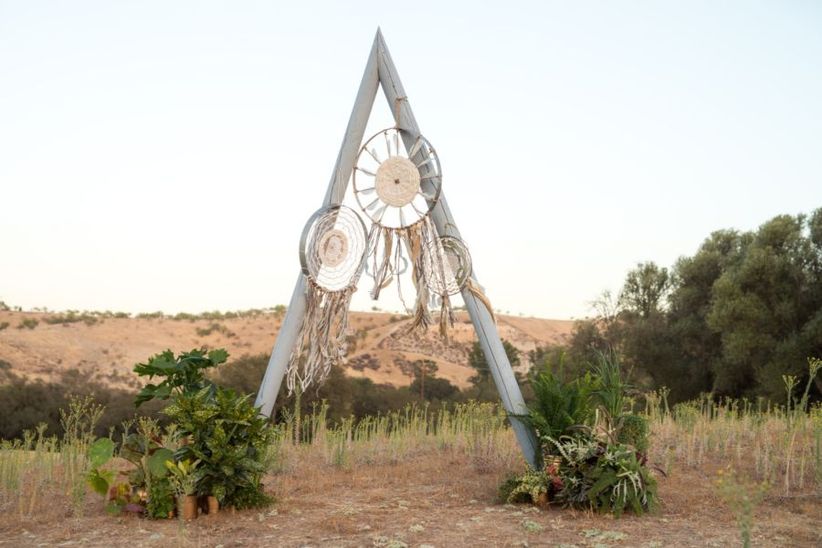 Mid-Century Modern
This retro style has been trending in home design for a few years now, and we're so excited to see it finally making its way into wedding decor. Utilize details that are inspired by 1950s design, such as industrial copper chairs and Edison lightbulbs, to create a mod-meets-millenial vibe. Stick with neutral colors and metallics for a clean look, or go for a "vintage Palm Springs" theme with a bright technicolor palette. Marble and stone details, which were a huge hit in 2017, are still trending for 2018 and work with this style quite nicely. And finally, check out this adorable mobile bar. Custom bars are one of our top 2018 wedding reception trends, but a bar on wheels is the icing on the cake, and the vintage caravan is a fun photo op.