The Wedding Trend That Will Make You Want to Go Paperless
If there's one wedding trend evoking sheer delight right now, it's acrylic décor.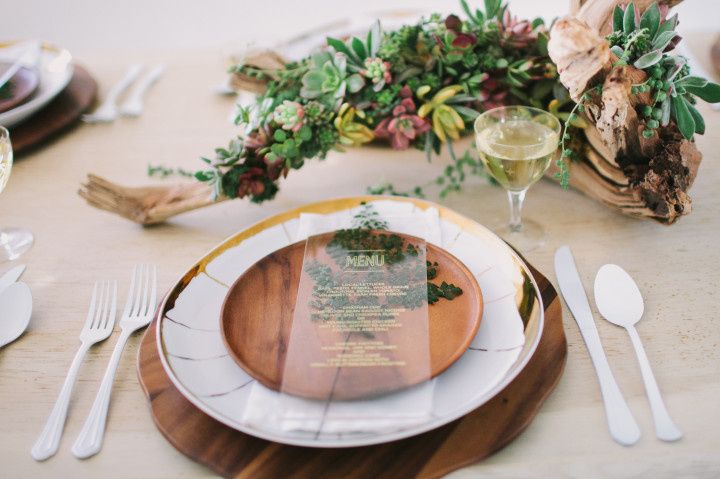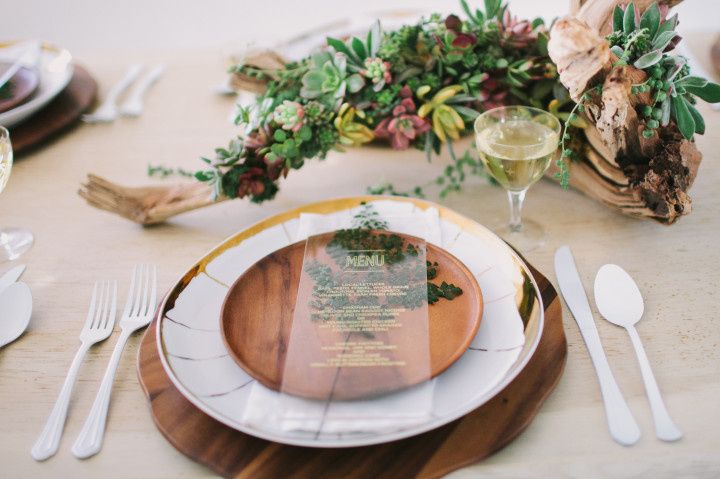 Photo: Fondly Forever Photography
If there's one wedding trend evoking sheer delight right now, it's acrylic décor. Marrying modern with a minimalist vibe, this shapeshifting look is showing up in everything from wedding signs and escort cards to ceremony aisles and seating. Our favorite form, though, is when acrylics substitute paper—it's a perfect and beautiful way to add an eco-friendly element. Translucent details bring a touch of sophistication while throwing in a dash of the unexpected—just think how wowed guests will be when they sit down expecting a printed menu and instead see the night's fare inscribed on a gleaming piece of Lucite. Acrylics stand out but in a non-distracting way that lends its surrounding décor—flowers, centerpieces, venue—the true spotlight.


And even though this is a more contemporary trend, that doesn't mean it's only confined to weddings of that type—acrylic wedding décor can be pulled off with any style if done right, whether it's a rustic woodland wedding or art deco soiree. These ideas will show you how it's done.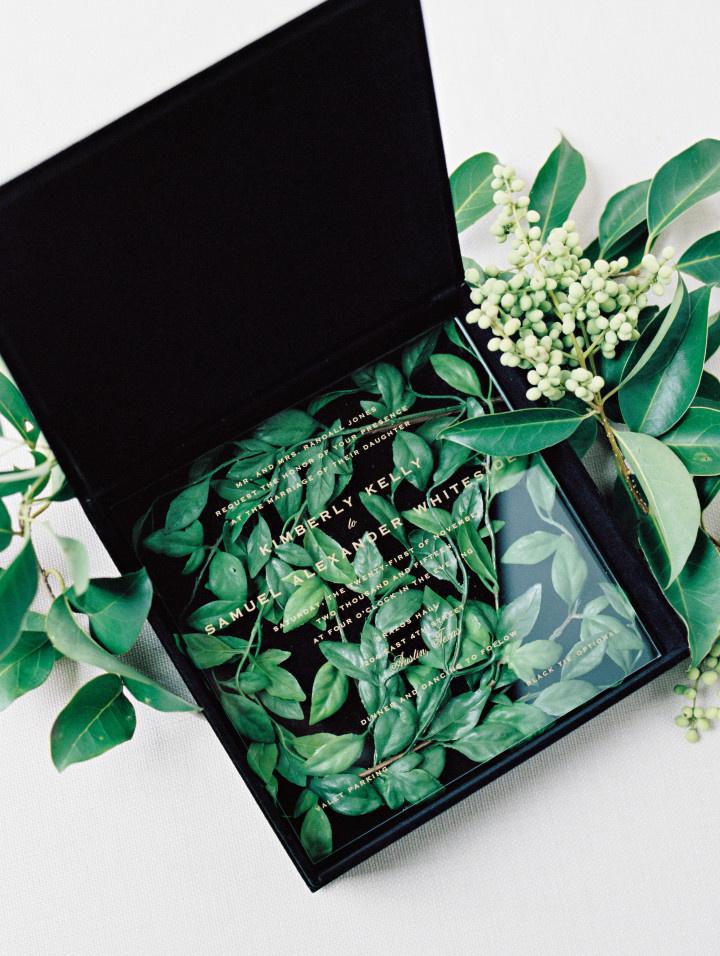 Photo: Ryan Ray Photography
Invitations
Set the tone of your wedding with an acrylic invitation. Dare to be different with a square shape, and if you want to go paperless all the way, put down the envelopes and use a square box instead. It's classy, elegant, and formal for sure. Throw in a dash of botanicals for a minimalist burst of color and freshness, or if your theme is a bit more glitz than green, dust the bottom with gold confetti. Your guests will be absolutely wowed!

Photo: Sarah Kathleen
Wedding Program Signage
Skip the individual wedding programs—when the ceremony is done, guests will either leave them on their seats or toss them out. Instead, display the schedule on an acrylic sign for a polished look. Guests really only need to look at this information once—and if they need it for reference, they can always snap a picture with their phones. Not only is it useful, but acts as décor at the entrance of the ceremony while introducing the acrylics you promised with your invites. Prop the sign on an easel and top it with a swag of luscious flora and fauna for some garden whimsy vibes.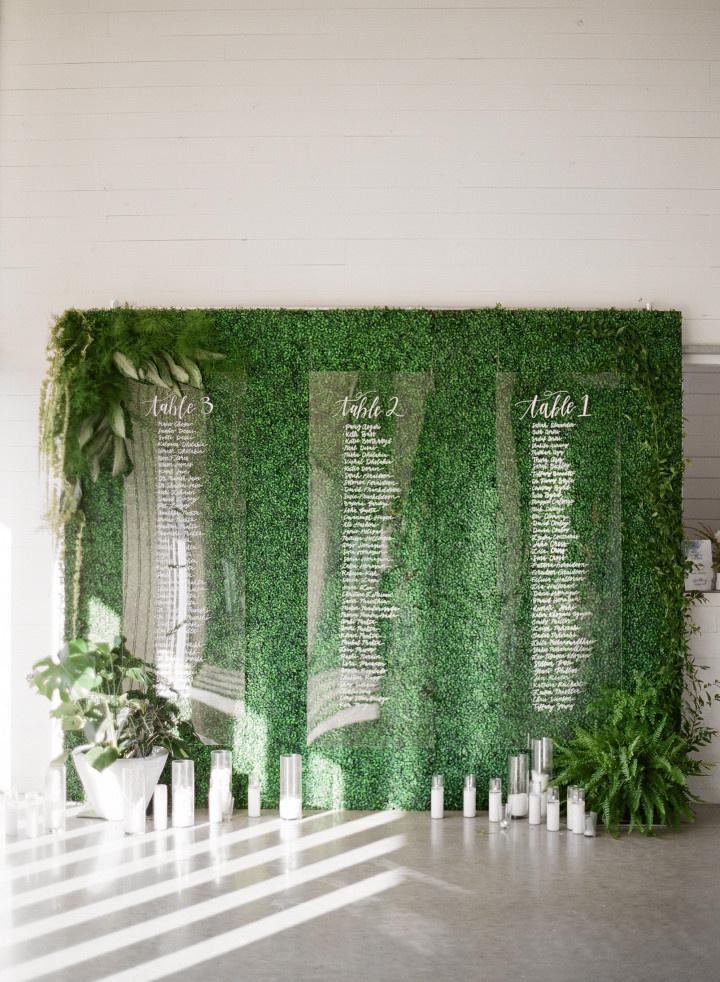 Photo: Matthew Moore Photography
Seating Chart
Someone brought the forest indoors, and it looks beautiful. A trio of acrylic panels suspended against live greenery walls makes for one stunning modern seating chart, speaking volumes in their modern simplicity and complemented by matching acrylic risers with candles. If this is evidence of anything, acrylics will take your seating chart for a fresh spin, leaving the typical oversized printed seating plan behind in the dust. It's the perfect choice for a larger wedding and helps carry acrylic accents from the ceremony to the reception.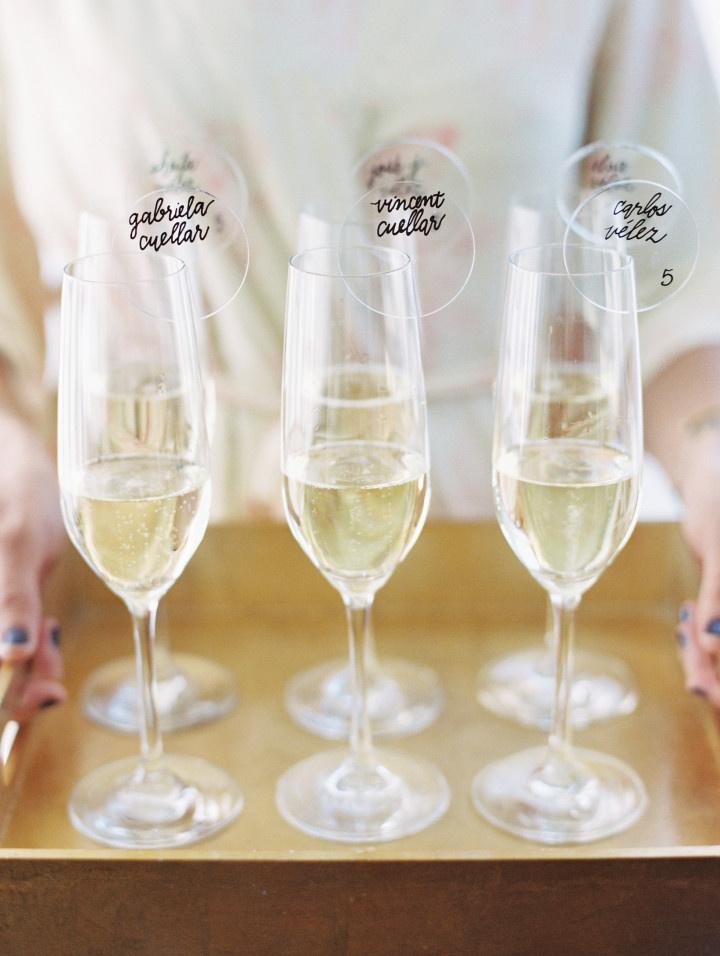 Photo: Abby Jiu Photography
Escort Cards
For smaller parties, there are myriad options when it comes to incorporating acrylic escort cards depending on your style—cut them in geometric shapes for an industrial feel vibe, suspend them from the ceiling for an eclectic vibe, or place disk-shaped roundels on champagne glasses for a splash of fun. It instantly makes a glamorous tray of champagne flutes all the more chic, and when penned with each guest's name, ensures no one will lose their drink—or mistake one's bubbly for theirs.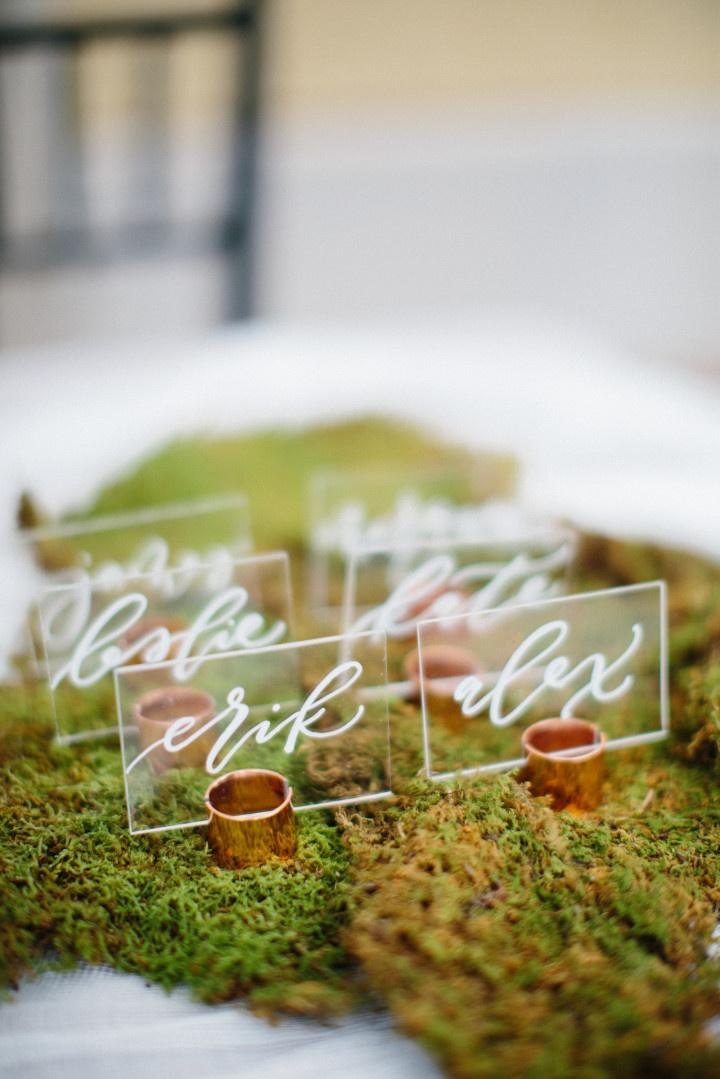 Photo: Dani Stephenson
Place Cards
Similar to escort cards, place cards come alive when swapped out from paper for emblazoned acrylics. Take them for a rustic spin by placing them in a mossy bed for some woodland charm, which offers a beautiful juxtaposition to shining copper holders and the glossy sheen of luxurious Lucite. For a more elegant finish, they look equally as good on a satin rippling tablecloth or near a lace runner for a vintage feel.


Photo: Fondly Forever Photography
Menus
Bring acrylics to the table with embossed menu cards for a surprising twist. It creatively displays the night's options without cluttering the tablescape, allowing for unobstructed views of your gorgeous plateware. They can be styled and decorated according to the feel of your table; this minimalist Lucite menu subtly contrasts with a refined rustic setting with wooden plates and an earthy centerpiece. Switch things up—instead of placing a single flower or greenery on top as most settings do, place it underneath for a three-dimensional effect.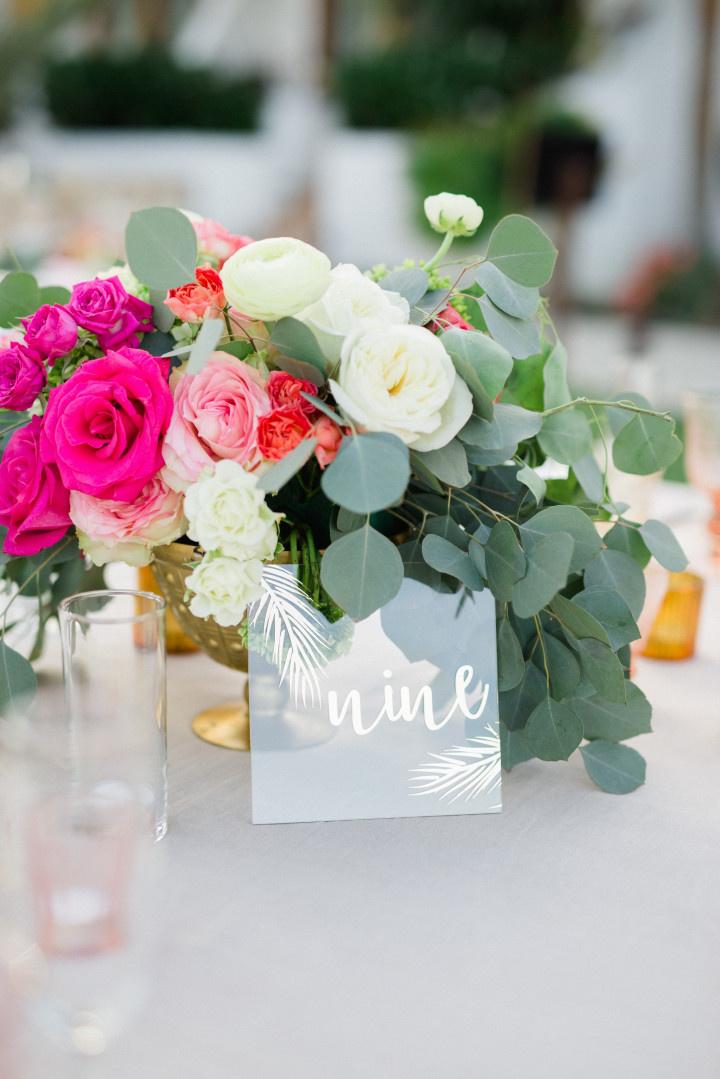 Photo: Sara Richardson Photography
Table Numbers
Square tiles of acrylic etched with scrawling calligraphy make for simple and sweet table numbers. Clean and unfussy, their transparent quality doesn't distract from a tablescape's centerpiece, giving it the ability to really shine. Here, a sleek Lucite square complements a romantic arrangement of eucalyptus and white and pink blooms in a gilded bowl.