Escort cards and wedding place cards are two separate things, but not everyone can spot their differences at first. Both are equally important for your big day, which is why we're breaking down the details of these wedding stationery essentials so you know exactly how to incorporate them into your reception decor when the time comes.
Here's everything you need to know about escort cards, wedding place cards, and their differences!
Escort Cards
Escort cards are individual cards that correspond to your wedding seating chart and specify the assigned table for each guest. You'll need one for every guest, or at least every family/couple, and you can base the wording on how you addressed your invites. If you're only providing one escort card per family or couple, we recommend having a place card for each person once they arrive to their assigned table (more on that later).
The escort cards should be displayed near the entrance of your reception venue so that they're plainly visible to guests upon arrival. Arrange the cards alphabetically to make it super easy for people to find their names — and to avoid a bottleneck at the reception entrance. Create a welcome table by displaying the escort cards along with your guest book, card box, and other decor. Feeling creative? Design an elaborate escort card display that matches your wedding style.
Alternatively, you can provide a seating chart sign for your guests. Instead of individual escort cards, the seating chart sign lists guests by name or table, depending on where they are seated. A custom seating chart sign made by a professional calligrapher can be a fun opportunity to spruce up your decor.
Wedding Place Cards
Wedding place cards differ from escort cards by indicating not just the table, but the exact seat assigned to each guest. These cards are displayed at every place setting, either on the plate or just in front of it. This option provides the most straightforward approach to your reception seating, especially if you have a very large guest list that you'd like to keep under control.
Place cards ensure that your VIP guests (parents, close relatives, etc.) have the best seats when they arrive to their assigned tables. They'll also prevent guests from ending up at the wrong table, whether it was accidental, or because someone showed up unannounced or decided to rebel against the seating chart. Hey, it happens!
If you're having place cards, you'll need to provide one for every guest, even for those who don't have their own escort card. This includes plus-ones, young adults, and children (babies and infants are exceptions). This eliminates any confusion about whether or not families and couples are seated together.
Wedding place cards also come in handy if you're having a plated meal. If you asked guests to make their menu selections ahead of the wedding, you can color-code the place cards or add small icons or letters ("C" for chicken, "B" for beef, etc.) for the corresponding entrées. When it's time to eat, your catering staff will know exactly who ordered what.

Which One(s) Do I Need At My Wedding?
Most couples choose to assign their guests to specific tables, and we recommend doing so unless you have a very small guest list (20 or 30 people, tops). Assigned tables and escort cards will make the experience a lot less stressful for you during your wedding reception. You shouldn't have to spend time worrying about whether or not your great-grandparents are sitting next to the DJ's speakers, or if your parents are stuck at a table all the way in the back of the room. Escort cards also ensure that your tables are evenly filled and that loved ones from both sides are sitting together — neither of which are likely to happen if your guests take seating arrangements into their own hands.
Place cards are less of an essential and more of an add-on, although they're a fabulous way to personalize your wedding tablescapes. They're more common at formal weddings, but they're totally appropriate for casual events, too! It all depends on the style of the place cards. One thing to note: If you're having place cards, you'll still need to provide escort cards or a seating chart sign. Otherwise, guests will spend time wandering from table to table searching for their name.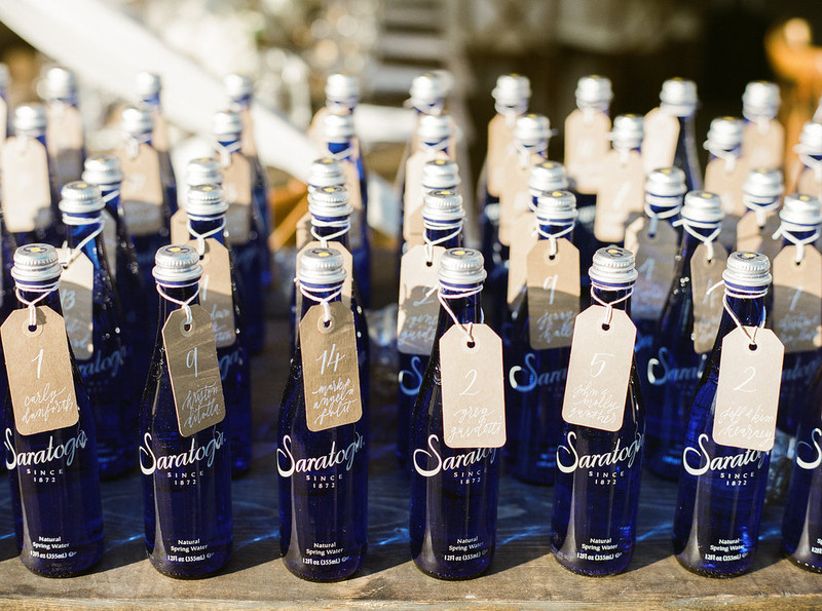 Do Escort Cards and Place Cards Have to Be Actual Cards?
Definitely not! As we mentioned, a seating chart sign can replace traditional escort cards, which can theoretically be anything you want. Mini potted plants, artisan water bottles, and even edible options like cake pops are just some out-of-the-box escort card ideas we love. The same goes for your wedding place cards. While you can't go wrong with classic paper cards, you can also get creative and use objects like painted leaves, mini chalkboard signs, and acrylic squares. Don't be shy about using unexpected ideas to match your wedding style!