Whether you're meeting a stationery pro in person or browsing invitations online, you might find yourself overwhelmed by all the wedding invitation paper choices available to you—and you might not know how different they can be! Then there's the printing techniques—embossed, foil-pressed, letterpressed—so many choices surrounding the card that will announce your big day.
To help you decide what wedding invitation combination is right for you—for your budget and style—we've outlined the top wedding invitation paper styles and printing techniques, and our favorite versions of each below.
Types of Wedding Invitation Paper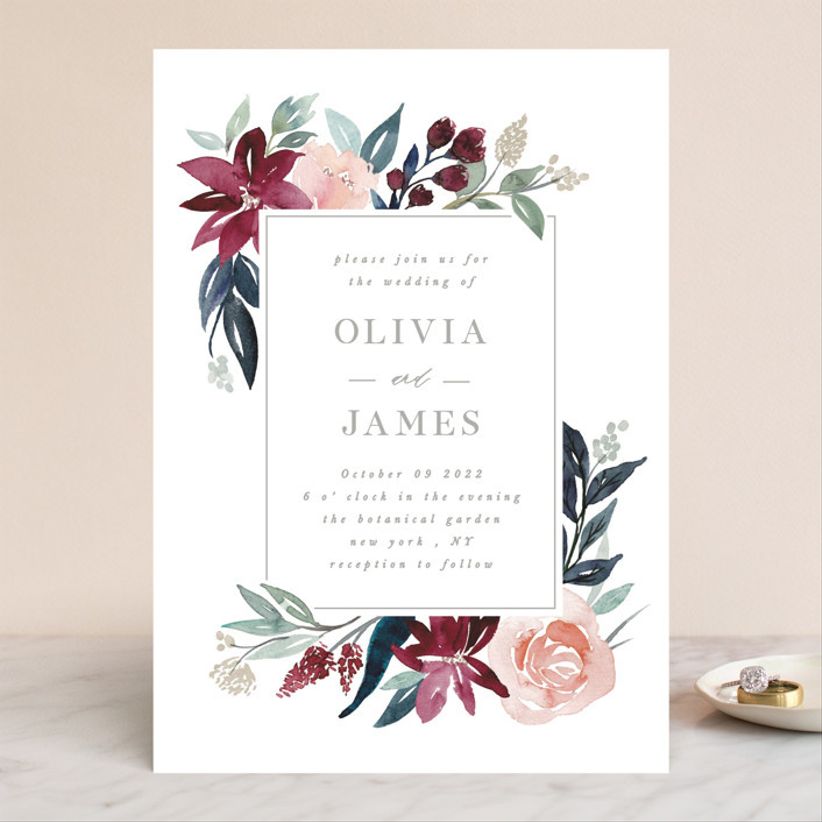 Recycled
For the eco-friendly couple or rustic-style weddings, this paper made of repurposed materials, is the choice for you. Wedding invitations with recycled paper come in a variety of shapes and sizes, from kraft cardstock to pulpy, handmade papers.
Our pick: Creo Study Garden Stroll wedding invitations, 100 cards for $234, Minted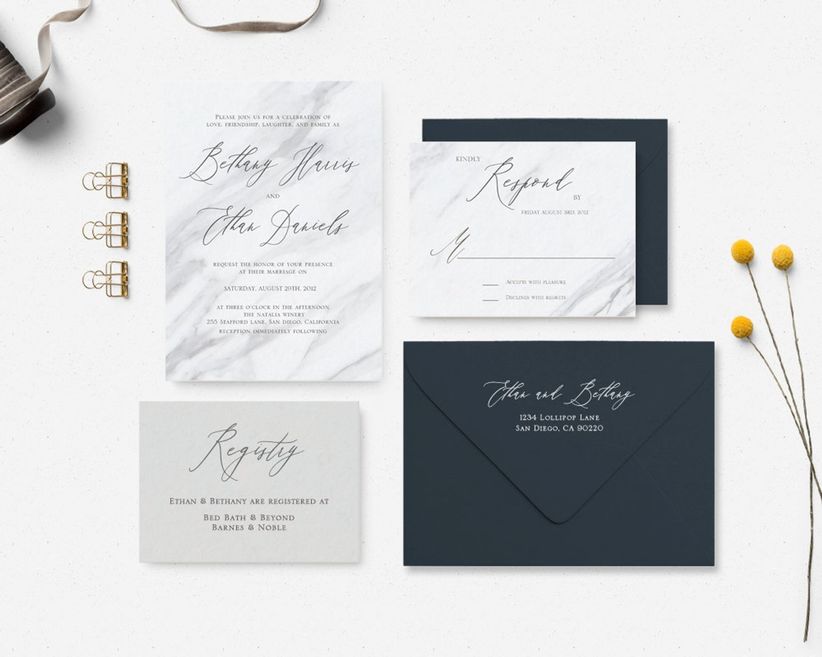 Cotton Fiber
As its name implies, this paper is made from cotton, typically from cotton linters or used cloth. You may prefer this wedding invitation paper because of its strength and durability, and you'll recognize it by its soft feel. Cotton paper absorbs ink better (thanks tot strong fibers) so colored ink may appear richer.
Our pick: NostalgicImprints Modern Marble wedding invitation suite, 25 cards for $96, Etsy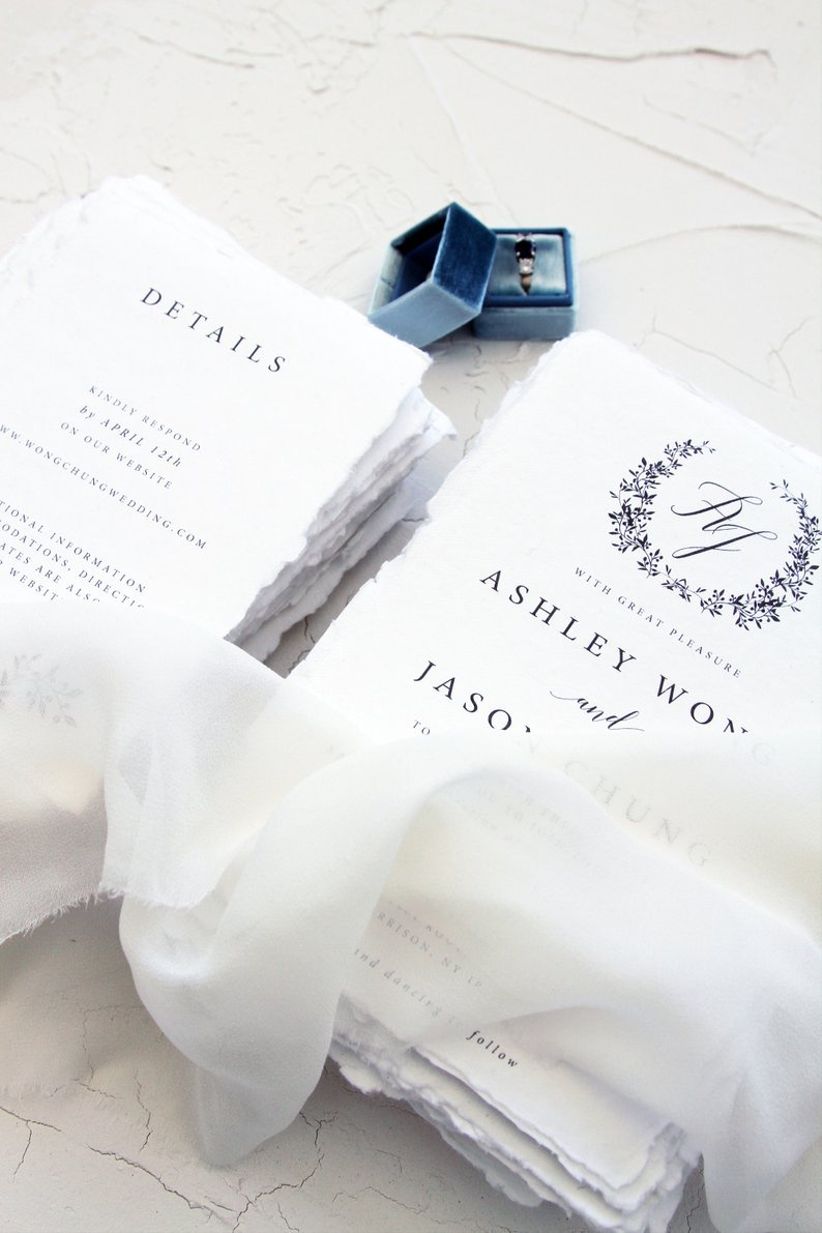 Linen Finish
A linen finish wedding invitation paper is a high quality, cotton blend paper with a textured, slightly crosshatched surface—it feels like linen fabric, hence its name. This paper finish provides an elegant look.
Our pick: ParadiseInvitations Aceline handmade paper invitation sets, $38, Etsy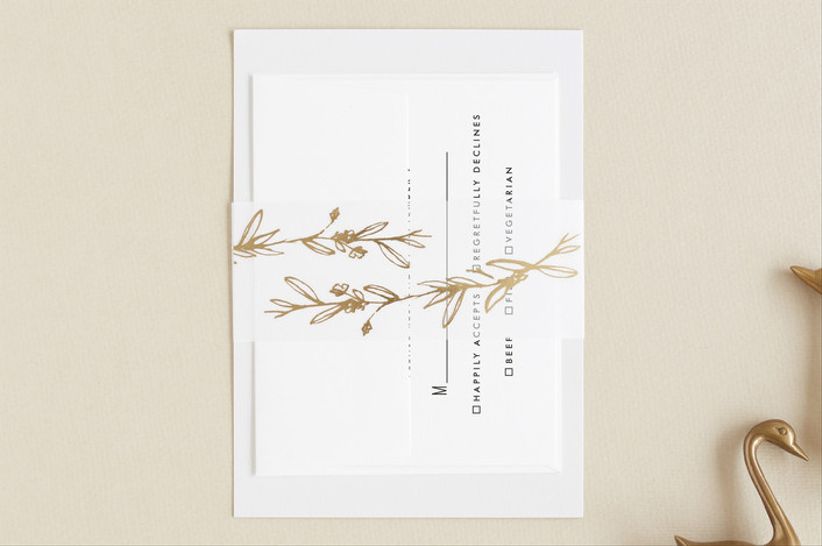 Vellum
Once made from animal skin, vellum is made from a cotton and wood pulp blend today. This wedding paper resembles what you might remember as tracing paper in elementary school—it is sheer and frosted, and layered on top of an opaque sheet of paper. They're great for invitations or invitation suite belly bands.
Our pick: Mere Paper Metallic Branches belly bands, 25 belly bands for $84, Minted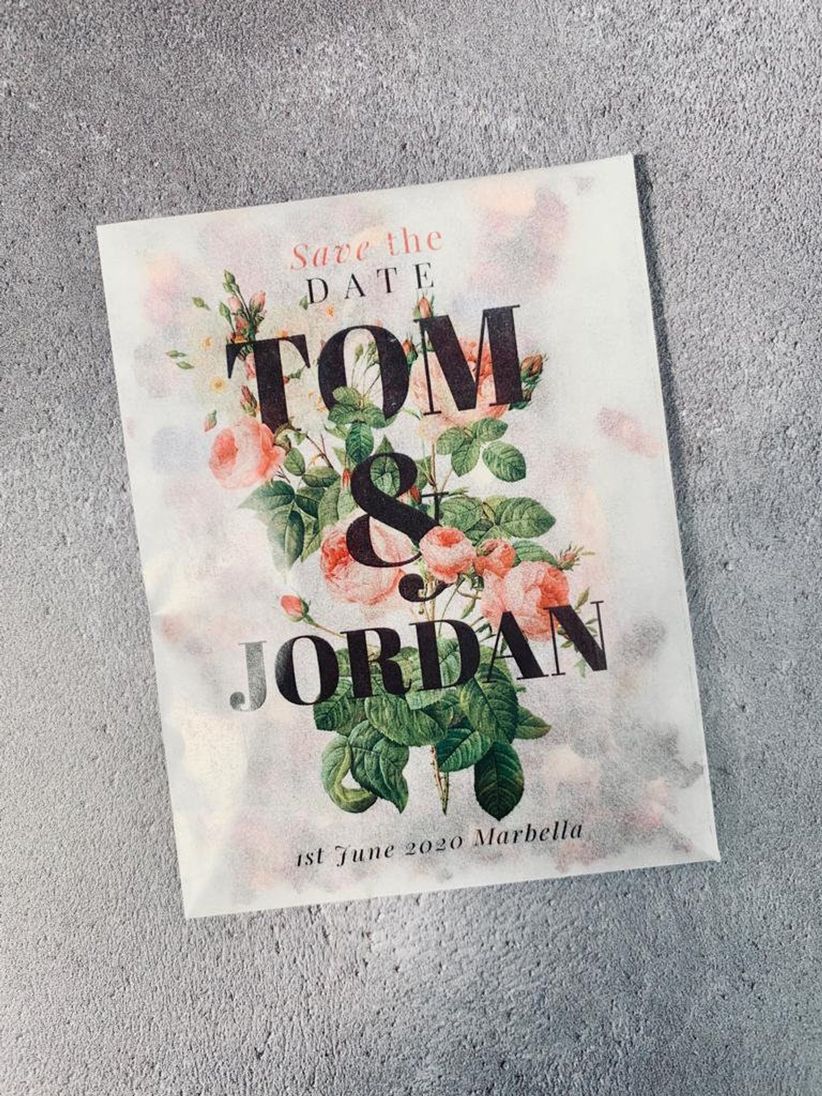 Glassine
Use this light and waxy paper as envelopes or envelope liners, overlays, pouches, and other invitation suite accents, rather than for the wedding invitation itself. They are typically see-through, but can hold ink well. A cute idea: Print an invitation on a glassine envelope and fill it with confetti.
Our pick: DollzPetalConfetti Save the Date Wedding Confetti Packet, $3 each, Etsy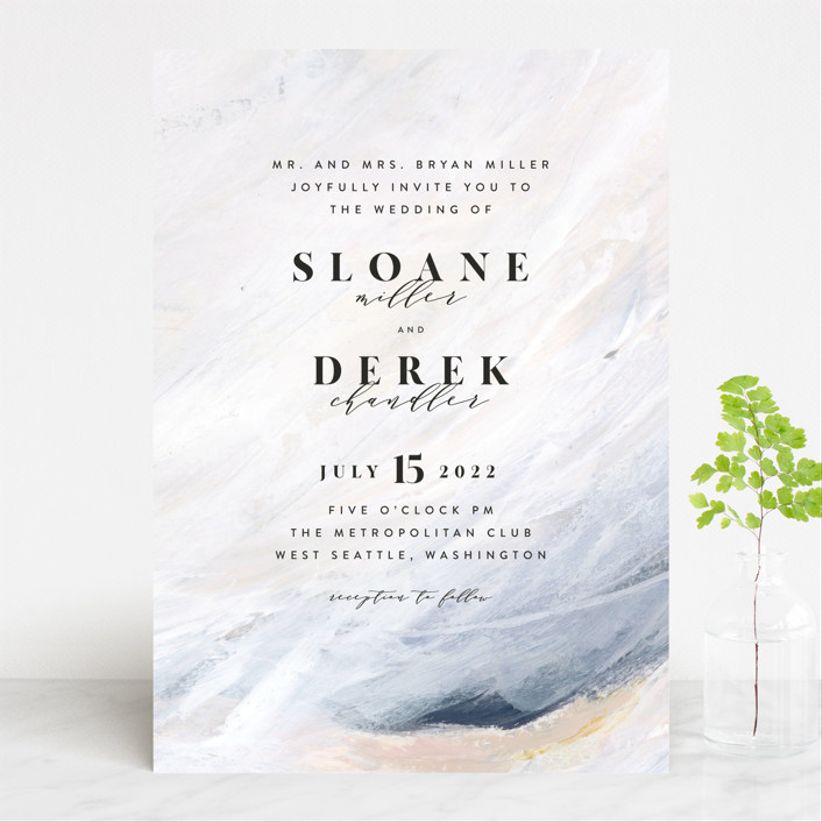 Board
If you're looking for a heavy cardstock—we're talking thick, sturdy paper—go for a board wedding invitation. Typically made with three layers of paper, and with a cotton texture, they will not bend in the mail.
Our pick: Kate Ahn Wishful wedding invitations, 100 for $234, Minted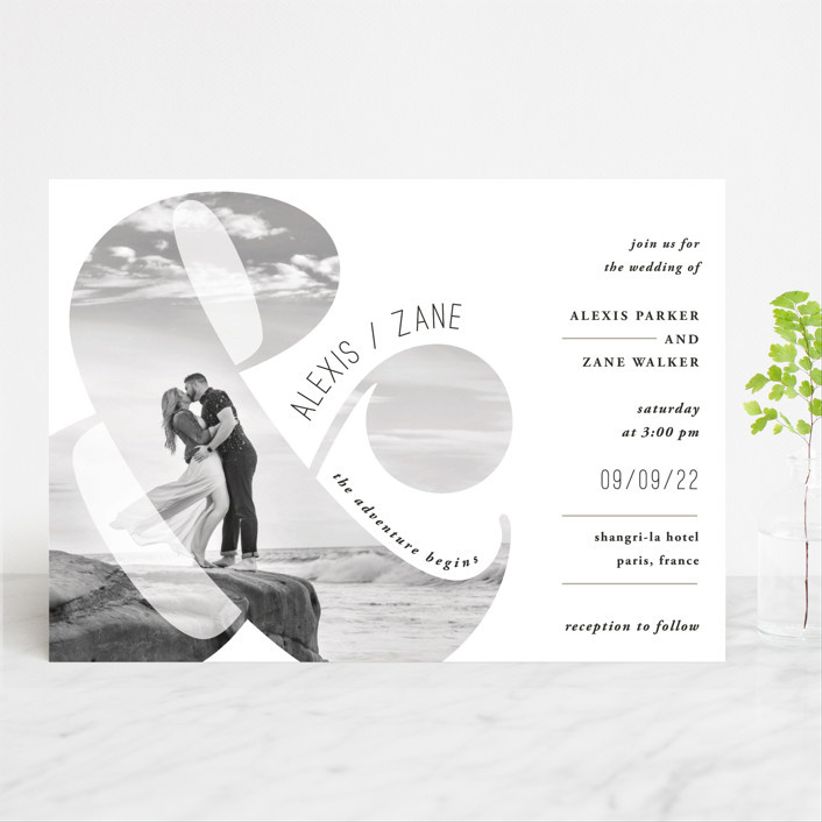 Pearlescent
This is the paper for wedding invitations that has a little sparkle. Pearlescent paper has a bit of a shimmer finish on top for an added elegance. If you're using a photograph on your invitation, it adds a soft glow to your image.
Our pick: Playground Prints And the Adventure Begins wedding invitations, 100 for $234, Minted
Along with the paper options, you'll need to decide on a printing technique. Here are the most popular wedding invitation printing options: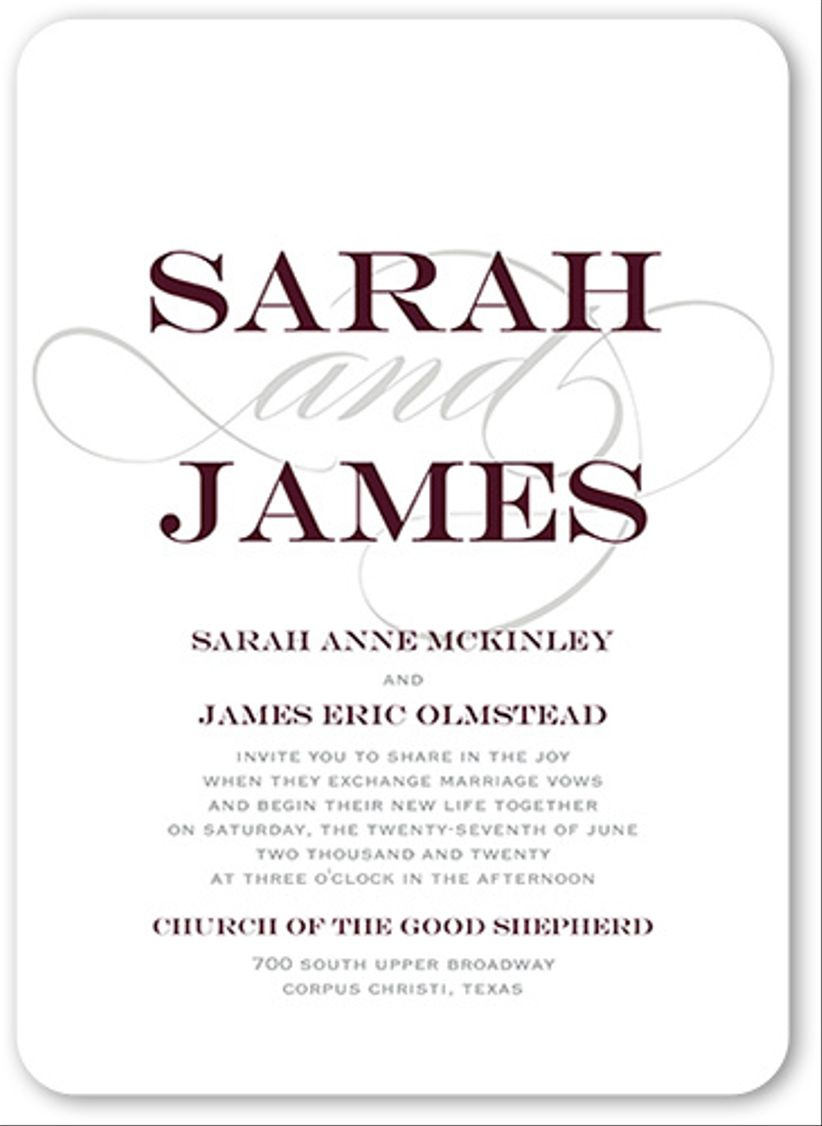 Thermography
This budget-friendly printing technique gives you a slightly raised text effect, without the high-price of engraving or embossing. To create the look, ink is mixed with a special powder and applied with heat for a painted on look.
Our pick: David's Bridal The Perfect Match Wedding Invitations, 75 for $108, Shutterfly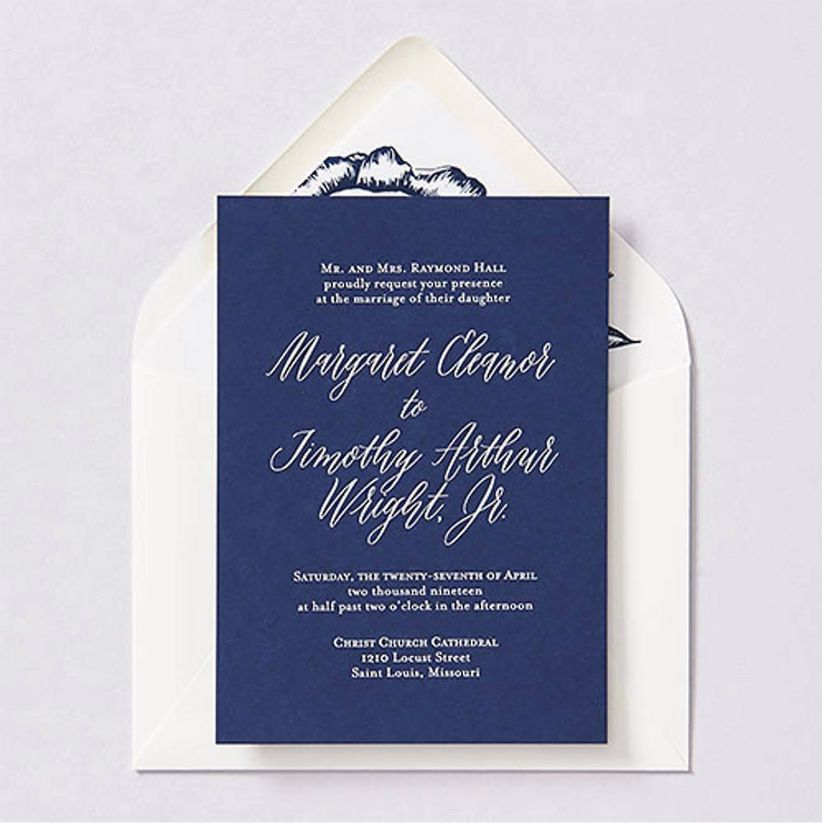 Engraving
This is a wedding invitation classic: To get raised letters, paper is pressed between an inked plate and a metal plate to punch the text upward from the underside of the card. It allows texture, and readability from the ink.
Our pick: Paper Source Engraved Script Wedding Invitation, 100 for $220, Paper Source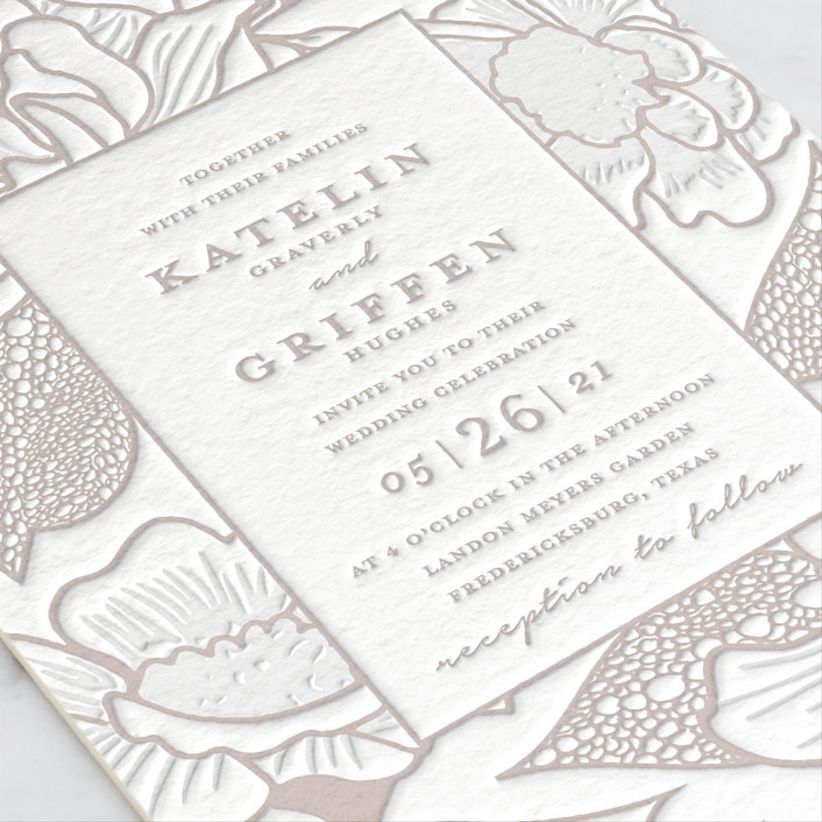 Letterpress
This style is both classic and modern. Text and graphics are indented into thick (board) paper with a metal plate. The text and graphics can have color ink, or sometimes just indentations within the invitation for texture. Because of the technique, this can be a more pricey invitation option.
Our pick: Kaydi Bishop Botanical Garden wedding invitations, 100 for $485, Minted
Embossing
Embossing is similar to engraving in that paper is pressed upwards to create texture. With embossed invitations, the text or graphic that has been pressed remains colorless, which is why it is typically reserved for the graphics of the invitation so guests can still read the details.
Our pick: Vera Wang Delaney Wedding Invitation, 25 for $711, Crane
Foil Stamping
Add shine to your wedding invitation suite with this trendy printing technique. To do this, printers press metallic (gold, silver, rose gold) foil onto the paper, creating a luxe effect.
Our pick: Hooray Creative Forever Elegant wedding invitations, 100 for $270, Minted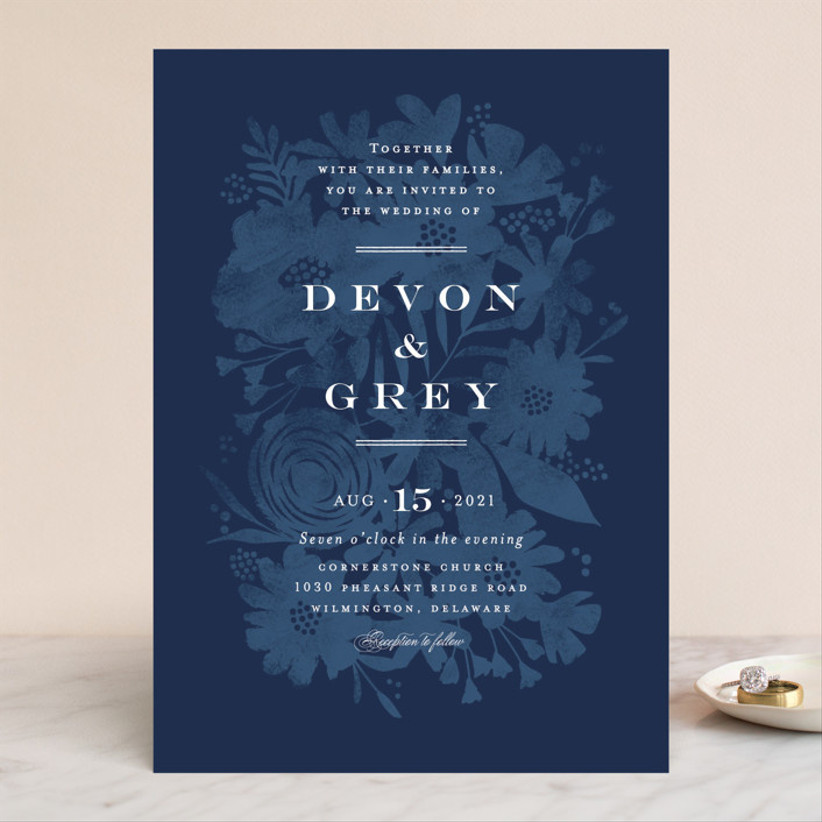 Digital
This flat printing style is your most cost-friendly option. Using a high-quality printer, stationers can create a beautiful invitation in a quick turnaround time.
Our pick: Jennifer Wick Floral Screenprint wedding invitations, 100 for $234, Minted
Disclosure: This post contains affiliate links, some of which may be sponsored by paying vendors.