The Nicest Affordable Wedding Invitations on the Market
There's nothing wrong with wanting a little more bang for your buck. Our list of the nicest inexpensive wedding invitations is the perfect place to start.
We have included third party products to help you navigate and enjoy life's biggest moments. Purchases made through links on this page may earn us a commission.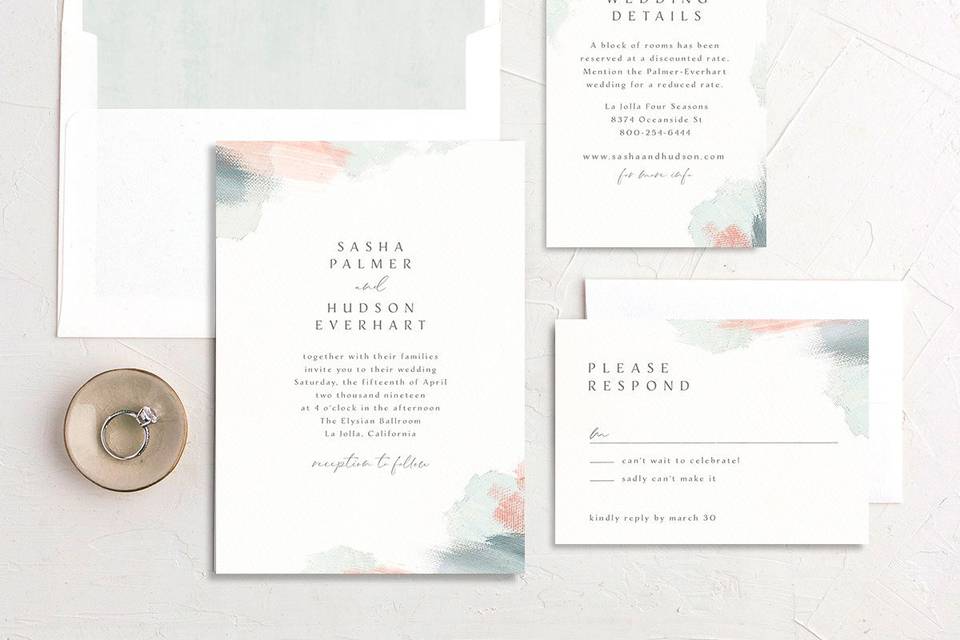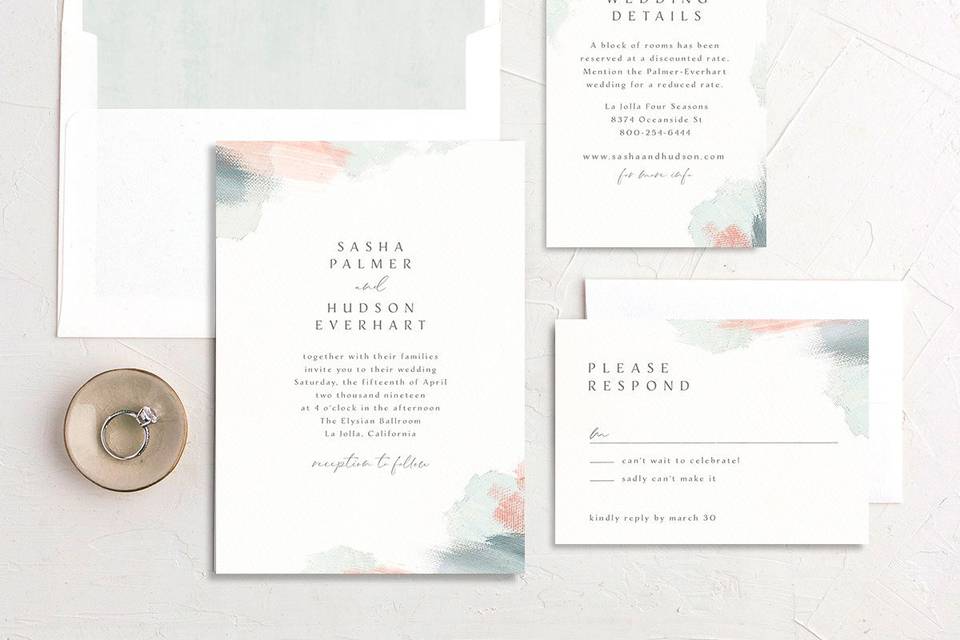 Looking to cut back a little on your wedding stationery? You're not the only one. According to our 2021 WeddingWire x CNBC Beyond the Budget Study, just over a third of soonlyweds said they were willing to downgrade their stationery to save money if needed. We're here to show you that you don't really have to downgrade anything to score affordable wedding invitations. There are actually some great wedding invitation websites out there that sell stylish, high-quality invites at a budget-friendly price (including our very own WeddingWire Invitations). So, while saving on wedding stationery can remain a priority for you and your S.O., you don't have to let go of your dream invitations or sacrifice quality just yet.
The Five Best Places to Buy Inexpensive Wedding Invitations
In the mood to shop around? We're sharing our top five websites for buying wedding invites online that won't blow your budget. You'll find a variety of styles and customization options on pretty much any of these sites, so we recommend taking advantage of filtering tools to help find the perfect stationery for you.
Our in-house stationery brand has a selection of budget wedding invitations for pretty much any theme. You'll find rustic mountainscapes, watercolor florals, elegant calligraphy, and everything in between. Plus, we offer free design assistance to help make your invites truly one of a kind. You can also consider upgrading to eco-friendly recycled paper for just 30 cents more per invitation (especially since you'll be saving so much already). You can officially stop wondering where to buy beautiful wedding invitations cheaply.
Mixbook has some of the least expensive wedding invitations on the market. The site offers myriad customization options, including six different types of paper and six silhouette styles. Some invitations also come with the option of adding real foil in gold, rose gold, or silver hues.
Don't discount Paper Source in your search for inexpensive wedding invitations. While the site does host some high-end designers (think: Monique Lhullier and Neil Lane), it also boasts a selection of more affordable stationery from Rifle Paper Co., Paperless Post, and more. Paper Source also has its own brand of wedding invitations, which are equal parts stylish and affordable.
While wedding invitations at Minted are typically more expensive than what you'll find at WeddingWire Invitations or Mixbook, they're still a pretty good deal. We've got some tips and tricks to help you score your dream wedding invitations at a lower price point. Stick with signature paper, swap out foil for metallic ink, and forgo fancy printing techniques like letterpress. You'll end up with stunning (and affordable!) wedding invitations, and your guests will love them all the same.
Last but not least, if you've got a contemporary sense of style, check out the budget-friendly wedding invitations at Artifact Uprising. Again, avoiding letterpress and foil-stamped designs will help keep your total spend out of the red zone. That said, the site does offer some super-affordable foil-stamped invites for those of you who like a little shimmer.
The Nicest Affordable Wedding Invitation Designs
Want some help finding the right invites for your special day? We've hand picked some of our favorite affordable designs from the websites above—all you have to do is scroll. (Psst, these invitations are all under $3 a piece!)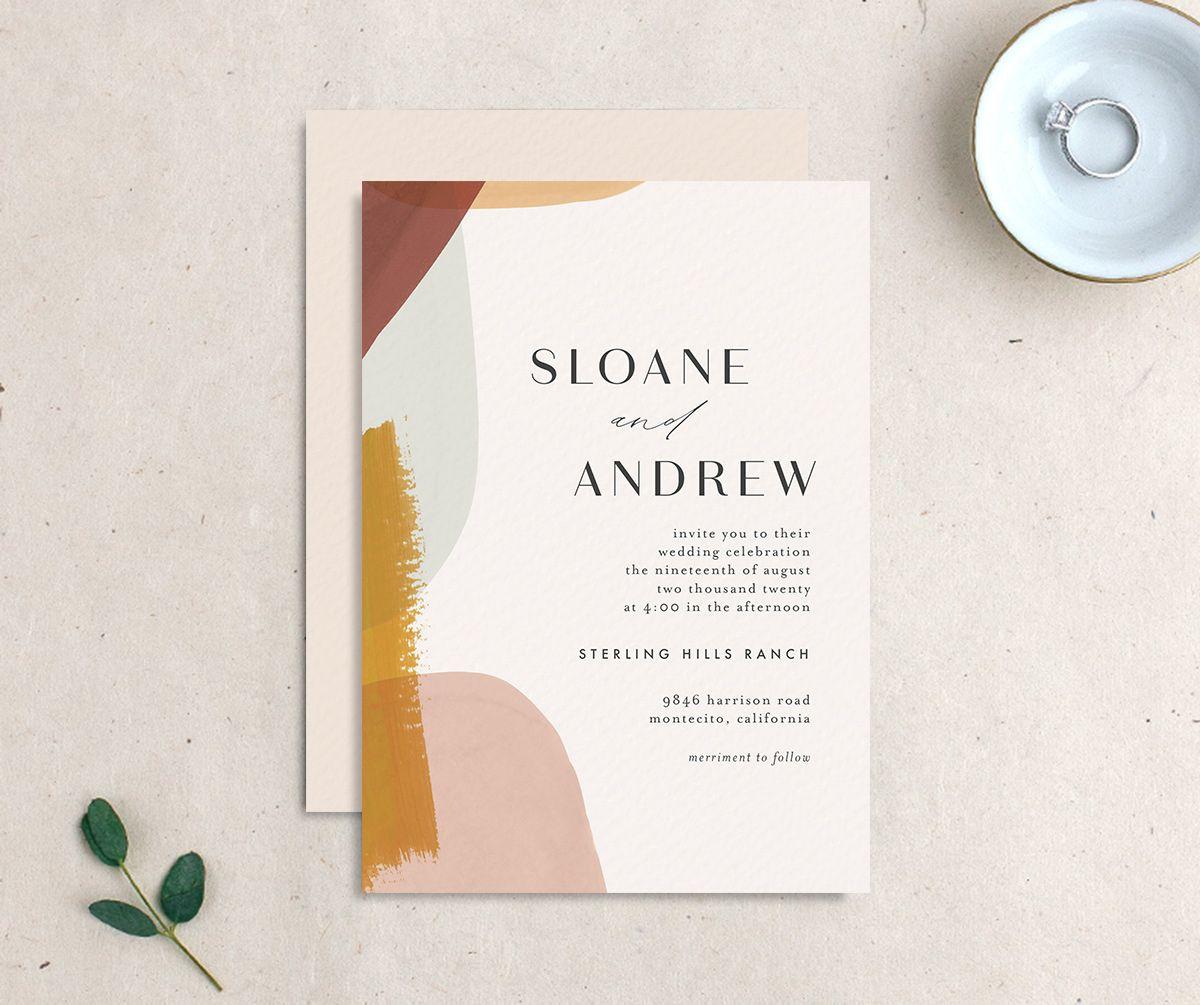 This modern design combines abstract brushstrokes with simple but effective typography. The gold color palette boasts beautiful sunset hues that'll work for any season. Falling in love? WeddingWire Invitations offers matching RSVP cards, detail cards, and envelopes so you can put together an affordable wedding invitation suite in this chic design.
WeddingWire Invitations contemporary brushstroke wedding invitations, from $1.59 each, WeddingWire Invitations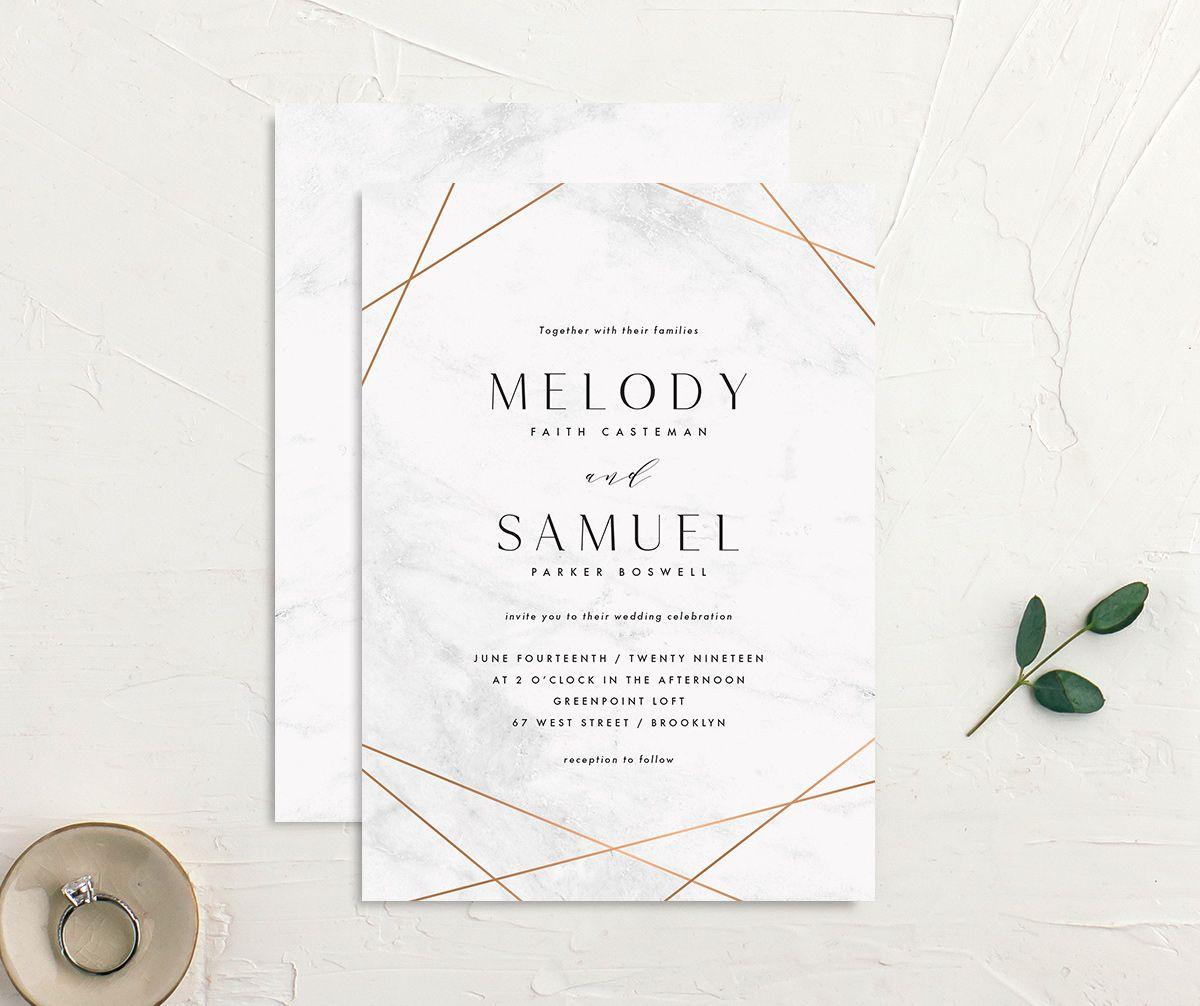 Searching for wedding invitations on a tight budget is easy on WeddingWire Invitations. Here's another one of our favorite designs featuring gold geometric lines on a gray marble background. This modern invite is complete with the monogram of your initials on the back.
WeddingWire Invitations minimal marble wedding invitations, from $1.59 each, WeddingWire Invitations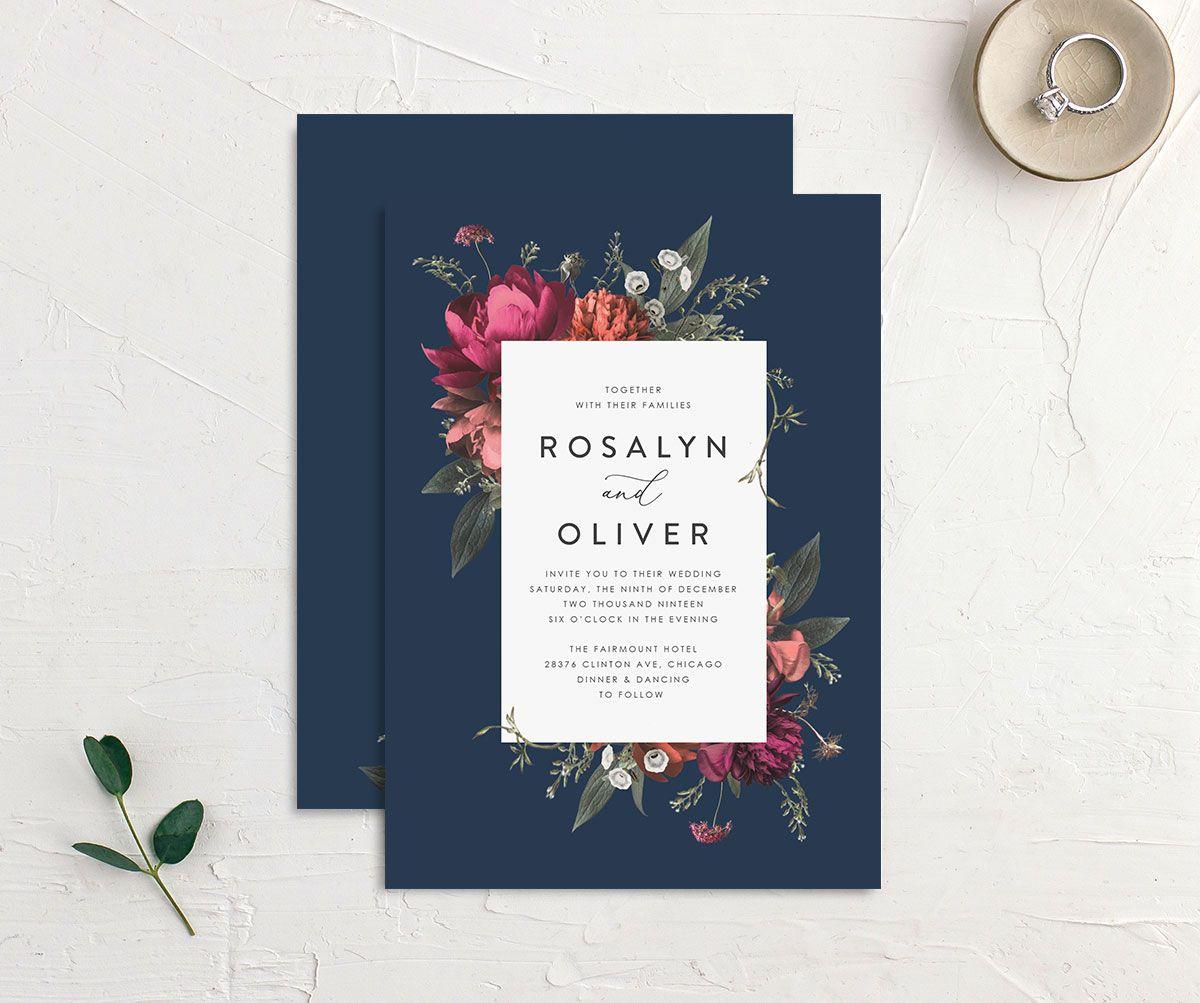 This commanding design comes in four different colorways to suit your wedding color palette and the season. Vivid florals surround your wedding details, which are written in simple typography. Not entirely sure what you want yet? You can order up to three free samples before making up your mind.
WeddingWire Invitations classic garden wedding invitations, from $1.59 each, WeddingWire Invitations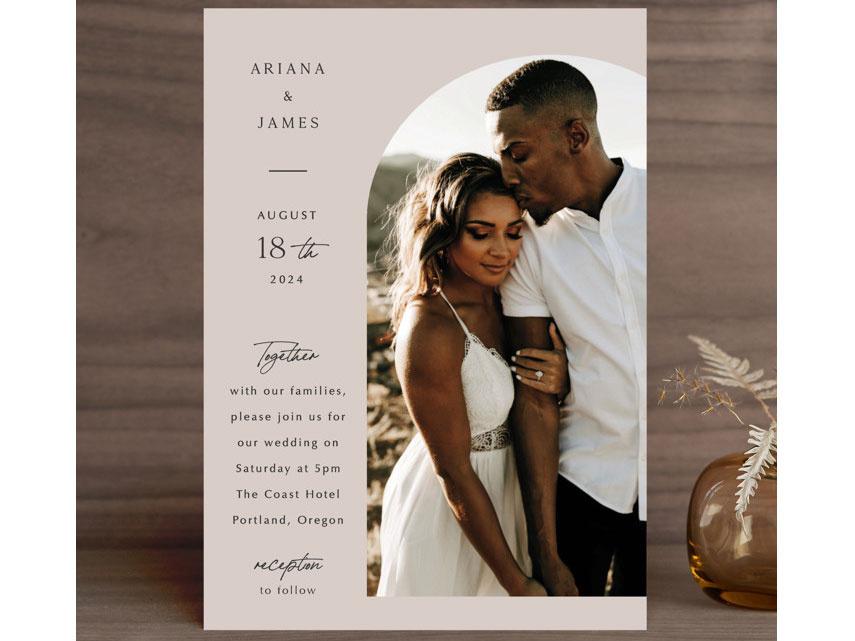 Surprise! We bet you didn't know you could get custom photo wedding invitations on a budget. This classy design immediately lets guests know exactly what (and who) they'll be celebrating. A snapshot of you and your future spouse (engagement shoot, anyone?) is printed in a romantic arch next to the details of your big day.
Elly The Arch wedding invitations, from $2.15 each, Minted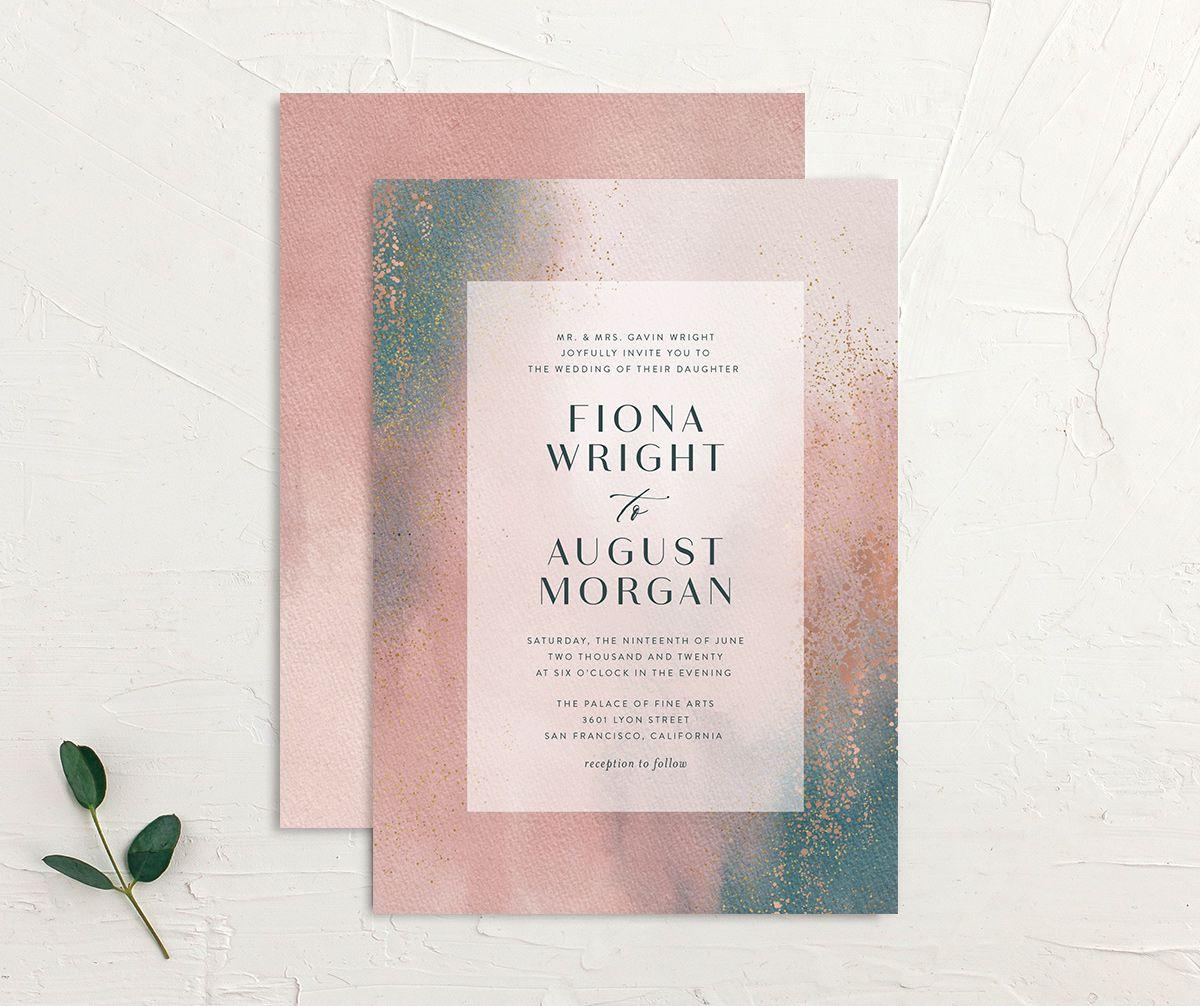 WeddingWire Invitations has plenty of elegant wedding invitations you can buy on a budget. Watercolor droplets add a charming touch to the ombré pink hues that define this invite. Finished with your wedding information in a modern font, it's a stunning way to let your loved ones in on the details.
WeddingWire Invitations watercolor droplet wedding invitations, from $1.59 each, WeddingWire Invitations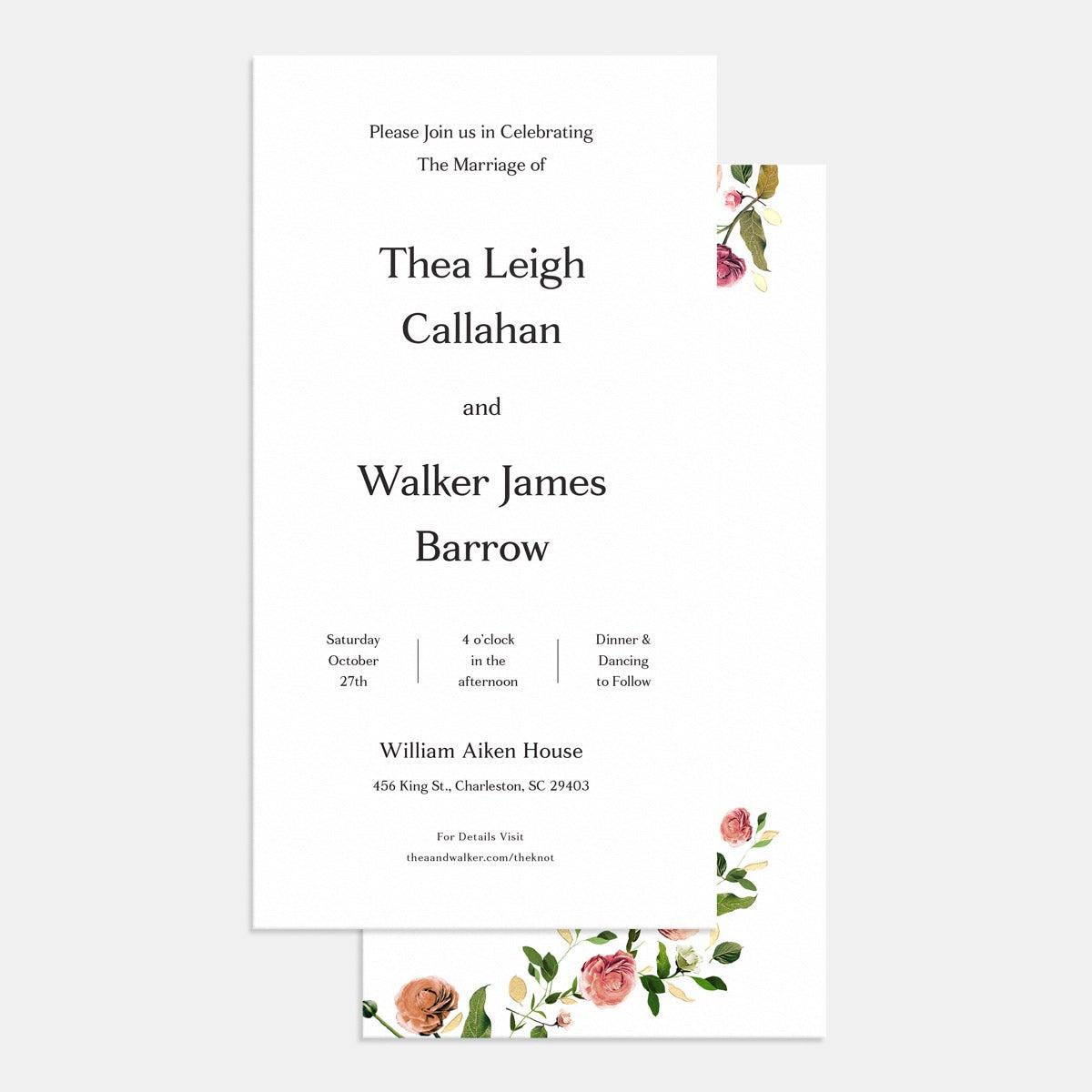 Still wondering where to get inexpensive wedding invitations? Like we said before, Artifact Uprising has a selection of contemporary and minimalist designs. This timeless stationery has your wedding details in black and white on one side and both of your initials on the other. Your monograms are framed by romantic florals printed with accents of gold foil.
Venamour foil-stamped botanical wedding invitations, from $2.75 each, Artifact Uprising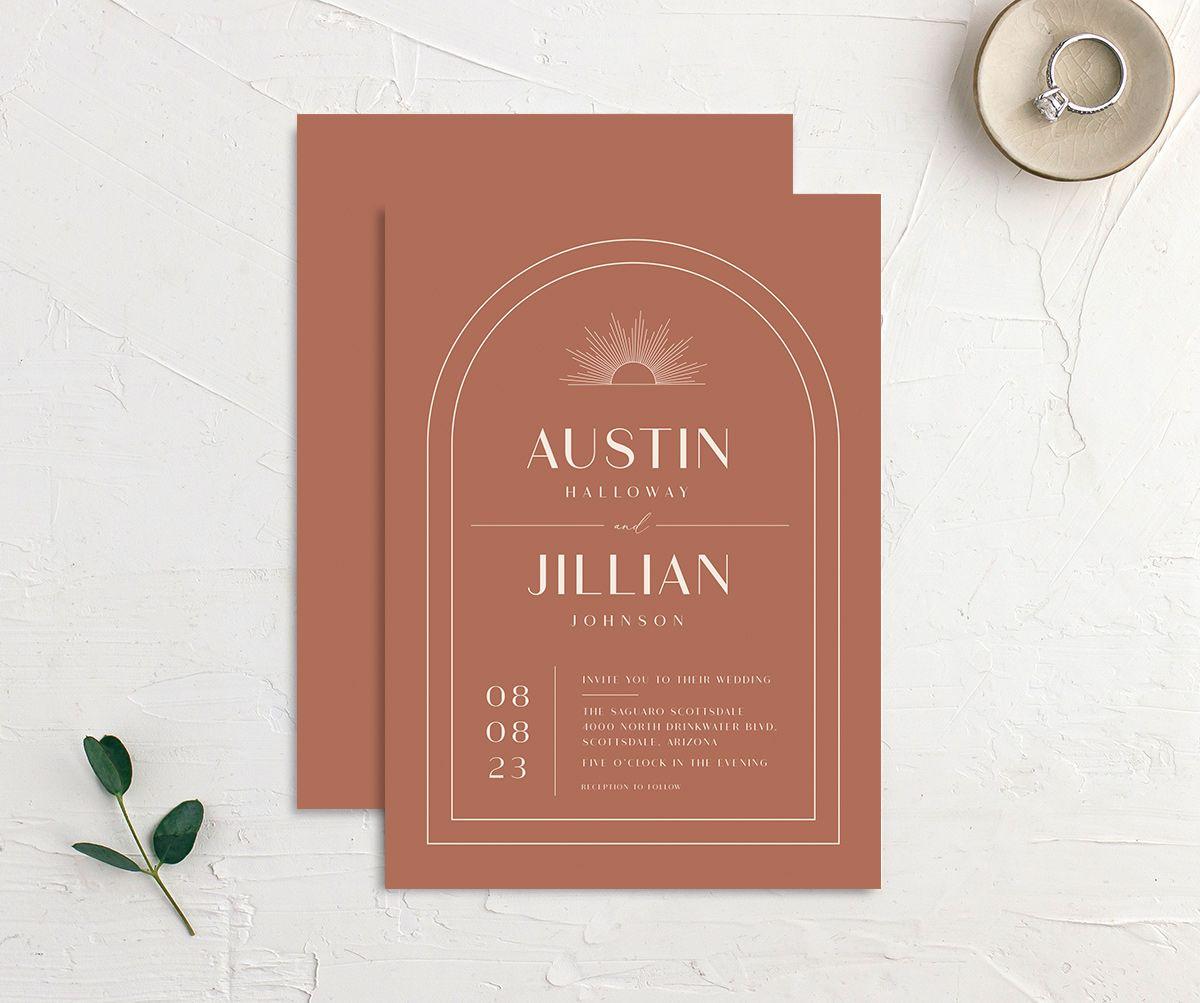 If you're planning an Art Deco-inspired wedding, you'll love the curved arches and sunburst motif on these statement invitations. Choose between an earthy terracotta hue or a cloudy gray-blue. Bonus: WeddingWire Invitations allows you to match your wedding website to your invites for a sleek, cohesive look.
WeddingWire Invitations Art Deco accents wedding invitations, from $1.59 each, WeddingWire Invitations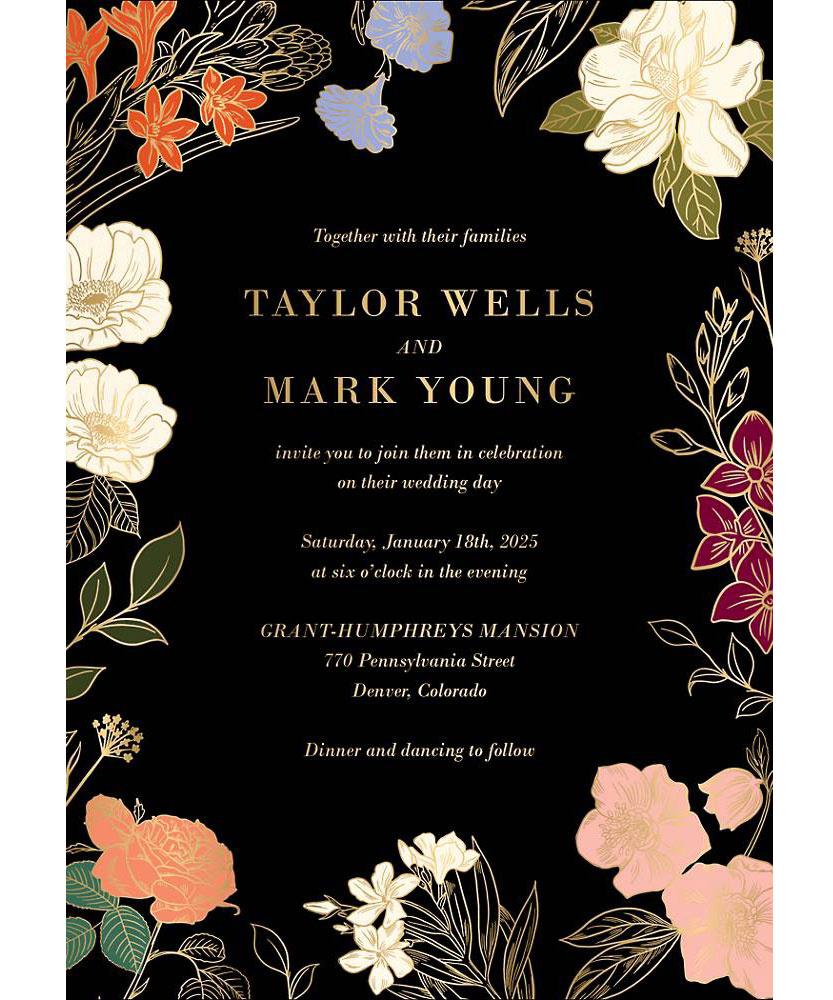 A black background makes the vibrant wildflowers on this wedding invitation pop. Shades of magenta, powder blue, and coral create an eye-catching frame for your wedding details, which are foil-stamped in gold.
Paper Source etched garden blooms wedding invitations, from $2.70 each, Paper Source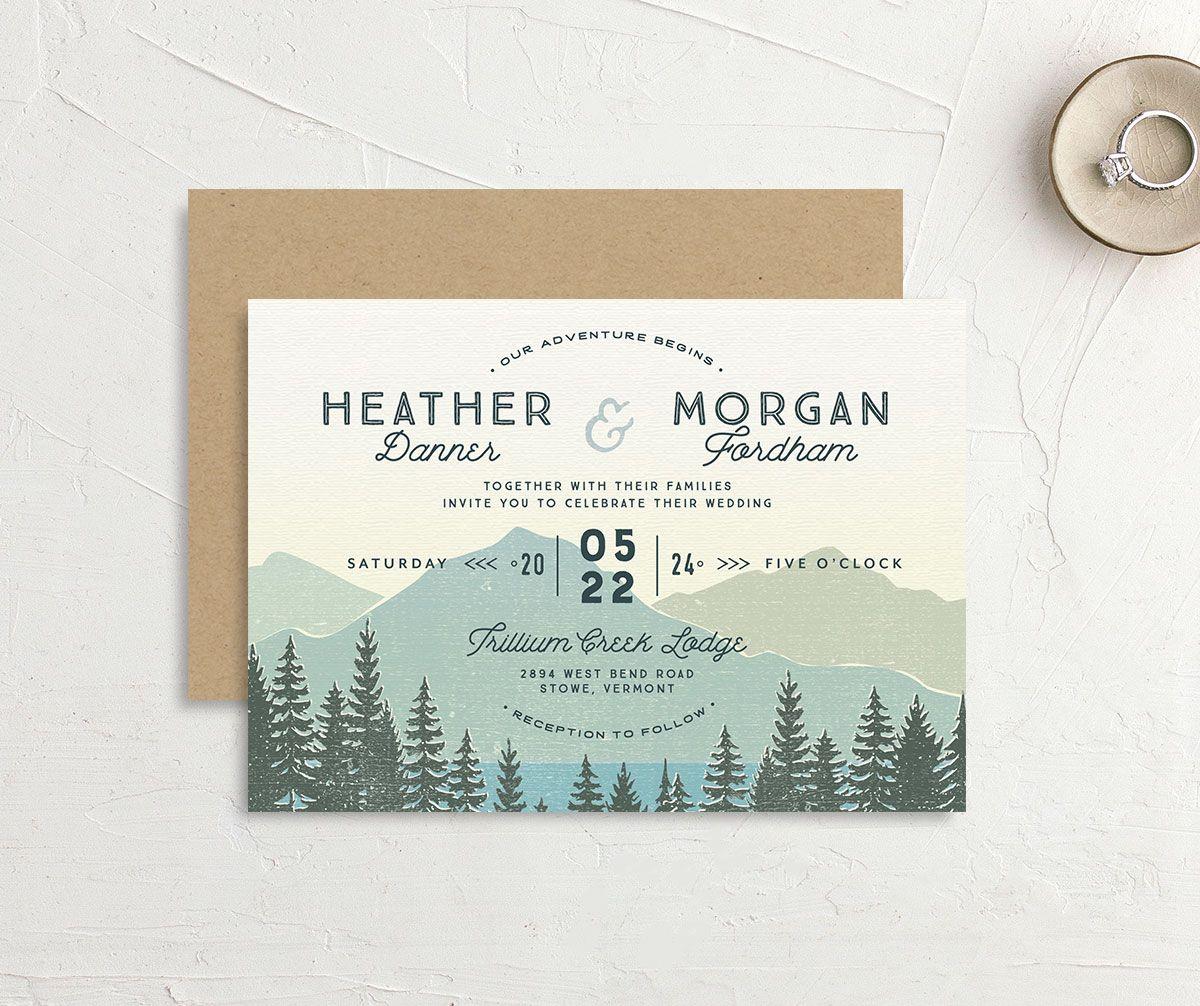 On the hunt for rustic wedding invitations on the cheap? WeddingWire Invitations definitely has what you're looking for. Picture your names and wedding information in a romantic swirling script over a vintage-inspired mountain scene. This invite is available in six different color palettes to suit the season and time of day.
WeddingWire Invitations rustic mountain wedding invitations, from $1.59 each, WeddingWire Invitations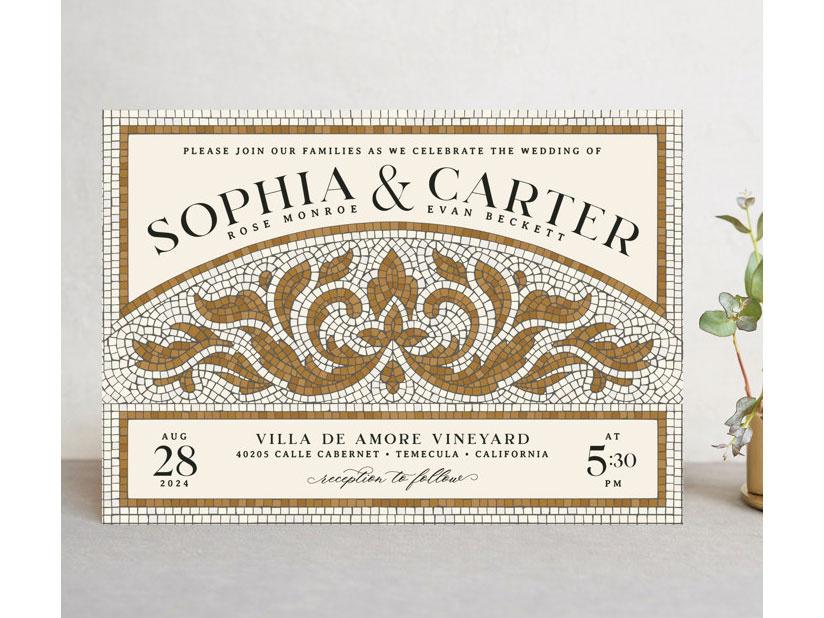 There are a few ways to shop for cheap wedding invitations online. Ultimately, it's up to you to decide what's most important to you and your partner. For example, you can opt for real gold foil on these ornate mosaic-inspired invitations if that's something you really want. Be open to cutting costs elsewhere (for example, choosing the standard silhouette shape and signature paper) to make it work for your budget.
GeekInk Design floral mosaic wedding invitations, from $2.15 each, Minted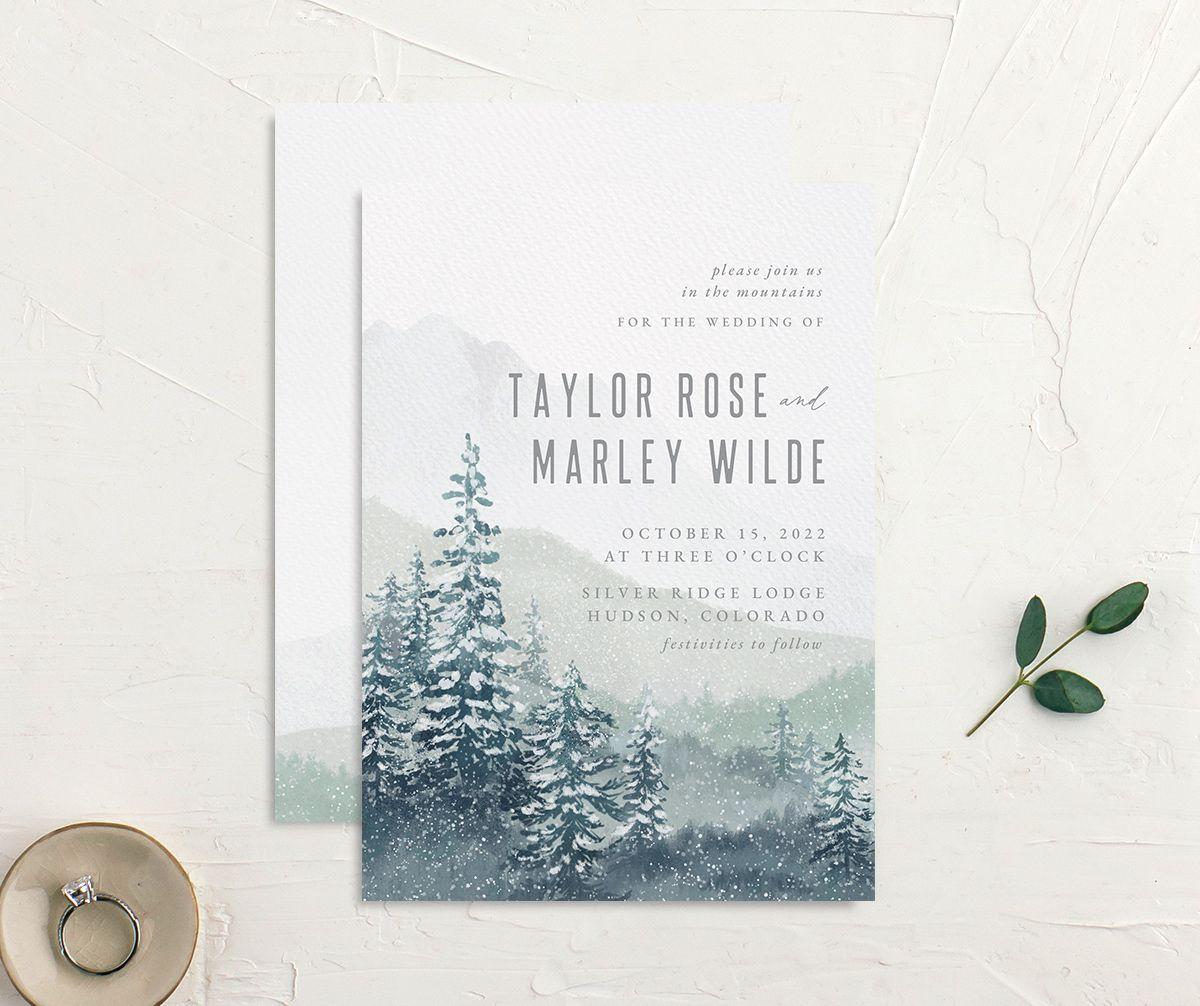 These affordable wedding invitations showcase a pretty winter scene of trees dusted in snow. Falling snowflakes cascade around your wedding details in an understated, modern font. Not planning a winter celebration? No problem, there are five other color palettes (sans snow) to suit your wedding.
WeddingWire Invitations mountain canvas wedding invitations, from $1.59 each, WeddingWire Invitations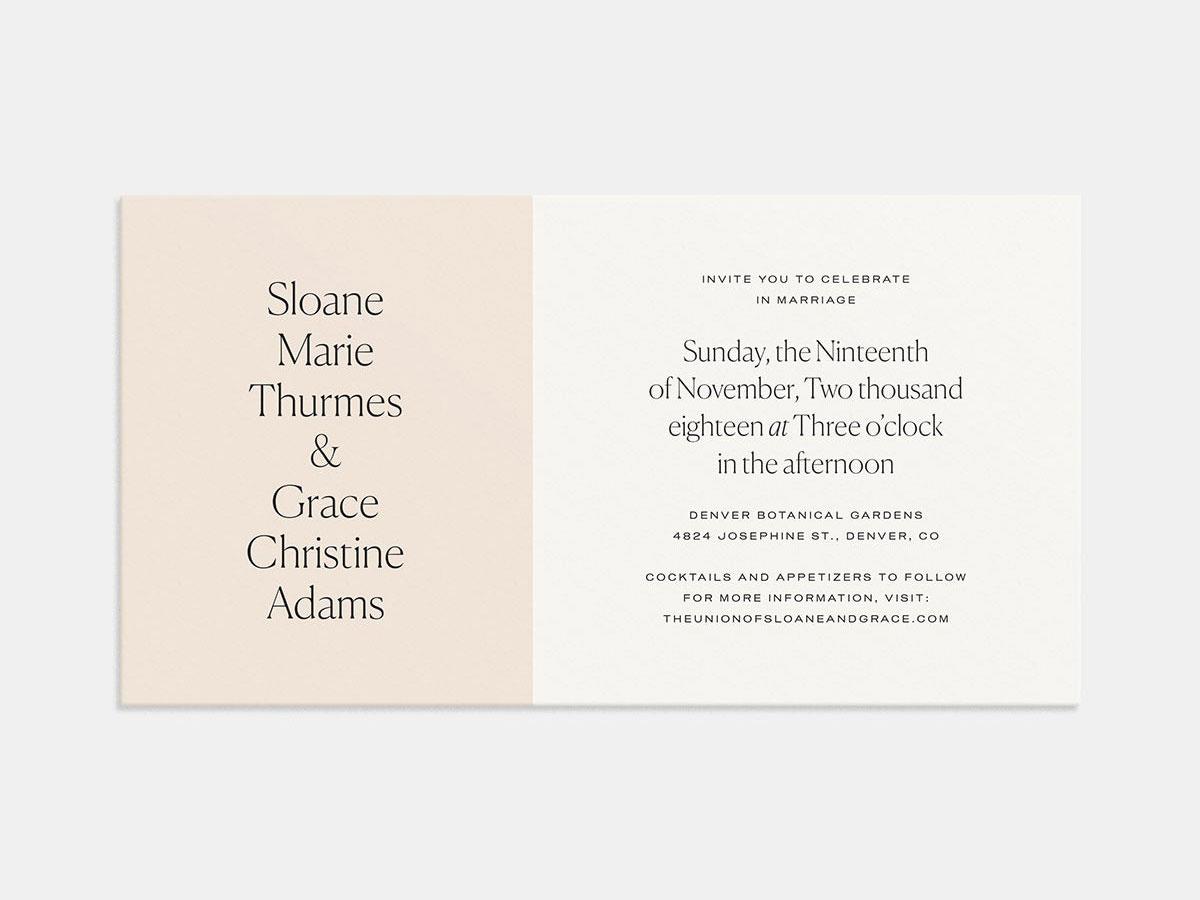 Simple typography is the star of the show on these unfussy colorblock wedding invitation cards. White envelopes are included gratis with the invites (score!), or you can choose from three complementary neutral hues at 15 cents per envelope.
Artifact Uprising colorblock wedding invitations, from $2 each, Artifact Uprising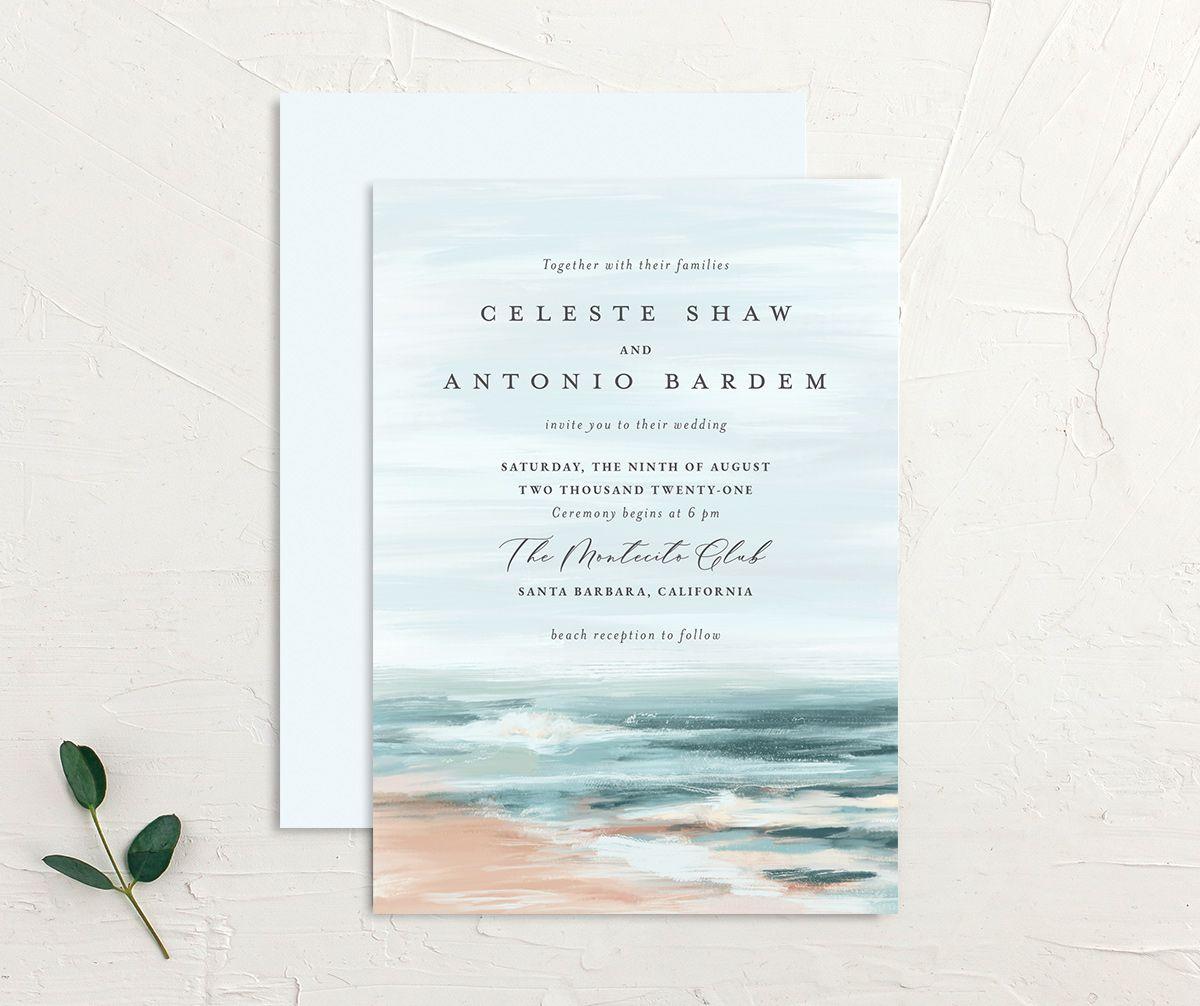 Saying "I do" by the sea is oh so romantic. Get everyone on your guest list in the mood for a beautiful beach wedding with these affordable beach-themed wedding invitations. A combination of elegant serif and scripted typeface elevates your event details against the scenic shoreline.
WeddingWire Invitations romantic shoreline wedding invitations, from $1.59 each, WeddingWire Invitations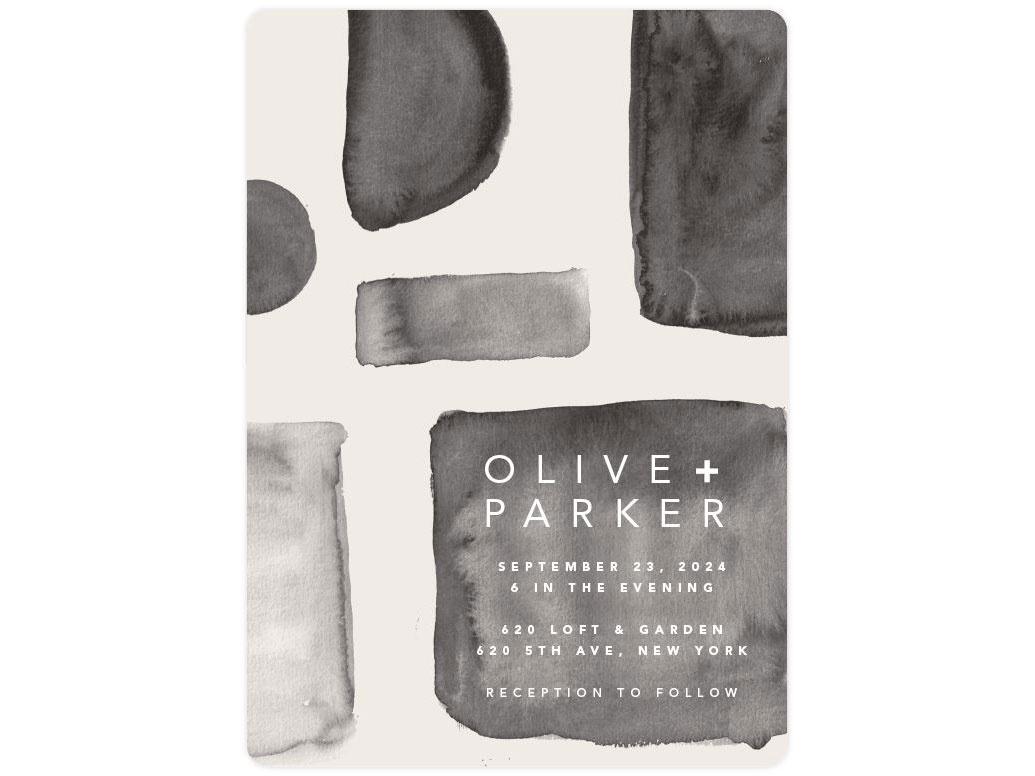 Looking for something with a little unconventional charm? We're in love with this invitation's unexpected, modern design. Starting at under $3 each, this affordable stationery is a work of abstract art. The monochrome color palette helps to create a balance of classic and contemporary.
Caitlin Considine Midtown wedding invitations, from $2.15 each, Minted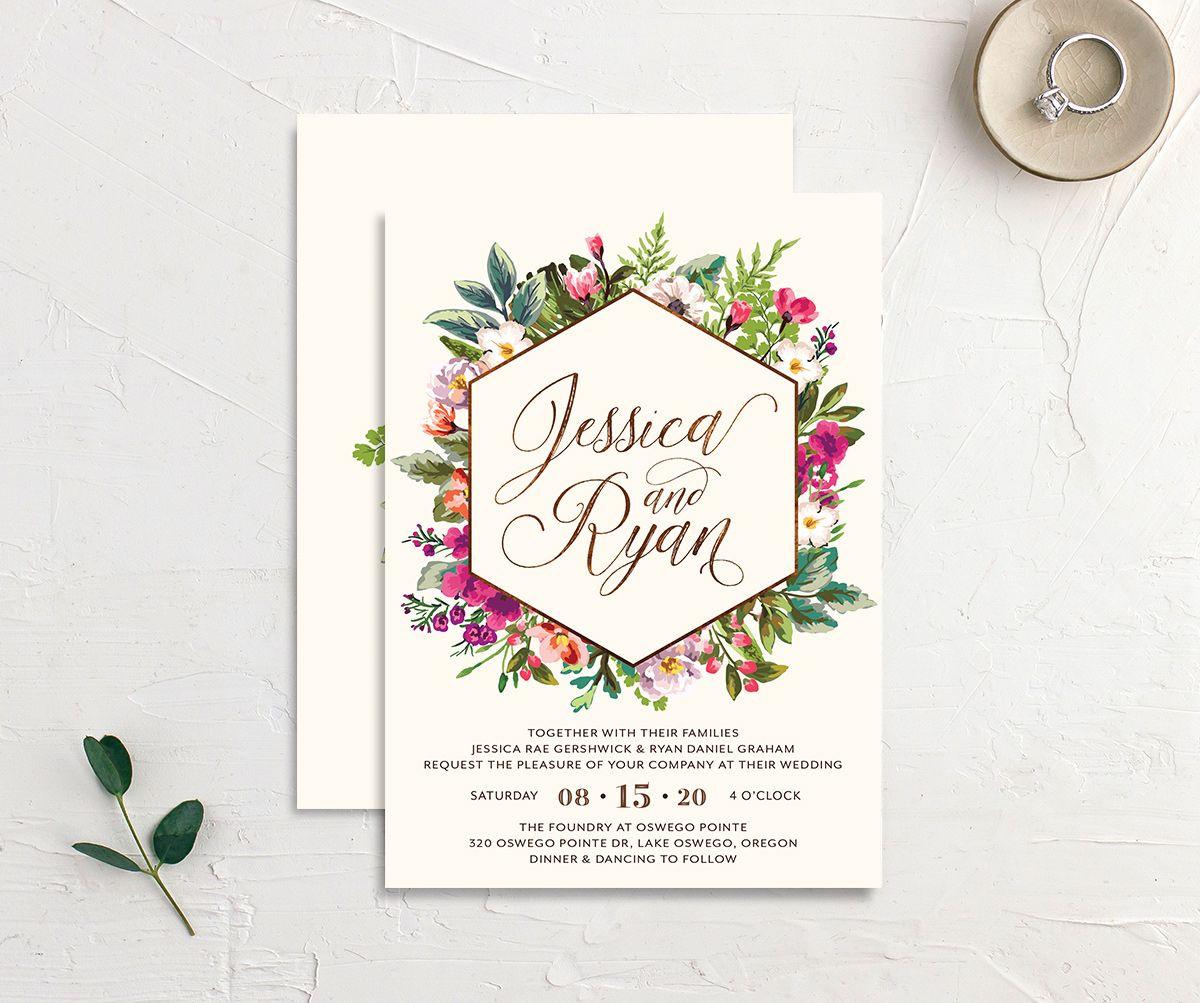 Your names take center stage on this flourishing floral invite template. Written in fancy lettering and surrounded by a hexagonal frame, it's the first thing your loved ones will see when they open the envelope. Underneath, guests can find the rest of your wedding details in classic sans-serif font. For the finishing touches, a bold custom monogram decorates the back.
WeddingWire Invitations bold bouquet wedding invitations, from $1.59 each, WeddingWire Invitations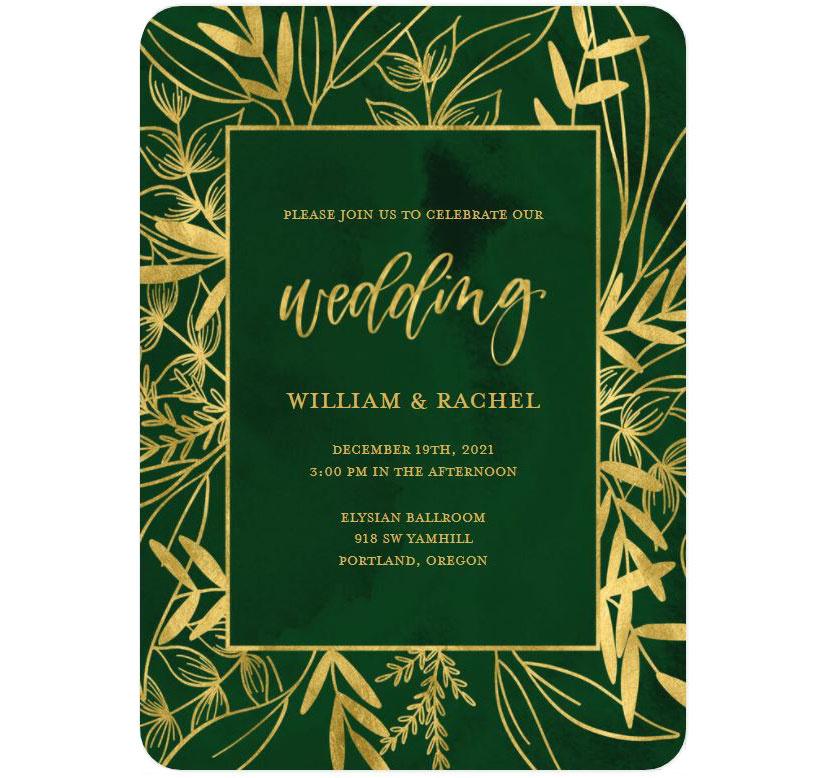 An emerald green and gold color palette is nothing short of regal, and this ornate stationery proves just that. Save money by selecting Mixbook's signature matte cardstock, which is ethically and sustainably sourced. Pick up coordinating save-the-date cards and thank-you cards to really impress your guests.
Mixbook Photo Co. Emerald Wedding Suite by the Pigeon Letters, from $0.69 each, Mixbook Photo Co.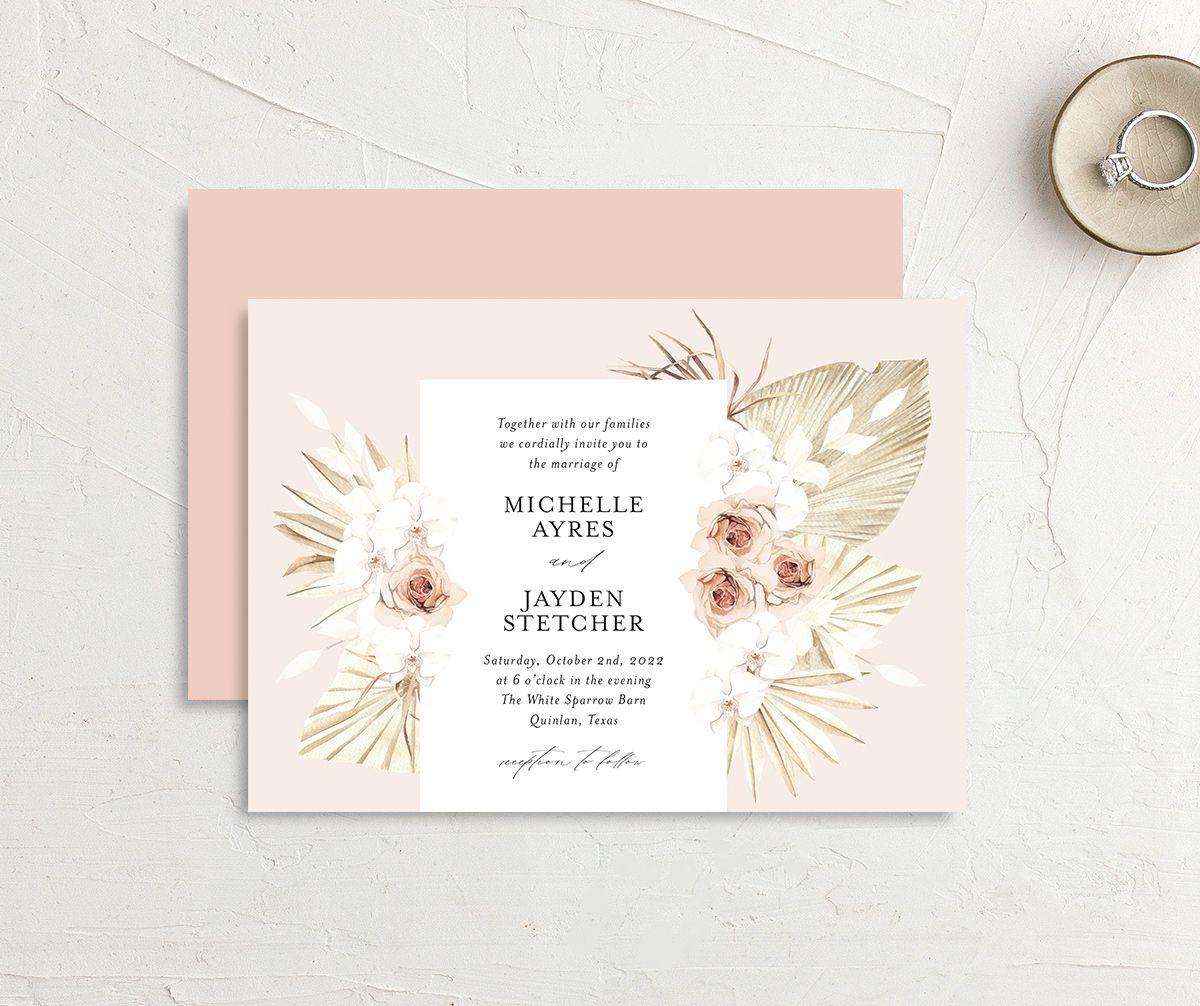 Blush pink will forever be one of the most popular wedding colors. The light shade gives these romantic invitations a delicate touch. Plus, it'll instantly give guests a peek at your boho wedding theme.
WeddingWire Invitations bohemian flowers wedding invitations, from $1.59 each, WeddingWire Invitations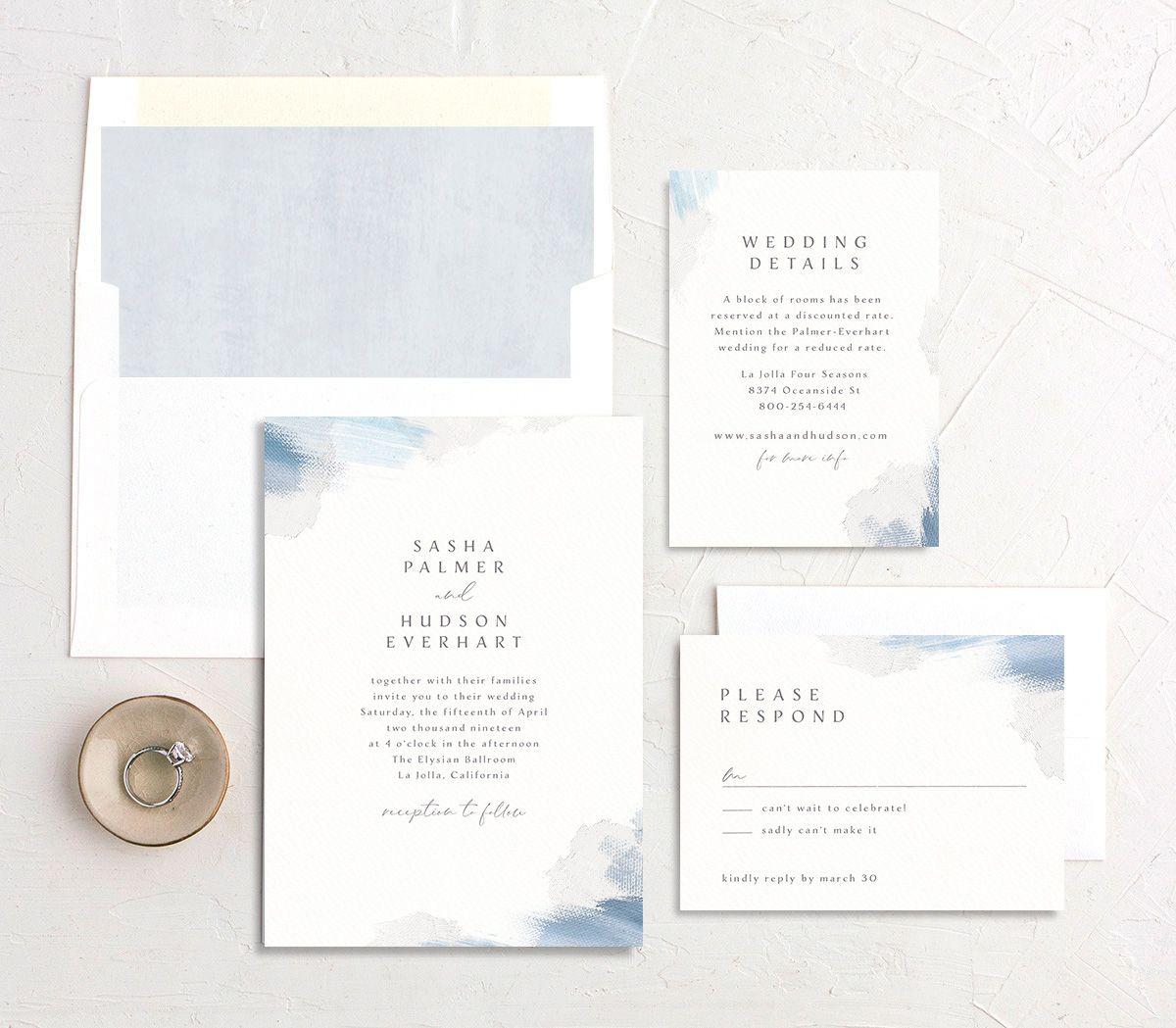 Subtle watercolor brushstrokes frame this otherwise minimalistic stationery. Plenty of sites with affordable wedding invitations also offer matching RSVP and enclosure cards, but at WeddingWire Invitations you'll also get free design assistance to really make it your own. It's your one-stop shop for an all-in-one stationery shopping experience. Just look at how beautiful that invitation suite is!
WeddingWire Invitations painted brushstroke wedding invitations, from $1.59 each, WeddingWire Invitations
Spring-ready greenery adorns the details on this pretty invitation by Rifle Paper Co. The brand's signature florals bring an undeniably dainty air for a garden- or woodland-themed wedding.
Rifle Paper Co. Meadow Garland wedding invitations, from $1.98 each, Paper Source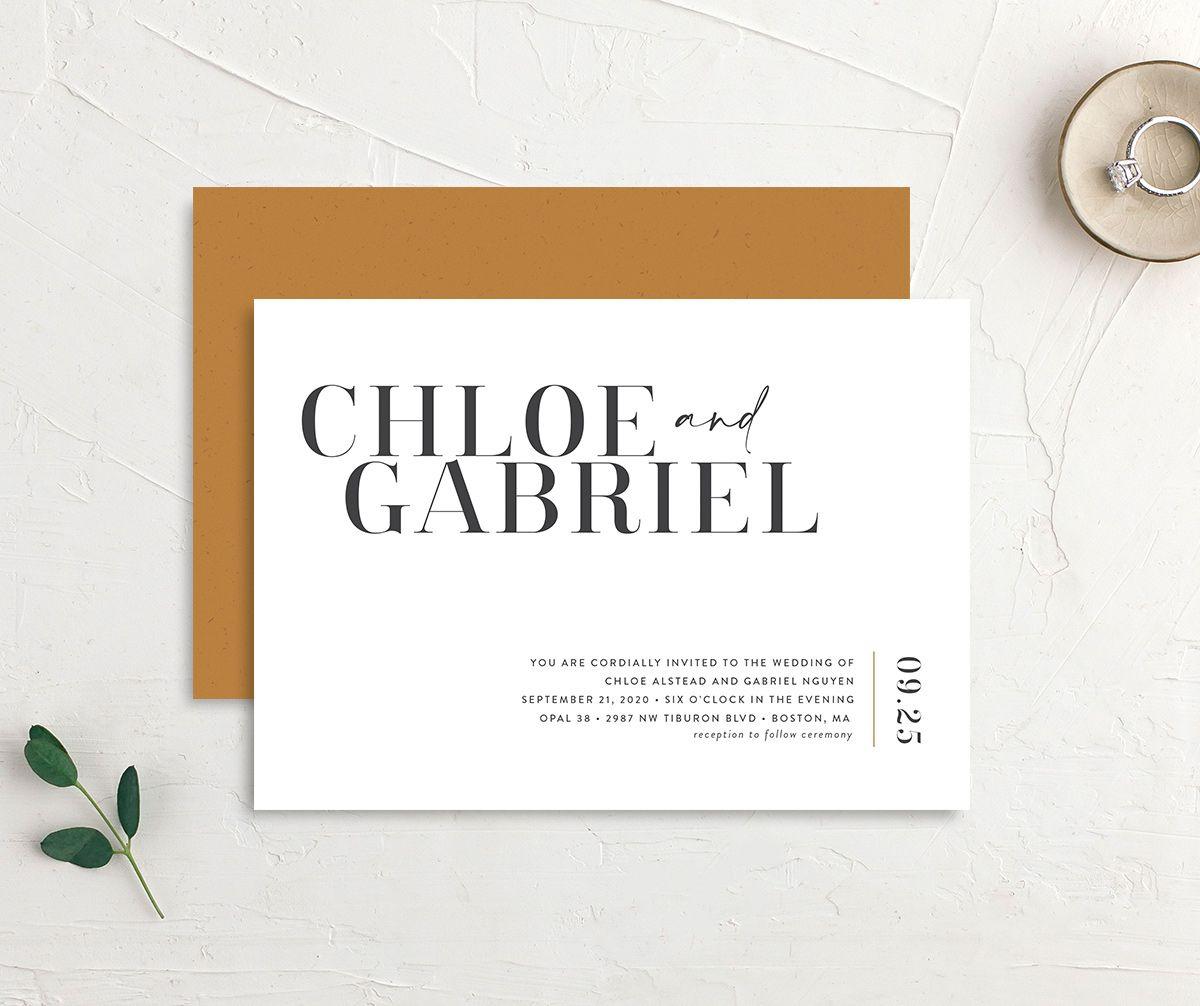 Looking for something that's understated and modern? Check out these black and white invitation cards. Your names are highlighted in a large, bold type so guests will instantly know who the invite is from.
WeddingWire Invitations contemporary chic wedding invitations, from $1.59 each, WeddingWire Invitations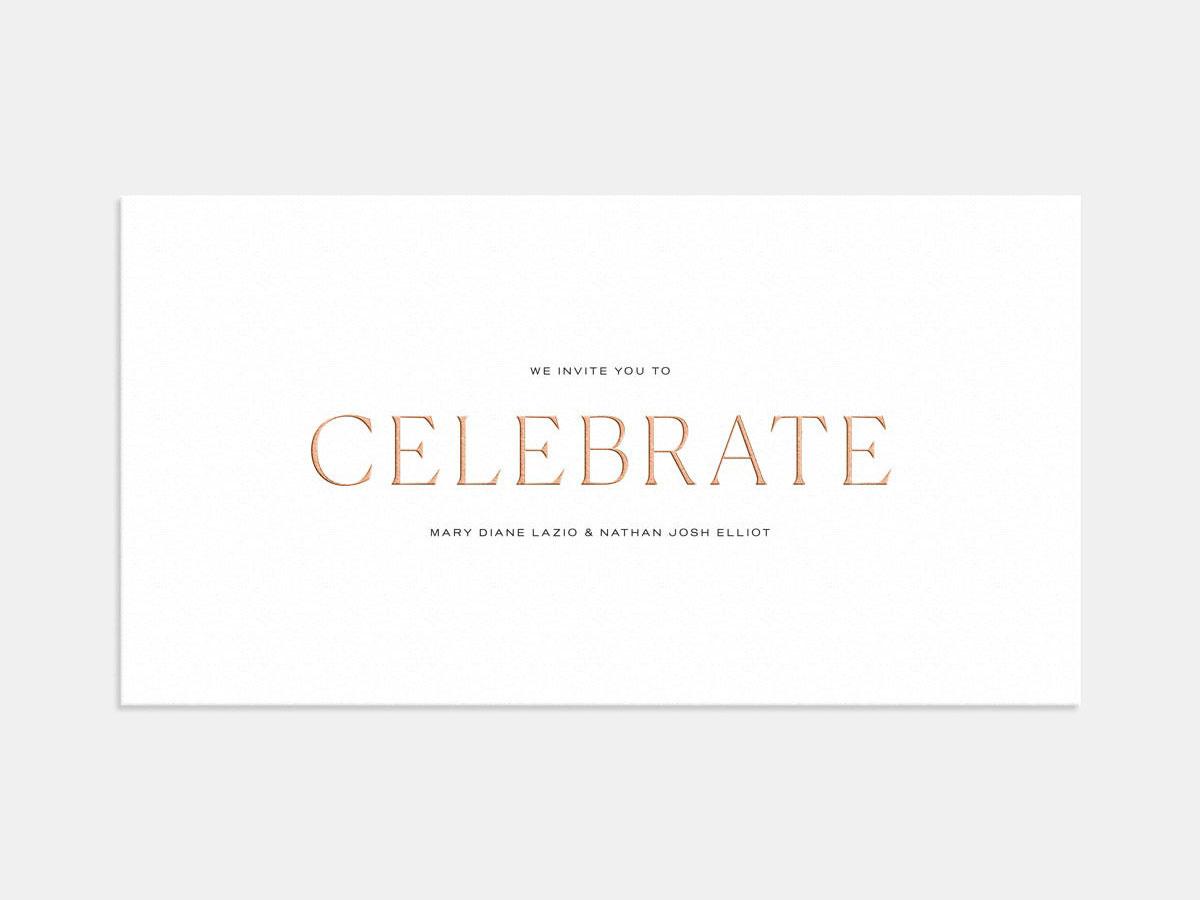 The front of these minimalistic invitations will put your loved ones in a party mood as soon as they open the envelope. The word "celebrate" is foil-stamped in your choice of gold, copper, silver, or burgundy. On the reverse, the details of your wedding day are printed in a unique layout.
Artifact Uprising foil-stamped pronounced wedding invitation, from $2.60 each, Artifact Uprising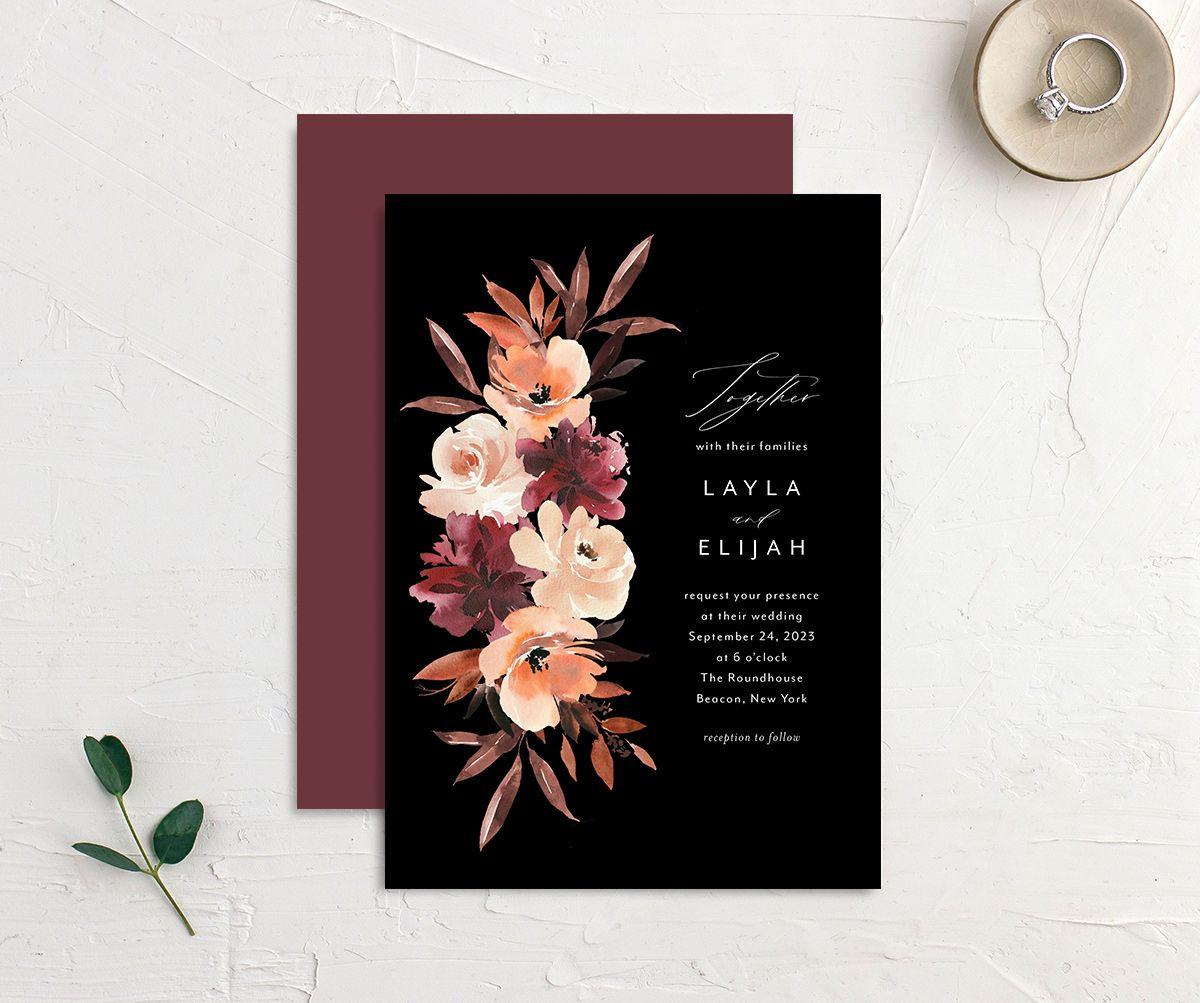 Seeking elegant and affordable invitations for a fall wedding? The classic black and burnt orange hues on this eye-catching stationery give a subtle nod to everyone's favorite spooky holiday: Halloween. That said, it's lowkey enough to work for celebrations throughout the season.
WeddingWire Invitations painted petals wedding invitations, from $1.59 each, WeddingWire Invitations