While it may not seem like the most important detail when you're checking off a mile-long to-do list, figuring out how to choose your wedding invitations is super-important, as these paper products are the first hint guests will receive of your special day's style. And your wedding invitations are designed to make your loved ones want to attend your wedding, and to give them all the info they'll need to arrive on time and in style, so you want to get those invites right!
Here are a few things to consider when it comes how to choose your wedding invitations.
Consider the price point.
As you'll see on our examples below, the price of wedding invitations can vary wildly, from a few cents per invite to upwards of $50 per invite! So be sure to consider your budget when deciding which invitation to send. That also means you'll need to have your guest list nailed down first, so you'll know if you need 20 invites or 200.
Incorporate your wedding's theme and color scheme.
If you're keen on having a particular theme for your wedding day, one fun way to incorporate that is to select a wedding invitation that goes along with that theme. Below, we've included lots of fun examples to check out. Or maybe you want your invitation to herald the dominant colors you've selected. You'll need to nail those down before purchasing your wedding invitations.
Figure out the inserts you'll need.
Most wedding invitation suites can be customized to include just about anything, like RSVP cards, direction cards, cards where guests can note special dietary needs, and more. When thinking about how to choose a wedding invitation, be sure you have an idea of which types of cards you'll need to include in your paper suite.
Here, we've outlined several different wedding themes, and provided an example of a wedding invitation to match. You're sure to get some inspo here if you're considering how to choose a wedding invitation. Note that pricing is listed per invitation.
Modern
Modern weddings are all the rage! So if you'll be pulling together a chic, contemporary affair—think lots of black and white, maybe some touches of gold, understated but elegant floral arrangements—you'll want to choose a modern wedding invitation that reflects your taste.
For a beautiful and minimalist-inspired look, we love these black and white invites. With simple wording and nothing but the facts, they're the perfect compliment to a wedding with a minimalist vibe. Clean, horizontal lines draw the reader's eye to the information they need to know about your wedding day, while the two of your initials are boldly displayed at the top.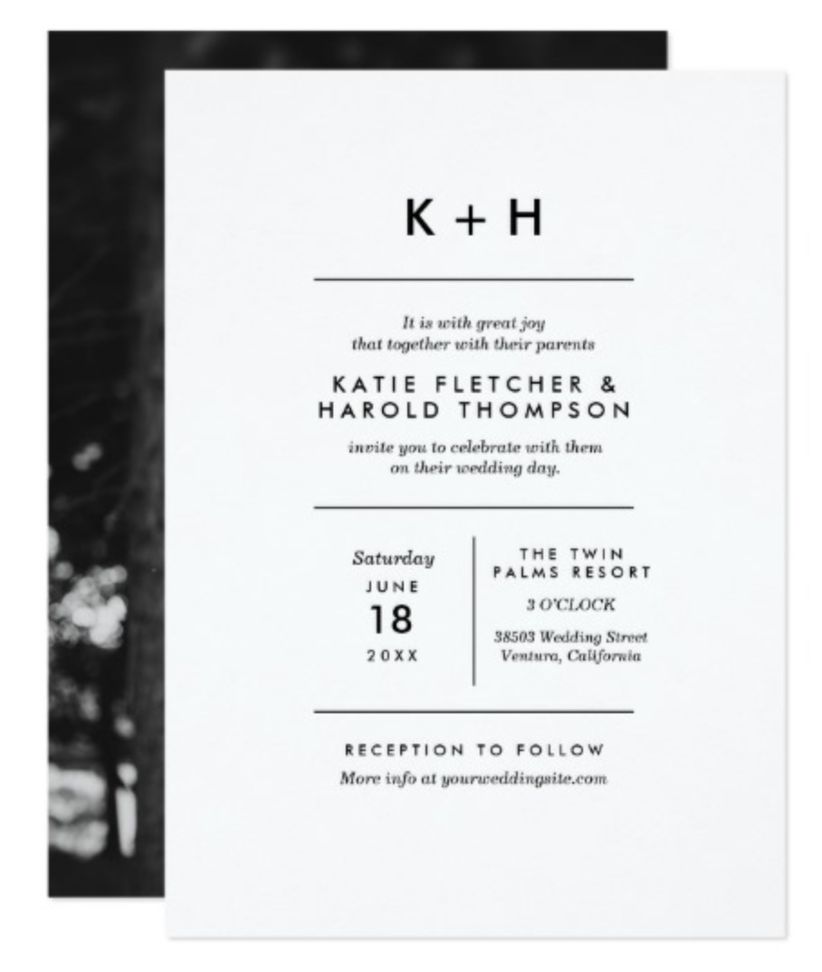 Minimalist Photo Wedding Invite, from $2.01, zazzle.com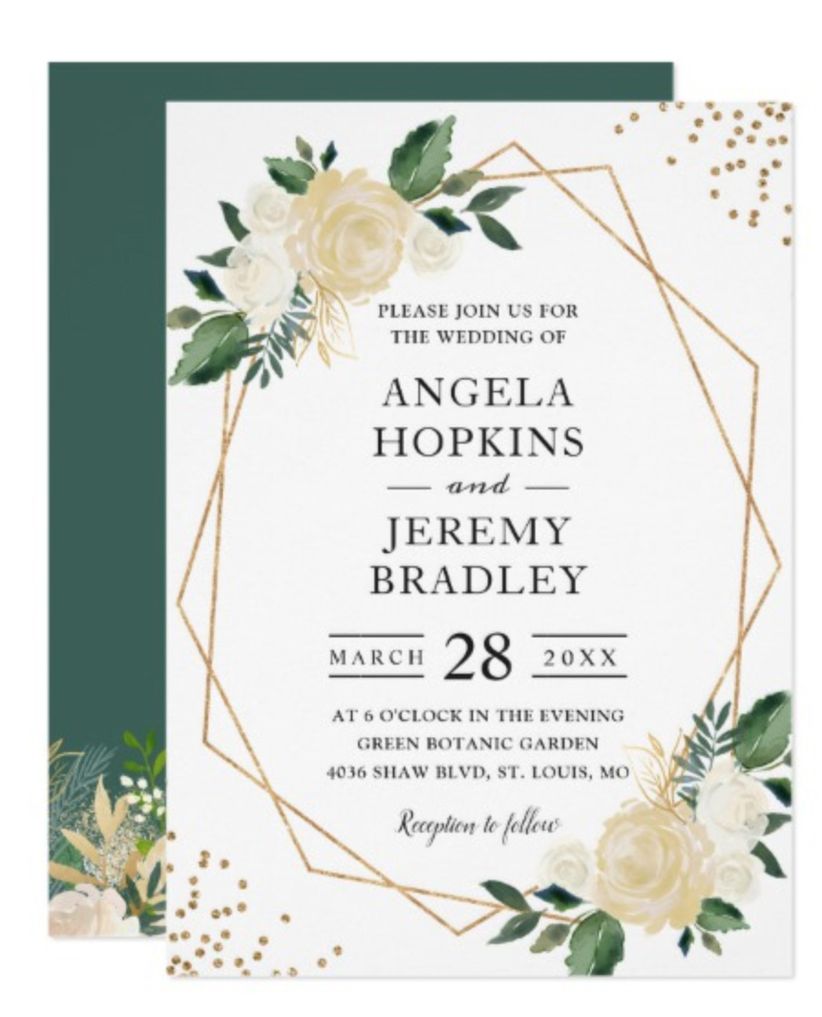 If you're wanting to incorporate some mid-century elements into your modern wedding, you're in luck—there are so many amazing options. We've rounded up a beautiful invitation that displays a gold geometric design—the type found often in mid-century modern design. Green eucalyptus softens the invitation and frames the wording inside.
Modern Geometric Frame Wedding Invite, from $1.90, zazzle.com
Country-chic
It's all mason jars and burlap when you're planning a country-inspired wedding. So if your dream reception involves a hoedown in the hay, be sure to get your guests in the mood with a country wedding invitation. This one is adorably cut into the shape of a mason jar, which will take your guests back to a simpler time. Not to mention this country wedding invitation will be right at home if you'll be incorporating mason jars into your country wedding decor.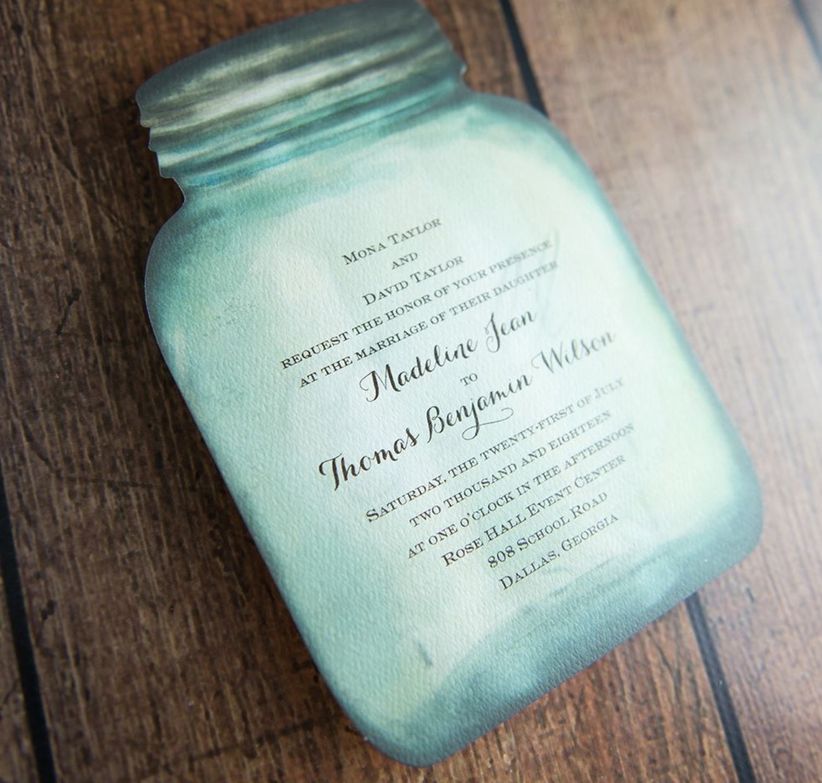 Country Canning Jar Wedding Invite, from $2.45, invitationsbydawn.com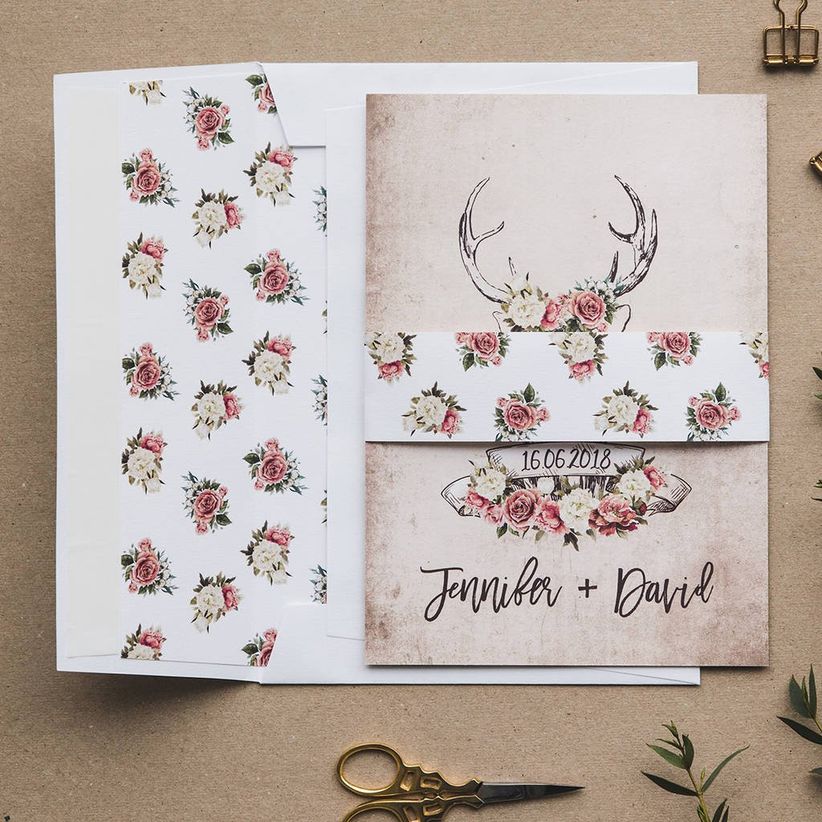 Here's another country wedding invitation we simply couldn't pass up. It features a too-cute deer with roses adorning his antlers in a perfect mix of country and classy.
Stag and Rose Country Wedding Invite, see website for pricing, notonthehighstreet.com
Rustic
Barns are totally having their 15 minutes right now, having become the must-have backdrop for wedding receptions across the country. And we can totally see why; there's something so peaceful about a rustic setting; and let's face it–you can do just about anything with it. String up some Edison bulbs for an elegant affair, mix burlap with lace for a feminine touch, or just keep things rustic with some beautiful wildflowers as centerpieces. Either way, remember to choose a rustic wedding invitation to give guests a hint about your day. Here are two of our favorite rustic wedding invitations.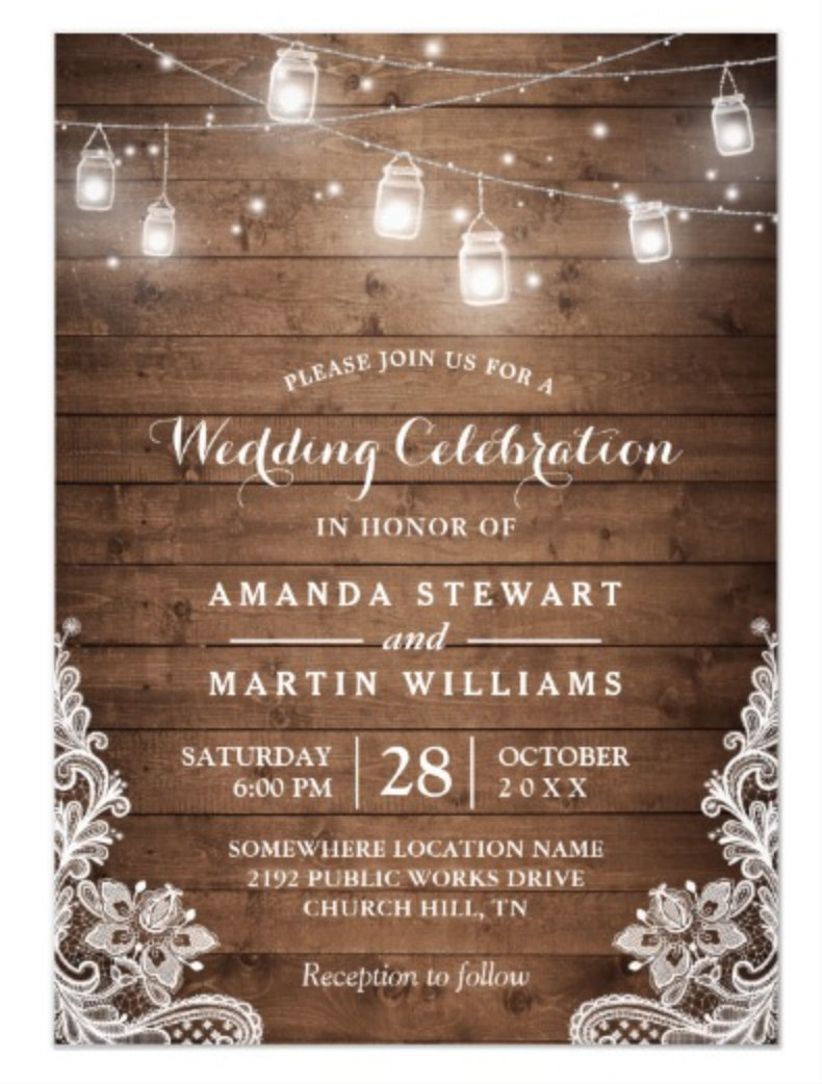 Rustic Mason Jar String Lights Wedding Invite, from $1.90, zazzle.com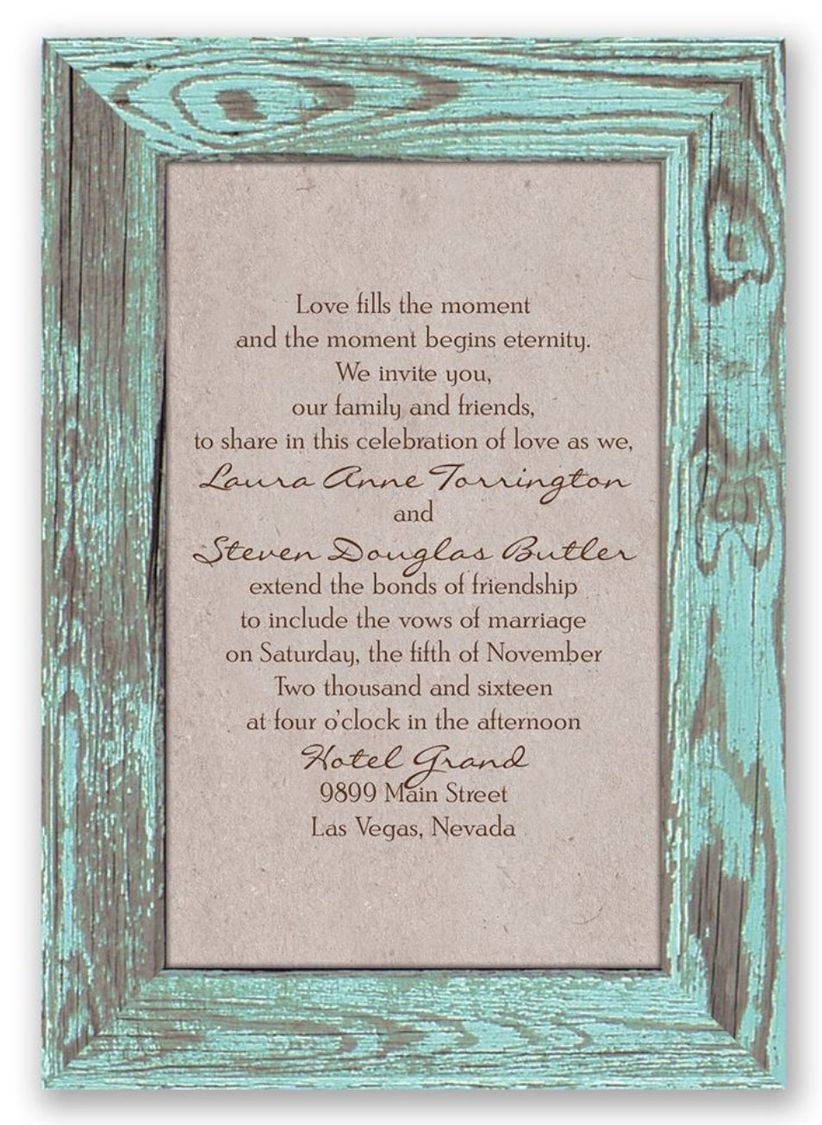 Rustic Frame Wedding Invite, from $1.70, invitationsbydawn.com
Formal
Planning a black-tie soiree? You'll certainly want your invitations to give your guests a taste of luxury. Most couples planning black-tie weddings tend to lean toward more formal invitation wording, high-end materials and even custom touches like hand-written calligraphy. Here's a beautiful example; this suite features elegant lace detailing with a letterpress design.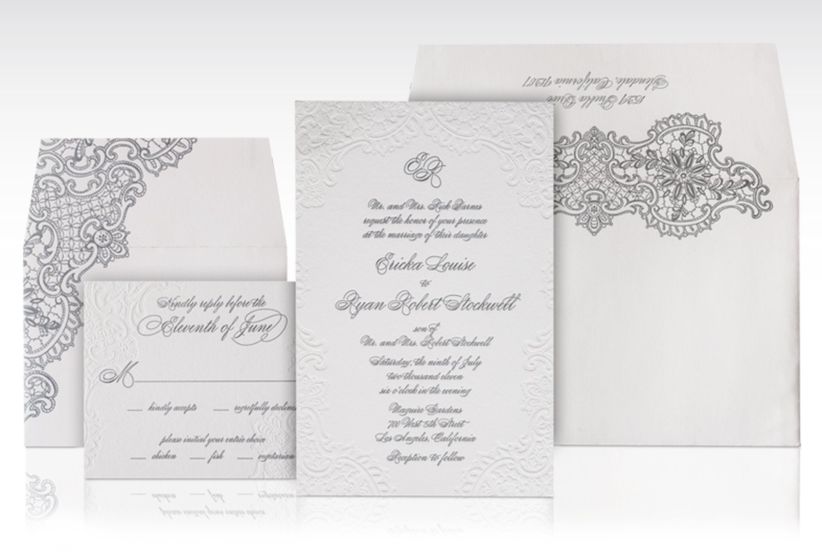 Paloma 4-piece Wedding Invite, pricing upon request, atelierisabey.com
Classic
No matter what type of wedding you're dreaming of, it's never a bad idea to send a simple, classic wedding invitation. The good news is, you can find them pretty much anywhere; from online shops to your local stationer. On this elegant example, gold lettering is set against a luxurious cream background. Gold lining in the envelope brings the suite together with a beautiful touch.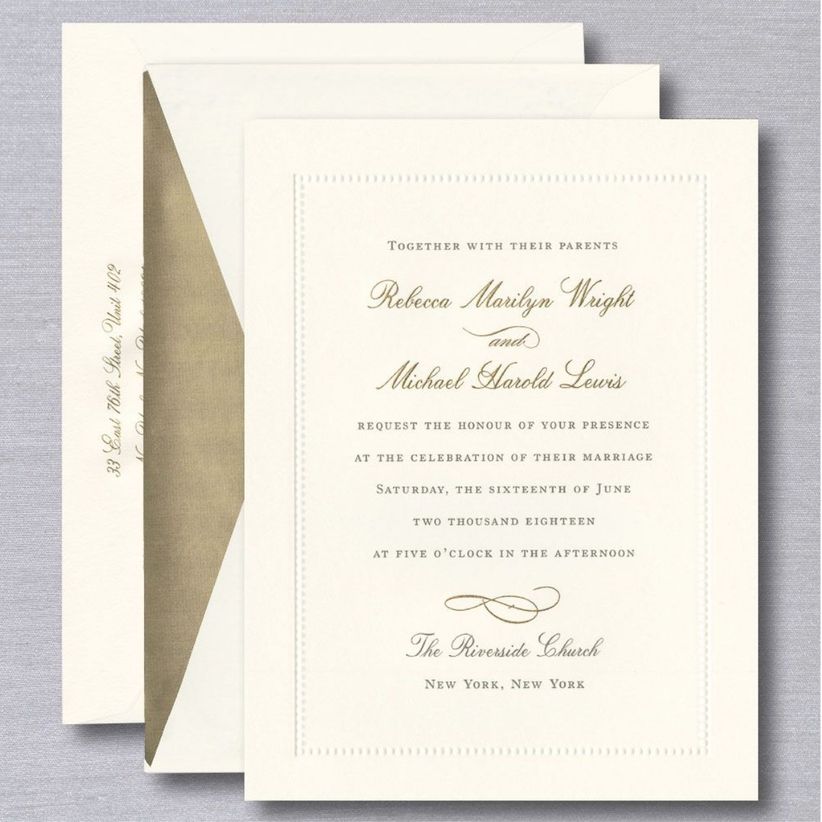 Ecru Beaded Border Wedding Invite, from $13.72, crane.com
Beach/Garden
If a beach or garden wedding is your style, give your guests a taste of that warm, summer breeze when they open your beach wedding invitation. From ultra-formal to super casual, there's an invitation out there suitable for every outdoorsy wedding. We love this beach wedding invitation, featuring seashells across the top and designed with beachy colors.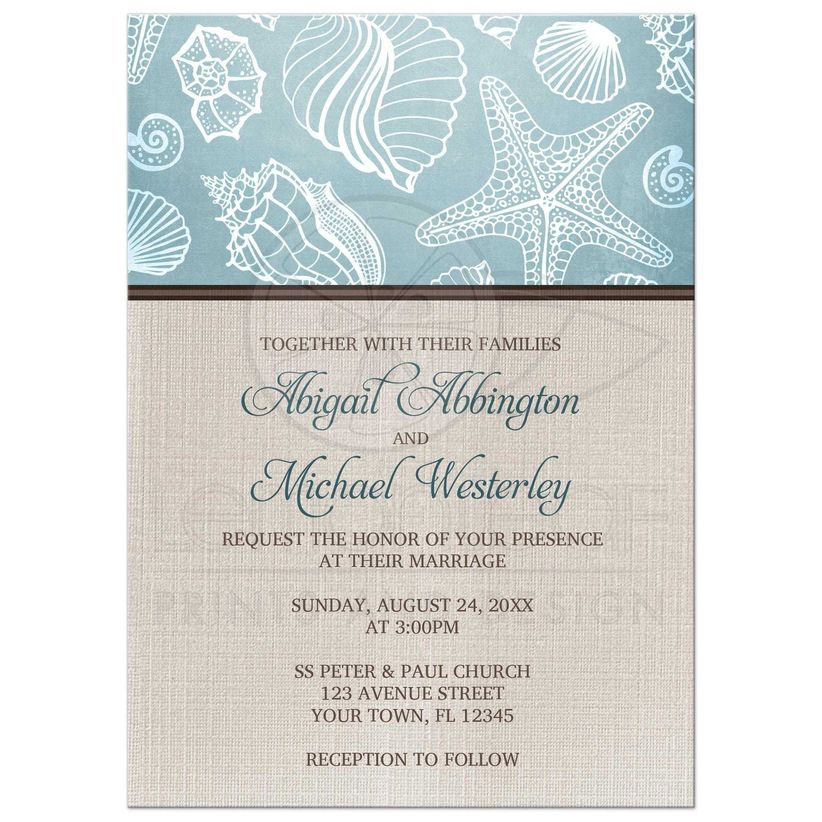 Rustic Beach Seashells, from $1.85, lemonleafprints.com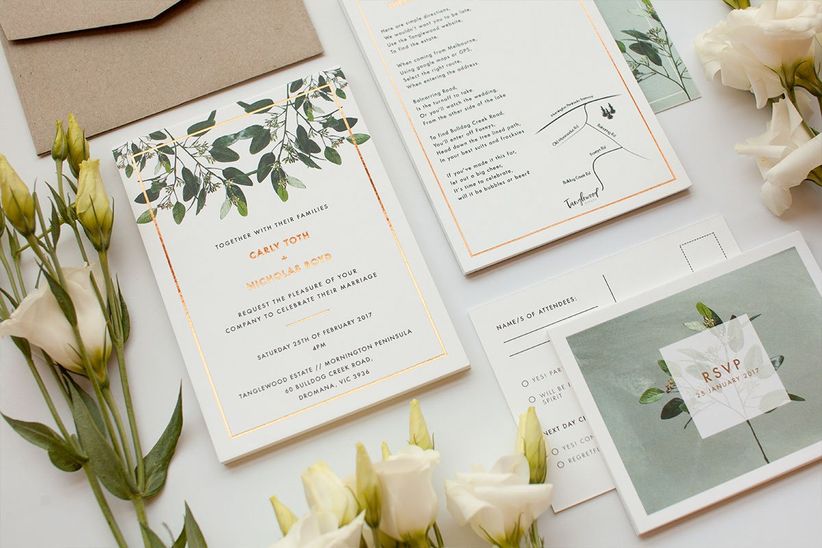 For your garden or outdoors wedding, we've chosen an invitation adorned with a gorgeous watercolor-inspired garden theme. We think it would make a perfect choice for an elegant backyard wedding.
Garden Estate Wedding Invite, see website for pricing, paperlust.co
Budget
When you're a budget-conscious couple, every dollar counts. But that doesn't mean you can't have amazing wedding invitations that speak to your unique wedding style. We love these unique all-in-one invitations for an affordable option. Starting at just $1.25 per invite, these cards allow guests to tear the RSVP part off of the bottom of the invite, which means you only need to send one item in the mail. Easy peasy, and inexpensive too! What could be better than that?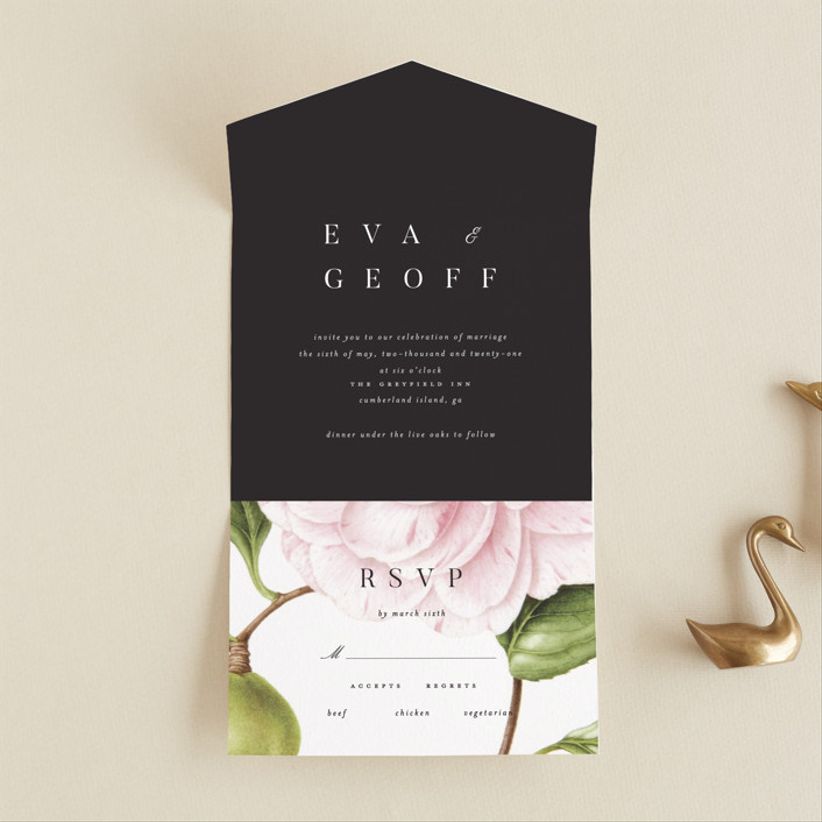 Botanic All-in-One Wedding Invite, from $1.25, minted.com