Exactly What to Include on Your Wedding Invitations
Make sure your guests have all the information they need to come celebrate you. Here's exactly what to include in your wedding invitations.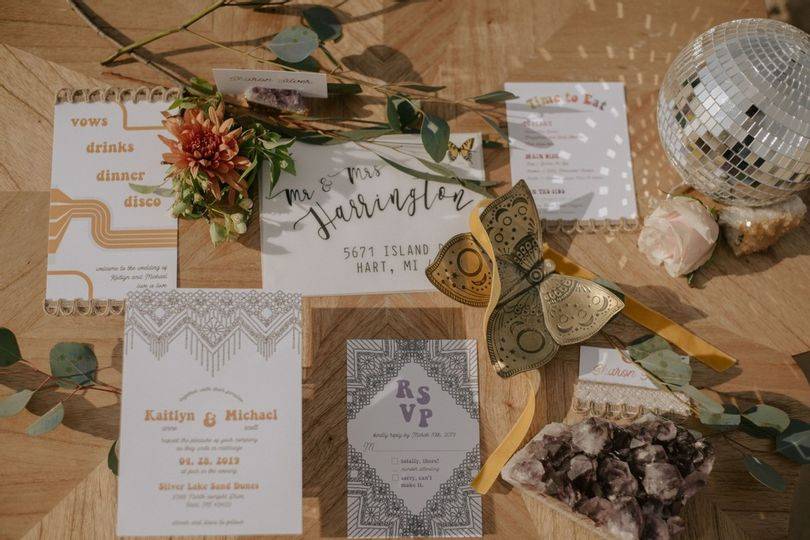 You've already chosen your wedding invitation design, which means the next step is finalizing the text. If you're wondering what to include in your wedding invitations, we put together a list to ensure you include all the necessary information. Hint: There's more to it than just your wedding date, time and location. For example, you'll need to include a way for your guests to RSVP as well as a way for your guests to access your wedding website.
Before you panic about trying to fit all of this information on one piece of paper, know you have options. You can send inserts along with your invites, like RSVP cards or a map illustration of your wedding venue so your guests know what you expect. Including all of this info will also mitigate work on your end, as you won't have to answer the same questions over and over again from attending guests. Below, see exactly what to include in your wedding invitations.
What to Include in Wedding Invitations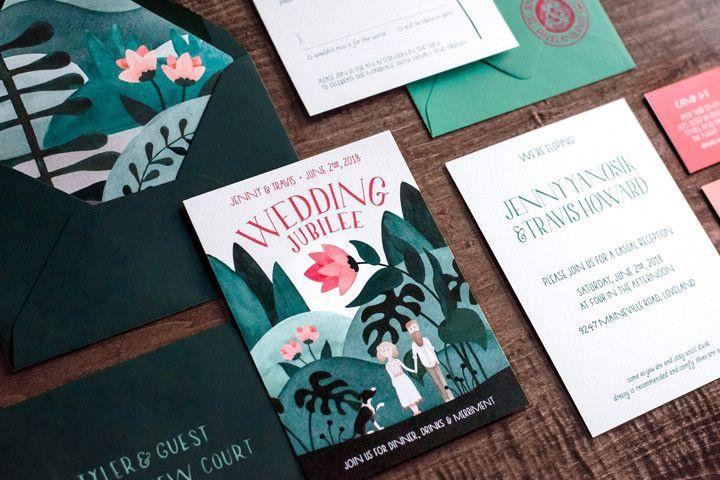 If you're familiar with the elements of a wedding invitation, reference this checklist as you place your order to ensure you've covered all of your bases.
Names of the hosts
The couple's names
Date and time of ceremony
Ceremony and reception location
Attire details
Wedding Website address
RSVP card
Extra information about venue
Guest name
Guest address
Return address
Extra postage
Wedding Invitation Information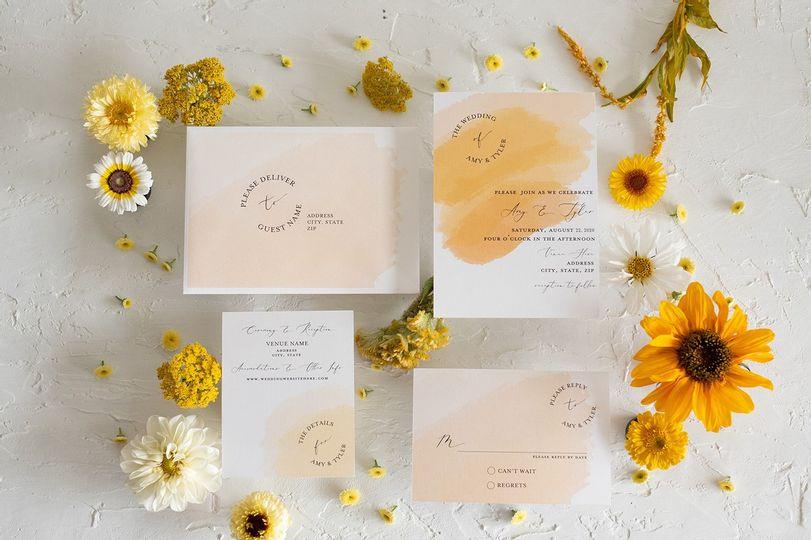 If you're unfamiliar with some of the required elements, we wrote up some explainers. After reading this, you'll be an expert on what to include on your wedding invitations.
Names of the Hosts
Invites typically open with an "invitational line," which lists the names of the hosts (whether it's your parents, other relatives or you, the couple). Pro tip: The hosts are typically the people paying for the event. If your parents are contributing financially or covering all the costs, they should be included. The invitational line is followed by a request line, such as "Request the Pleasure of Your Company," "Invite You to Celebrate the Marriage of," or, if the ceremony is taking place in a place of worship, "Request the Honor of Your Presence."
The Couple's Names
Of course, you'll want to include the names of the people getting married. Typically for heterosexual couples, the woman's name goes first, but you can order your names any way that feels right to you. LGBTQIA+ couples can order their names alphabetically, by age or however else you'd like. You can include your first and middle names, first and last names or go for your full legal names (first, middle and last). If your parents' names are mentioned, typically the couples will use their first and middle names. However, you can also use the formality level of your wedding as a guide. For example, a black-tie ballroom soiree might call for full names while a casual beach ceremony would call for just your first names. It's your wedding, so do what feels right to you.
Date and Time of Ceremony
Of course, confirming the date of your wedding is an absolute must. (Though hopefully your guests have marked it off already thanks to your save-the-dates.) Avoid latecomers by communicating the time of the ceremony on your invitations. Stating the start time will let guests know how early they need to arrive. Ensure you provide the hour and the time of day (a.m. versus p.m.) so there's no confusion. On formal invitations, write out the time rather than using numerals (for example: four o'clock in the afternoon).
Ceremony and Reception Location
Whether your ceremony and reception are taking place at the same spot or different venues, it's imperative that you include the name and location. That way, your guests know exactly where they're going and what time the festivities are starting. If the ceremony and reception are taking place at the same location, you can simply include a line like "Reception to Follow," "Celebration to Follow," or "Dinner and Dancing to Follow." If your reception is at a different location, you'll need to include a separate reception card with the start time and address.
Attire Details
Including the dress code on your actual wedding invitations is optional. Most invites nowadays don't include attire details since you can use your wedding website to communicate this detail. However, you can definitely include a line that indicates the expectation, whether it's Casual Attire, Dressy Casual Attire, Semi Formal Attire, Black Tie Optional, Black Tie, or White Tie. Unsure which dress code is right for your wedding? Take our quiz to find out your best match.
Wedding Invitation Insert Information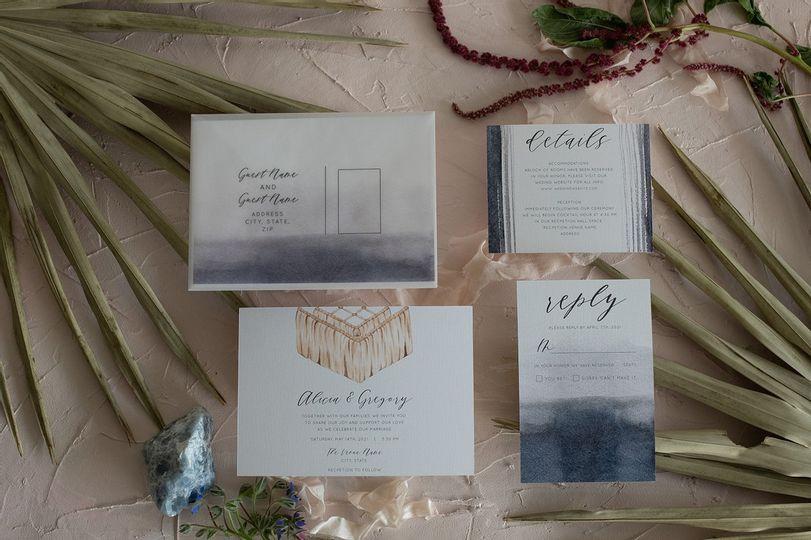 Now that you've given your guests the basic info, it's time to think about your invitation inserts—the separate cards that are presented in the same envelope as your wedding invitation. These will include other necessary details, like your RSVP deadline and your wedding website address. Your guests will appreciate getting everything in one envelope so they can properly plan for your nuptials.
Wedding Website Address
Your wedding website is an incredibly helpful resource for your guests, so don't skip this step! Your website is the perfect place to include important details from accommodations info to registry info and everything in between. Get started with 10 Things to Include On Your Wedding Website.
RSVP Card
Including an RSVP card is important, as you'll need to confirm a final headcount with your venue and your caterer. You can either include it on the actual invite or on a separate reply card. If you're using reply cards, include a specific date by which you would like guests to respond "yes" or "no." We recommended making this deadline three to four weeks before the wedding date. Include a place for your guests to write their name(s) as well. If you're offering a plated dinner, you can also include a place for them to check their entrée preference.
Extra Information about Venue
If you're getting married in a unique venue (think: a national park) or somewhere your guests may not be familiar with, it's useful to include an insert with extra information. Instructions around parking, for example, can be extremely helpful to guests who've never seen your wedding venue. Other ideas include a custom map of the area to show where your ceremony and reception are in relation to each other or a list of things your guests can do leading up to your nuptials. Your guests will be grateful to know all of this ahead of time, and you'll dodge any unnecessary questions. Win-win!
Wedding Invitation Envelope Information
Once you've finalized the contents of your invitations, you'll need to confirm your envelope details.
Guest Name
Your guests' names should be front and center on your wedding invitation envelope. Ensure that you have the correct spelling as you gather addresses early on. We also recommend asking for their preferred titles (Mr., Mrs., Ms., Miss, or the gender neutral Mx.) so as to make your wedding as inclusive as possible. Additionally, ask for their last names, as not all married couples share a surname.
Guest Address
Your guest's address should go below their name. Confirm these before ordering your invitations so as to avoid any confusion. If you're unsure about someone's address, reach out to them personally to ask.
Return Address
Don't forget to include your return address on both the back flap of the suite's outer envelope and on the front of the reply card envelope. You wouldn't want anyone's invitation to get lost in the mail, and you need reply cards for planning purposes. You may choose to have these printed by your stationer, hire a calligraphy pro to write them, create a custom self-inking rubber stamp, or have custom stickers made. Some online retailers offer printing services when you place your order too.
Extra Postage
Word to the wise: heavier invitation bundles will require extra postage. Take a fully stuffed invite to the post office to figure out exactly what kind of stamps you'll need. Additionally, you'll want to ensure the reply card has appropriate postage so your guests can simply fill it out and send it back to you.