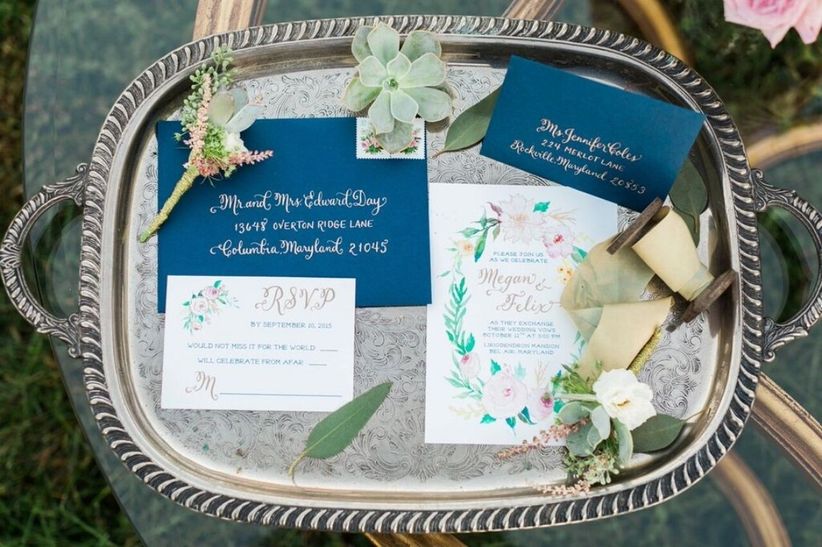 Photo: Alicia Wiley Photography
We're used to automatically including time, date, location, and the names of the guests of honor on an invitation — that's par for the course. But when it comes to weddings, there are a few extra tidbits of information to communicate to your guests. Here are six important, commonly overlooked details to be sure to include when composing the invitations for your big day.

Who Is Hosting
Your main invitation card should open with what's called an "invitational line" which lists the names of the hosts. This is followed by a "request line," such as "Request the Pleasure of Your Company," "Invite You to Celebrate the Marriage of," or, if the ceremony is taking place in a place of worship, "Request the Honor of Your Presence." If the couple is hosting themselves, simply move the request line to directly below the couple's names.

Attire Details
Include a line that indicates the dress code, whether it's Casual Attire, Semiformal Attire, Black Tie Optional, Black Tie, or White Tie. See: What to Do When the Invitation Has No Dress Code.

An RSVP Deadline
On the reply card, include a specific date by which you would like guests to respond "yes" or "no." This is typically three to four weeks before the wedding date.

Your Wedding Website Address
This day and age, your wedding website is an incredibly helpful resource for your guests — so don't skip this step! Your wedding website is the perfect place to include important details from accommodations info to registry info and everything in between. Get started with 10 Things to Include On Your Wedding Website.

The Reception Location
Your wedding guests won't automatically assume there is a reception following the ceremony — so make this clear on the invitation and provide, at minimum, the name of the venue. Or, if the ceremony and reception are taking place at the same location, simply include a line like "Reception to Follow," "Celebration to Follow," or "Dinner and Dancing to Follow."

Your Return Address
Don't forget to include your return address on both the back flap of the suite's outer envelope and on the front of the reply card envelope. You wouldn't want anyone's invitation to get lost in the mail, and you certainly need those reply cards for planning purposes! You may choose to have these printed by your stationer, hire a calligraphy pro to write them, create a custom self-inking rubber stamp, or have custom stickers made.


Bonus: While we're at it, let's go over two major wedding invitation faux pas. Here are two things NOT to include in your invitation suite:
Your Registry Information
The concept of gifts should be avoided altogether on your wedding invitation. You are welcome to include the address of your wedding website, which may include registry information. Otherwise, it's best to rely on word-of-mouth to inform guests of where you are registered. See:
How to Share Your Registry Information
"No Gifts"
You might mean well by including a "no gifts" line, but this implies that you assumed or expected your guests would bring gifts. Again, it's best to leave any allusion to gifts off of the invitation.