Exactly Where to Buy and Design Your Wedding Invitations Online
Ready to start designing stationery for your special day? These eight websites are the best places to order wedding invitations.
We have included third party products to help you navigate and enjoy life's biggest moments. Purchases made through links on this page may earn us a commission.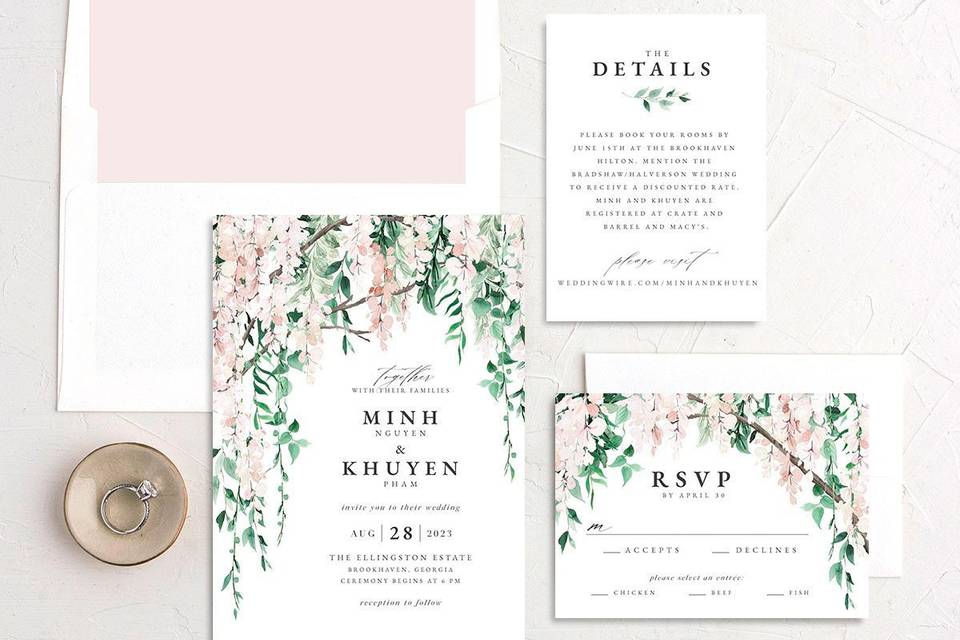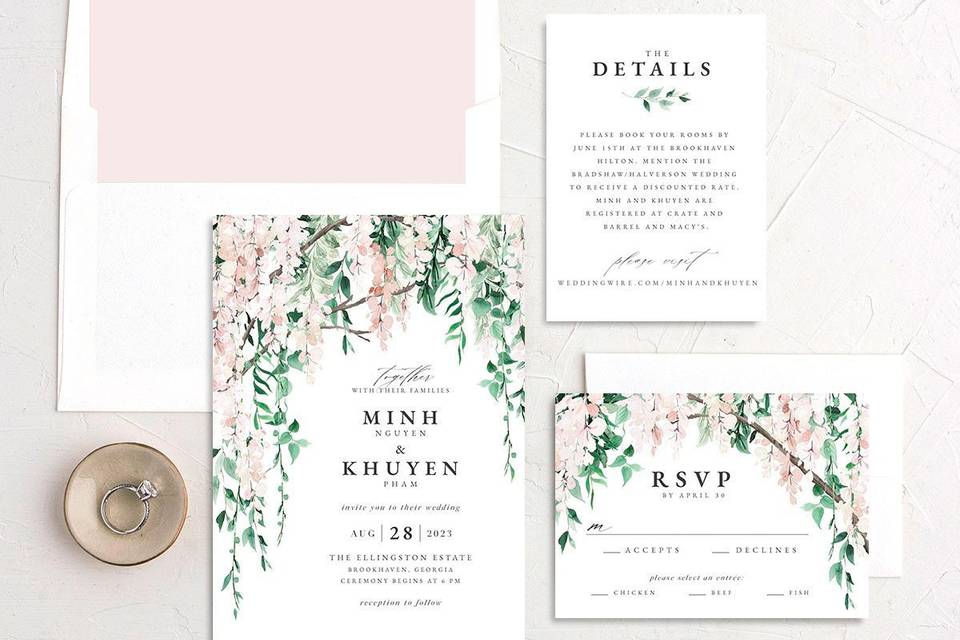 Ready to begin the search for your very own wedding invitations? What an exciting time—it means your special day is getting closer! Of course, with excitement comes a whole bunch of other emotions, especially when it comes to wedding planning. If you're feeling overwhelmed about where to buy your wedding invitations, you've come to the right place. We've got the lowdown on all the best wedding invitation websites, including what you'll love about them (and other things to consider). This handy guide will help you and your partner make the right decision for you, whatever that might be. So what are you waiting for? Check out our favorite wedding invitation websites below.
If you didn't already know, we have our very own brand of stationery for all your wedding needs: WeddingWire Invitations. And while we might be just a little bit biased here, there are so many great reasons to choose our brand for your big day. So what makes WeddingWire Invitations the best place to order your wedding invitations online? Let us fill you in.
What you'll love about it: There are so many different styles to choose from—more than 100 different designs, in fact. You're pretty much guaranteed to find one that complements your wedding theme, from rustic, nature-inspired invitation designs to classic and romantic options. It's also easy to customize an invite by switching up the font, requesting a unique color palette, adding photos, and more. The best part? WeddingWire Invitations offers free design assistance to help you personalize every detail. Once you've fallen in love with your creation, you can take advantage of matching save-the-date cards, response cards, place cards, and more. Finally, our invitations won't blow your wedding budget. They're surprisingly affordable, with most invites coming in at $199 for 100. Still not convinced that we've got the best website for wedding invitations? Order a free sample kit before making your final decision.
Why it may not be for you: If you're looking for fine details such as deckled edging, letterpress print, or handwritten calligraphy, reaching out to a local stationer or calligrapher is always your best bet. Most online wedding invitation companies don't offer specialized printing and design techniques. That said, WeddingWire Invitations' wide selection of fonts and colors is the next best thing. Complete your design with pearlescent paper for a luxe finish.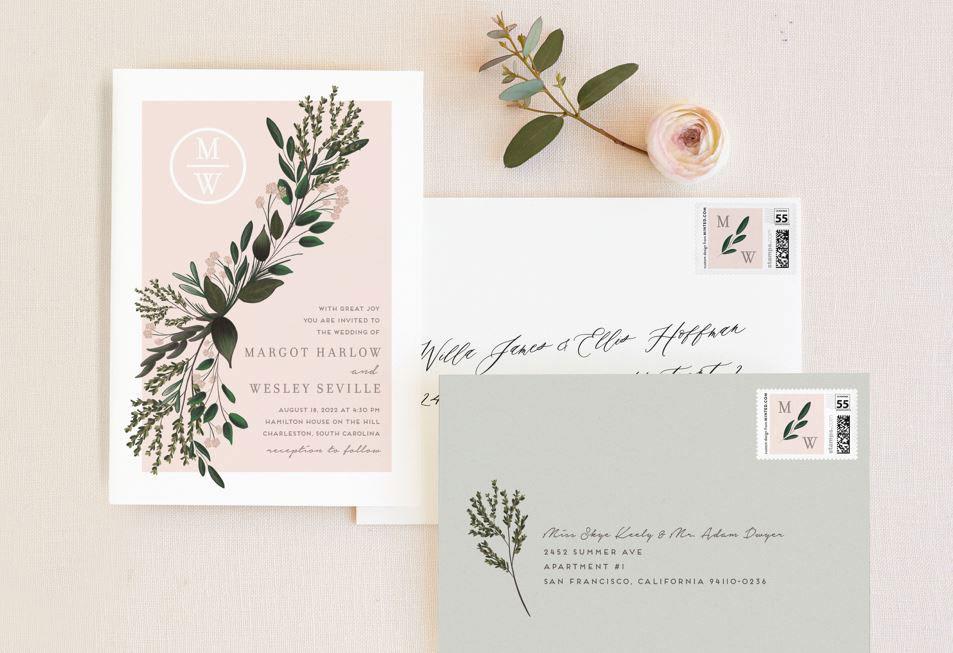 When deciding where to buy wedding invitations, many couples are won over by the sheer variety of designs at Minted. Similar to WeddingWire Invitations, you'll find stationery to suit every style. Another thing the two online wedding invitation stores have in common? You can match your invitations to your wedding website.
What you'll love about it: Wondering what sets Minted apart? We love that many of their offerings are designed by independent artists. Not only will you be supporting small stationery designers, but you'll also have access to a ton of unique wedding invitations. The icing on the cake? The popular wedding invitation site offers elegant letterpress, as well as shimmering foil- and gloss-pressed options.
Why it may not be for you: If you're looking for places that print inexpensive wedding invitations, Minted probably isn't the best wedding invitation website for you. Prices vary depending on the type of paper and printing technique, but you can expect to spend close to $300 for 100 invites if there are any fancy add-ons, such as letterpress. While the site's pretty designs are definitely worth the price, couples on a tight budget may want to shop around.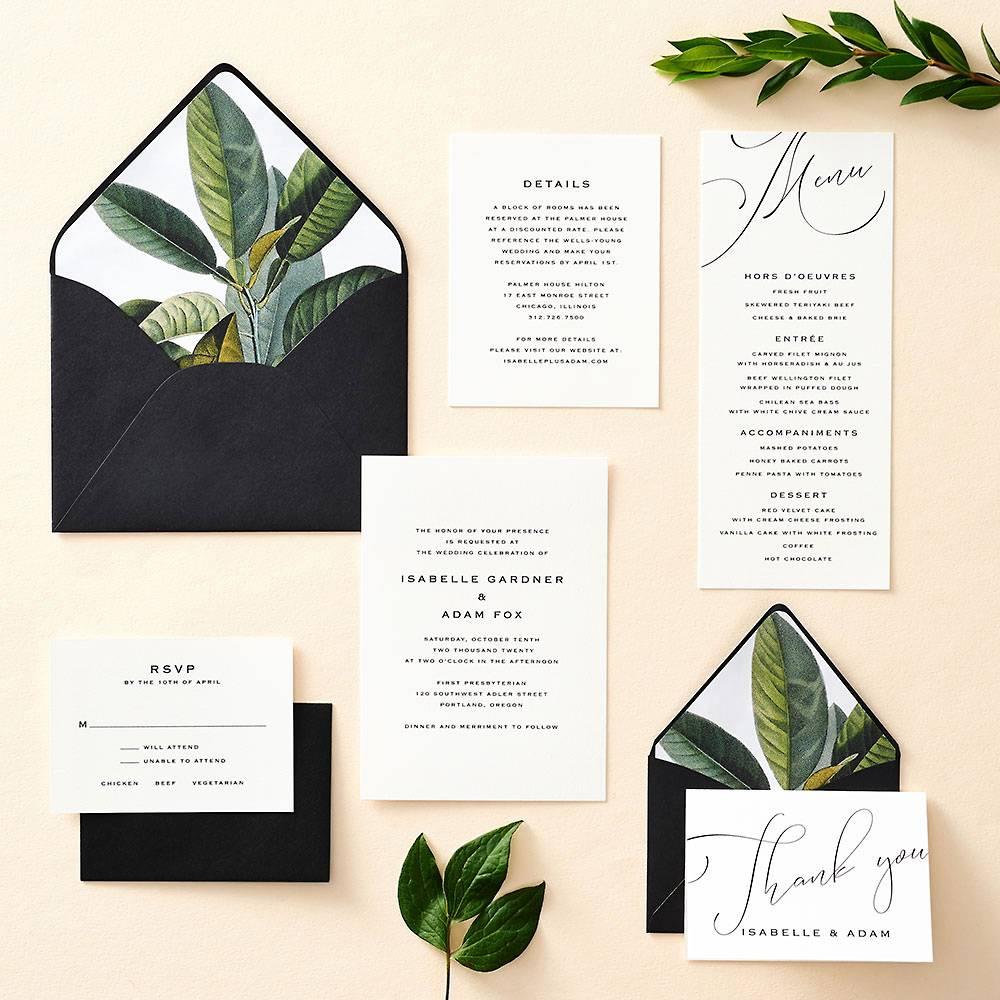 Still wondering where to go for your wedding invitations? Paper Source stocks stationery from a range of well-known designers, including Monique Lhuillier, Paperless Post, Rifle Paper Co., and Oscar de la Renta. The site also boasts plenty of own-brand invitations in classic and romantic styles.
What you'll love about it: You can build your entire invitation suite on Paper Source, with the option to add coordinating RSVP cards and enclosure cards to most orders. Some of the site's own-brand invitations are also available with matching thank-you cards and menus. Another pro? It's easy to personalize the font and text using Paper Source's online editing tools. While prices vary depending on the designer and invitation style, you'll find plenty of options costing around $220 for 100 invitations.
Why it may not be for you: Paper Source's personalization options are limited, so if you really want to make your wedding stationery your own, it might not be the right choice. Working with a local stationer (or taking advantage of WeddingWire Invitations' free design assistance) might be a better route for you and your partner. Some of the site's invitations also come at a higher price point, with 100 Monique Lhullier invitations totaling over $600.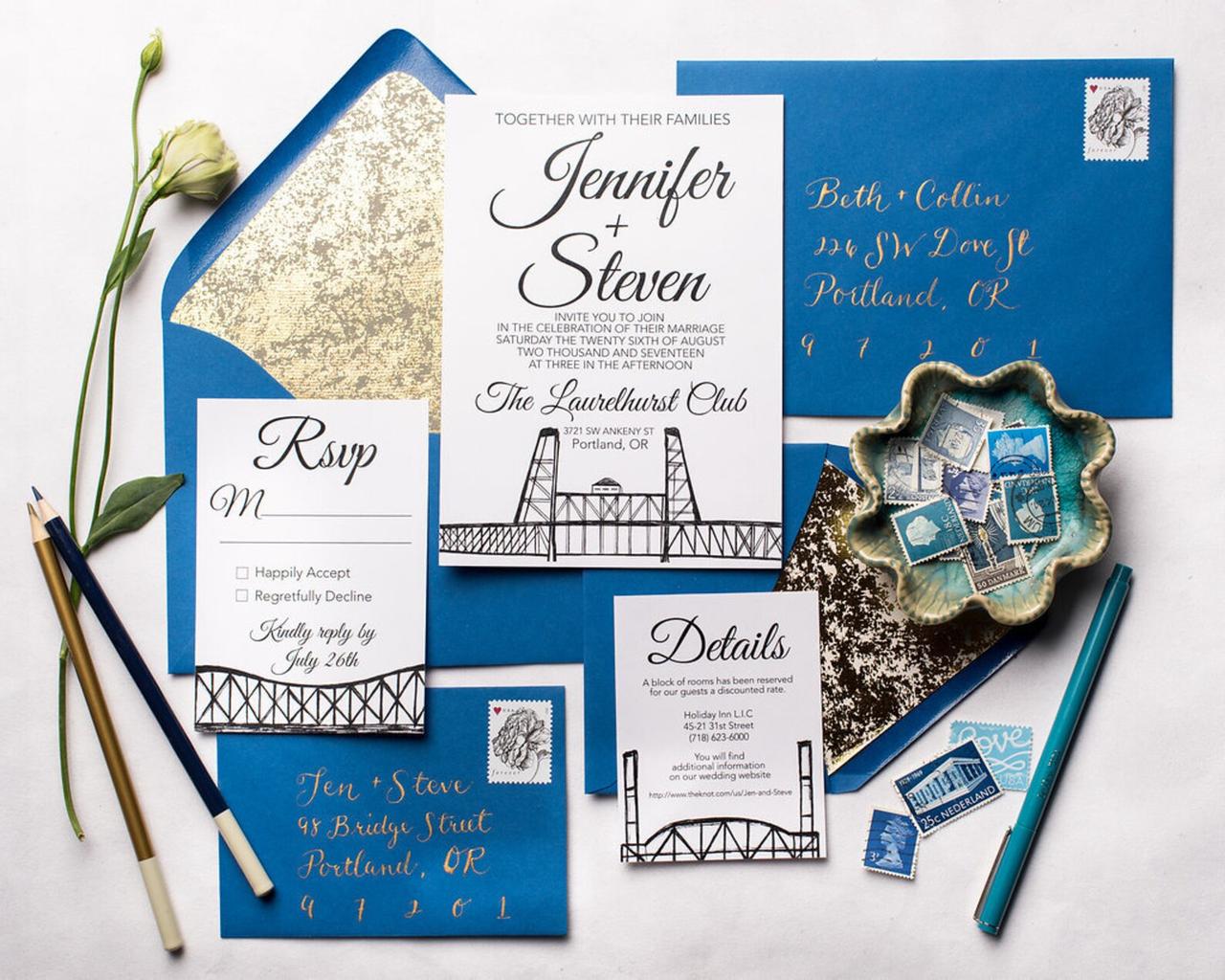 Etsy isn't just a goldmine for wedding party gifts and decor—the online marketplace is also home to some seriously talented wedding stationery designers. A quick search for invitations that suit the style of your wedding day will bring up myriad options to browse through.
What you'll love about it: If you're looking for something really specific, Etsy may just be the best wedding stationery website for you. From acrylic and vellum invites to custom illustrations, the options are endless. Plus, many sellers are happy to work with couples to design truly one-of-a-kind invitations. Just like Minted, Etsy allows you to support independent designers and small businesses. And again, thanks to the huge variety of talent, you and your partner will have plenty of options.
Why it may not be for you: Of course, with such a variety of stationery comes slightly less predictable pricing. Each seller offers a unique service, making it a little more difficult to nail down your budget beforehand. Another potential downside of buying your wedding invitations on Etsy is that not all sellers are on the same level in terms of customer service and return policies. Paying attention to reviews will help you determine the right option for you.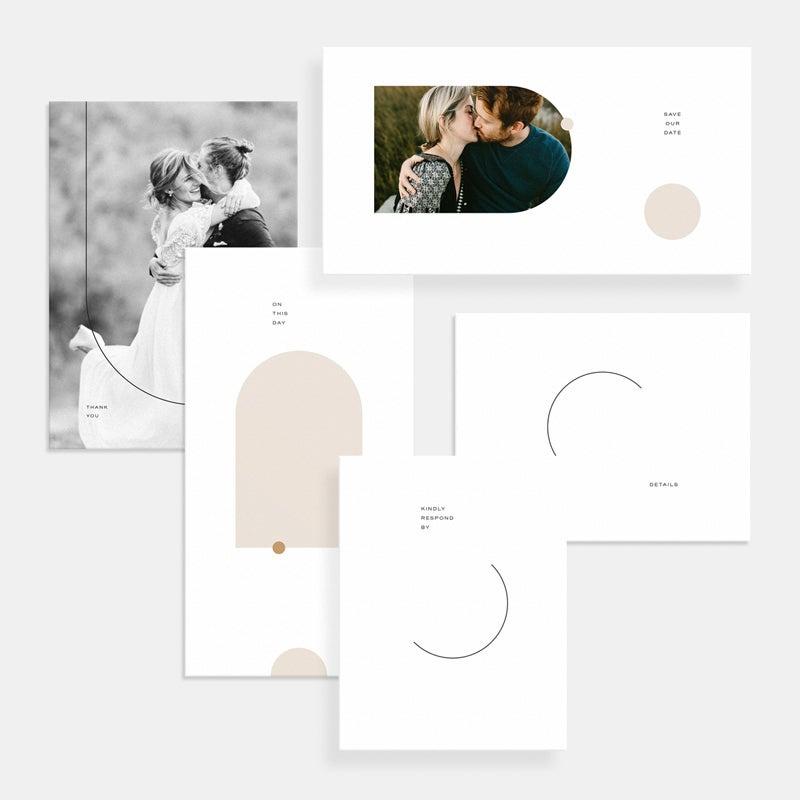 While we definitely recommend checking out the beautiful photo books at Artifact Uprising after the wedding, it's a good idea to check out the site before your big day too. Why? Because Artifact Uprising is another great place to order your wedding invitations.
What you'll love about it: Anyone with a contemporary sense of style should instantly add Artifact Uprising to their list of where to get wedding invitations. The online retailer has a variety of modern and ultra-trendy designs, from minimalist monochrome stationery to invites with bold typography. You'll also find select invitations with fancy elements like letterpress or foil stamping. Finally, the site can add both the return and recipients' addresses to each envelope (another feature shared by WeddingWire Invitations), saving you and your S.O. lots of time (and ink!).
Why it may not be for you: Not a fan of modern or minimalist stationery? If that's the case, you can probably give this one a miss. While Artifact Uprising has some seriously stunning designs, the variety of styles is a little limited, and if you prefer classic details, you might not find what you're looking for. Cost may also be an issue for couples on a tight budget. More simplistic invites can be purchased at $210 for 100 (which is pretty good if you ask us!), but elevated options (think: letterpress) could set you back $550.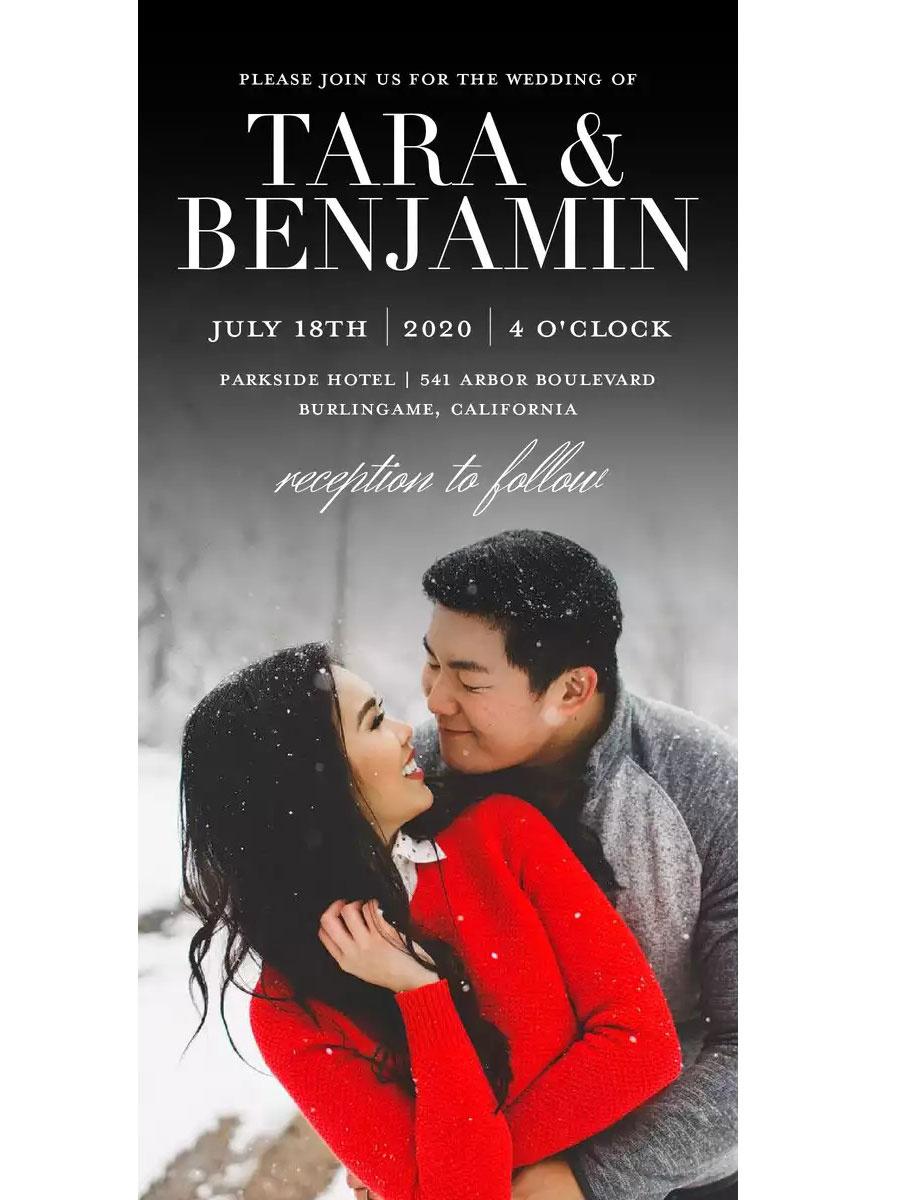 Mixbook is one of the best wedding invitation websites for couples who want stationery with photos. You can even filter search results by the number of photos an invitation has, with options ranging from one to four-plus pictures. Of course, there's also a selection of chic stationery that doesn't feature photographs. Filter by modern, whimsical, classic, or vintage depending on your style.
What you'll love about it: If you're wondering where to order wedding invitations online that'll let you get a little more creative, Mixbook is the place. This popular stationery site essentially lets you design your own wedding invitations from the templates offered. But that's not all: Mixbook's chic invitations are some of the most affordable on the market depending on the type of paper you choose (there are six options!). Whichever paper you go for, you can rest assured that it's ethically and sustainably sourced.
Why it may not be for you: If you're looking for something a little more turnkey (or you'd rather have a professional step in with design assistance), Mixbook might not be the best website to order your wedding invitations from.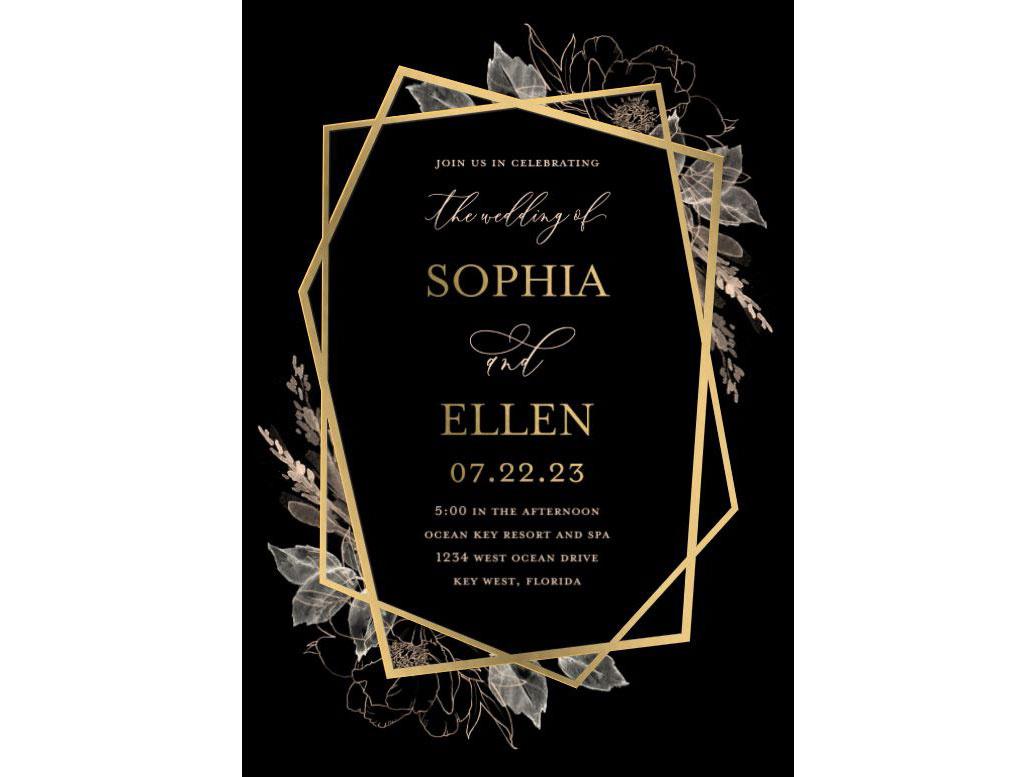 Shutterfly is well-known in the wedding space for a reason—it's another one of the best online printing services for wedding invitations. You certainly won't be stuck for options here. The site allows you to filter by style, format, size, designer, and more to help you find exactly what you're looking for.
What you'll love about it: In addition to the excellent filtering options, Shutterfly's online marketplace also features easy-to-use personalization tools. Customize the text, font, and colors to suit your wedding style and finish it off with a personalized envelope. Just like WeddingWire Invitations, the site is also able to take care of addressing envelopes, but Shutterfly takes it one step further by offering mailing services to everyone on your guest list. The stationery site also hosts a selection of designers, so you can browse styles by different artists. Finally, it's pretty darn affordable, with the cheapest options amounting to $209 for a set of 100.
Why it may not be for you: Again, couples seeking a more turnkey experience or professional design assistance won't find what they're looking for at Shutterfly. Instead, it's an opportunity for soonlyweds to make their wedding invitations feel personal without a high price tag.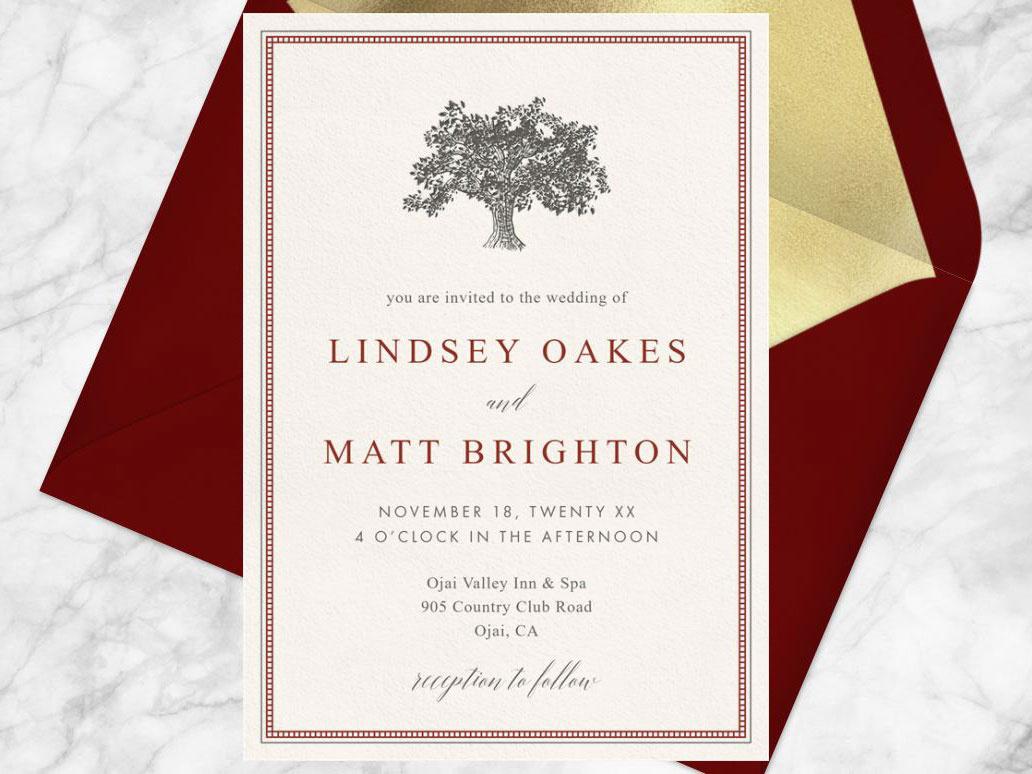 We don't necessarily recommend going digital with your actual wedding invitations, but at the end of the day, virtual invites are great for last-minute events and short lead times. If you and your S.O. are on the lookout for some elevated digital stationery, Greenvelope is one of our favorite places that does online wedding invitations.
What you'll love about it: Greenvelope's virtual wedding invitations come in a huge range of styles, from contemporary full-bleed photo invites to vintage floral and watercolor designs. Much of the site's stationery is also available in a range of colors, so you can choose the hue that best reflects your special day. With all that in mind, our favorite part of Greenvelope wedding invites is actually the presentation. You also get to personalize a stamped envelope, which is beautifully animated to open like a real paper invitation. But that's not all: Once guests receive their invitations, you can easily view and track RSVPs online.
Why it may not be for you: If you're set on following traditional invitation etiquette (and avoiding your guests' spam folders), Greenvelope isn't the best fit for you. That said, it's a great place to shop for digital bridal shower, bach party, and rehearsal dinner invitations, which are all totally acceptable to send via email.