Rehearsal Dinner Invitation Etiquette: Everything You Need to Know
Planning on having a rehearsal dinner? Check out these insightful answers to the most frequently asked questions about rehearsal dinner invitations.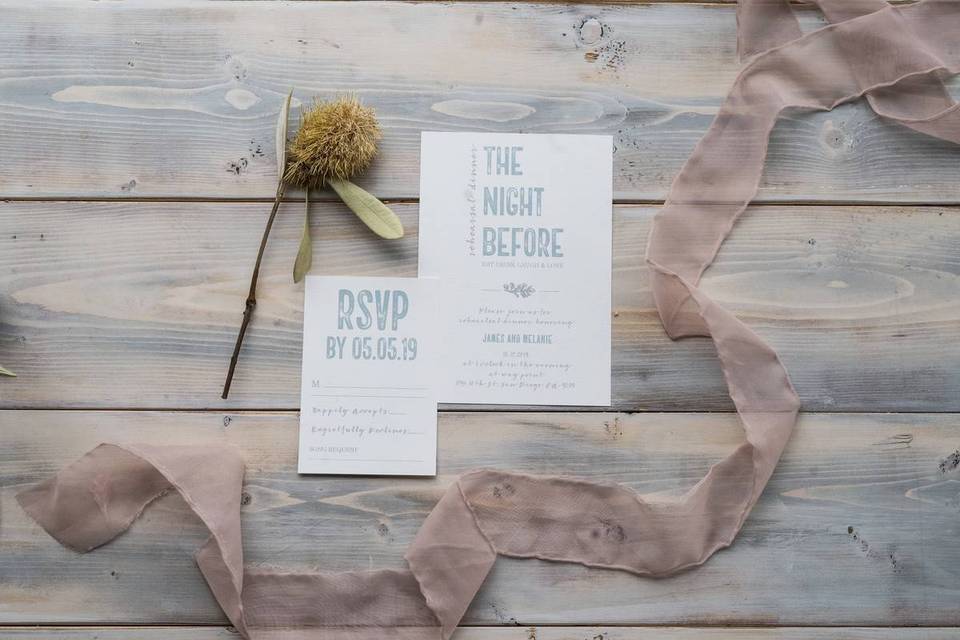 The rehearsal dinner is usually the very first event of the jam-packed wedding weekend, making rehearsal dinner invitation etiquette almost as important as protocol for the actual wedding invitation. While you don't have to follow tradition exactly when it comes to your rehearsal dinner invitations (digital invites are actually okay!), you should still thoughtfully consider who you're inviting and how to word your rehearsal dinner invitations so your guests aren't confused about the event. If you're starting to think about the night-before celebration, it's worth understanding rehearsal dinner invitation etiquette. From who sends them to who to invite to the event, wedding experts offer their best insight into this sometimes-tricky topic.
When should I start planning my rehearsal dinner?
We recommend starting to plan your rehearsal dinner between three and six months before your wedding—the more time you give yourself, the better.
Who pays for the rehearsal dinner?
Traditionally, the groom's parents pay for the rehearsal dinner. However, you certainly don't have to go that route, particularly if it's an LGBTQIA+ wedding, where there may be two grooms or no groom at all. The couple can host the rehearsal dinner themselves, or the couple's families can chip in together. We've also seen rehearsal dinners hosted by the wedding party, other family members, or friends.
Who sends the rehearsal dinner invitations?
According to wedding planner Laura Maddox of Magnolia Celebrates in Atlanta, Georgia, whoever pays for the event gets final say on who to invite to rehearsal dinner, sends out the rehearsal dinner invitations (with their names on it as hosts), and receives the RSVPs. Just like with any party, the hosts (a.k.a. the people who are paying) are the keeper of the invite.
What should the rehearsal dinner invitation include?
As you prepare to extend an invitation to your friends, family and guests of honor, you want to ensure you have all of your bases covered when it comes to rehearsal dinner invitation etiquette. According to wedding planner and designer Kristen Gosselin of KG Events Design in Edgartown, Massachusetts, all rehearsal dinner invites should include the following:
The host of the rehearsal dinner
The names of the couple
The event date, time and location
The RSVP deadline and method (email is often easiest)
Any additional information to know: wedding website information, dress code and so on
Who do I invite to the rehearsal dinner?
When you start to brainstorm who will be included within your rehearsal dinner roster, you should approach it with three lists: 'minimum', 'would like to have' and 'maximum.' As you already experienced from defining your guest list for the big day, couples want to extend an invitation to many people who have had an impact on their life—but sometimes, budgets and space don't allow for an over-the-top attendance. Wedding planning Nora Sheils of Bridal Bliss in Seattle, Washington says your wedding party, their guests and immediate family should all be included. She also says it's a kind gesture to also invite your nearest-and-dearest, like grandparents, godparents and others with a special connection to the couple.
Then, the rest is up to you! "A new trend is hosting a rehearsal dinner which morphs into a welcome party, including all of the out-of-town guests. You can have your cake and eat it too with a small intimate event, as well as a big party," she explains. "This is a great way to get face time with your out-of-towners relieving some of the stress of speaking to all of your guests at the big event."
The 'Let's Get This Party Started' approach is often the smarter approach if you've decided to wed outside of your zip code. In fact, it's how most destination wedding couples tackle the rehearsal dinner event, according to Jen Avey of the Destination Weddings Travel Group. This is because rehearsal dinner invitation etiquette rules are a bit different, especially since so many people are traveling far and wide for your proclamation of love. "If you're having a destination wedding, it's nice to include everyone who has traveled in the festivities, including plus ones, in every wedding event," she explains. "Luckily, destination wedding guest lists tend to be quite small, so this isn't always a hardship on the host or couple."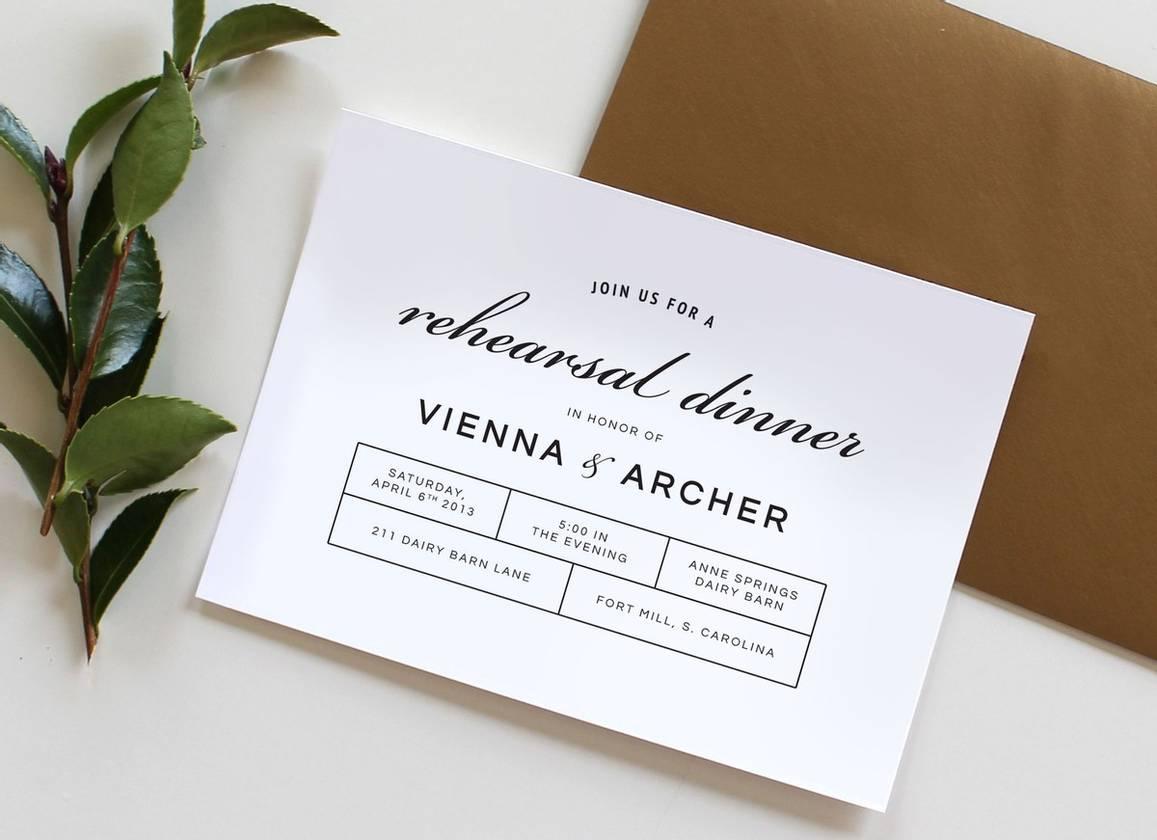 How should I send my rehearsal dinner invitations?
Snail mail? E-cards? There are so many options to deliver invites and sometimes, stationery can run up a pretty penny. Typically speaking, the rehearsal dinner should follow the same theme, structure, and method of the other invites. Traditionally, rehearsal dinner invitations are sent as paper invitations in a separate mailing, but digital invitations are also totally okay nowadays.
While it is definitely your ultimate choice, Maddox says paper invites are usually the smarter route since she says they bring more weight—and not just literally. "People pay more attention. You are also setting the tone for the weekend," she explains. You can work with the same stationer who created your wedding invitations, whether it's a local business or an online retailer.
When do I send out my rehearsal dinner invitations?
These invites can be sent out as early as four weeks in advance, just be sure to follow good rehearsal dinner invitation etiquette and send them after you've mailed your wedding invites. Another option is to send the invite to the rehearsal dinner to the smaller group with the wedding invite itself. This saves on postage, but you have to make sure you only enclose the rehearsal dinner notice for guests who are invited to this separate event, which can get confusing.
How can I handle awkward conversations?
Without fail, there will be someone on your side or their side who has a bone to pick with the rehearsal dinner. Either they thought they should be invited—or they can't understand why another friend wasn't included. Whatever the tough rehearsal dinner invitation etiquette situation, Gosselin says an easy way to diffuse conflict is to explain the purpose of the dinner itself: to celebrate the final run-through before the main event. This way, it makes sense that only those who are required to attend the rehearsal will also be at the meal that follows.
What gifts are given at the rehearsal dinner?
Rehearsal dinner guests are not expected to give the couple gifts during the rehearsal dinner—though if they want to bring a small present for the hosts, that's fine but totally not necessary. The couple, on the other hand, may use the rehearsal dinner as an opportunity to give thank-you gifts to their wedding party members and parents. These gifts may also be given on the morning of the wedding, if preferred.
Should I have cake at my rehearsal dinner?
A formal wedding cake should not be served at a rehearsal dinner—save that for the main event! In some parts of the country, the groom's cake is traditionally displayed and served during the rehearsal dinner. If you're not going that route, a simpler cake or other dessert of your choice is totally fine.
Do I give favors at my rehearsal dinner?
You (or technically, the hosts) can give out favors at the rehearsal dinner, but it's not necessary. Sometimes, the hosts will give their out-of-town guests their welcome bags at the rehearsal dinner, if they unable to provide them at their hotels. Aside from that, favors can be reserved for the wedding day.