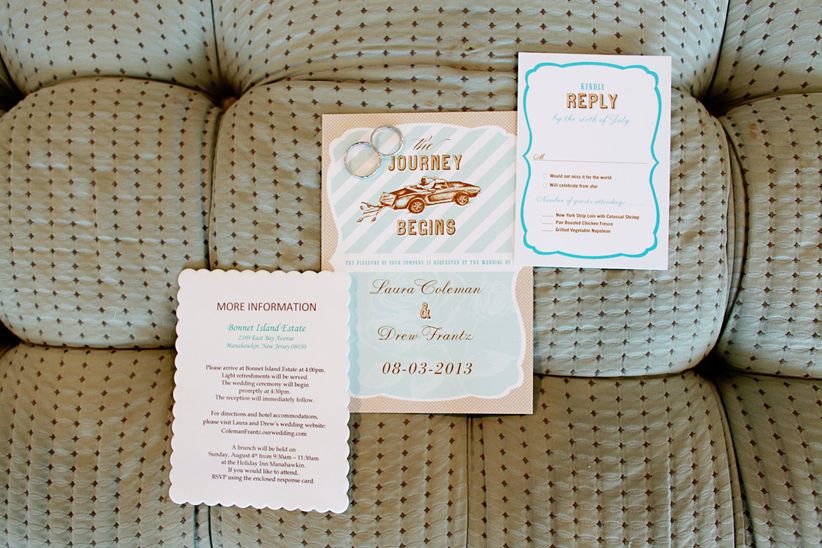 Photo: Jeri Houseworth Photography
Deciding who gets an invitation to your wedding can be a stressful task, but once you've got that sorted out you're faced with the even more nitpicky responsibility of doling out your rehearsal dinner invitations.
What's the etiquette? And who
must
be invited? Read on for the answers to your most pressing questions.
Who is on the must-invite list?
Your immediate families and anyone who has a special role in your wedding must be invited to the rehearsal dinner. That includes your wedding party: bridesmaids, groomsmen, bridesmen, groomsladies, and the like. Flower girls and ring bearers, along with their parents, should be invited as well. Don't forget your readers and ushers, too! You may also choose to invite your wedding officiant.
Many couples also choose to include out-of-town guests, since they've come a long way for your wedding and you won't get to spend much quality time with them on your busy big day. Cultural traditions may also dictate that
all
wedding guests be invited to the rehearsal dinner, but that's not generally expected.
At the end of the day, though, you're really welcome to invite anyone you'd like to the rehearsal dinner — close friends, siblings, cousins, the best storytellers in your family. Your rehearsal dinner should be a fun, relaxed, silly, and sentimental environment, so put together a guest list that makes you smile.
You also have the option of inviting a smaller group to dinner — those who actually need to rehearse for the wedding — and then having a rehearsal "after-party" later that evening at a bar or other venue.
And a note on destination weddings: In that case, all of your guests have likely come from out of town. So have your actual walk-through with your wedding party and officiant the night before the ceremony, and then invite the rest of your guests to join you for a party afterwards. It's a fun way to spend as much time as possible with your guests before the big day!
Do guests get a plus-one?
Invitations for all of your married, engaged, and partnered guests should extend to their significant others, including your officiant and his/her SO. Think of it this way: If you'd invite your friend or family member's partner to your wedding, invite them to the rehearsal dinner, too. You are not required to extend an open plus-one to your single guests, though. Why not seat them together and see if any magic happens!
When do we send out the invitations?
You can send out rehearsal dinner invitations as early as four weeks in advance, just be sure to send them after you've mailed your wedding invites. If you're working with a catering service or venue, find out when they need a head count and plan accordingly, giving your guests an RSVP deadline. And remember, your rehearsal dinner invitations should be sent separately from your wedding invitations.
These invitations don't have to be formal by any means: you can send a postcard-style invite; an email invitation; even a video is a great choice! And if your rehearsal dinner will be super low-key — i.e. a backyard BBQ or pizza party at home — you can always email or call your guests with the details. In general, the formality of the invite should match the formality of the party. We don't recommend putting rehearsal dinner details on your wedding website, unless everyone is invited.