Photo: MyLife Photography
This is a question engaged couples are constantly asking, so we've decided to set the record straight. Once you decide who makes the cut, make sure to include a separate rehearsal dinner invitation (not an insert within your wedding invite) so your loved ones can plan accordingly. Read on to find out who you definitely should, maybe should, and don't have to invite to the rehearsal dinner.

The must-invite list
These guests should definitely be invited to your rehearsal dinner, no exceptions.

Immediate family
This should be a no-brainer. Immediate family includes both sets of parents, grandparents, and siblings.

Wedding party
Since your wedding party is made up of some of the most important people in your life, they should definitely be invited to the dinner following the wedding rehearsal (which they'll also need to attend). This is also a great opportunity to ask a bridesmaid or groomsmen to say a few words if they're not going to be speaking at the reception.

Wedding party plus-ones
It's proper etiquette to include the plus-ones of wedding party members in the guest count for the rehearsal dinner. If you don't want them attending the actual rehearsal, that's understandable, but make sure they're on the list for dinner.

The maybe-invite list
While you don't have to invite these guests, if your budget and venue allows for it then it might be nice to have them there. It's totally up to you.

Extended family
This includes, aunts, uncles, and cousins on both sides of the family. If you've got a lot of extended family, you may want to consider the capacity limit of the venue and the budget of the financial contributors (whether that is you and your spouse or other family members).

Close friends
Maybe you've got a lot of close friends who aren't necessarily part of the wedding party but are still important people in your life. It's totally understandable if you want them to be present at the dinner, so if you've got the money and the space, why not include them?

Out-of-town guests
Chances are you've got a number of people making the trip from out of town to celebrate your wedding. Inviting them to the rehearsal dinner is a great way to thank them for traveling and gives you the opportunity to spend some quality time with them before the wedding day.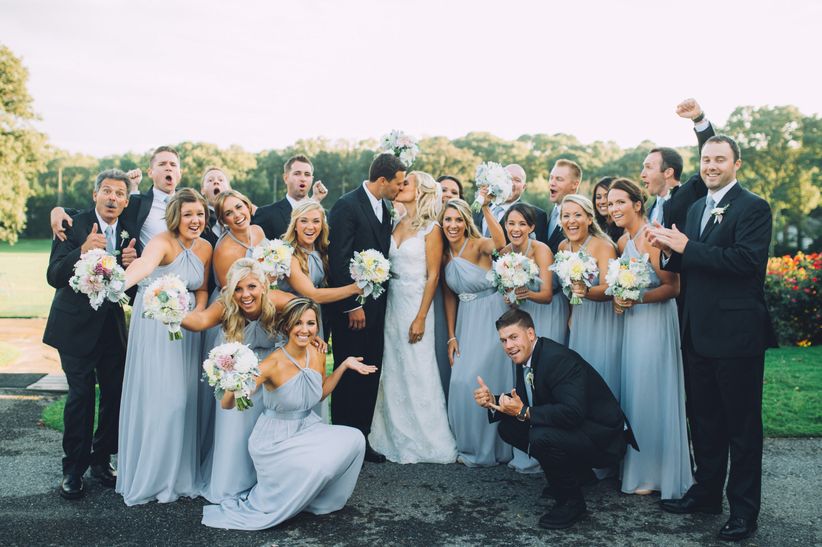 Photo: Paula Bartosiewicz Photography
The don't-have-to-invite list
Don't feel bad if you don't invite these people to your rehearsal dinner!

School / childhood / family friends
While it's great that you invited these people to the wedding, you aren't obligated to include them in your rehearsal dinner plans. Inviting them all will essentially turn the dinner into a second wedding, and for the sake of your budget (and sanity), that's probably not the best idea.

Distant relatives
This includes great aunts and uncles, second and third cousins, etc. Family members you aren't that close with or you don't see very often don't need to be on the guest list.

Plus ones
Plus-ones of guests also don't need to receive an invitation to the rehearsal dinner (unless their date is in the wedding party). Chances are you don't know these people as well as you know your other guests, so it's OK to leave them off the list.

Note
If having out-of-town guests at your rehearsal dinner doesn't work for your venue or budget, consider hosting a welcome party with dessert and drinks after the private dinner. This gives you an opportunity to greet guests you don't see very often and thank them personally for making the trip. You can also invite guests on the maybe-invite and the don't-have-to-invite list to the welcome party if your budget allows.