11 Wedding Welcome Bag Ideas Your Guests Will Thank You For
Want to kick off your festivities with wedding welcome bags? These clever ideas will be appreciated by out-of-town guests and locals alike.
We have included third party products to help you navigate and enjoy life's biggest moments. Purchases made through links on this page may earn us a commission.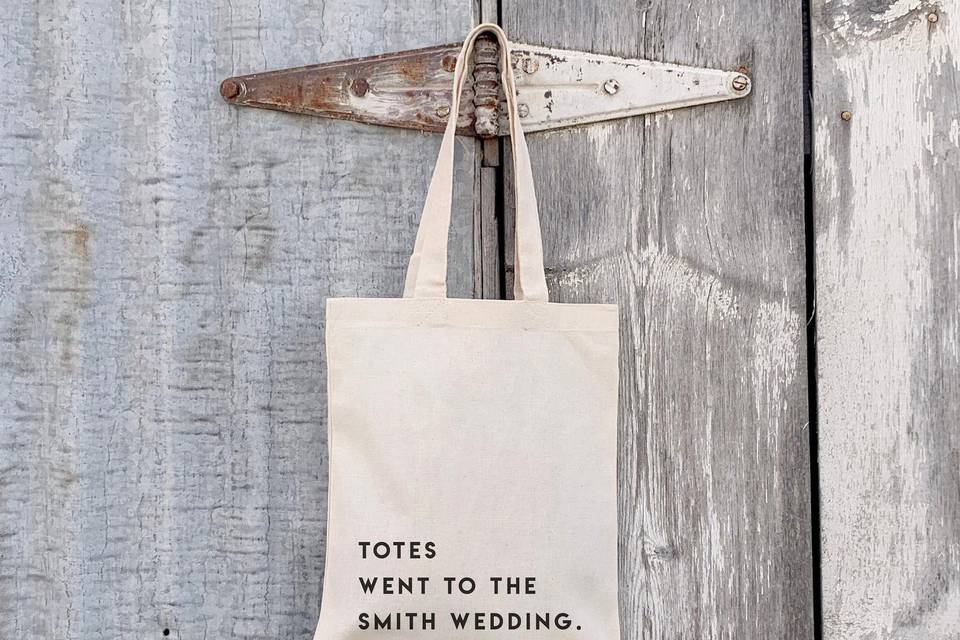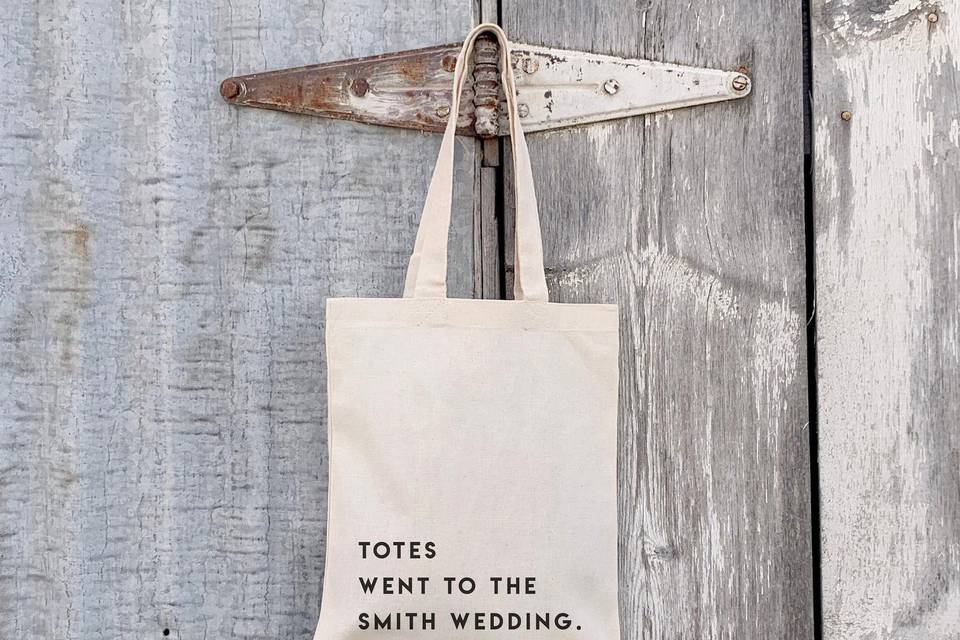 Your guests have gone to the effort of booking transportation and accommodations, buying gifts, and picking out stylish new outfits for your wedding. Show them some love with gift bags full of cool surprises (in addition to providing an awesome hotel room block). These wedding welcome bag ideas are both thoughtful and practical, whether your loved ones are traveling from out of town or they live just a couple blocks away. You can shop our suggestions right here, or simply take them as inspiration to come up with your own unique goodie bags to say thank you to guests.
What to Put in Wedding Welcome Bags
When you're putting together gift bags to welcome your guests, there are just a few things to consider.
Are your loved ones traveling to somewhere new? Whether it's a destination wedding or just somewhere they haven't been before, it's always a good idea to provide some information on the local area. We suggest including a map at the very least (you don't want them to get lost on the way to your ceremony!). Feel free to throw in a few tips or brochures on the best things to do and see while they're in town too.
Where are your guests staying? If you're providing welcome bags for everyone, remember that out-of-town guests will have different needs to someone who lives nearby. Think of including some travel basics like mini toothpastes or deodorant. Trust us, someone will have forgotten (and they'll be incredibly grateful). Other cute extras include custom "do not disturb" door hangers or postcards picturing your hometown.
What do you need your loved ones to know? This one applies to all of your guests. An informative itinerary is hands down one of the best wedding welcome bag ideas. It's an easy way to let your guests in the loop, especially if there's a whole weekend of celebrations awaiting them. For out-of-towners, be sure to include some information on guest transportation as well. We suggest checking with your local stationer to see if they can put together itineraries that reflect your invitation suite, wedding theme, or the local area.
What do you want your guests to know? After you've got the basics covered, think about what you want your loved ones to know about you and your soon-to-be spouse or your wedding destination. There are lots of ways to pay tribute to your special day, like including candy that's unique to the locale or a small trinket adorned with your wedding date.
Our Favorite Wedding Welcome Bag Ideas
Once you've got a sense of what to include in your gift bags, all you have to do is put them together. From hygiene essentials to cute keepsakes, find all the best items for your wedding welcome bags below.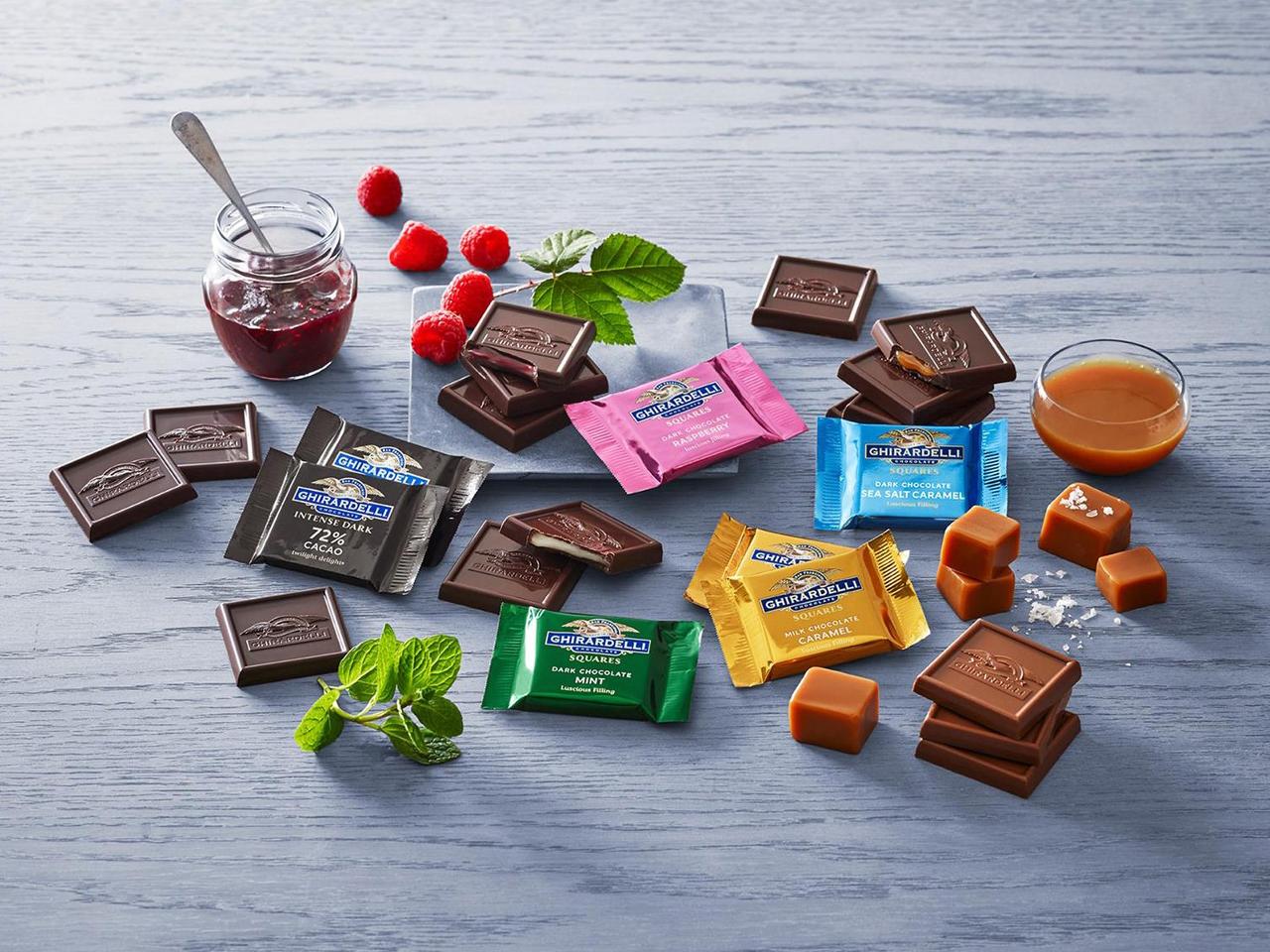 1. Local Snacks
What better way to give visiting guests a lay of the land than with a local delicacy? If your wedding destination has a specific food that it's known for, don't let your loved ones go home without trying it. For example, Ghirardelli Chocolate was founded in San Francisco, so that's a clever treat to include if you're getting married there. Or, if you're tying the knot in the Windy City, Garrett Popcorn Shops is a well-known tourist attraction. Guests are sure to appreciate munching on a bag when they get back to their hotel rooms.
Ghirardelli Chocolate assorted chocolate squares in bulk, from $25, Ghirardelli Chocolate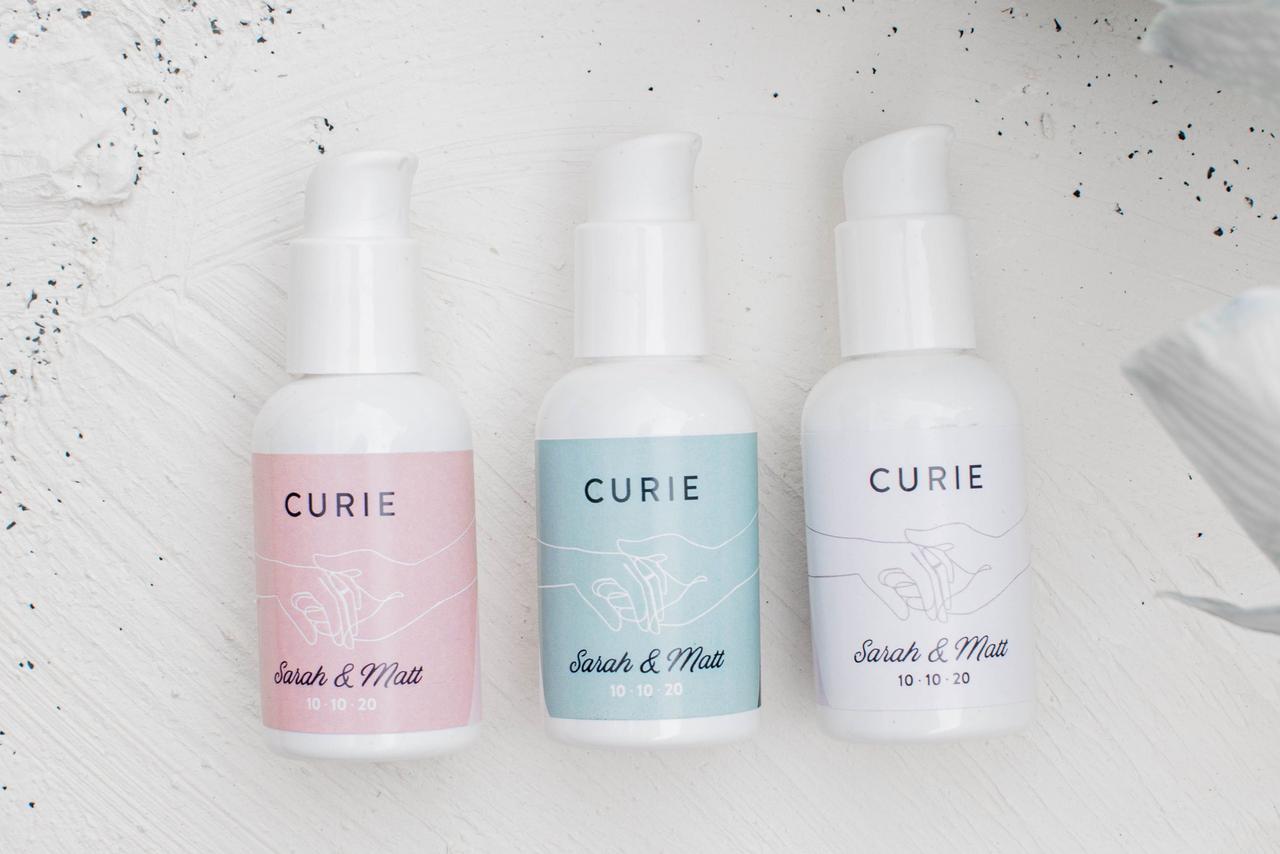 2. Hand Sanitizer
Keeping your loved ones safe is the most important part of including them in your celebration. Show them you care by favoring wedding welcome bag ideas that guarantee good hygiene all around. These adorable bottles can be personalized with your names and wedding date. Plus, they leave hands soft, sanitized, and smelling great. If you'd rather not put them in gift bags for your guests, there are lots of other ways to include hand sanitizer in your wedding.
Curie personalized wedding hand sanitizers, $5 each, Curie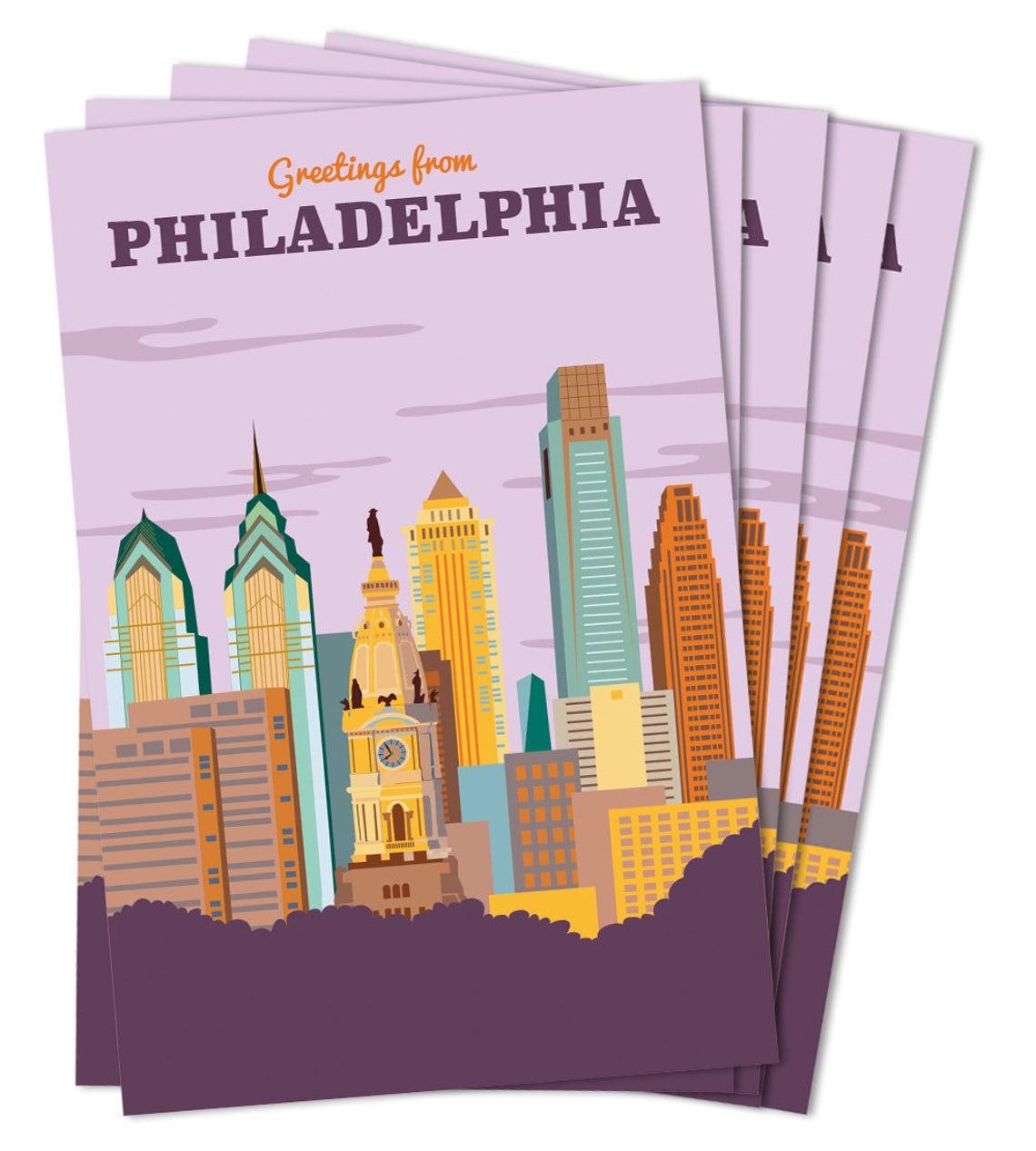 3. Postcards
Loved ones traveling to be with you on your special day will fully appreciate a cute postcard of the area they can mail back home or hold onto as a keepsake. This Etsy seller offers unique illustrated postcards of different cities, from Seattle to San Francisco. They'll make a cute finishing touch to hotel gift bags for your out-of-town wedding guests.
The Imagination Spot Philadelphia city postcard, from $4, Etsy
4. Hand Fans
If you're tying the knot somewhere tropical (or even just in the summer), your guests may not be used to the warmer weather. Create beach- or destination-themed wedding welcome bags complete with weatherproof accessories like hand fans and sunglasses, or cozy pashminas if it's going to be a little chilly.
WeddingWire Shop Love Wreath personalized hand fan, $1, WeddingWire Shop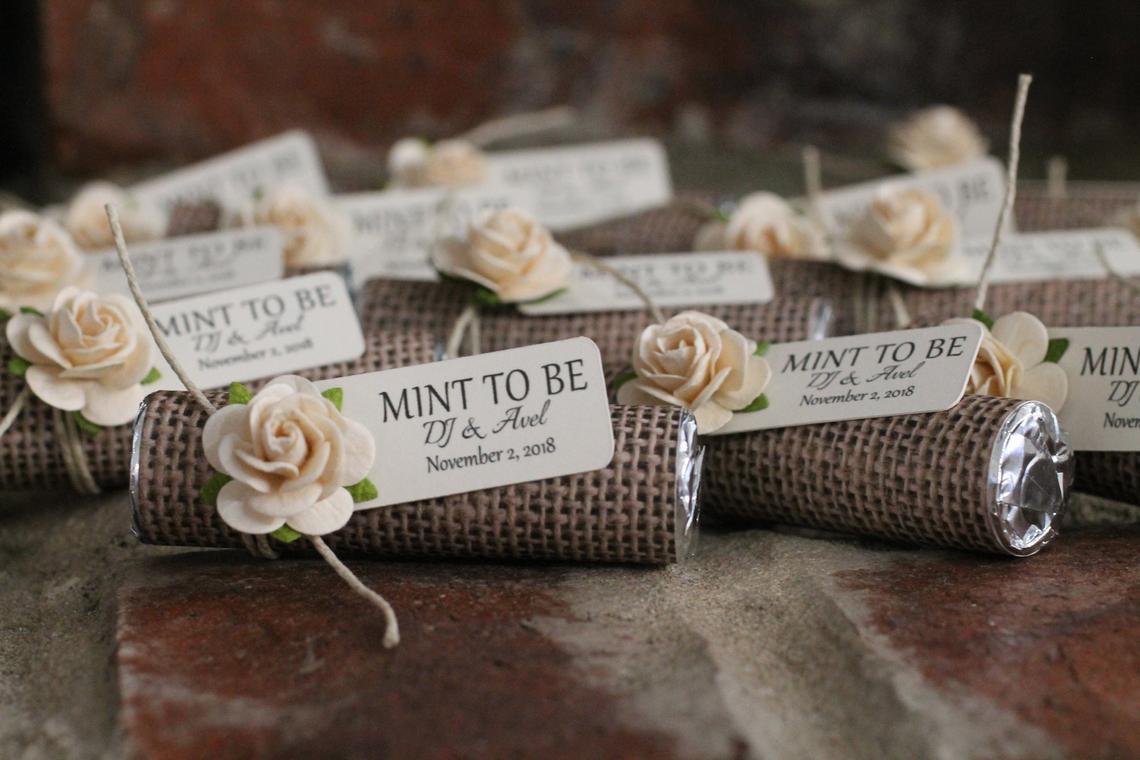 5. Breath Mints
Try to include what your guests will need most during their stay in your wedding goodie bags. If you're planning a boozy celebration, that might mean some hangover cure staples like aspirin, a soothing under-eye mask, some sweet, personalized mints, and a cute bag to put it in. They'll be thankful for these the morning after your wedding, trust us.
Baby Essentials by Mel wedding mints, from $90 for 50 packets, Etsy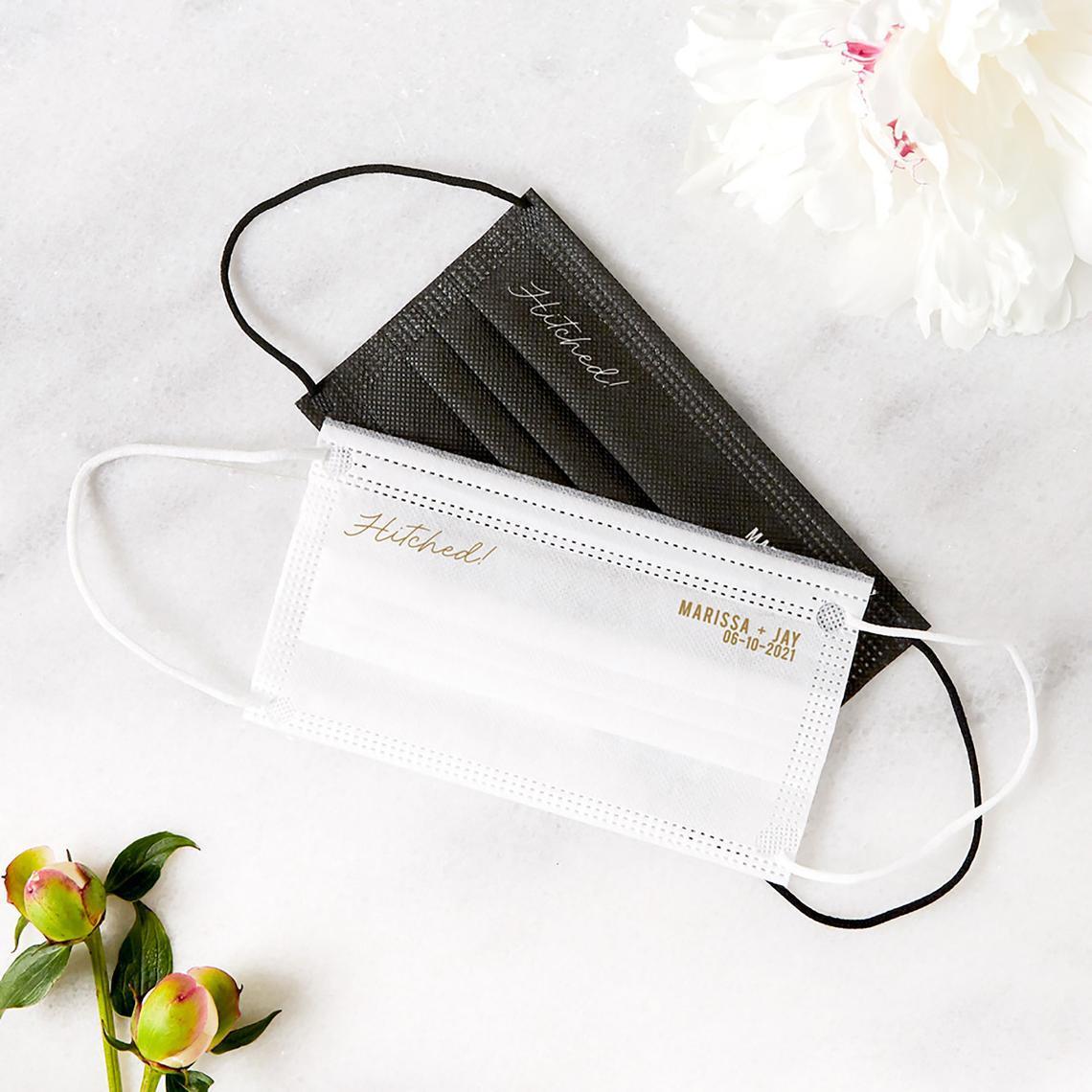 6. Face Masks
Like we said before, keeping your loved ones safe is priority number one. Providing wedding masks in your ceremony or hotel welcome bags is a simple way of showing them you care. These ones can be personalized with your names and wedding date for a cute personal touch that'll make your loved ones feel a part of something truly special.
For Your Party Hitched! personalized wedding face masks, from $24 for a set of 8, Etsy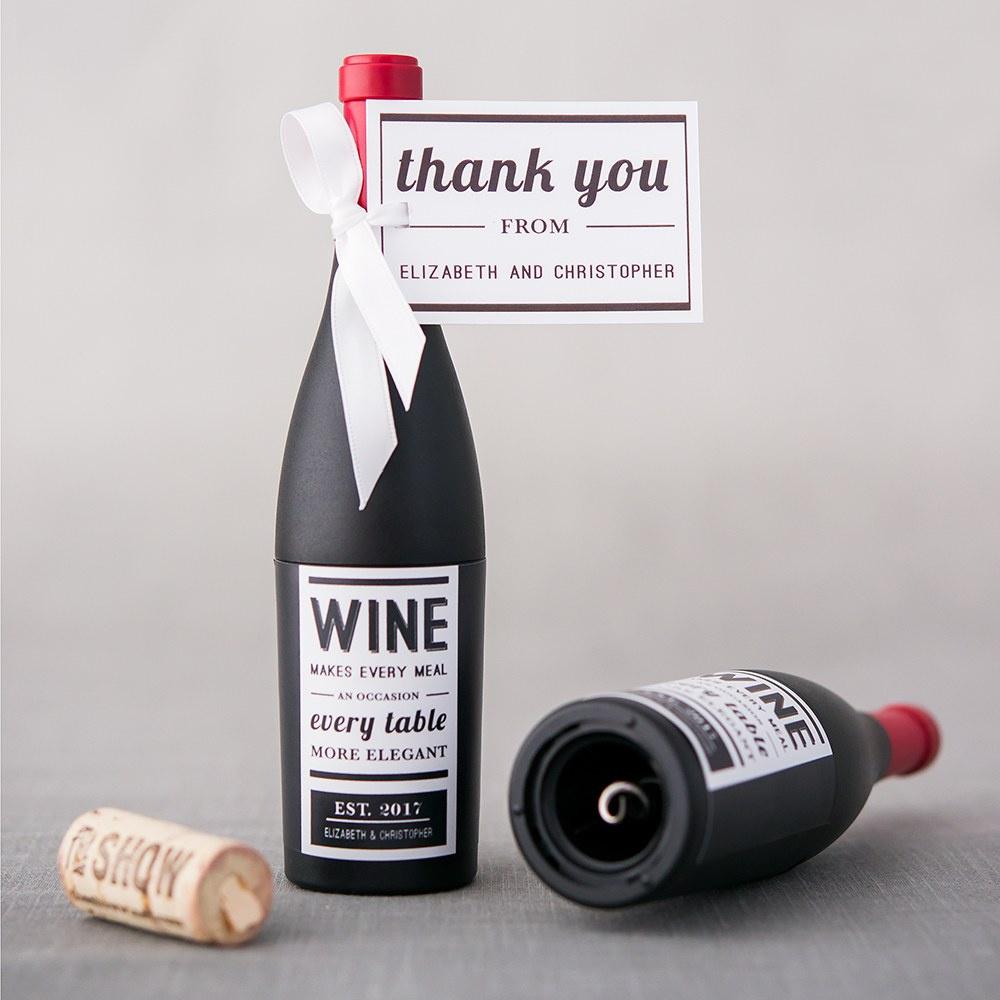 7. Location-Inspired Keepsakes
Be sure to include a special local-themed item in your wedding guest bags. For example, Baltimore is known for delicious crabs, so including a personalized mallet would be a cute option. Or, if your big day is set in a scenic vineyard, these wine bottle-shaped corkscrews will be a fitting addition to wedding guests' welcome bags. Think about what makes your location unique and play it up!
WeddingWire Shop wine bottle shaped corkscrew in gift box, $3 each, WeddingWire Shop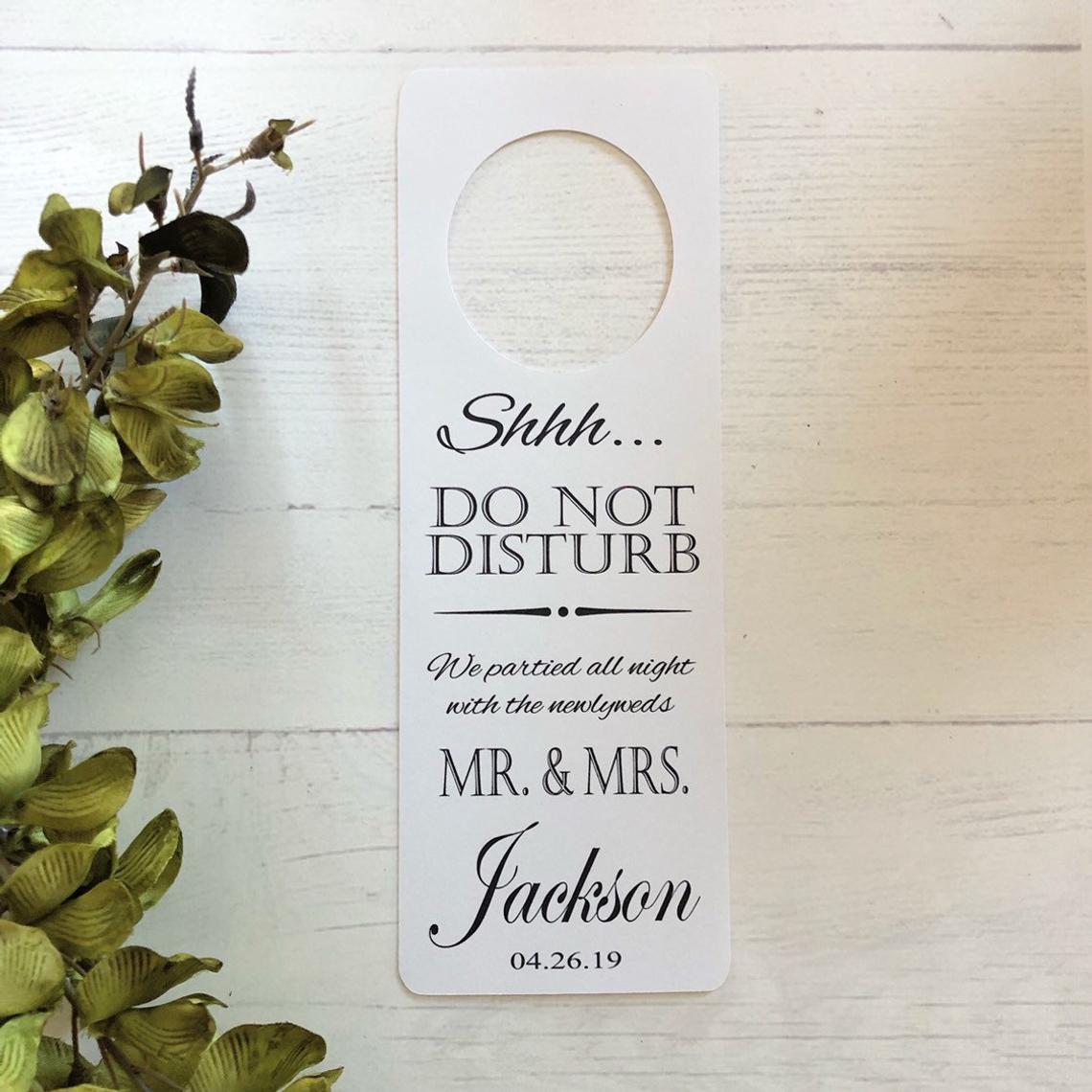 8. Custom Door Hangers
Personalized "do not disturb" door hangers are an excellent addition to wedding gift bags for hotel guests. These ones read "Do not disturb, we partied all night with the newlyweds." Talk about unique welcome bag ideas that'll definitely come in handy the next day!
Karla Brown Designs Shhh… Do Not Disturb personalized door hanger for out of town guests, $13 for a set of 10, Etsy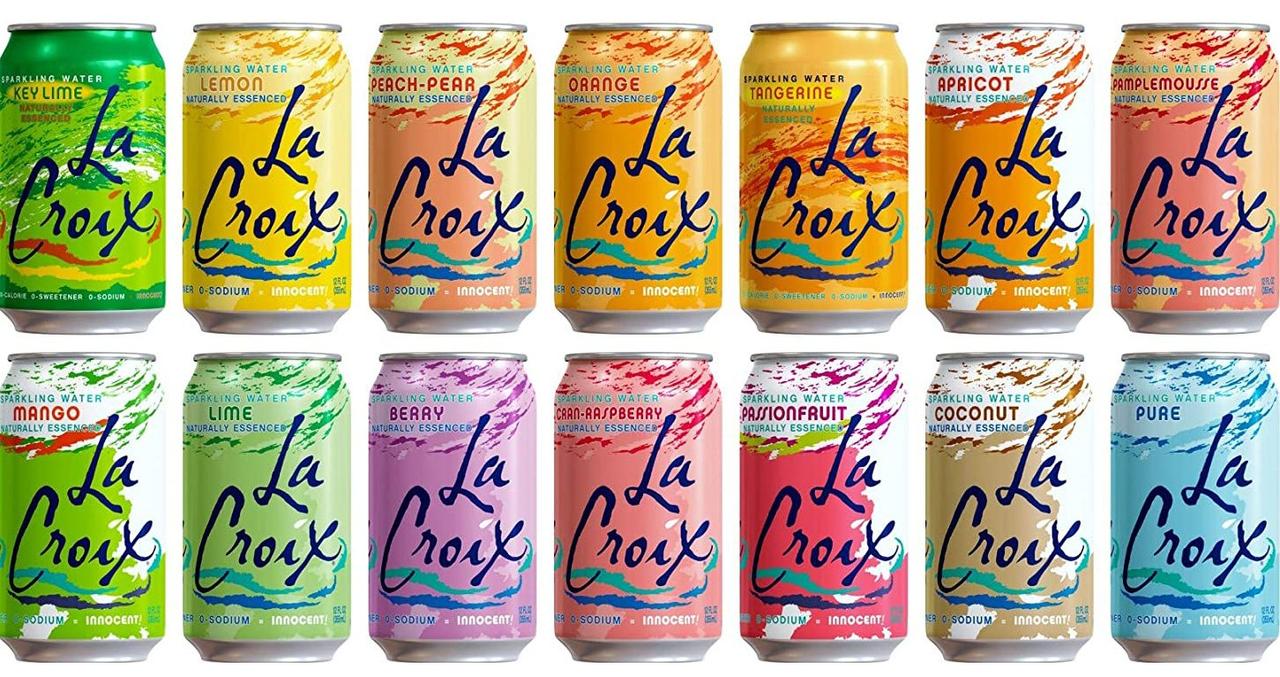 9. Water
Still wondering what to put in hotel gift bags for your wedding guests? Water is something they'll definitely reach for in the morning. You could also throw in custom can koozies with your names and the date of your nuptials to make it feel a little more special.
La Croix all flavor variety pack, $22 for a pack of 14, Amazon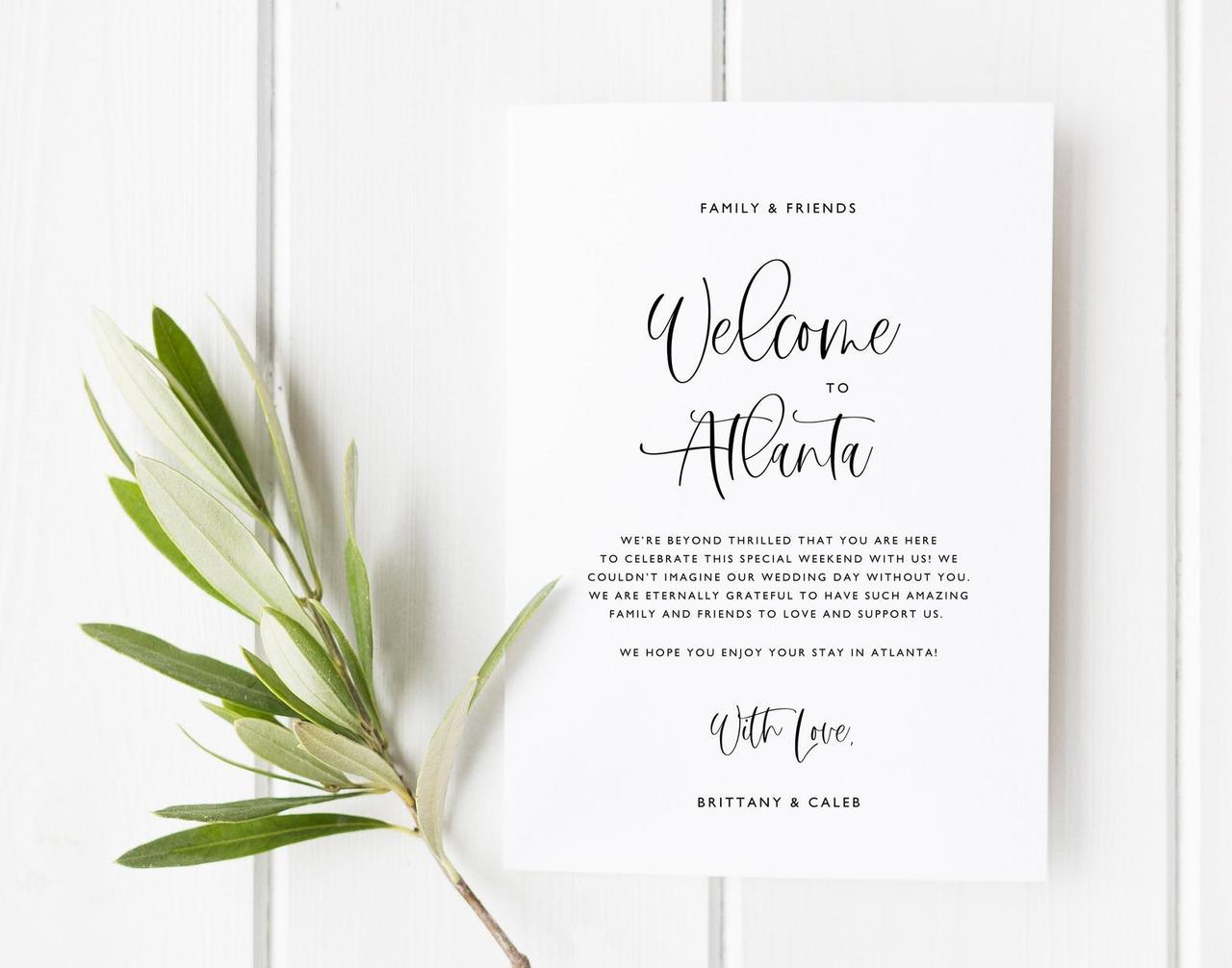 10. A Welcome Note
Don't forget to thank your guests for coming (especially if they've traveled to be there)! Even if it's just a short printed letter, it's important to let them know how happy it makes you to be able to celebrate your wedding day with them. Again, your local stationery business would be more than happy to create a custom design for you. Or, if you'd rather leave a handwritten note, check out Minted's amazing selection of personalized stationery.
Georgia Blue Design Co printable wedding welcome bag letter, $6, Etsy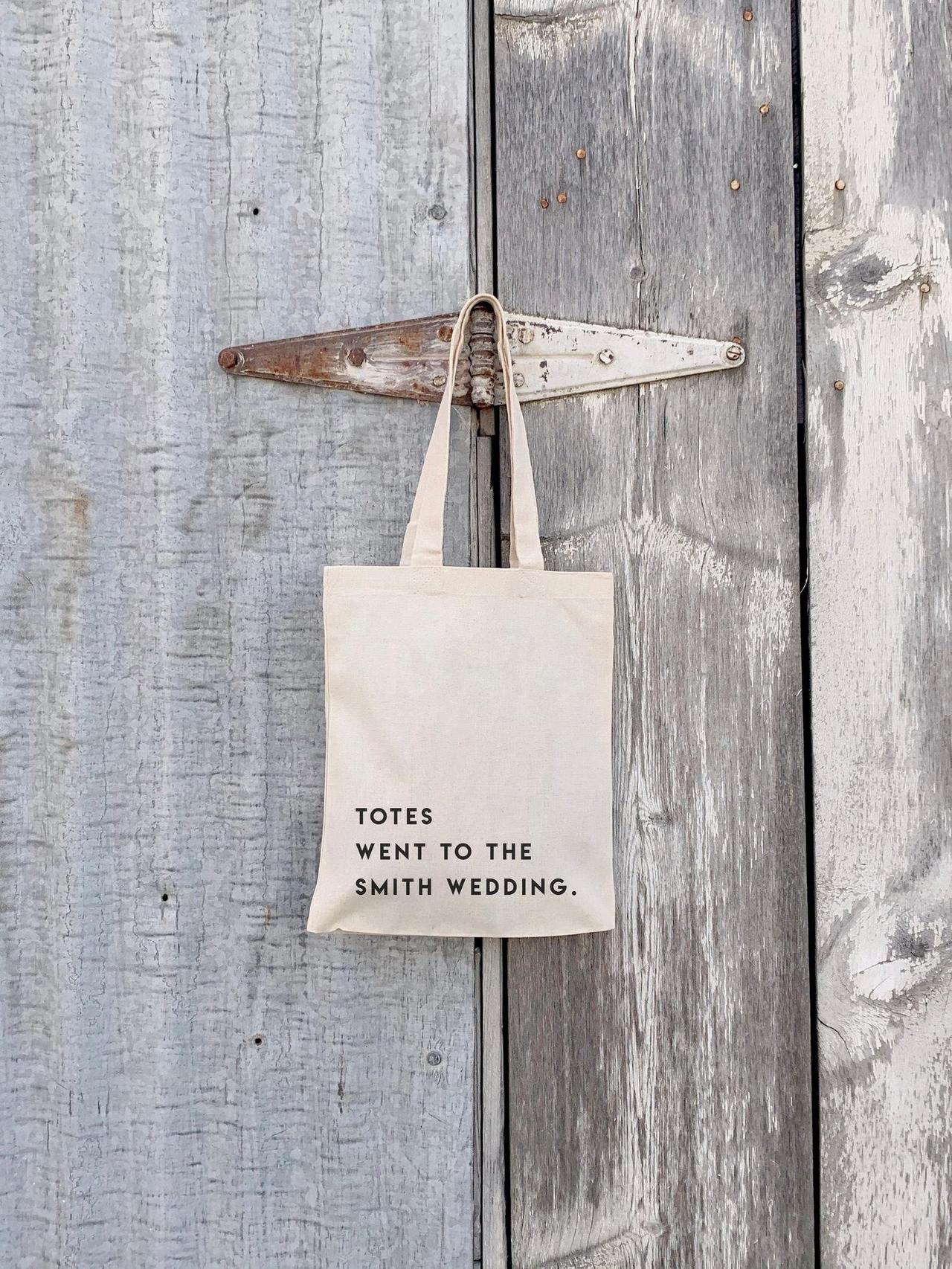 11. Reusable Tote Bags
Now that you've figured out the contents of your wedding welcome bags, you need to think about how you want to pack up all of your items. We're big fans of these personalized tote bags your loved ones can use again and again. That said, opt for whatever goes best with your wedding theme. The WeddingWire Shop has plenty of affordable welcome boxes and bags to choose from.
pressed custom wedding welcome gift tote bags, from $6, Etsy
Disclosure: This post contains affiliate links, some of which may be sponsored by paying vendors.