Custom koozies, Jordan almonds, personalized matchboxes...when it comes to wedding favor ideas, we've been there, done that (and you probably have, too). Handing out wedding favors at your reception is a nice gesture, but finding meaningful items that, A). won't end up collecting dust after the reception and B). break your budget, can sometimes be tricky. Luckily, it's possible to do it with a little inspiration from from real couples. Here are 20 creative wedding favors for guests and where you can buy them right now.
Do you give wedding favors to each guest?
As a general rule of thumb, yes, you should plan to give a wedding favor to each of your guests, including couples and families. There are a few exceptions depending on the type of favor you're giving out—for example, you can probably skip favors for babies and young children, and stick to one per family if the favors are elaborate or larger items, such as full-size bottles of champagne. When ordering or making your favors, always have a few extras—we recommend about a dozen—so you have a few left for yourself or if a guest decides to take more than one (annoying but inevitable).
What is the average cost of wedding favors?
Based on a study of more than 27,000 newlyweds who were married in 2019, the average couple spends $400 on wedding favors. For a wedding with 150 guests, that breaks down to approximately $2.67 per favor, but what you decide to spend should ultimately be based on your overall budget and the specific type of favor you choose.
Unique Wedding Favor Ideas
After spending money and going to the effort of picking out wedding favors, the last thing you want is your guests to leave them behind—or worse, throw the favors away when they get home. The key to choosing good wedding favors that your guests will genuinely appreciate is to balance practicality with creativity. Think of items that your guests would be likely to use anyway, such as bottles of wine, cocktail kits, or everyone's favorite: food and snacks. Finally, keep the monogramming to a minimum if you want your wedding favors to have longevity. As much as you may love showing off your new married monogram or wedding date, the same doesn't always go for your guests! No clue where to start? We've got you—try these wedding favor ideas below.
Personalized face masks
Masks are a normal part of weddings these days, so why not make them cute? Give your guests reusable and washable face masks as wedding favors—not only will this be an item that guests can use after the wedding, but if you hand them out at the start of the celebration, it's an easy way to keep everyone safe, too.
Get the look: JoyAndChaos custom wedding face mask favors, from $4.99, Etsy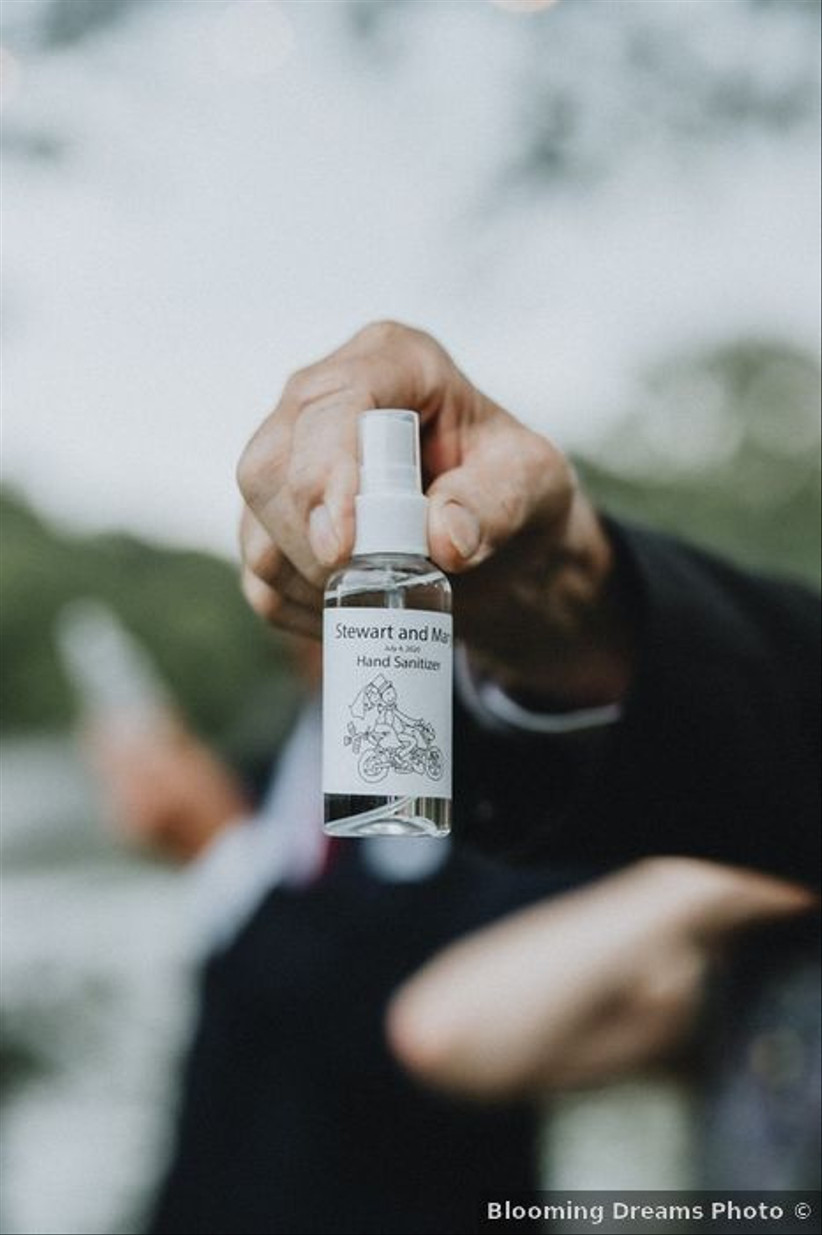 Individual hand sanitizer bottles
Speaking of keeping everyone safe, hand sanitizer is another popular wedding favor idea right now. This is something your guests will definitely use, and you can personalize the bottles with cute labels, designs, and even scents.
Get the look: SunshineAndSanitizer bulk hand sanitizer with custom label, from $75, Etsy
Mini champagne bottles
To keep the celebration going after your wedding ends, send guests home with mini champagne bottles. Choose your favorite brand of bubbly or add extra personalization with custom labels. Alternatively, you could use mini bottles of wine, beer, juice, or even cold brew coffee!
Get the look: Shopwwd champagne labels, from $10, Etsy
Tea towels
This is one of the best unexpected wedding favor ideas we've seen. If you're particular about your kitchen decor, you know the difference between the everyday towels you use for cleaning up spills and wiping the counter, versus your ~fancy~ tea towels that are purely decorative. Either way, decorative tea towels make lovely wedding favors, especially if you or many of your guests enjoy cooking. Personalize the towels by having a professional calligrapher decorate them with a romantic quote, a printed menu, or other design that guests will want to show off in their own homes. Finally, incorporate the towels into your tablescape decor by making them a part of each guest's place setting.
Get the look: PCBHome tea towels (bulk listing), from $96, Etsy
Cocktail shakers
Similar to mini champagne bottles, cocktail shaker favors will remind guests of your wedding whenever they're whipping up drinks at home. A classic stainless steel cocktail shaker is something they'll use for years and years after the big day.
Get the look: Williams Sonoma stainless steel cocktail shaker (set of four), $35, Williams Sonoma
Pumpkins
Miniature pumpkins are adorable take-home wedding favors for any couple having a fall celebration. Once September rolls around, mini pumpkins and gourds are relatively easy to find in a variety of colors. Plus, they double as decorative place cards!
Get the look: G2Plus gift tags (set of 100), $7, Amazon
Garden seeds
Packets of garden seeds are wedding favor ideas that keep on giving. This idea is perfectly appropriate if you're having an outdoor wedding at a garden or farm venue. For the most useful seeds, choose easy-to-grow plants that flourish both indoors and outdoors—some options include lemongrass, basil, chives, lavender, and mint.
Get the look: Terrain be my baby cherry tomato seeds, $4, Terrain
Hot cocoa mix
Hot cocoa mix is a wedding favor idea that guests of all ages will love. Package the powder and marshmallows in miniature glass bottles for an extra-cute and personalized touch.
Get the look: Superlele 100ml glass jars (set of 24), $23, Amazon
Handmade soaps
Handmade artisanal soaps are one of our favorite wedding favor ideas if you're getting married outdoors or during the summer. Consider purchasing them from a local small business or making your own using scented wax and oils—stick with all-natural ingredients for the safest, allergy-friendly soaps.
Get the look: LeBoxBoutique mini wedding soap favors, from $25, Etsy
Doughnuts
Whether you box them up individually or hang them on a custom wall display, doughnuts are always a crowd pleaser. Your guests will be so excited to take these wedding favors home—if they don't eat them first, that is!
Get the look: California Containers white bakery boxes (set of 25), $15, Amazon
Flower arrangements
Repurpose your wedding centerpieces at the end of the night by letting your guests build their own arrangements using the flowers and greenery. Tin pails are perfect wedding favor ideas for a rustic setting, but you can also use simple glass vases for a more classic look.
Get the look: Kicko galvanized buckets (set of 12), $18, Amazon
Moscow mule mug
Forget personalized shot glasses and pint glasses—chances are, your guests already have more than enough of both. A copper Moscow mule mug is unique but still functional.
Get the look: Kitchen Science copper mugs (set of eight), $55, Amazon
Candy apples
Caramel-covered apples are one of the best wedding favor ideas if you're getting married in the fall.
Get the look: OrangeUmbrellaCo "Appley Ever After" wedding stickers, from $7, Etsy
Personalized blankets
If the weather is going to be chilly on your wedding day, keep your guests cozy by providing fleece blankets. Personalize them with your wedding monogram, date, or initials. After you're married, everyone will be reminded of your special day whenever they curl up with the blanket at home.
Get the look: PCBHome throw blankets (bulk listing), from $240, Etsy
Infused olive oil
Foodie couples will love what's next on our list of wedding favor ideas. Treat your guests to bottles of gourmet infused olive oil that they can use when cooking at home. You can even include a card with your favorite recipe or tips about how to use the dressing. We especially love this idea if you're getting married at a pastoral venue, like a farm or vineyard.
Get the look: OrangeUmbrellaCo "Infused With Love" favor tags (set of 24), $11, Amazon
Handkerchiefs
Anticipating a few happy tears during your ceremony? Vintage hankies are a sweet and sentimental keepsake that your guests will definitely appreciate as you're reading your handwritten vows.
Get the look: Olgaa embroidered cloth handkerchiefs (set of 30), $19, Amazon
Macarons
Macarons make an elegant and chic wedding favor, especially if you're having a Paris themed wedding. Package them in boxes so they're easy for your guests to carry at the end of the night.
Get the look: Comfecto plastic boxes (set of 50), $31, Amazon
Parasols
Parasols are fun wedding favor ideas for a beach or summertime wedding. Choose ones that match your wedding color palette, or mix-and-match for a whimsical look. They'll keep your guests comfortable in the shade, not to mention that they're also adorable props for your wedding photos. If you think it might rain on your wedding day, swap the paper parasols for umbrellas. Your guests will thank you!
Get the look: Paper parasols (set of 48), $182, Oriental Trading
Cocktail kits
For a crowd that loves to party, miniature cocktail kits serve as fun wedding favor ideas. You can personalize them to match your signature drink or even include your favorite locally made spirits. Kits like these also make great additions to your wedding welcome bags if you have out of town guests.
Get the look: Mesha paper gift boxes (set of 100), $22, Amazon
Cookie sandwiches
What's better than a chocolate chip cookie? A chocolate chip cookie sandwich, of course. Tempt your guests with delicious buttercream-filled cookie sandwiches (and a cute sign) to remind them of how sweet love can be.
Get the look: TheFoilStationeryCo "Love is Sweet" wedding stickers, from $7, Etsy