Your Signature Cocktail Based on Your Wedding Month
Find your wedding month and we'll suggest the perfect, seasonally appropriate wedding cocktail for your big day!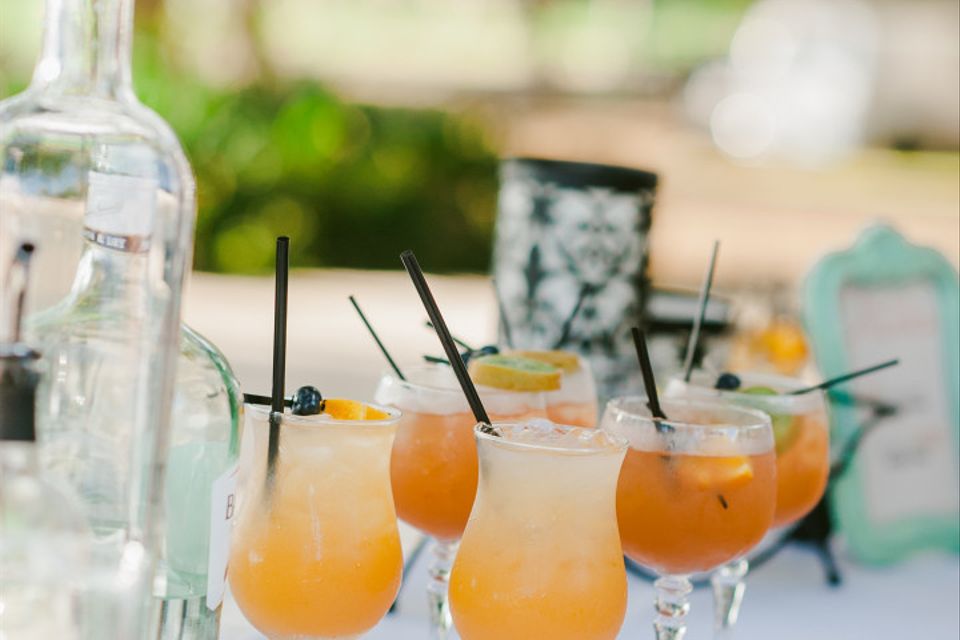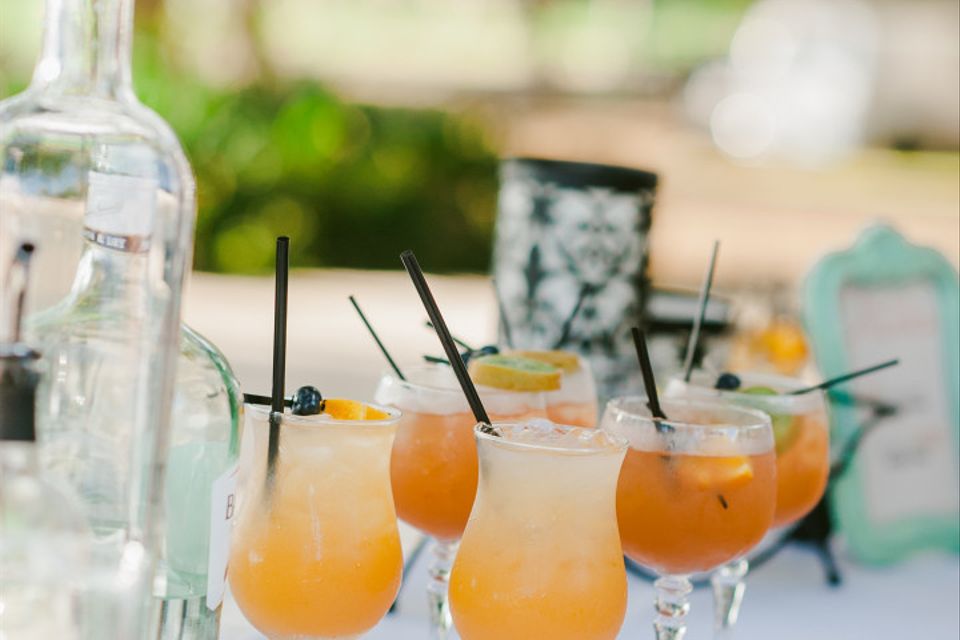 Photo: Ahava Studios
Creating your wedding menu is full of hard choices, but deciding on a signature cocktail doesn't have to be one of them. We've listed the best drink concoctions for every month, so regardless of your wedding cocktail style, you have options.
Find your most perfect signature cocktail based on your wedding month!
Summer Cocktails
June
Ah, summertime. What is it about this season that instantly brings up laugh-filled childhood memories? Ride the warm weather nostalgia train with a throwback root beer signature wedding cocktail. Try Hard Raspberry Vanilla Root Beer, a concoction of bourbon, vodka, root beer and fresh raspberries created by Louis Kingsley Catering in Georgia.
July
Summer weddings are all about enjoying the abundant sunshine and ice-cold beverages. Try a riff on the ultimate summer drink, iced tea, with a Bourbon Ice Tea signature cocktail.
August
The dog days of summer mean one thing for drink lovers: It's time to use or lose the basil leaves. The embodiment of small and mighty, this fragrant herb is the pièce de résistance of tons of summer cocktails. Take advantage of the last bunch of peak basil with a Cucumber Basil Gimlet cocktail.
Fall Cocktails
September
You can practically smell the cinnamon and crisp leaves in the air come September. Sweater weather calls for a warm, smokey bourbon in the form of a Bourbon Cider Cocktail. Although you and your bartender have free reign to design a personalized version, the classic recipe is bourbon, hard cider, sugar and bitters with a cherry garnish.
October
Step away from anything even remotely reminiscent of pumpkin spice — life's too short for predictable wedding cocktails. Instead try the Hop, Skip and Go Naked Punch — obviously renamed into something clever and appropriate for your grandparents. It's a very simple party punch that combines beer (hello, your favorite Oktoberfest brew), whiskey and lemonade. What. Is. Not. To. Love.
November
Your challenge in this month is to ensure your signature cocktail doesn't remind anyone of Thanksgiving dinner, but still embodies the season. Enter Liberation Libation. It's a super elegant martini-like concoction with maple syrup, sparkling apple cider, vodka and a dash of cinnamon.
Winter Cocktails
December
The great thing about December weddings is that you can go full-on cozy: fur wraps, thick boots — the whole nine. Lean into the cozies with a boozy take on Mexican Hot Chocolate made with Mezcal, an agave-based family of spirits that includes tequila. The chocolate drink will have the spice that differentiates Mexican Hot Chocolate from other versions, courtesy of cayenne peppers, along with cinnamon and nutmeg.
January
In the United States, January is the month when ginger, that effortlessly tasty and aromatic spice, is in peak bloom. Ginger flavor is experiencing a season in the sun thanks to the resurgence of ginger beer-infused cocktails like Moscow Mule. You can certainly celebrate your wedding with the famed brass cup infusion, but consider serving your guests something that really shows off the spiciness of fresh ginger with a Ginger Sour or Ginger Switchel, both of which can be garnished with ginger.
February
Baby, it's probably cold outside for couples who wed in the dead of winter. Offer your wedding guests a hearty sip of liquor to warm up the insides with a creative take on Hot Buttered Rum. Not only is the drink served warm, but the addition of butter (i.e. fat) in the drink helps it to stick to your ribs, so your guests are warmed up and ready to dance all night.
Spring Cocktails
March
Although it can take the forecast a few weeks to get the memo, late March is, in fact, the beginning of spring. Classic spring wedding cocktails show off the blooms of this season with hibiscus and rose water infusions. Take that route, or celebrate the last hurrah of the winter pear with a Spiced Pear Cocktail.
April
Make your guests forget about those pesky April showers with a trip south of the border by serving a refreshing Agua Fresca. It's a Mexican drink that translates to fresh or crisp water and is so named because it's full of tasty tropical fruit like watermelon, mango and lime. It's also very easy to personalize with your favorite melons and citrus.
May
Did you know May is National Strawberry Month? The fifth month earned this distinction because those delicious red berries are at their most tasty near the end of spring. If you're planning to wed in May, strawberry-up your favorite beverage with strawberry simple syrup to create the ultimate wedding cocktail or go with a classic like the Strawberry Mojito.