Want to know how to make a French 75—the most talked about signature drink in weddings as of right now? A mix of champagne, gin and lemon juice, this concoction is both a refreshing and tart signature drink that has been taking over cocktail hour. Named after a popular World War I field gun, the French 75 has been all the rage in weddings because it can be served year-round. Its combination of fiz and tartness creates a balanced and bold flavor that is easy to sip while mix and mingling during cocktail hour or even throughout your reception. Want to know how to make a French 75? It also is a quick drink to make so you and your S.O. can try it at home! Whether you want to host your own taste testing or you're looking for a sweet pre-dinner cocktail, the buzz-worthy French 75 is a must-try! Just check out the french 75 recipe below.

Here is a step by step French 75 recipe for you and your S.O. to try at home.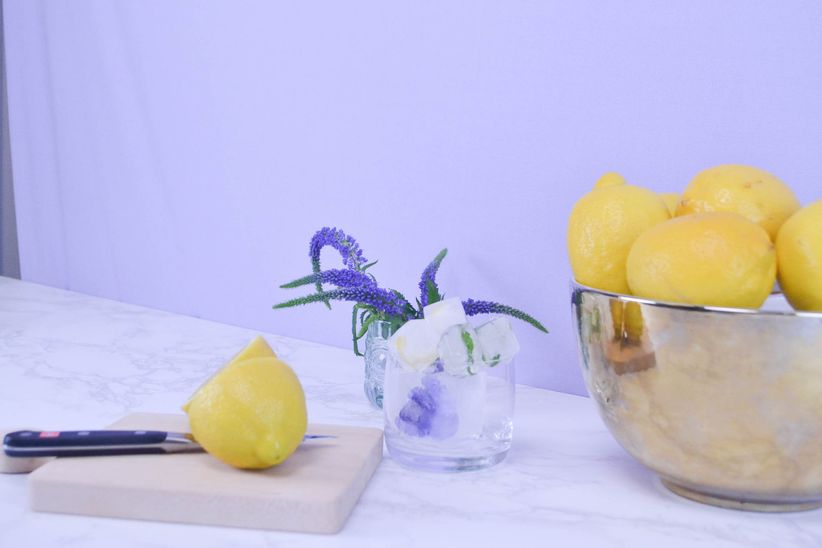 Ingredients
Yield: Makes 2 servings

• 2 ½ ounces of gin
• 1/2 ounce simple syrup
• ½ ounce freshly-squeezed lemon juice
• 6 ounces champagne or (sparkling rosé to make it a Frenché!)
• 2 Lemon peels
• 6 floral and mint ice cubes




Preparations
Cut a lemon in half and squeeze one of the halves into two glasses. Next fill a shaker with gin, simple syrup, ice and the second half of squeezed lemon. Shake for one minute or until it is chilled. Then strain and pour the liquid into each glass. Top it off with champagne or if even sparkling rosé if you are feeling summery! Lastly, don't forget to garnish the glasses with a lemon spiral for presentation.

Still need help? Check out the video below to see how we put our own twist on the cocktail and created a Frenché 75. Just substitute champagne for sparkling rosé!

Cheers!