How Wedding Food & Drink are Being Adapted for COVID
For weddings taking place amid the pandemic, caterers are finding creative ways to serve up COVID-friendly appetizers, drinks, entrées and dessert safely without sacrificing deliciousness.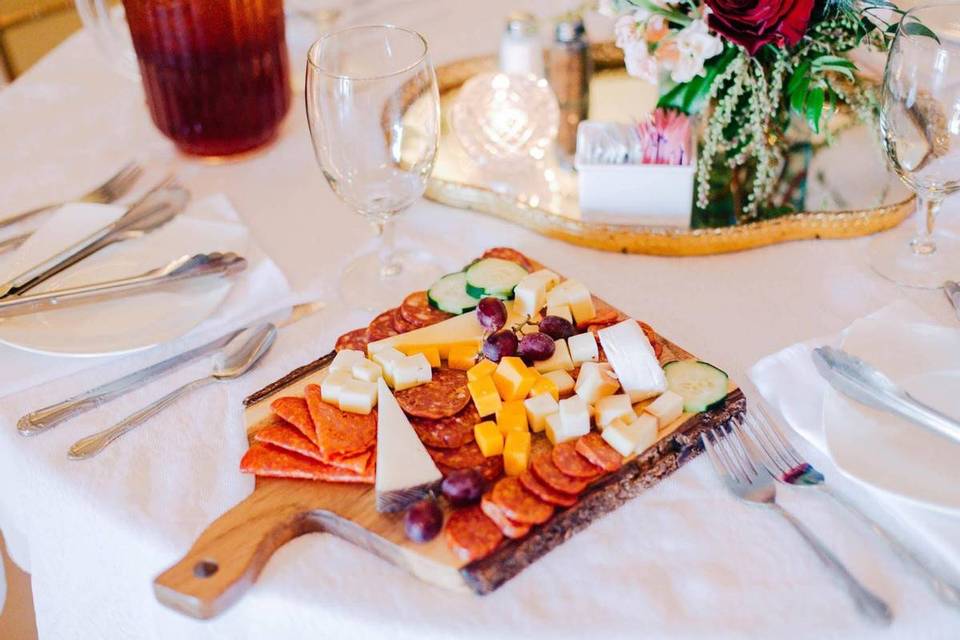 While experts say there's no evidence that COVID-19 can be transmitted through food, food safety has been a big topic of conversation in recent months, particularly as it relates to weddings and events. If you're planning a wedding during the COVID pandemic, you're understandably concerned about your guests' safety and taking all necessary precautions—and fortunately, wedding caterers are, too. Catering is one of the areas of weddings that has perhaps had to adjust the most due to COVID, but vendors have been able to balance safety with providing a delicious experience for your guests. We talked to pros from around the country to share how wedding food and drink have changed due to COVID, and how they're creatively working within guidelines to serve up COVID-friendly appetizers, drinks, meals and an all-around satisfying culinary experience for your event.
Caterers are adjusting to ever-changing state and local guidelines.
Couples planning events during COVID need to closely follow state and local regulations as it pertains to social events. As of this publication, some states, outdoor gatherings of up to 100 people or more are allowed, while in other places only 10 or fewer people are able to meet. Obviously, caterers must adhere to these guidelines—and their protocols and procedures will vary based on how many people you're permitted to host at your event.
Catering staff have increased safety measures.
It's essential to ask your caterer about the safety measures they're taking—both in their facilities and on site, if they're an off-premises caterer. Face masks and gloves will be the most visible differences between pre-COVID events and those taking place now, but there are many other precautions happening behind the scenes. "Our safety mission includes, but is not limited to temperature checks and screening forms for staff, wearing masks and gloves, proper hand washing and sanitizing, appropriate distancing when setting up an event, promoting and creating menus that ensure safety and social distancing while maintaining our standards and product presentation and taste," says David Briggs of Boston Catering and Events in Boston, Massachusetts.
Bento boxes and individual cheese boards are the COVID-friendly appetizers and cocktail hour trends.
Cocktail hour is your guests' first opportunity to eat and drink after your ceremony, and they'll likely be pretty hungry. Instead of having guests move around the room, visiting food stations and sampling passed hors d'oeuvres, caterers are recommending guests sit at tables during cocktail hour. "I will be serving hors d'oeuvres pre-packaged in bento boxes or individually pre-plated," says Mellanee Harvin of The Fork Goes on the Left in Brooklyn, New York.
"Along with the hors d'oeuvres we serve mini individual cheese boards and individual crudités," says Briggs. "We are making sure the hors d'oeuvres are items that can be served with tongs or on its own small plate or in its own vessel. For example, crudités in a rocks glass with the dip in the bottom, or having a hot or cold hors d'oeuvre with the sauce and garnish composed on that small plate or wonton spoon which is then handed to the guest." Composed hors d'oeuvres means that guests won't have to worry about dipping food into sauces or using communal utensils—everything is pre-plated for them.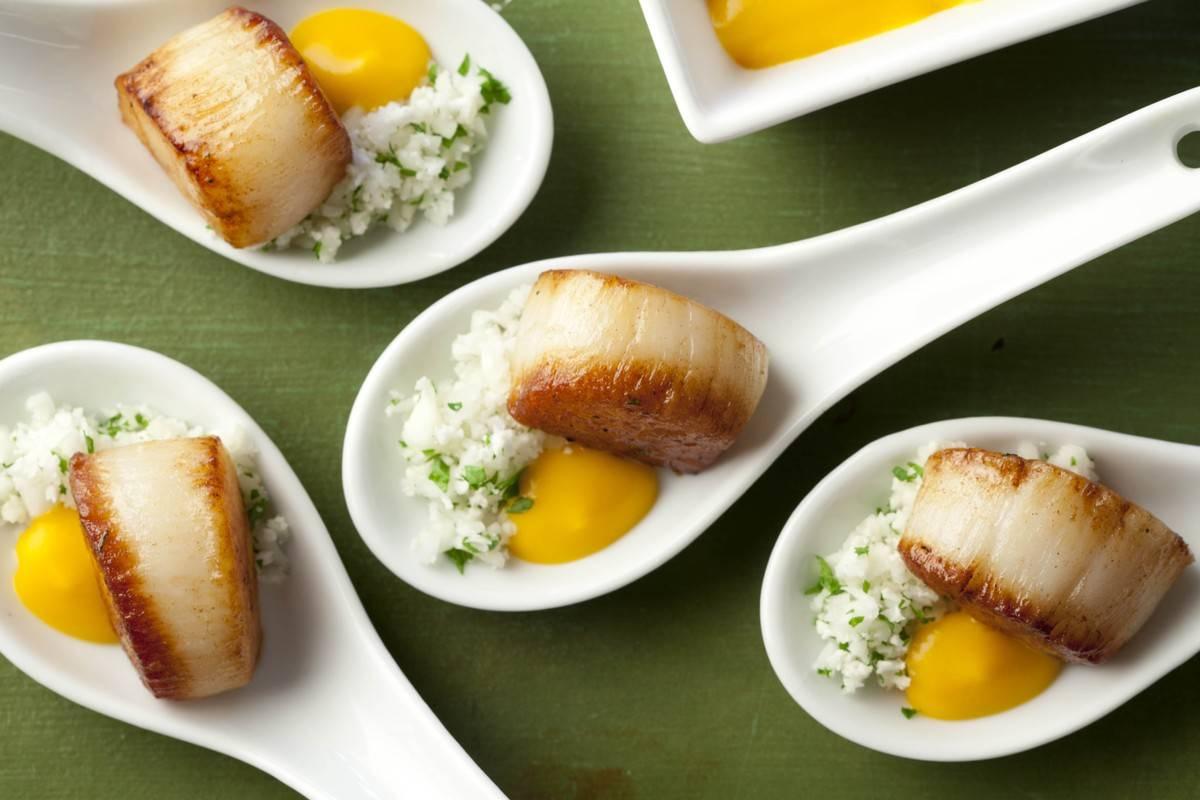 Bar service guidelines depend on your location.
When it comes to bar service, expect to see a plexiglass screen between bartender and guests. "People will wear a mask when they come to the bar," says Bruce Riezenman of Park Avenue Catering in Cotati, California. "With the plexiglass, we're protecting the bartenders, the guests, and our glassware."
In some states, like Massachusetts, traditional bar setups are prohibited (as of publication date), so wedding caterers are adjusting accordingly. "We're passing beverages butler style for the cocktail hour, and once guests are seated for dinner, servers are taking drink orders and serving the guests," says Briggs.
Plated meals are on the rise.
In terms of meal service, most couples and caterers are opting for plated dinners where social distancing can be enforced, though family-style service is still an option, as well. "Plated dinners are safest, followed by family style and then buffet service," says Harvin. "Plated is safer because the food is served directly to each guest from the kitchen. Family style is comfortable for the guests sitting together, assuming it's a family or friends who are quarantined together, since they will be sharing serving utensils."
Buffets are still doable, but with new safety measures.
While we've been seeing buffets on the decline recently, some caterers say they are still possible, even amid COVID. "We provide more staffing so that we can monitor guests to ensure they are wearing masks, keeping the line limited and making sure the guests are socially distanced," says Briggs. "Also, with a buffet you need to have service staff serving and you cannot have the guests approach the buffet or help themselves. We have staff at the buffet serving guests as they see the offerings and hand them the plate at the end." Guests are invited to the buffet table by table to avoid lines.
Desserts are pre-plated and served.
As with cocktail hour, the wedding cake and other desserts will be served on a composed plate and served directly to guests. Instead of large dessert buffets, each guest may receive their own assortment of treats. While wedding cakes aren't going anywhere, treats such as cupcakes and cake pops (even fun jarred desserts!) will likely rise in popularity as they can be served to each guest individually.
Menu tastings are still happening—with some adjustments.
If you're one of the (many!) recently-engaged couples who have just started the planning process, know that most caterers are still having menu tastings. Some caterers, like Riezenman, are hosting all tastings outdoors, while others, like Harvin, are also offering tastings to-go or delivered directly to the couple. Briggs' company is limiting their tastings to the couple only, and scheduling them after hours when their office staff has gone home for the day—and of course, everything is cleaned and sanitized. "We feel that brides and grooms should still have the experience of planning their special day," says Briggs.