The 68 Best Food Trucks for Your Wedding from Around the Country
From late-night snacks to a traditional wedding meal, food truck wedding catering makes a fun addition to any celebration. Here are some of the top picks from around the country.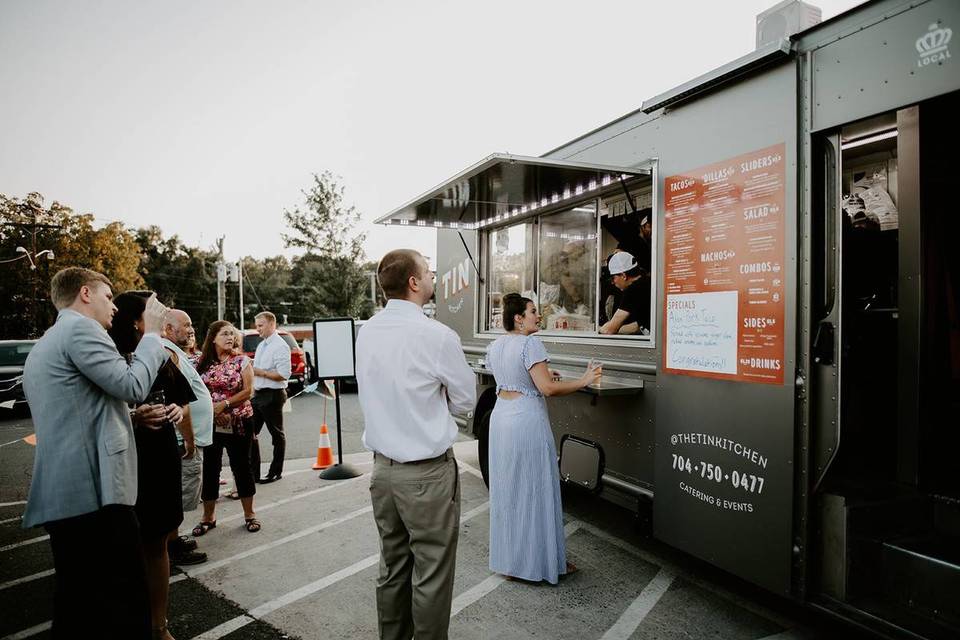 If a standard seated dinner or buffet seems a bit too formal for your casual wedding reception, there is an alternative: food truck wedding catering. Turns out that many food trucks from around the country will cater events, and couples are totally jumping on the trend. Guests love the novelty of getting their street food favorites at a wedding, and the eats are sure to be top-notch. Just make sure that your wedding venue can accommodate a food truck, and work with your venue coordinator or planner to create a system so guests aren't spending half of your reception waiting on line. Depending on the number of guests you're feeding, you might even opt to book multiple food trucks—particularly if you're relying on the trucks to provide all of your wedding food.
A bit wary of this unique take on wedding catering? You can have it both ways—book a traditional caterer to provide your main meal, but hire a food truck to provide appetizers during cocktail hour, dessert, or a late-night snack for a fun twist—or cater your rehearsal dinner with a truck or two.
Check out these food truck wedding catering favorites from around the country, from tacos to ice cream, pizza to BBQ, and much, more.
American
Burgers, hot dogs, grilled cheese, and more All-American favorites for your reception, rehearsal dinner, or late-night snack.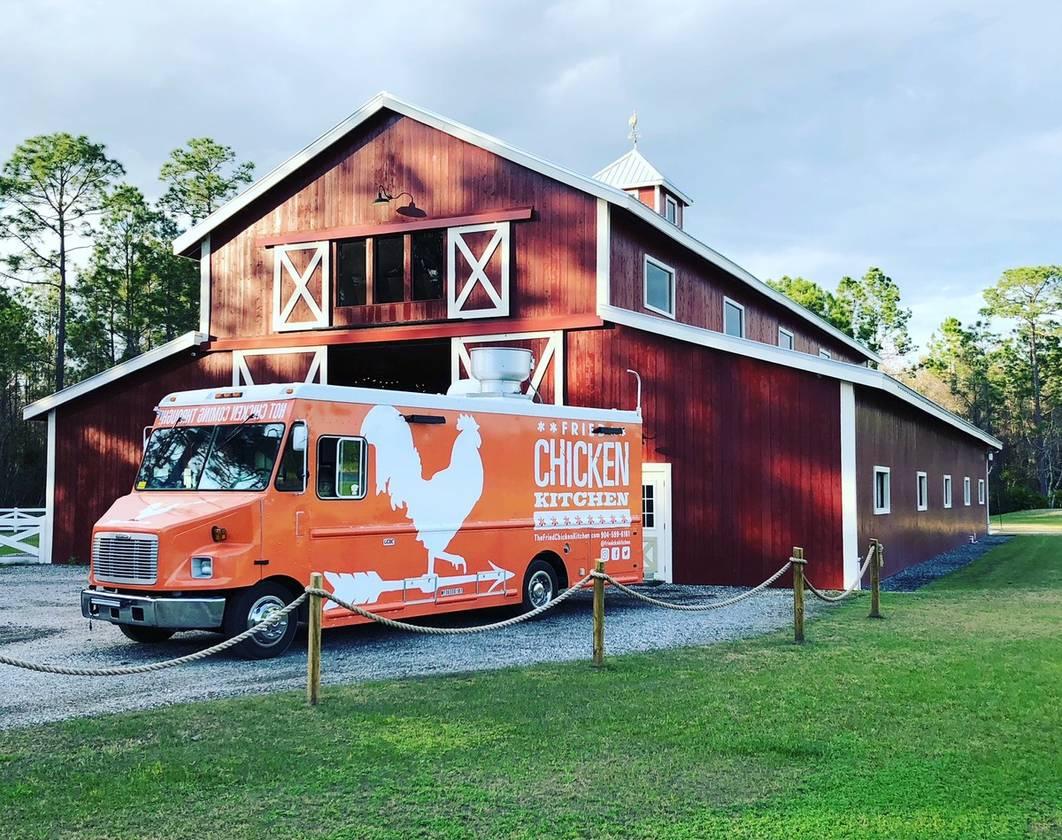 Fried Chicken Kitchen
Saint Augustine, FL
This award-winning food truck is known for their finger lickin' fried chicken, chicken salad, cornbread, and sides like mac and cheese. Fried Chicken Kitchen can provide everything from hors d'oeuvres to plated dinners.
Curbside Creations
Richmond, VA
Curbside Creations is known for its wide variety of tacos, plus po'boys, Philly cheesesteaks, crispy chicken, and much more.
Devilicious Food Truck
San Diego, CA
This award-winning SoCal food truck has appeared on The Great Food Truck Race and named one of the best food trucks in America by The Daily Meal. You and your guests will love Devlicious' twists on classic comfort food, including lobster grilled cheese and crab cakes.
Chef Table Food Truck & Catering
Bozeman, MT
Hosting a laid-back wedding? Chef Table's comfort food and BBQ is a relaxed spin on full-service traditional catering. They provide everything you need for your wedding meal, from tables to napkins, and can cater to guests with food allergies and dietary restrictions.
Firehouse Grilling Co.
Wellington, OH
If you're looking for a truly unique food truck experience, Firehouse Grilling Co. operates out of a converted fire truck!
Burgers Amore
Phoenix, AZ
There's nothing like a juicy burger after a long night of partying, but if they aren't your late-night snack of choice, there are three other food trucks from this company to choose from, along with Burgers Amore—Queso Good, Rockstar Hot Dog, or Cheese Love Happiness for grilled cheese.
The Loaded Burger
Atlanta, GA
Planning a Hotlanta wedding? Your guests will love these creative takes on the traditional burger from The Loaded Burger.
Roxy's Grilled Cheese
Allston, MA
Grilled cheese sandwiches are another late-night favorite and Roxy's offers some creative spins on the traditional
Cheese Louise
Center Conway, NH
Artisan grilled cheese sandwiches to cap off your night—yes, please, Cheese Louise! This truck services New Hampshire, Vermont, and Massachusetts with its unique grilled cheese varieties, including the Blue Buffalo with buffalo chicken. Their bite-sized sandwiches make ideal late-night snacks.
Toasted
Orlando, FL
This Orlando food truck offers mouthwatering grilled cheese sandwiches and burgers for you and your guests to enjoy.
Pippy's Food Truck
Palenville, NY
Hot dogs with a twist? We're in! Pippy's Food Truck in the Albany, New York area features unique spins on the classic hot dog, from a BLT dog to a kimchee dog.
Pavy's Food Truck
Denver, CO
If you and your guests crave a good sandwich, check out this Denver food truck, which offers a variety of sammies, from shrimp po'boys to steak and more.
Good Waffles & Co.
Charlottesville, VA
Whether you're hosting a brunch wedding or just love waffles at any time of day or night, Good Waffles & Co. offers both sweet and savory varieties as part of their food truck wedding catering.
Snacks
If you're looking for a fun late-night snack to delight your guests, these trucks are worth checking out.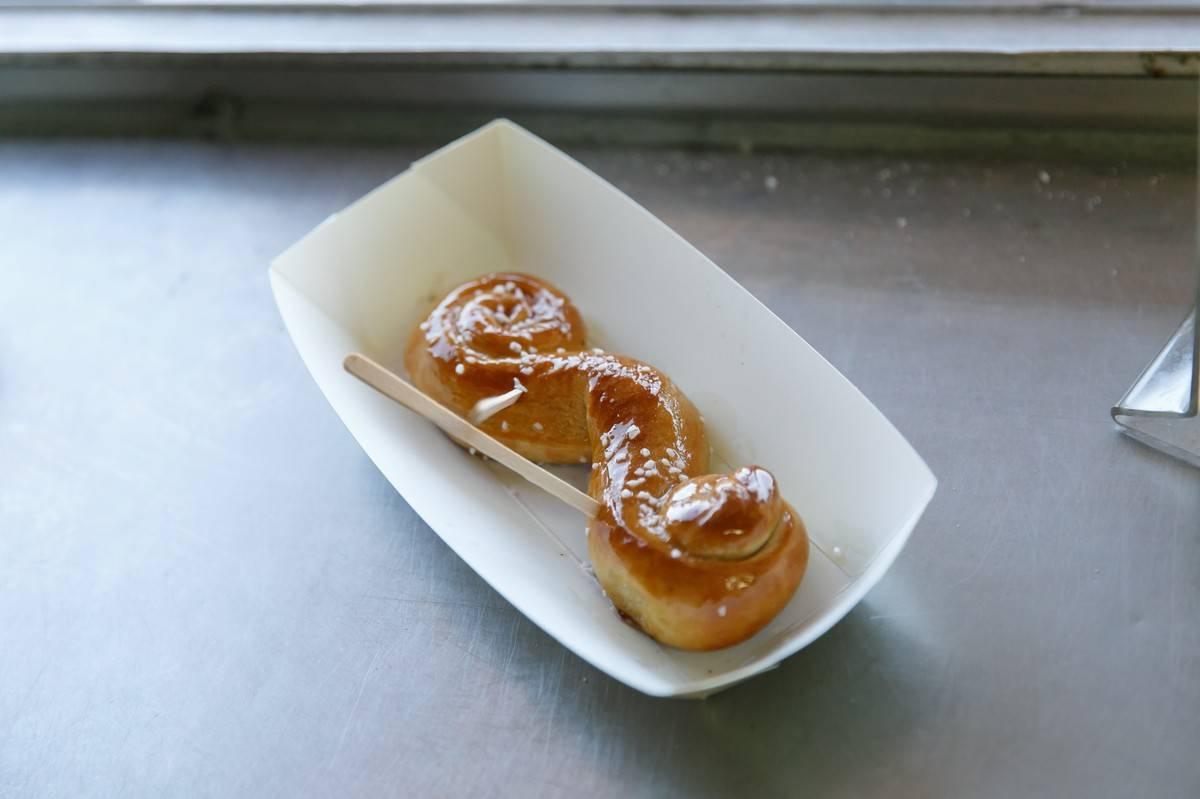 Mustache Pretzels
Scottsdale, AZ
There's nothing like a good hot pretzel at the end of the night, and Mustache Pretzels does it right with this uniquely-shaped treats presented on sticks for easy eating. Rated the #1 food truck in Arizona by Roaming Hunger, Mustache Pretzels offers toppings like garlic parmesan, cinnamon sugar, and more.
Circus Eats
Miami, FL
Your favorite carnival and county fair snacks in one nostalgic truck! Your guests will feel like kids again when they enjoy Circus Eats' corn dogs, deep-fried candy bars, mini doughnuts, and more.
Mobile Delights
Lindenhurst, NY
This is a totally unique food truck whose offerings can be customized just for you. From your favorite fast food to your childhood favorite snacks, Mobile Delights ups the late-night snack game.
Pizza/Italian
Cap off your wedding with a slice as a late-night snack—or delight your guests with a full-on pizza-catered reception or rehearsal dinner.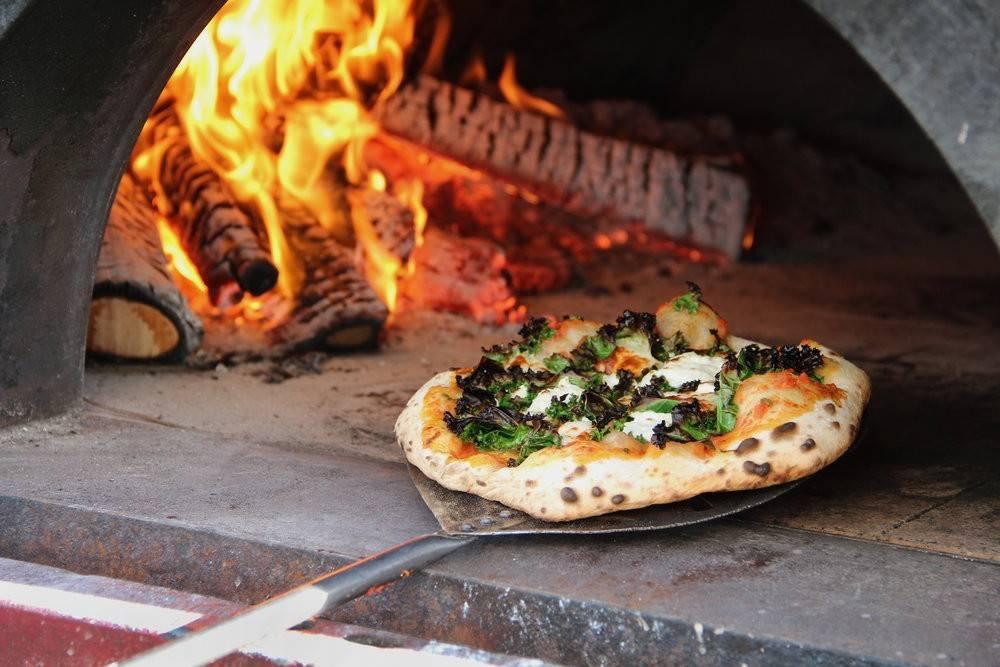 Itsa Pizza Truck
High Falls, NY
This Upstate New York pizza truck comes with its own mobile wood-fired pizza oven for perfect pies every time. Specializing in fresh, local food from the Hudson Valley, Itsa Pizza Truck features such varieties as Fig Arugula Balsamic, Pickled Jalapeno, and more.
Big Green Pizza Truck
New Haven, CT
New Haven is home to some of the best pizza in the country, and this food truck really shows it off. Aside from their delicious pies, Big Green Pizza Truck also offers salad, gelato, and even an antique mobile bar for drinks.
Lucia's Neapolitan Pizza Truck
Berkeley, CA
While pizza is this downtown Berkeley food truck's specialty, their catering menu also offers pasta, Neapolitan pizza bread sandwiches, and traditional Italian desserts.
The Little Sicilian Food Truck
Whitehouse Station, NJ
Specializing in gourmet Italian street food, The Little Sicilian Food Truck is best known for their arancini (Sicilian rice balls) in a variety of unique flavors.
South American
South American delicacies will totally wow your guests—and whet their appetites!
Made in Brazil
West Jordan, UT
Made in Brazil offers traditional Brazilian fare, including coxinha, empinada, and Brazilian BBQ. They can also provide delicious desserts, and even a wedding cake!
5411 Empanadas
Chicago, IL
Empanadas are a perfect late-night snack to add to your wedding menu. The Chicago-area 5411 Empanadas offers creative spins on traditional empanadas, including caramelized onion, and bacon, date, and goat cheese varieties.
Mexican
Craving tacos to complete your special day? These food trucks from around the U.S. can provide the Mexican classic you and your guests will love.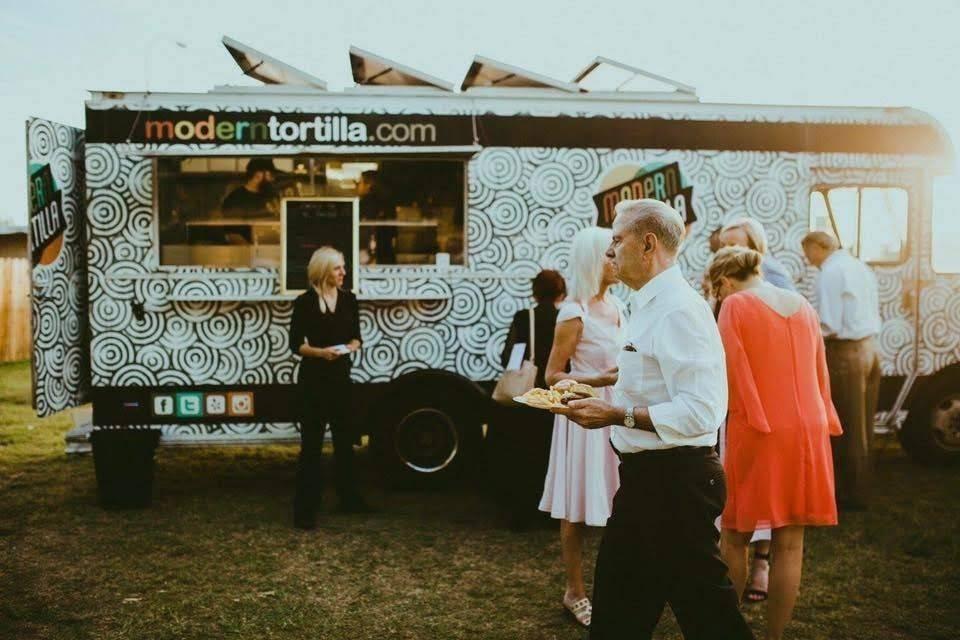 Modern Tortilla Catering and Food Truck
Phoenix, AZ
From quesadillas to burritos, churros, and more, Phoenix's Modern Tortilla Catering and Food Truck offers a wide variety of favorites your guests will love.
The 13th Taco
Raleigh, NC
Looking for authentic Mexican cuisine in the Raleigh-Durham area? Check out The 13th Taco, which wins raves for their scrumptious dishes.
Rosaritos Foodtruck & Catering
Austin, TX
Specializing in tacos, ceviche, and tostadas Rosaritos is a winner for any Texas wedding.
Tex's Tacos
Atlanta, GA
You don't have to be in Texas to get some truly delicious Tex-Mex food truck catering, including tacos, quesadillas, and famous loaded lime fries. Tex's Tacos combines Tex-Mex cuisine with Southern charm for a totally amazing experience.
Denver Taco Truck
Denver, CO
Your guests will definitely want to save room for Denver Taco Truck, which include such favorites as shrimp, pork belly, beef barbacoa tacos, and more. Full-service catering is available.
El Corazon Food Truck
Portland, ME
While Maine may feel a world away from the authentic Mexican experience, the El Corazon Food Truck brings cuisine right to your New England wedding.
Mediterranean
Hummus, falafel, and much more, there's so much to love about offering Middle Eastern food truck fare to your wedding day.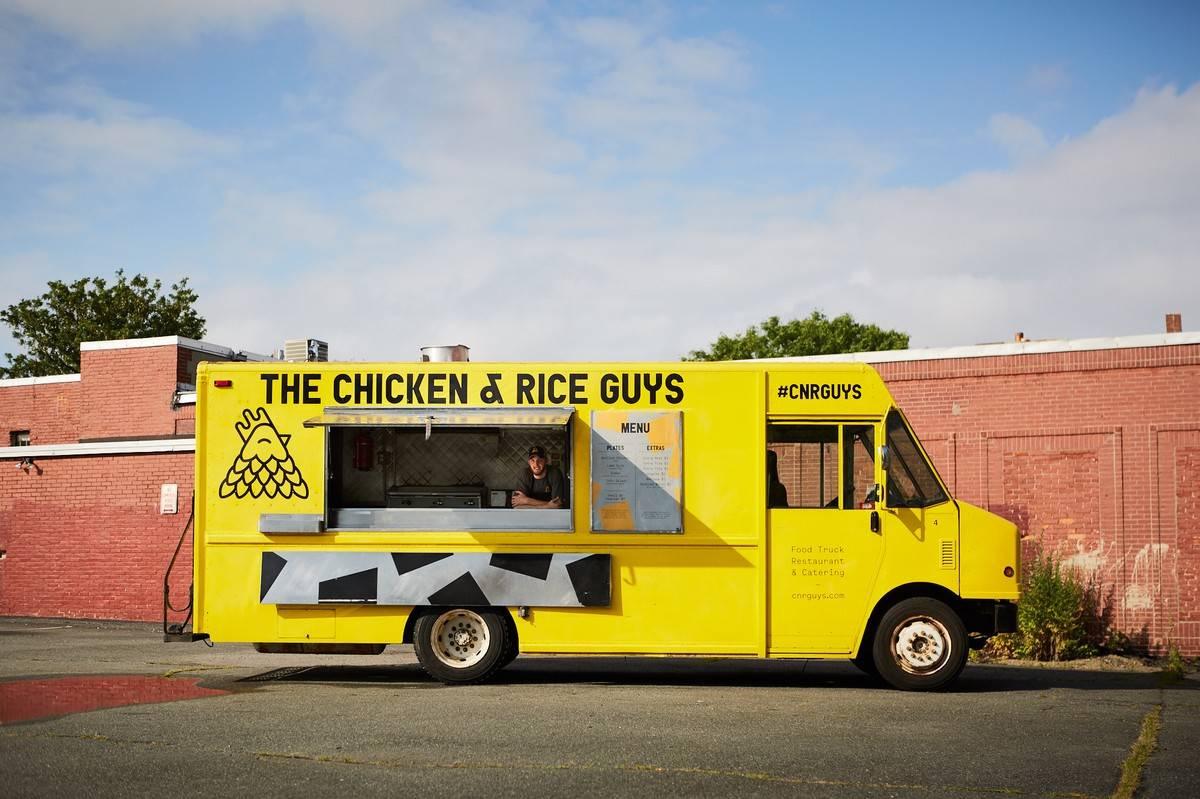 Chicken & Rice Guys
Medford, MA
Your guests will love the satisfying options at Chicken & Rice Guys, featuring quality ingredients and scrumptious sauces.
ChikChak Food Truck
Brookline, MA
ChikChak's offerings include everything from shawarma to kebabs, falafel, salads, and more.
Fava Pot
Falls Church, VA
Northern Virginia's Fava Pot food truck wedding catering features fresh and delicious cuisine, including grilled chicken, falafel, and salads—plus all of their packaging is eco-friendly.
BBQ
If you're hosting a casual, barn wedding, some BBQ food truck wedding catering will fit right into the relaxed atmosphere.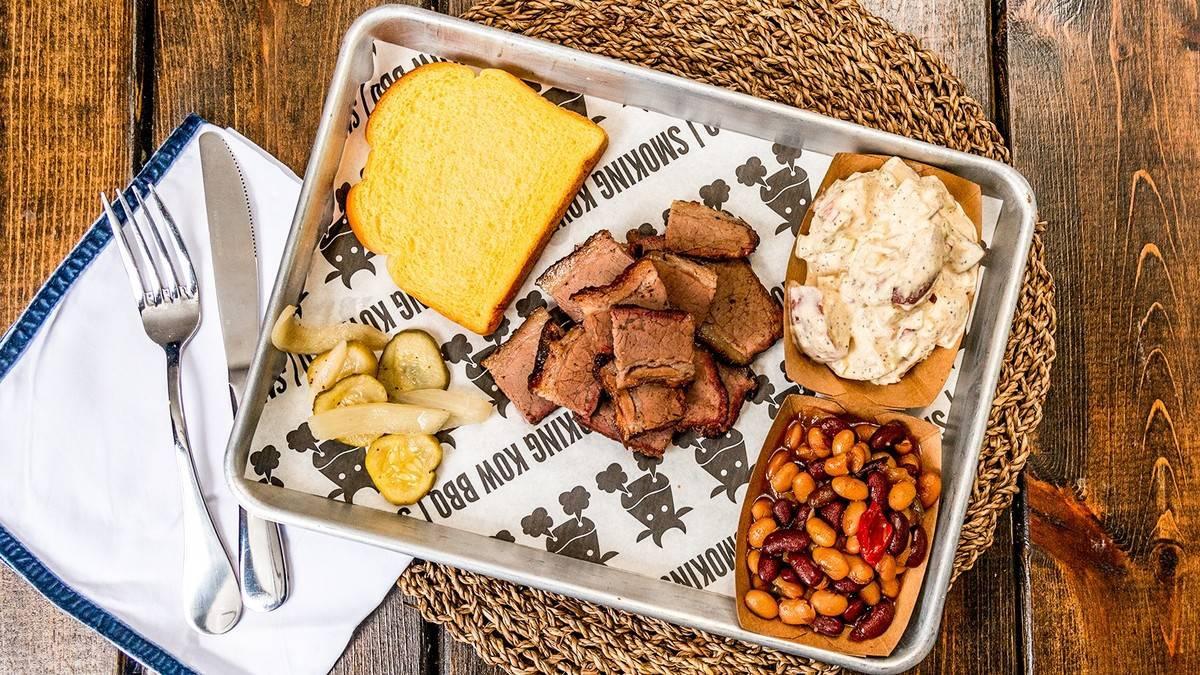 Smoking Kow BBQ
Alexandria, VA
This Couples' Choice Award-winning BBQ truck is a Northern Virginia favorite and offers their popular food truck, as well as full-service wedding catering.
BBQ Bus Smokehouse
Washington, DC
You'll love this BBQ food truck, based in the Nation's Capital. From pulled pork to brisket plus all the requisite sides, the BBQ Bus Smokehouse has got it all!
Buck N Dink's BBQ Food Truck
New Baltimore, MI
This brightly-painted Michigan food truck will surely stand out in the best way on your wedding day—and so will their mouthwatering BBQ cuisine.
Bear's Smokehouse BBQ
South Windsor, CT and Asheville, NC
With locations in both Connecticut and North Carolina, Couple's Choice Award-winning Bear's Smokehouse BBQ features slow-cooked barbecue classics, plus delicious sides.
Sweet Auburn Barbecue
Atlanta, GA
From classic Southern barbecue to award-winning wings and sides, Sweet Atlanta Barbecue provides memorable food your guests won't stop raving about.
Go'Shen Point BBQ
San Antonio, TX
If your Texas wedding isn't complete without some BBQ, Go'Shen Point is the food truck to check out.
Timber's - Double B's BBQ Food Truck
West Allis, WI
Your guests' mouths will water when they spot Double B's BBQ Food Truck pull up to your wedding. Hickory smoked ribs, pulled pork, mac and cheese, and cole slaw are just a few of their tasty offerings.
Seafood
Seafood may not seem like a natural fit for food truck wedding catering, but it absolutely is! You and your guests can enjoy fresh, delicious seafood from these favorites.
Shuck Food Truck
Acton, MA
No New England wedding is complete without oysters on the half shell and lobster rolls, and Shuck Food Truck is the ultimate food truck to make it happen.
Bad Mother Shuckers Food Truck
Philadelphia, PA
The experienced team at Philadelphia-based Bad Mother Shuckers Food Truck brings oysters straight to your wedding reception!
Red Hook Lobster Pound
Washington, DC
Your guests will feel like they hit the jackpot when they see the Red Hook Lobster Pound truck pull up at your wedding. With favorites like lobster rolls, clam chowder, and more, it's sure to be a hit.
Asian
From Thai street food to unique Japanese dishes, there's a wide variety of Asian food trucks available to cater your big day.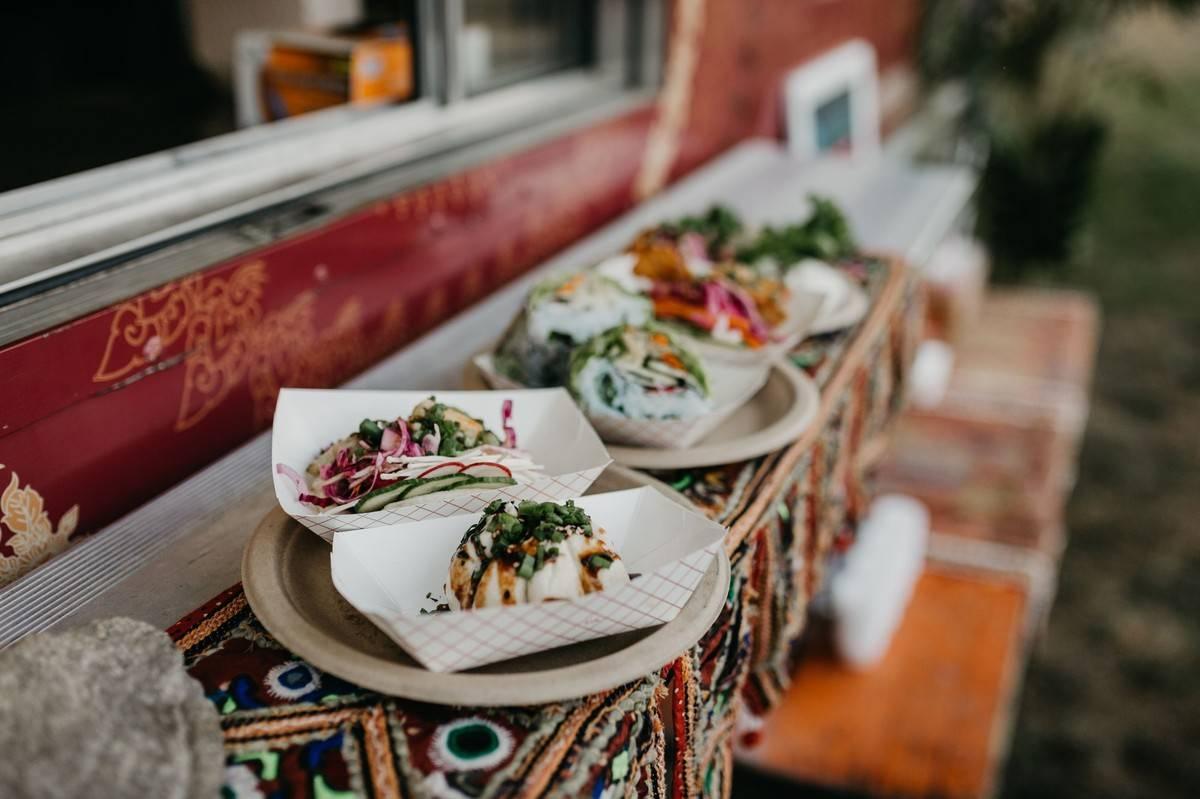 Bun Intended
Asheville, NC
This Asheville food truck specializing in Thai street food is known for its steamed buns, curry bowls, spring rolls, and more. Plus, Bun Intended has been featured on the Cooking Channel and ABC's The Chew.
Yum Dum Food Truck
Chicago, IL
The Yum Dum Food Truck in Chicago calls their cuisine "mom's home cooking"—we just call it delicious! Specializing in steamed dumplings and baowiches, you and your guests will be glad to line up for these delicacies.
Little Trúc
Easthampton, MA
With Little Trúc, delicious Southeast Asian food comes straight to your New England wedding. Little Trúc creates a new menu weekly, working with local farms to serve up the freshest food possible.
Okamoto Kitchen
Van Nuys, CA
If you want to take your guests on a unique culinary ride, then the Okamoto Kitchen is a perfect food truck for your special day. Featuring lesser-known Japanese dishes like chicken nanban and cheese Mochi, this truck is perfect for foodie couples who want to experience new flavors.
Fusion
Can't decide on a particular cuisine for your food truck wedding catering? Fusion cuisine offers unique combinations of different flavors from around the world.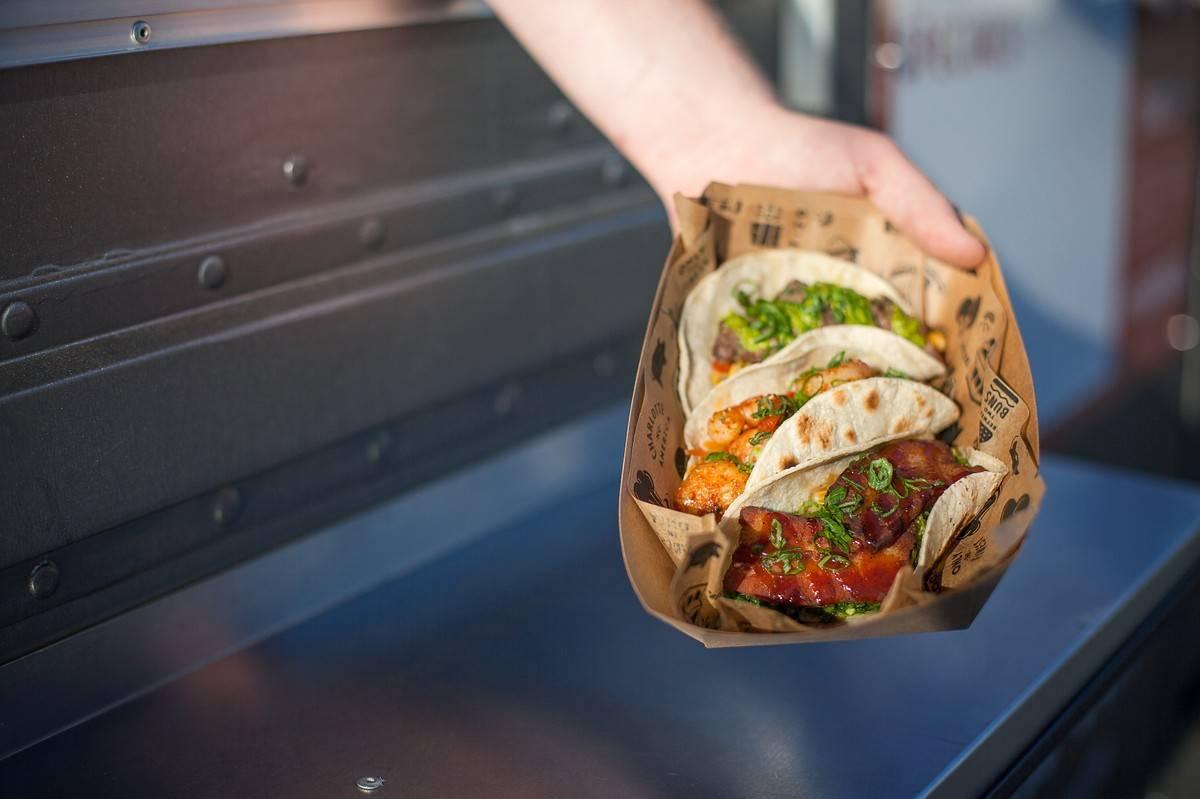 The Tin Kitchen
Charlotte, NC
Level up your taco truck with the award-winning Tin Kitchen food truck in Charlotte, which features everything from garam masala tacos to Korean BBQ sliders.
Kogi
Los Angeles, CA
Perhaps one of the most well-known food trucks in the country, Kogi's Korean tacos are available for your wedding celebration.
Koi Fusion
Portland, OR
This Oregon food truck takes fusion cuisine to the next level with Korean takes on tacos, burritos, sliders, cheesesteaks, and more.
Dashi Food Truck
Charleston, SC
Asian-Latin fusion is the name of the game at the Dashi Food Truck, featuring tacos, stir-fried noodles, burritos, steamed buns, paella, and more.
Marigold's Food Truck & Catering
Overland Park, KS
If you're looking to combine the offerings of a traditional wedding catering company with a food truck twist, Margiold's Food Truck in Kansas is worth considering. They feature classic cuisine like herb-stuffed pork loin, along with Korean beef, chicken satay, Hawaiian meatballs, and more.
J Street
Denver, CO
Global street food is what Colorado's J Street truck is all about. This includes a variety of tacos, Asian fare, and much more.
Meggrolls
Alexandria, VA
What's a Meggroll, you may ask? Well, it's an egg roll stuffed with nontraditional fillings, including buffalo chicken, chicken parmesan, and mac and cheese. Can't think of a better late-night snack than that!
ThoroughFARE Food Truck
Greenville, SC
Enjoy food from around the world at the ThoroughFARE Food Truck in South Carolina. Couples rave about the global cuisine, fresh ingredients, and helpful team.
Gastrotruck
Minneapolis, MN
This black-and-white food truck is not only stylish to look at, but features delicious and fresh global cuisine (hello, Thai chicken and jerk pork!) for some truly unique food truck wedding catering.
Dessert
If you're working with a traditional wedding caterer, you can still supplement your cake with some additional treats from a dessert truck.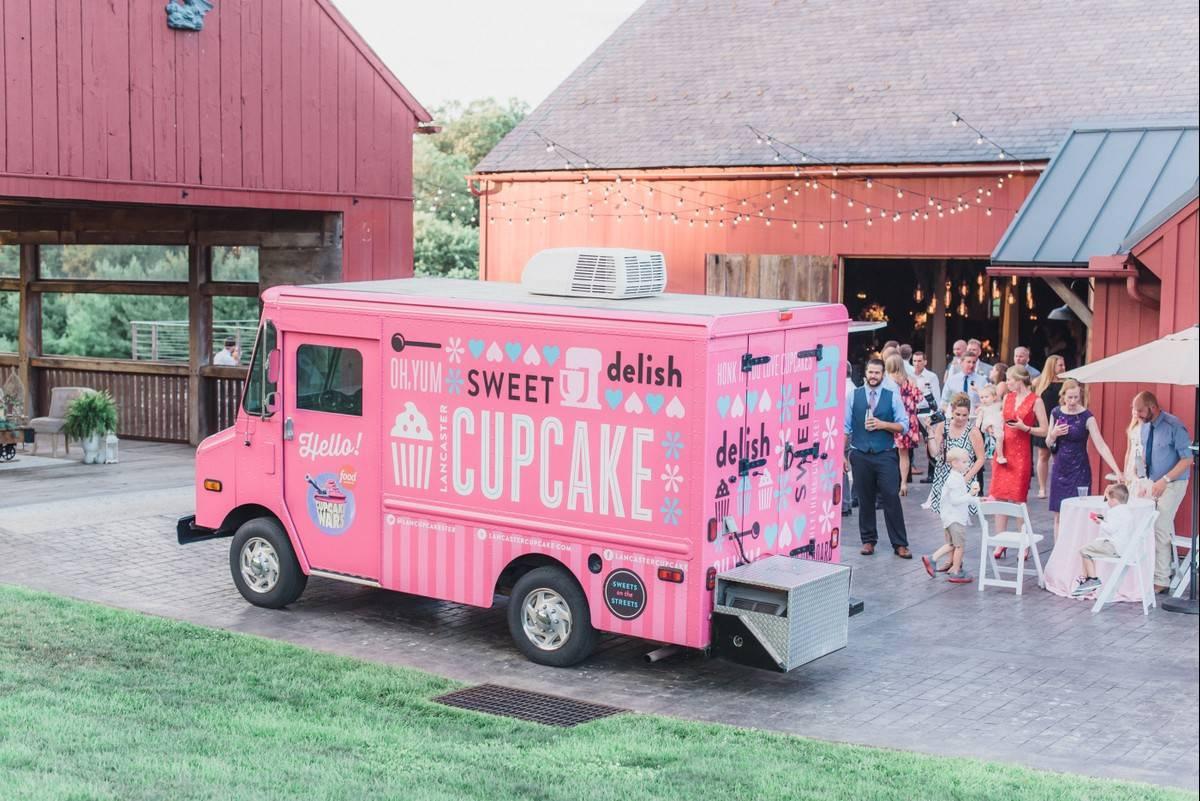 Lancaster Cupcake
Lancaster, PA
Featured on Cupcake Wars, this award-winning food truck serves delicious cupcakes as part of your wedding-day desserts. Yum!
Captain Cookie and the Milkman
Washington, DC
Get nostalgic with a cookies and milk truck to end the night. Your guests of all ages will be delighted at the variety of cookies at this DC-area truck.
Deddle's Donuts
Pikesville, MD
Hot and fresh doughnuts with a variety of toppings to close out your wedding day? Yes, yes, and yes! The Baltimore-area Deddle's Donuts makes their doughnuts fresh, and offers toppers such as cinnamon apple sugar, pineapple sugar, bacon, Oreos, sprinkles and more.
The Revolution Ice Cream Co.
Tampa, FL
This is not your standard ice cream truck. Florida-based Revolution Ice Cream Co. offers such unique flavors as "Porky's Delight", "Callie's Hotcakes", and much more.
Drizzle
Orange, CA
Looking for a unique dessert experience for your wedding day? Drizzle offers cone-shaped funnel cakes filled with ice cream and toppings—yum! Not only are these over-the-top treats delicious, they look awesome in photos!
Sarah's Creamery Ice Cream Truck
Dover, PA
Classic ice cream favorites about at Sarah's Creamery Ice Cream Truck, along with vegan ice cream, no sugar added ice cream, and peanut free options for those with dietary needs.
Mr. Cone Ice Cream
Salisbury, NC
Soft-serve ice cream is always a crowd-pleaser, and this North Carolina-based ice cream truck offers cones, shakes, sundaes, and banana splits.
Coolhaus
Culver City, CA
Customizable ice cream sandwiches are truly what dreams are made of. Coolhaus offers unique flavors like brown butter gingerbread man and pumpkin pie cheesecake—and their wrappers can be customized with your wedding colors or logo.
Carpe Donut
Charlottesville, VA
We love the retro vibes of this Virginia-based doughnut truck, popular for their hot and fresh treats.
Clumpier Ice Cream Co.
Chattanooga, TN
Take your ice cream game to the next level with Clumpier Ice Cream Co.'s artisan ice cream truck, featuring scoops, pops, and sandwiches, plus a variety of toppings, sauces, and dips.
Holy Rolly
Charleston, SC
If you haven't heard of rolled ice cream, it's the new craze in desserts! The Holy Rolly truck offers this unique treat in such flavors as Southern peach cobbler, vegan chocolate cookie dough, and red velvet cake.
Cold Cookie Company
Austin, TX
With five ice cream sandwich styles to choose from, as well as waffle cones, milkshakes, root beer floats, and more, your guests will love a refreshing treat from Cold Cookie Company in Austin.
Sweet City Gelato
Longwood, FL
With over 50 gelato and sorbetto flavors available, you can pick and choose your favorite treats to offer on your big day from Sweet City Gelato's truck or vintage cart.
Lexylicious Ice Cream Truck
Point Pleasant Beach, NJ
We scream for ice cream, especially when we're visiting the Jersey Shore! Lexylicious Ice Cream Truck offers custom ice cream sandwiches with several cookie and ice cream flavors to choose from.
Fluff Ice
Las Vegas, NV
What is Fluff Ice, you may ask? Well, it's a less caloric alternative to ice cream and yogurt, with the consistency of frozen cotton candy. Sounds good to us!