The Hottest Wedding Trends on Pinterest and How to Pull Them off IRL
No Pinterest fails here! Those wedding trends you've been dreaming about CAN become a reality — just take a cue from these real couples.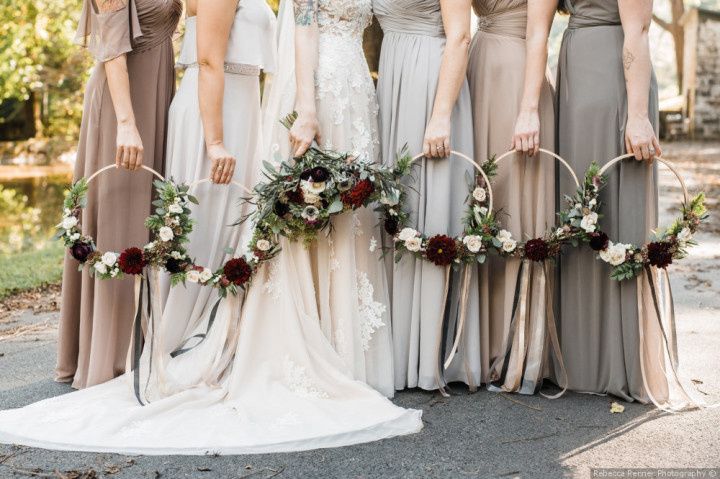 If you've ever browsed Pinterest for wedding trends, you know how it feels to scroll through hundreds of images and get swept away by all of that gorgeous inspo — while simultaneously wondering in the back of your head, "Do real people actually do this stuff at their weddings?" The answer is yes, they do! While some trends are more difficult to pull off than others (looking at you, giant cascading balloon installations), there are a number of Pinterest-worthy ideas that are surprisingly adaptable. To prove it, we took seven of the top wedding trends from Pinterest and searched our real weddings to see how couples made the ideas work IRL.
See how real couples incorporated these cool — but practical — wedding trends into their big days.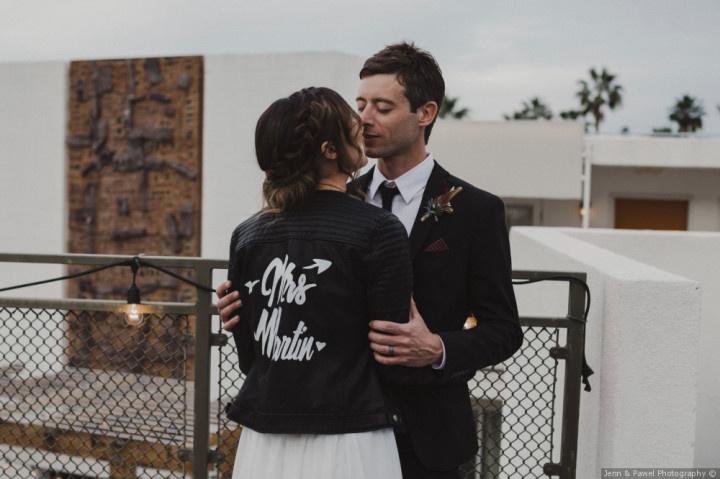 Leather Bridal Jackets
Get yourself a bridal jacket if you want instant cool girl status. All you need is a leather jacket and a talented calligrapher (consider asking your wedding stationer!) to nail this edgy look. The best part about this wedding trend is that you can totally personalize it — write your name, wedding date, or a fun phrase, like "Just Married." If your style is more casual or rustic, swap out the leather jacket for a denim one instead. And finally, you can consider this an investment piece, since a personalized jacket is the *perfect* honeymoon accessory.
See more of this intimate Palm Springs wedding »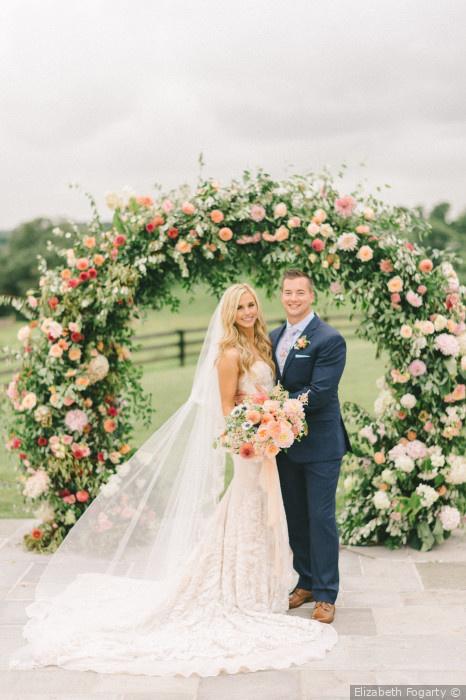 Circle Backdrops
Goodbye square arbors, hello circular backdrops! From larger-than-life floral wreaths to minimalistic wooden hoops, rounded structures are one of the most popular wedding trends of the moment. These oversized installations can be repurposed throughout your wedding day, starting as a creative ceremony backdrop and then transitioning into decor for your reception. A circular backdrop is a serious statement piece, and your guests won't be able to resist using it as fun photo op!
See more of this whimsical Virginia wedding »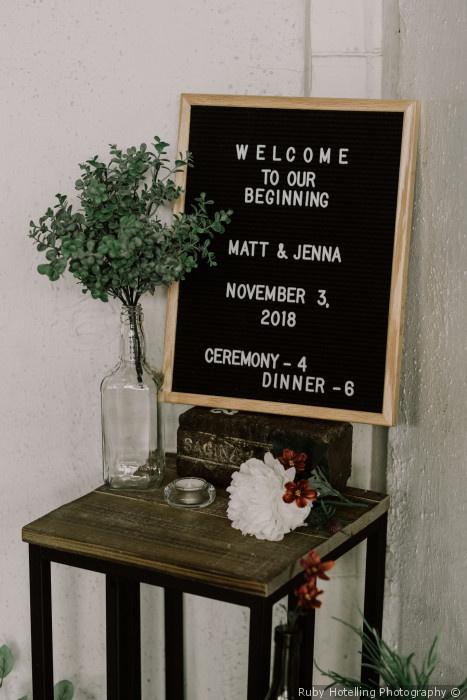 Barely-There Wedding Signage
A few years ago, it would have been nearly impossible to find a wedding that didn't have at least one sign featuring an elaborate design or fancy hand-lettering (most likely on a chalkboard, at that). And while the wedding sign trend is still going strong, couples are beginning to transition away from overdone signage in favor of more streamlined options. Translucent acrylic signs, felt letter boards, and simplistic light box signs are just some of the latest ideas popping up in our Pinterest feeds.
See more of this industrial Detroit wedding »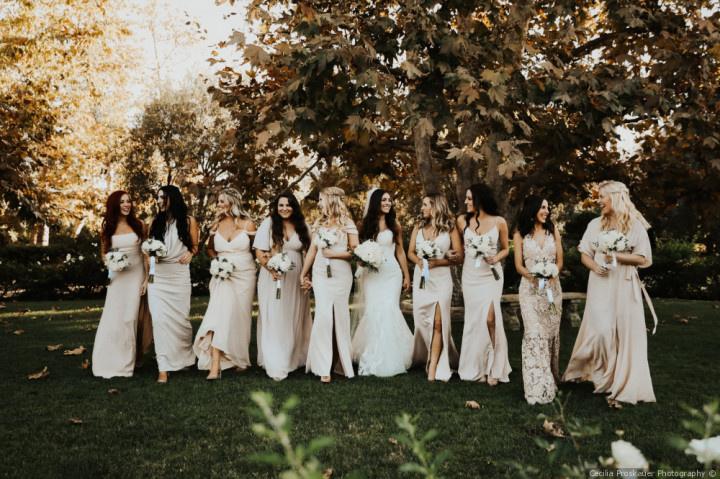 Bridesmaids En Blanc
Wearing white is still taboo if you're a wedding guest, but it's a different story for the wedding party. Brides are shaking tradition by having their bridesmaids wear white, and we are here for it! White bridesmaid dresses are one of the best wedding trends for creating an ethereal, modern vibe on your big day. If you're worried about standing out as the bride, have your 'maids wear white dresses with silhouettes that are totally different than your wedding gown. Another selling point for this trend? Both Kate Middleton and Meghan Markle dressed their wedding party in white (although that was probably due to royal protocol). But hey, if it's good enough for royalty, it's good enough for us.
See more of this stylish California wedding »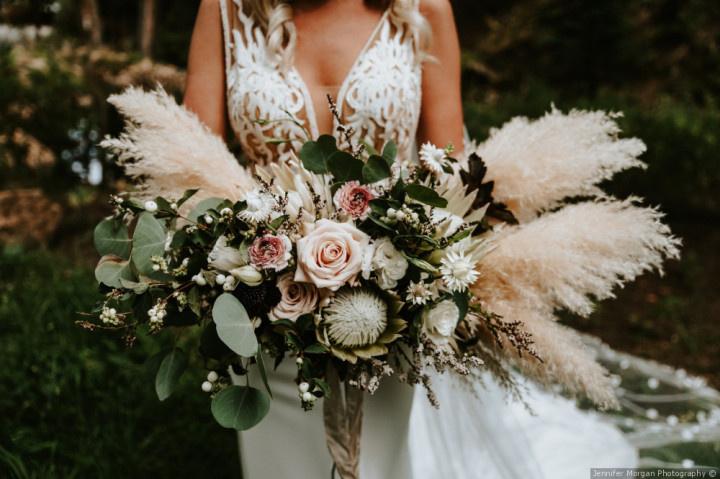 Pampas Grass
While we don't anticipate trending greenery like eucalyptus and ferns going away anytime soon, there's another decorative floral accent that's taking over the wedding scene: pampas grass. This dried plant can be easily added to bouquets, centerpieces, boutonnieres, and any other wedding flower arrangements to achieve a bohemian chic look. When used in bulk on its own — as a ceremony backdrop or hanging centerpiece, for example — pampas grass creates a dreamy, cloud-like effect.
See more of this earthy Colorado wedding »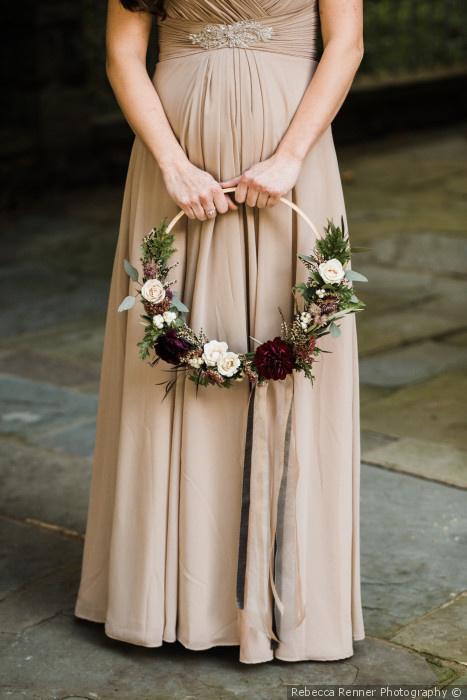 Wreaths as Bouquets
This is one of the more unique wedding trends we've spotted on Pinterest, which is one of the reasons we're loving it. Wreaths are great if you're a fan of minimalist wedding ideas. Not only do they require less flowers than a standard bouquet, but they're easier to carry, too — just slip it over your arm whenever you need two free hands! On the fence about breaking from tradition? Members of the wedding party can carry wreaths while the bride carries a regular bouquet.
See more of this relaxed Delaware wedding »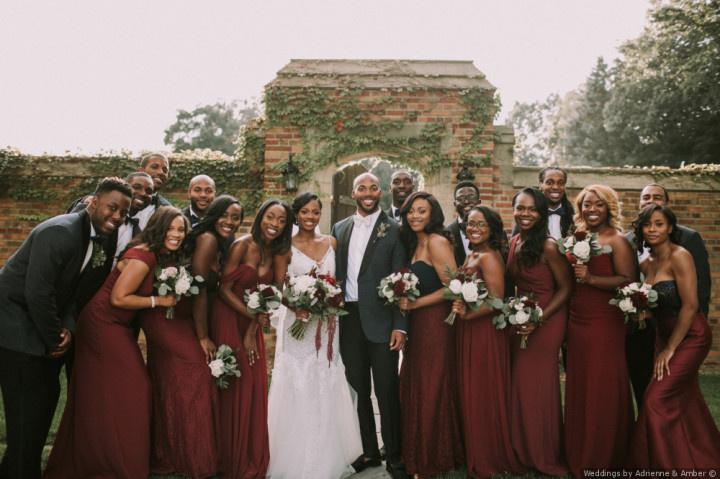 Burgundy Attire
With dark and moody wedding colors growing in popularity, burgundy is the latest must-have hue for wedding attire. Whether you incorporate it through bridesmaid dresses, groomsmen ties, pocket squares, or even a tuxedo/suit, this wine-inspired hue is both elegant and stylish. Burgundy is a natural fit for fall and winter wedding colors, but you can make it work for warmer seasons too by using it more sparingly and adding pastel colors, such as blush and pale blue.