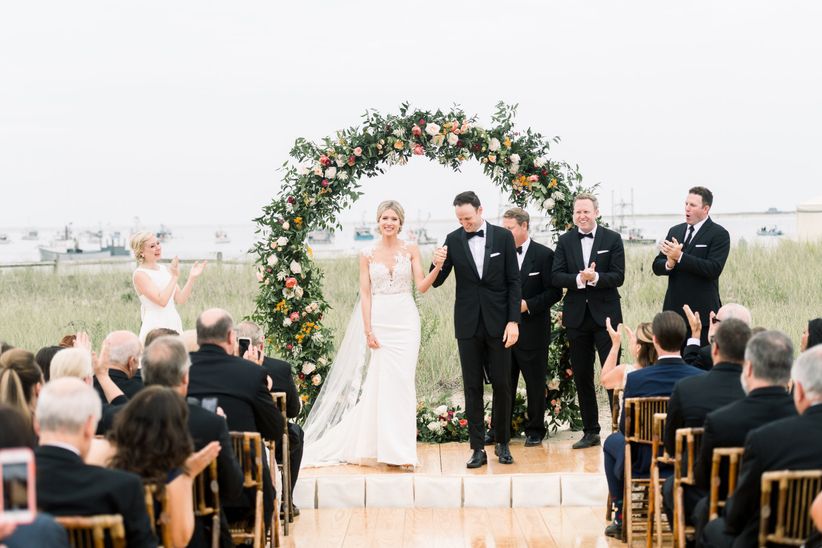 Floral Design: Winston Flowers
Fall is (almost) here! Not only will it soon be time to break out your coziest sweaters and pumpkin-themed everything, but it also means that another jam-packed wedding season is upon us. In preparation for the upcoming season, we're sharing the best fall wedding trends for 2018 — and they include a whole lotta eye candy. According to WeddingWire data, fall is quickly becoming the most popular wedding season, and it doesn't take much to convince us why. Fall brings cooler temperatures, gorgeous seasonal foliage, and a sense of family and togetherness that's hard to resist. If you're getting married this fall, listen up!
Our Creative Director, Jeffra Trumpower, recently appeared on the "Today" show in NYC to share the hottest fall wedding trends for 2018. For the segment, WeddingWire partnered with a talented team of local vendors to showcase the trends, including: a yummy dessert bar from Bartleby & Sage, custom balloon arch by Bride & Blossom, giant floral wreath and all floral accents by Winston Flowers, personalized denim jacket by Haley Tucker Design, wedding dress from David's Bridal, and men's attire from The Black Tux. Watch the video below for our favorite fall 2018 wedding trends and to see the vendors' work in action!
Ready for more? Here's how to incorporate these fall wedding trends into your big day.

Balloon Installations
Balloons are shaking their birthday party roots and making the leap to wedding decor for fall 2018. The end result can look surprisingly stylish while providing a hint of whimsy and acting as a unique element that will wow any wedding guest. Along with being one of our favorite fall wedding trends, balloons are an easy way to make an otherwise empty wedding venue really "pop." Expect to see clusters of colorful balloons used as oversized wedding arches, backdrop walls, decorative columns, and even table runners.

Safety Orange
Meet safety orange, the next "It" color in town. First spotted on the 2018 runways of fashion designers like Marc Jacobs and Tom Ford, safety orange is becoming the next must-have color for wedding decor. After years of Millennial Pink acting as the go-to hue, engaged couples who are looking for ways to make their wedding stand out are welcoming this bright color with open arms. When using a color so bold, subtlety is key. Add bursts of orange through table linens, floral arrangements, wedding stationery, and other small details.

Whole-Fruit Cocktails
We don't see the farm-to-table wedding trend going away anytime soon — in fact, it's only gaining speed! Fruit-inspired cocktails are some of the tastiest fall wedding trends you'll see all season. Autumn couples are using farm-sourced ingredients not only for their wedding menus, but in their signature cocktails, too. Juicy fruits, like pears, figs, and pomegranates, are all making their way to the bar this fall.

Dessert Bars
As a WeddingWire survey found, many couples are choosing to skip the classic wedding cake (ceremonial cutting and all) in favor of more interactive, non-traditional dessert options. One of the biggest fall 2018 wedding trends will be self-serve dessert bars! We love these because they allow guests to help themselves to decorative displays of sweets while giving you an opportunity to branch out with your dessert choices. Get creative by serving bite-sized desserts and nostalgic treats, like s'mores and mini homemade pies. Breakfast as dessert — think pancake pops and chocolate-dipped waffles — is another tasty trend that's on the radar for fall 2018!

Oversized Floral Wreaths
Giant wreaths are the latest way for couples to make a statement with their wedding flowers. These oversized installations are most often used as ceremonial backdrops, but they can easily be repurposed for the cocktail hour, reception, after-party, and beyond. For fall, you can dress up a floral wreath with seasonal flowers like dahlias, roses, and autumn foliage. Along with being one of the prettiest fall wedding trends for 2018, an oversized floral wreath is an irresistible photo op for couples and guests alike. Brush brush up on your wedding hashtag game and get ready to strike a pose!

Denim Jackets
As temperatures cool down, fall brides are seizing the chance to accessorize their wedding dresses with an unexpectedly chic item: the denim jacket. This mix of high and low fashion is one of our favorite fall 2018 wedding trends for a rustic theme or outdoor venue. For a one-of-a-kind look, the jackets can be personalized with patches and custom designs. Even celebrities are taking note of this trend: Kaley Cuoco and Hilary Swank both rocked denim jackets for their star-studded weddings!
Burgundy Is the New Navy
Menswear is also getting a stylish update this season as burgundy replaces navy blue as the top color for suits. The best part? This rich hue pairs effortlessly with another one of our fall wedding trends, safety orange! Fashion-forward grooms can take it to the next level by donning a burgundy suit or tux in a luxurious fabric like velvet.

Personalized Exit Tosses
Say goodbye to rice tosses, bubbles, and sparklers — for now, at least! Personalized tosses are the most popular way to make a grand exit this fall. This is a fun way for couples to incorporate special details about their relationship one last time on the big day. Ideas include shaking maracas for a destination wedding in Mexico, throwing paper airplanes for a couple who love to travel, or tossing sprinkles for the couple who love sweets.