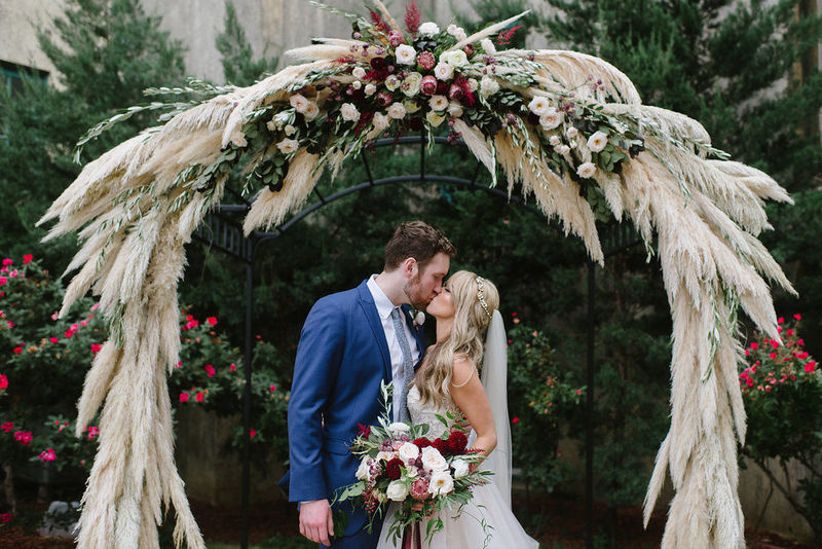 If you're in the process of planning a wedding, it's a good idea to have the 2019 wedding trends in the back of your mind. While we don't think a wedding has to be "trendy" to be gorgeous (far from it!), the wedding trends of 2019 can help inspire your event's décor, food, and more, and make your big day feel current rather than dated. You'll find that these 2019 wedding trends are a little less specific than what you might be used to—less about the hottest colors (for those, check out our top wedding colors of 2019) and styles and more about a fresh take on your dream wedding. That's because, in fact, the biggest 2019 wedding trend of all is the idea of creating an event that feels personal, whether that includes following all the trends to a tee, or not.
Browse these 2019 wedding trends to see what's a fit for your big day.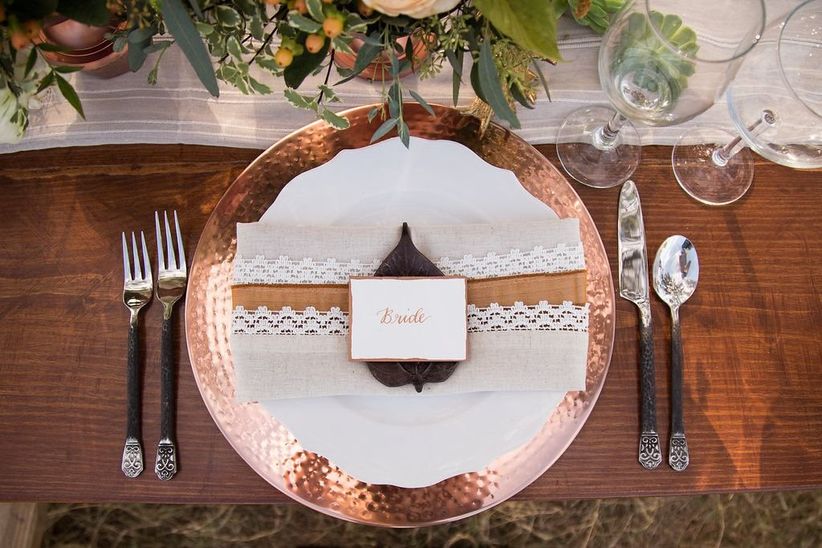 Copper is the (modern) metallic of the moment.
Over the past few years, we've seen the rise of metallic hues in wedding décor. When it comes to 2019 wedding trends, we predict that copper will be tops. Copper's pinkish-orange-gold hue is not only super-pretty and versatile, it also has a more modern/industrial feel than other metallic tones. Expect to see copper on place settings, invitations, floral vessels, wedding cakes, and more.
Color schemes are less specific, more fluid.
When you think of a wedding color scheme, you probably picture brides and grooms choosing super-specific shades and carrying around paint chips or Pantone squares to ensure that every detail of their wedding is the exact same color. This practice is becoming less and less common in 2019 wedding trends. Yes, couples are still choosing "wedding colors," but they are opening up to the full spectrum of shades for each color. For example, instead of saying that a color scheme is "blush and peacock blue," a couple would simply say "pinks and blues" and allow for a broader range of hues—from the lightest pink to the boldest magenta. Not only does this approach allow for increased creativity but it provides wedding décor with a richer sense of dimension, texture, and visual interest.
The minimalist look is everywhere.
In thinking about 2019 wedding trends, "less is more" should be your mantra. We're seeing couples choose a bold, minimalist look for a variety of aspects of their wedding day, from venues to invitations, wedding cakes, and more. For example, industrial or warehouse wedding venues, with their exposed brick and ductwork, are prime examples of the minimalist look. While of course you could decorate these "blank slate" venues to the nines, many couples are choosing to embrace these spaces' deconstructed look for their 2019 weddings.
We're also seeing simpler stationery, from invitations to escort cards, featuring less imagery and more bold fonts and modern typography.
And when it comes to attire, one only needs to look to the recent royal wedding, namely, Meghan Markle's Givenchy wedding dress as proof that gowns don't have to be overly adorned to be absolutely stunning.
The details are less polished, more mix and match.
Similar to the color trend above, 2019 wedding trends have couples mixing and matching different décor and attire elements to create a look that feels more relaxed and natural, less polished. This is seen most commonly in place settings and tablescapes, with mix and match china patterns, flatware, and linens creating a unique visual effect. In terms of floral arrangements, expect to see dimension playing a big role in 2019 wedding flower trends, with varying heights and textures coming into play.
And of course, you'll certainly see the mix and match trend when it comes to wedding party attire, from bridal parties donning different dresses to groomsmen mixing suit colors and fabrics.
Expect to see earthy elements and beautiful botanicals.
If floral trends over the past few years were dominated by the flower wall and abundant greenery, get ready to see even more nature-inspired elements in 2019 wedding trends. We started seeing more crystals and stones used as part of tablescapes last year, and will do so in 2019, as well.
As a continuation of the greenery trend, plants in ceramic and wooden boxes will become the hot centerpiece on the moment. But as an alternative to all that greenery, pampas grass is the plant of the moment, used to line ceremony aisles (hello, Mandy Moore's wedding), as well as tablescapes. Its pale-hued, abundant plumes provide a relaxed, beachy feel to any wedding décor—whether you're hosting a destination wedding or not.
Bye-bye chalkboards, hello light boxes.
Signage has become commonplace at weddings these days, from rustic wooden signs to calligraphed chalkboards and mirrors. More recently, marquee and neon signage, as well as felt letter boards, are quite in-demand, but when it comes to 2019 wedding trends, we'll start to see more light box signage, which provides a bold, minimalist look that's so now. Not only do these signs provide added light to a reception, they're super easy to read.
Speaking of lighting, another one of the 2019 wedding trends is video mapping, which allows lighting designers to project images on walls, dance floors, and other surfaces at your venue.
Sustainability in wedding décor is now a major consideration.
The "less is more" 2019 wedding trend ties into a renewed focus on sustainability. Unlike the "eco-friendly" weddings of days' past, today's environmentally-conscious couples and their vendors are finder creative and subtle ways to avoid waste. Think of this trend as "quality over quantity." For example, flower arrangements will feature a few carefully-chosen, show-stopping blossoms instead of dozens and dozens of blooms. And décor elements are being reused—from ceremony structures being used to decorate the reception space to bouquets being turned into centerpieces.
Food is part of the décor.
We're all familiar with wedding menu tastings, where couples sample the food that will be served on their big day. Nowadays, caterers aren't just giving their clients options for the actual food (chicken or fish?), but also its presentation, creating unique, artful displays that turn food into part of the décor — one of the major 2019 wedding trends.
Of course, doughnut walls are the most obvious example of this trend, but we've also seen sculptural bread displays, food served alongside beverages for an easy grab-and-go pairing, and hors d'oeuvres served on shelves during cocktail hour. In fact, we wouldn't be surprised if abundant food boards full of cheeses, charcuterie, fruit, and more, showing up as centerpieces at the weddings of foodie couples.
Food is also being used to tell the couple's story, with dishes with cultural or personal significance being served, from ramen appetizers to soup dumpling or taco late-night snacks.