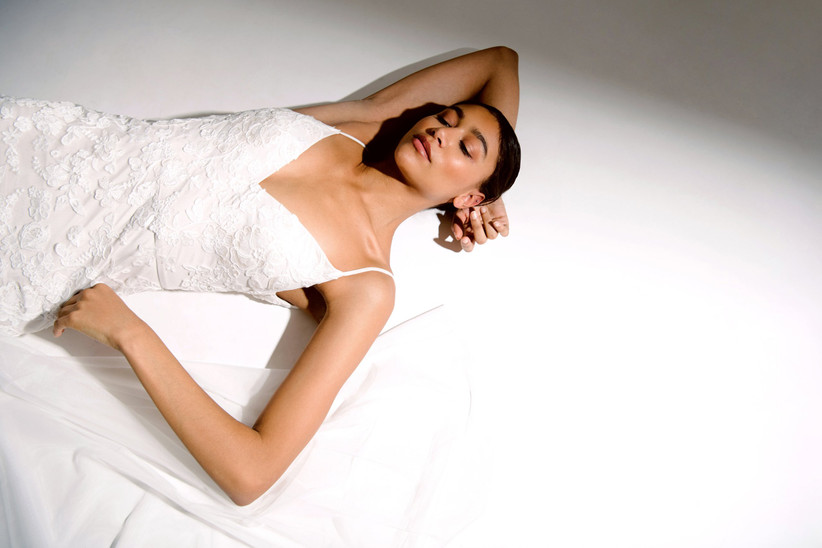 Twice a year during New York Bridal Fashion Week, bridal designers from across the globe reveal their latest collections to the media and bridal salon buyers, who spend the week getting an up-close look at the dresses to decide which styles they'll sell in their shops. This season, the runway shows and one-on-one appointments that would have traditionally taken place were put on hold due to COVID-19 social distancing regulations, but that didn't stop designers from embracing their creative spirit and giving us all something to look forward to. While many bridal ateliers have been hard at work sewing masks for frontline workers, designers and their teams have also been operating as normally as possible—doing everything from creating new collections to fulfilling wedding dress orders and arranging virtual consultations with brides.
Whether your wedding is scheduled for later this year and you need to find a dress quickly, or you're planning to get married sometime in 2021, it's always fun to take a peek at what's trending in the bridal fashion world—and hopefully gain some ideas for your own look. These dresses are currently available in stores or will be available in the next couple of months, so get that inspiration board ready!
Here are the 2020 and 2021 wedding dress trends to know.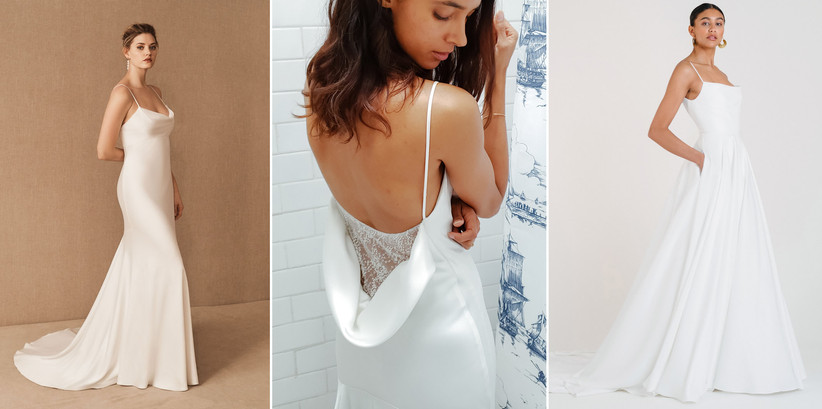 Dresses by BHLDN, Nouvelle Amsale, and Jenny by Jenny Yoo
Cowl details
Inspired by '90s fashion, cowl necklines and backs were a major trend in 2019, and by the looks of it, they'll continue to trend for 2020 and 2021 wedding dresses. From slinky slip gowns to full-skirted A-line silhouettes, cowl necklines add a little something extra to otherwise minimalist styles. For a more unexpected twist on this trend, opt for a cowl-back gown instead—this dress from the Nouvelle Amsale Spring/Summer 2021 collection features a sheer lace panel for an added hint of femininity. Cowl necklines are most often paired with spaghetti straps, making them ideal for showing off your shoulders and décolletage.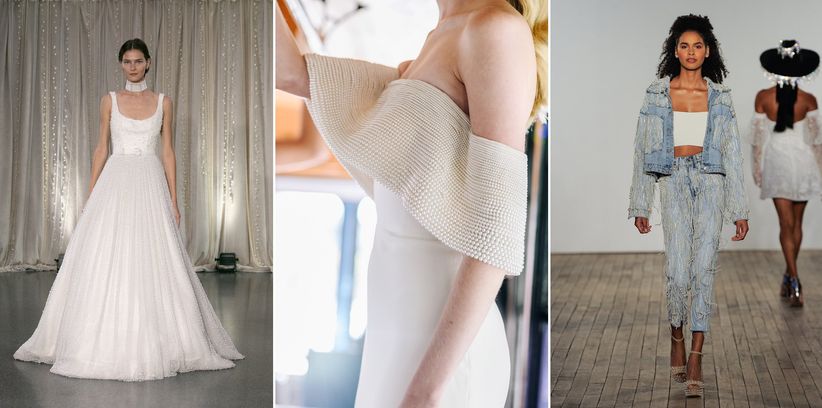 Designs by Lee Petra Grebenau, Lela Rose, and Hayley Paige
Pearl embellishments
We spotted pearl embellishments on almost every single runway for 2020, so there's no doubt in our minds that this is one of the biggest wedding dress trends of the year. But these are not your grandma's pearls—instead of incorporating pearls as an understated detail, designers went above and beyond with the iridescent gems by using them for everything from off-the-shoulder sleeves and head-to-toe beading, to jewelry and shoes. Lela Rose featured pearls throughout her entire Fall/Winter 2020 collection, including an off-the-shoulder column gown with a layered pearl neckline. Lee Petra Grebenau gave us ALL the pearls with her Fall/Winter 2020 Collection (named Fields of Pearls), while Hayley Paige showed us how to do Western chic with a denim jacket and jeans encrusted in pearl fringe.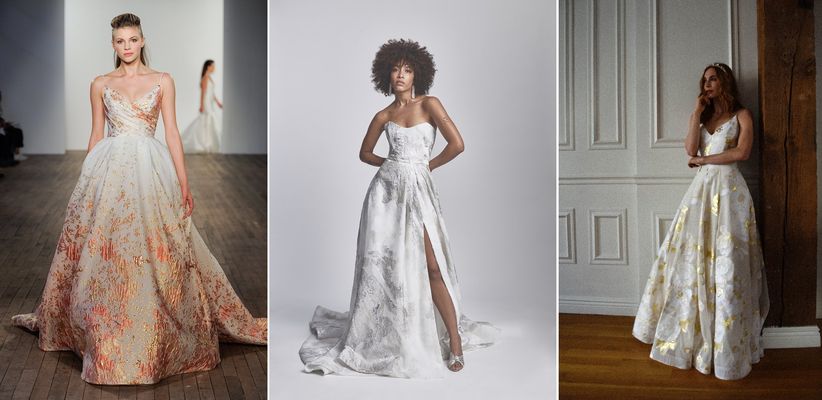 Dresses by Lazaro, Alexandra Grecco, and Dear Heart by Carol Hannah
Metallic details
Move over, beading, crystals, and glitter tulle. There's (finally) a new way to achieve bridal sparkle: metallic fabrics and shimmering embroidery. For fall 2020, designers are using elements like metallic foils, iridescent fil coupé (a fabric with a woven, fringe-like pattern), and glittery threads to give their collections an otherworldly, heavenly effect. The 2020 collection by Alexandra Grecco, which is appropriately named Moonstone, is filled with slinky gowns in a pearlescent, celestial-inspired color palette for totally dreamy vibes. We also saw this romantic trend pop up in designs by Lazaro, Carol Hannah, Morilee by Madeline Gardner, and the Stardust Collection by Rime Arodaky x The Mews Bridal.
Dresses by Julie Vino, Isabelle Armstrong, and Rivini by Rita Vinieris
Italian influences
La vita e bella! This time around, Italy was a major source of inspiration for several designers. Looks ranged from curve-hugging gowns worthy of Sophia Loren's wardrobe to sleek minimalist gowns that capture the essence of Milanese sophistication, making this trend one of the most versatile of the season. Some designers named their entire collections after their favorite Italian escapes—like the Napoli Collection by Berta, the Bellagio Collection by Julie Vino, and the Amalfi Collection by Kelly Faetanini—while other designers drew inspiration from specific Italian landmarks and eras. Isabelle Armstrong wowed us with her modern takes on masquerade ball gowns in 16th century Venice, putting ornate fabrics, dramatic silhouettes, and a regal coat at the center of the collection.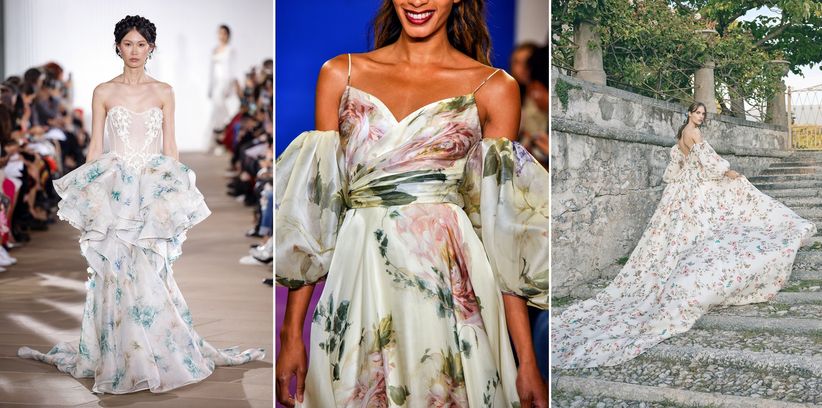 Dresses by Ines Di Santo, THEIA, and Monique Lhuillier
Floral prints
Say hello to one of the prettiest wedding dress trends of 2020. Airy floral prints are featured in some of the most notable bridal collections for 2020, including Ines Di Santo, THEIA, and Monique Lhuillier, whose floral Tuileries ball gown is straight out of our wildest garden wedding dreams. Watercolor botanical patterns, floaty fabrics, and actual hand-painted flowers (spotted at Ines Di Santo and Isabelle Armstrong) are all fashion-forward options for the bride who wants the ultimate fairytale wedding dress.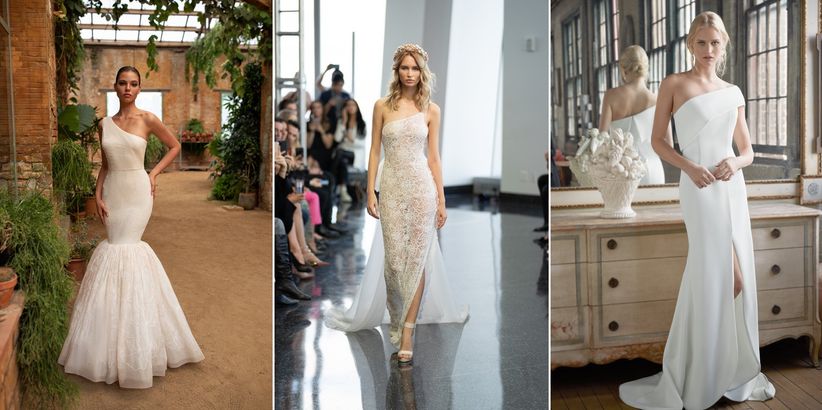 Dresses by Zac Posen for White One, Berta, and Sareh Nouri
One shoulder necklines
After several seasons at opposite ends of the wedding dress neckline spectrum (full-length sleeves followed by super-thin spaghetti straps), designers have found a happy medium for fall 2020 with one-shoulder gowns. This elegant neckline works with nearly any type of fabric and silhouette, which is why we saw so many different designers incorporating it into their latest collections. Zac Posen for White One, Berta, and Inbal Dror took a sexier approach with form-fitting one-shoulder wedding dresses, while Sareh Nouri and Amsale opted for classic minimalism.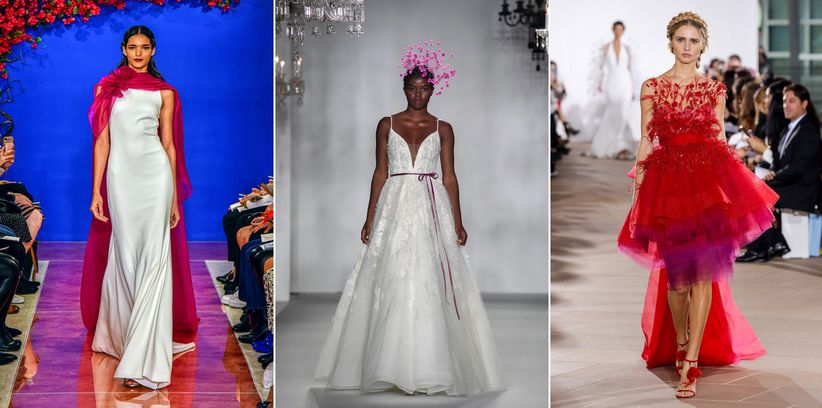 Dresses by THEIA, Anne Barge, and Ines Di Santo
Fuchsia accents
Instead of the soft blush and pale blue of past seasons, eye-catching fuchsia is on track to be the "it" color for wedding dresses in fall 2020. This bold hue is made for the bride who wants to add a pop of fun to her wedding day look, and designers showed us several different ways to pull it off. For the most understated option, you can add a fuchsia sash or ribbon to a white wedding dress, like we saw at Anne Barge. If you're a fan of the wedding cape trend, a fuchsia style like the one that went down the runway at THEIA is even more unique. And finally, a red and fuchsia tulle dress à la Ines Di Santo is totally unforgettable. Need more proof that this statement-making color is on the rise? It was spotted all over the red carpet at the 2019 Emmy Awards, with Mandy Moore, Taraji P. Henson, and Marisa Tomei all wearing dresses with bursts of fuchsia.