6 Wedding Dress Trends That Will Be Everywhere in 2022
We've got your first look at the newest bridal trends and what's going to be popular for wedding dresses in 2022.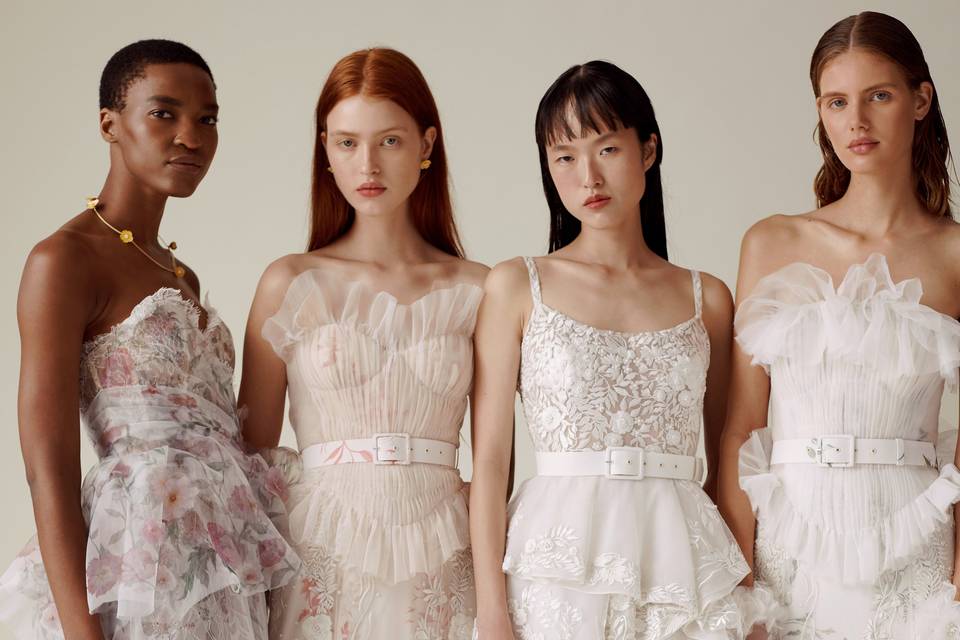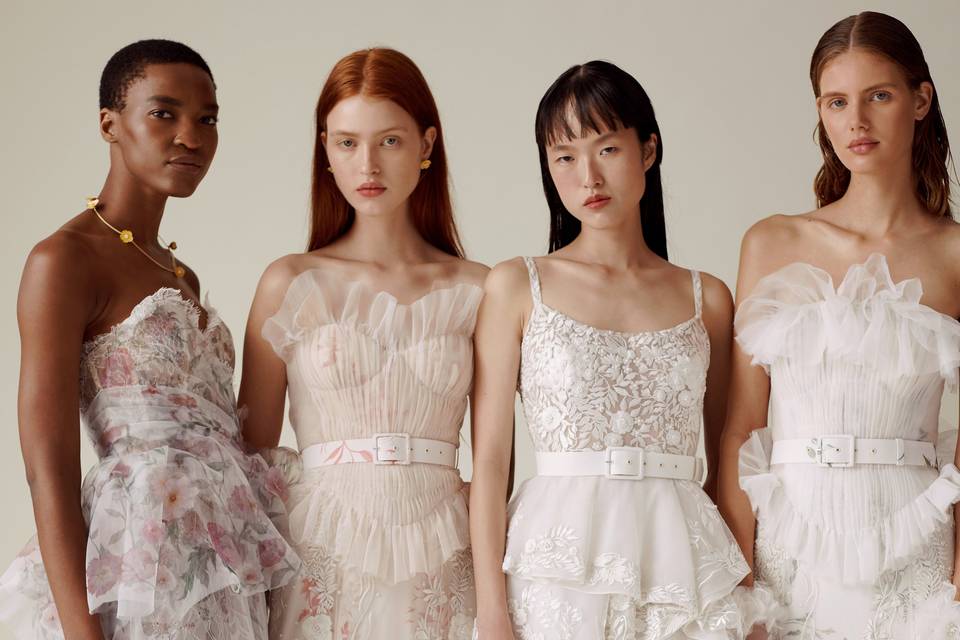 Twice a year during New York Bridal Fashion Week, wedding dress designers from across the world reveal their latest bridal collections to the media and bridal salon buyers, who spend the week getting an up-close look at the dresses to decide which styles they'll sell in their shops. For the past year, the process has (unsurprisingly) looked a little different thanks to the pandemic, but with the recent wedding boom comes an influx of new wedding dress trends for 2022—and we've got the scoop. Couture houses and bridal ateliers have been hard at work finding new ways to safely create and showcase their latest designs, and we think these wedding gowns will give you plenty to be excited about for your big day. If you're planning to get married sometime in 2022, it's time to start shopping for your wedding dress! Check out what's trending in the wedding fashion world to gain some ideas for your own bridal look.

Dresses by Hermione de Paula, Amsale, and Katherine Tash Bridal
Corset Wedding Dresses
Call it the Bridgerton effect: sultry bustier tops and corset bodices with exposed boning are on track to be two of the biggest wedding dress trend of 2022. While the idea of wearing a corset might seem outdated by a few centuries, corsets are actually pretty common when it comes to wedding dresses, especially for ball gowns or designs with heavy appliqués and beading. The difference? Until now, corsets have been primarily functional (they can provide bust support, in addition to cinching your waist), and they're often hidden under layers of fabric. But in the newest collections, wedding dress corsets will be made to be seen. Expect to find details like brassier-inspired bodices, lace-up sides, vertical seaming, and sheer corset panels on many a wedding dress in 2022.

Dresses by THEIA, Grace Loves Lace, and Nadia Manjarrez Studio Bridal
Wedding Dresses with Cut-Outs
This wedding fashion trend is straight from the world of ready-to-wear clothing. From side cut-outs to keyhole necklines, super-high slits, and open-back gowns, cut-outs have made their way into bridal designs, with almost every new collection this season offering at least one way to show a bit of skin. The good news is that because cut-outs are such a big wedding dress trend for 2022, you'll have plenty of options—you can be as daring as you want or choose something a little more modest depending on the designer's collection.

Dresses by Peter Langner, Ines Di Santo, and Hermione de Paula
Oversized Floral Accents
Colorful designs, specifically floral prints and larger-than-life flower embellishments, are turning out to be a top wedding dress trend for 2022. Whether you're actually getting married in a garden or simply in search of something other than a white dress, these botanical-inspired styles are like a breath of fresh air. This wedding dress trend is all about adding color and drama to your bridal gown, but if you're looking for a more subtle way to get on board, then pastel embroidery, hand-painted details, and dainty floral motifs hit the sweet spot between classic bride and full-on risk-taker.

Dresses by Watters, Alyne by Rita Vinieris, and Sophie et Voilà
Bold Sleeves
Ever since Kate Middleton debuted her iconic long-sleeve wedding dress a decade ago, sleeves have made a huge comeback in the bridal fashion space (after being pushed aside for strapless and sweetheart necklines throughout the early 2000s). Now they'll continue to trend into 2022, but instead of tight lace sleeves, billowing and voluminous styles will be two of the biggest bridal trends of the year. Prepare to see a lot of oversized, '80s-inspired moments, like puff sleeves and angular shoulders. If you're unsure about diving headfirst into this bold trend, bishop sleeves—sleeves that are loose for the length of the arm and fitted at the wrists—are a more understated option to try instead. Depending on the rest of the gown, bishop sleeves can give off a boho or classic vibe.

Dresses by Grace Loves Lace, Allison Webb, and Justin Alexander Signature
Square Necklines
If this trend reminds you of '90s and early aughts style, we're right there with you—and we couldn't love it more. The square wedding dress neckline is going to be everywhere for wedding dresses in 2022. The great thing about it is that it's flattering for both large and small busts, giving you support or coverage on your wedding day while also creating the illusion of (tasteful) cleavage by exposing more of your décolletage. While they add a regal element to sequin and embroidered bridal dresses, square necklines look incredibly chic on minimalist gowns made from crepe or other unembellished fabrics.

Dresses by Amsale, Watters, and Houghton by Katharine Polk
Ruffled Wedding Dresses
If you've been waiting to live out your fairytale wedding fantasy, consider this a sign to go for it. Dramatic, romantic ruffles are back in a big way for wedding dress trends in 2022, giving you plenty of options when it comes to finding a look that's worthy of any princess' wardrobe. Choose a tulle ruffle ball gown if you want a classic Cinderella-inspired wedding dress, or pick a style with organza or chiffon ruffles that are on the lightweight side to embody an ethereal, sent-from-the-heavens vibe.