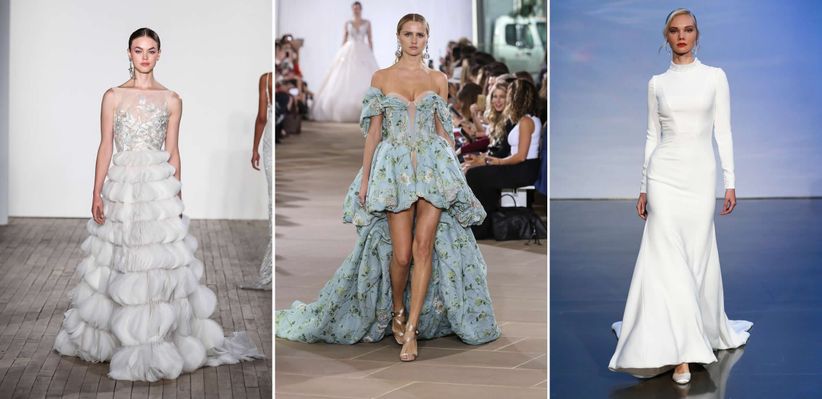 We're officially back from New York Bridal Fashion Week where the top bridal designers revealed their latest collections and, of course, the 2019 wedding dress trends! For the 2019 wedding trends, we saw a mix of dramatic asymmetrical designs paired with subdued, yet elegant, silhouettes, as well as other oh-so trendy styles that are totally mixing up bridal fashion. So, if you want to know which styles are going straight from the runway to the aisle, check out these 2019 wedding dress trends.
Here are the 2019 wedding dress trends that every bride needs to see.
Dan Lecca
Dress: Justin Alexander Signature
Meghan Markle Look-alikes
The royal wedding was still a hot topic at New York Bridal Fashion Week, and that's clearer than ever in the 2019 wedding dress trends. While we were all surprised to see Meghan Markle don a minimalistic gown for her royal nuptials, it seems like designers had their own interpretations of the iconic understated wedding dress. We spotted Markle look-alikes on almost every runway, and even overheard some designers say: "This is what she should have worn." From fitted trumpet silhouettes to slightly more embellishments on overall clean designs, many 2019 wedding dress collections featured at least one Meghan Markle-inspired gown.
Read more: These Meghan Markle-Inspired Wedding Dresses Will Make You Feel like a Queen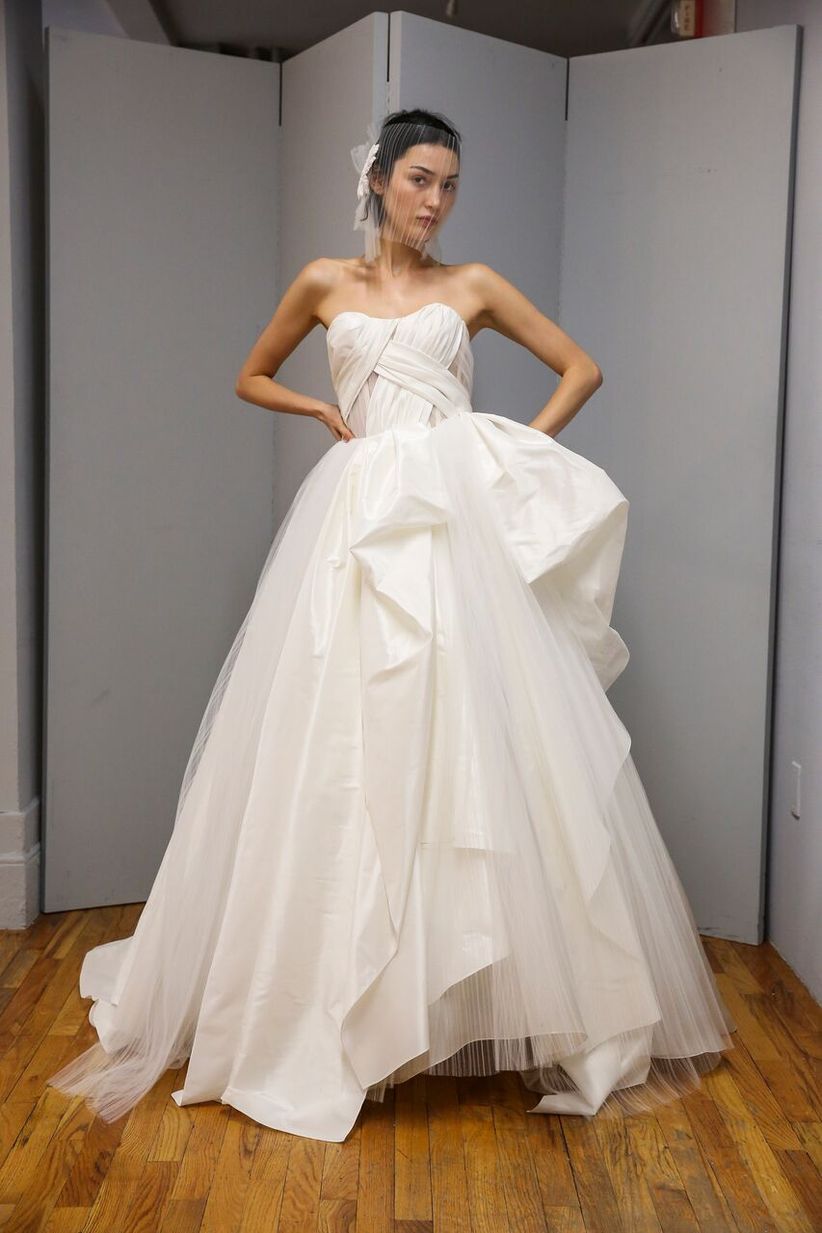 Dress: Angel Sanchez
Attention-Grabbing Asymmetry
Asymmetrical looks were another show-stopping 2019 wedding dress trend. We saw asymmetrical tiered skirts give standard ball gowns a jaw-dropping waterfall effect. The attention-grabbing placement of fabrics, ruffles, pleating and more were intriguing to see from all angles. Each way a model would turn you'd see a different aspect of the gown that almost looked like two dresses in one. Along with waterfall skirts, we also saw asymmetry used in other ways, such as on necklines, with contrasting fabrics, high-low skirts, and more. Some of our favorites included Rime Arodaky's asymmetrical crepe dresses featuring sexy slits, as well as Angel Sanchez's killer taffeta and tulle ball gown.
Read More: 12 Asymmetrical Wedding Dresses for the Fashion-Obsessed Bride
Romona Keveza
Dress: Romona Keveža Collection
Old School Glamour
Style icons like Audrey Hepburn, Elizabeth Taylor, and Grace Kelly served as muses for many of the designers' 2019 wedding dress trends. Sophisticated and feminine looks were seen in many collections, such as those from Romona Keveža, Sareh Nouri, and Amsale, which took us back to the glamour and elegance of Old Hollywood. Wedding dresses featured elegant silhouettes with either nipped-in waistlines and voluminous ball gown skirts (à la Gracy Kelly) or softly fluted skirts paired with cowl, boat or timeless sweetheart necklines. This gave the 2019 bridal runways a total flashback to the glitz and glam of Old Hollywood. We even saw a variety of vintage-inspired cover-ups in fabrics like tulle, feathers, and more to add a modern touch to these throwback looks.
Read More: 13 Old Hollywood Wedding Dresses for Your Red Carpet Moment
Dress: Vera Wang
Bright and Bold is the New Pastel
Say goodbye to bridal gowns with soft muted hues, like blush and baby blue, and say hello to bright and bold wedding dresses. Pastels were once the style of choice for modern brides wanting a playful, offbeat look, but designers this season decided to give color a major upgrade. Models walked down the runways in vibrantly colored gowns, like Ines Di Santo's gorgeous colorful high-low dress, and we even saw this year's hot new hue, the street stylin' safety orange, make its debut in Vera Wang's breathtaking Versaille-inspired collection. For 2019 brides wanting to rock a color other than white on their big day, the new rule of thumb is the brighter the better.
Read more: 16 Colored Wedding Dresses for the Bride Who Doesn't Want to Wear White
Dan Lecca
Dress: Lazaro
Music-Inspired Styles
Last season, designers unveiled their Spring 2019 collections with a slew of ballerina-inspired looks. This season we continued to see these graceful works of art flutter down the catwalks, as well as a variety of other musically inspired styles. Designers wanting their wedding dresses to move (or even dance) freely down the runways showcased styles that included tiers of tulle or flowy silk crepe skirts. From Lazaro's ivory organza accordion ball gown, to pleated tutu-like styles that were perfect for twirling, 2019 wedding dresses were all about movement.
Read More: 15 Ballerina Wedding Dresses That Are So on Pointe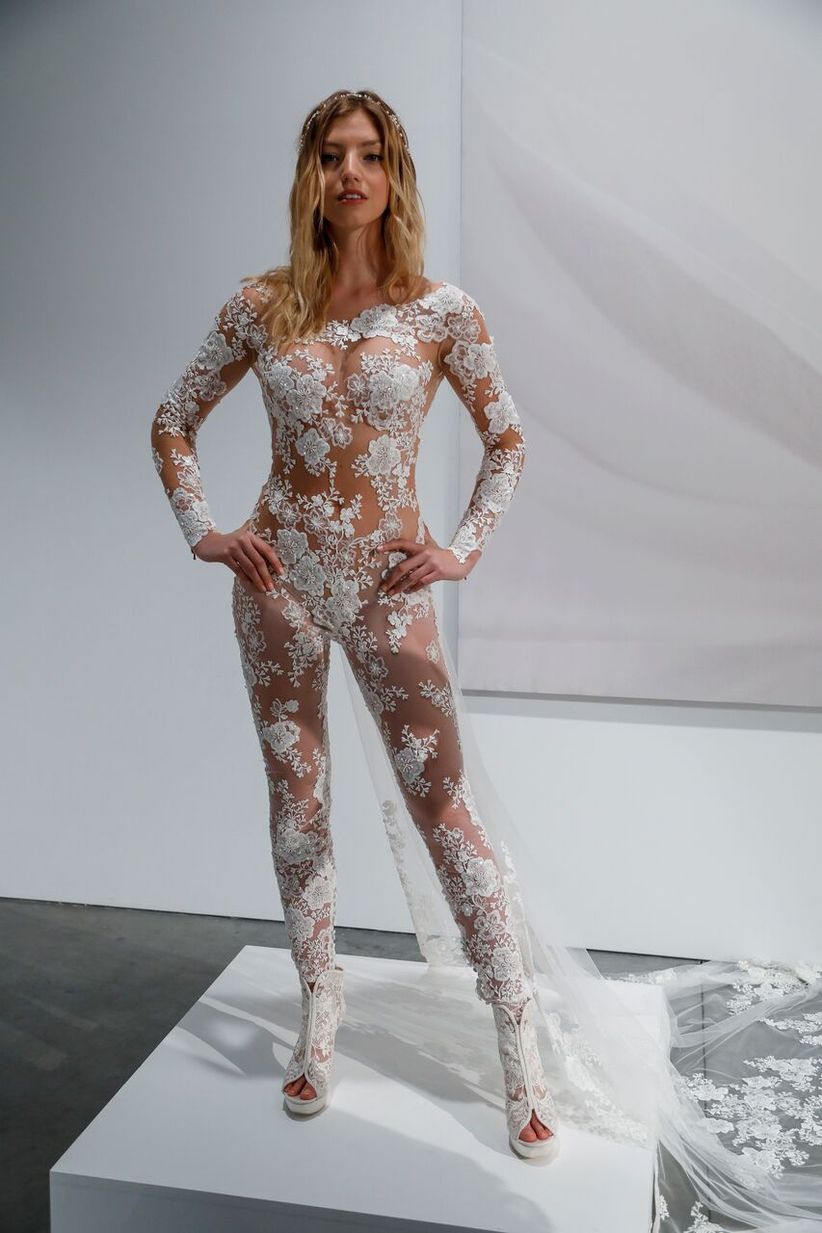 Pantsuit: Pronovias
Bridal Power Suits
This 2019 wedding dress trend is bringing major confidence and empowerment to bridal fashion world: The power suit. Several collections, which also boasted twists on the typical jumpsuit, were inspired by the idea of wanting brides to feel both strong and beautiful in something other than a traditional wedding dress. Think sheer and sexy jumpsuits, deep V's and strategically placed lace, and sharp trench coats and tailored blazers. This bridal take on the suit creates a chic and sassy vibe that's totally fab for those wanting to make a statement on their big day.
Read More: The Bridal Power Suit Is Here: 13 Jumpsuits & Pantsuits That Are Strong AF
Dress: Pnina Tornai
We're Seeing Spots!
Polka dot wedding dresses are the "it" choice for 2019 brides. We've seen polka dots embellishing veils and accessories in the past, but designers this season adorned entire gowns with the playful pattern. Sheer swiss dotted overlays and other circular designs were spotted on the runways of Hayley Paige, Pnina Tornai, and more. These chic dots add a classic-yet-whimsical feel to 2019 wedding dresses and are perfect for any bride that loves tulle and lace.
Read more: 10 Polka Dot Wedding Dresses for the Playful Yet Classic Bride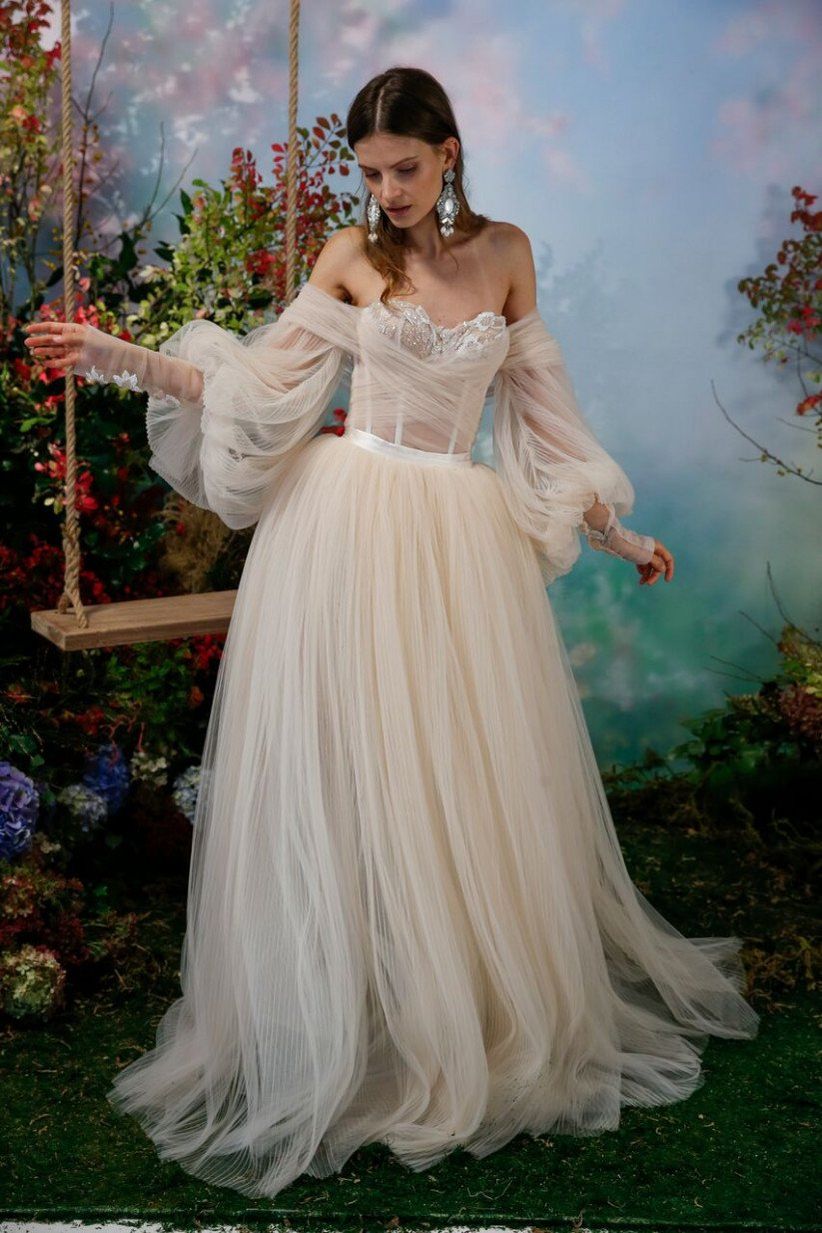 Dress: Galia Lahav
Fairytale Vibes
From seashell fan tops to iridescent colors and fantastical embellishments, these 2019 wedding dresses had us feeling enchanted by mythical creatures and fairytales —think mermaid goddesses and whimsical unicorns—which added a playful vibe to the runways. We saw underwater elements in several ways (like coral-inspired beading and wavelike pleating) where unicorn aspects popped in lavender colored dresses and custom embroidery.
Read More: 18 Fairytale Wedding Dresses for an Enchanted, Whimsical Look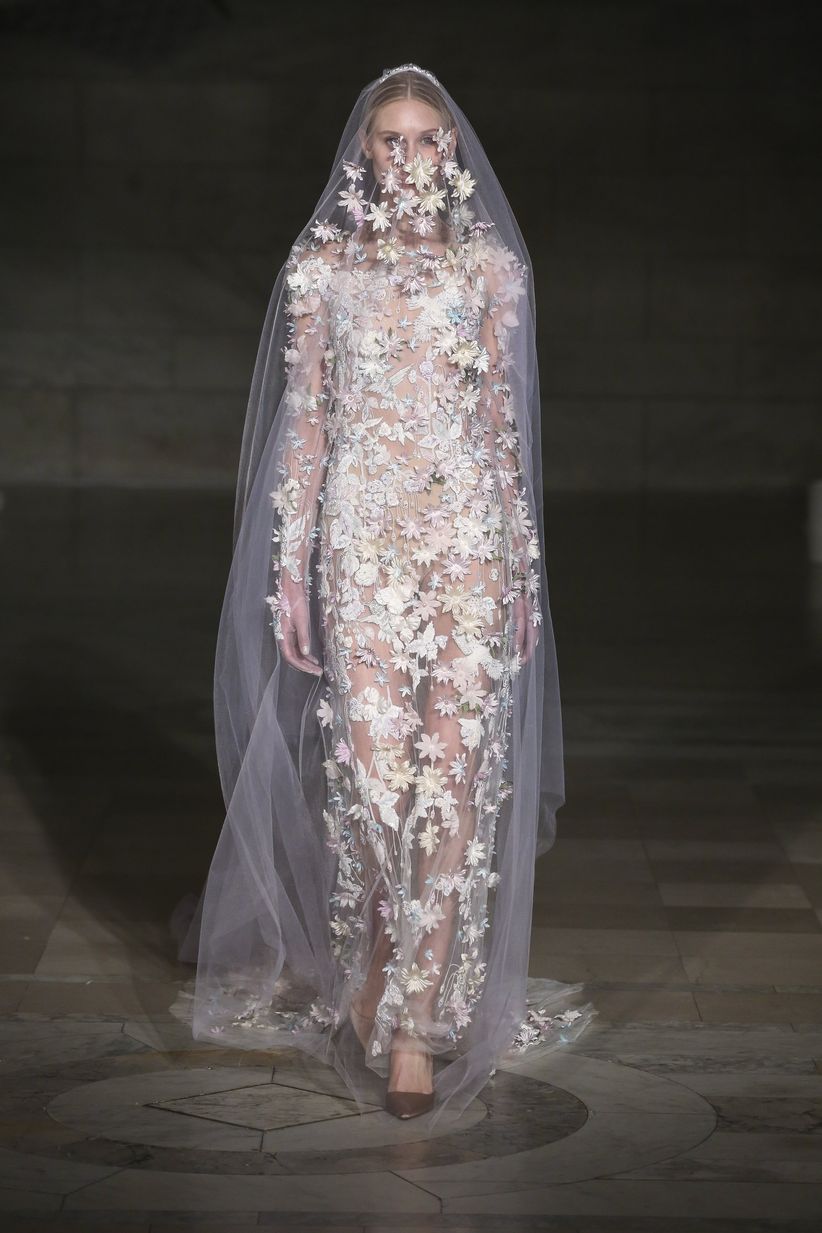 Dress: Reem Acra
Wildflowers
Last year, embellishments in vine patterns popped up everywhere thanks to the latest wedding obsession with greenery. For 2019 wedding dresses, botany was still the major inspiration for many designers, but wildflowers and (rather than greenery) seemed to be the plant du jour. Wildflowers popped up in opulent embroidery lace, appliques and more, creating a whimsical, almost elevated folksy vibe. From three-dimensional appliques to abstract floral embellishments, the wildflower wedding dress trend definitely took our breath away.
Read More: 13 Floral Wedding Dresses for Brides Who Just Really Love Wildflowers