The 12 Wedding Dress Necklines You Need to Know
On the hunt for your dream gown? We're discussing the most popular wedding dress necklines to help you ace your bridal shopping experience.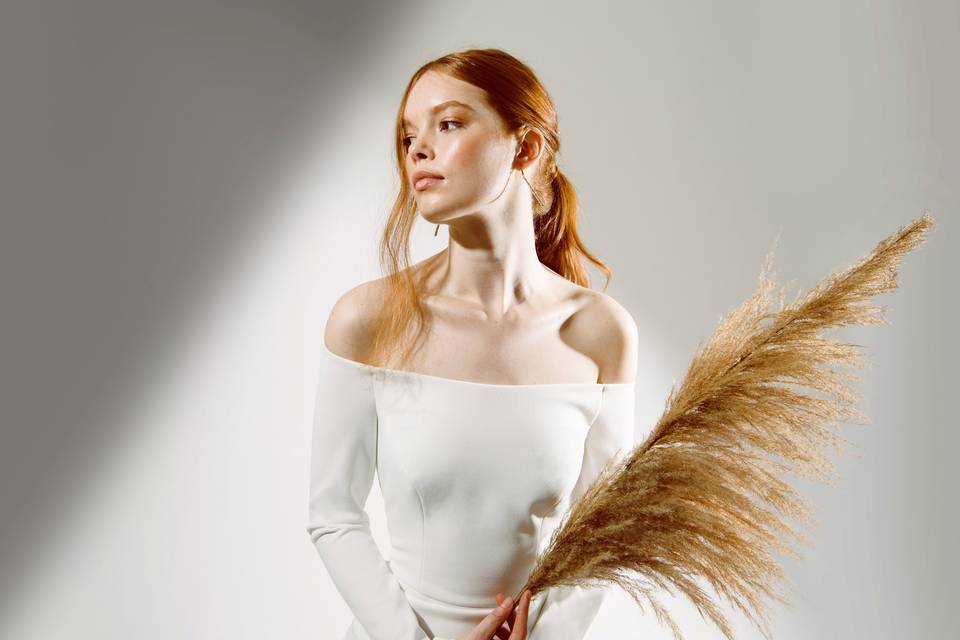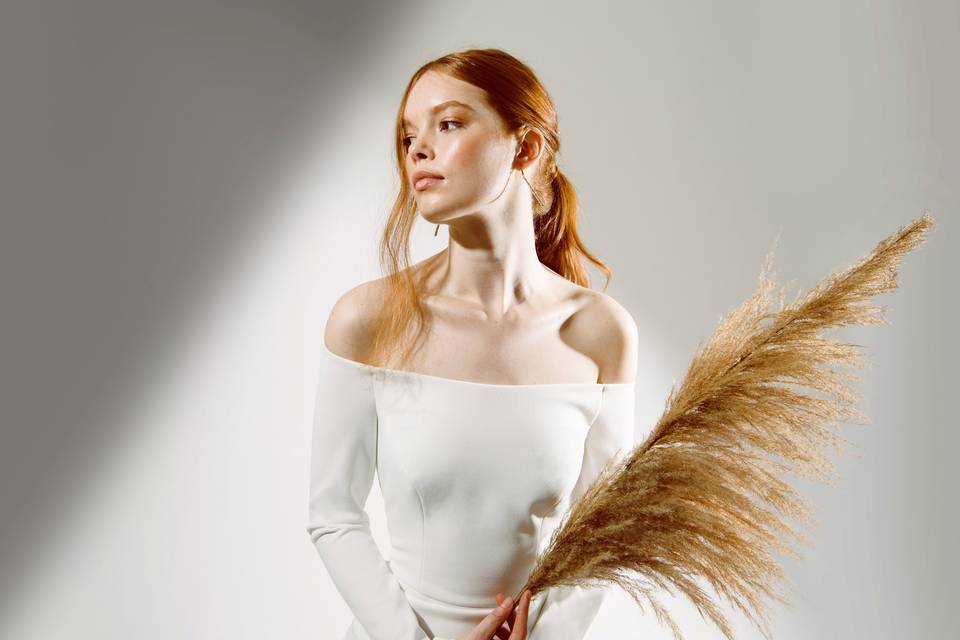 Before you shop for your dream bridal gown, it's helpful to brush up on the most popular wedding dress necklines—strapless, sweetheart, illusion, and so on—to find the one that will best flatter your body type, complement your personal style, and ultimately make you feel incredible on the big day. But unless you're already an expert on bridal fashion terminology, keeping track of all the different dress necklines might be easier said than done. That's where we come in. While we definitely recommend trying on a variety of necklines during your bridal appointment, this go-to guide will help you narrow down some of your initial wedding dress neckline faves (and maybe even learn about a few options you didn't know existed).
Learn more about the most popular wedding dress necklines and decide which one is your favorite.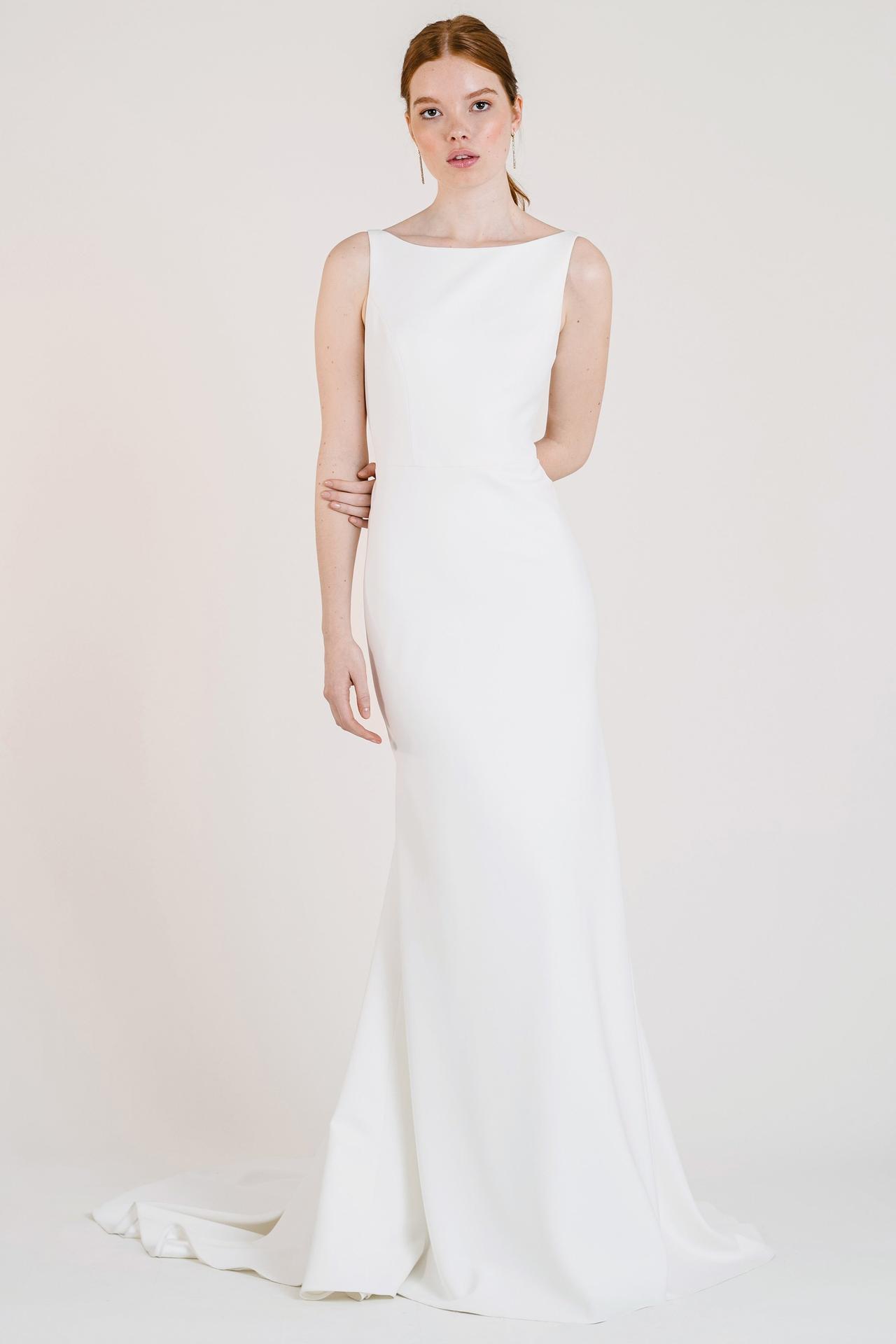 Dress by Jenny by Jenny Yoo
Bateau neckline
Also known as a boatneck, the bateau neckline stops at your collarbone and features a wider opening that skims the tops of your shoulders, allowing your décolletage to shine. This neckline is extremely classic and demure, and it's also a royal favorite—the Duchess of Sussex opted for an elegant bateau neckline paired with long sleeves for her walk down the aisle.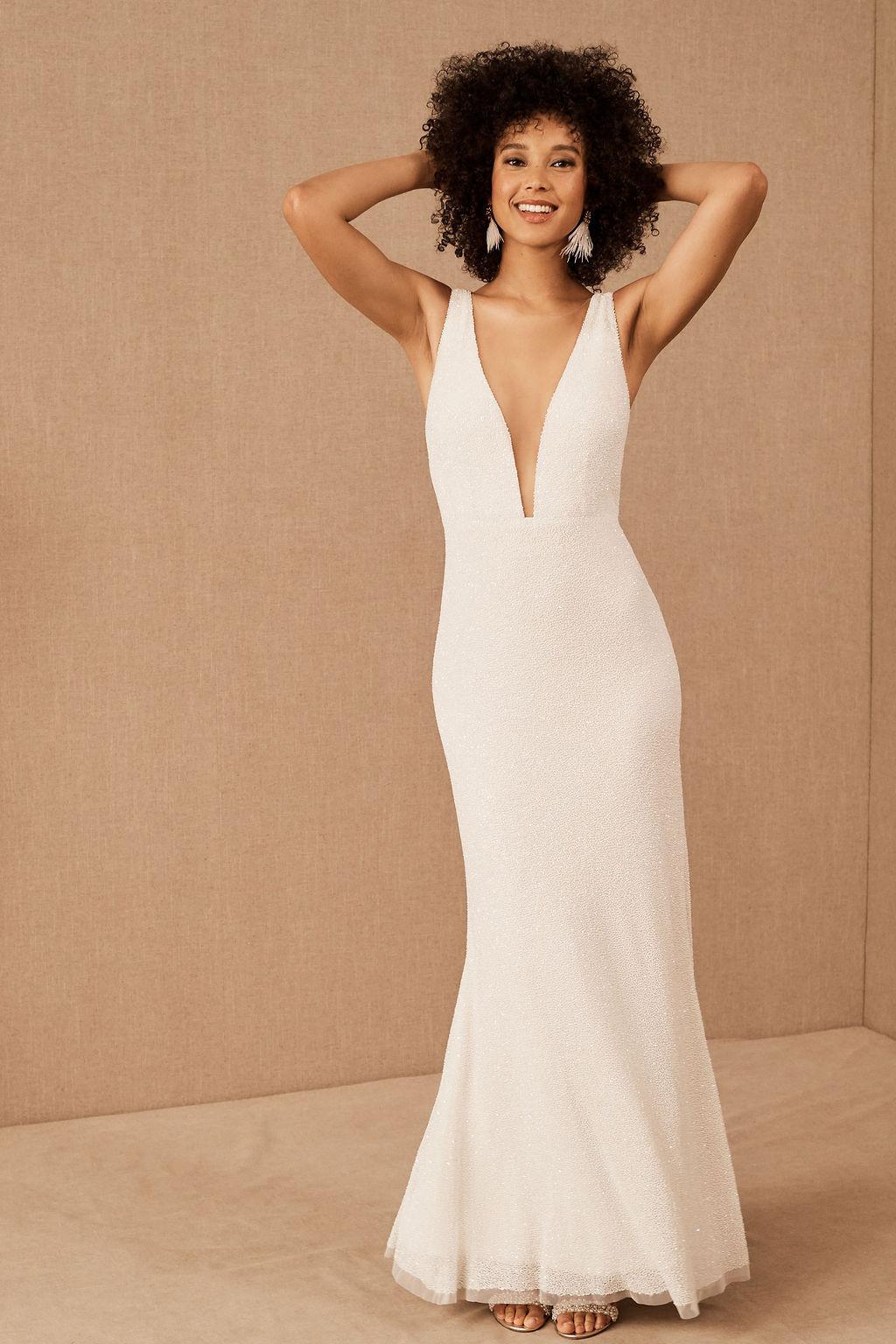 Dress by BHLDN
Plunging neckline
For those who aren't shy about showing a flash of skin, the plunging neckline is a super sexy option. This neckline is a slit that extends down the center of your chest past your ribs (and sometimes even all the way down to your navel) for a statement-making look. Most plunging necklines are actually a sheer illusion tulle panel that connects the two sides of the bodice.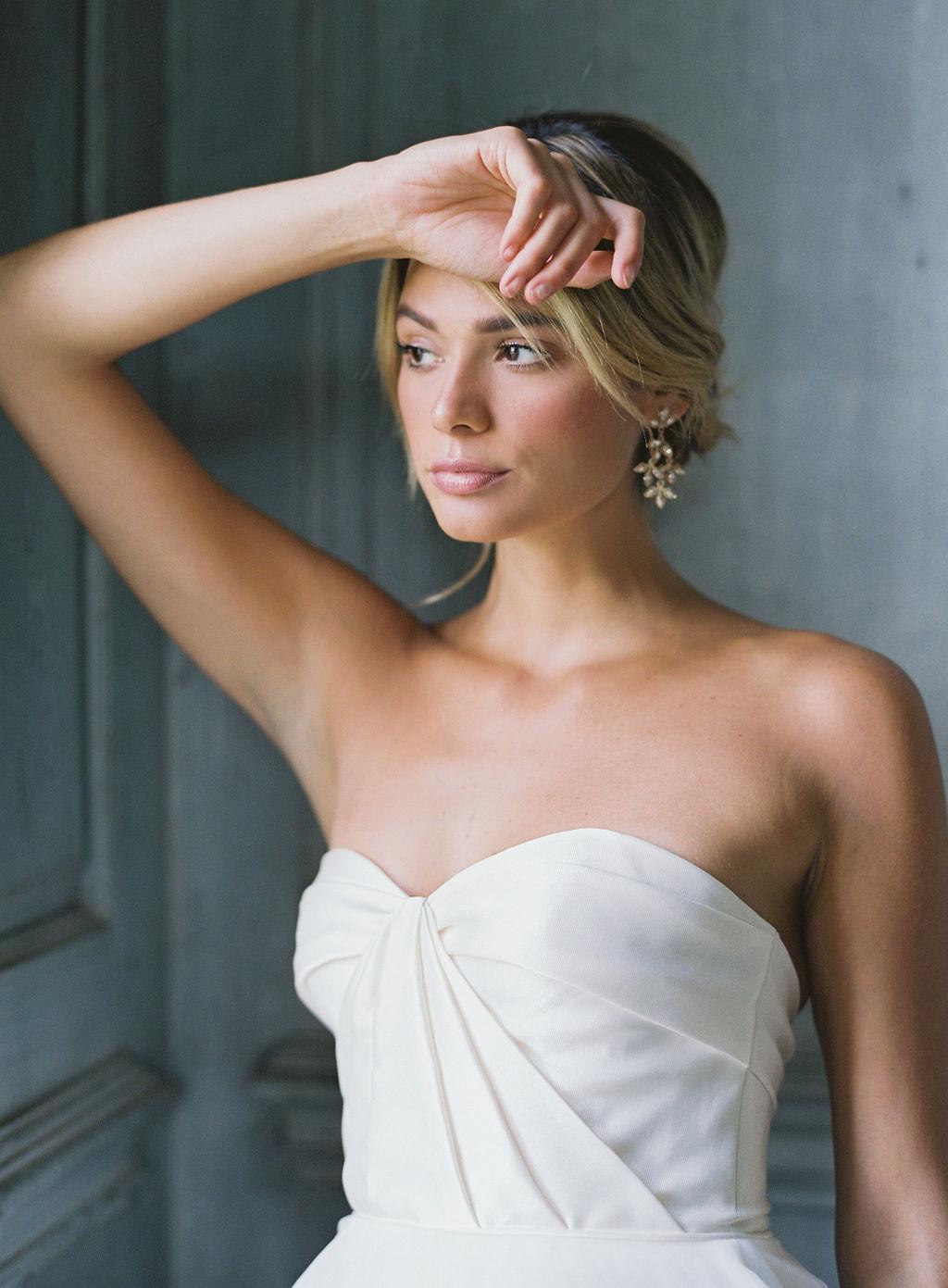 Dress by Wtoo by Watters
Sweetheart neckline
This is a strapless neckline that dips in the front, creating an outline that resembles the top of a heart shape. Sweetheart necklines are ideal for giving the illusion of curves on the bust—or flaunting what you already have. They look incredibly romantic, especially when paired with a ball gown silhouette, lace details, or tulle skirt.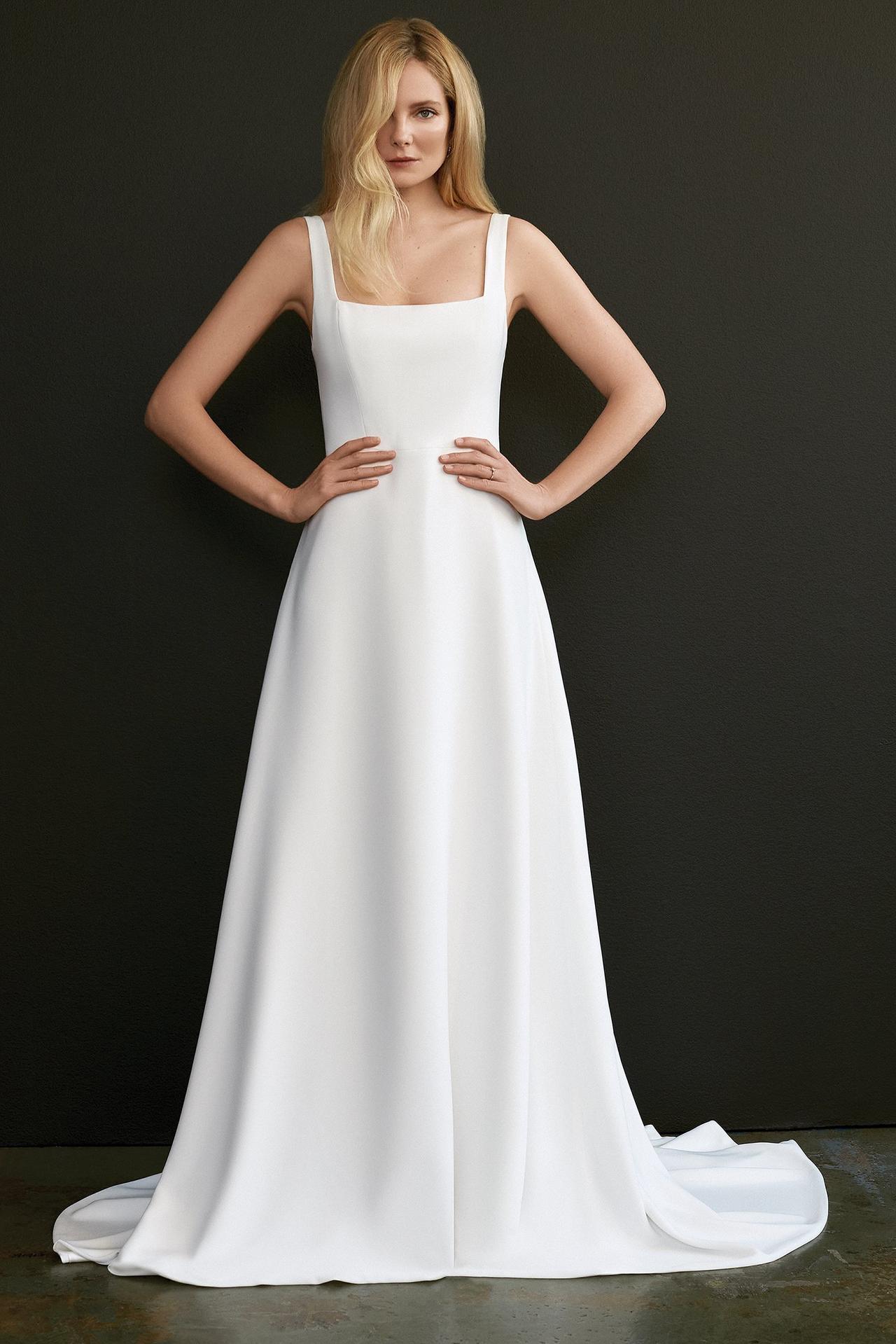 Dress by Savannah Miller
Square neckline
Square necklines are usually paired with thick sleeveless straps, and they look incredibly chic on gowns made from crisp, structured fabric, like this stretch crepe A-line gown. They're a little bit retro (in a good way) and exude major cool girl vibes.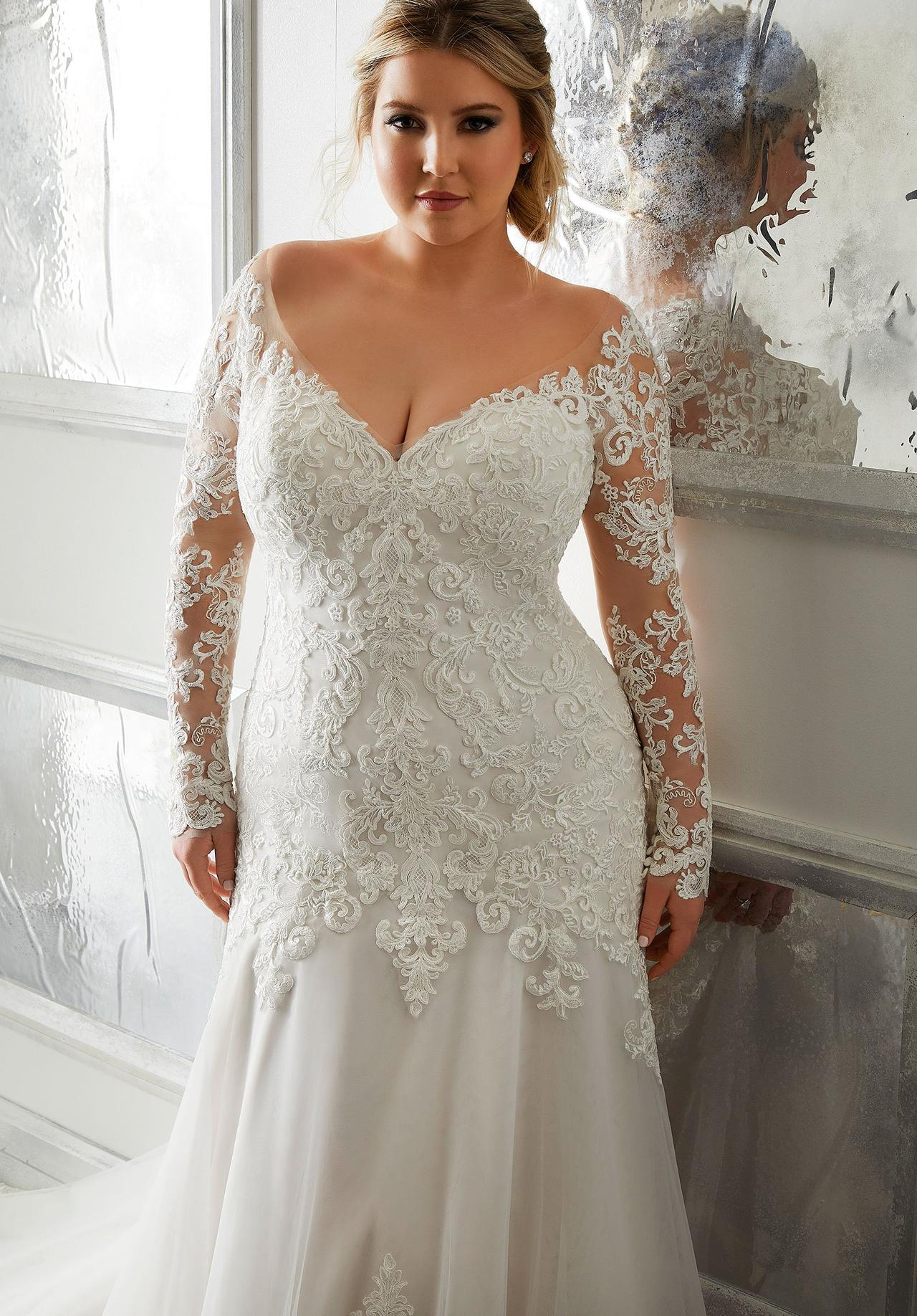 Dress by Julietta/Morilee by Madeline Gardner
Portrait neckline
The portrait neckline is a wide neckline that extends to the very edges of your shoulders. It's a beautiful neckline for framing your face and collarbone, especially if you want to show off a fabulous necklace or wear your hair up to flaunt a sparkly pair of earrings. Portrait necklines are also a great option for supporting a fuller bust without completely covering up what your mama gave you.
Dress by BHLDN
Illusion neckline
This wedding dress neckline features sheer or semi-sheer fabric—most often tulle or lace—along the top part of the bodice. It gives the illusion (hence the name) of a strapless dress, but it offers more coverage and support. Illusion necklines are commonly paired with sleeveless, cap sleeve, and long sleeve gowns.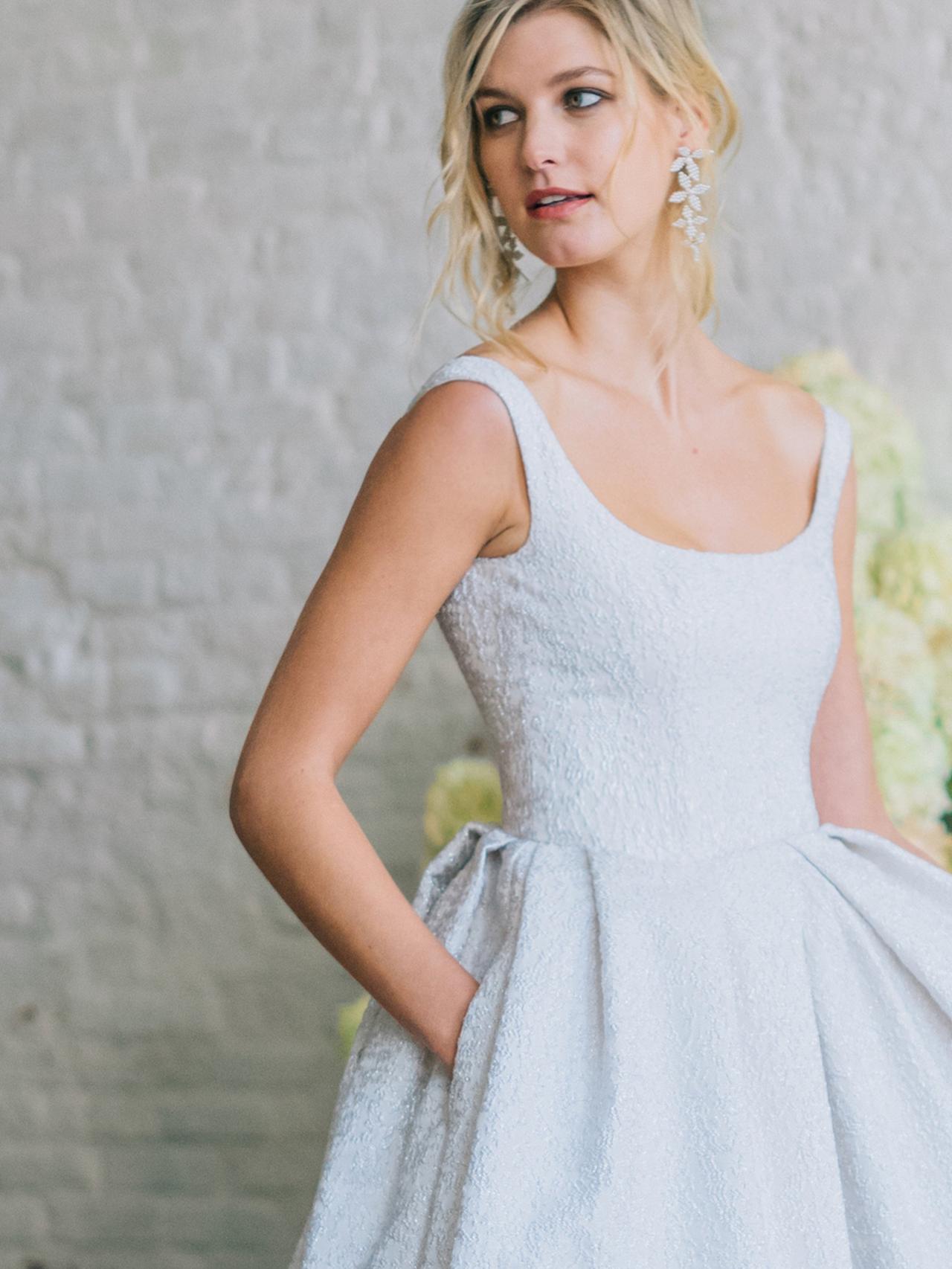 Dress by Carol Hannah
Scoop neckline
This wedding dress neckline is rounded in the front and skims the top of the bust, creating a flattering, feminine effect. Pair it with sleeveless straps or cap sleeves for a twist on classic style.
Dress by Savannah Miller
Cowl neckline
Not only is this dress neckline trending in the bridal fashion world, but it's seeing a resurgence in everyday style, too. Cowl necklines feature fabric that is draped and folded at the front, which gives you the illusion of a fuller bust. They're most often paired with micro-straps and look incredibly luxurious on figure-hugging sheath gowns.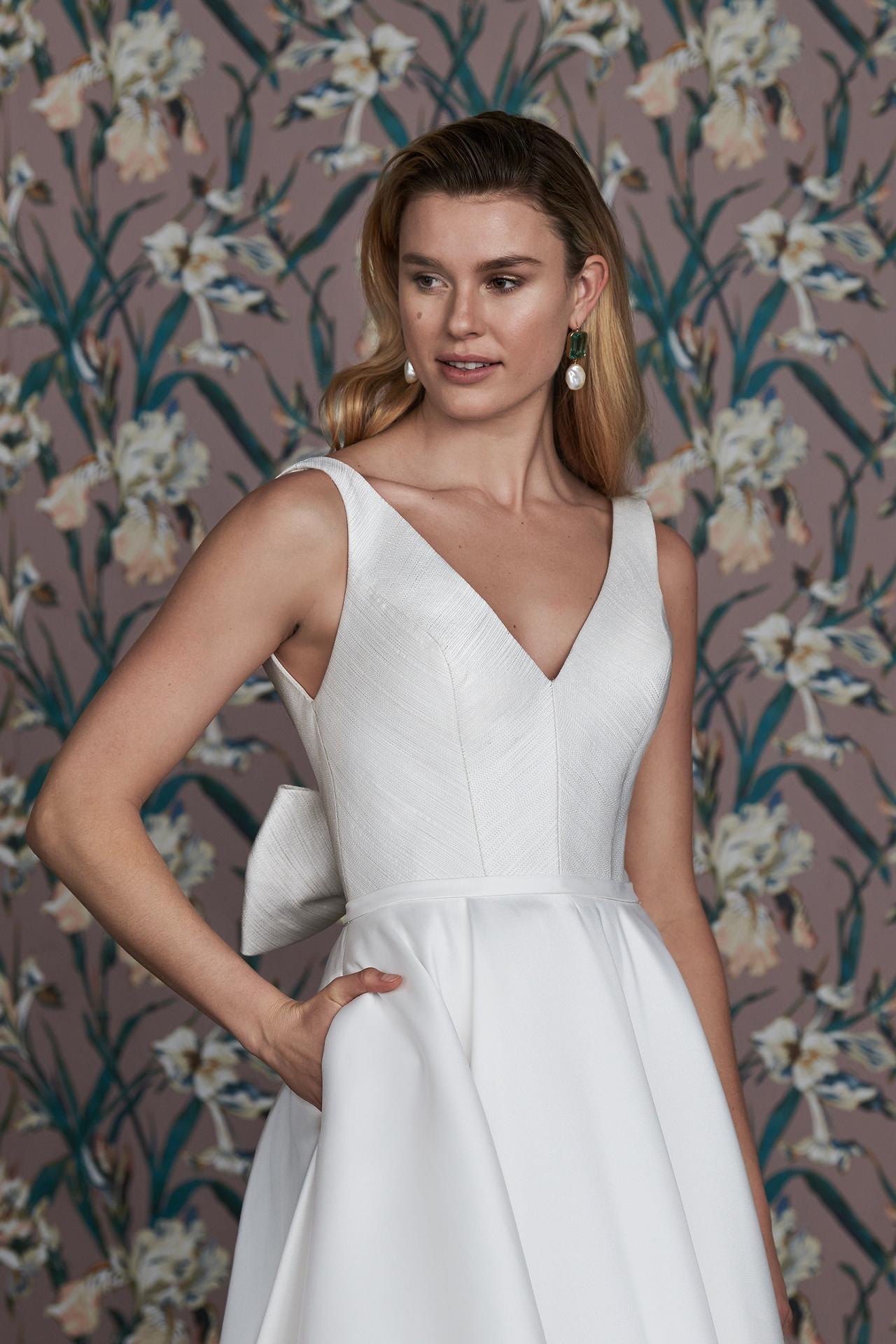 Dress by Justin Alexander Signature
V-neckline
This neckline dips into a "V" shape in the front and is usually paired with long sleeves, sleeveless straps, or spaghetti straps. V-necklines are often a slimming option for many body types because they create the illusion of a narrower waist, and they're also one of the most elegant options. If you're looking for a timeless wedding dress neckline, this is the pick for you!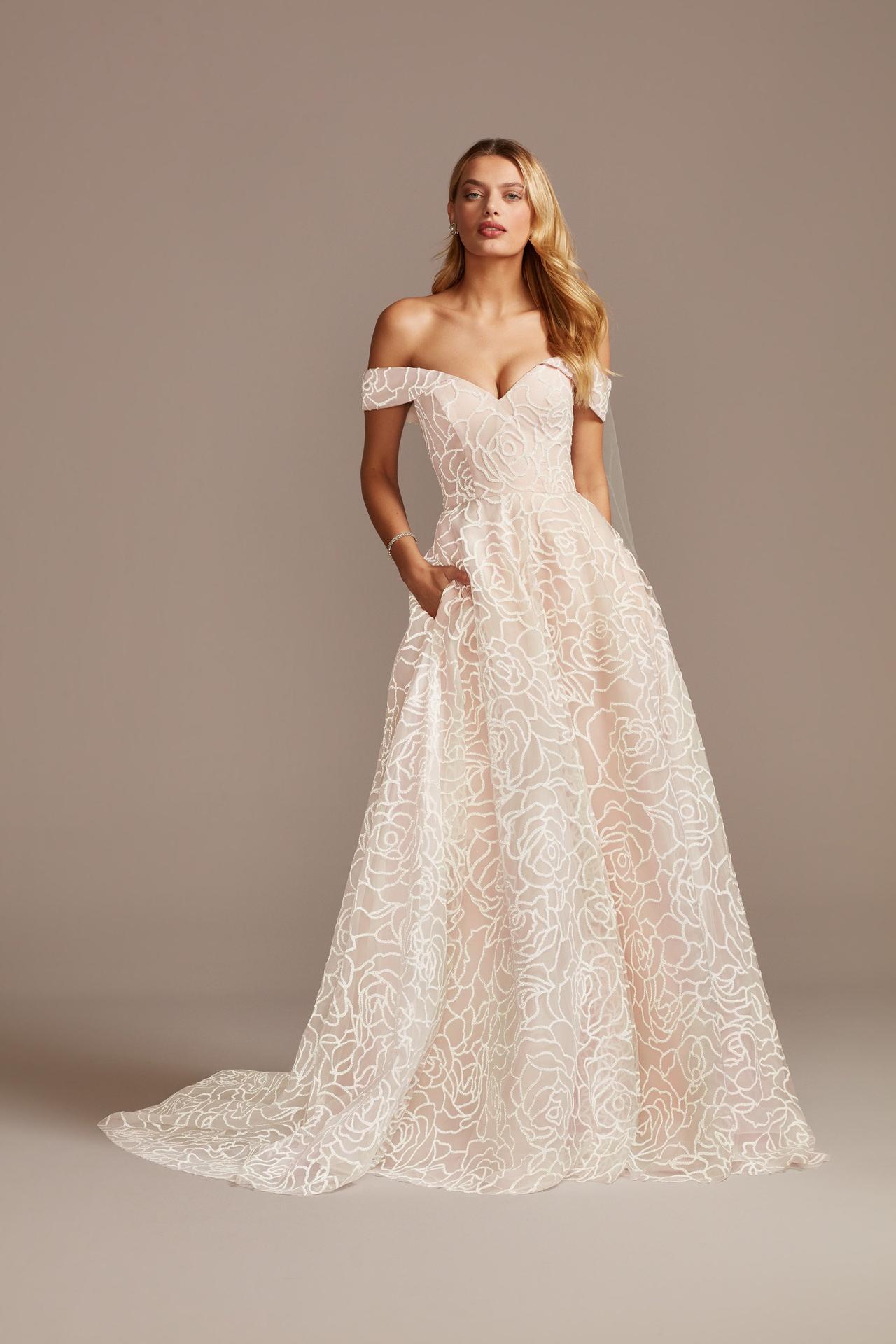 Dress by David's Bridal
Off-the-shoulder neckline
This neckline shows off the collarbone with straps that rest at the top of your arms, just below the shoulders. Off-the-shoulder necklines are extremely romantic, especially when paired with a ball gown silhouette or a blush pink fabric. Going for the princess effect? We love off-the-shoulder necklines with loose updos and oversized bouquets.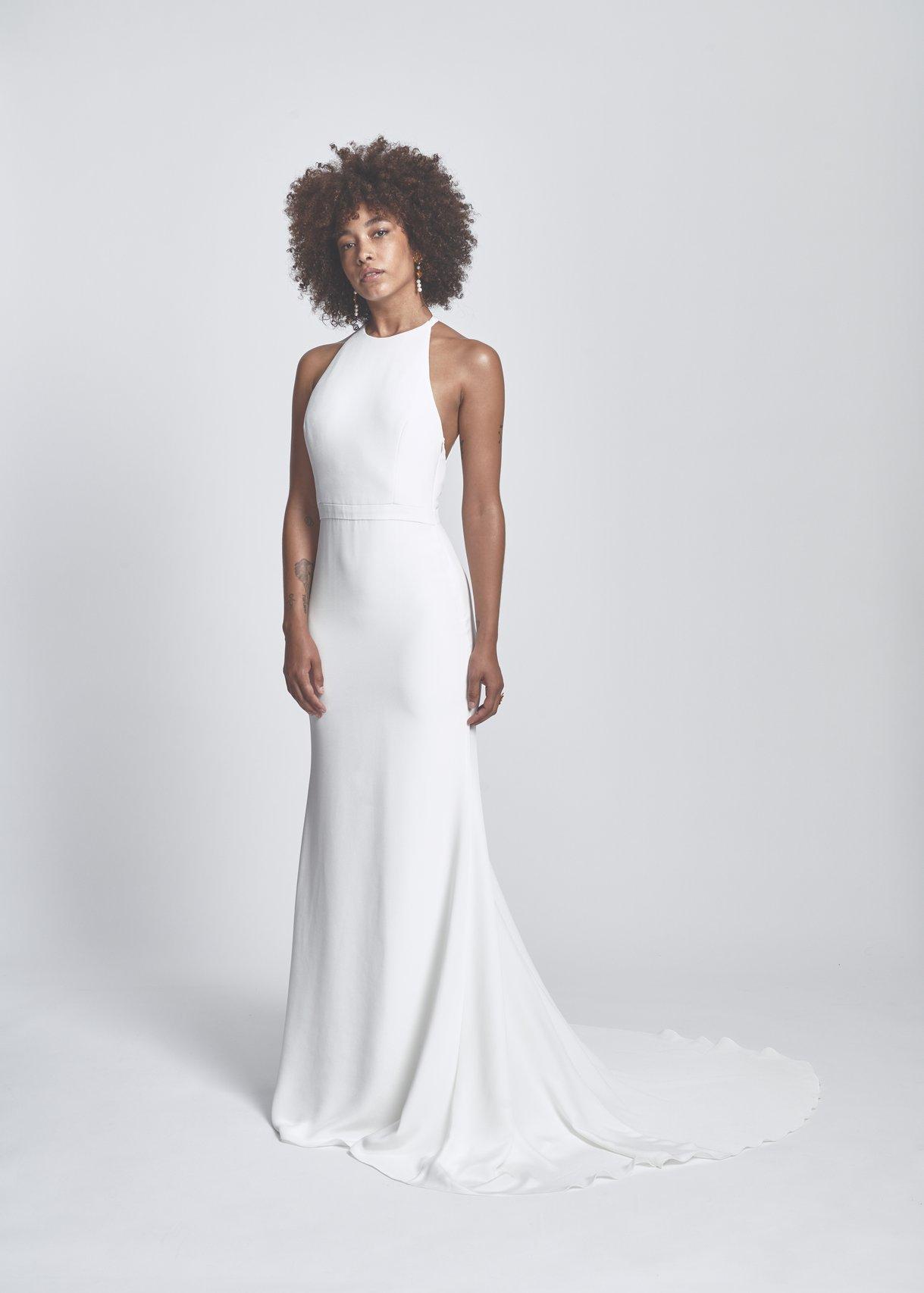 Dress by Alexandra Grecco
Halter neckline
A halter neckline has straps that tie, snap, or hook at the back of the neck, making it a great pick for brides who want to expose their shoulders, arms, or back.
Dress by Sophie et Voila
One-shoulder neckline
This fashion-forward, asymmetrical neckline features a single strap or sleeve that drapes diagonally across the chest. Depending on the style, a one-shoulder wedding dress can be glamorous, modern, or classic—it's one of the most versatile dress necklines there is.