12 Questions Every Bride MUST Ask a Wedding Dress Salon
This wedding dress questions checklist will help you find the best bridal boutique (and ultimately, the best dress) for your big day.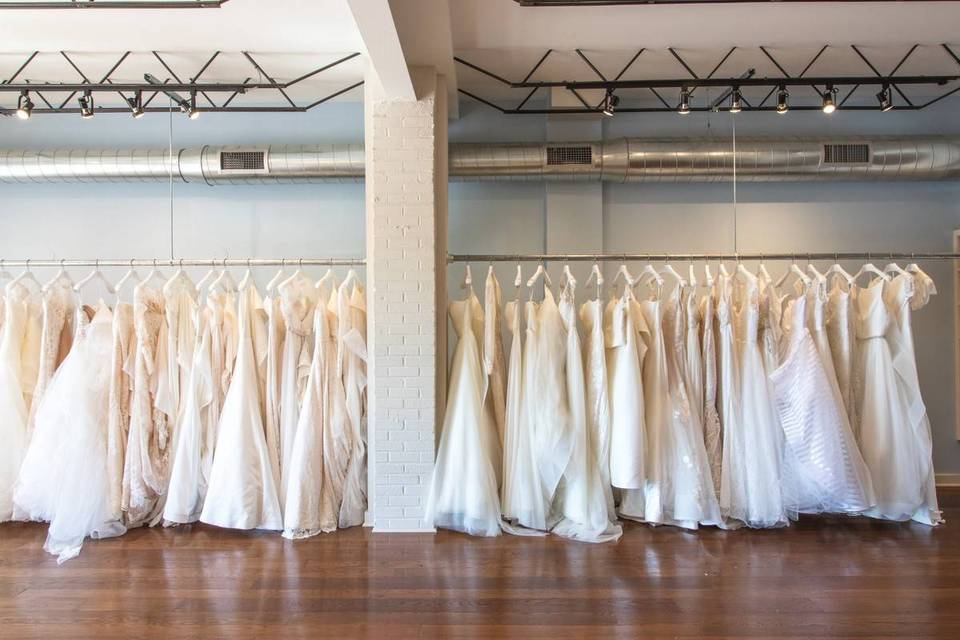 As a bride, we know you want to find your dream wedding dress, and the store where you purchase your dress will be a huge part of the experience. A wedding dress questions checklist will help you vet potential bridal boutiques and eliminate the stores that don't seem like a fit—because just like brides, no two wedding dress salons are exactly alike! Before you set foot in any bridal boutique, it's helpful to do a little bit of research to learn about the store's offerings, from the designers and dress styles they stock, to their alterations services and payment plans.
So, what are the most important things to ask a bridal salon? Use this wedding dress questions checklist to get started.
How is your store different from other stores?
If you've had a bad experience with a bridal shop, this question is key, says Carrie Huyett of Carrie's Bridal Collection in Chamblee, Georgia. "You want to ensure that from the very moment you walk in the door at a bridal salon, you feel at ease. There's nothing worse than trying to tackle the shopping yourself," she says. "Ensure the salon appoints someone to assist you from the moment you walk in sitting down with you, getting to know your wedding dreams and plans and helping you every step of the way."
But just how do you know you've found the perfect shop? Trust your gut. "By the time you leave, if you feel like friends, you've chosen a great location to shop for your dress," says Huyett.
What are your prices like? Do you sell sample styles off the rack?
Before you start shopping, determine your wedding dress budget and stick with it. "We all know how devastating it would be to fall in love with a dress you can't afford," says Huyett.
To help you save on your dream dress, Huyett suggests asking about purchasing sample sizes off the rack. "This is a great way for brides to save on their wedding dress without sacrificing on style," she says. "But some boutiques don't offer this, so be sure to ask."
A sample dress is a dress that the store purchases directly from the designer for the sole purpose of try-ons. In other words, when you're trying on a wedding dress, you're most likely trying on the sample style. If you choose to purchase the dress, a brand-new one would be made just for you based on your measurements and delivered several months later.
Buying a sample dress can have its perks, so it's definitely one of the wedding dress questions we recommend asking before you shop. Sample dresses are often sold at a discounted rate, and you will usually be able to take the dress home the same day you buy it. But before you purchase a sample style, check for any damages to the dress, such as ripped lace, stains, or missing beading, and consider any alterations that would need to be made in order for the dress to fit you properly.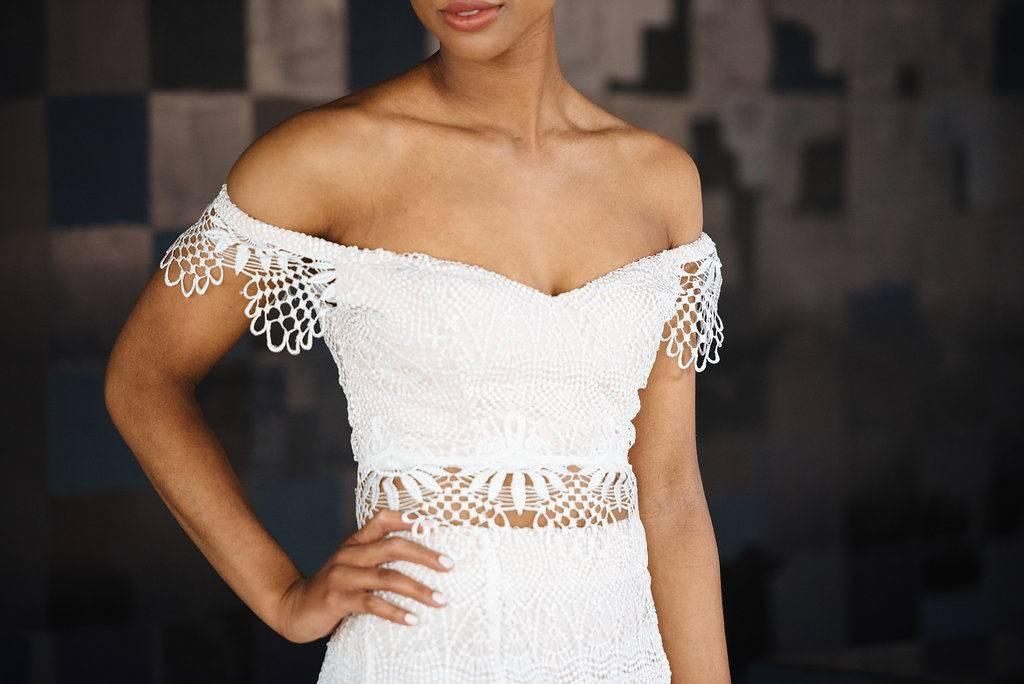 What's your size range?
While many bridal designers and bridal boutiques are becoming increasingly more size-inclusive, it's still wise to reach out to potential shops before making an appointment. "Don't assume that every bridal boutique will have just what you're looking for," says Huyett. "Inquire about their [size] inventory first and also how large their inventory is of these types of dresses to ensure you have plenty of options."
Consider going to shops that specialize in petite or plus-size brides, or look for shops that work closely with dress designers who offer extended size ranges and customizations.
What's your payment plan like?
Most boutiques accept all forms of payment, but some may offer a slight discount if you pay in cash since the shop won't have to pay for credit card fees. It never hurts to ask about this—you just might score a discount, Huyett says.
"Also ask if there are any options to finance your dress if you fall in love with something slightly above your budget," says Huyett.
Payment schedules usually work like this: "Fifty percent down and 50 percent when you pick up," says Krystel Tien of Elle Bridal Boutique in San Diego. "It is always a final sale. No returns, as each gown is made to order."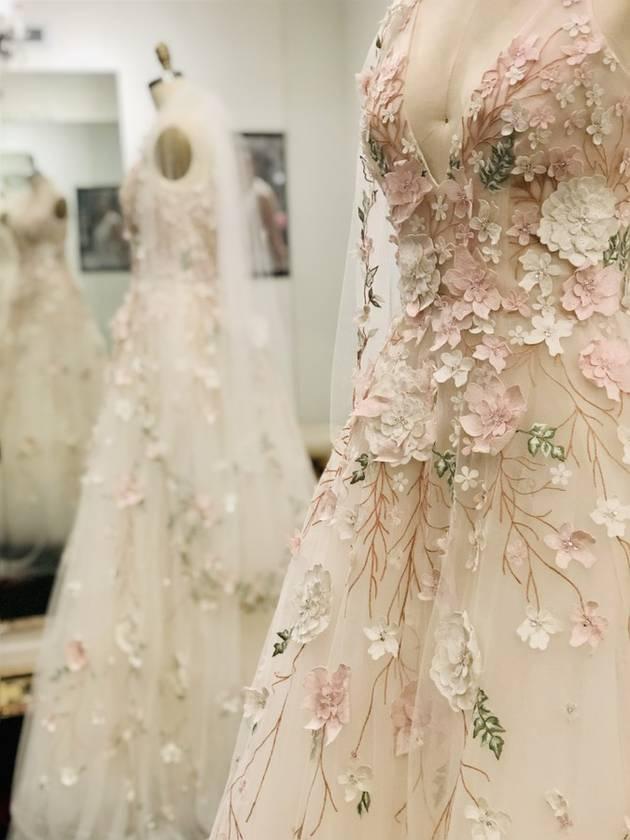 Do you offer alterations?
This is one of the most important points to include on your wedding dress questions checklist. "Ask up front if the salon does alterations in-house, and if not, do they recommend any good tailors," suggests Lanie List of Lovely Bride, which is based in NYC and has a total of 18 stores around the country. "This can often be a costly part of a wedding gown, since you want your dress to fit like a glove and there can be intricate details that will drive the pricing of alterations up."
List suggests being up front with the stylist if you don't want to shell out for alterations. Ask her to show you gowns that are easier (read: less expensive) to alter—typically, they will be more simplistic styles without a lot of beading or intricate embellishments.
Do you have shoes and support garments that I can use during my appointment?
"Some salons provide an array of heels and bustiers or slimming garments so you can get the full effect of your dress on your wedding day," says List. Others might not, so we recommend calling ahead or emailing beforehand to check. Bring your shapewear along if you know you'll be wearing it on your wedding day.
If you've already found your wedding shoes, don't forget to bring them to your dress appointment! Having them on hand will be extremely helpful in determining the appropriate hem length of your gown.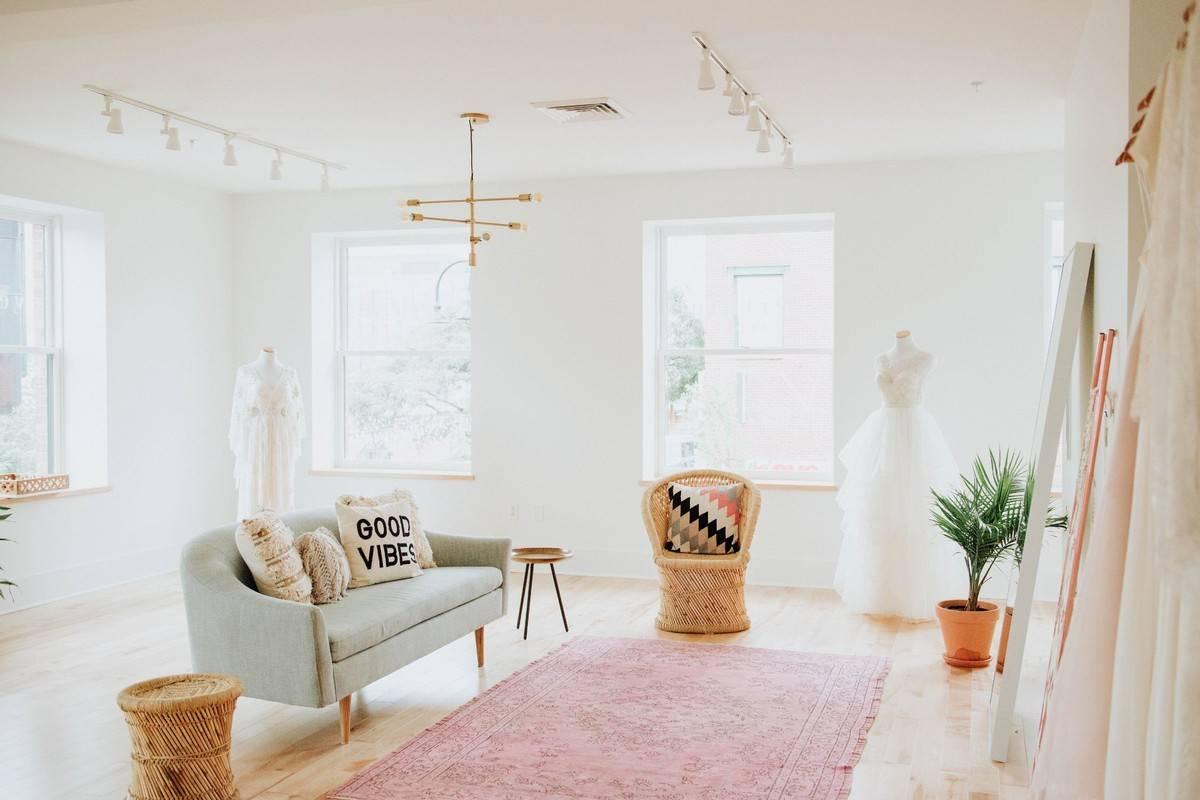 Will you store my gown for me?
Some boutiques can store your gown for you after it has been ordered and delivered, but others will not. Some shops also charge a storage fee. These extra charges could add up, especially if you find your dress early on in the wedding planning process. Incorporate storage fees into your wedding dress budget or be prepared to hang your dress safely in your closet at home until the big day arrives.
When should I make my final decision?
List recommends purchasing your gown at least six months before your wedding, which means you'll want to start shopping no later than seven or eight months before your special day. Sound too early? It's not, we promise! Most wedding dresses are made-to-order, which means it could take up to four months for your dress to be ready after you buy it. If nothing else, ordering your dress sooner rather than later will help you avoid costly rush fees, and you won't have to stress about getting alterations completed on time.
"If you find a dress you love, buy it, even if you still have time. It's a huge thing to check off of your list," says List. "Plus when you know, you know. Leaving yourself open to others will only shed doubt on a gut reaction that was most likely correct."
If you're wondering how COVID-19 has affected wedding dress shipping timelines, you'll be relieved to know that most bridal designers are fulfilling orders as they normally would. You can even shop for a wedding dress at home while stores are closed during quarantine.
How knowledgeable is your staff?
Research the staff before you commit to a boutique. Read consultant bios on the shop's website or reach out to the store directly to ask about the training they undergo and how long they've been working in the industry. Be sure to read the reviews to see what other brides have to say about their experience visiting the shop.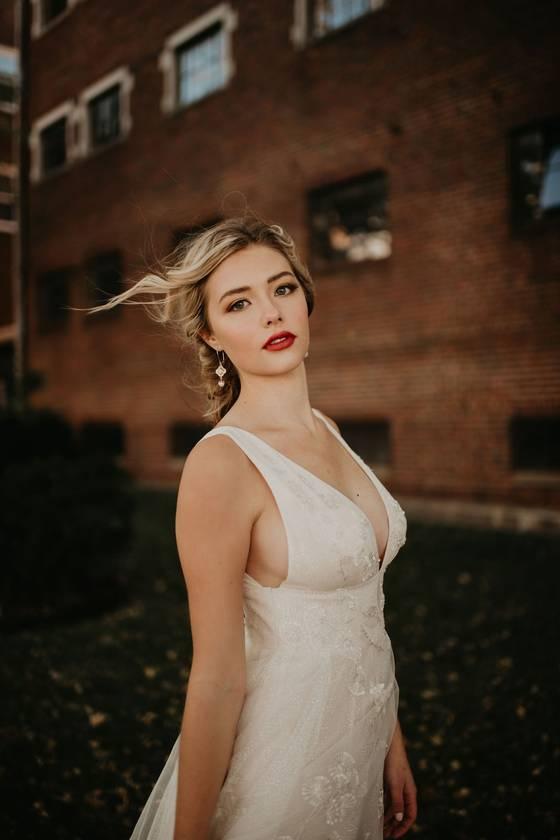 Do I need to make an appointment? If so, how long will my appointment last?
Many bridal salons are available by appointment only. An average wedding dress appointment will last for about an hour, and you'll be paired with one or two expert consultants who will help you select gowns and accessories based on your personal style. Ask about how many hours you should set aside before you head to the appointment, and most importantly, don't be late! Remember that there are other brides with appointments scheduled right after yours, so shops may not always be able to accommodate a late arrival or make up for lost time.
"We suggest most brides go to three to five stores to find the perfect dress and make sure they have looked at a wide selection, but are not overwhelmed," says Tien. "Once they find the gown and it comes in front the designer about four to six months later, then you will need alterations. We suggest getting alterations done one to two months prior to the wedding. Usually there are three fittings with alterations."
Can I take photos of my dress in the store?
This is another major detail to consider for your wedding dress questions checklist. Some shops have strict policies against taking photos of yourself in their wedding dresses, so be sure to confirm whether or not you're allowed to before you snap any pics.
Are there any additional fees?
Along with the price of your dress, you'll need to consider alterations (if they are being done in-house), shipping costs for your dress to be delivered, and tax fees. Ask your bridal consultant or the sales associate to clearly break down everything you'll be expected to pay.