The Wedding Dress Shopping Timeline Every Bride Should Know
From setting a budget to your final alterations fitting, this wedding dress timeline covers everything you need to do and exactly when to do it.
If you're about to start shopping for your dream gown, a wedding dress timeline can make all the difference by keeping you on track and ensuring that you don't skip any important steps. There's more to it than simply walking into a bridal boutique and choosing something off the rack—and you might be surprised by how long it actually takes for your wedding dress to arrive once you order it. Finding a wedding dress that fits your budget, personal style, and is ready in time for your wedding day will take a little bit of planning, but we promise it's all worth it in the end! With this timeline, we'll tell you exactly when to start browsing for inspiration, when to purchase your gown, and how much time you should allow for alterations.
In need of a last-minute wedding dress? Whether you've recently had to postpone your wedding and are looking for a new dress, or you've made a spontaneous decision to elope, you can still use this timeline to help you prioritize the most important steps, like shopping, accessorizing, and alterations.
Stay on schedule and avoid any stressful last-minute shopping by using this wedding dress timeline.
12-14 months before your wedding (or shortly after you get engaged if your wedding is less than a year away)
Trust us, the last thing you want to do is fall in love with a wedding dress that is way out of your price range. Instead, set a budget before you start your dress shopping journey. Choosing a budget ahead of time will help your bridal stylist pull the right dresses for you to try on.
After you've set a budget, you'll want to start browsing dress photos so you can get a feel of what you do and don't like. You'll get a sense of which dress styles best match your personal taste and the fabrics, necklines, silhouettes, and details you love. While it's still important to try dresses on to ensure they fit your body, looking at lots of dress pics will help kickstart the dress shopping experience.
Select your shopping entourage.
Remember, you don't want to invite too many people wedding dress shopping with you. Limit your posse to few close friends and family members, like your mom and maid-of-honor. Too many differing opinions can make dress shopping more stressful—and take even more time than it should!
Woo hoo — now is the time to start actually shopping for your wedding dress! Remember to brush up on everything you need to know about wedding dress shopping before you walk into your first appointment. You'll want to cover all the basics — like how to choose a bridal shop and what kind of questions should you ask your stylist — in order to makes sure you ace your wedding dress shopping experience.
It's a good idea to try on a few different styles in order to make sure the dress you've picked out is "the one". Don't be afraid to visit multiple salons during this time and shop around a bit. It's totally okay to give yourself some leeway time before you decide on your wedding dress.
9 months before your wedding
Around the nine-month mark you should make a final decision on a gown and put down a deposit. It can take up to six months for your dress to be built and then shipped to your salon. So, give yourself enough time putting a down payment on your dress as soon as you know it's "the one".
6 months before your wedding
Choose your bridal shoes.
After you've placed your dress order, go ahead and pick out the shoes you'll wear on the big day. Be aware of the color and style of your dress, so you can wear something that complements your gown.
Decide on any accessories.
You should also choose any accessories to wear around this time, including jewelry, hair accessories, and sashes or other adornments. It's definitely a good idea to decide which accessories you'll be donning on the big day before you start fittings and alterations. You can even pick out your "something old, something new, something borrowed, and something blue" at this time.
Shop for your undergarments.
It's a good idea to purchase or choose the undergarments you'll want to wear before your first fitting appointment. That way you can test your underpinnings out while you try on your dress and make sure everything fits properly.
3 months before your wedding
Schedule your first fitting.
Typically brides have around three fittings to ensure their wedding dress fits like a glove. Wedding dresses aren't made-to-measure, so once your dress arrives it'll need to be tailored precisely to fit your shape and form. Alterations can also take some time, so having your first fitting at the three-month mark of your wedding dress shopping timeline is a must.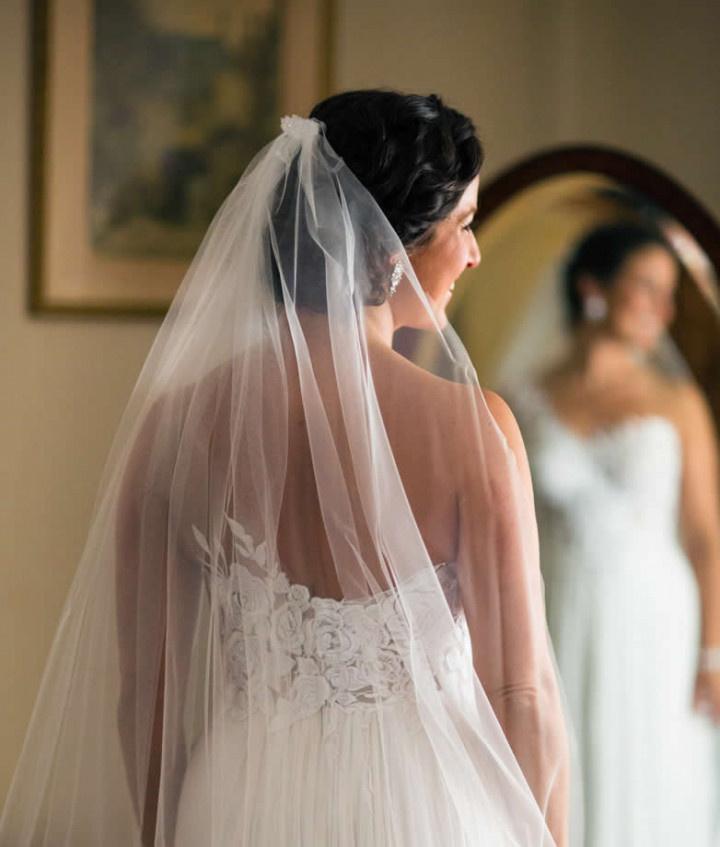 6 weeks before your wedding
Schedule your second fitting.
Your second fitting should take place about a month before your wedding day. This will give you some time in case the gown doesn't fit exactly as you envisioned after the first alterations have been made. If something still doesn't feel right be sure to speak up, so you can stick to your wedding dress shopping timeline.
3 weeks before your wedding
Schedule your final fitting.
Schedule your final fitting about three weeks before your wedding. That way your seamstress still has some time to make any small alterations.
After your final fitting, you can finally take your wedding dress home! Just make sure to find a designated spot for your gown to keep it safe before the wedding. This means away from anything else that could potentially get your dress dirty or torn (like pets) and also somewhere your future spouse won't see! We suggest placing your dress in a breathable, opaque bag and hanging it up in secure place. You might even choose to have a trusted friend or family member hang on to your dress to avoid any peeking from your spouse-to-be!
One day before your wedding
Put the final touches together.
The day before the wedding you should have your dress and bridal accessories all in one place, so they can be safely transported to your venue or wherever you're getting ready. We also suggest investing in a portable steamer so you can have one of your 'maids help get your gown wrinkle-free and wedding-day ready on the morning of your nuptials.
Wedding day
It's the big day! All you have to do is steam your gown and then it's time to get dressed, get beautiful, and go celebrate!