How to Save Money on a Wedding Dress in 6 Simple Steps
If you're stressing about paying for your dream wedding dress, not to worry. Here are our top tips on saving major cash on your gown.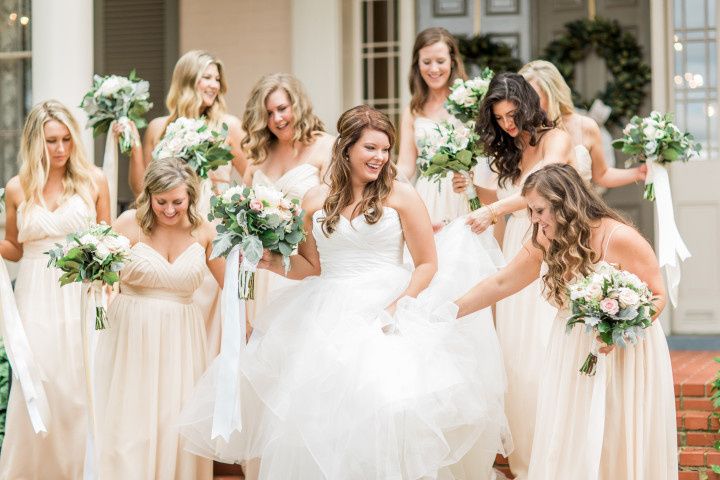 We've all watched Say Yes to the Dress episodes where a bride intending to spend $3,000 falls in love with a gown that's triple their budget. With so many gorgeous (and expensive!) gowns out there, figuring out how to save money on a wedding dress can feel like a lost cause. But there are actually lots of ways to stay within budget and not sacrificing style or quality when it comes to your wedding gown.
Want to know how to save money on a wedding dress? Check out our top tips.
Stick to your budget.
Before you start shopping, sit down with any parties who are contributing funds and create a budget for every aspect of your wedding (use our handy budget tool!), including your dress. That's the easy part. The more difficult part comes when you set foot in a bridal salon. It's easy to try on dresses in a wide range of price points, and fall in love with something that's way beyond your budget. Be upfront with your salesperson about what you can afford, and only try on dresses within that range. This means, before you try on each dress, confirm the price with your salesperson.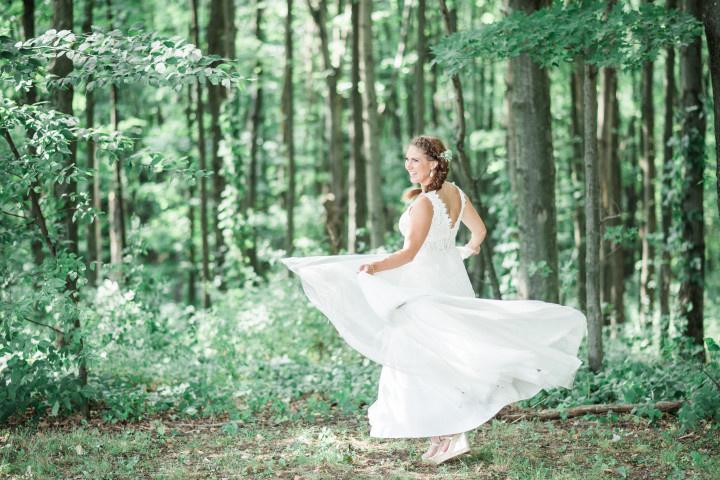 Visit sample sales.
If you're thinking about how to save money on a wedding dress, research sample sales at salons near you. Bridal salons host sample sales to clear out last season's gowns to make room for newer styles. The older (though usually no less stylish) gowns can be marked down up to 75 percent off in some cases. Check out our events calendar to find a sample sale near you.
Trunk shows are your new best friend.
It can be tricky to decide how to save money on a wedding dress if you have your heart set on a wearing a particular designer whose dresses are a bit pricier than you'd like. If you're set on wearing a gown by a certain designer (and their pricing isn't so far out of range), check and see if any bridal salons near you are hosting a trunk show featuring your favorite designer's dresses. Not only will you be able to try on exclusive gowns that aren't normally sold in stores, many salons also honor a discount (usually around 10 percent) on that designer's gowns during the show. It's a win-win!
Keep it simple.
Lots of beading and embroidery can raise the price of a gown significantly. Look for gowns with minimal adornments for a more cost-friendly style. If you require a gown with some bling, buy a simpler gown and source a sparkly sash or brooch to add some glitter. Remember that you can also go wild with accessories, choosing headpieces or shoes to add that extra glam factor.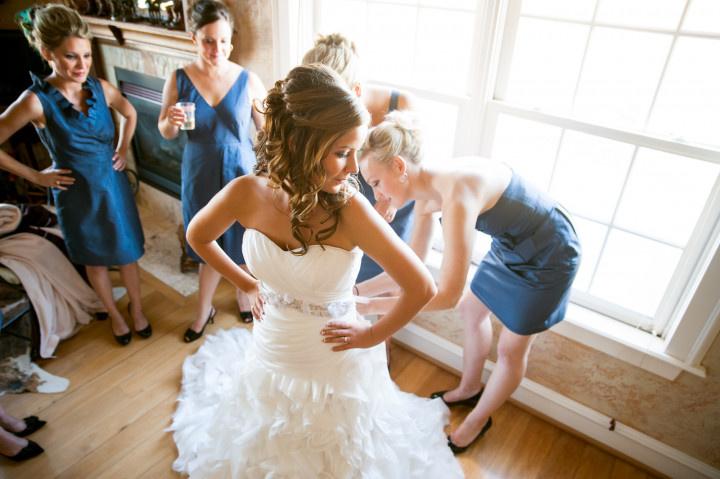 Don't customize.
Find a gown that you like pretty much as is, rather than choosing a style that requires lots of changes and tailoring. Adding straps or sleeves, changing the silhouette, dyeing a dress pink - the more changes you make, the higher the price!
Consider corset styles.
When determining how to save money on a wedding dress, we recommend being flexible on style if you can—in particular, considering a dress with a corset back. Wedding dresses with corset backs are a classic and elegant style, and they're far easier to adjust than gowns with button or zipper backs. If you gain or lose weight before your wedding day, you won't have to worry about completely altering your gown—tightening or loosening the lace-up corset will do the work for you. This can help you save money on alterations, which can cost hundreds of dollars.