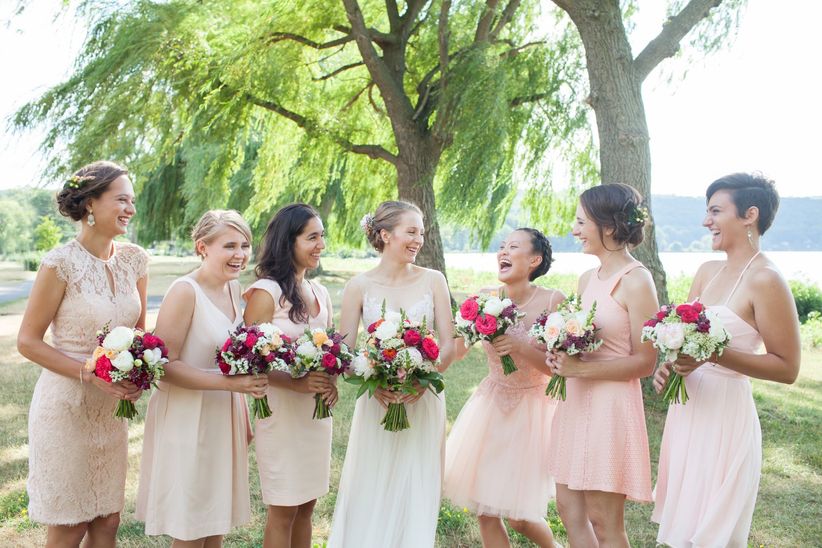 Photo: Anna Simonak Photography
In years past, bridesmaid dresses were commonly thought of as unattractive and unflattering—and for good reason. Brides picked a particular bridesmaid dress style because it was an extension of their color and design choices for their wedding—not because the dress was actually pretty or something a semi-fashionable human being would want to EVER wear again.

Nowadays, brides are realizing that bridesmaid dresses are a significant expense for their gals (the average cost of a bridesmaid dress is over $200!), so they are more willing to choose a dress that their 'maids might wear again.


Don't want your 'maids to pay for a one-time use dress? Make things easier for your friends by checking out our tips and choosing a wear-again bridesmaid dress.
Let your 'maids pick their bridesmaid dresses
On average, 50 percent of bridesmaids are allowed to pick their own dresses—and
bridesmaids who pick their own dresses
are more likely to actually like what they're wearing than those who had no say in their dress selection. Our recommendation? Give your bridesmaids some say in what they're wearing—either by giving them a few dress options to choose from or giving them free reign (mix and match bridesmaid dresses are so in right now!).
If your 'maids can pick their own dresses, they can order their dresses from a variety of places including
bridal salons
, department stores, consignments stores, online, or rental companies like Rent the Runway. Just make sure that they are given a strict color palette, length, and/or fabric to keep things consistent.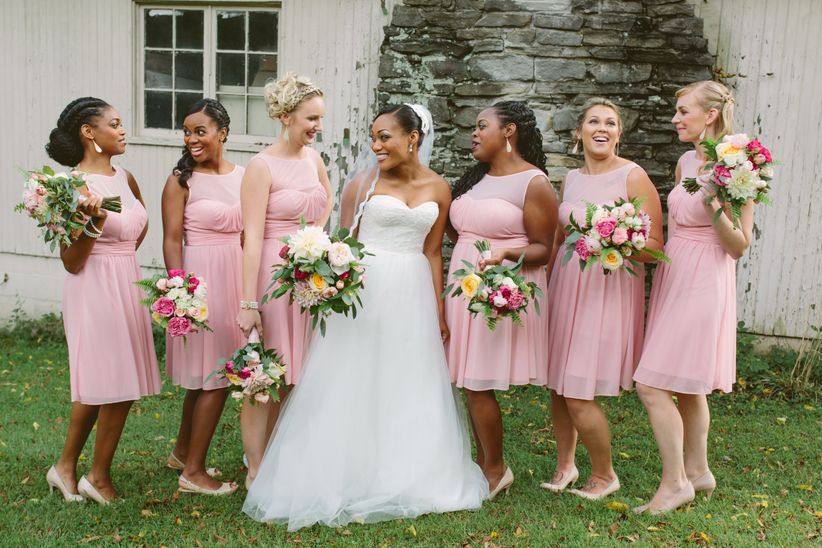 Photo: Greybird Galleries
Choose the right length
Floor-length dresses are still popular if you're looking for a bridesmaid dress with a more
formal touch
, but they aren't necessarily the best choice if you want your bridesmaids to re-wear their dresses.
Cocktail and midi are the best length options, since they'll work for almost any other event. Another option is to choose a short top and maxi skirt combination, since both items can be easily incorporated into a new outfit after the wedding.
If you really want your 'maids in a long gown (we agree, it's definitely pretty!), try to select a style that can be
easily hemmed after the big day
. That should cost between $35 and $60 depending on the length and type of material, and no one will be able to tell it's been shortened.
Choose a versatile color
The color of the dress can quickly determine if it's something you're going to re-wear. For example, a bright pink sequined dress probably isn't getting pulled out of the closet for a work function or cocktail party.
If you can, choose a dress in a more
neutral color
that works for a variety of occasions. A simple black or navy dress could work for other weddings or work functions, and a dress in a cream or blush shade can be worn at
daytime events
. Extremely bold or bright hues are more difficult to wear to non-wedding events.
Print dresses offer more versatility than a traditional solid color gown. The style of the dress also matters—a dress with straps or sleeves is more versatile than a strapless style.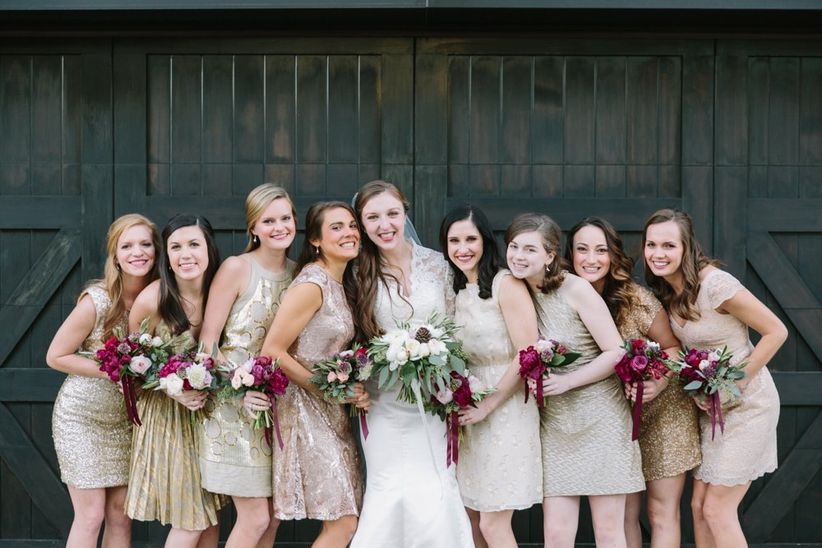 Photo: Al Weddings
Don't forget about the alterations
A perfectly-tailored bridesmaid dress will always look better than one that's right off the rack. While it is an
added expense for your 'maids
, altering a bridesmaid dress will make it more wearable in the long run. While you shouldn't force your bridesmaids to get their dress altered, you can provide them with a list of recommended tailors (your dress salon may be able to help with this) to point them in the right direction. They might be surprised how much their opinion of a dress changes when it fits like a glove.
And if they still aren't fans of the dress...
You can't
force your bridesmaids
to love their dresses. If there's no chance they will wear their bridesmaid dresses after the wedding, they can sell it in person or online via Poshmark, ThredUp, or Tradesy. They'll likely only earn back a small portion of what they paid, but it's better than having an unused dress in their closet taking up space—and it will help defray the (high!) cost of a bridesmaid dress.