23 Cute and Cozy Bridesmaid Sweatshirts for Your BFFs
From the bachelorette party to the morning of the wedding, these matching sweatshirts were made for group photos.
We have included third party products to help you navigate and enjoy life's biggest moments. Purchases made through links on this page may earn us a commission.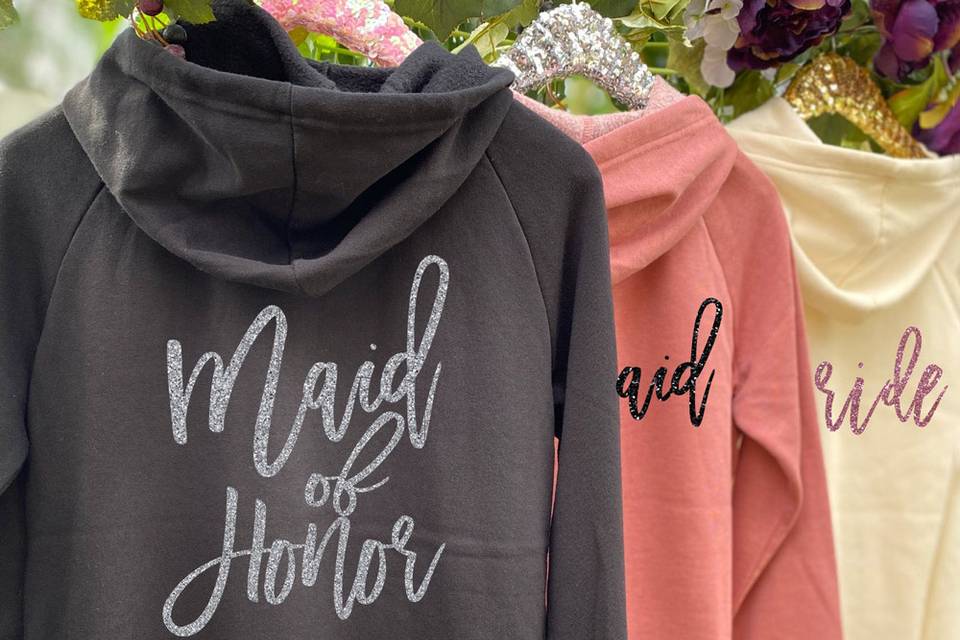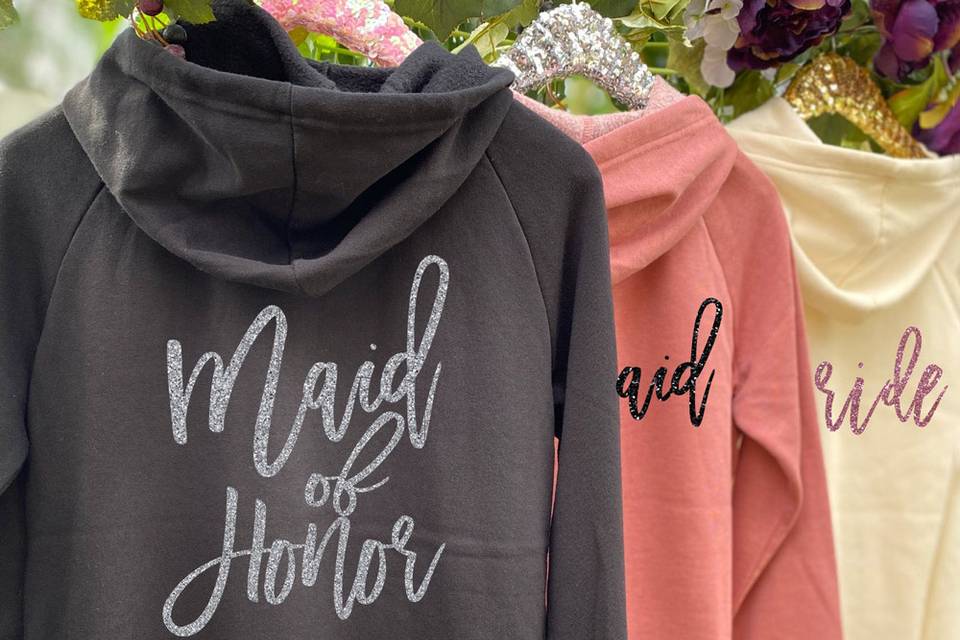 Putting together the perfect bridesmaid proposal boxes and choosing bridal party gifts can be a challenge—but cute bridesmaid sweatshirts are just one option when it comes to gift ideas that are practical and thoughtful. After all, your bridal party members are some of your closest friends and family, and they're stepping up to the plate big time to help you plan your wedding. You want your gift to be useful, fun, and exciting for your bridesmaids, and these wedding party sweatshirts will get the job done. Your BFFs can wear these matching sweatshirts when traveling for the bachelorette party, while getting ready for the big day, and long after the wedding is over. (Bonus: Many of these sweatshirts also have a matching bride hoodie, so you and your crew can all coordinate together.) Ready to shop? We've found 23 cute bridesmaid sweatshirts you can buy right now, so all you have to do is click "add to cart."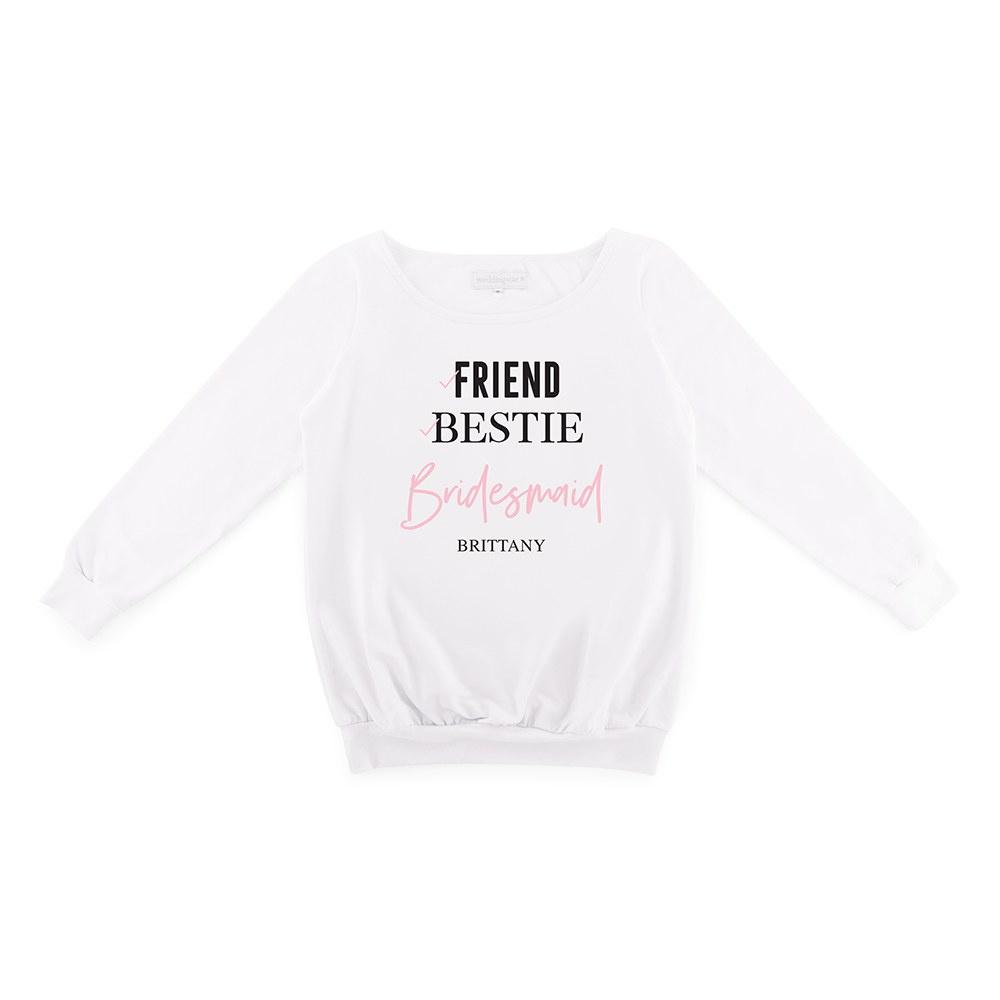 Bestie Sweatshirt
Your bridesmaids are, first and foremost, your besties. Celebrate your friendship with this bridesmaid checklist sweatshirt, which is a sweet way to show gratitude for throwing your bridal shower and standing by your side on the wedding day.
WeddingWire Shop Bridesmaid Checklist personalized bridal party wedding sweatshirt, $22 each, WeddingWire Shop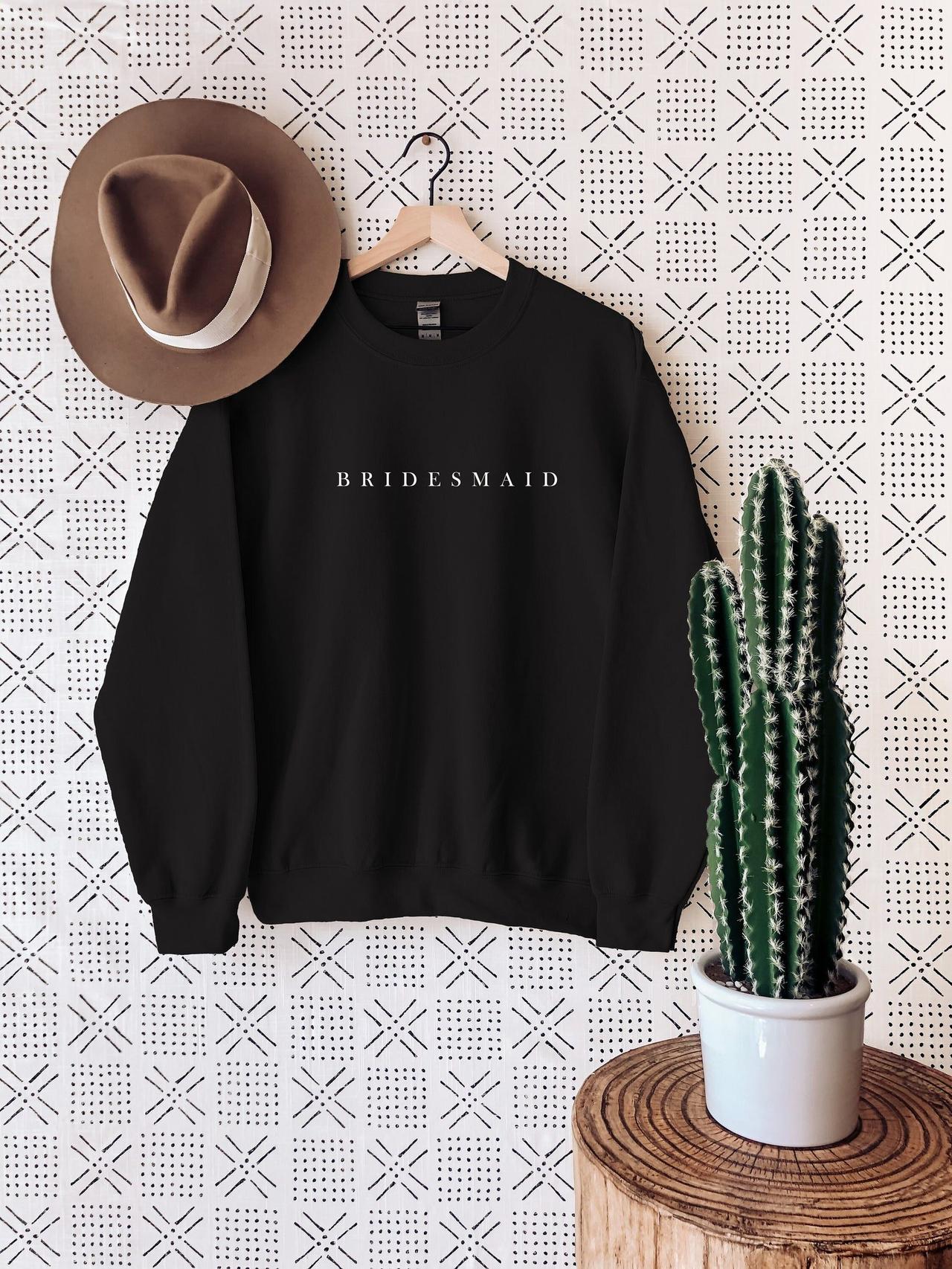 Minimalist Bridesmaid Sweatshirt
If you're going for a modern bridal party vibe, this classy bridesmaid sweatshirt features the word "Bridesmaid" in a minimalist font.
Neptun Custom Apparel bridesmaid sweatshirt, from $37 each, Etsy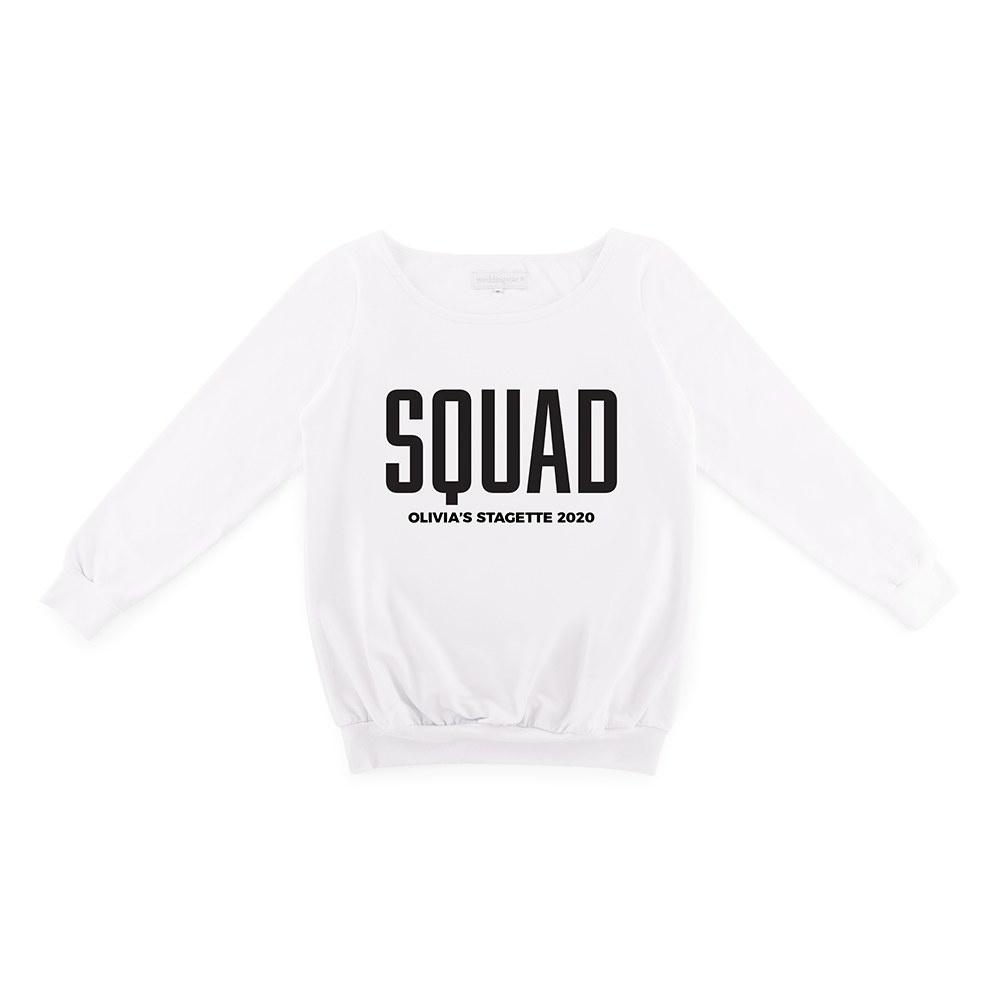 Squad Sweatshirt
Perfect for your bridesmaids to wear throughout your bach bash, this "Squad" sweatshirt can be customized with a cute phrase or the date of the party.
WeddingWire Shop Glam Squad personalized bridal party wedding sweatshirt, $22 each, WeddingWire Shop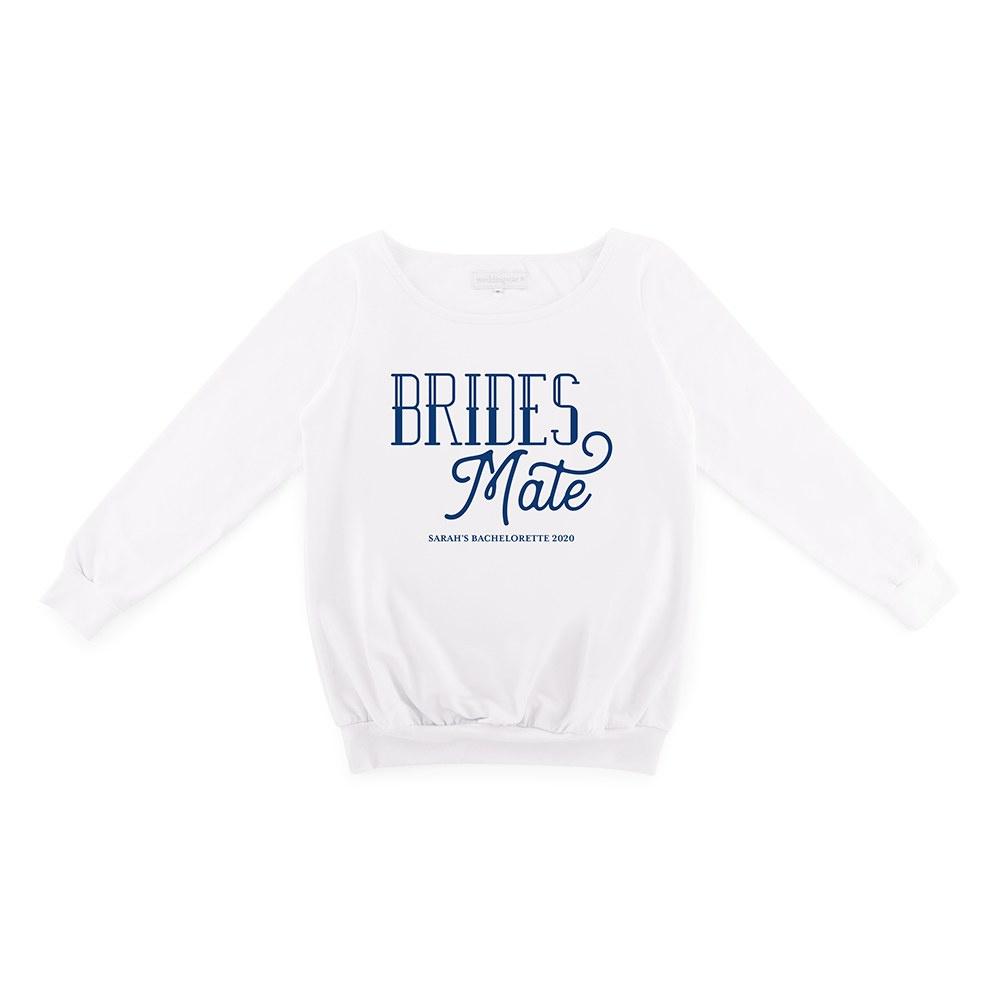 Brides Mate Sweatshirt
Not all bridal party members are women. If you're celebrating your wedding day with a bridesman or "brides mate," they'll appreciate the thought that went into selecting this gender-neutral, unisex sweatshirt.
WeddingWire Shop Brides Mate personalized bridal party wedding sweatshirt, $22 each, WeddingWire Shop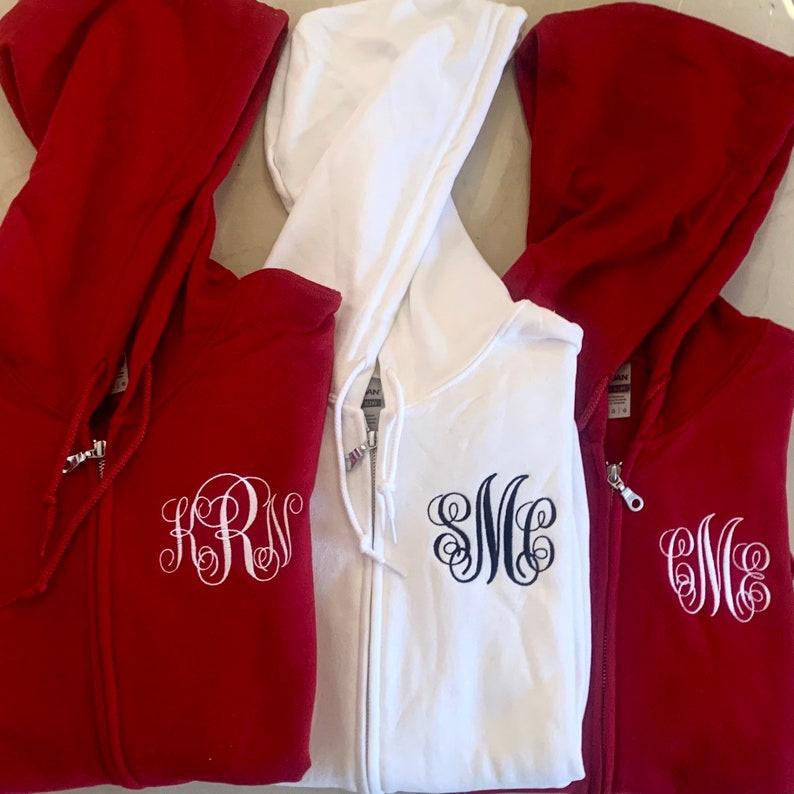 Monogram Bridesmaid Hoodie
Monograms are an easy way to personalize any bridal party gift, and they're an excellent option if you don't want something that says "bridesmaid." These zip-up hoodies come in a range of color combinations and font options, so you can create a genuinely customized design. This also makes a great junior bridesmaid or mother of the bride wedding gift.
Dream Like Creations personalized bridesmaid zip up, from $24 each, Etsy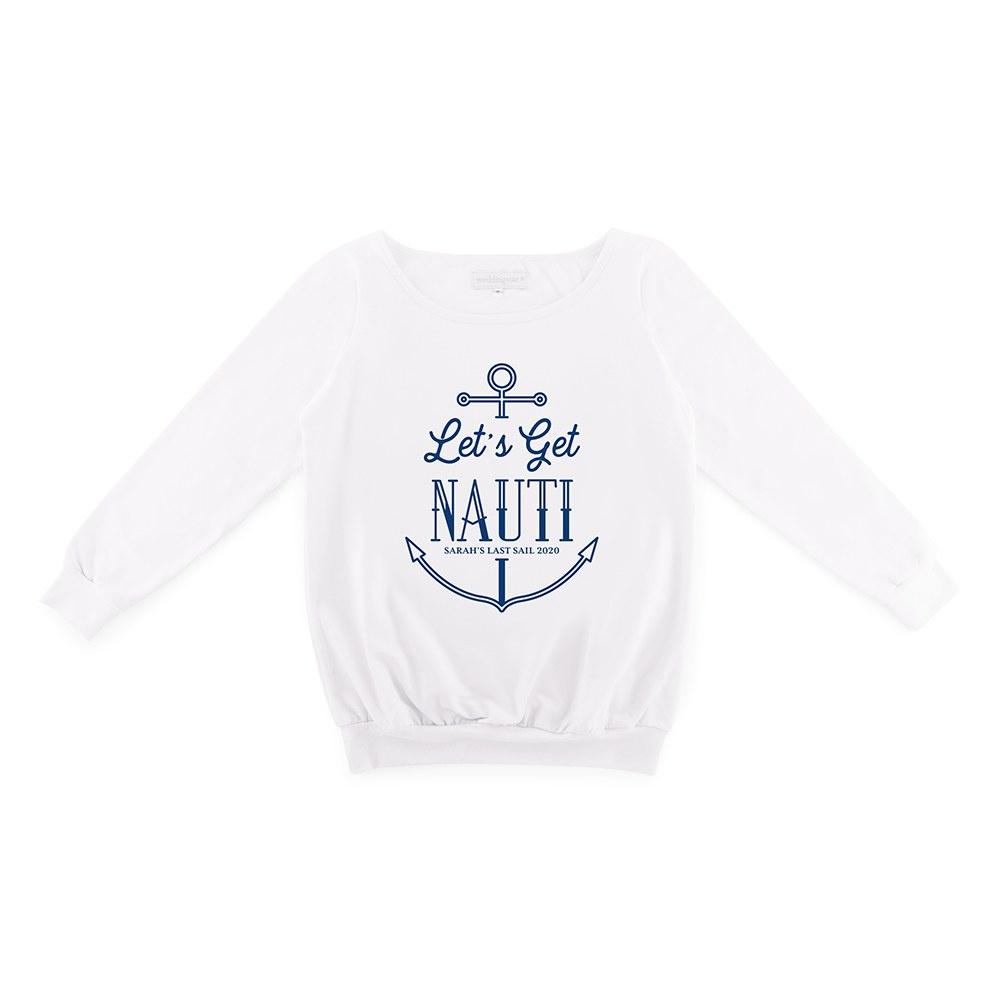 Nautical Bridesmaid Sweatshirt
Boat rides are a popular bachelorette party activity. Celebrate your nautical-themed bash with this "Let's Get Nauti" sweatshirt for your best mates and crew.
WeddingWire Shop Let's Get Nauti personalized bridal party wedding sweatshirt, $22 each, WeddingWire Shop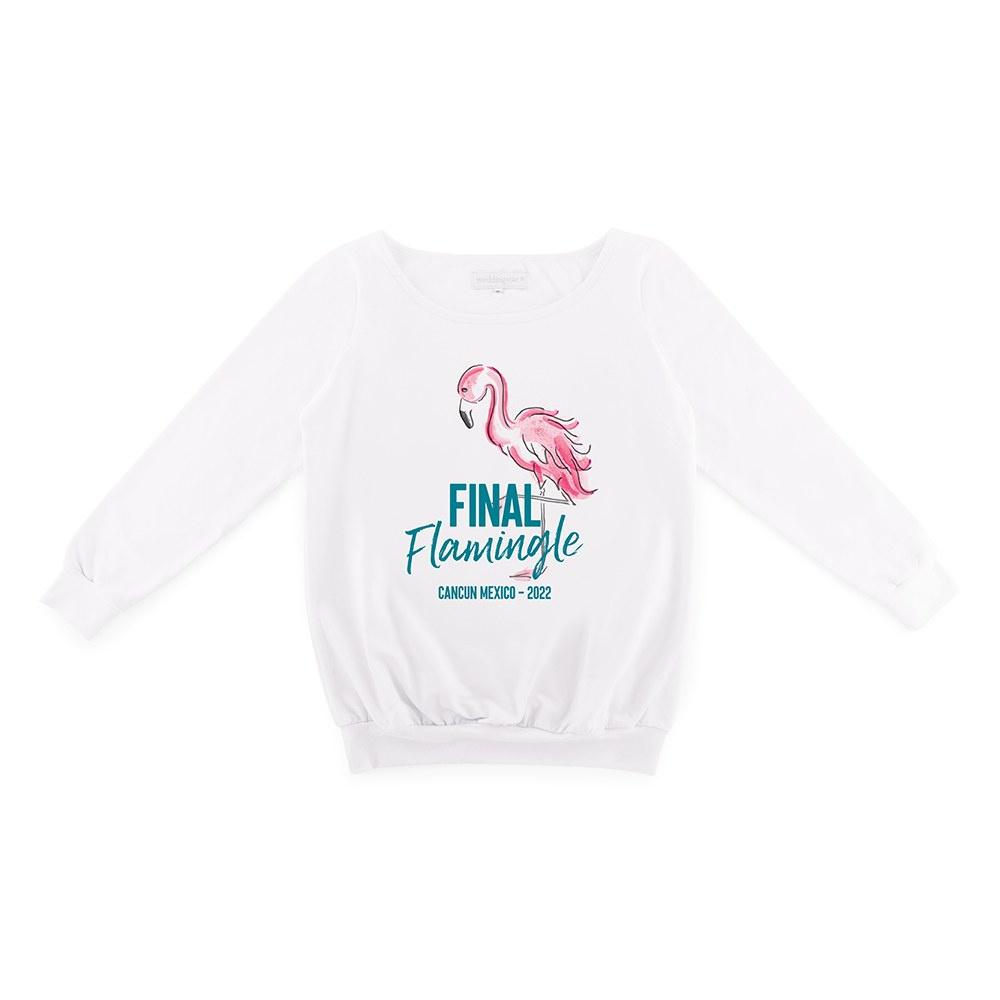 Tropical Bridesmaid Sweatshirt
From Florida to Cancun, the opportunities for tropical destination weddings or bachelorette parties are endless. Celebrate your beachy "I do"s or bachelorette party by gifting your bridesmaids these matching flamingo sweatshirts.
WeddingWire Shop Final Flamingle personalized bridal party wedding sweatshirt, $22 each, WeddingWire Shop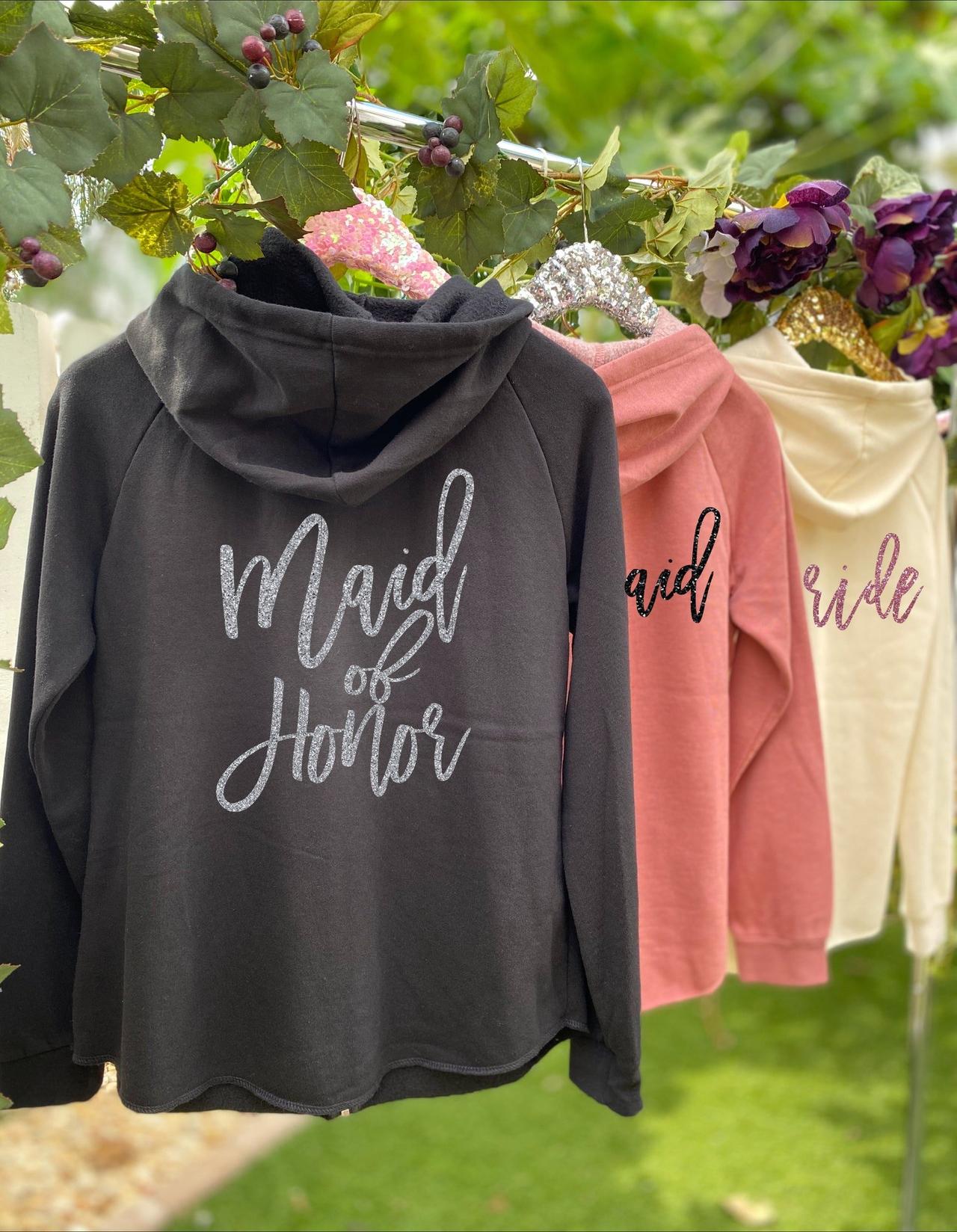 Zip-Up Bridesmaid Hoodie
A cozy hoodie is perfect to wear over matching bridesmaid T-shirts or tank tops while getting ready. This full zip hoodie comes in white, pink, or black, with dozens of different lettering color options.
Bells and Balloons bridesmaid matching hoodies, from $46 each, Etsy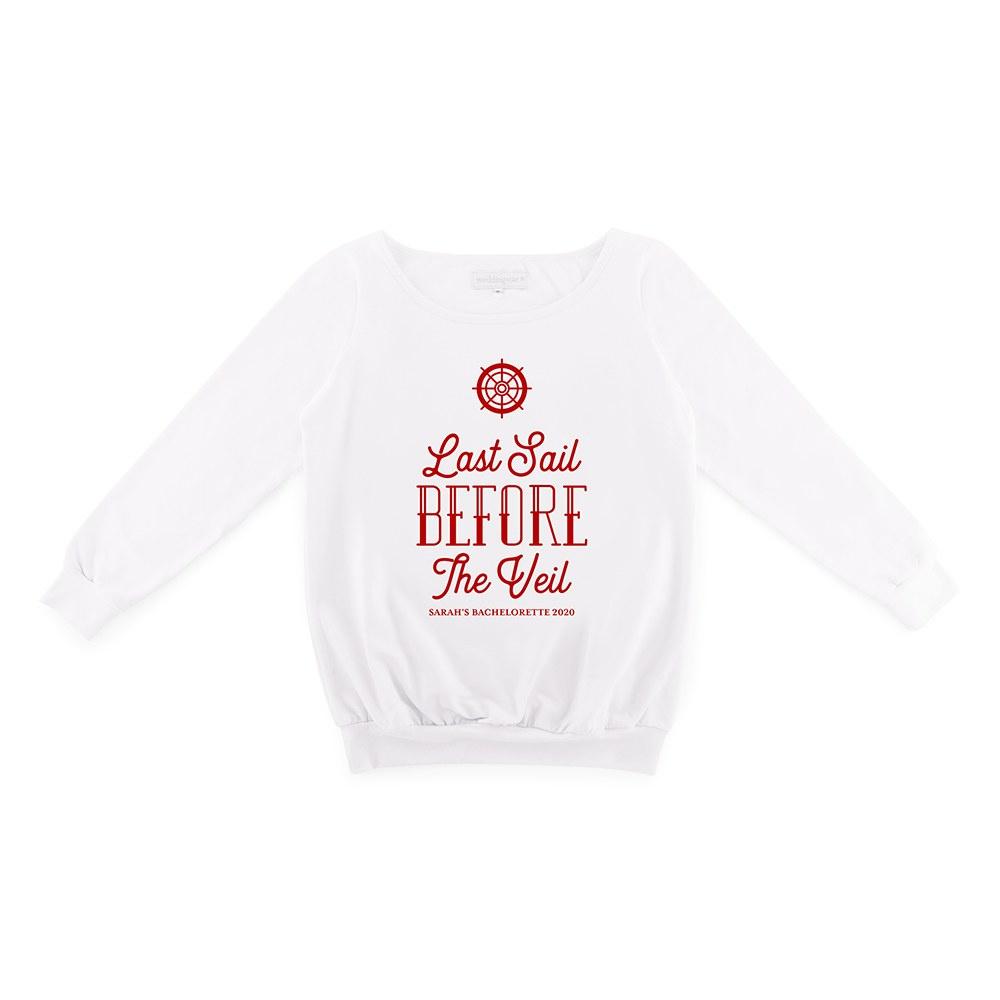 Sailing Bridesmaid Sweatshirt
Chartering a yacht for your bachelorette party? Get the whole squad ready with this "Last Sail Before the Veil" sweatshirt. It features a boat steering wheel and comes in three colors with optional personalization.
WeddingWire Shop Last Sail Before The Veil personalized bridal party wedding sweatshirt, $22 each, WeddingWire Shop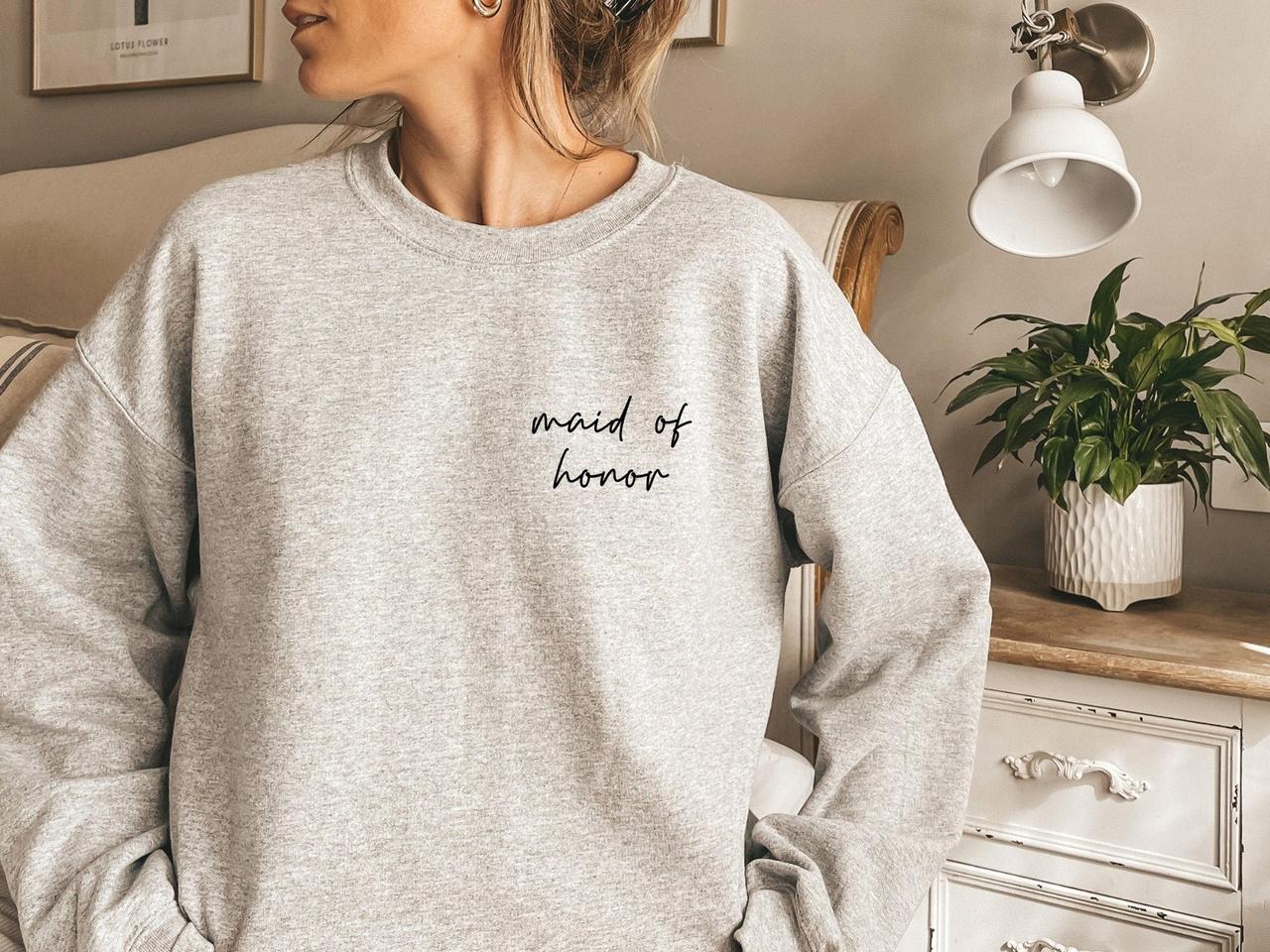 Maid of Honor Sweatshirt
Give your maid or matron of honor a little VIP treatment by surprising her with a special sweatshirt that stands out from the rest of the group. This design features whimsical script around the pocket area, and you can choose from dozens of color combinations to match your wedding theme or her personal style.
Shop Lupa custom maid of honor sweatshirt, from $20, Etsy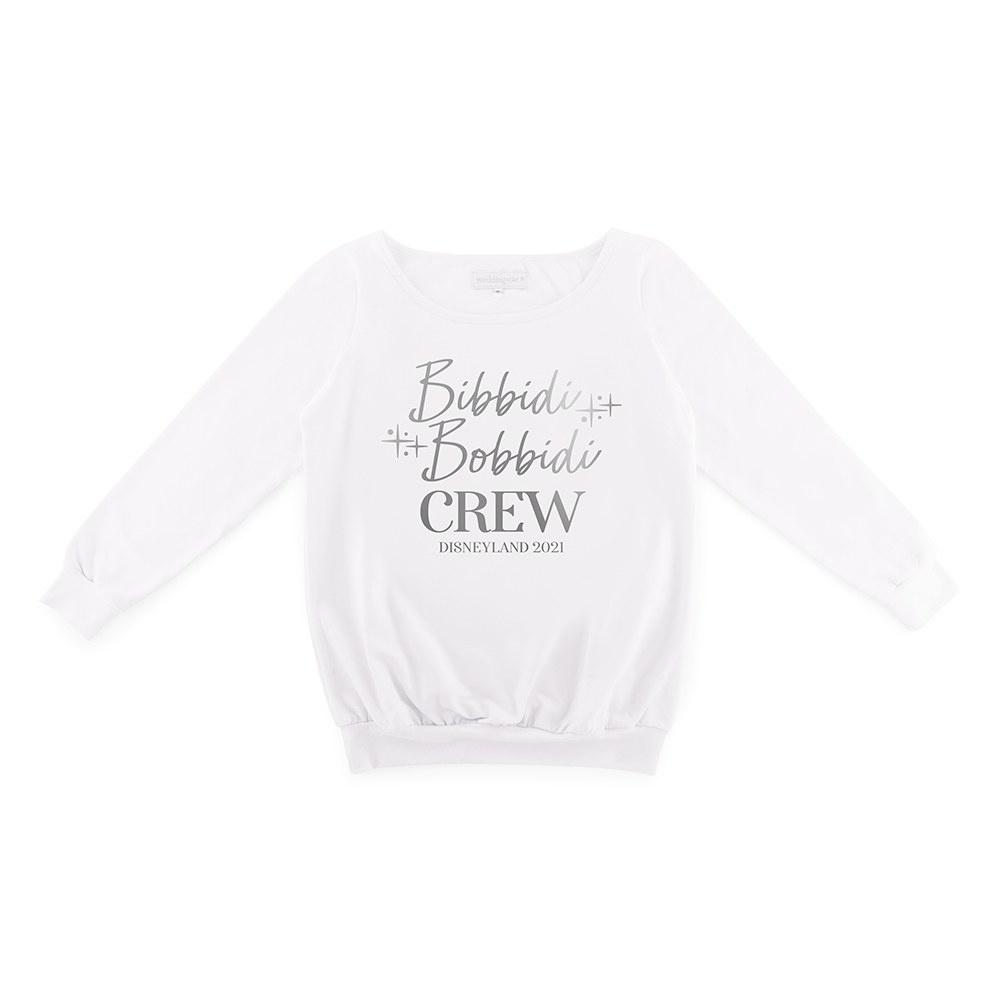 Cinderella-Inspired Sweatshirt
Having your bachelorette party at Disney World is always a good move in our books. Explore the parks with your crew in style thanks to this fairy godmother-inspired bachelorette party shirt.
WeddingWire Shop Bibbidi Bobbidi Crew personalized bridal party wedding sweatshirt, $22 each, WeddingWire Shop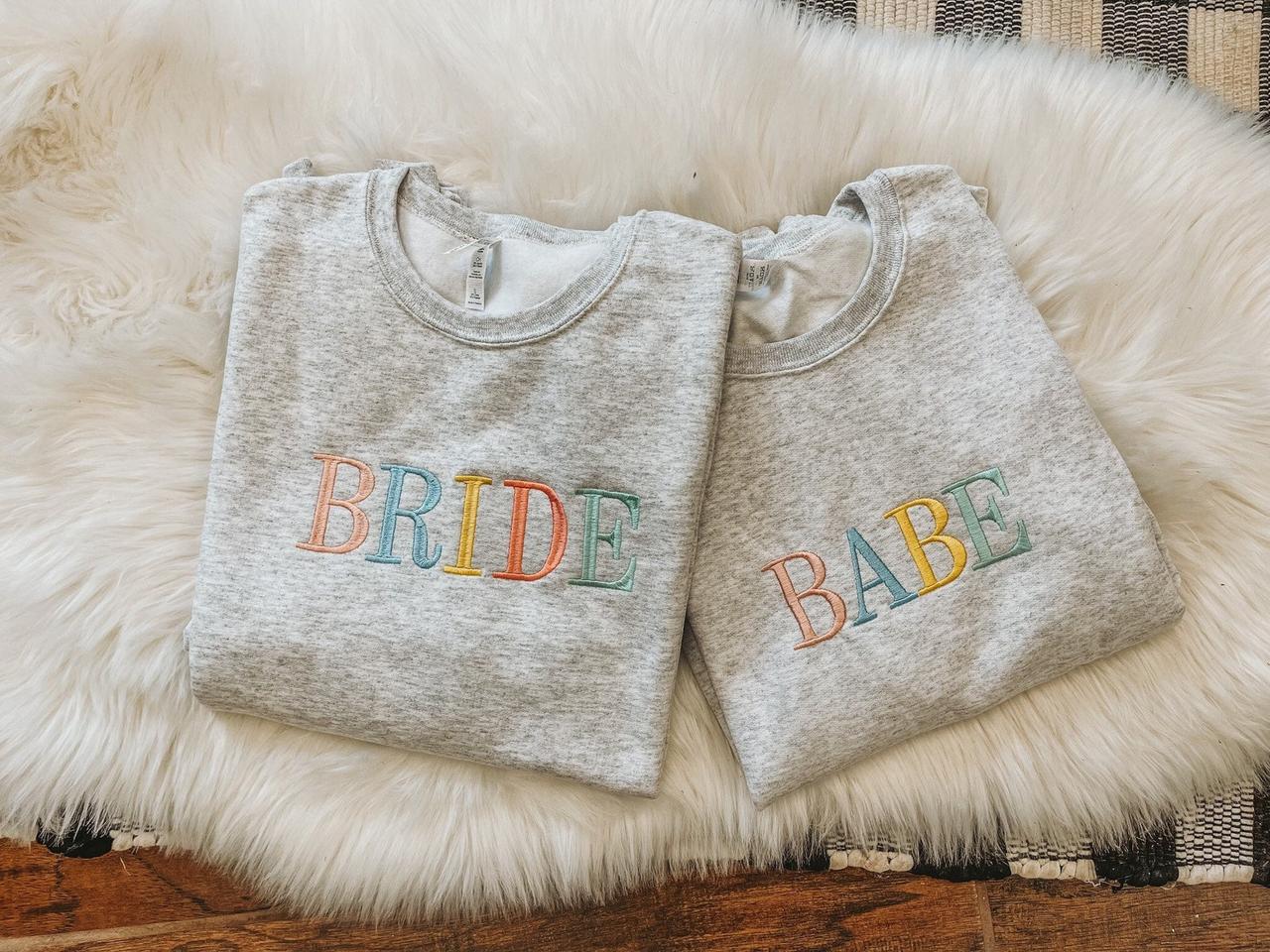 Embroidered Bridesmaid Sweatshirt
These embroidered bridesmaid sweatshirts were made for the group who loves all things whimsical and colorful. The bridal party sweatshirt says "babe" in rainbow colors, and there's also a "bride" option so you can match your besties (or if you're shopping for a bride gift, you can surprise the future Mrs. with her own sweatshirt).
Amy Anne Apparel colorful bride and babe crew neck sweatshirts, form $24 each, Etsy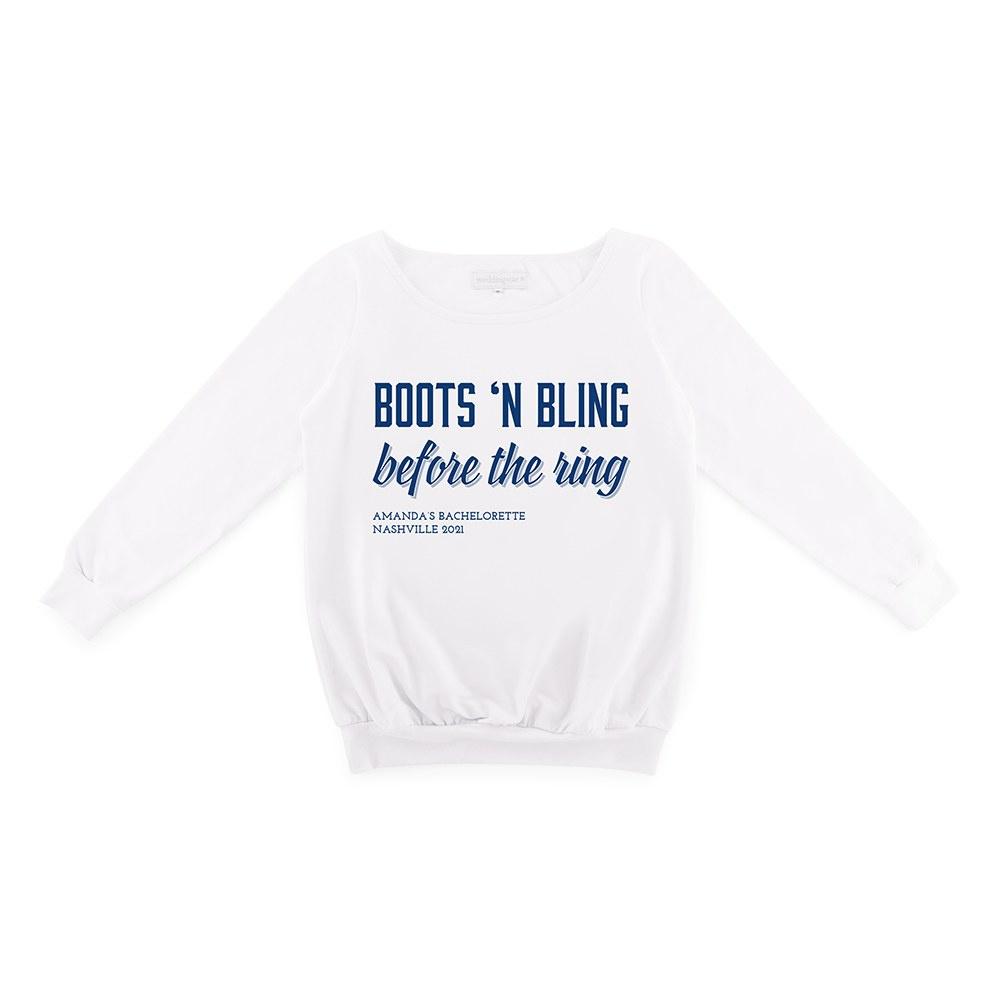 Western-Themed Bachelorette Sweatshirt
This bridesmaid sweatshirt goes great with cutoffs and cowgirl boots. From Nashville to Austin, some of the top bachelorette party destinations are a natural fit for a Western theme. Your bridesmaids will love matching in these "Boots 'n Bling Before the Ring" sweatshirts while traveling to your bach destination or lounging around.
WeddingWire Shop Boots N' Bling personalized bridal party wedding sweatshirt, $22 each, WeddingWire Shop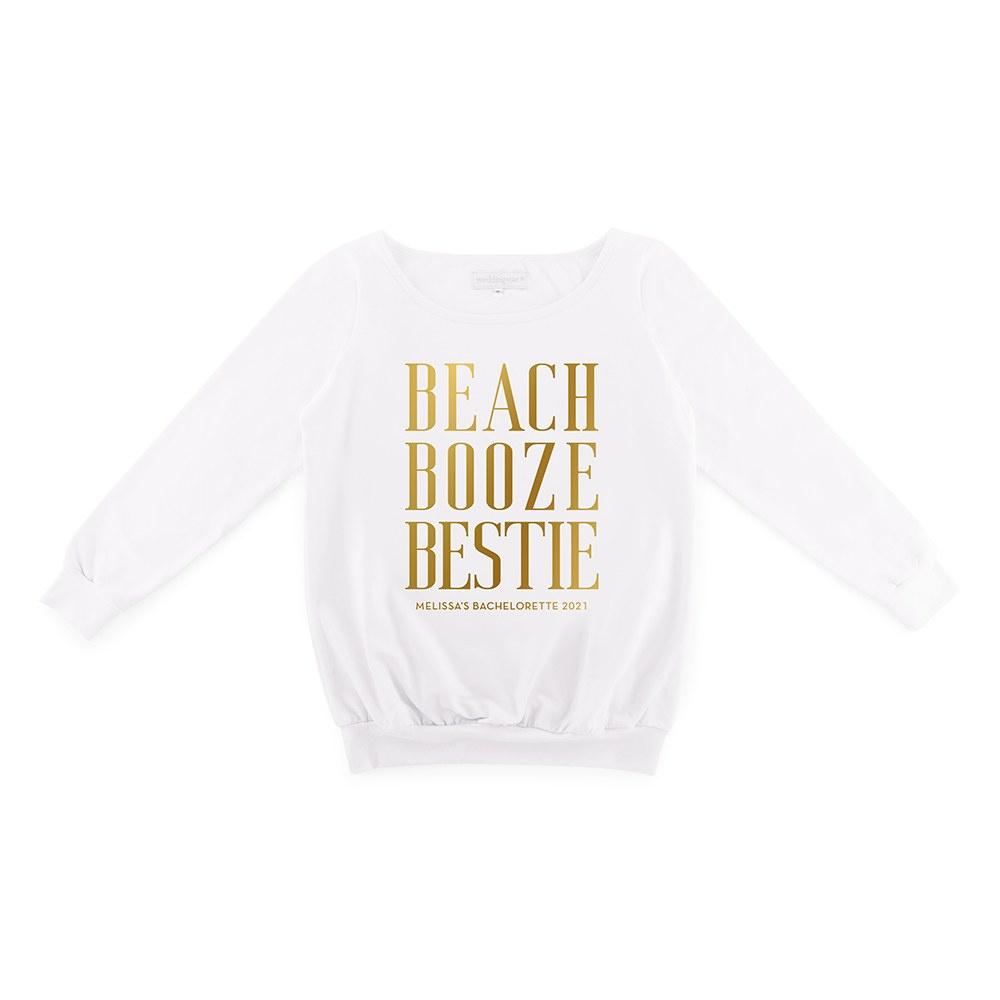 Boozy Bridesmaid Sweatshirt
Whether you're visiting the beach for your bachelorette party or saying "I do" in the sand, gifting your bride squad this beachy crewneck sweatshirt will keep the good vibes going.
WeddingWire Shop Beach, Booze, Bestie personalized bridal party wedding sweatshirt, $22 each, WeddingWire Shop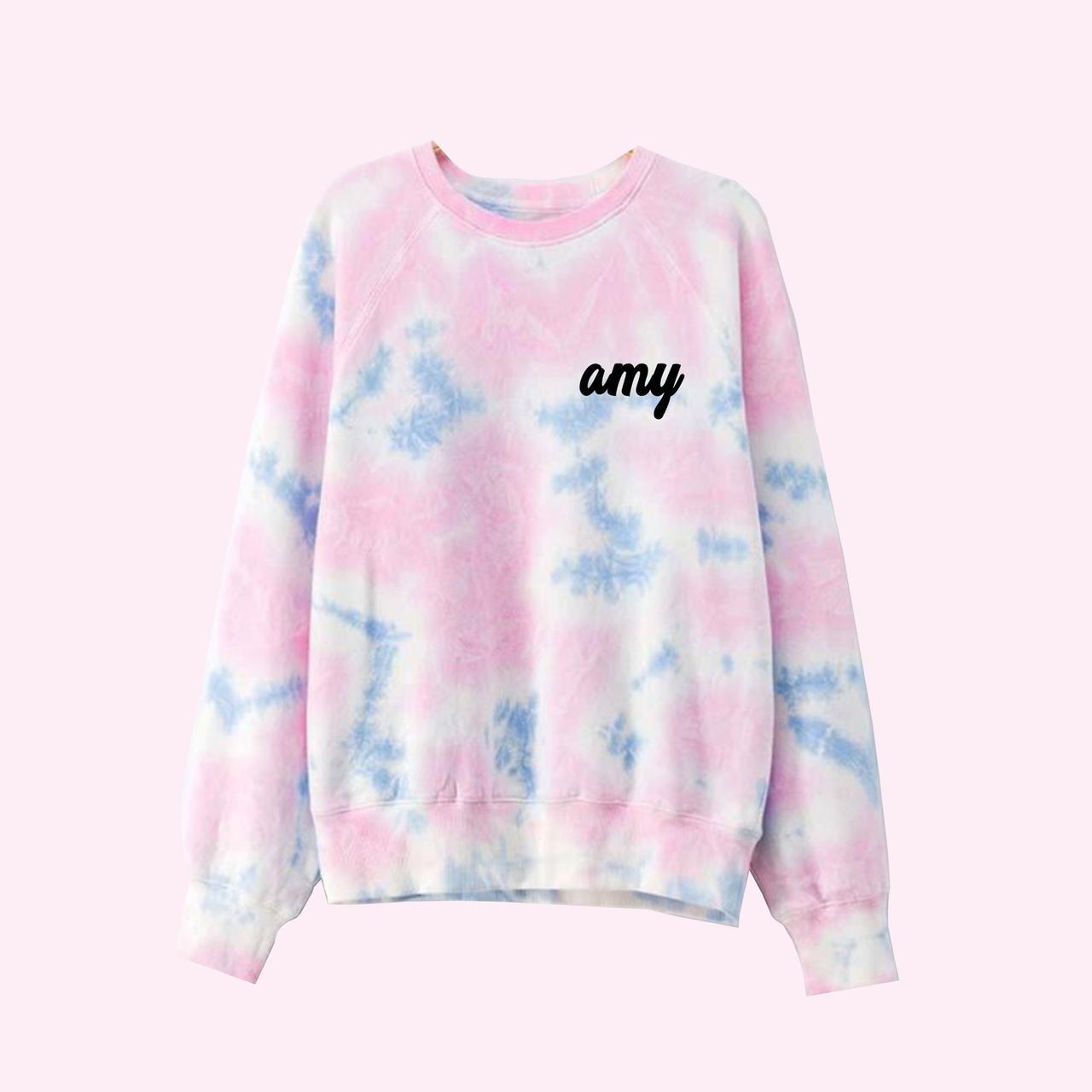 Tie Dye Bridesmaid Sweatshirt
We're big fans of tie dye, and this pastel sweatshirt is right on trend. Customize it with a name or monogram, then add it to a bridesmaid proposal gift box as a fun surprise.
A Dash of Chic personalized tie dye sweatshirt in Pink and Blue, $38 each, Etsy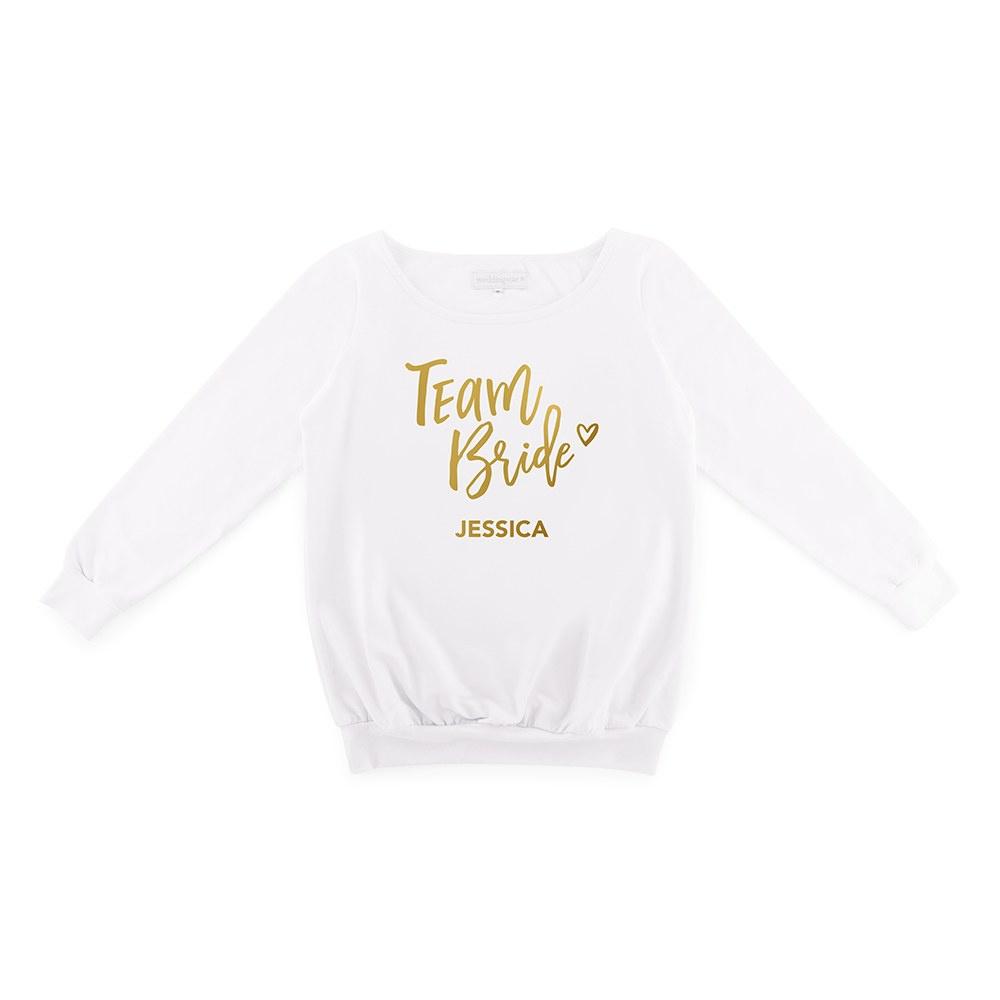 Team Bride Sweatshirt
This cozy sweatshirt features "Team Bride" written in a gold calligraphy script. Each one can be personalized to feature a bridesmaid's name for a personal, adorable gift any bridal party member would be excited to receive.
WeddingWire Shop Team Bride personalized bridal party wedding sweatshirt, $22 each, WeddingWire Shop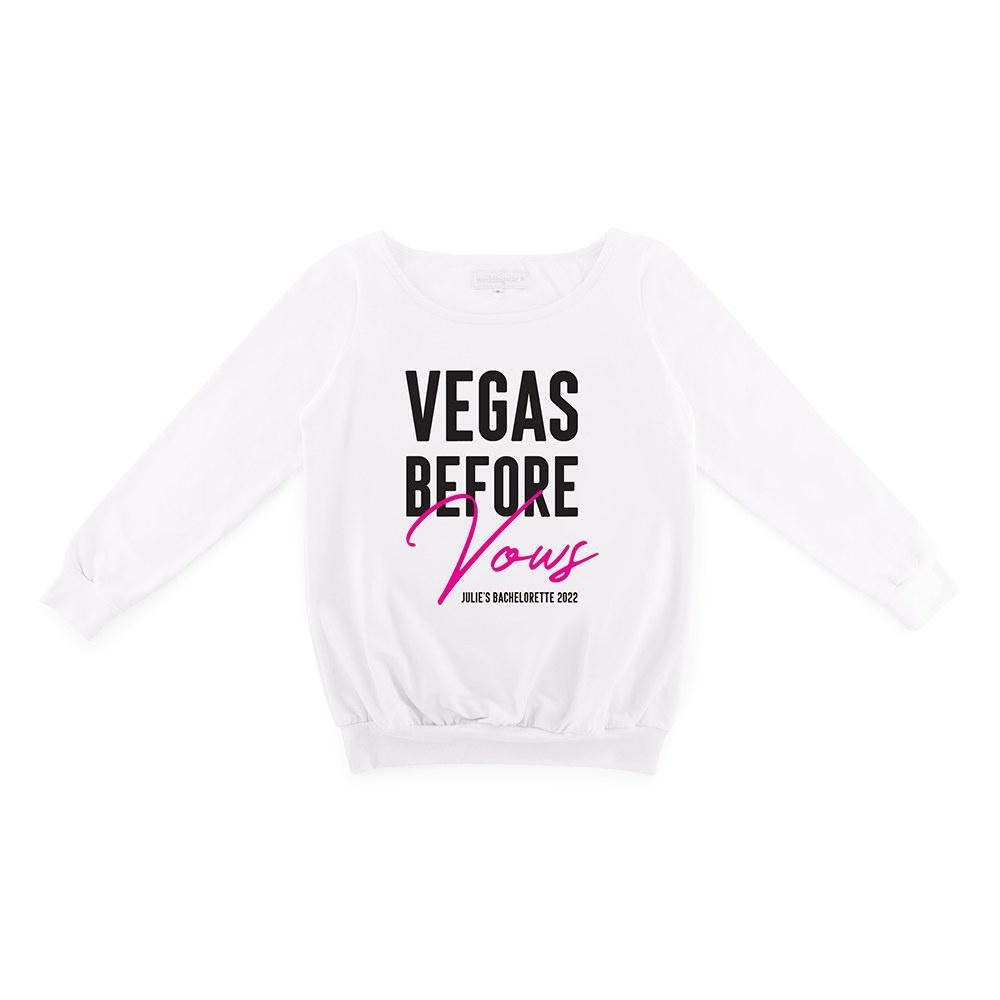 Vegas Bachelorette Party Sweatshirt
Las Vegas is always one of the top bach party destinations. If you're headed to The Strip with your girls, show up in style with these "Vegas Before Vows" sweatshirts, which feature the bride's name and bachelorette party year.
WeddingWire Shop Vegas Before Vows personalized bridal party wedding sweatshirt, $22 each, WeddingWire Shop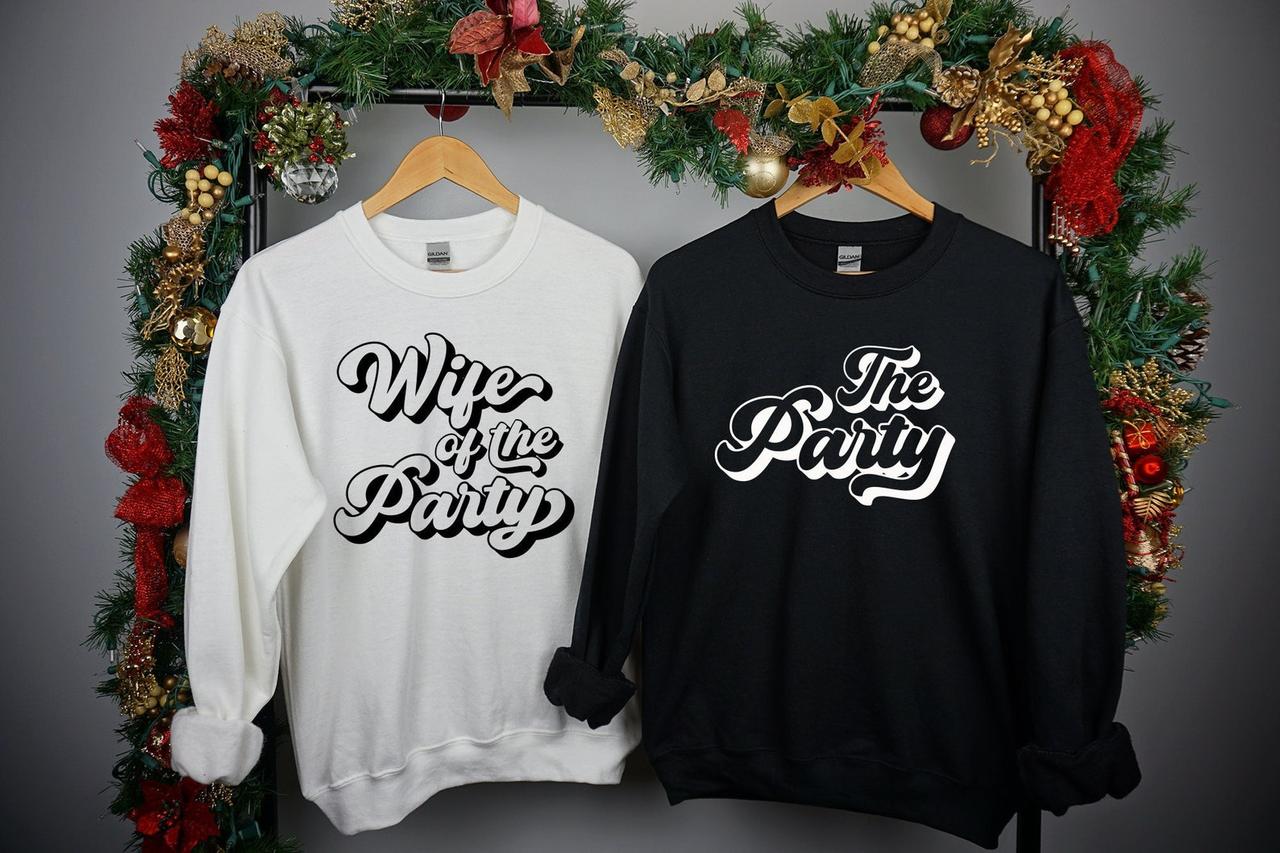 Cheeky Bridesmaid Sweatshirt
The bride may be the wife of the party, but the bridesmaids are the literal bridal party. These black and white sweatshirts are perfect for a bridal party gift or bridesmaid proposal box. Bonus: The '70s-esque font gives this style a cool, retro vibe.
Flame Design US wife of the party and the party sweatshirts, from $33 each, Etsy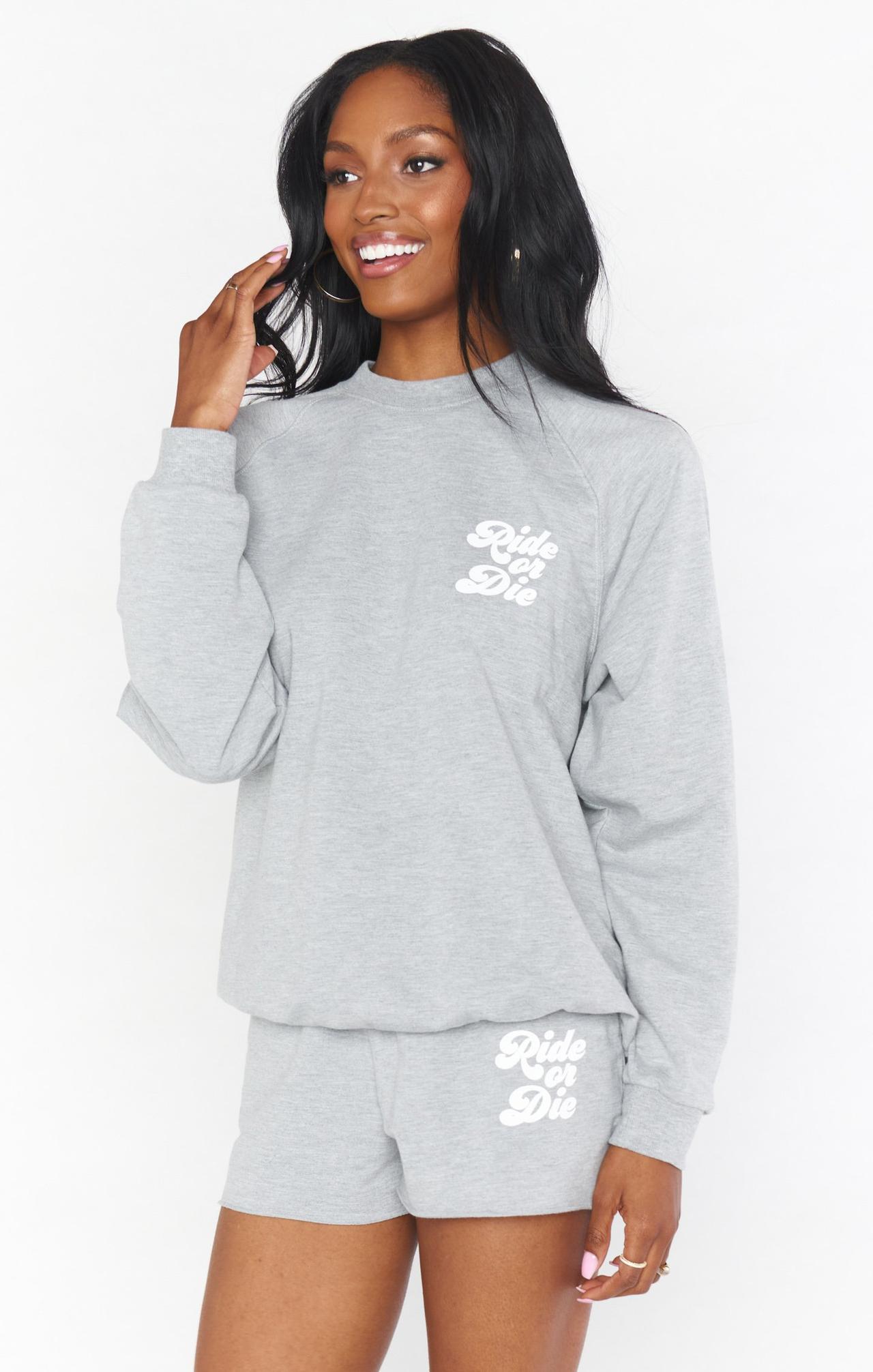 Matching Bridesmaid Lounge Set
This "Ride or Die" bridesmaid sweatshirt comes with matching shorts to complete the comfy set. Get one for each of your 'maids and snag the matching bride set for a cute group photo op.
Show Me Your Mumu bach set, $98 each, Show Me Your Mumu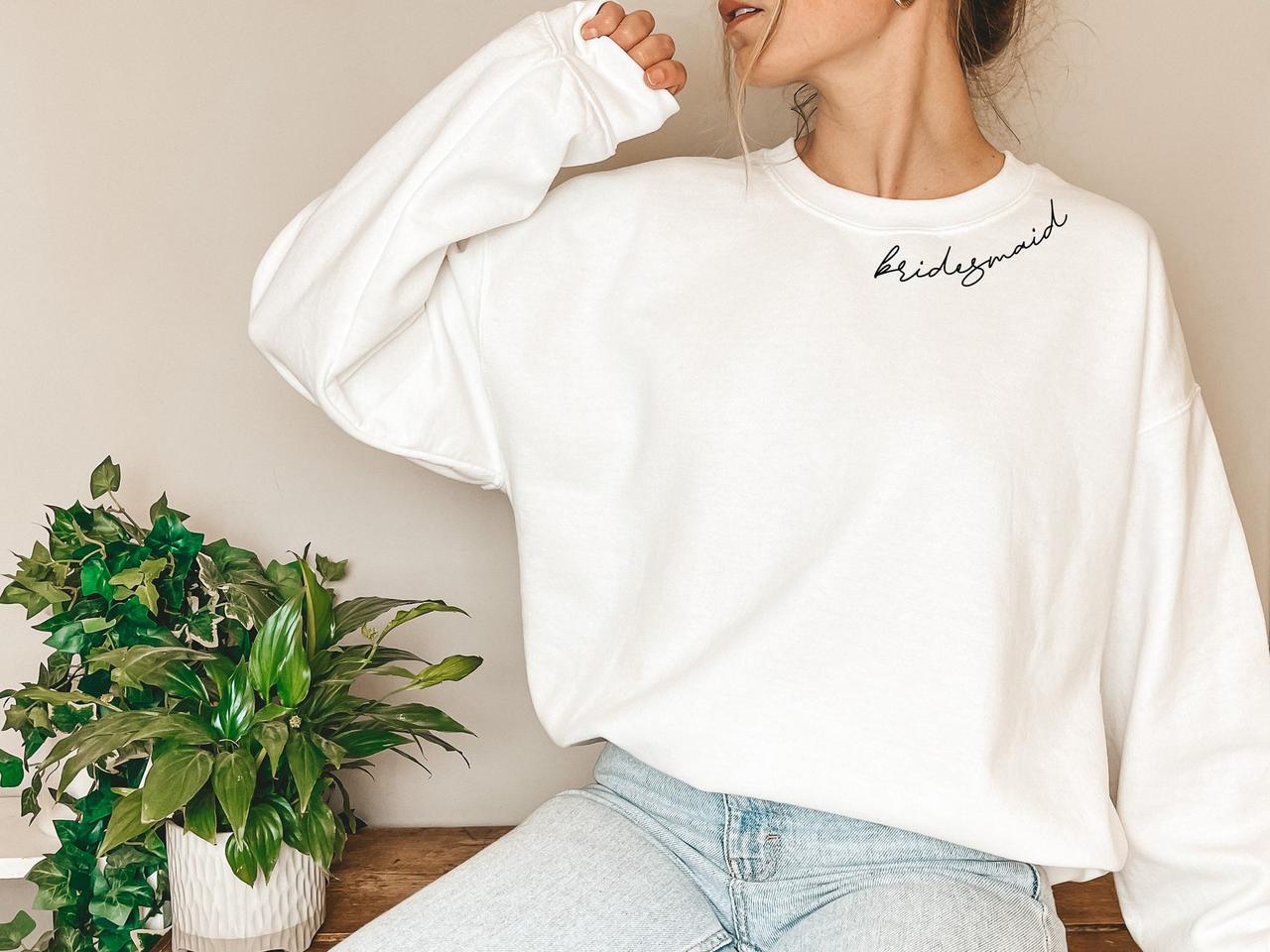 Script Bridesmaid Sweatshirt
For brides who want a simple gift idea, this minimalist bridesmaid sweatshirt is our pick. The crewneck sweatshirt comes in seven colors and features the word "bridesmaid" in an elegant script font along the neckline.
Panini Printables custom bridesmaid sweatshirt, from $18 each, Etsy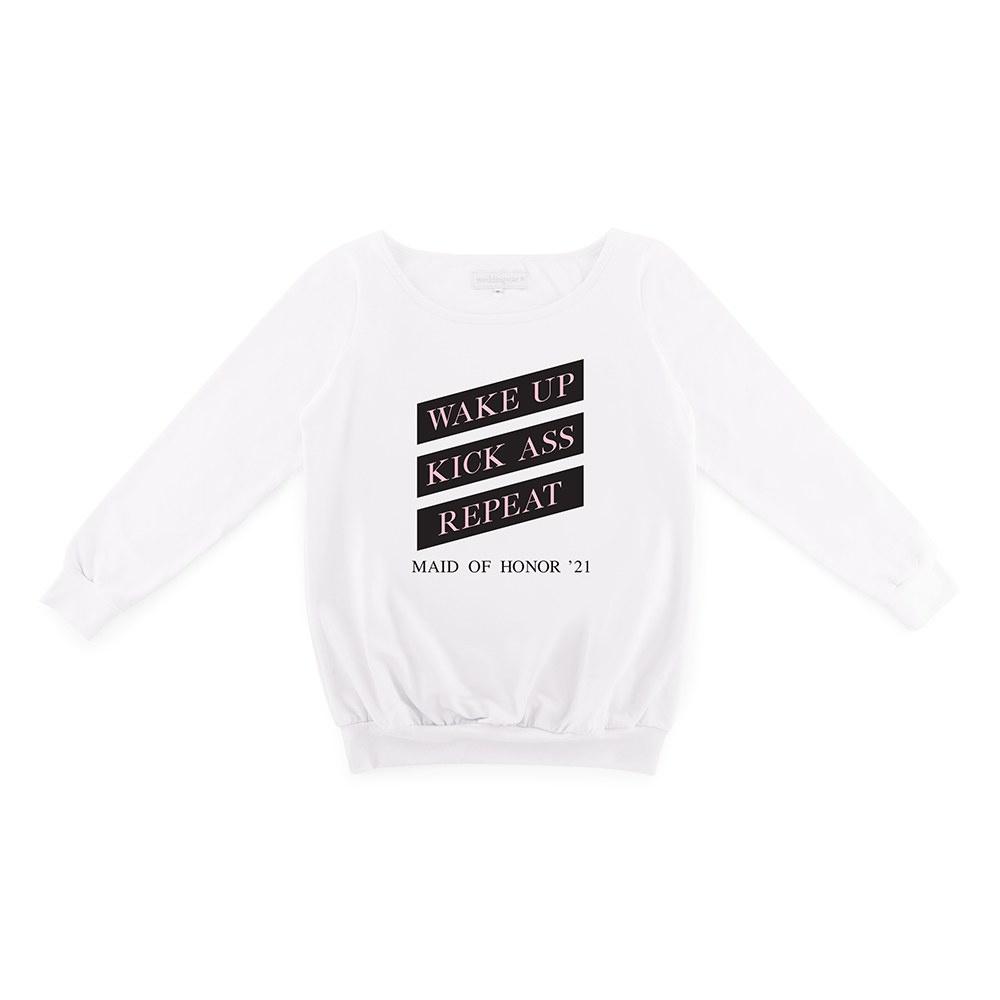 Motivational Bridesmaid Sweatshirt
For the no-nonsense bridal party, this motivational sweatshirt is sure to put a smile on their faces. The sweatshirt is decorated with the phrase, "Wake up. Kick ass. Repeat." What better way to describe your wedding day getting ready routine?
WeddingWire Shop Wake Up, Kick Ass, Repeat personalized bridal party wedding sweatshirt, $22 each, WeddingWire Shop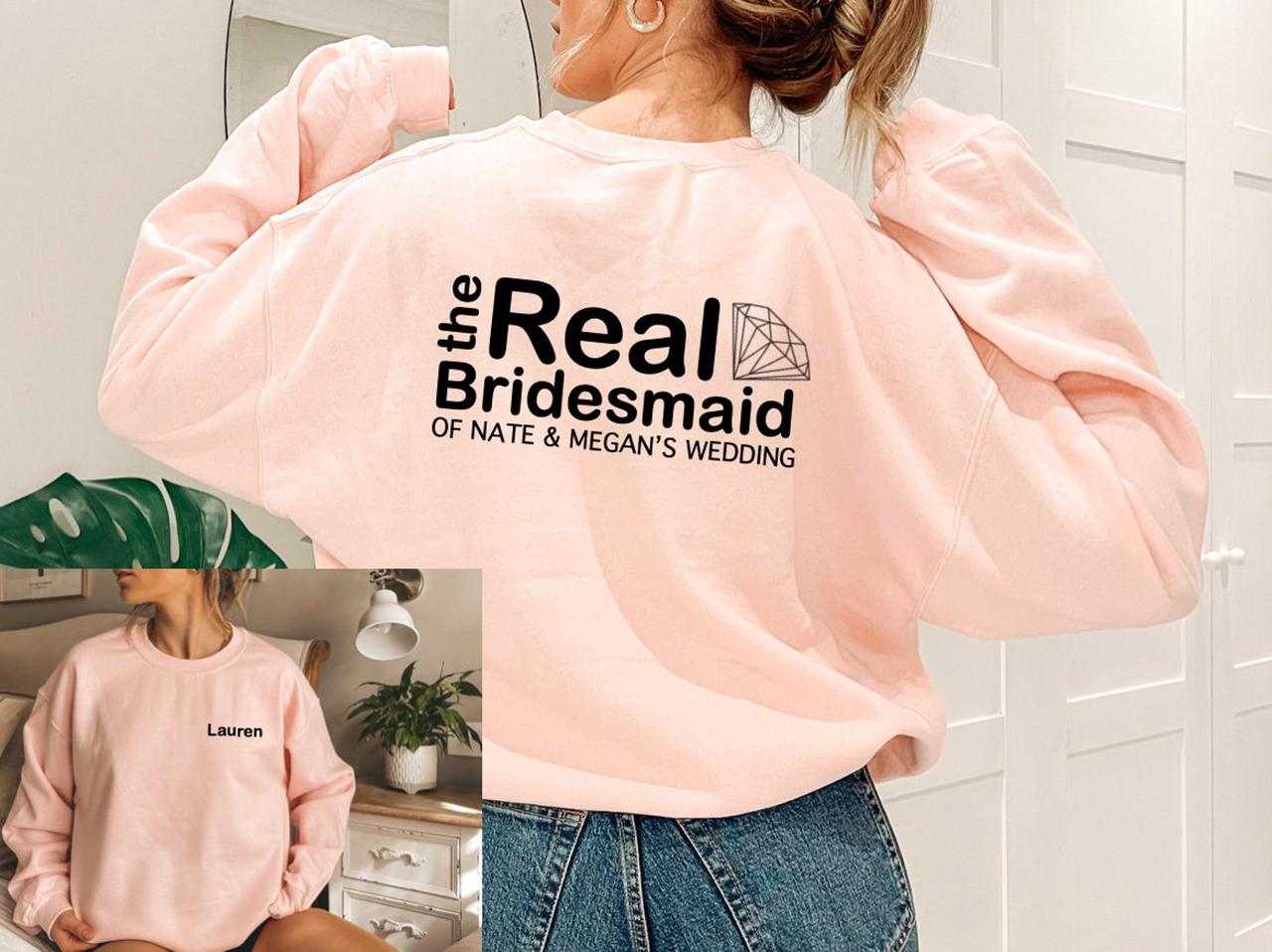 Bridesmaid Sweatshirt for Bravo Fans
Do you and your bridesmaids bond over watching The Real Housewives? They will laugh out loud at these "Real Bridesmaids" sweatshirts, which play on the logo and name of the reality TV series. Bonus: This sweatshirt can be personalized to include both the bridesmaid's name and the couple's names.
Symbolic Imports The Real Bridesmaid sweatshirt, from $31 each, Etsy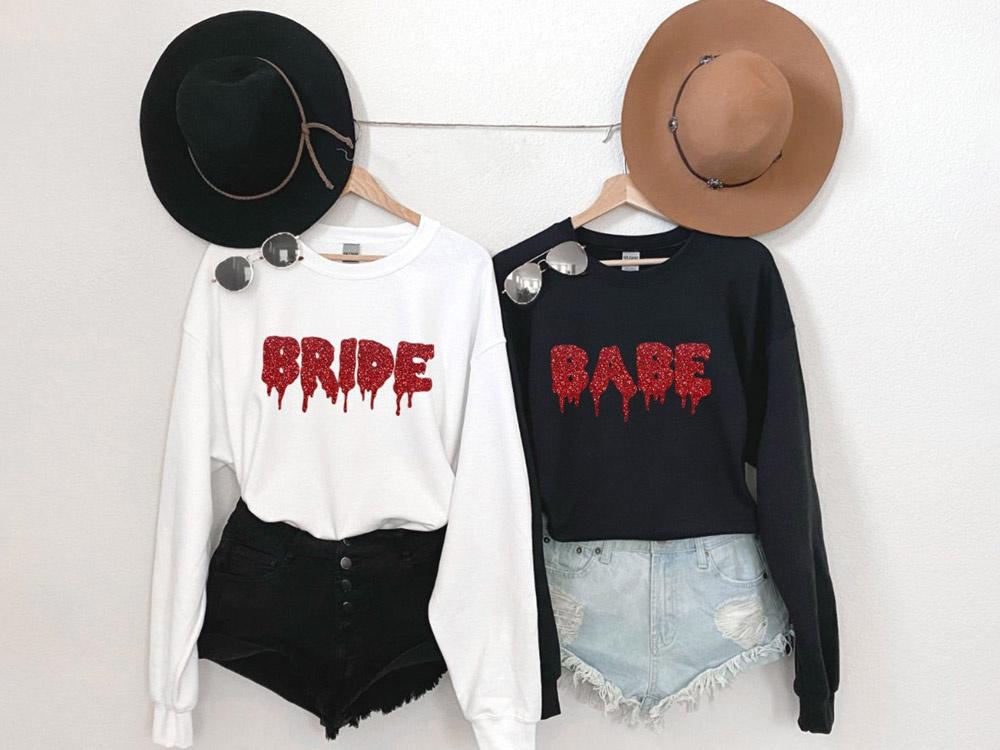 Glitter Bridesmaid Sweatshirt
If you're having a gothic-themed wedding or celebrating your bachelorette party during spooky season, this bridesmaid sweatshirt will fit right in. The sweatshirt can be customized with six different phrases (including "Maid of Horror") and features dripping red lettering for creepy chic vibes.
The Monogram Life Co. glitter drip bride and babe bridesmaid sweatshirts, $30 each, Etsy