Your bridesmaids play a huge role in your wedding (and all of the events leading up to it), so it's important to thank them accordingly! There are plenty of ways to let your BFFs know how much you appreciate their time, but surprising them with thoughtful bridesmaid gifts is always a go-to option. If you're in the market for cute, affordable gift options for your 'maids, check out the WeddingWire Shop, where you'll find dozens of unique ideas that your friends will love. We've chosen 20 of our top bridesmaid gift picks from the WeddingWire Shop—just don't @ us if you find yourself also adding them to your cart for your own stash.
See our favorite bridesmaid gifts that are cute enough to keep for yourself.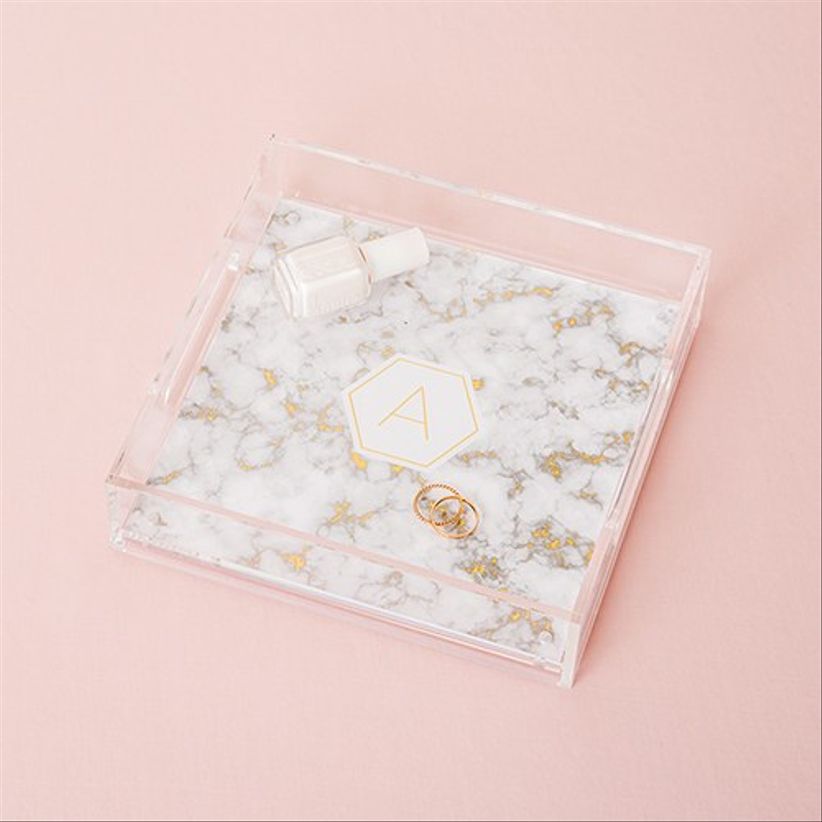 Acrylic jewelry tray
Whether your bridesmaids use it to organize jewelry, as a catch-all by the front door, or to corral their extensive nail polish collection, an acrylic tray is an ultra-practical gift. We love this option for the faux-marble finish and the gold monogram, which both feel super stylish.
WeddingWire Shop personalized square acrylic tray, $30, WeddingWire Shop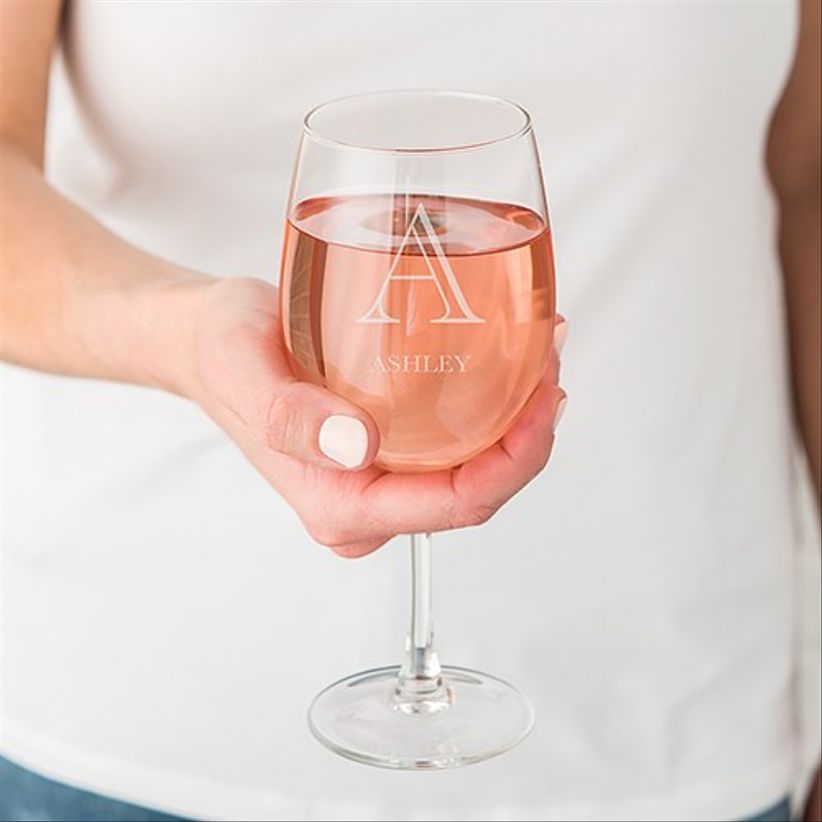 Wine glass
Elevate your #winewednesday game with these personalized glasses. Your bridesmaids will be the chicest, rosé-drinking ladies around—guaranteed.
WeddingWire Shop large personalized stemmed wine glass, $8, WeddingWire Shop

Necklace
A dainty gold necklace is sure to become an everyday staple in your bridesmaids' jewelry collection. This modern bar necklace is decorated with a tiny heart bordered by initials that you can customize yourself.
WeddingWire Shop personalized gold horizontal tag necklace, $26, WeddingWire Shop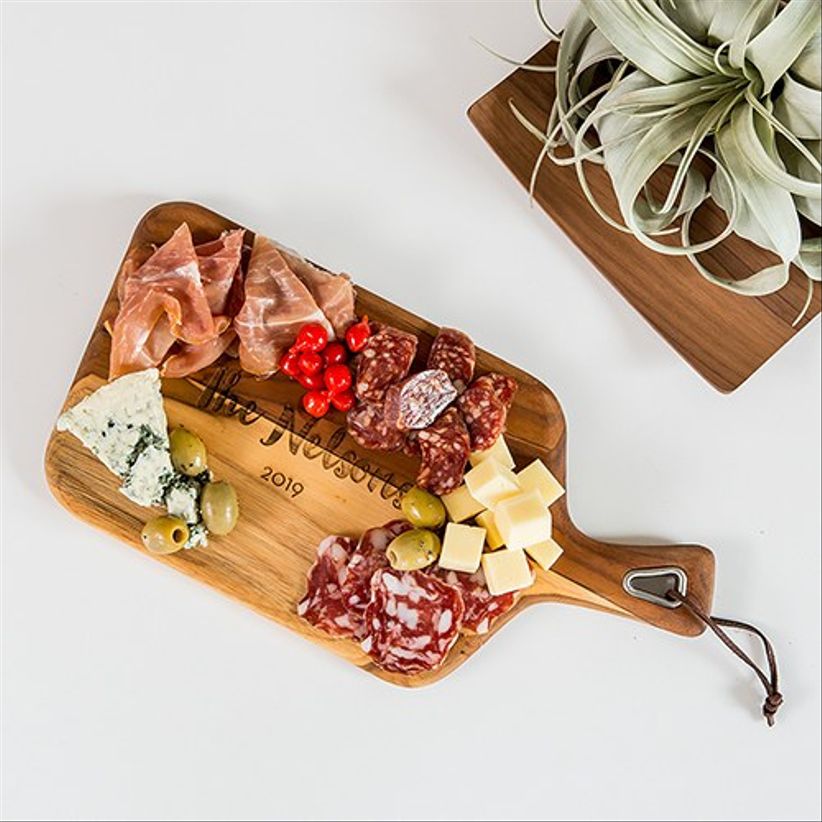 Cutting board
If you and your girls love gossiping over wine and cheese, treat them to customized cutting boards. This one can be personalized with your bridesmaids' last names (perfect for your married friends!) and is made out of teak wood, giving it a durable, low-maintenance finish.
WeddingWire Shop natural teak wood cutting and serving board, $28, WeddingWire Shop
Pajama set
Morning-of pampering never looked better! If you want everyone to look flawless in your getting ready photos, coordinating pajama sets are the way to go. Floral print shortie sets double as bridesmaid gifts that your friends will use again and again after the big day.
WeddingWire Shop personalized satin pajama set in pink floral, $28, WeddingWire Shop
Coffee mug
Love going for coffee runs with your bridesmaids? This cheerful "lattes and sunny days" mug is a must-have!
WeddingWire Shop custom white ceramic coffee mug, $12, WeddingWire Shop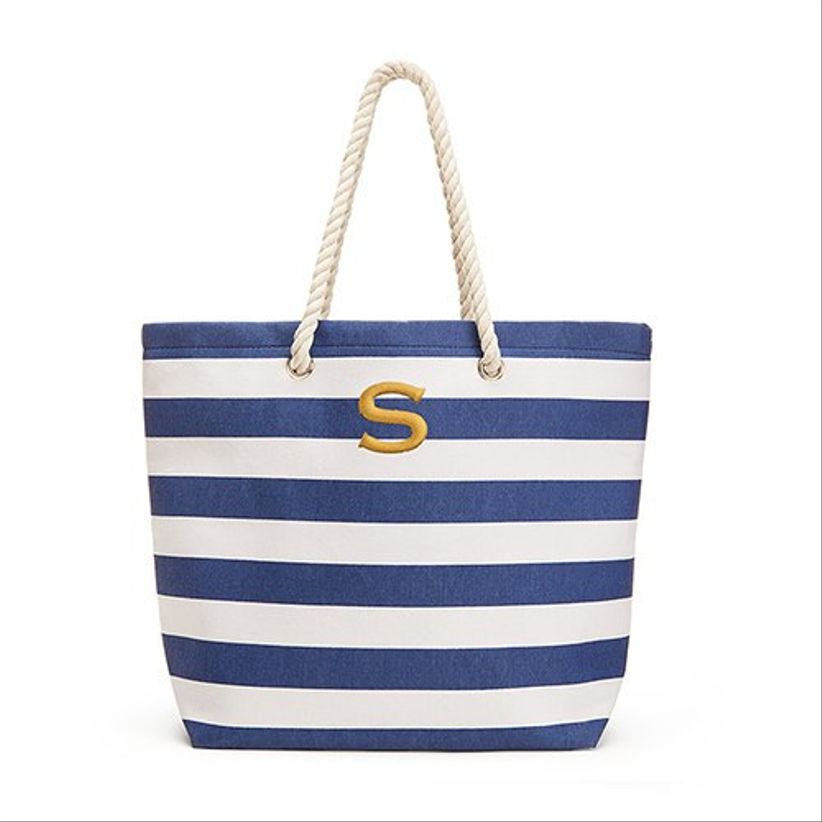 Beach tote
Personalized bridesmaid tote bags are a perfect multi-purpose gift for your girlfriends. From beach trips to weekend getaways and so much more, they'll definitely come in handy.
WeddingWire Shop cabana stripe canvas tote bag in navy, $14, WeddingWire Shop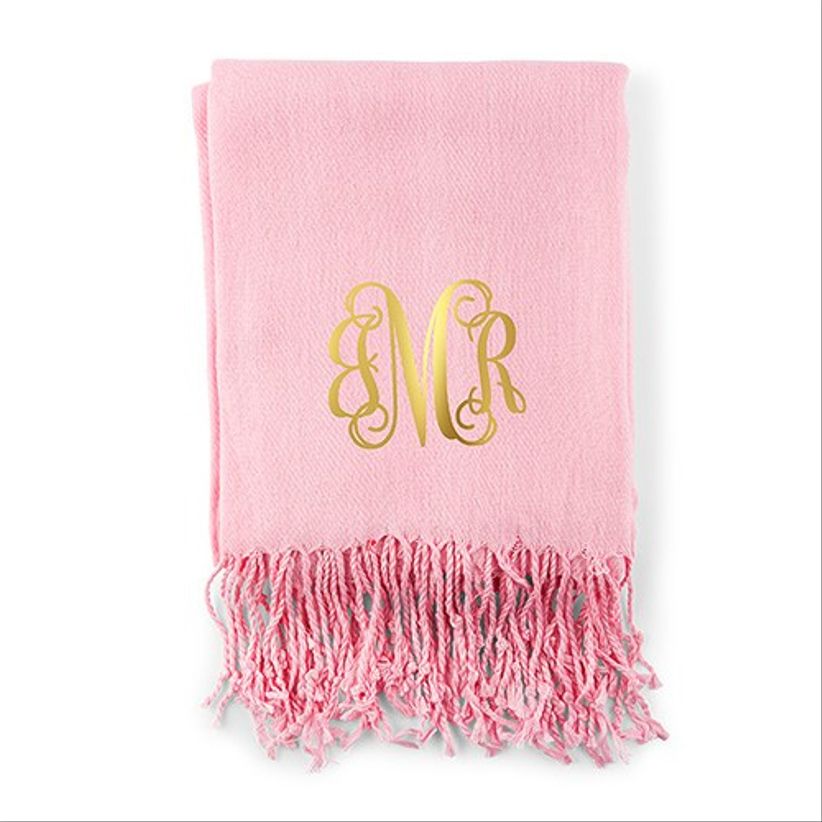 Pashmina
Monogrammed pashminas are great bridesmaid gifts if you're having a fall or winter wedding. Not only will they help keep everyone warm throughout the day (a crucial detail if your bridesmaids are wearing sleeveless dresses), but they look nice in wedding photos, too.
WeddingWire Shop monogram pashmina scarf, $10, WeddingWire Shop
Copper pineapple cup
How cute is this pineapple cup? It's a fabulous option if you're planning a tropical-themed bachelorette party or if you have a group of bridesmaids who love a good poolside wine sesh. And we appreciate the eco-friendly reusable straw!
WeddingWire Shop copper drink cup, $20, WeddingWire Shop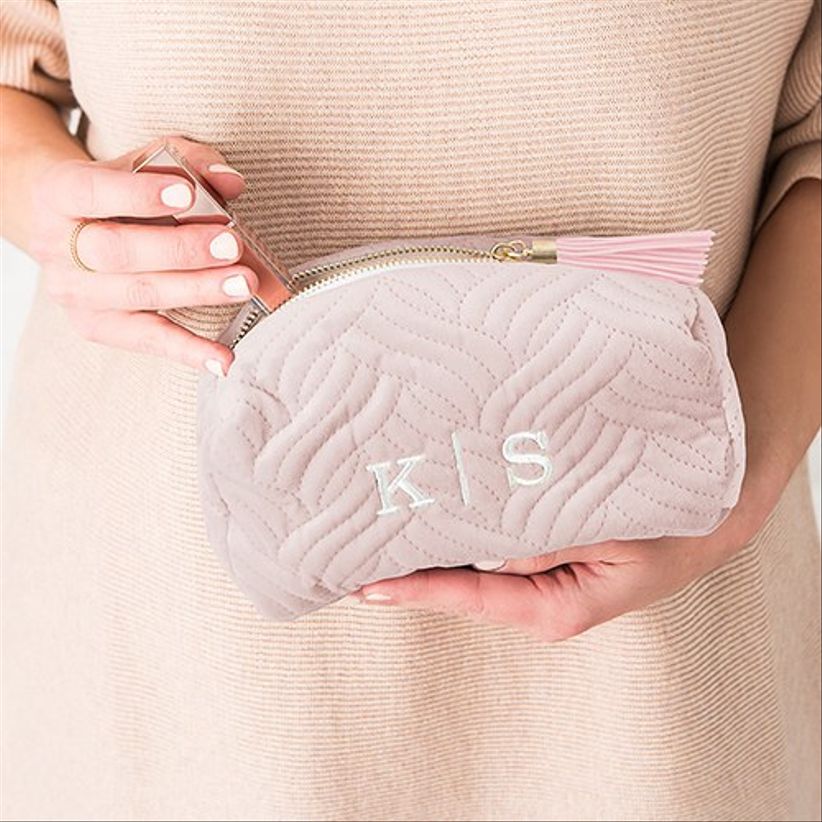 Makeup bag
A nice makeup bag will take your bridesmaids' daily beauty routines to the next level. Fill these roomy cosmetic cases with your fave products, like lip balm, hand lotion, and nail polish to create mini pampering kits for your gals.
WeddingWire Shop velvet quilted makeup bag in blush pink, $10, WeddingWire Shop
Spa robe
Pretty robes are some of the most luxurious bridesmaid gifts you can give, especially when they're personalized with a fancy monogram. Your bridesmaids can get ready in their robes on your wedding day, but they'll also re-wear them for years to come.
WeddingWire Shop embroidered spa robe in navy, $25, WeddingWire Shop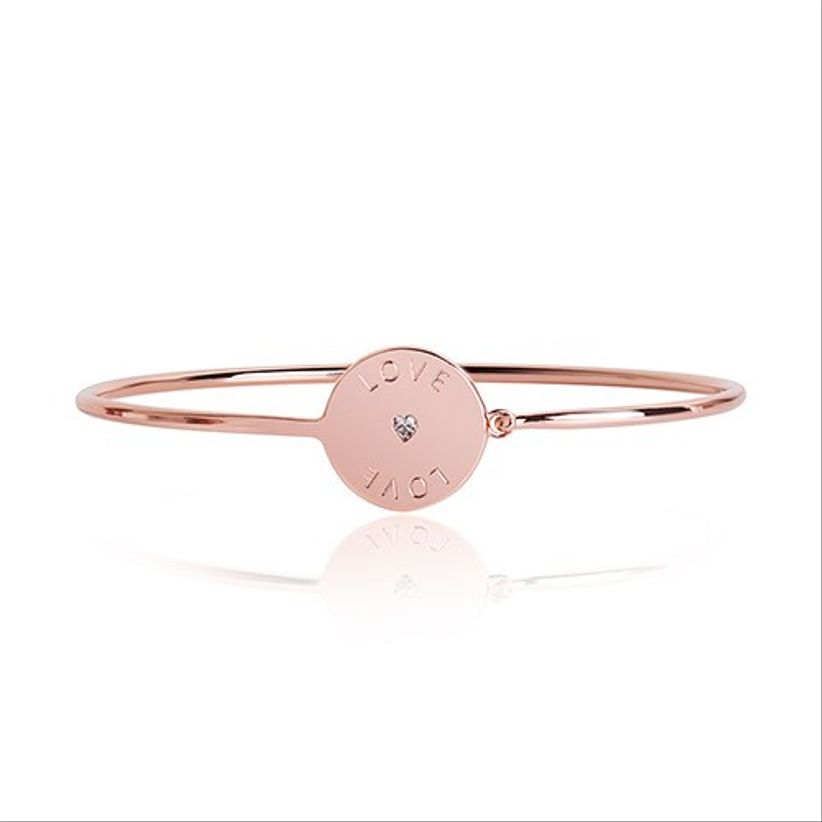 Bracelet
An understated bracelet is a sweet gift for your bridesmaids or junior bridesmaids. The heart-shaped crystal on this rose gold style adds a subtle hint of sparkle.
WeddingWire Shop rose gold bangle bracelet, $20, WeddingWire Shop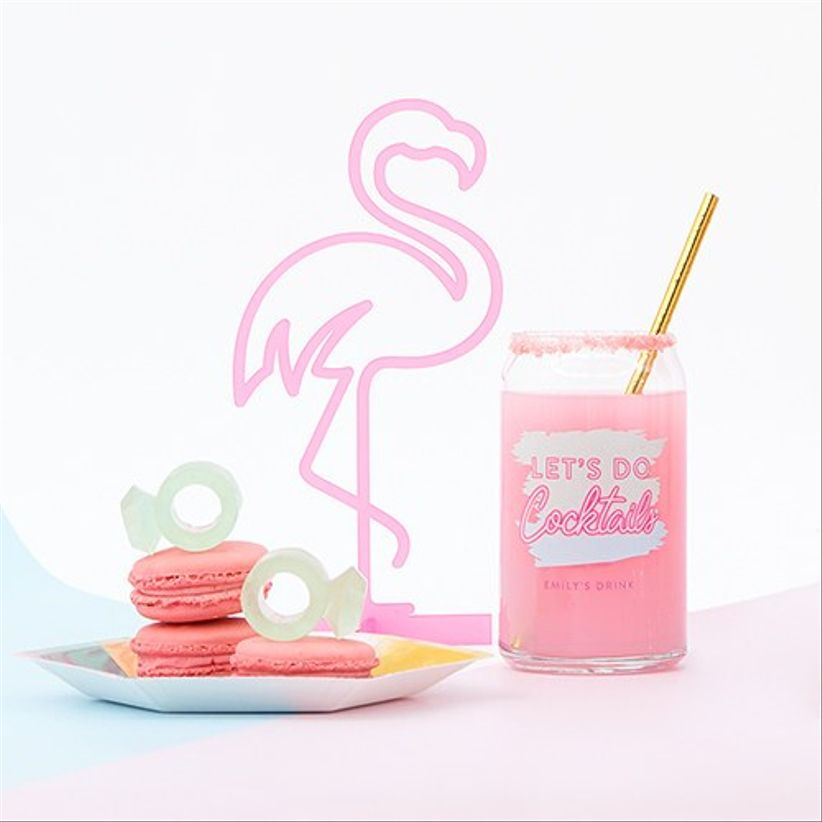 Cocktail glass
Playful cocktail glasses are a fun gift idea for the bridesmaid who loves to host parties. Pair this "let's do cocktails" glass with a bar kit and a book of drink recipes for a gift set that she'll definitely appreciate.
WeddingWire Shop personalized can-shaped drinking glass, $8, WeddingWire Shop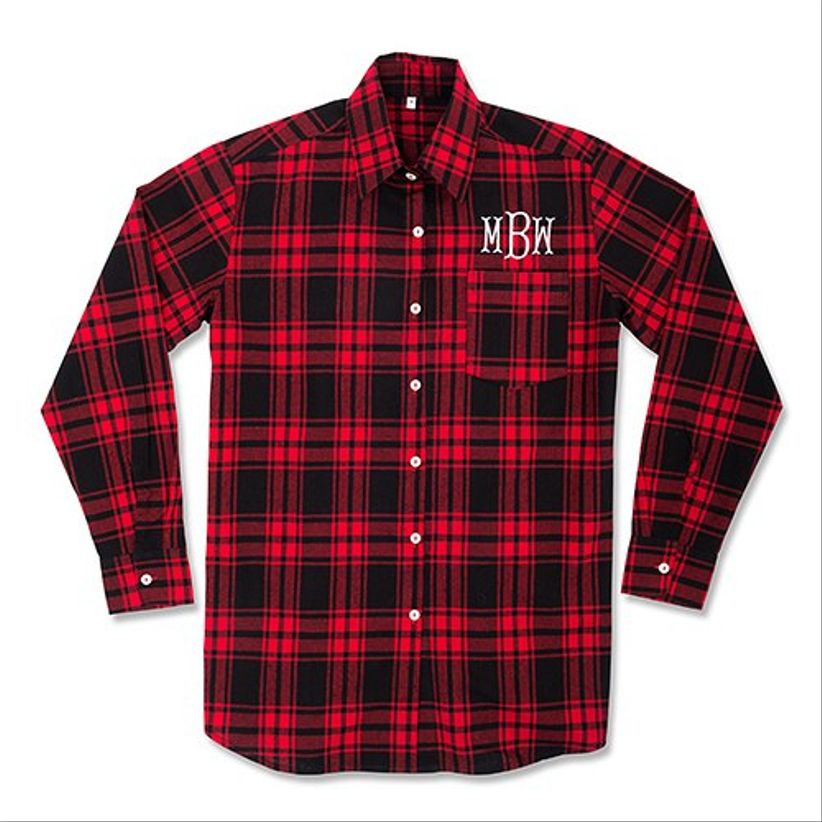 Button-down shirt
Having a rustic or winter wedding? This plaid button-down shirt would be a great choice for your getting ready outfits. Personalize one for each bridesmaid by adding a monogram.
WeddingWire Shop embroidered red plaid button down shirt, $25, WeddingWire Shop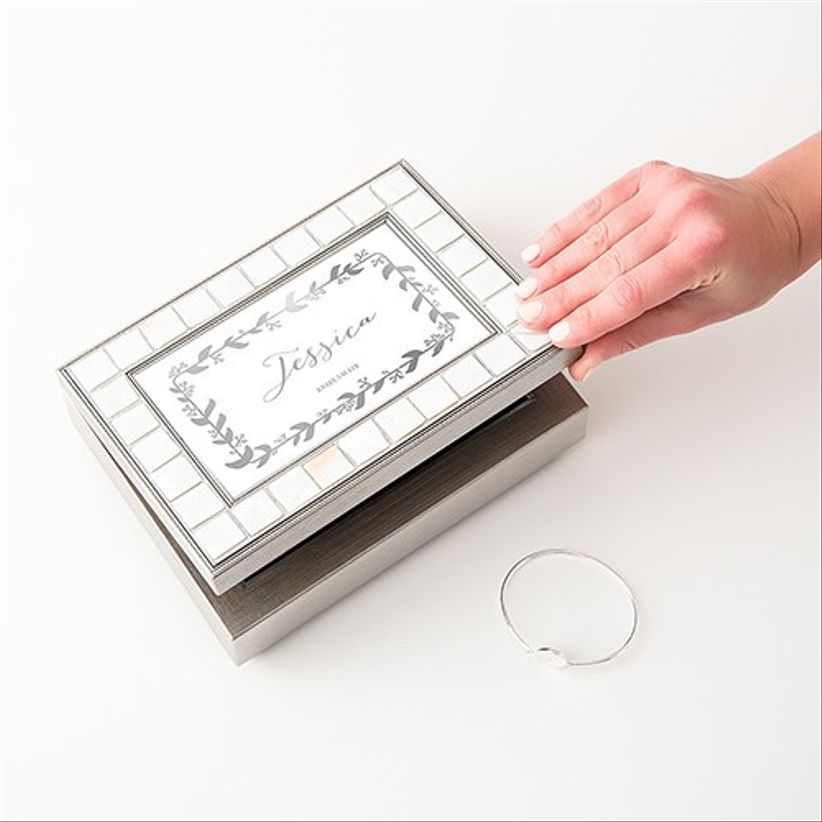 Musical jewelry box
This mirrored music box would be a beautiful addition to any vanity or dresser, and we think it's an extra-special gift idea for your maid or matron of honor. When opened, the box plays "Canon in D" by Johann Pachelbel. The top is decorated with an etched greenery design, which can be personalized with a name and/or wedding party title.
WeddingWire Shop large personalized pearl music box, $40, WeddingWire Shop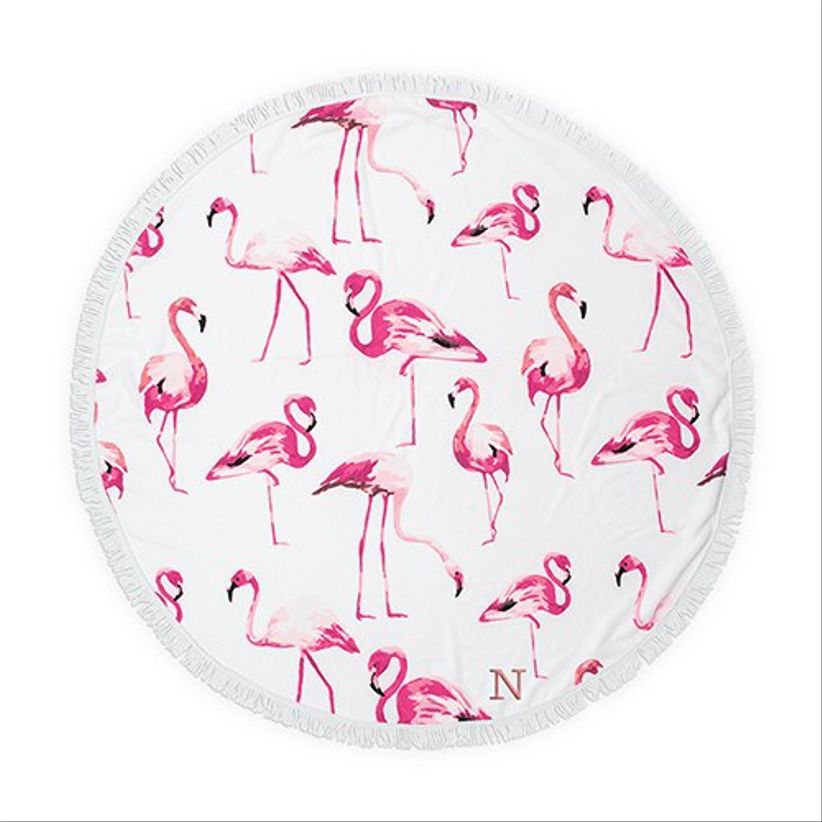 Beach towel
If you're headed to a bachelorette party, this round flamingo-print towel will definitely help you and your squad stand out at the beach or pool.
WeddingWire Shop round beach towel, $18, WeddingWire Shop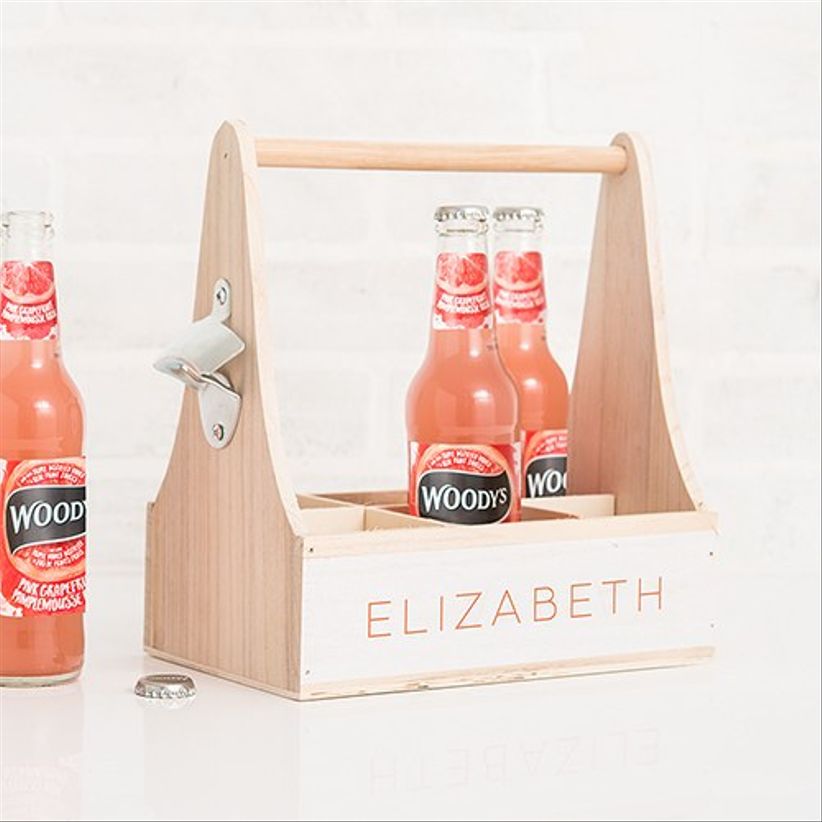 Bottle caddy
Calling all barbecue (and picnic) lovers: a cute bottle caddy is an outdoor party essential! This one comes with a handy built-in bottle opener and has the option to add personalization.
WeddingWire Shop personalized wooden bottle caddy, $20, WeddingWire Shop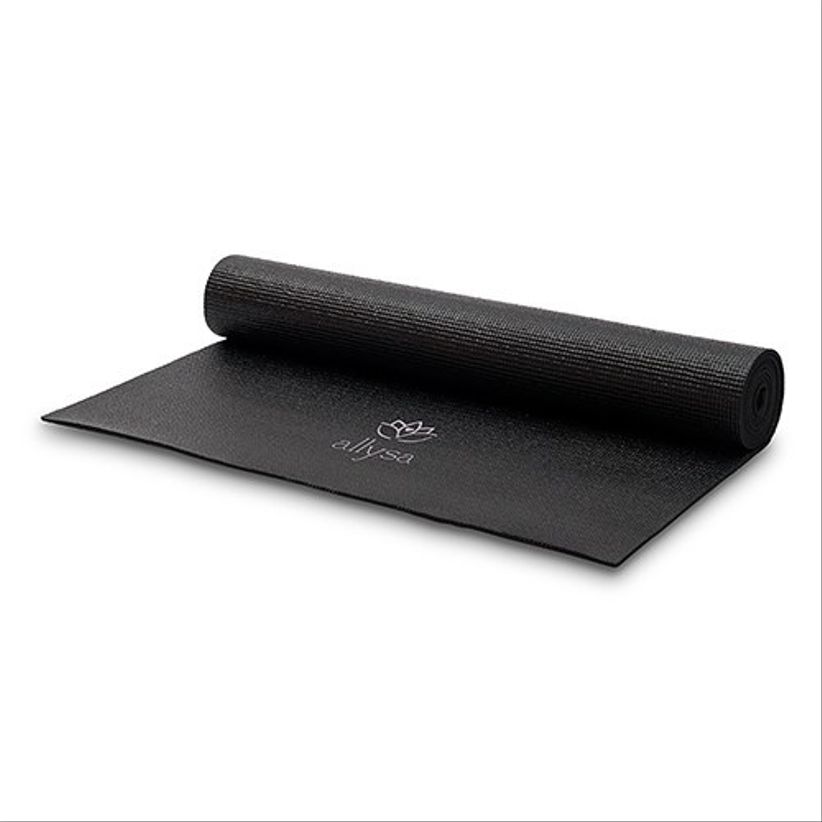 Yoga mat
Brighten your bridesmaids' workout routines with customized yoga mats.
WeddingWire Shop custom no-slip yoga mat, $19, WeddingWire Shop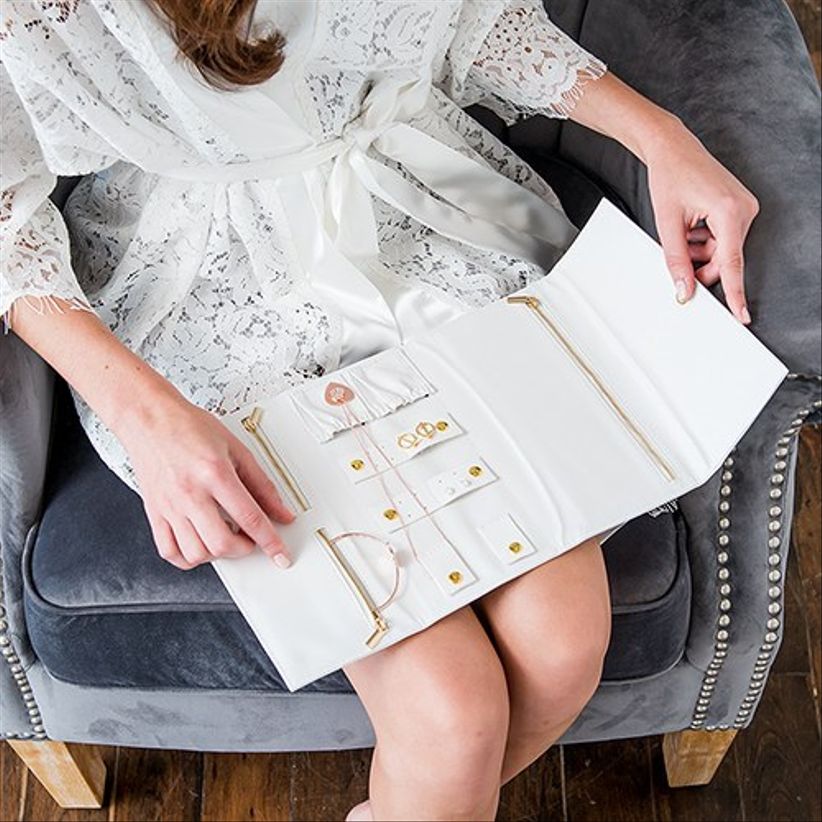 Travel jewelry organizer
A chic jewelry organizer is a practical gift for bridesmaids who are always on the go. This white faux leather finish looks way more expensive than it actually is, and you can add a monogram on the front.
WeddingWire Shop personalized faux leather jewelry organizer, $20, WeddingWire Shop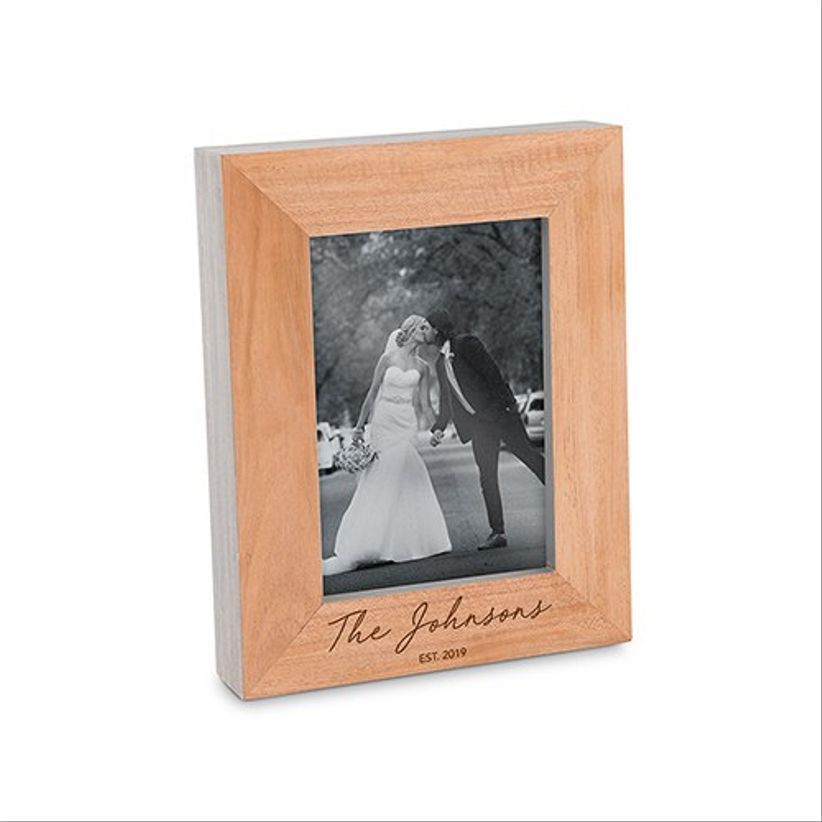 Picture frame
When it comes to bridesmaid gifts, never underestimate the power of a simple picture frame. This sleek wooden frame is our pick if you have bridesmaids who are already married—print out each bridesmaid's favorite wedding photo for an ultra-sentimental touch.
WeddingWire Shop custom wooden picture frame with gray edges, $13, WeddingWire Shop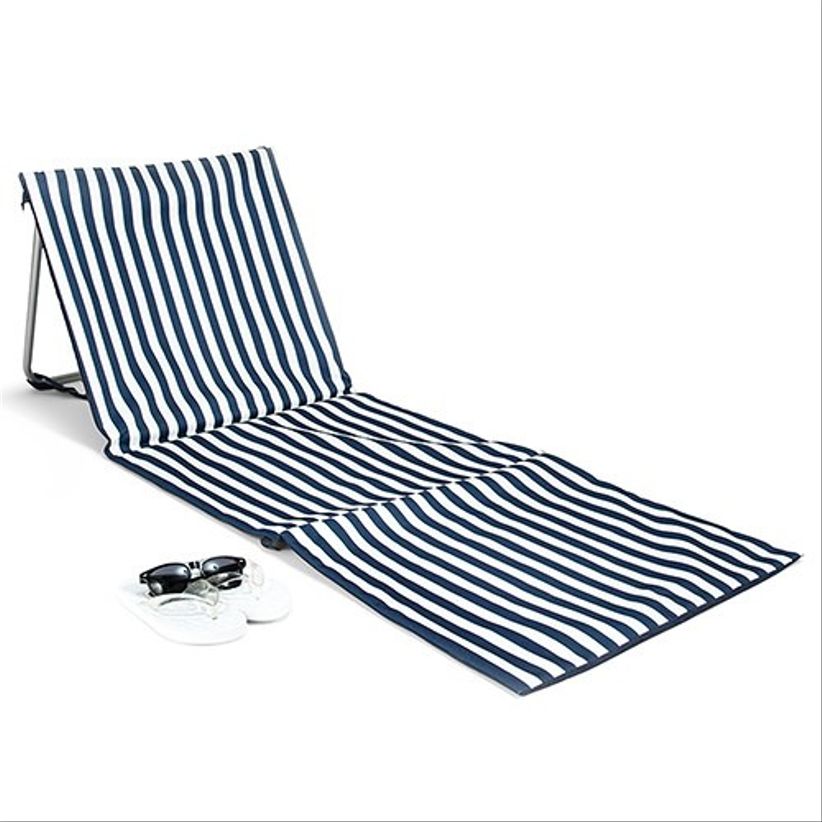 Beach lounger
Expect to see this folding lounger making an appearance at all future girls' trips to the beach.
WeddingWire Shop folding beach mat and sun lounger, $30, WeddingWire Shop
Disclosure: This post contains affiliate links, some of which may be sponsored by paying vendors.